If there's one item that will surely make you smile, it's a pineapple bag. Pineapples are kind of my thing and if you follow along on Instagram, you know I post about them a ton! When I was in Hawaii, I bought a pineapple bag at the Dole Plantation thinking it was a Hawaii exclusive item. Turns out there's some good news for you, just keep reading…
Outfit Details:
Old Navy Yellow Top (similar) / J.Crew Shorts / Soludos Sandals (old, similar) / Pineapple Bag
After a little searching, I found the exact same pineapple bag for sale online! Turns out my bag isn't so exclusive after all which is great news for you. I love buying quirky and fun items but a lot of times, no one else seems to appreciate their uniqueness as much as I do. Well, that's not the case for this bag. I wore it for a quick afternoon trip to Target and got tons of compliments from the cashiers. Then at night when my sis and I were walking around the Marina watching the sunset, we saw a mom and her son lock up their houseboat and head towards our direction. As they both walked by us the mom told me she loved my pineapple bag.
What's so great about the bag is that it comes with a shoulder strap (see how I wore it with the shoulder strap on Instagram) and also a small wristlet strap. You can wear the shoulder strap with a casual dress or shorts for the day time and then remove large strap and add the wristlet for a nighttime dinner or evening stroll outside. I love how the bag can go from casual to a bit more fancy. Just like the saying goes, stand tall, wear a crown, be sweet and wear a pineapple bag during the day and night.
Shop Pineapple Bags

Outfit Details:
Old Navy Yellow Top (similar) / J.Crew Shorts / Soludos Sandals (old, similar) / Pineapple Bag
Color mixing is one of my favorite style tricks! You take two bold colors and wear them together. Also known as color blocking. This little style tip used to be super popular a few years ago but kind of went under the radar. I've always been one to wear bright colors together. That's the strange thing about fashion blogging. Sometimes you get so caught up in trends or the next best thing that you tend to forget what you really love. Over the years I've really fine tuned my style and am super picky with what I buy/wear. Looking back on my fashion journey there are definitely times where I lost sight of my bold and bright style. Not anymore! Fully embracing those bold, fun and bright colors nowadays!
My advice? Just go for it and wear bright colors. If your not ready for a full blown two tone colored look, pick one colorful piece and pair it with a neutral bottom like these adorable tie shorts I'm wearing that come in khaki and white. Or switch it up and pair a neutral white top with a colorful bottom. I understand not everyone loves yellow as much as I do, so just pick your favorite color to wear! Then accessorize with fun items like a pineapple purse!
T-shirts really are the best invention ever! So lightweight and perfect for warm summer temps. I love wearing t-shirts tucked in with skirts, tied into a knot or half tucked with shorts. The cuter the saying the better! My fav t-shirts right now are this adorable flamingo one, this summer Summer Friday graphic tee and this basic white one with a pocket. All are under $40 too!
Shop the Pineapple Look
Pin the Outfit Inspiration Photo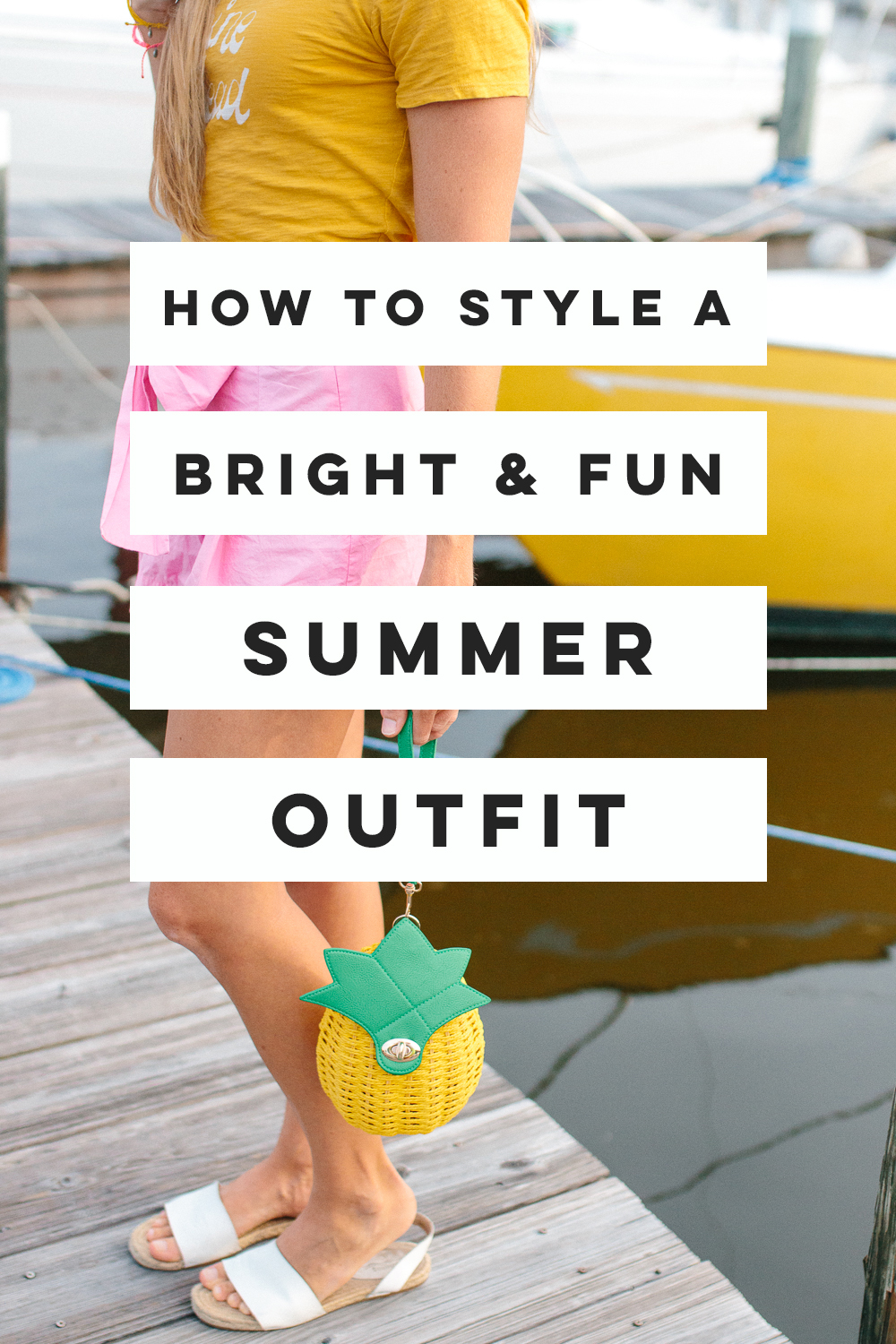 Related Posts:
Casual Summer Finds Under $100
What's New Lately – July 2018 (A little personal life update from me about what's going on in my life besides fashion, a bit of a truthful opinion of Hawaii and what I've been reading lately!)