I have been hyping up this sunflower maze all week (some of my favorite photos yet!!). Last weekend my boyfriend Josh and I made a trip to Mim's, Florida to visit Sledd's Sunflower Maze. Last year he surprised me by taking me to the maze and I was beyond astonished. It's very rare to find cool flower mazes in Florida and you normally have to travel up North to find anything similar.
Being able to experience a sunflower field for myself and not just see pretty photos of one on Pinterest was mind blowing. I loved our trip last year so much I made sure to watch Sledd's Facebook page religiously to make sure I did not miss the maze this year.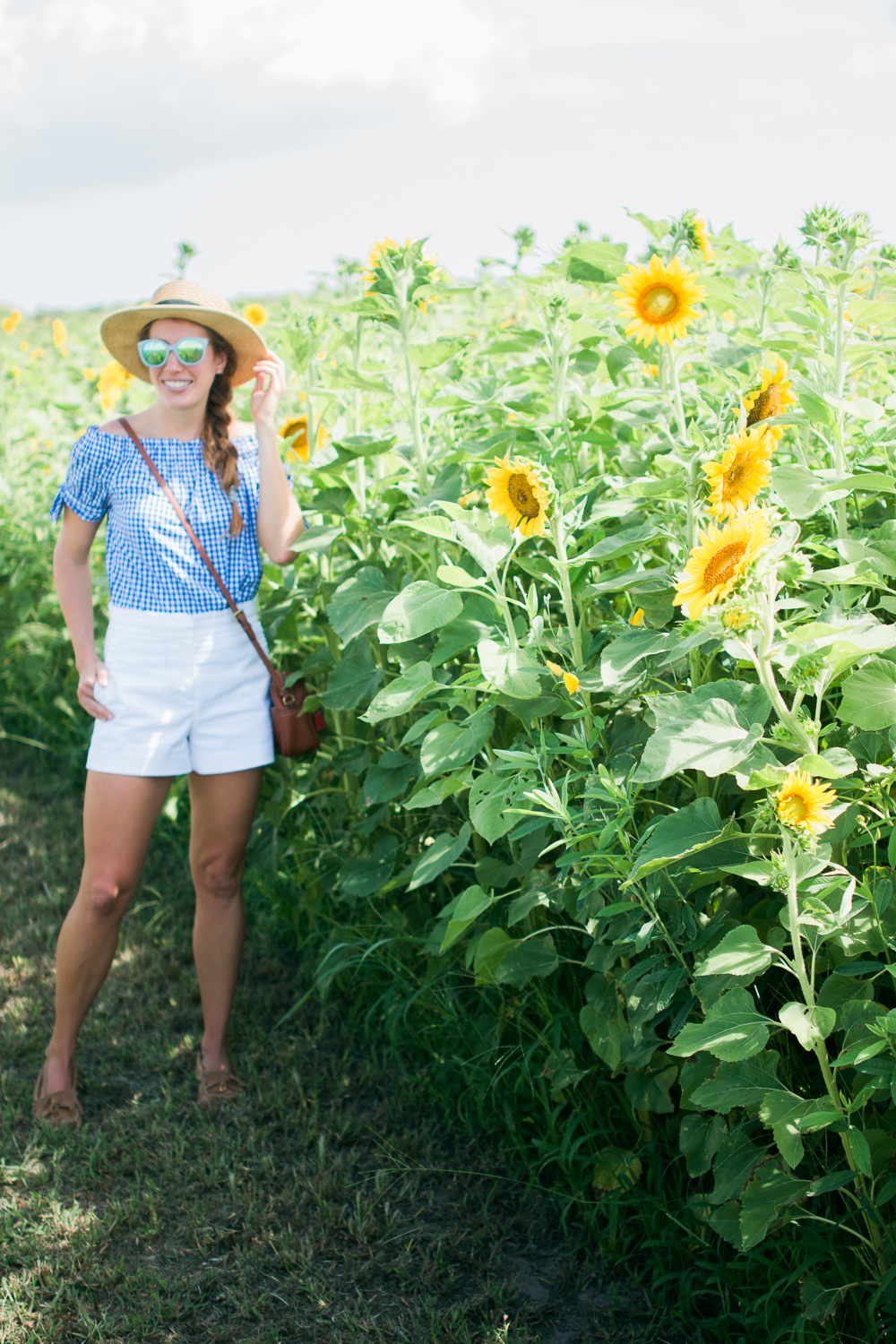 Outfit Details:
J.Crew Top, J.Crew Shorts, J.Crew Bag, Similar Sunglasses, Similar Hat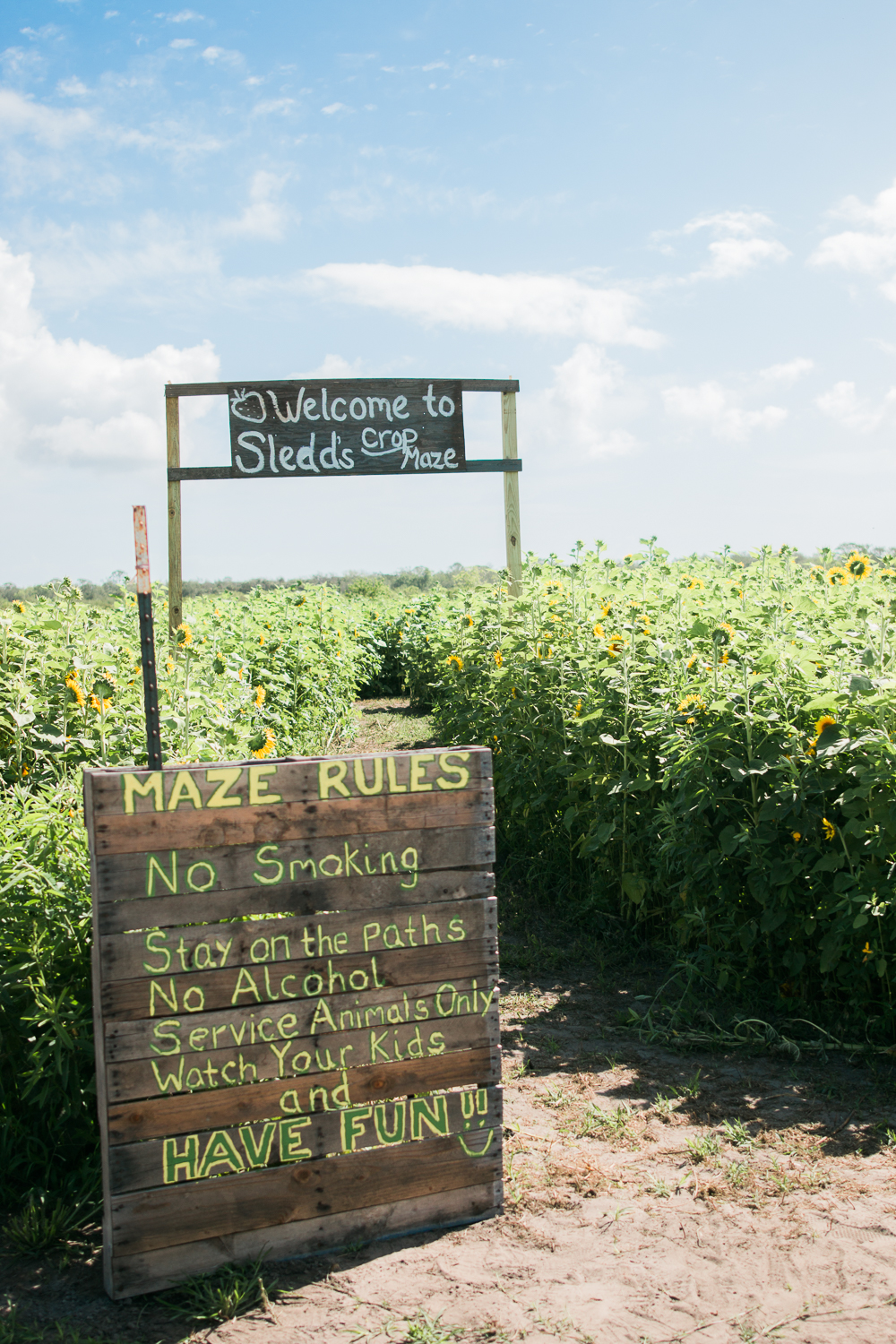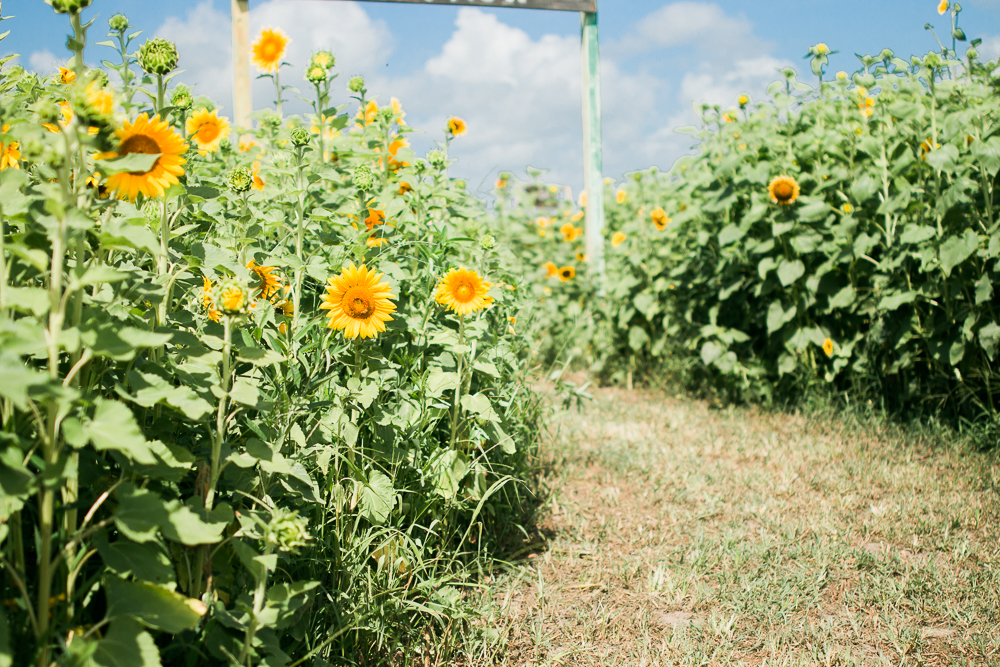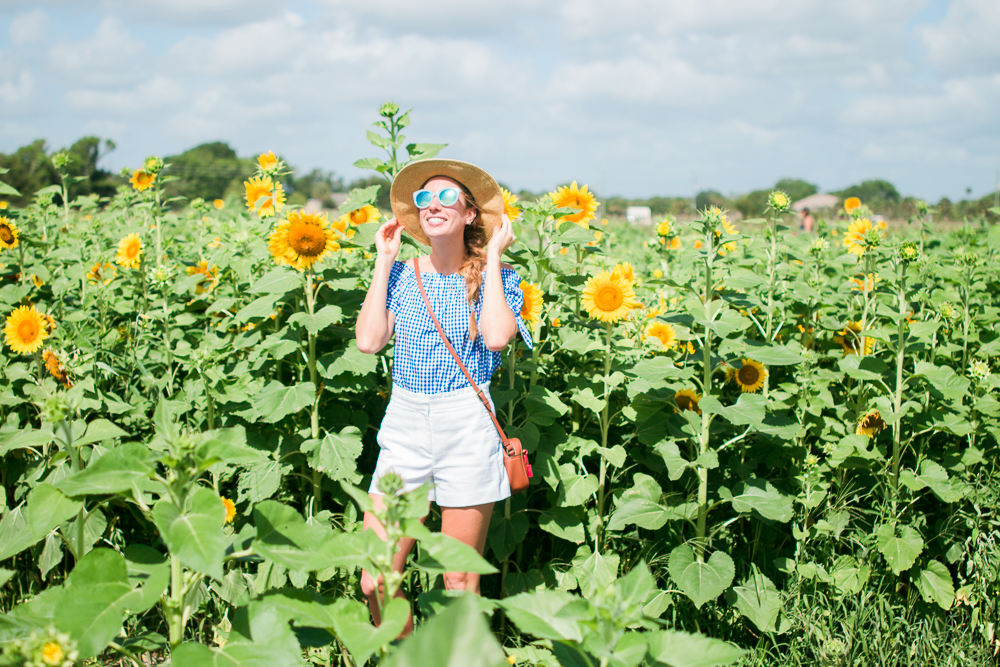 Are sunflowers not the most amazing flower ever?! Last year I accidentally wore yellow and white and matched the sunflowers perfectly. People wanted to snap photos of me because I looked like a giant standing sunflower. This year I made sure to stand out instead of blending in by wearing my tie gingham top. It was perfect for the sweltering morning temperatures and left me feeling as cool as humanly possible with the sun fully shining. Looks like gingham is good for something other than picnics! If your into the gingham craze like me this top and this one would also be wonderful to wear during a warm summer day.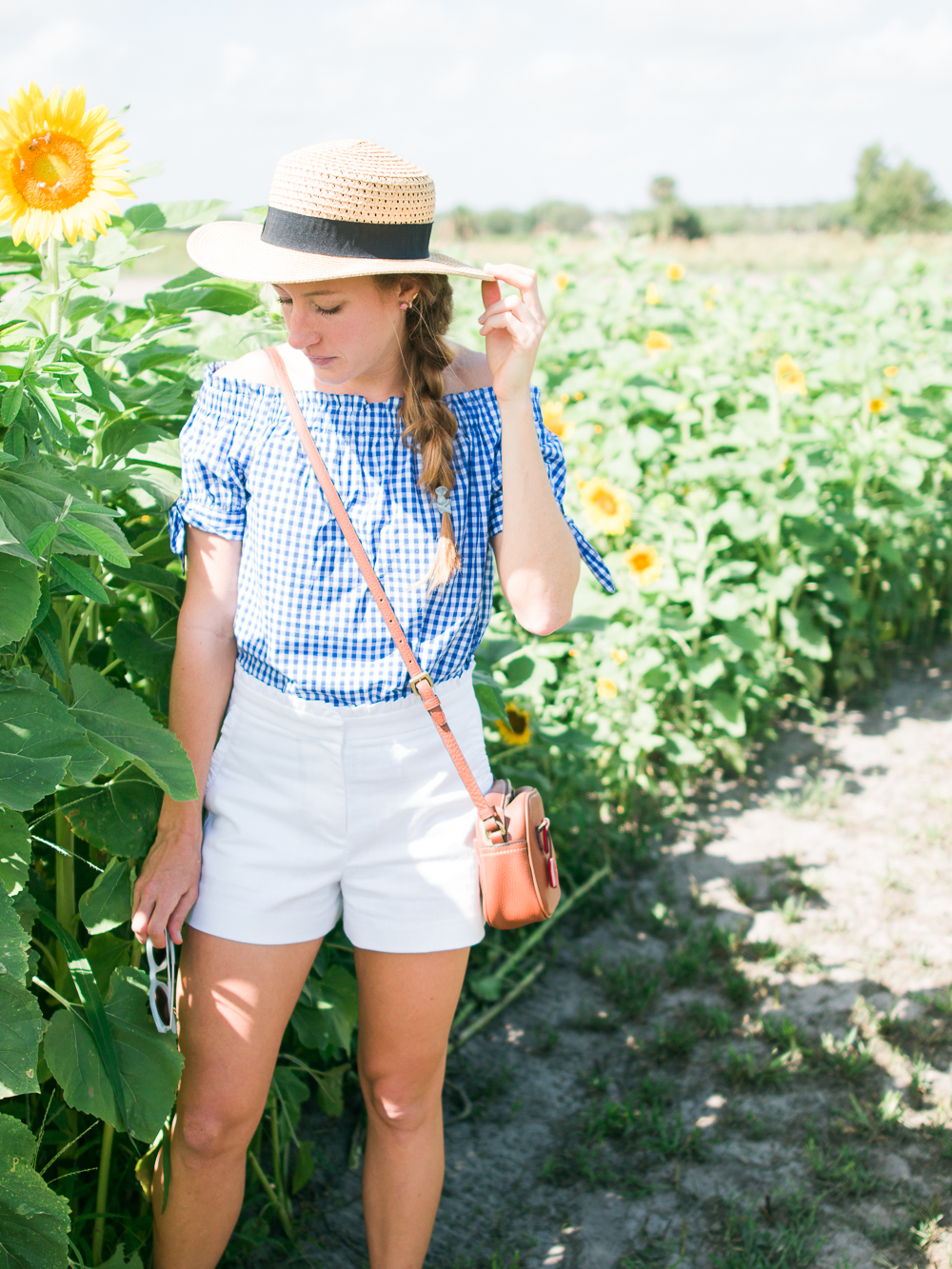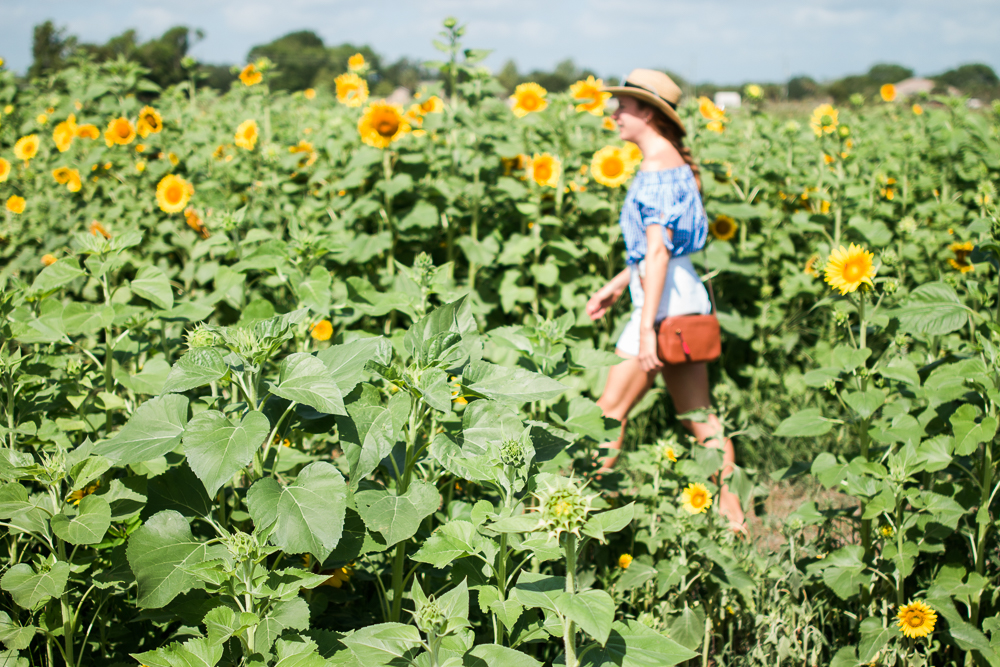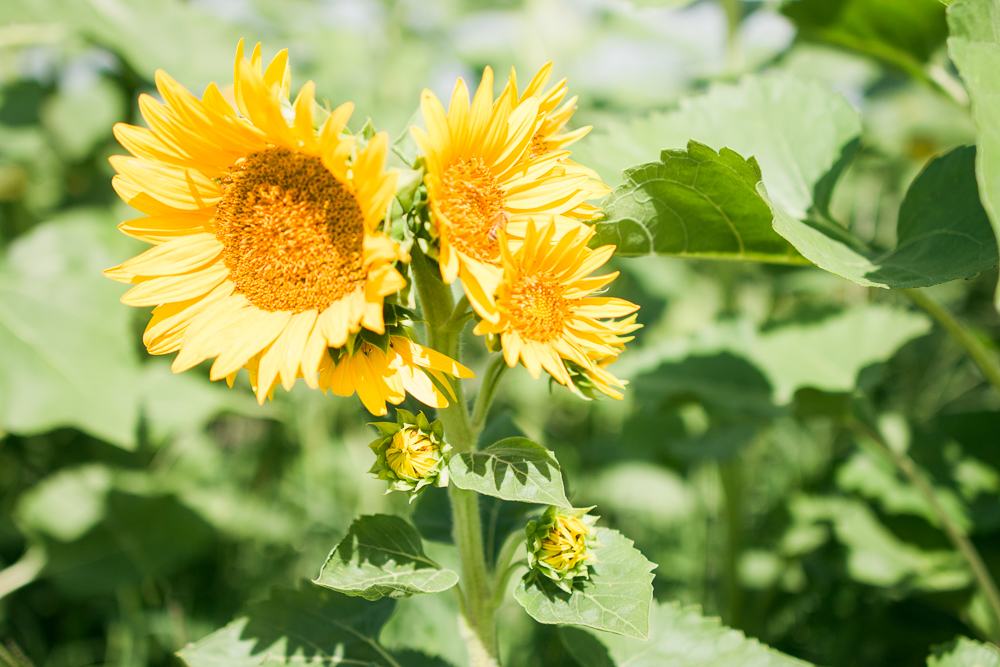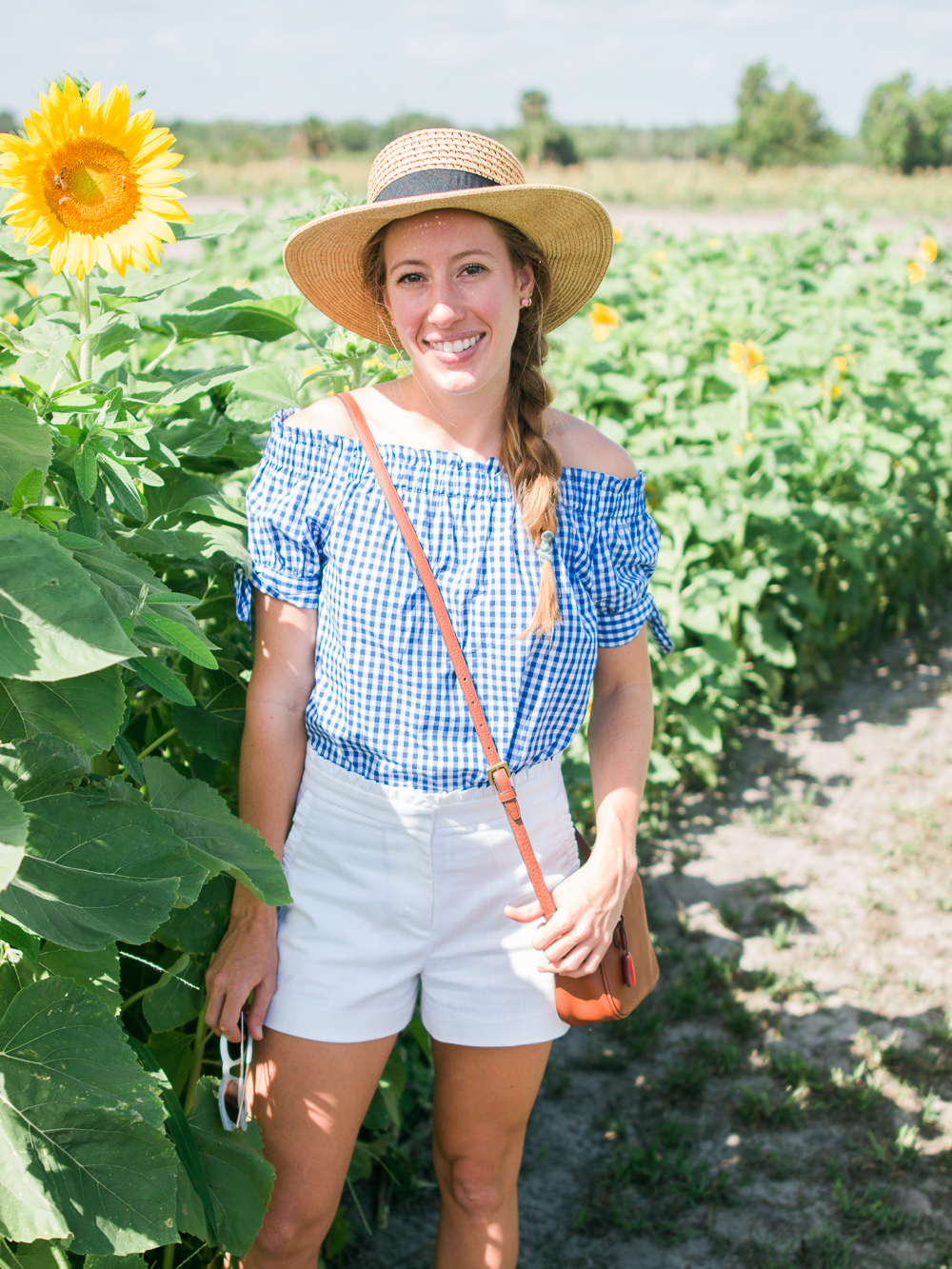 These white ruffled short will forever be one of my summer staples. I wear shorts so often, their my go-to when it gets to warm to wear anything else. They also come in green which I wrote about yesterday in my "Shine Bright Like Emerald Shorts" outfit post! I was joking yesterday on Instagram that I had found "my color". You know, the color that experts tell you what looks best on your skin tone. Looks like mine is green! Who would have thought?! 😉 Red hair, fair skin, freckles, I feel like a mermaid just describing that haha!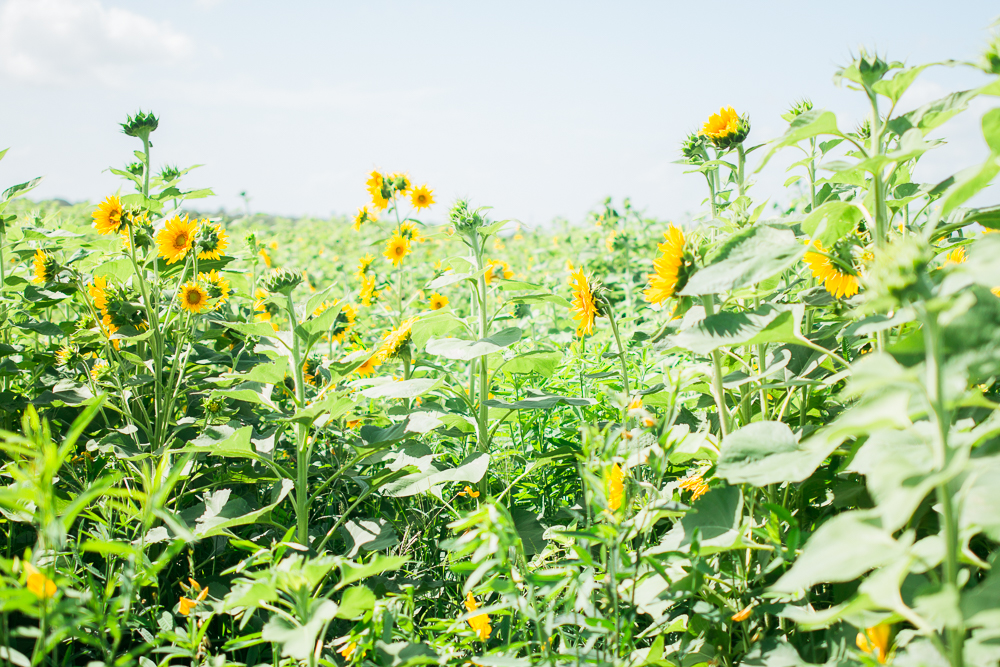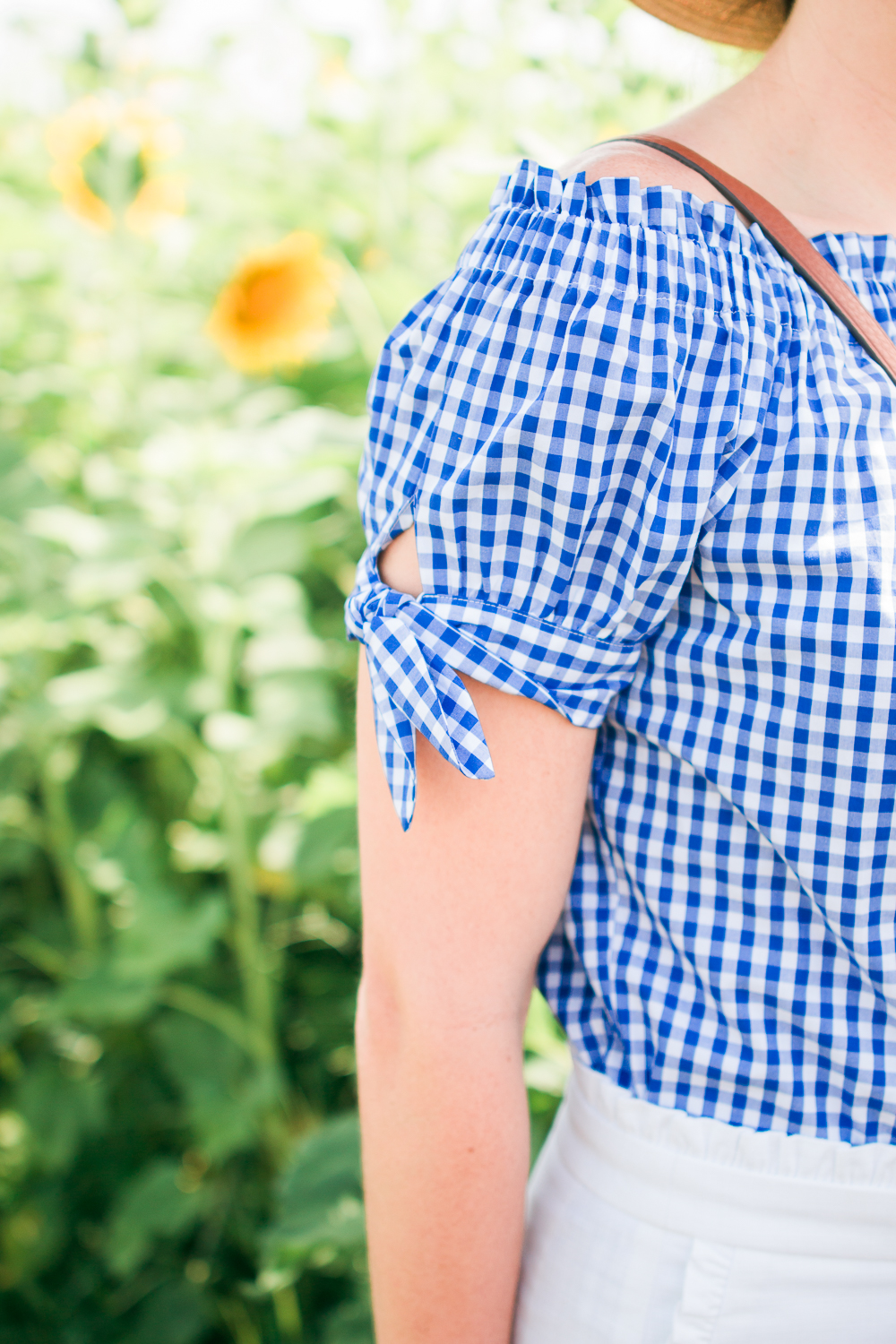 Sometimes I learn towards clothing that is more structured and classic and often forget about the details which is why I adore the tie in this gingham top top. It's the perfect feminine touch without going overboard. It comes in the most gorgeous green color also (really wishing I would have ordered that color instead!). I am also a sucker for anything off-the-shoulder and love the detailing in this dress and this top.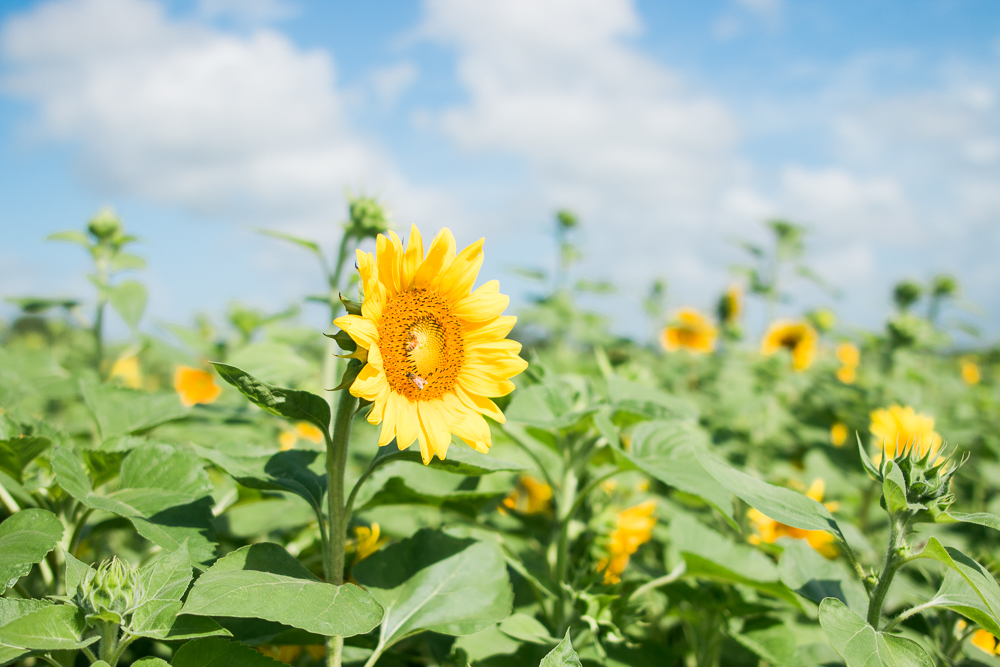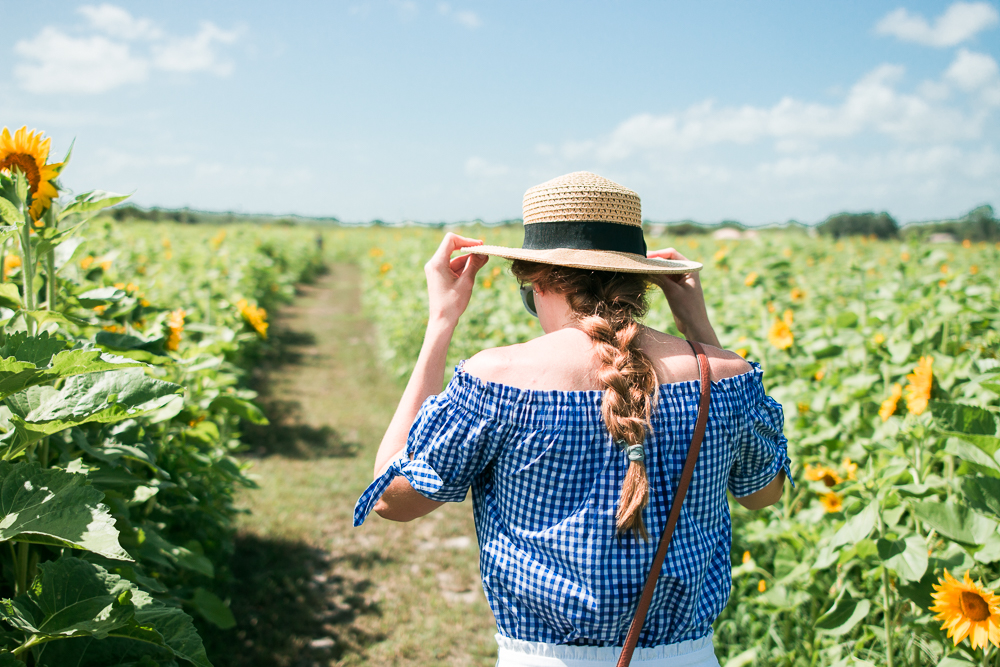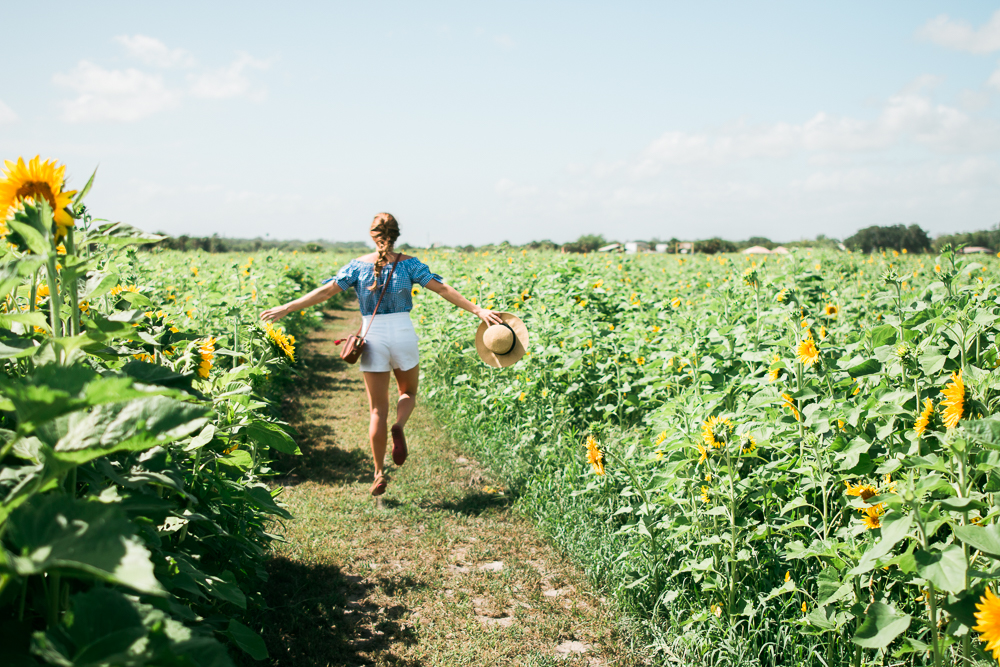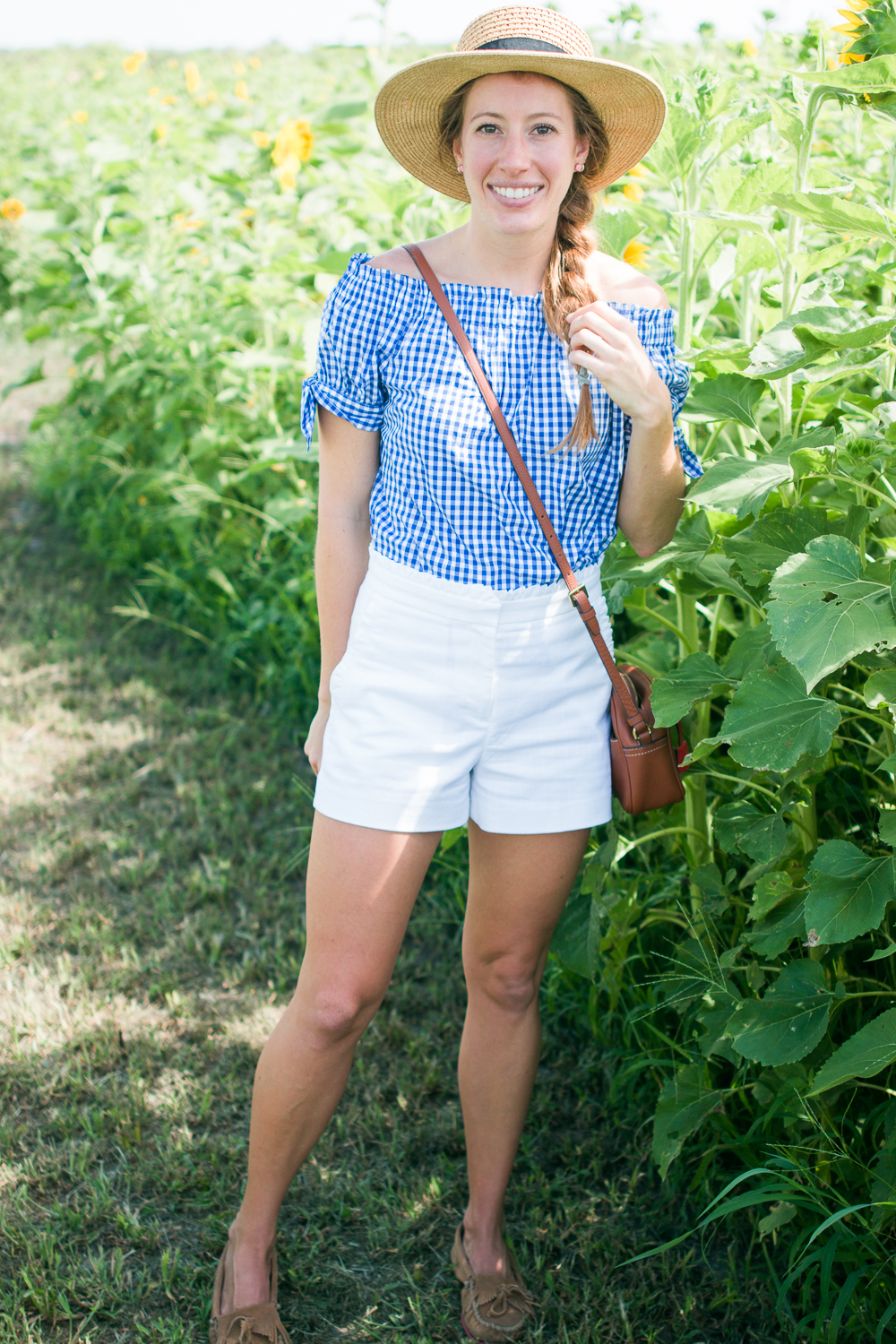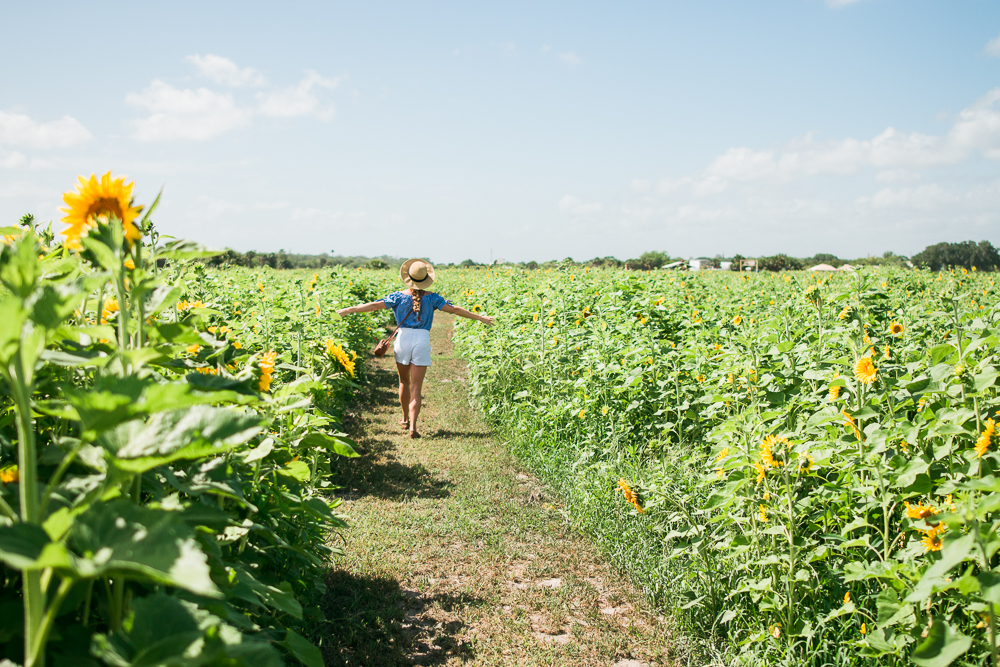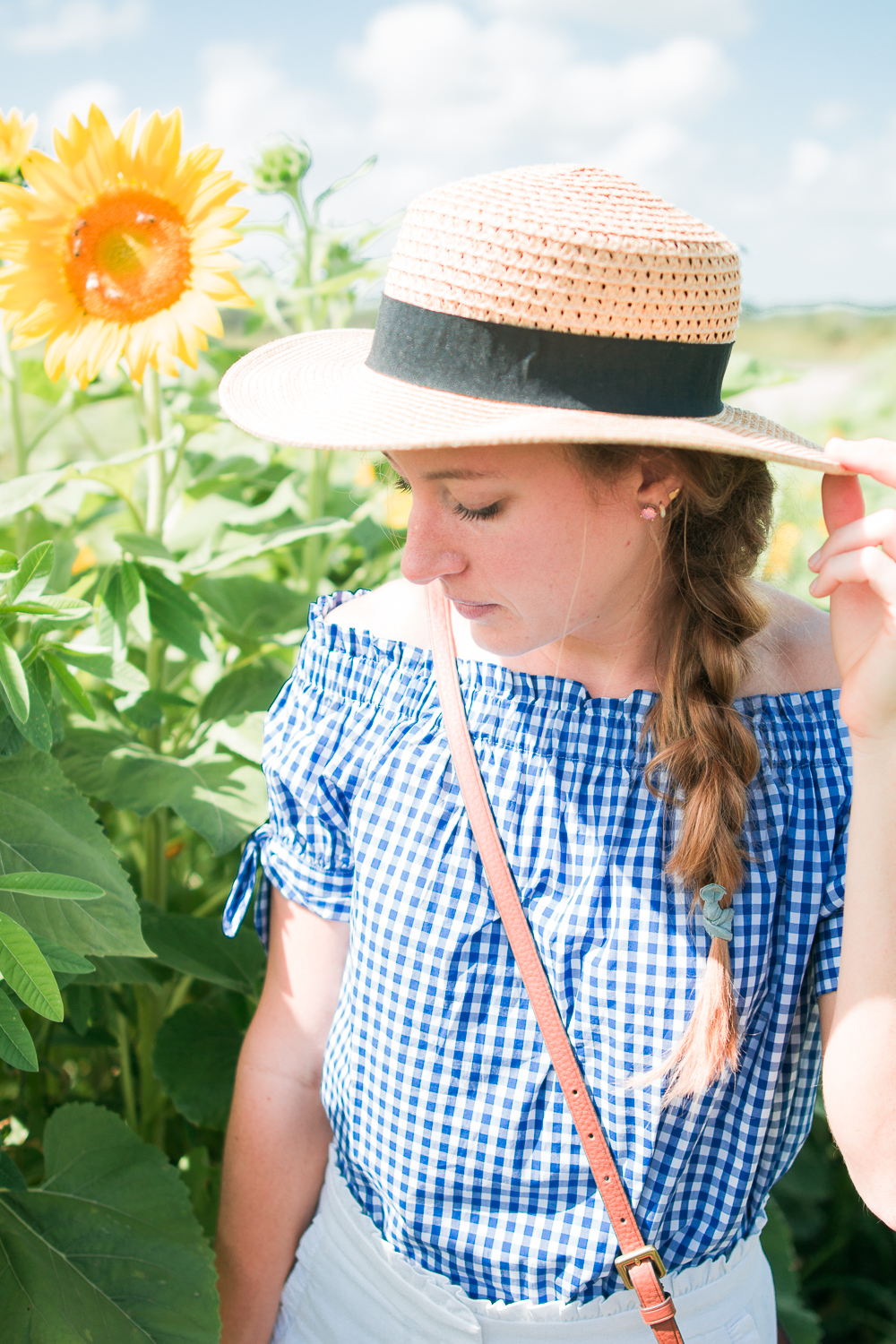 If you have fair skin like I do, a wide brim hat is a must, especially when your running in sunflower fields all morning. I had to much fun skipping around if you can't tell. I'm hoping I can go back before the maze closes, it's only open 3-4 weeks before the flowers outlast their time and pick some to bring back home with me.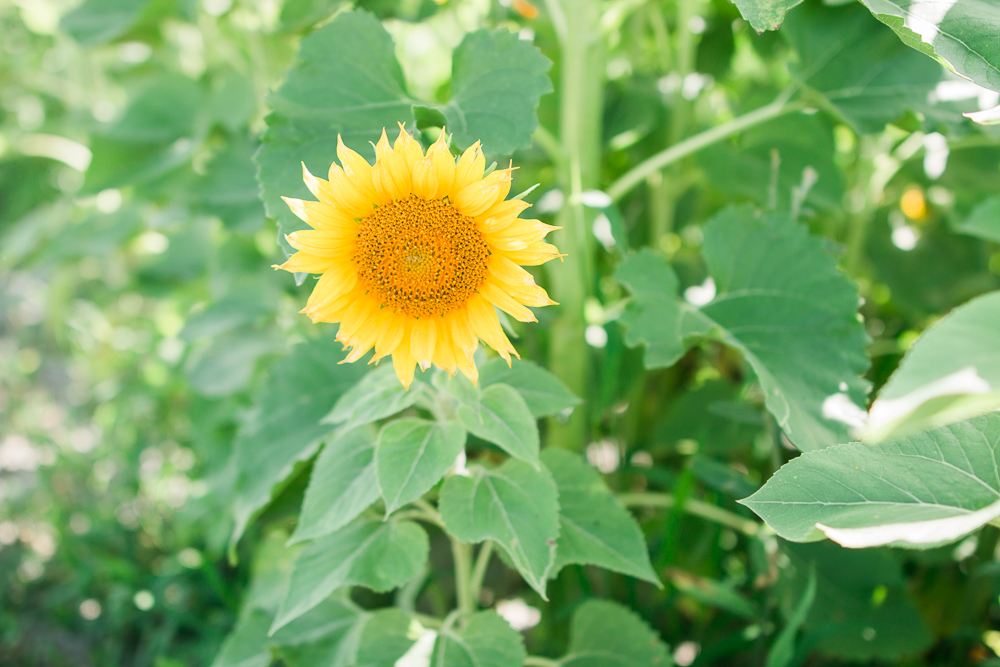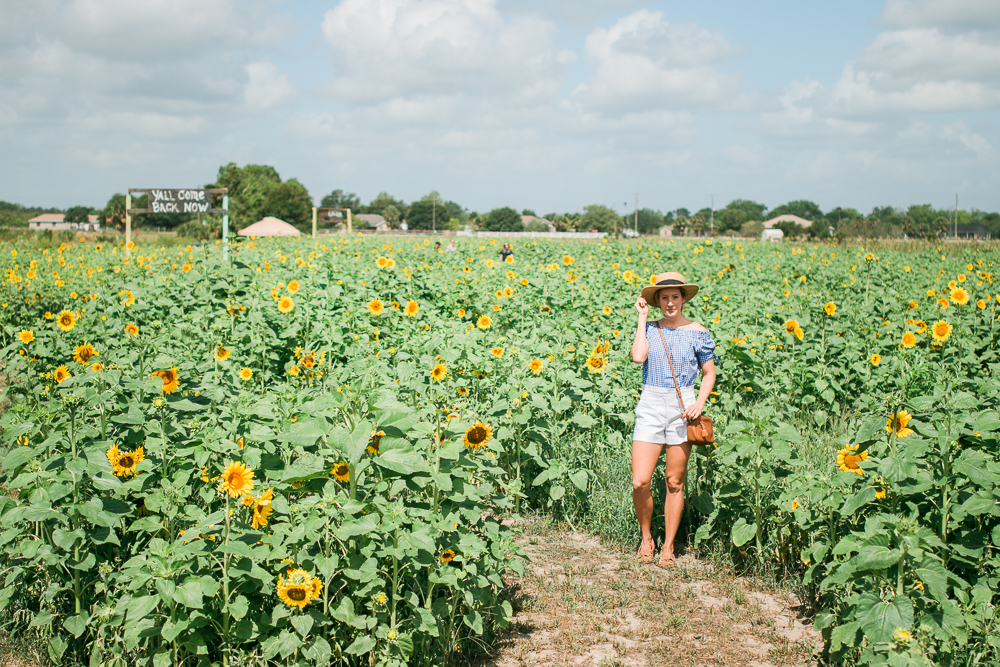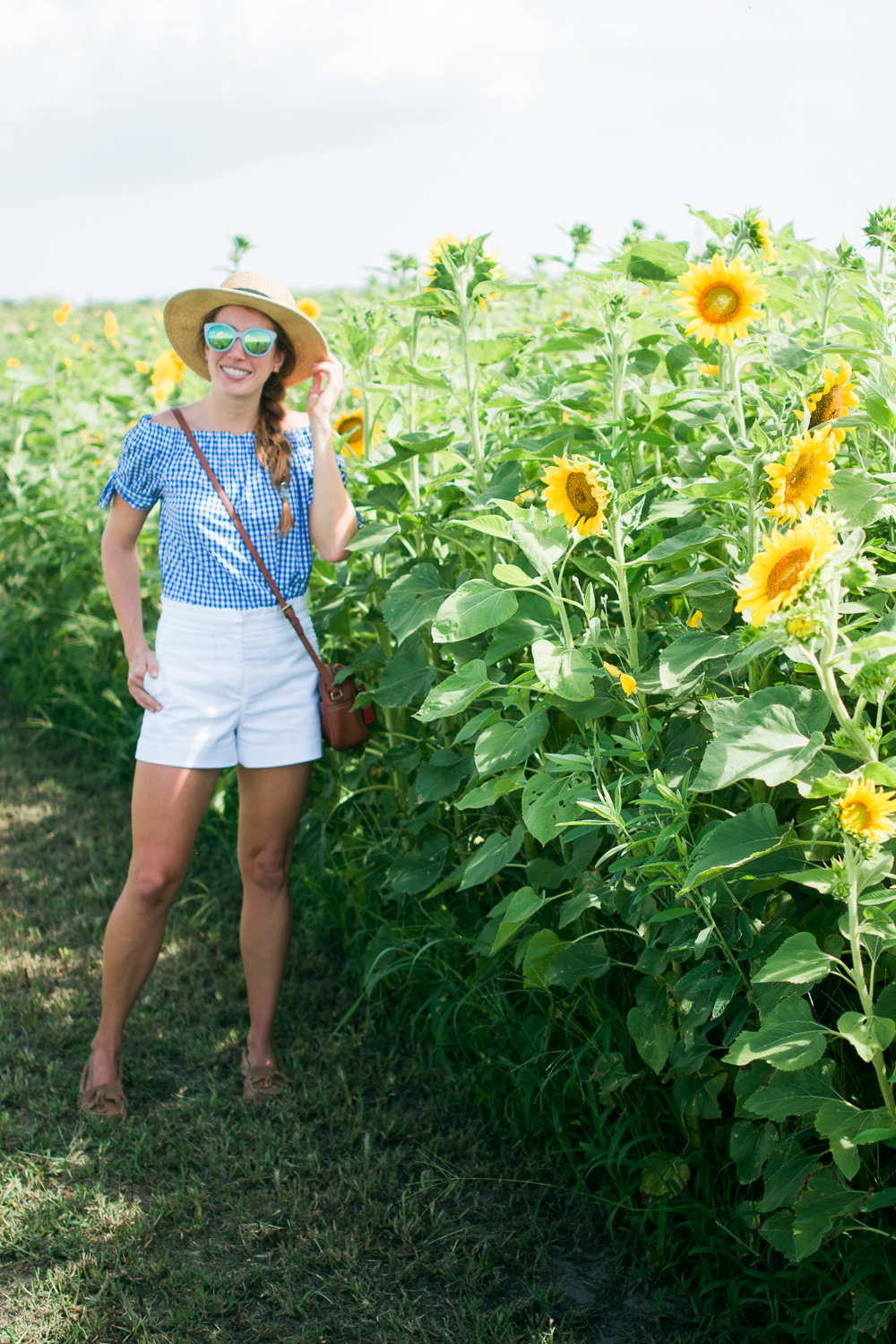 Outfit Details:
J.Crew Top, Shorts, Bag, Similar Sunglasses, Similar Hat
If you live in Central Florida or the Space Coast area (#321 baby!), make sure to visit Sledd's Sunflower Maze. Before you go check their page daily to see what times the maze is open (depends on weather). Cost is $5/person. Kids under 3 are free.
The address is:
Sledd's U-Pick Strawberries
Burkhold Road and Dixie Way
Mims, Florida 32745
Be sure to follow me on Instagram for more sunflower updates!
Shop some of my favorite Gingham Pieces for Spring/Summer:
Save
Save
Save
Save
Save
Save
Save