Hi friends! I am bringing back the "Sunny List" posts that I started during quarantine! It's a list of 10 of my favorite things that are bringing me joy during the week. Originally, I started it to bring you some positivity and find excitement in the mundane while we were all at home.
The other day a sweet reader messaged me and I asked her feedback about what she would love to see on my blog. She requested that I share lists type posts which are her favorite. I agreed that I do love seeing what other bloggers are finding/thinking during the week and sharing in a list format.
I have not thought it out or planned much but you can expect to find what thoughts go on in my brain all week, cute new online finds from retailers, behind the scenes of what's happening at Sunshine Style Co., business talk, what I am reading, watching or cooking and lots of randomness.
Sometimes I can get a little to in my head (anyone else) and am hoping this can be a space I can freely write and share without placing super high expectations on myself.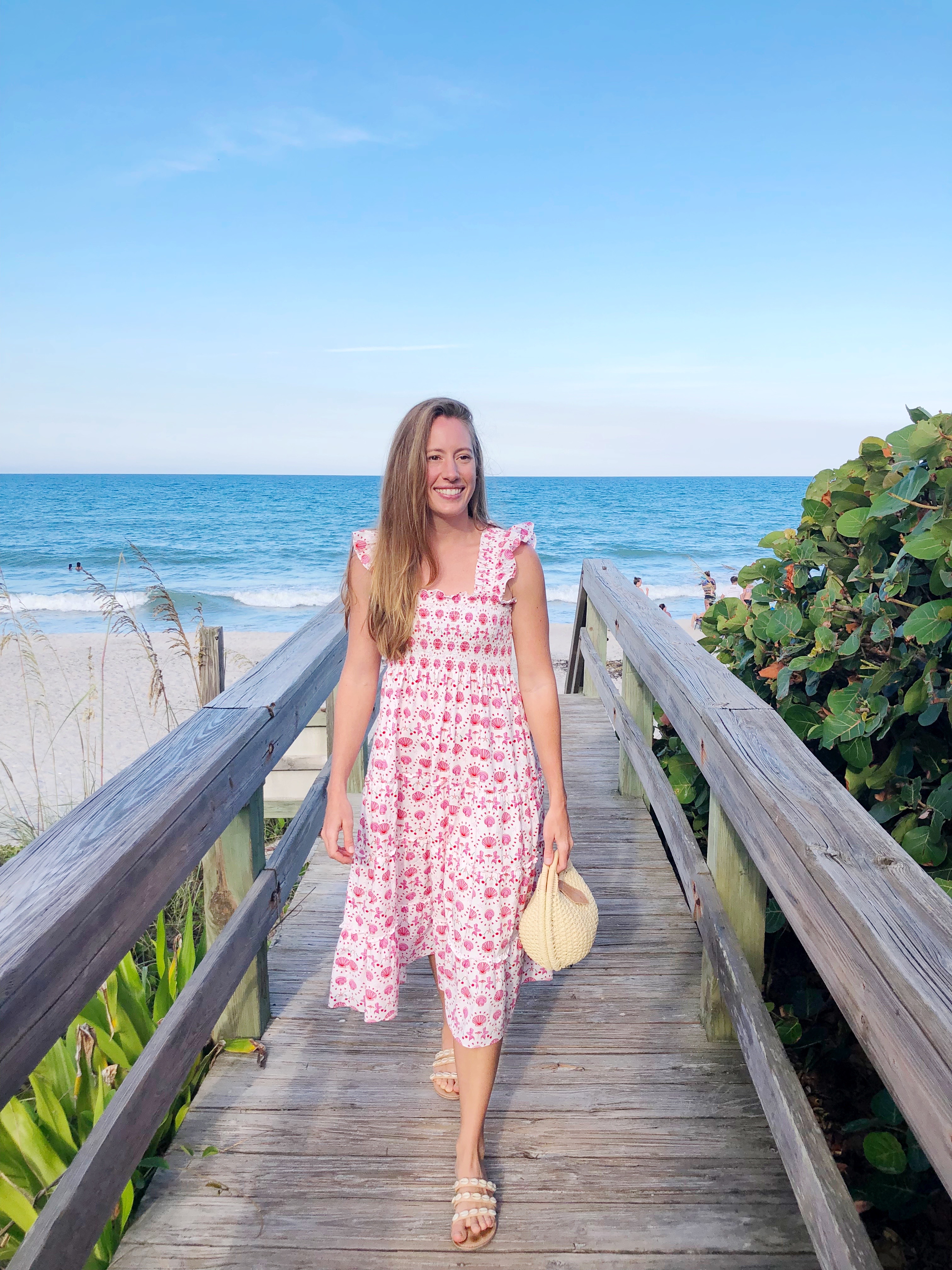 Nap Dress Mermaid Print (limited sizes available)
Some Hill House Home Nap dresses have been restocked today including the Trellis print! It's a pretty and elegant emerald green dress which would be so perfect for a warm weather fall outfit! FYI, these styles sell out extremely quick! I have a whole review of the dress with sizing details here!
My Sunny List No. 4 – 10 Things That Brought Me Joy This Week
ONE
A new to be brand sent me the cutest Lemon print pajamas to try out! I had been getting their ads for weeks on FB and was so excited when they reached out to me! I'll be doing a little try on Insta stories today!
TWO
I have been thinking of buying a printer specifically to print labels for my small business. Right now, I print them on a regular printer and then tape them onto a poly mailer and it just does not feel as professional to me. It's an investment, so I might wait until Black Friday to see if I can get a deal! Really though, the pink color printer is adorable!
THREE
For dinner this week, I got a huge craving for quesadillas so I made my boyfriend and I some one night and they were delicious! Here is an easy recipe I found if your interested!
FOUR
Summer is still in full swing here and there was a huge heat wave last weekend. All I can think about wearing is the least amount of layers possible. I've been eyeing this lightweight cotton ruffle top from Target that's only $25!. Seeing all the marketing emails for fall gets me excited and slightly sad all at the same time because the reminder it will be 100 here until December, ha!
FIVE
Business is a huge passion of mine! For my Birthday my sister bought me a giftcard for Barnes and Noble and I used it to buy all business books! I love learning about it and have been reading Think & Grow Rich by Napoleon Hill. It was written in the 1930's and all of the principles in the book are practical and can still be applied today! They even made a movie out of it with interviews from present day millionaires and billionaires lihe Rob Dyrdek and Barbara Corcoran.
SIX
Who else started watching Outer Banks Season 2!? It's on Netflix and reminds me so much of the Goonies just with teenagers. I am not sure why I am so thrilled to watch teens running around being heroes but I love it!
SEVEN
Like I mentioned above, I really love business and am always trying new ways to grow and learn. For about a year, I've been following Brock Johnson on Instagram and he is the expert on making reels! He grew his account from 70K – 180K this year! That is incredible and I learn something new from him everyday!
EIGHT
Not quite sure why I did this to myself but I ordered the most adorable striped sweater dress from J.Crew. Guy's NINETY here everyday. Maybe I just like to tease myself. From now until December, I will only be wearing this dress to work inside.
NINE
I found the cutest lobster print fabric and ordered a sample to test out before I bought a larger quantity of fabric for Sunshine Style Co. Learned this lesson the hard way after buying fabric and not loving the size/scale of the print! It's exactly the hand illustrated print I have been looking for! Be on the lookout for it's release early September!
My Sunny List No. 4 – TEN
Sustainable fashion brands are always something I am no intrigued by. I recently stumbled on a new emerging brand, Dynasty George. I love their mission to bring community to the fashion industry! Dynasty even designs and makes all of the garments in her Brooklyn apartment which is incredible!

Lots of Sunshine,
Katie