Starting in late September and early October, I love to start wearing more fall colored inspired dresses. Mainly because it's way to warm to even think about putting on a pair of pants or a sweater! When the temps to start to cool down, I'll switch from short sleeves to long sleeves dresses or add a jean jacket! My new favorite trend?! Styling them with a pair of white sneakers! Woooo…getting excited for fall dressing!
Bright colors are my favorite and that doesn't change much into the fall and winter months. Instead of bright yellows and hot pinks, I lean towards mustard yellows, darker shades of pinks, blues, neutrals, leopard and of course stripes!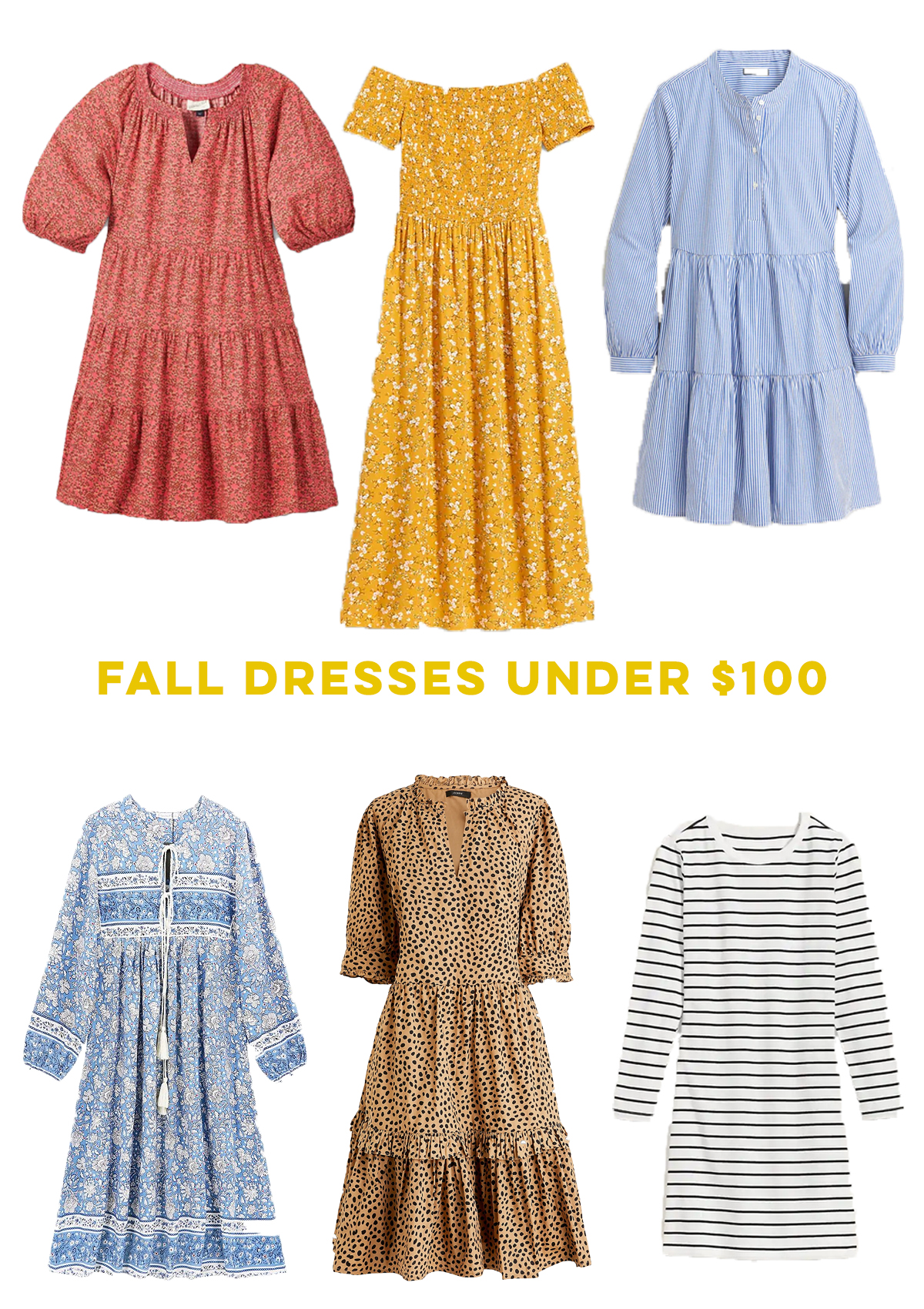 First Row: Puff Sleeve Babydoll Floral Dress / Yellow Off the Shoulder Midi Dress / Blue and White Striped Dress
Second Row: Blue Floral Print Dress / Leopard Print Dress / Long Sleeeve Striped Dress
Last week I made a Target trip and picked up this really cute dress in an XS (runs very large)! It inspired me to create this post of all the fall inspired dresses I could find! There are so many cute dresses out there, I want them all. The babydoll style is super popular and I have a feeling were going to see it a bunch this winter and into the summer months. These two babydoll dresses like this dress with the puff sleeves and this leopard print dress would be so cute styled with sneakers and a crossbody bag!
Personally, I love the tiered dresses and find them so flattering. If you follow me on Instagram stories, you may remember me asking if I should exchange this tiered striped dress from J.Crew Factory for a larger size. I ended up going to the outlets this weekend in Vero and got a small in the solid green colored dress! I love everything about the dress. The cut is flattering, it's tiered, has long sleeves so it adds a dressy element and there's elastane so it's super stretchy.
This Amazon floral dress is plastered all over Pinterest and Insta. If you haven't seen your fav bloggers in it yet, I bet you will by the end of fall! Only slightly kidding! It looks extra comfy for easy mornings or to wear while working from home. I am not a big grand-millenial devout style follower but this dress would be the exception.
All of these dresses would look extra cute styled with a pair of white sneakers! I recently picked these white canvas pair at J.Crew Factory and their an extra 20% off today with code COMFY!
Just wanted to say thanks so much for reading my posts, supporting Sunshine Style and any encouragement you send my way. I love interacting with you on Instagram and DM's! None of this is even possible without you. Okay, I'm signing off. Work at my other job calls and I see I have over 50+ emails that need attending to!
Shop The Fall Colored Dresses
Lots of Sunshine,
Katie