Summer heat is officially here and that mean's it's sandal time! I've traded out all of my closed toed shoes for slides and sandals only! There are only a few things you need in the summer and that's sunshine, sunscreen and sandals. ? Sandals are the best because they are so easy to slip on for running errands, beach days or weekend stay-cations. There are so many cute sandals this season to choose from!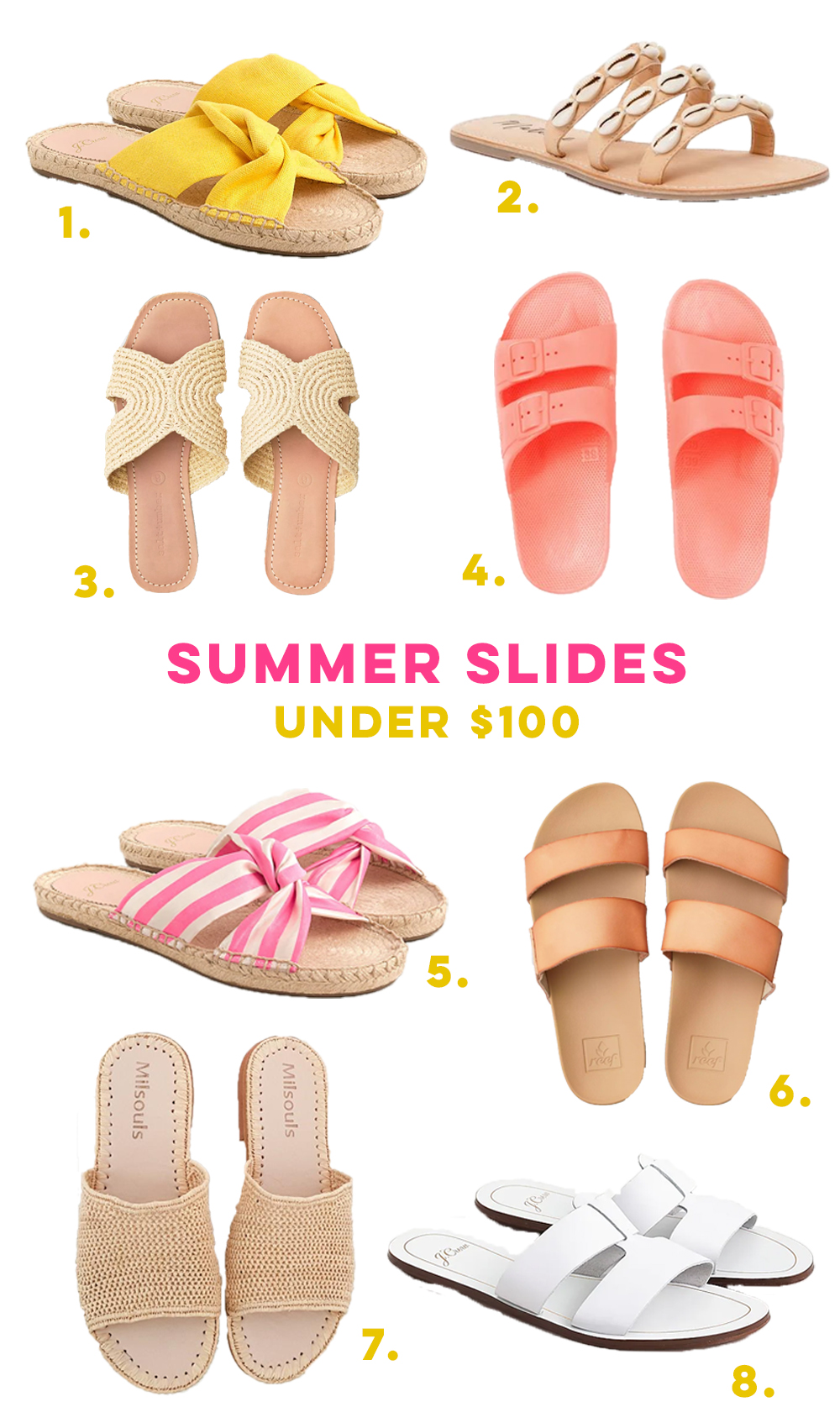 ONE / TWO / THREE / FOUR / FIVE / SIX / SEVEN / EIGHT
Summer is all about simple! In all honesty, slides are the easiest shoe to style! I love wearing mine with dresses, denim shorts, skirts and beach cover ups! Every summer I usually buy one new pair of sandals that I just can't live without. This year it's these nude shell slides (under $85). They will pretty much match with everything and I mean, everything! I usually retire an old pair from the previous summer and keep them as my "new" beach shoes.
Have you heard of the new birken-crocks shoe?! Before it was popular, I had a pair! Birkenstock's have never been a shoe I pictured myself wearing until I found them in "crock" form. They make the best plant watering, car washing, pool day and outside shoe! These pink ones are only $40 and come in 13 other colors to choose from. I wear mine to the beach, on nightly walks and when I garden and weed!
If you are looking for a nude pair of slides to match with all of your summer dresses, these have a really fun design on them! Raffia screams summer which is why I love these ethical slides handmade in Morocco. These will probably be my next pair of sandals I add to my growing summer collection!
How is quarantine life going for you? Are you still working from home? Is your town open? We are on Phase 2 in Florida and for the most part, things are pretty much back to normal. 40% of people are wearing masks when out shopping, restaurants have been full and our retail stores are open with limited hours. I've been working from home since April and have the luxury to do it for forever since I work remotely! My gym is also open which is a lifesaver and keeps me sane since I work alone.
When I finished work today, my mom and I were craving popsicles, so I took a trip to Publix and bought some to eat when we were going to swim in the pool. Today is my Dad's Birthday actually. We we're going to swim after we ate cake and popsicles but it ended up storming pretty bad! Then a double rainbow appeared and it was the best ever! He had some late night work to finish, so here I am, finishing up my blog post after we celebrated!
Lots of Sunshine,
Katie