2 days until Christmas and I am just getting around to sharing this?! Better late than never! My room is teeny tiny. With my room being so small, I love to decorate simply and add cute details to make it feel Christmas-y without going overboard. It's big enough to fit a bed, bookshelf, dresser and a bean bag chair banked up against my dresser and that's it.
Now, if I had my own house, I'd probably go overboard at Christmas! There would be color everywhere! Instead of a green Christmas tree, I would have white AND there would be hints of tropical decor everywhere! There'd probably be a few themed Christmas trees, one of them being candy! Right now, I live with my parents (hoping that changes this year) and my mom is full blown into the traditional Christmas colors. Think very rich colors like red, green, gold and silver.
I love her for always decorating our house so cute and it truly feels like a winter wonderland when you step inside. Her and my older sister both have really amazing decorating skills! I tend to lean more towards fashion and blank out on home decor. I love my moms style but it makes me ever more excited to decorate my own place one day, FULL OF COLOR. Note to my future husband…if you ever read this, we WILL have lots of color ha!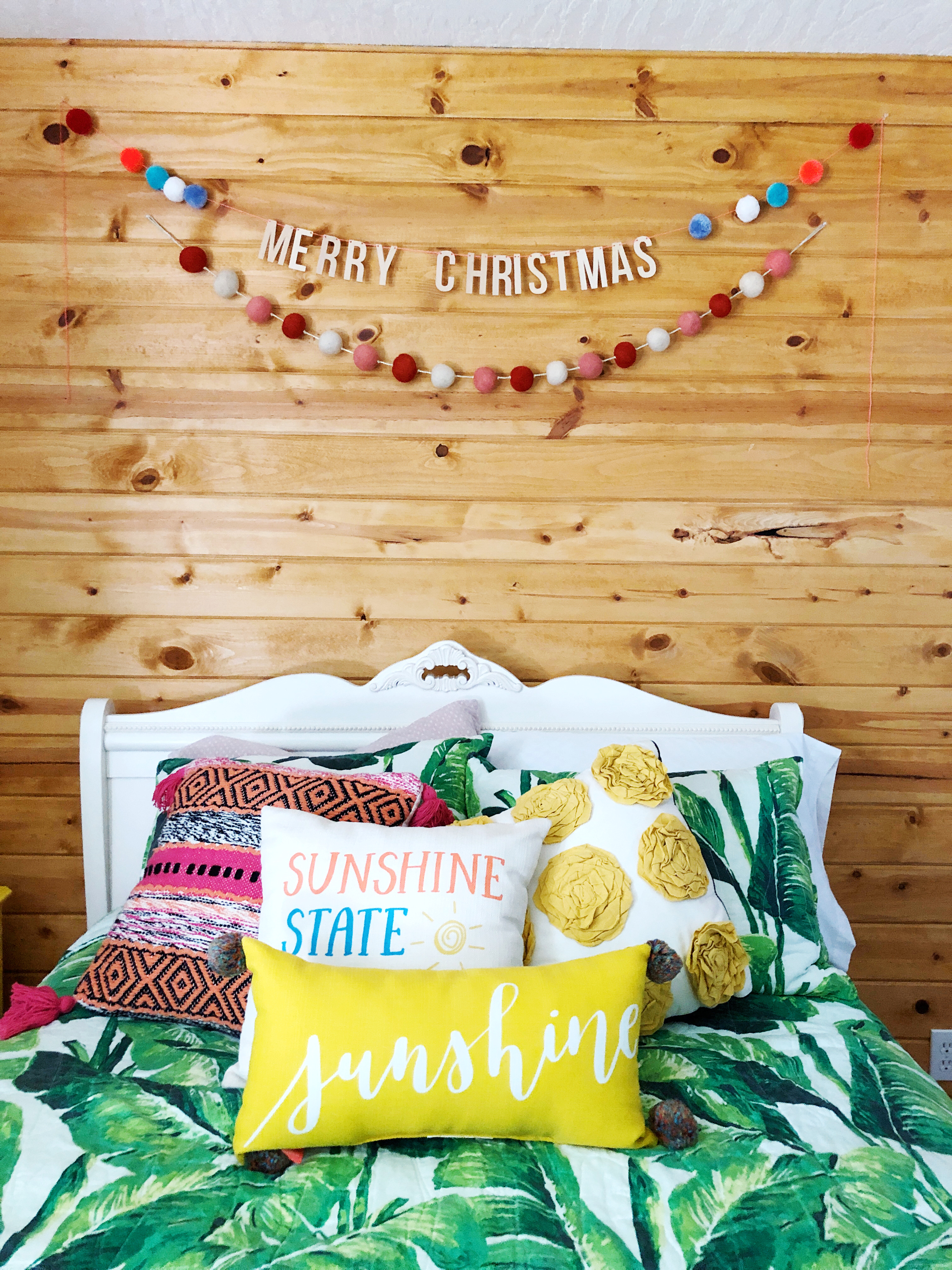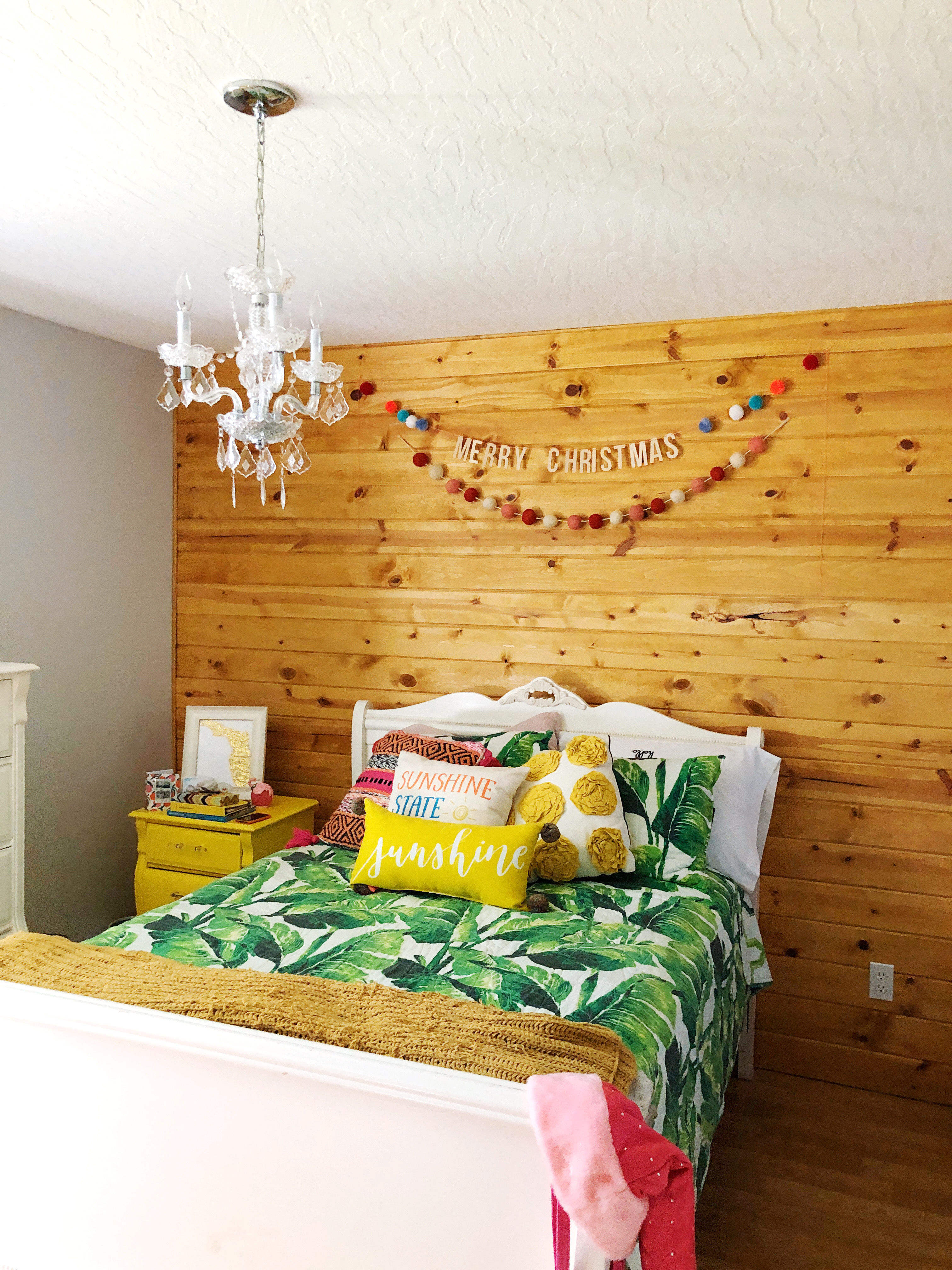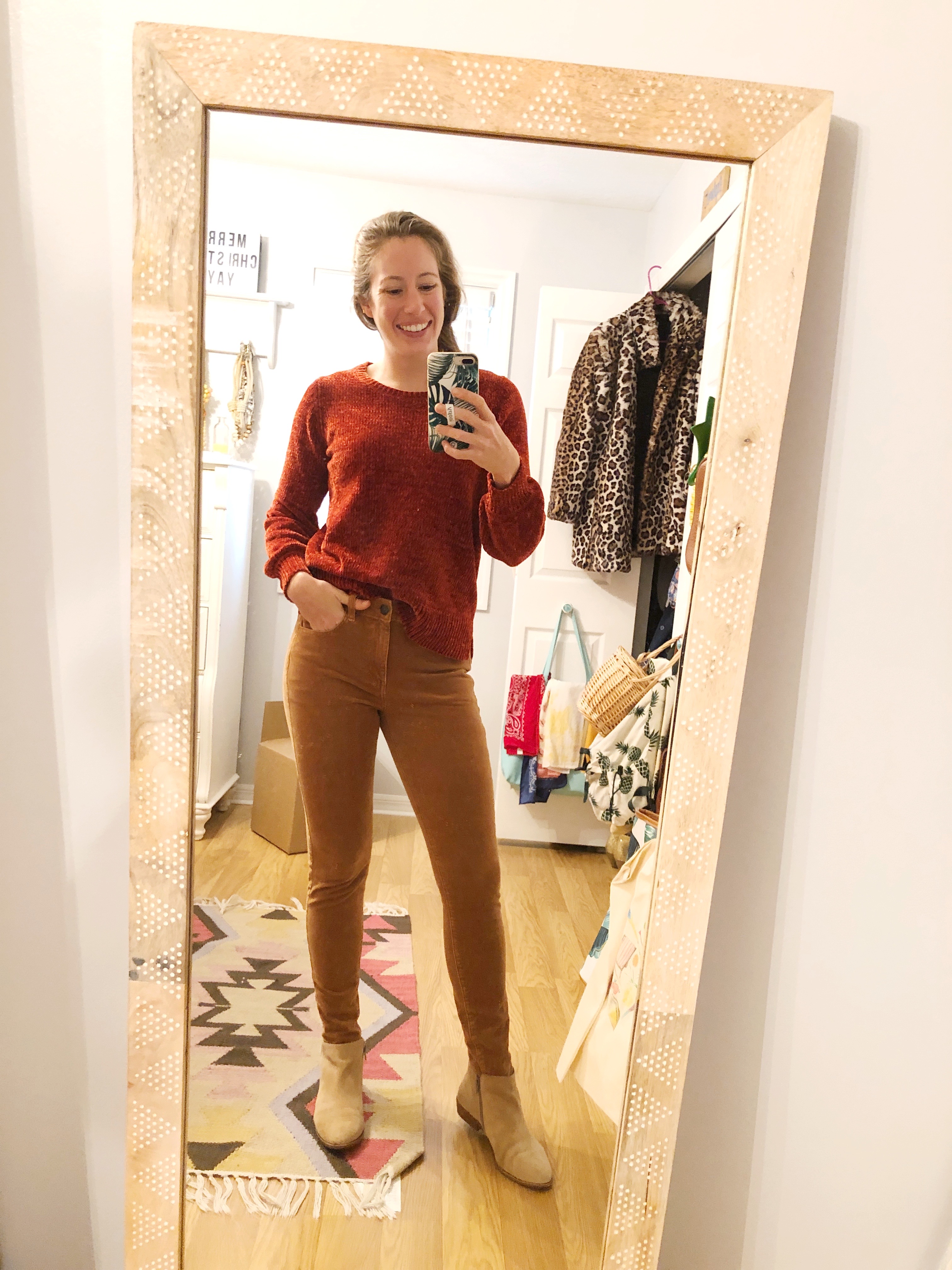 Snapped this photo early in the AM when the lighting was semi decent! It was right before I left for work and wore dark colors, hoping it would hide any food spills I might have gotten on them. My students were cooking for their exams and it can get pretty messy! There's my cute leopard coat hanging in the back!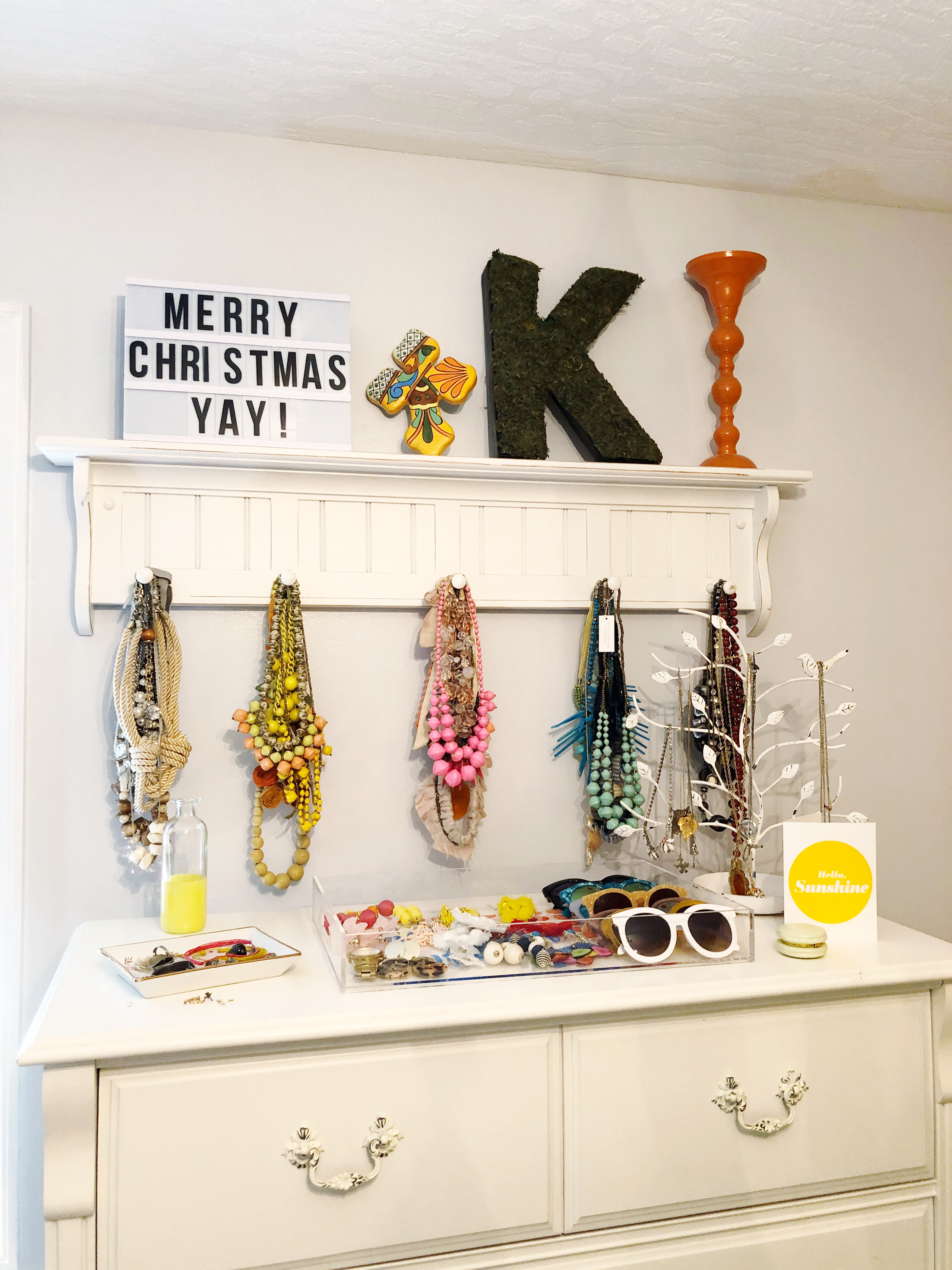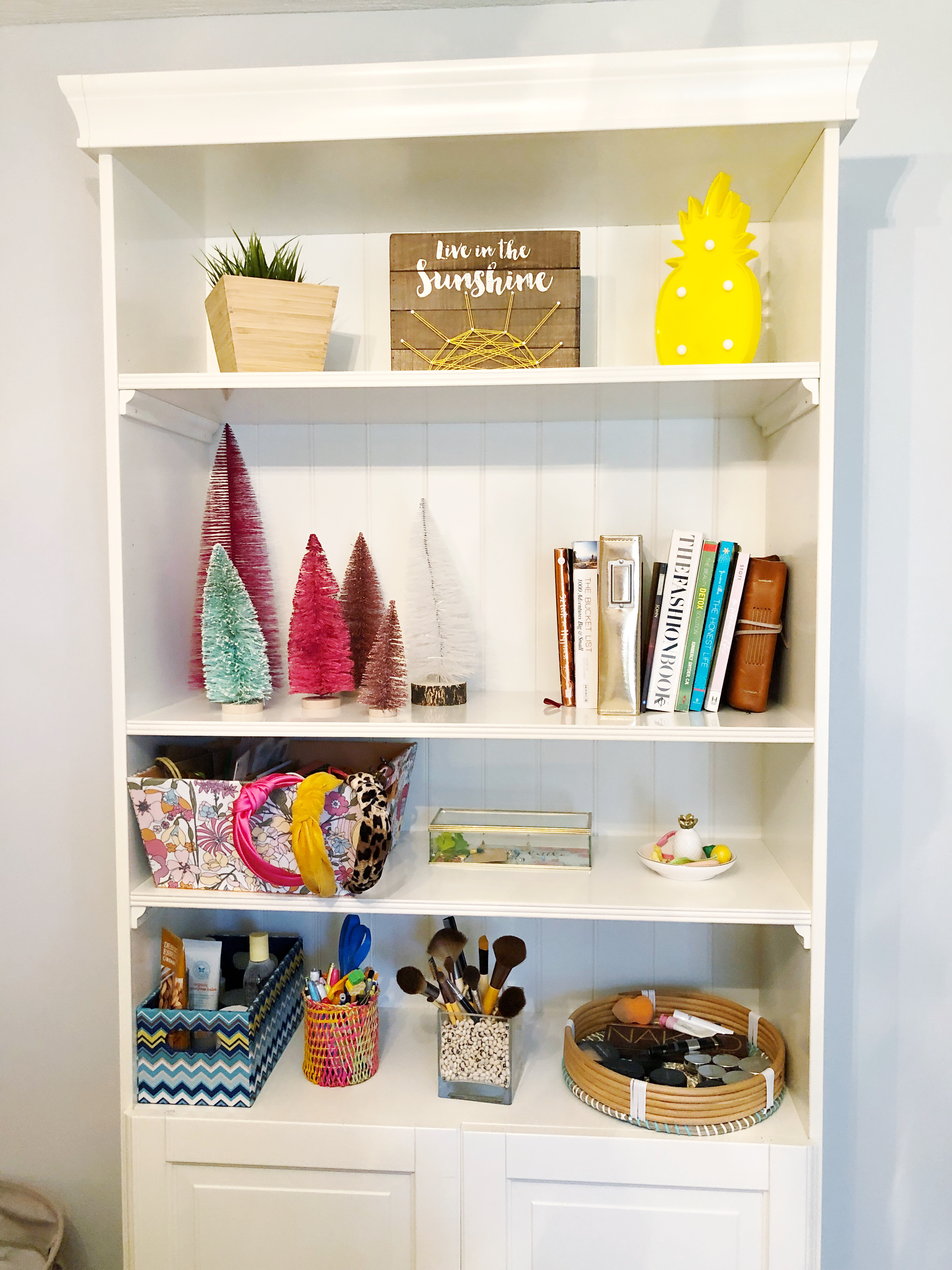 I love the tropical vibe of my room and decided to add in small hints of color. Hanging on my DIY shiplap wall is garland and the letters spelling out Merry Christmas, I have a LED light box that says, "Merry Christmas Yay! ha" and the cutest bottle brush trees.
When light boxes first became so cool, I was so obsessed with getting one. It took a while to find one that I loved but Target came through. Target sells one with black letters and adorable gold letters. Out of all the ones I've seen in store and online, you get the most with your buck in terms of quality and cuteness! Their fun to change the words out each season and for special occassions!
Who else thinks bottle brush Christmas trees are just the cutest things ever?! Especially for an easy decoration! During Thanksgiving when I was in St. Augustine I picked up a white battery operated light up bottle brush Christmas tree that has a timer. It's the best, I set it for 9 PM and it stays lit for a few hours after. Every night when I climb in bed, I have a cute glowing night light. If you're interested, I found a similar one here!
I might be back on here for a quick post about some holiday outfit ideas! My family got into town from North Carolina on Saturday while I was helping out a friend shoot a fun surf camp video for Ron Jons. We've been playing cards, wrapping last minute gifts and did an Escape Room yesterday since our Disney Springs plans got rained out. Tomorrow we have plans to watch Surfing Santas in Cocoa Beach which I am most excited for! I'm excited to relax and hang with my fam before they head back up North.
If I'm not on here later in the week, hope you all have the most Merry Christmas Ever! I appreciate you all more thank you know!!
Lots of Sunshine,
Katie
Recent Sunny Posts