One of my favorite ways to ring in the fall season is to incorporate a few new trendy pieces into my current wardrobe. That's why I gathered 15 of my fall favorites from Target. All under $50! If you are on a budget like me and can't spend a fortune for such a short season…the answer is Target for the win!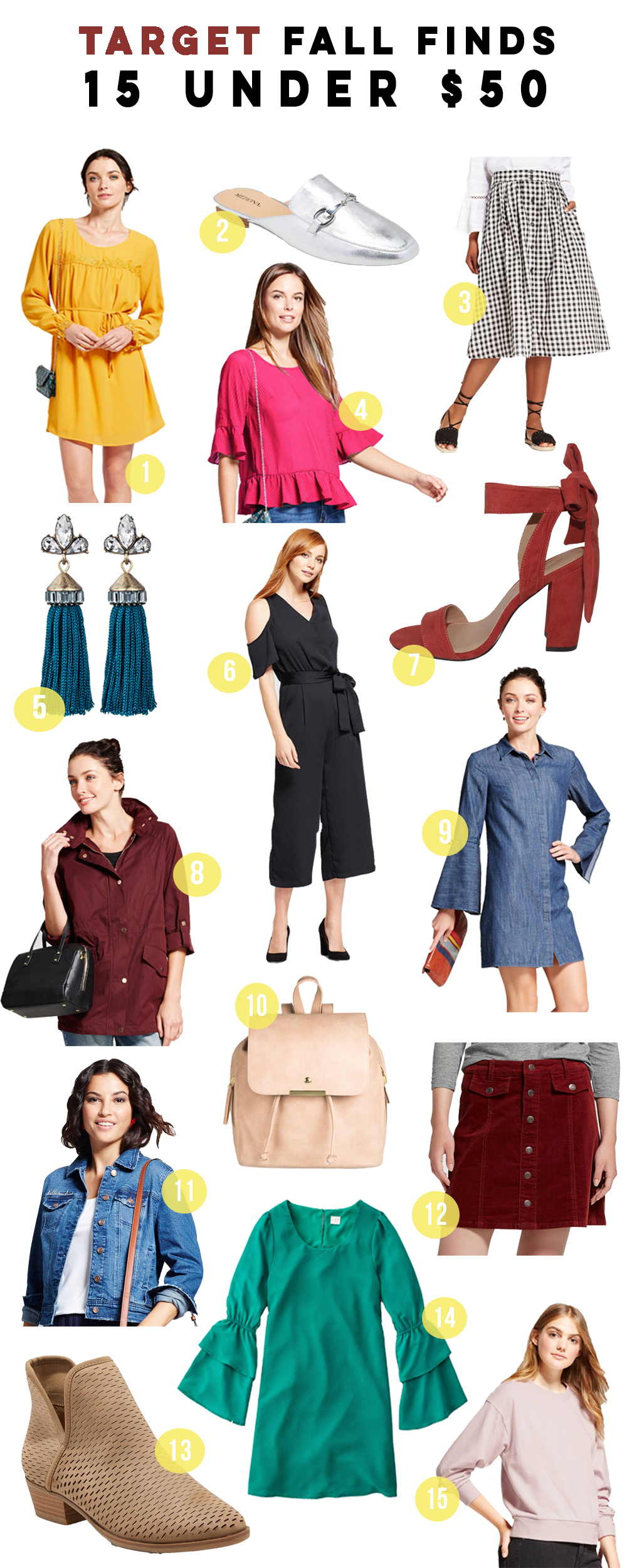 Mustard Yellow Tie Dress | 2. Silver Backless Loafer (under $30!) | 3. Button Up Gingham Skirt | 4. Hot Pink Ruffle Blouse | 5. SUGARFIX by BaubleBar Teal Earrings | 6. Black Cold Shoulder Romper | 7. Burgundy Ankle Tie Heel by Who What Wear | 8. Maroon Anorak Utility Jacket | 9. Bell Sleeve Chambray Dress | 10. Blush Pink Faux-Leather Backpack | 11. Casual Jean Jacket | 12. Suede Button Down Skirt | 13. Laser Cut Out Bootie | 14. Emerald Bell Sleeve Dress (adore this dress!) | 15. Mauve Tie Sleeve Sweater
Has anyone been to Target lately? They have the cutest fall items everrr! I am dying to buy these backless loafers. Must make a Target run ASAP!
Since I live in a warmer climate, my fall wardrobe is superrrr minimal. Were talking one drawer full of all my "winter/fall" clothes. Whether your fall season is super short or prolonged (jealous of you guys experiencing cool weather already) an easy way to bring fall into your wardrobe is to add new budget friendly pieces in fall friendly colors.
I like to purchase items in autumn hues like burgundy, mellow yellow, pastel pinks and emerald green. You can then mix and match your new fall pieces, such as this emerald green dress, with existing accessories in your wardrobe.
An easy way to dress up the mustard yellow long sleeve dress (my personal fav), is to add turquoise fringe earrings or cutout booties. If your looking to spruce up your fall accessories, go for the girly blush pink backpack or red tie heels. Pair with a basic silhouette and you will have everyone falling for fall in no time.
Save
Save
Save
Save
Save
Save
Save
Save
Save
Save