Happy 2nd day of summer! Sooooo this dress is from a store I never thought I would shop at again once I graduated from 8th grade. I've shared a few sneak peak photos on Instagram and I think you guys were in as much disbelief as I was that the dress is from Abercrombie. I thought my Abercrombie & Fitch and Hollister Co. days were long gone and I was A-OK with that.
Once I matured and realized low-rise shorts don't exactly look as cute and I thought they did, I made a vow I'd never step foot in those stores again. It's almost like I am betraying myself shopping there expect in the best way possible because this dress is amazing! Abrecrombie really seems so have stepped up their game this season!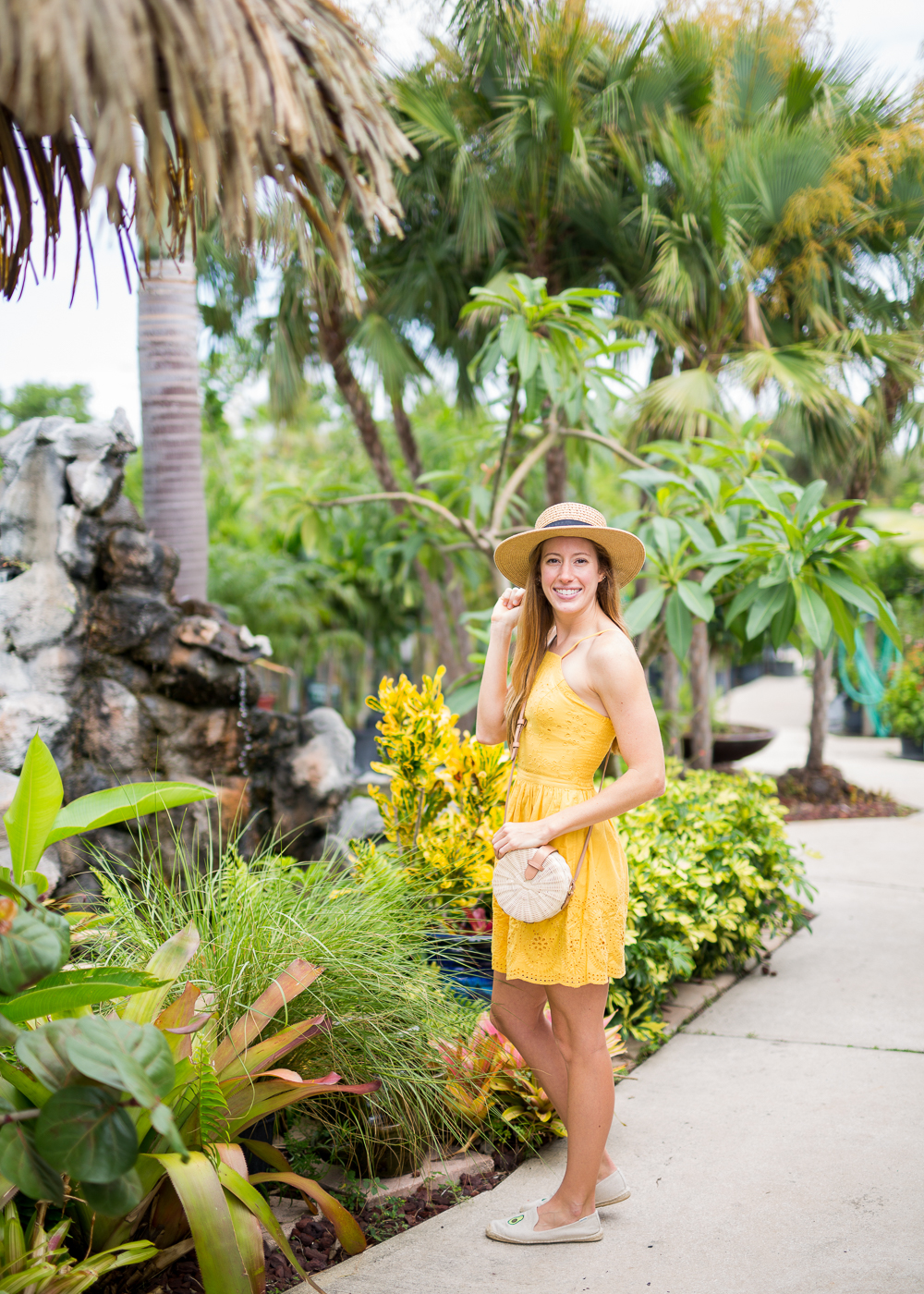 Outfit Details
Abercrombie Dress, Soludos Shoes, J.Crew Circle Straw Bag, Kohl's Hat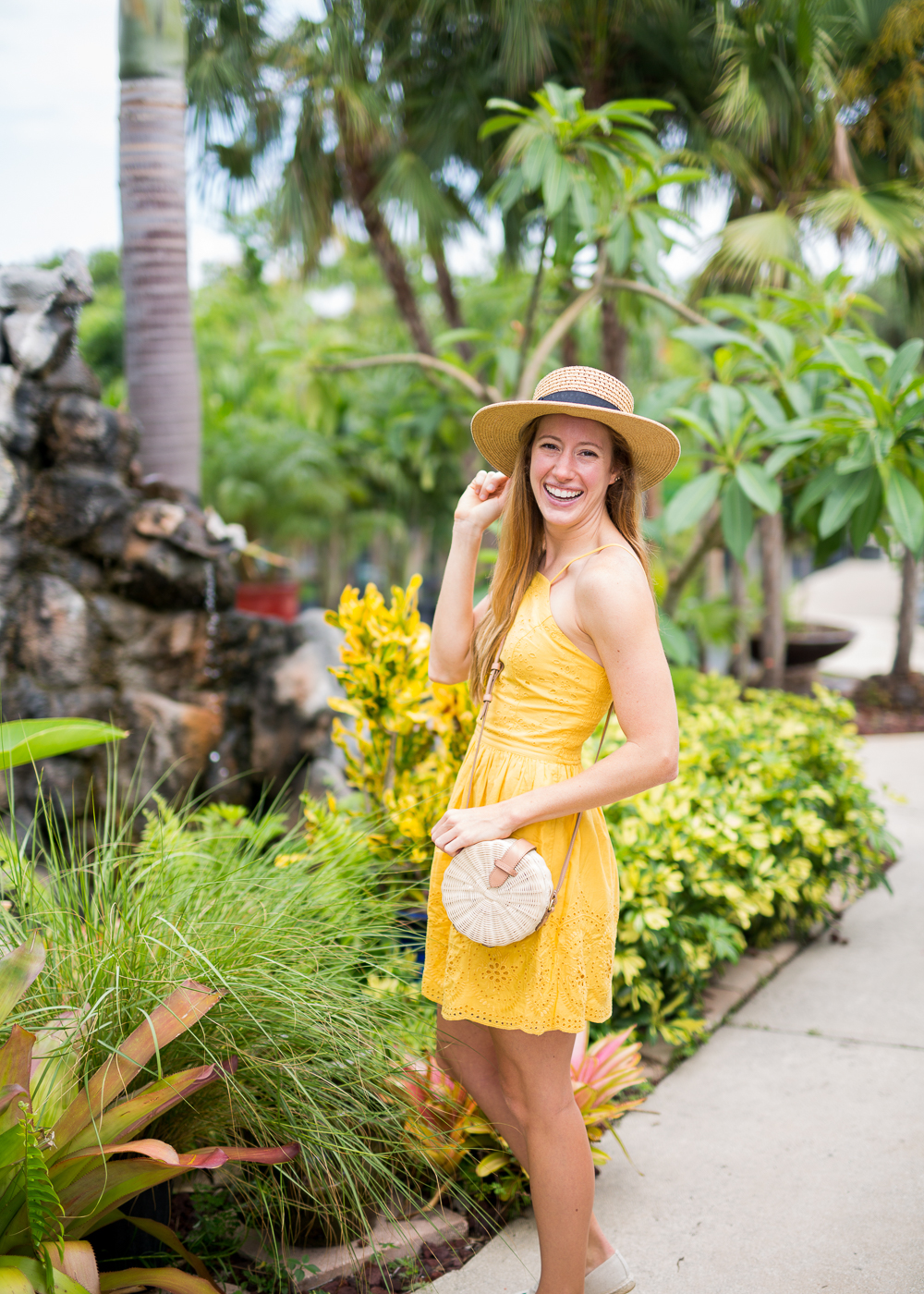 Summer is my favorite season to shop for and I especially like finding bright summery dresses to wear. Yesterday I posted a list of 12 white summer dresses for under $100 and my struggle with finding a white dress that I actually liked. I first spotted this dress on Carly and immediately ordered it in yellow and white. The white was on back order when I ordered it which was disappointing because it's the color I originally wanted, but I actually think I like the yellow color better on me! The fit is super comfortable, it's lightweight cotton and the length hits at just the right spot on my leg. It really is the perfect summer sundress.
Is the backdrop in these photos not absolutely gorgeous? It's a nursery that's less than a minute from the beach! That's right, this beautiful place is just a hop, skip and jump to the best place on the planet. I felt right at home with my dress popping out against all of the bright greenery.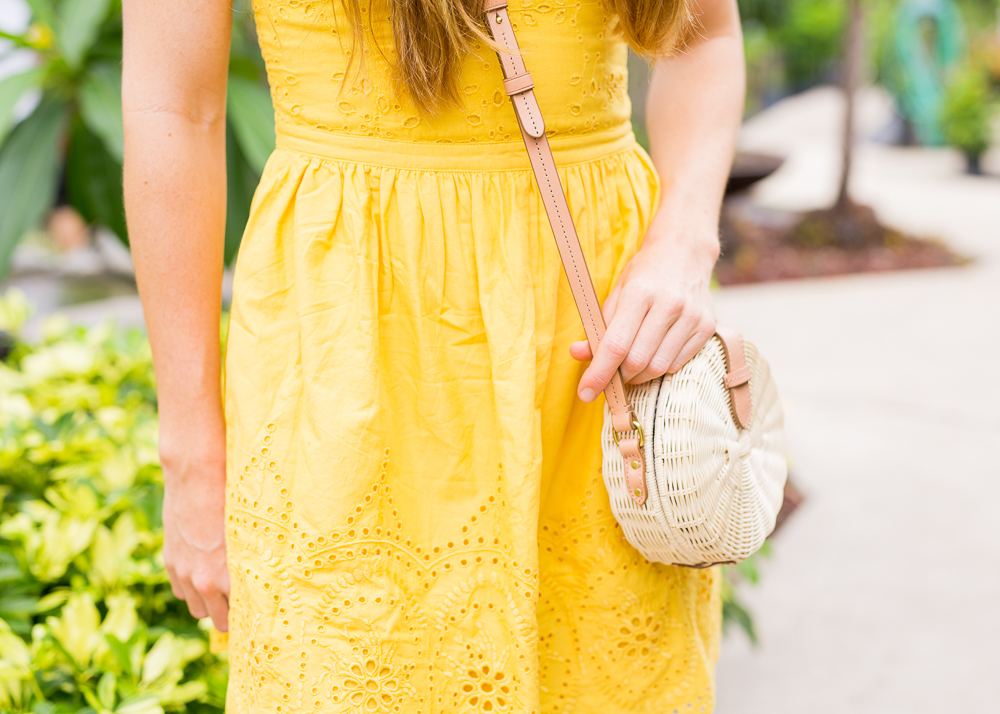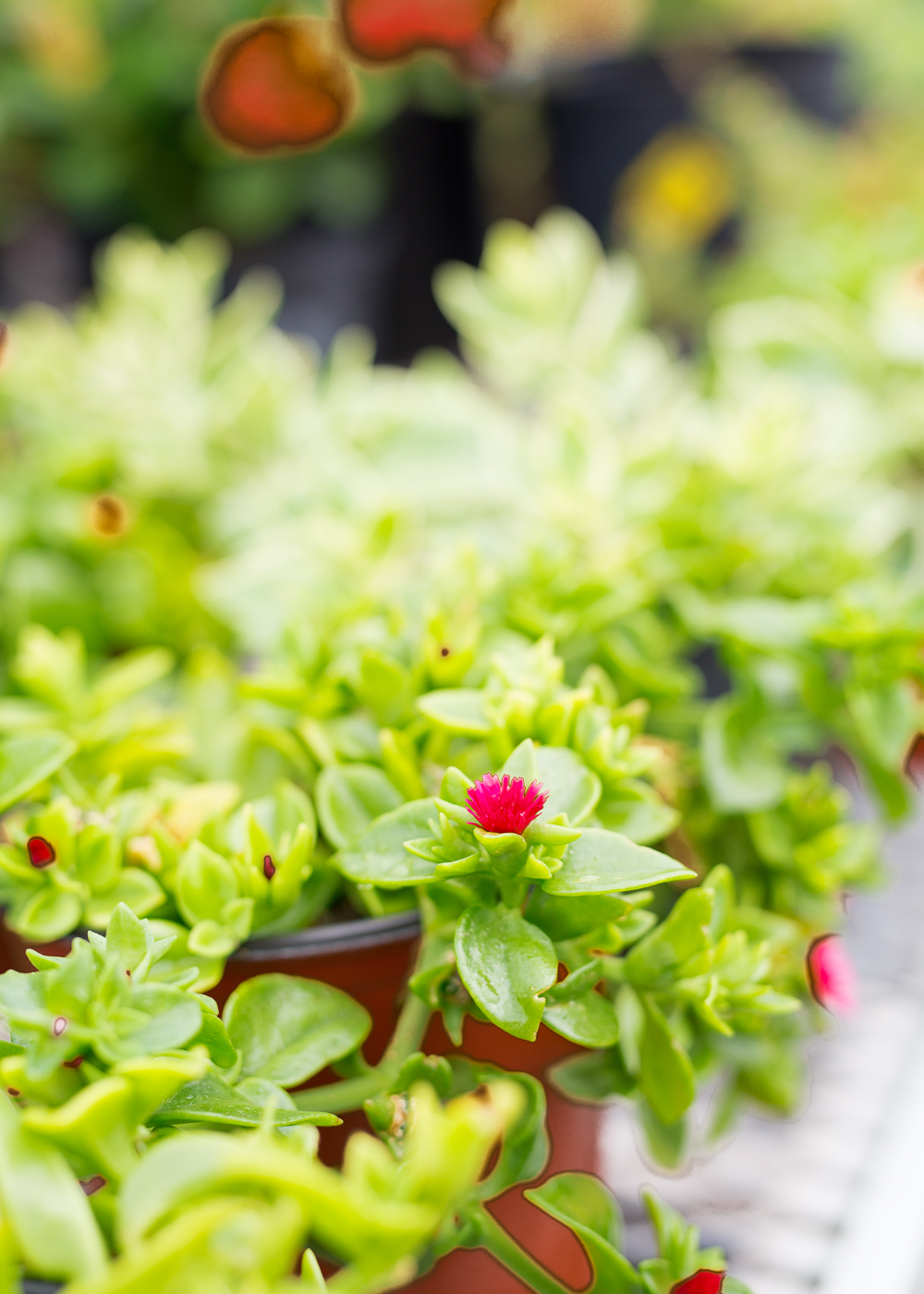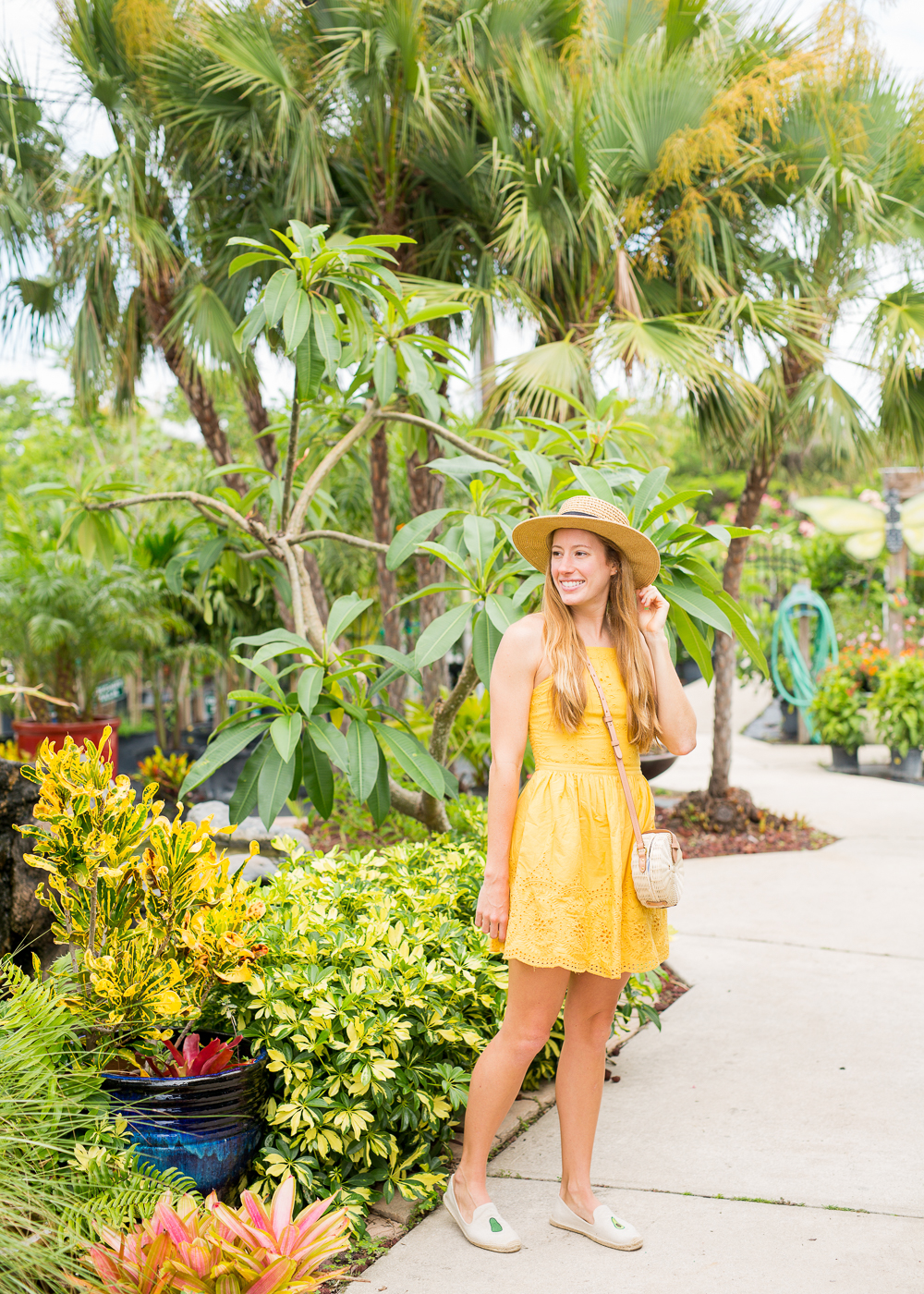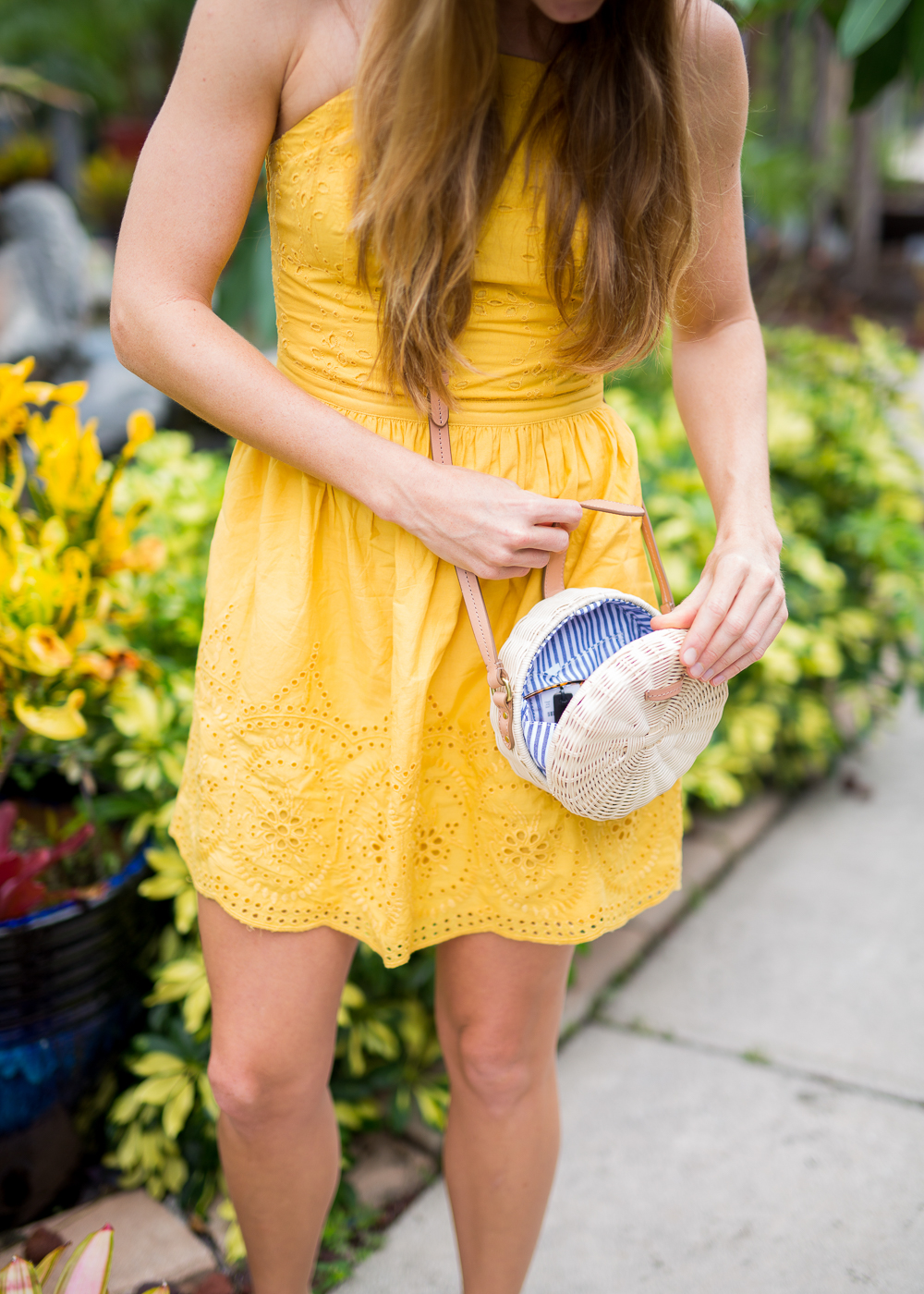 Straw bags this summer are a big trend. I've seen bloggers wearing them all over the internet left and right. Trends can be iffy for me. They may look cute but their lifespan may not be as long as lets say a classic bag. Before I buy something trendy, I have to ask myself a few questions.
Will I be able to wear this for years to come?
Does it match with everything or only look good with one outfit?
Is it a hefty price tag?
If I buy this will every single person in the universe be wearing it?
To be honest, when I first ordered the straw bag, I was not sure I was going to keep it. It's a bit of a higher price tag and I originally wanted a darker color like this one. What sold me were the details, leather straps and overall uniqueness of the bag. Even if it goes out of trend by next summer, I know I can wear this bag as a staple for years to come because of it's neutral color and simplicity.
It's a bit smaller than I prefer (it's about the width of my phone), but ETSY sells one that's about two inches bigger. I may just save up and buy that one also! I've already worn it with several summery looks and have gotten tons of compliments. In my opinion, you can never have to many cross body bags, especially ones that match with everything.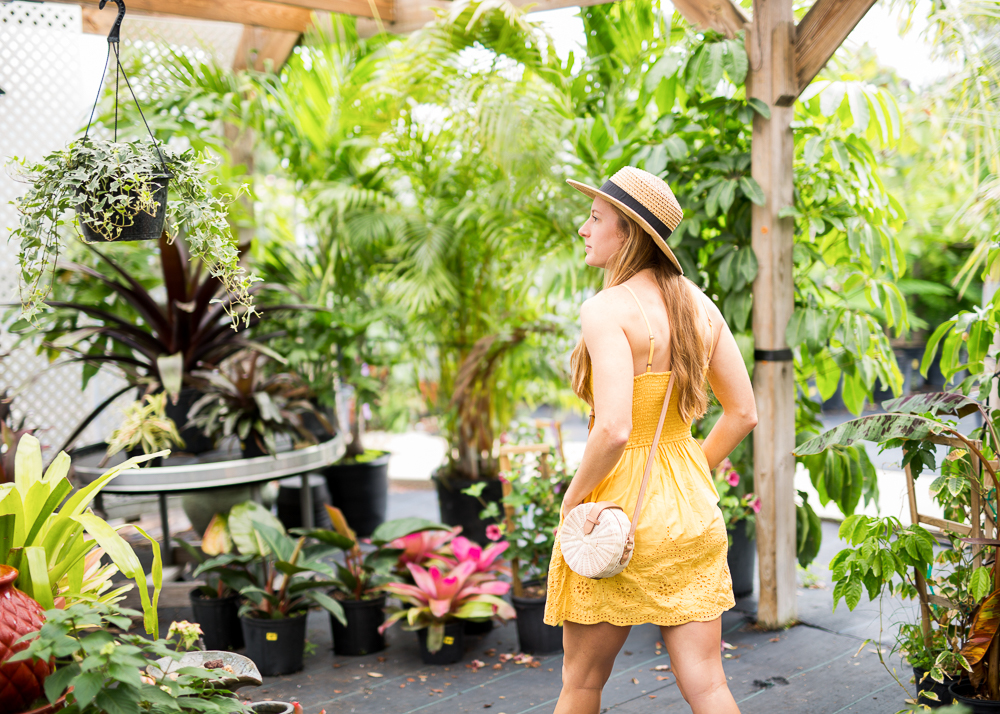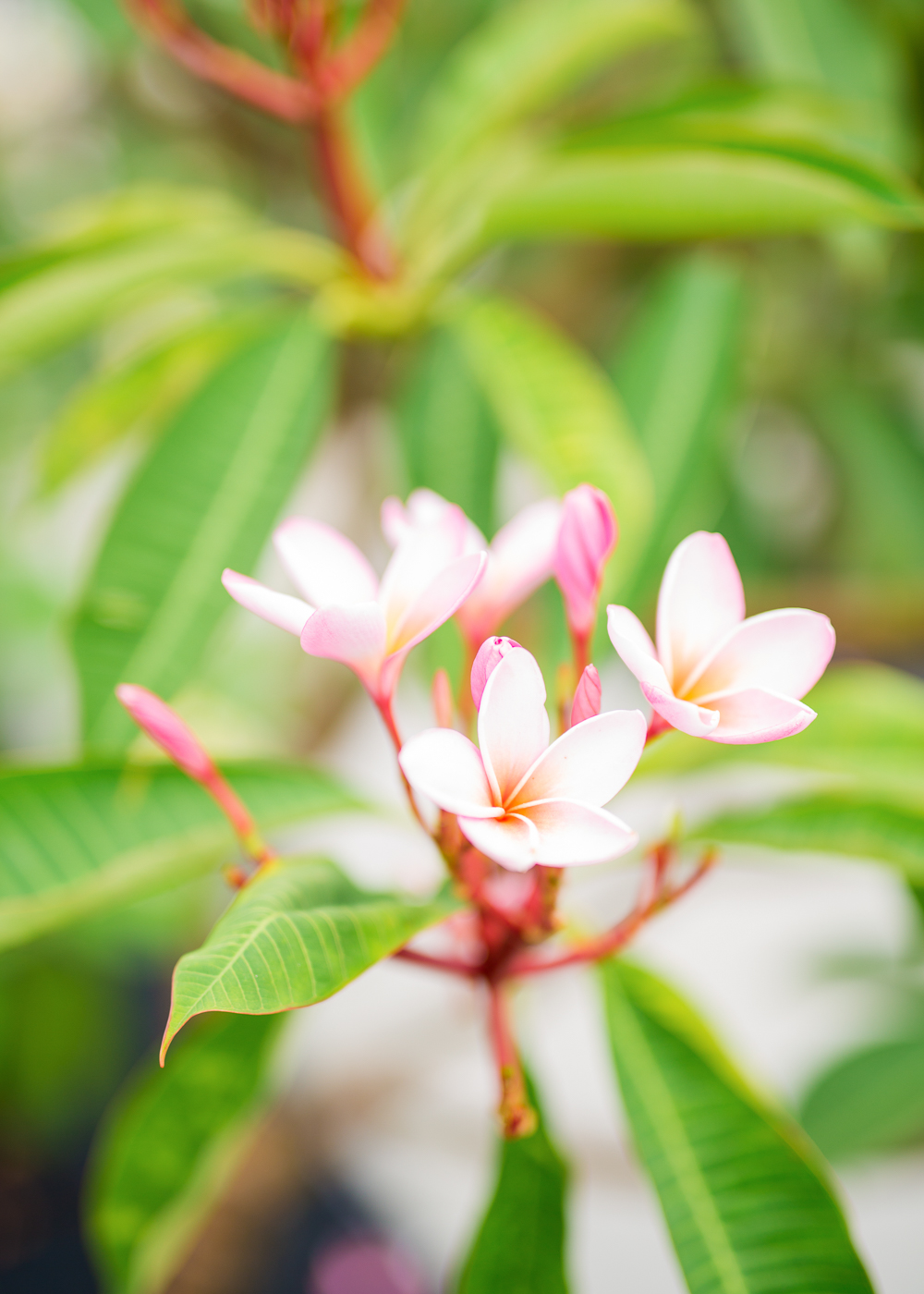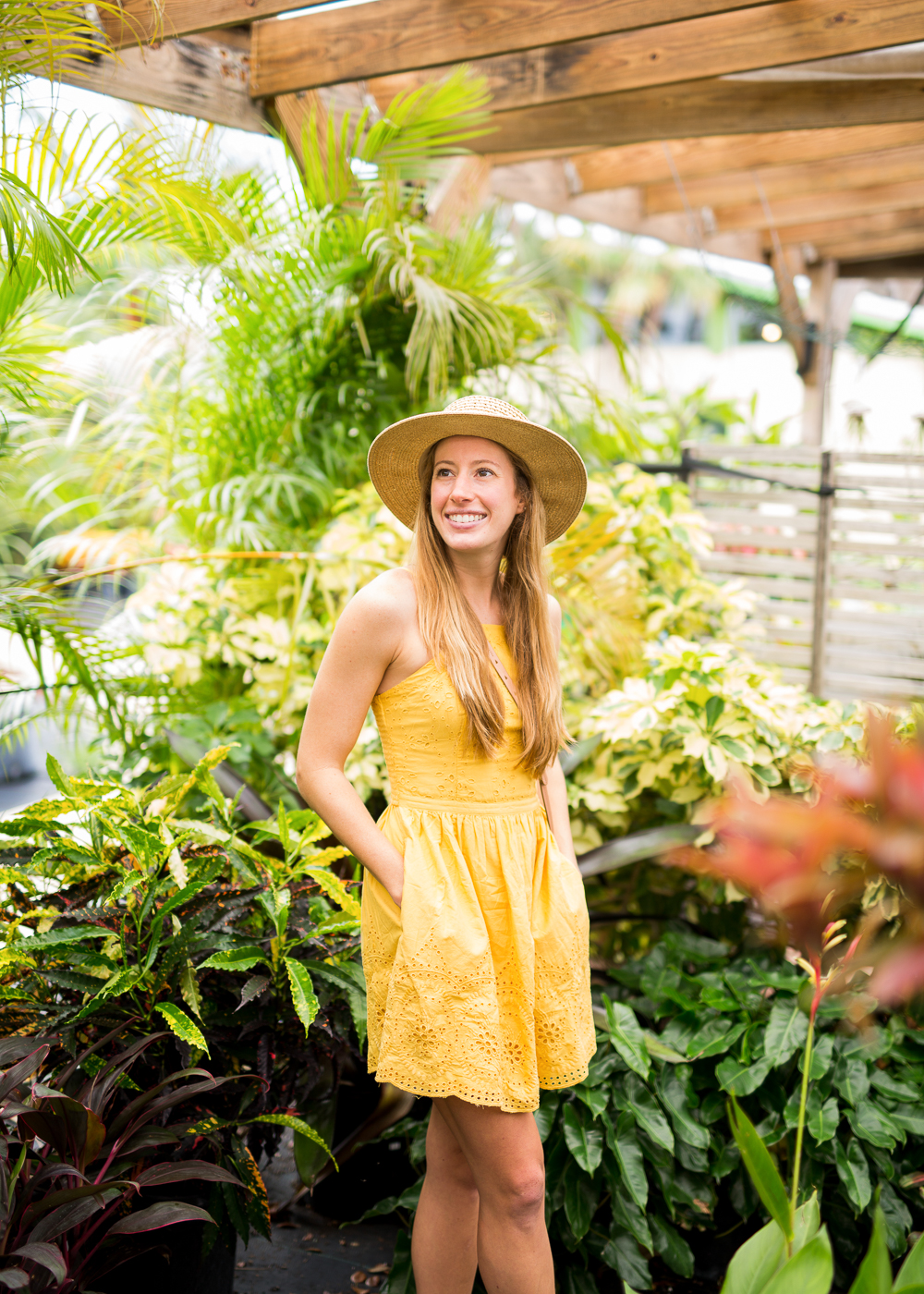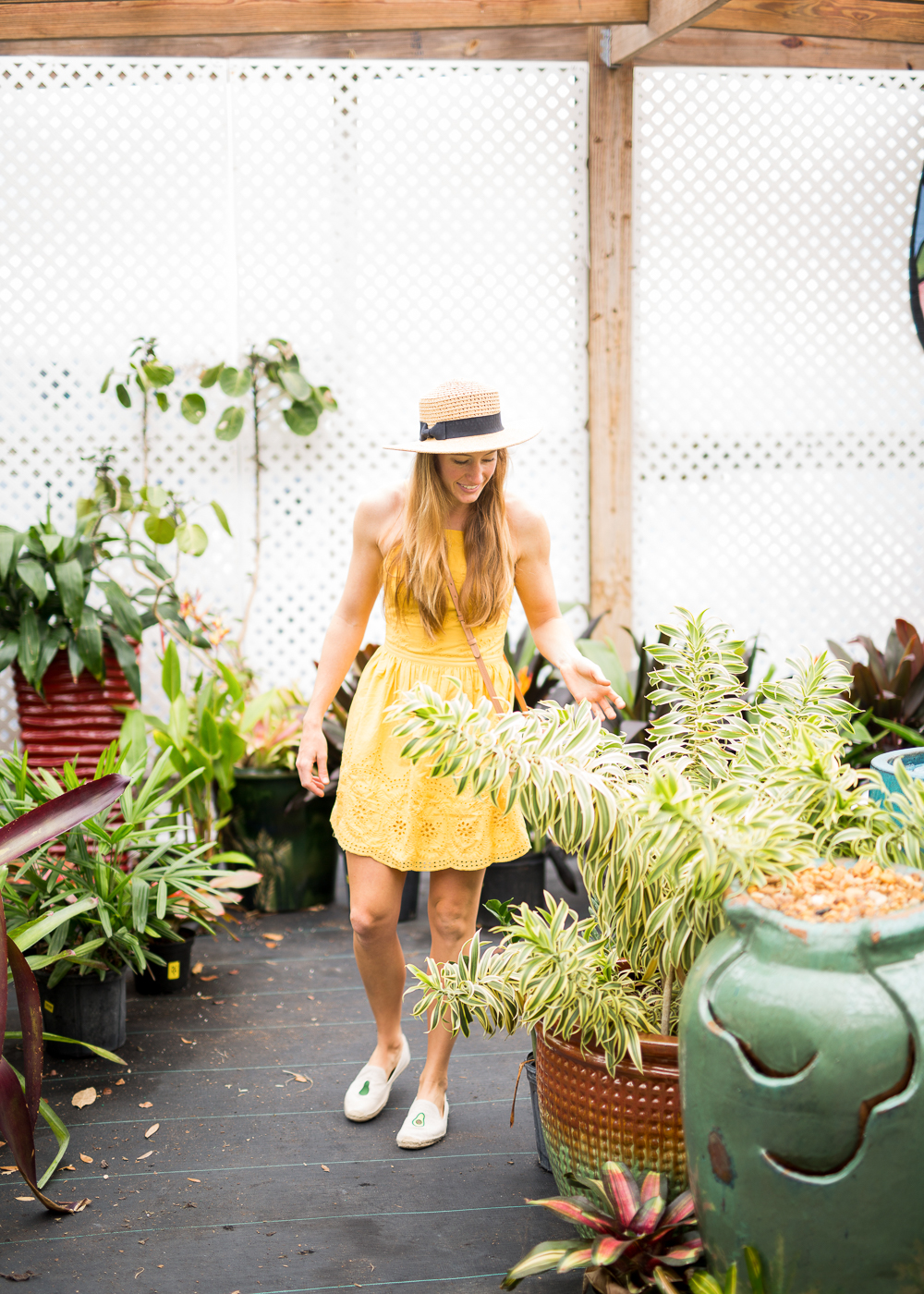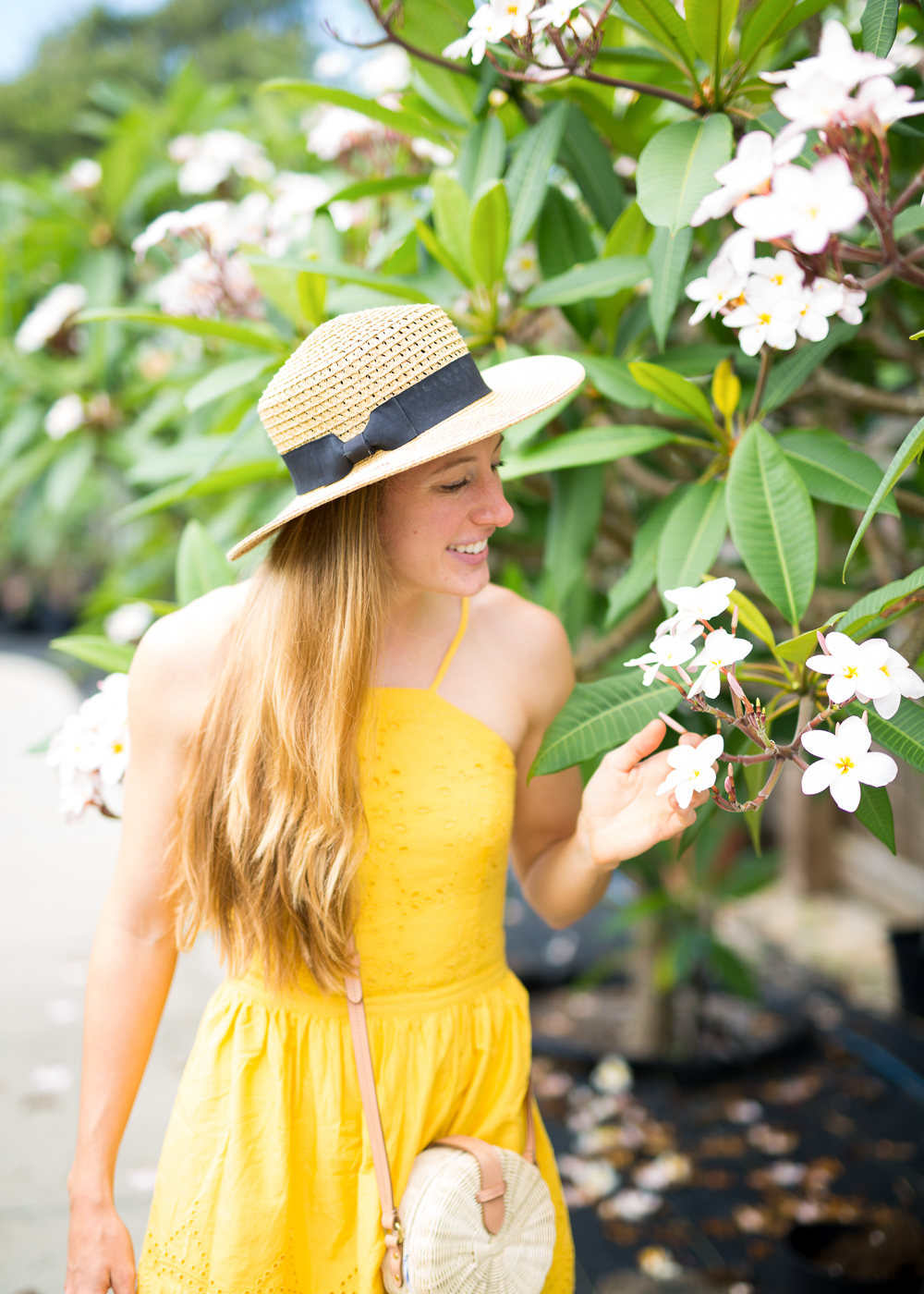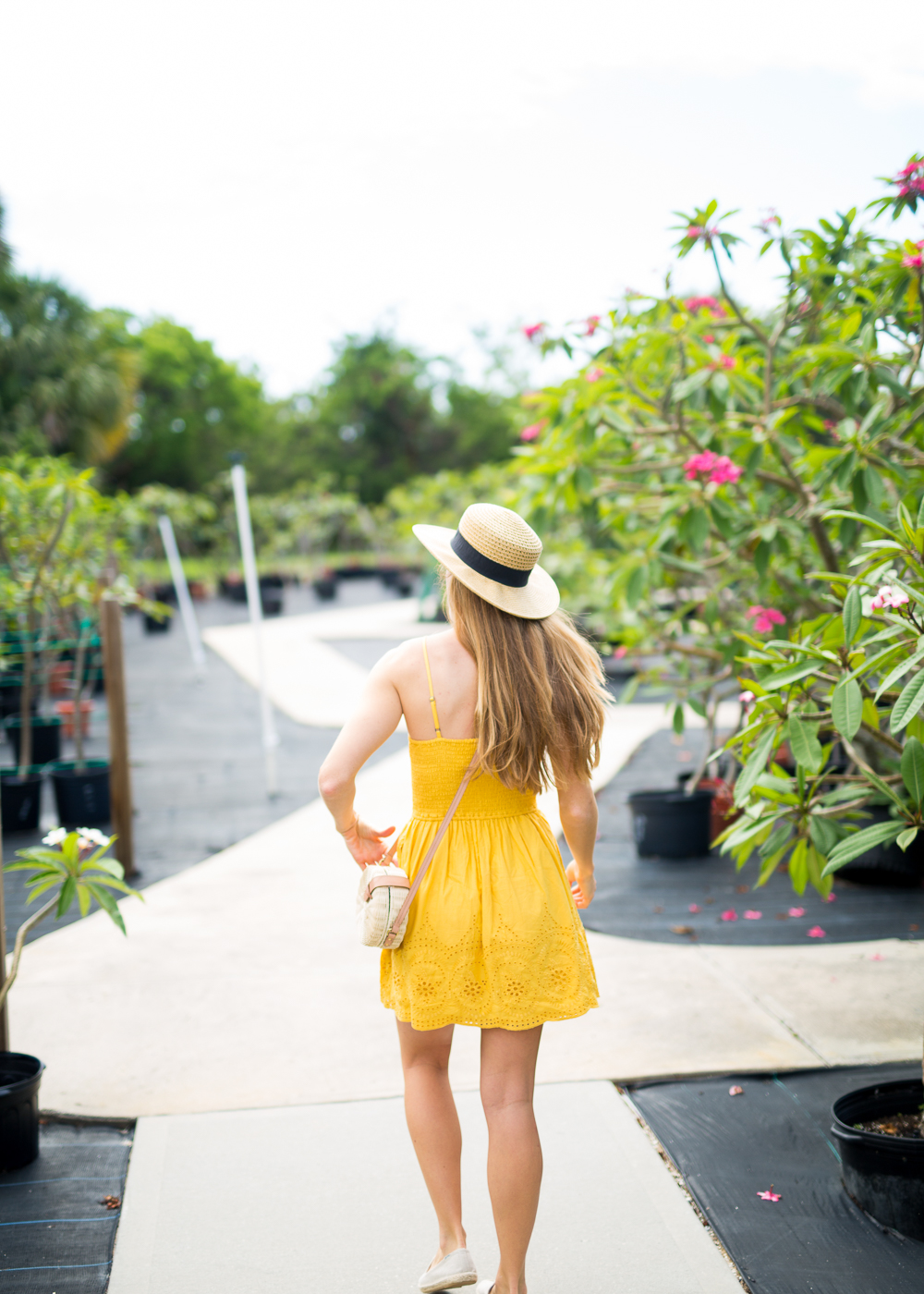 The workers were kind enough to let Isaac and I in the back which was blocked off to the public to snap a few photos. (Isaac is my best friends husband and an amazing photographer.) I normally have my family or boyfriend help me out with photos, so it was really fun to see the difference in the way my photos look with a professional photographer taking them. I think they look so great!
In the back of the nursery are trees with the most beautiful flowers called Hawaiian Yellow Plumeria and they smell absolutely amazing. You know on movies when people travel to Hawaii and they step off the plane onto the runway and are immediately handed a lei of colorful flowers to put around their neck? These flowers remind me just of that! My favorite are the ones with white leaves and an inner yellow color.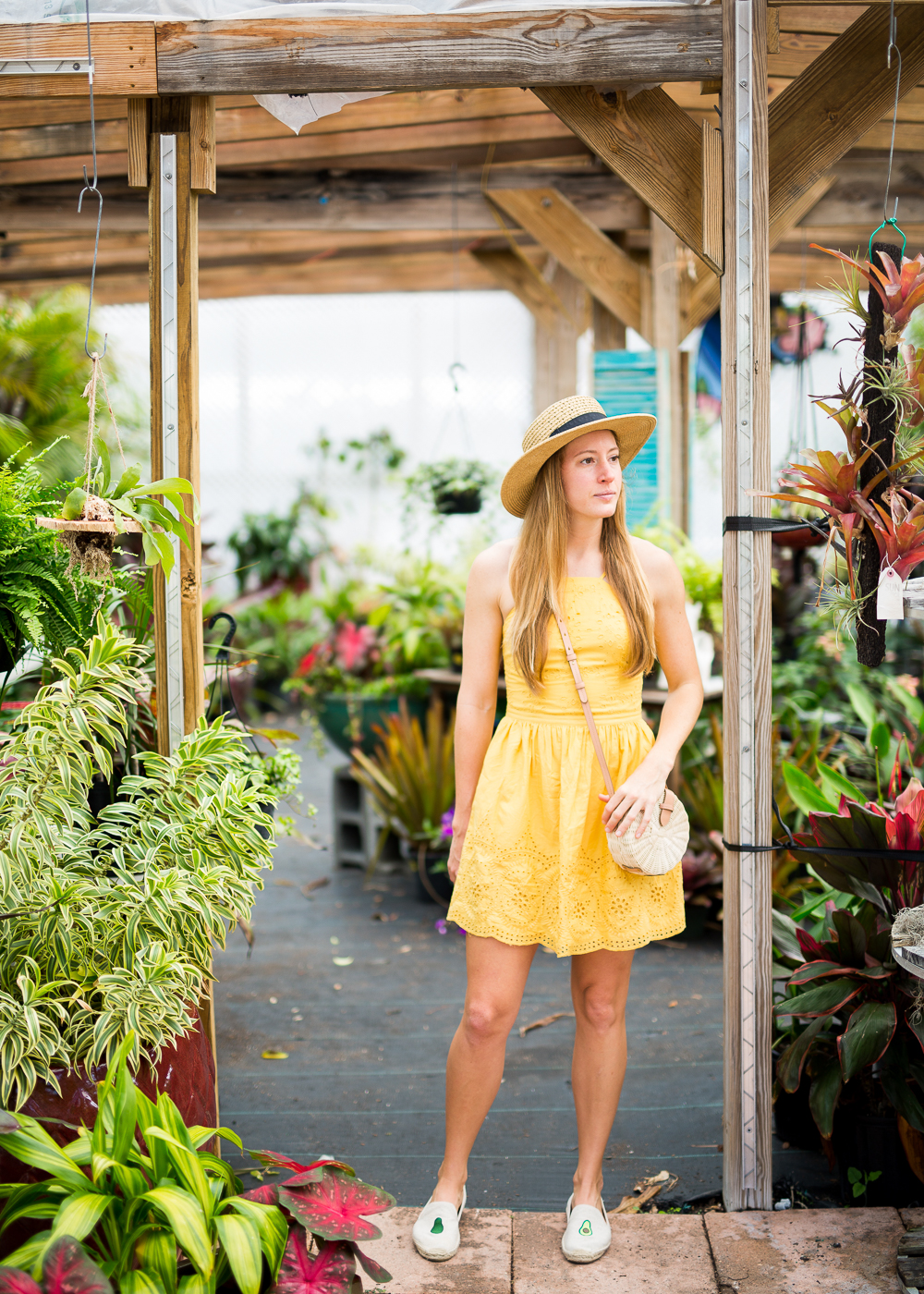 Comfy avocado shoes are the best for walking around in the heat and a crowd favorite for sure. Even guys compliment me on these shoes ha! If your interested in another pattern, Soludos sells the cutest cactus plant espadrilles that look super similar and would have matched the scenery in these photos much better.
Outfit Details
Abercrombie Dress, Soludos Shoes, J.Crew Circle Straw Bag, Kohl's Hat
I hope this dress brought just as much sunshine to your day as it did to mine!
Photos are by my talented friend Isaac Dean Photography! Find him on Instagram and Facebook! Thanks again Isaac!
Save
Save
Save
Save