Mott and Bow sent me this striped crew neck shirt in red and navy blue and I am in love. If you follow me on Instagram, I took a poll asking what color I should wear during the work week and it was a close tie but about 60% said navy. A little secret, I was rooting for red (coming in a future post) but it's so hard to choose between the two!
Hope you all had a great Labor Day weekend and Labor Day! Saturday my mom, sister, BFF and I went bridesmaid dress shopping and found the most beautiful dresses for my sisters big day! The boutique is actually where my BFF bought her wedding dress from, so it makes it all the more special! I can shop till you drop and had so much fun. Can't wait to share the actual dress once it comes in!
I had to work some today (Labor Day) and it was rainy looking all day. Still had a restful day that ended with a bike ride and pool swim with my mom. Now I'm sitting here blogging and doing some ETSY shop interaction. Selling gives you a high like no other. It's soooo fun when customer orders come in. I have always dreamed of packing up orders and now that the day is finally here, there's nothing more exciting!
Sunny Outfit Details
Mott and Bow Top (gifted) / Ann Taylor Shorts / Sperry Loafers / Sunshine Style Co. Bow Scrunchie / St. Armands Earrings
There is nothing more classic and timeless in my opinion than a great striped shirt. Just a little disclaimer, I rarely accept any gifted items from brands. To stay true to my personal style and continue to grow the Sunshine Style brand, I am veryyy picky with who I say yes to. Quality is super important to me when I buy clothes and just accepting free stuff all the time seems inauthentic, most things are items I would not buy myself and it can become overwhelming at times. I live in such a small room, I really don't have room for excess clothes or items! I can vouch I never started this blog for free product. These shirts are the major exception. This is actually only the 2nd or 3rd post on here that has gifted or sponsored content by choice!
Mott and Bow is known for their jeans, minimal and classic style. As soon as they reached out and I browsed their website, I knew we would be a great fit and I was actually excited to try out their products. These crew neck shirts are on another level soft! The shirt comes in black, navy and red stripes and is under $35! Right now, I a working on a "dressing preppy on a budget" post and items like these tops are great for building up a wardrobe with classic staples.
Striped tops are really easy to style. Next week I have a fall inspired post coming where I style this Mott and Bow shirt in red and it is giving me all the autumn feels! Pair them with white or denim shorts for warm days and white skinny jeans for cooler nights! I envision these tops tucked in with mom jeans to!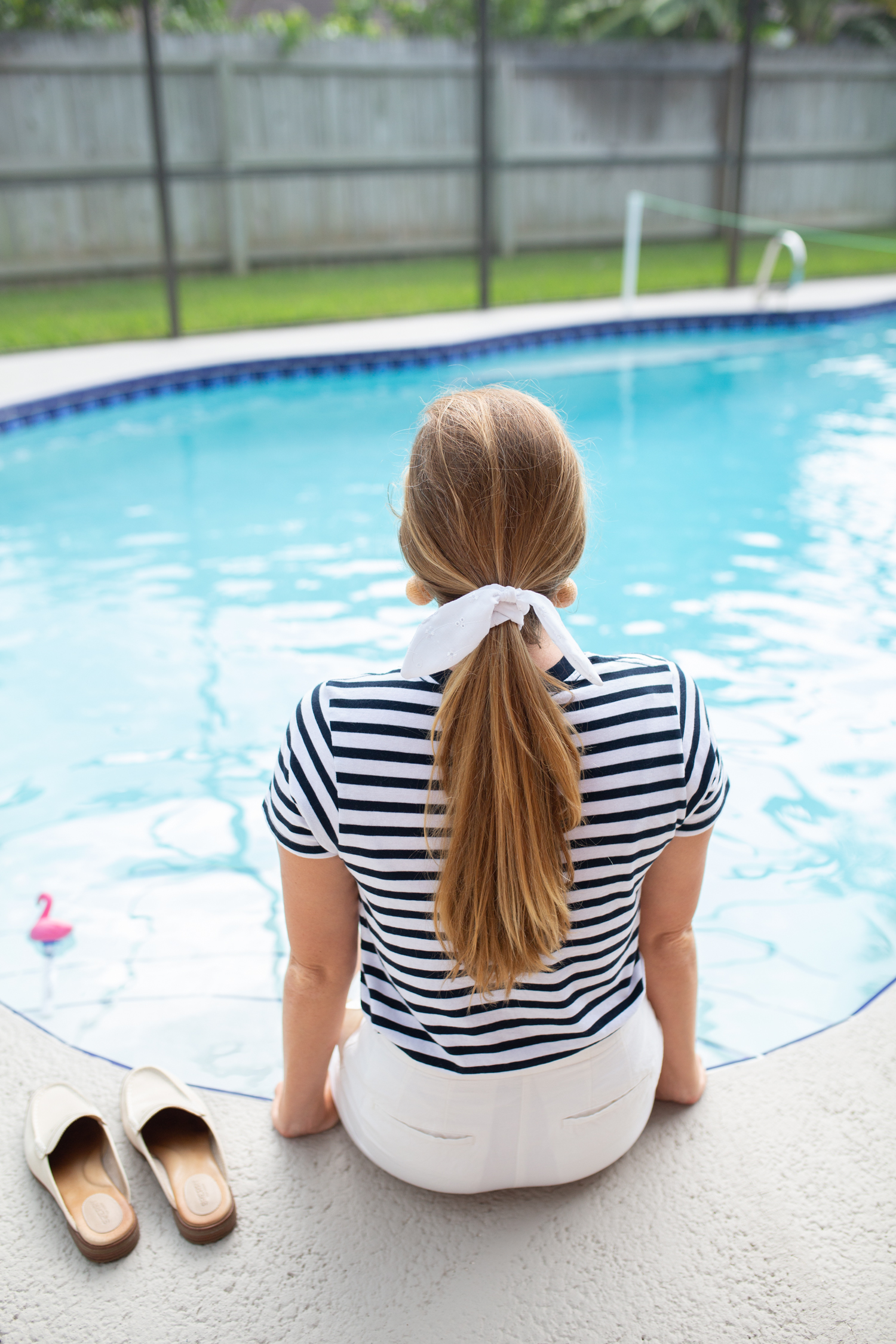 I mentioned above but I am loving selling these bow hair scrunchies! A friend on Instrgram gave me great advice to make matching face masks! She might just be onto something and was pretty much reading my mind. =) Be on the lookout for some fall inspired scrunchies and matching masks in the next few weeks!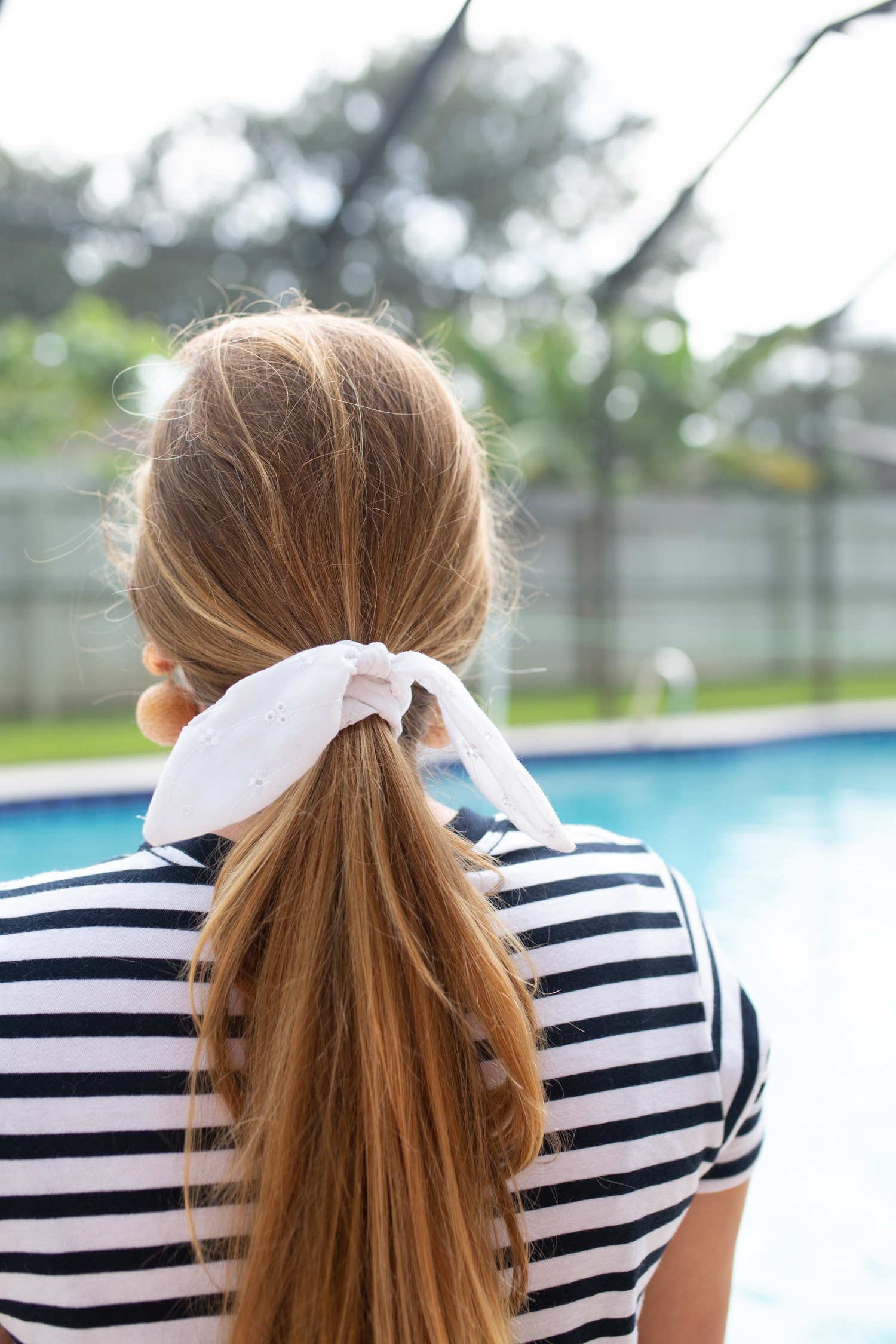 Thanks Mott and Bow for gifting this striped top! All sunny opinions are my own! =)
Lots of Sunshine,
Katie