Over the last few months my blog photos have been featured on a few big name company websites, Instagram's and Twitters. I am beyond ecstatic to have some of my photos featured and I wanted you guys to share in the excitement with me. Most of my photos were scouted out through hashtags on my personal Instagram and then used as marketing material for their company social media channels and websites.
I was super thrilled when J.Crew asked if they could share my photo on their website. My photo is the first one on the left. I'm wearing my favorite leather cross body bag. See the full feature here. (You will need to scroll down past the bag and then scroll to the right through the other bag photos to see mine).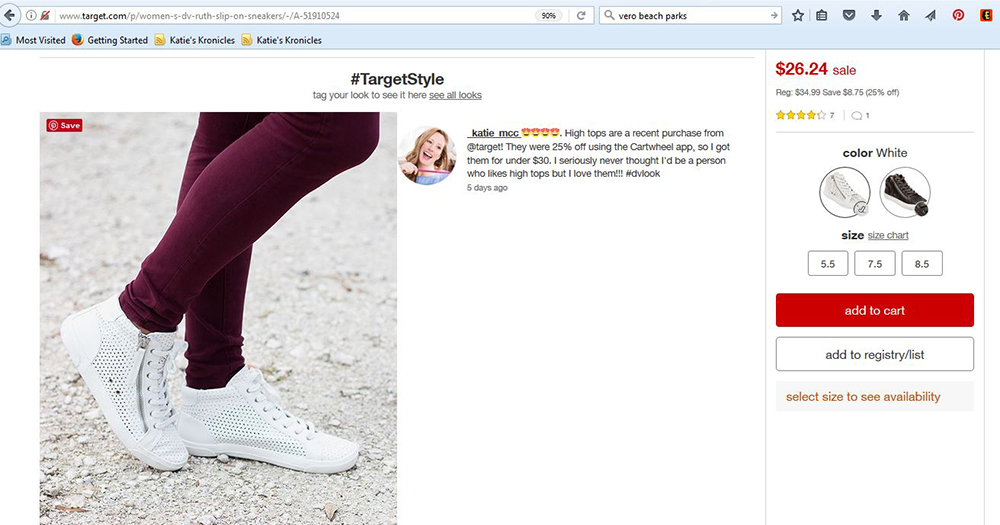 Target is such a big name company. I never thought I'd see my photo of my fav high top sneakers on their website. See the full feature here. (Scroll down until you see #targetstyle and my photo is right below that).
Hello Apparel is another favorite clothing company of mine specializing in t-shirts and sweatshirts. They featured my red Hello sweatshirt on their Instagram. (First photo on the left in their Instagram feed). I wore the sweater to go hiking on the first day of the new year.
Hello Apparel also featured me wearing the same red sweatshirt on their Twitter.
Another photo of mine wearing the same red sweatshirt was featured again on the Hello Apparel Instagram.
Last but not least, my Instagram photo was featured on the BC Footwear Instagram. I am wearing a crowd favorite, my gold sparkly booties from their online website.
It has been so fun to watch my blog grow over the past few months. I am so thankful for you guys and all of the encouragement I have been given in person and online. It's truly what keeps me going and pushes me to create new and exciting blog content. Thanks for reading and I can't wait to see what the future holds for Katie's Kronicles!
Save
Save
Save
Save
Save
Save
Save