Let's talk white shorts! If there's one staple in my closet that I wear over and over, it's white shorts! They are super versatile and pretty much match with well, everything! All about easy over here! Now that I am working from home, I wear white shorts so much more! When I did laundry today, I had 4 pairs drying and my mom goes, "Do you really need all those white shorts". Yes, yes I do. I really love my white shorts! They're great for weekend hangouts, running errands, as an easy swimsuit cover up and everything in between. If your in need of a new pair, the end of summer is the time to buy them!
I recently shot these photos for Shore Bags! They had reached out to me to style some looks with their bags back when I was teaching and I just didn't have the time to work with them. Now that I work from home and run my own photography business, I reached back out and was super excited when they said they still were still interested in working together! Of course, I had to include a few looks with white shorts!
Now, I totally wish I had an Instagram husband but I don't…at least not yet ha! My sweet dad, mom, sister or best friend are usually the people behind the camera. Once I set up the shot and got the settings right, my dad took these photos for me and I think he did a pretty good job! Thanks Dad!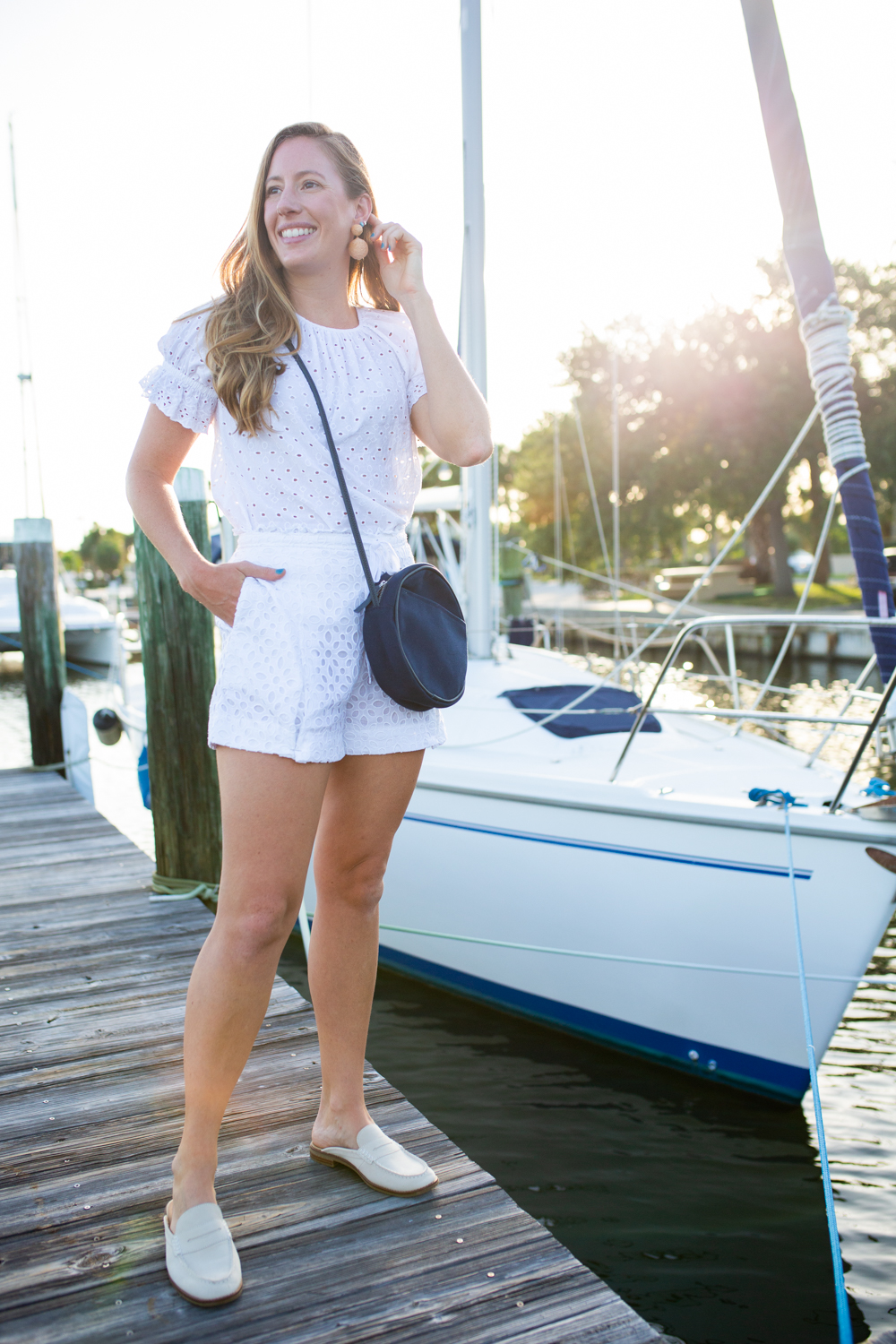 Target Top (sold out, similar)/ Ann Taylor White Shorts (sold out, similar) / Sperry Mules / Statement Earrings / Shore Bag
What's so great about white shorts is that you can easily style them with almost any shirt in your closet, even ones with a similar print like this eyelet top. I love a classic white on white outfit. Sometimes I forget that simple really is better. The classics will always win in my book.
Look for shorts with cotton or linen fabric for a more classic and structured pair of shorts. Shorts made from cotton and spandex I find have a more casual feel to them! They also end up being the perfect short for outside activities.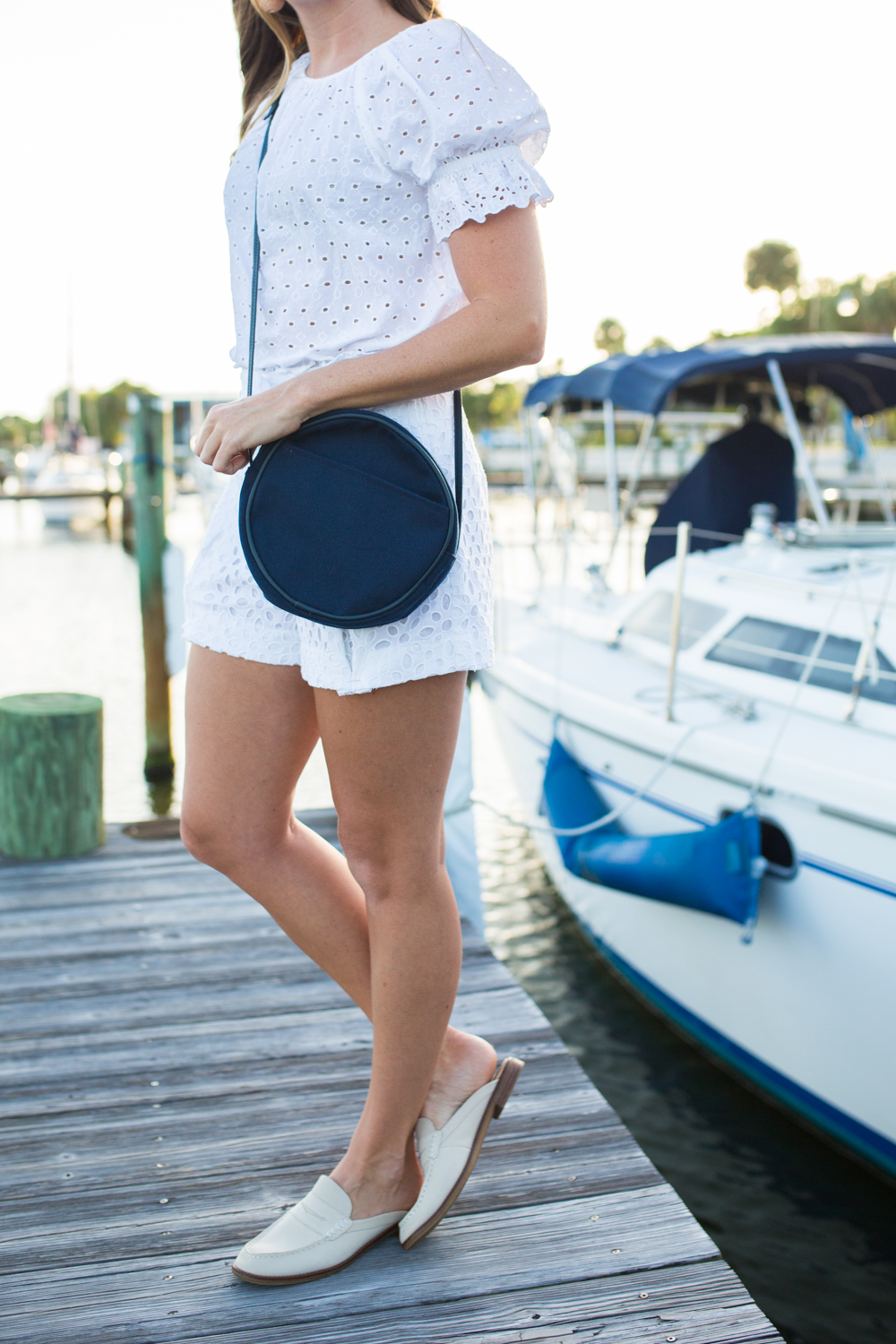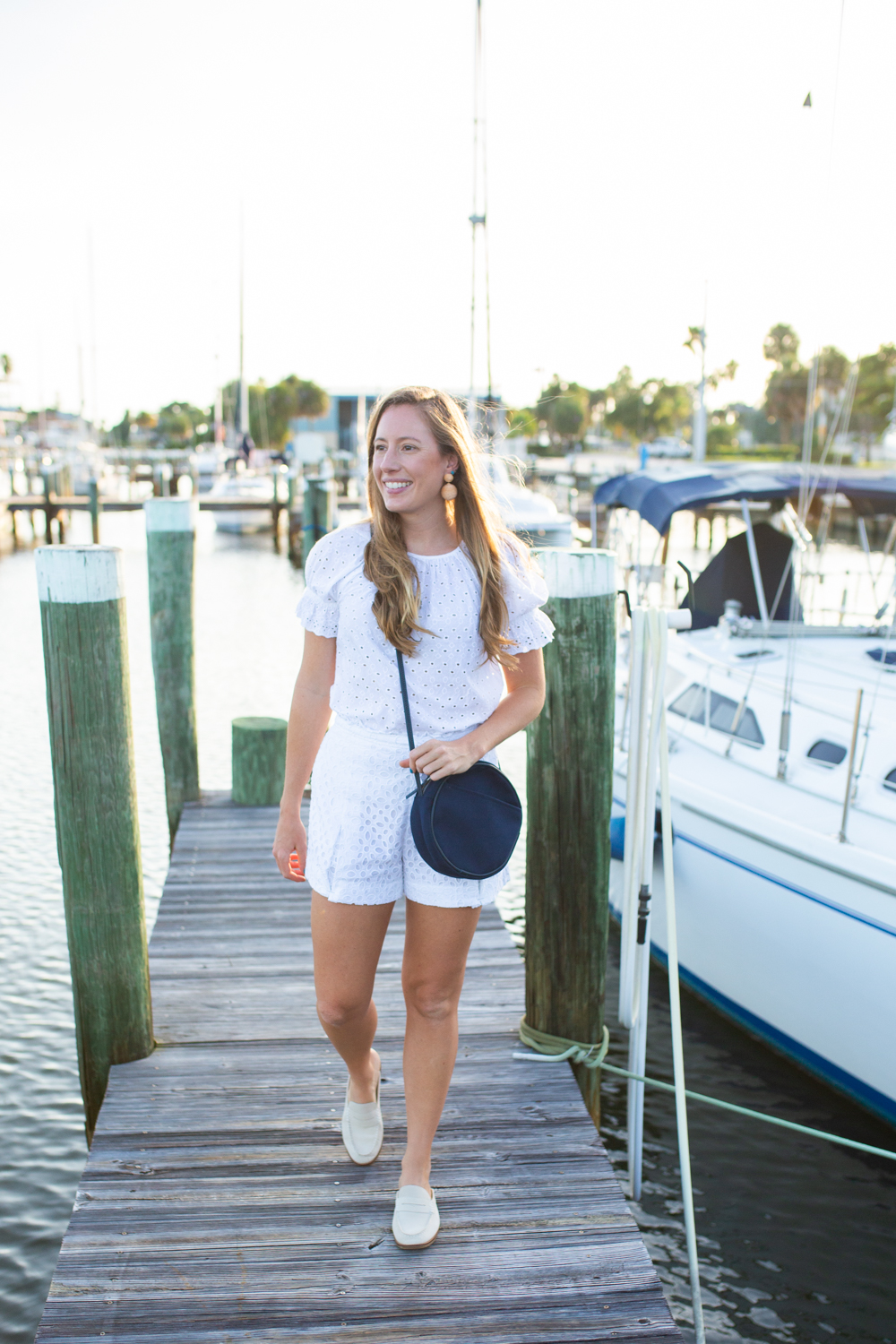 Classic High Waist Shorts
Of all short styles to wear, high waisted shorts with more structure to them are my favorite to wear. Usually they have pleats or a large tie and are loose in the legs but fitted in the waist. They always make me feel like a classy woman. Even though I'm 30, I still feel and look young. I look for styles that hit just below the belly button, are not to tight and long enough to feel classy but short enough to stay cool. You'll find no bike shorts here ha!
I like to tuck in fitted shirts or silky tank tops or wear with a fun top with puffled sleeved, unique print like eyelet or ruffles to add some excitement. This pair with the tie waist is super cute (under $21) and I love these sailor inspired button shorts super similar to the pair I am wearing!
Casual Cut Off White Shorts
Cutoff high rise shorts are my favorite style for everyday wear or beach/pool days. If your going on a trip, you can easily wear these with just a swimsuit and look cute! My favorite casual outfit to wear is white shorts with a classic striped t-shirt. I want to make a new reel on Instagram this week showing how to style a few pairs of white shorts that include some striped tops!
These have a little bit of a longer inseam (under $25) which is nice if you are tall or are looking for a pair with very full coverage! I love this pair because it has 2% elastane which means nice and stretchy for outdoor activities like bike rides!
Roll Up Shorts
Shorts that roll up scream casual + fun to me, in a good way! When I style them, I like to keep them casual by pairing with a striped t-shirt, button up shirt or a lightweight cotton top. I've had my eye on this adorable button front pair from J.Crew. They are on sale for 25% off!
Tomorrow is my mom's birthday! I want to go and buy her macaroons for a dessert but have to figure out where I want to buy them from. I want fresh ones, not frozen! My mom loves antiques so Saturday we drove to an antique warehouse and she was in heaven. Today my family and I am, sister and her fiance and my soon to be in-laws all went and visited a wedding venue. BTW, if you haven't heard, my younger sister got engaged 2 weeks ago and it's super exciting to be involved with her wedding stuff!
We spent Sunday afternoon driving to check out a venue and I got to visit and catch up with an old co-worker because her and her husband actually own the venue! I ended up taking a full social media free weekend off to spend with my family and it was amazing. I recommend doing it if you just feel like you need to disconnect and focus on what is in front of you. I wrote an entire post about social media comparison and what I do to stop it if your interested!
Lots of Sunshine,
Katie