Hello sunny friends! Time for another Sunny Style Finds post! This one features a bold colored high waisted swimsuit, a romper that's on major summer sale and a bright blouse that's a perfect transition piece for fall. Lets hop right in!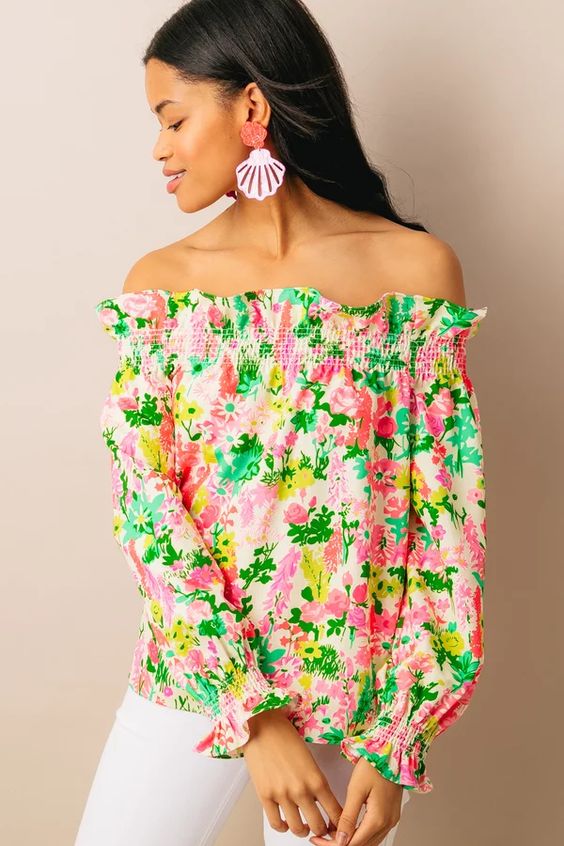 Tuckernuck Off The Shoulder Blouse, $108
I am dying to get my hands on this blouse from Tuckernuck. While it's at a higher price point than I would normally pay for a top, this one is so unique and fun, I would totally splurge! Especially once that new job comes! What's so great is that it comes in 7 different colors/prints! My little fashion stylist eyes already picture wearing this top with a denim skirt, bold colored earrings (maybe pink or green) and sandals!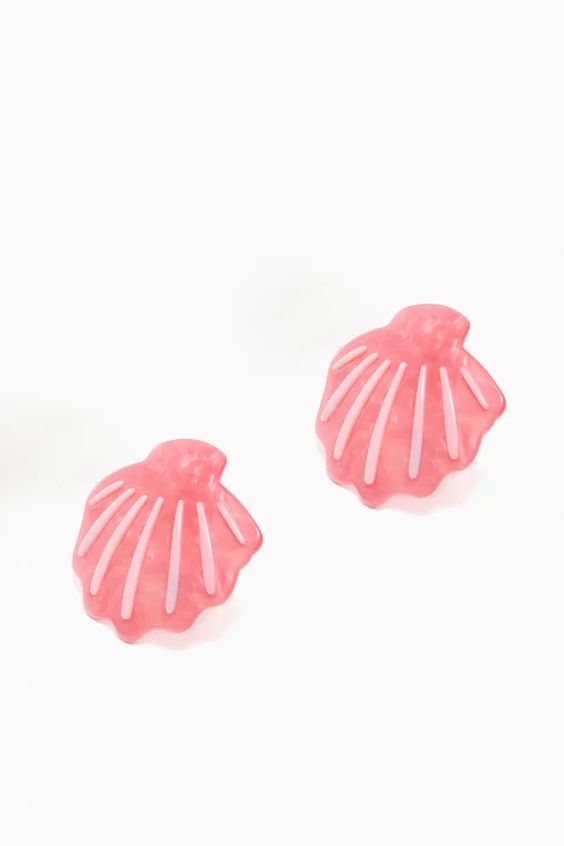 Tuckernuck Shell Earrings, $38 (on sale!)
Another Tuckernuck find! If you are ever in need of inspiration, I love looking at all of their seasonal lifestyle guides!!! When can you go wrong with a pair of shell earrings?! Actually, I just noticed these earrings would totally match the floral top above! I just think their fun to style for summertime!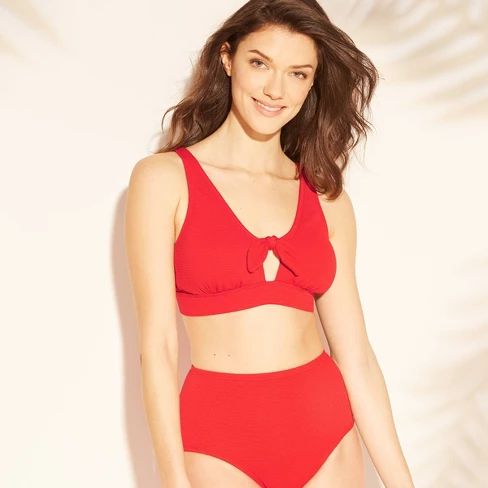 Target High-Waisted Swimsuit, Top, $22.99 + Bottom, $19.99
August might already be here but that doesn't mean swim season is done quite yet! Lately, I've been super drawn to the color red. Maybe it's my secret desire for some fall weather but I just love it's boldness! I like the tie on the top and the simple silhouette!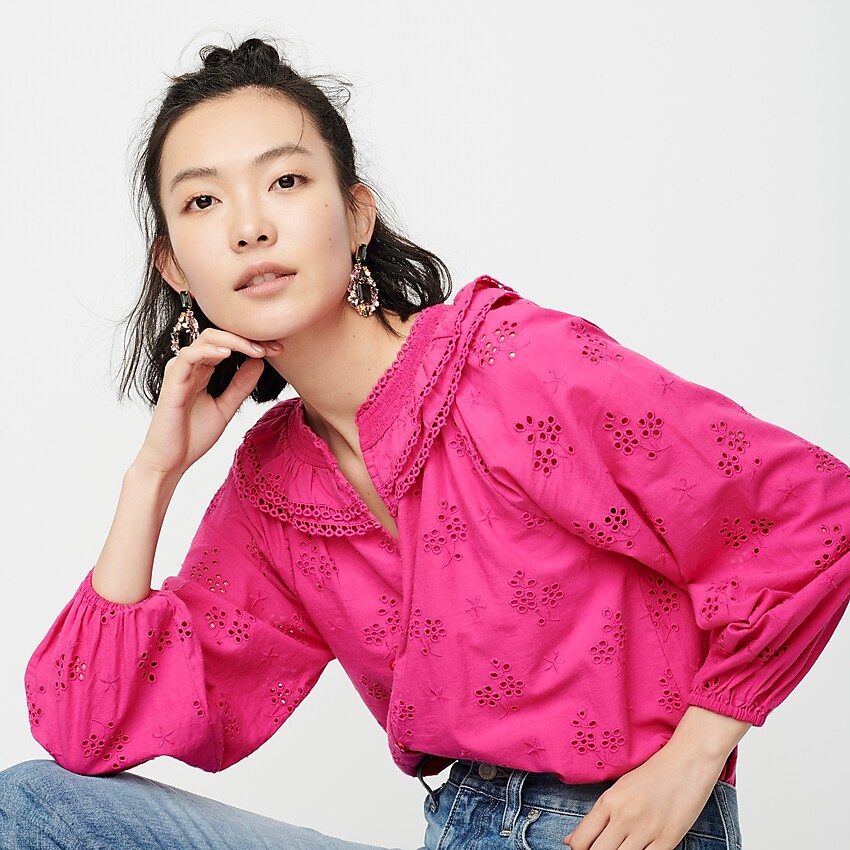 J.Crew Blouse, $98
This top is one of J.Crew new fall arrivals and I am in loveeee. It makes me want to add more bright pink pieces to my closet because I don't have many! Be on the lookout for J.Crews sales because they always have one for 40-50% off! Just picture how cute this top would be tucked into mom jeans for fall or a pair of white skinny jeans with loafers! The peasant neckline and eyelet pattern is my fav! Comes in a forest green and black color!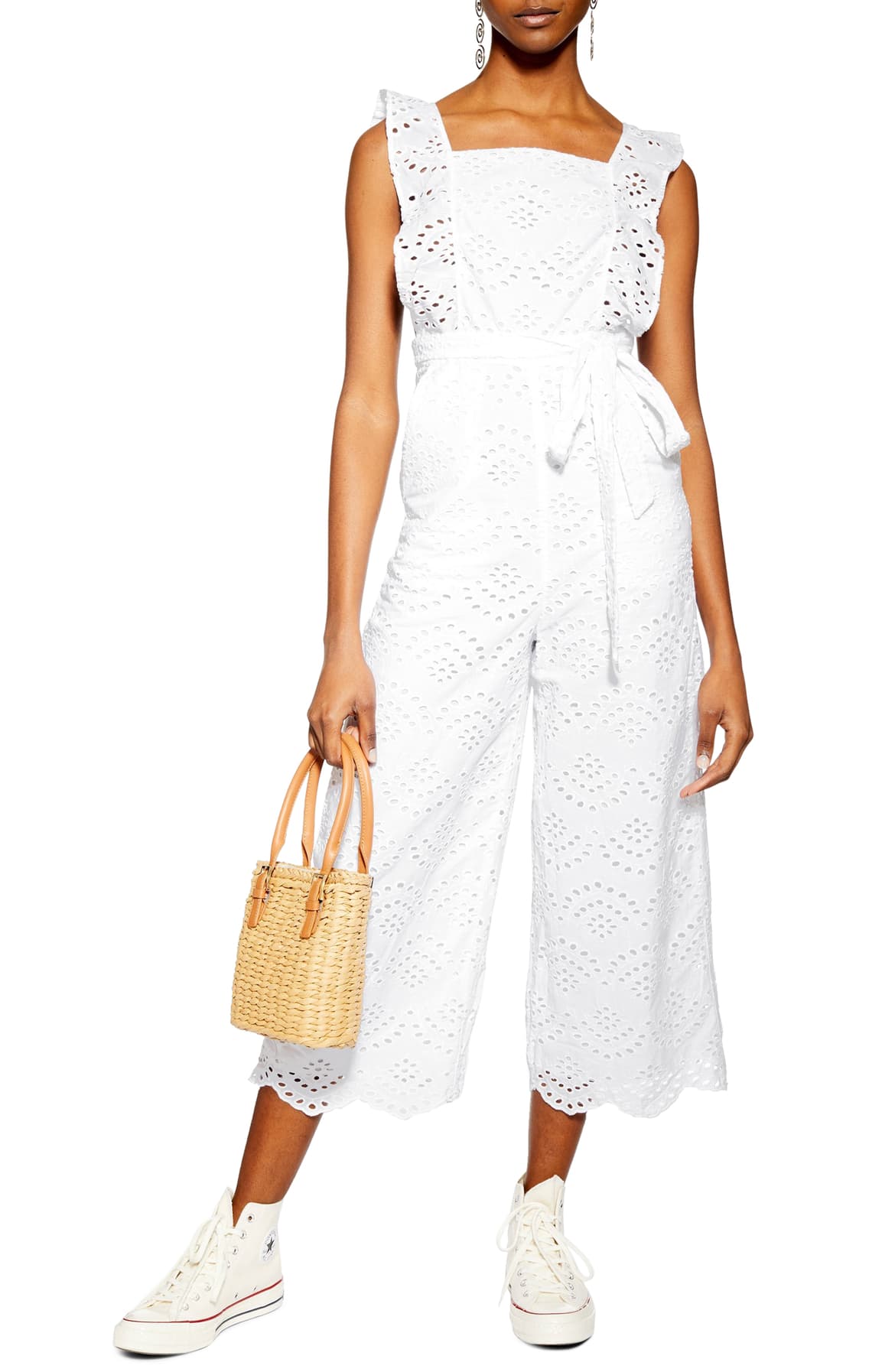 Topshop Romper, $49.98 (on sale!)
Rompers to summers are like pool floats are to pools. Romps and summer just go together! Wait till you see the back of this jumpsuit! Totally makes the entire piece even more summery and fun! Every part of this romper from the ruffled top, to the wide leg and eyelet pattern is just adorable. Guess I really love eyelet since it's the second piece in this post!
That's a wrap for my No. 7 SSF! I hope you are loving their series as much as I am! If you have any style related questions or are looking for warm-weather fall related pieces, feel free to leave a comment and I will include it in the next SSF post!
I am so excited I have this post done before 10 PM! Normally I write it really late on Sunday nights before I have a full work week ahead then schedule it! Right now my fam has the CMA's on and Billy Ray just sang his top his song, "Old Town Road". At first I thought the song was so strange but somehow after hearing it play a million times from Alexa's top hits, I kinda like it ha! So catchy! My mom also just said I should rename my blog, "Sunshine Cowboy" and start wearing cowboy boots. ?
Saturday when I got my oil changed, I was reading People (totally not my typical weekly read and truly shows me how out of touch I am with cool celeb news ha) and it said the song was the #1 top hit for the past 11 weeks! Just looked it up and now it's been the top hit for the past 17 weeks. That's why my Alexa keeps playing it!!! Totally unrelated to anything, just thought you'd like some interested stats…or not?!
How was your weekend!? It rained here literally all day Friday through Sunday! I was supposed to shoot a client outside on Friday and it got rained out, then we rescheduled for Sunday night and got rained out again. ?Hoping we can try again next weekend without any storms because shooting just makes me so excited! With all the rain, I had a really lazy day on Friday and cooked my family fajitas for din din. Sat I plant shopped with my sister and bought some pretty flowers (really want to get into gardening again!), celebrated my little nieces 19th Birthday and baked some delicious paleo chocolate almond flour cookies! Now it's almost 11 and I am starving, so I am going to sign off and go take a bite of a cookie!
Lots of Sunshine,

Katie
Recent Sunny Posts
The Best Summer Swimsuit Sales
The Perfect Summer Top to Keep Cool