You may recognize this dress from my Spring Break post on Carly's blog! As much as I try to have a diverse set of styles on here, dresses will always be my #1. You love them to because dresses are my most clicked on category! Honestly, who doesn't love putting on a beautiful dress and feeling super girly!?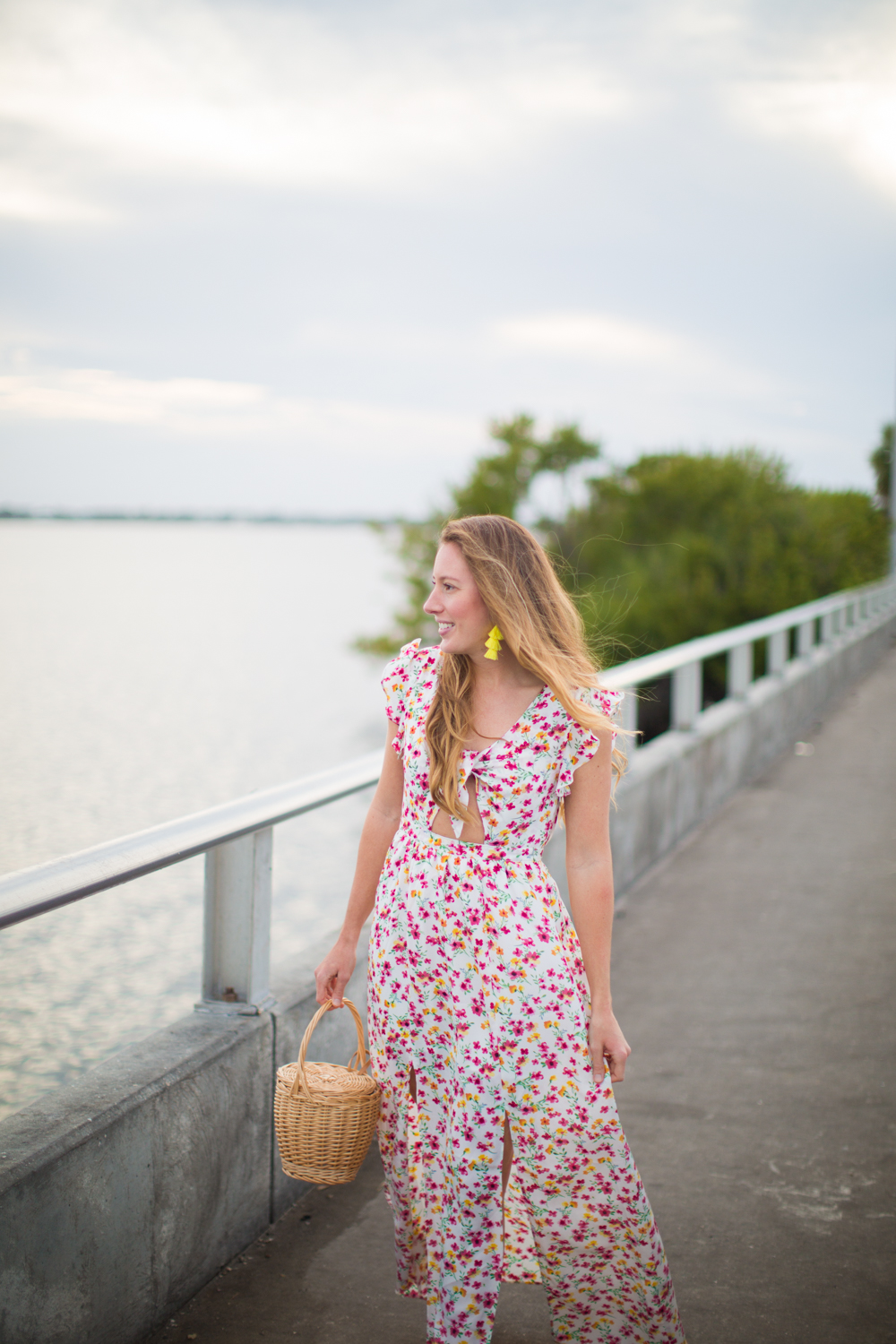 It's Spring Break for me in Florida. We've had to much rain the past few days it's crazy! Last year during SB I was teaching, making a great salary, and finally feeling myself again after heartbreak. It was sooooo relaxing (honestly don't even remember what I did) and gave me the push I needed to make it to the end of the year.
This year, Spring Break just isn't as exciting. It's been raining cats and dogs with no sun in sight and I have been stranded at home. I got a flat tire and then had to replace all my tires. Then that caused my rusted exhaust to somehow immediately go bad and made my car sound like a diesel truck…so now my cars getting all nice and fixed up. Luckily I get to pick it up a day early form the shop! I am on the tightest budget since I graduated college, my temporary job ends in two months (super stressful on my part to find a new job in time) and life just feels bland. Things can only look up from here, right?! Sometimes even the sunshine girl goes through hard, unknown things and I want you to know your not alone.
The sun will shine again though, it always does! Someone once told me HOPE means "Have Only Positive Expectations" so I am expecting good things to happen! Actually the sun is suppose to come out today, so you can hopefully catch me on my flamingo float floating in the ocean! A few good things also happened. I realized I could rent library books on my Kindle for free from the public library, so I renewed my card, read The Giver and checked out three hard cover books! A reader also said she recognized me at our local library which was super cool…never had that happen before! With all the extra time I have been able to pitch to brands, work on behind the scenes blog stuff and write and schedule more posts for the coming weeks!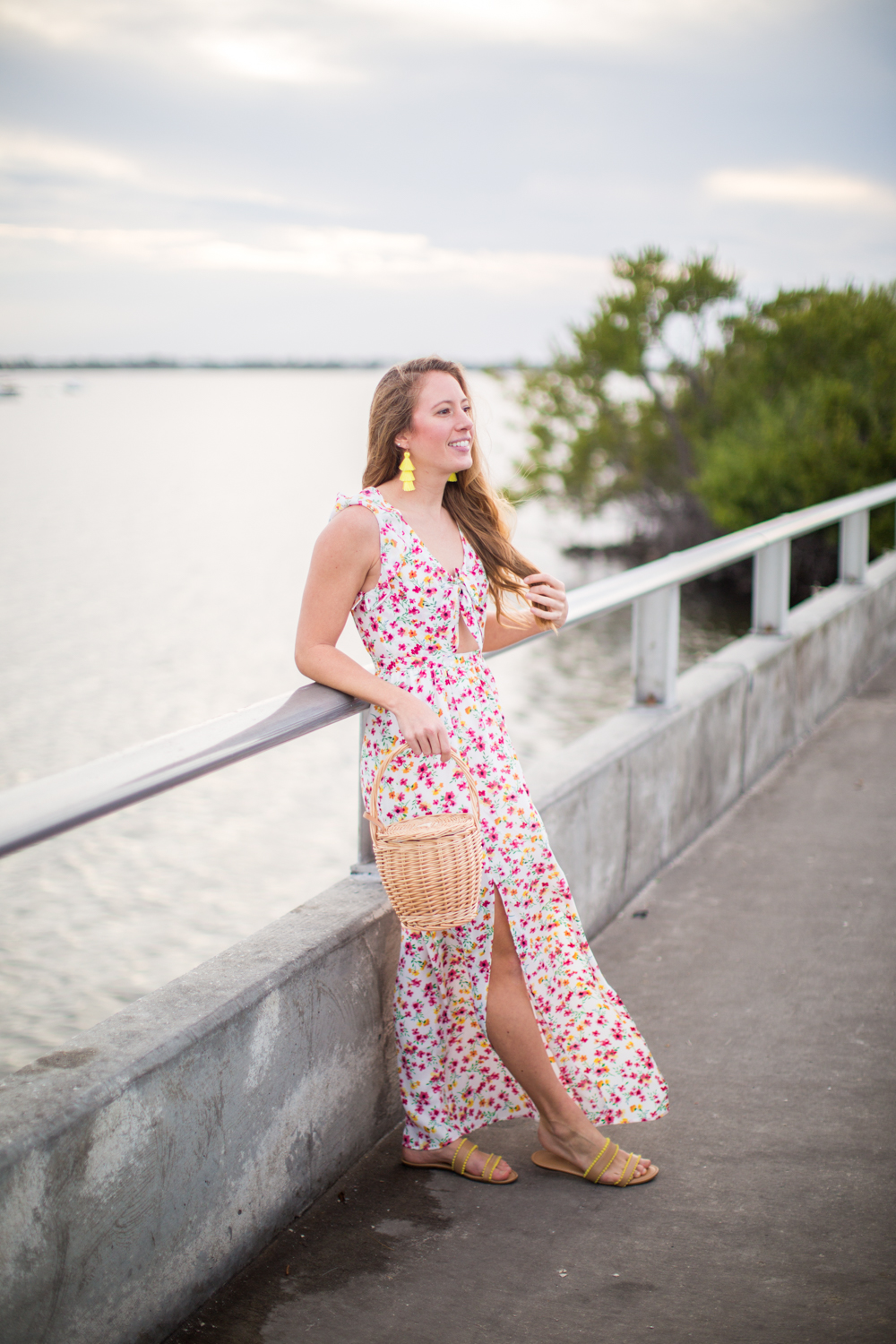 Jack by BB Dakota Dress (similar) / SUGARFIX x Baublebar Earrings / Talbots Sandals (similar here) / Sundress Basket Bag (similar here)
Onto the dress! Sometimes I forget that what I wear almost daily is what other people wear on vacation. So even though this post is all about Spring dresses, for me their really, "year round" dresses! These photos were shot mid Feb and it was not cold at all. See what I mean! So sad to say but this dress is sold out. I searched hard and found three similar options, here, here and here.
1.Old Navy High Neck White Floral Dress, $24,00
2. MINKPINK Beautiful Green Floral Mini Dress, $62.30
3. J.Crew Factory Blue Midi Dress, $64.50 (extra 15% off for card members with code CREWLOVE)
When it comes to styling dresses, there's such a simple formula. Grab a pair of neutral or solid colored sandals, a fun statement earring and a straw bag. There's really nothing else to it! Just match the earring to your dress pattern or color!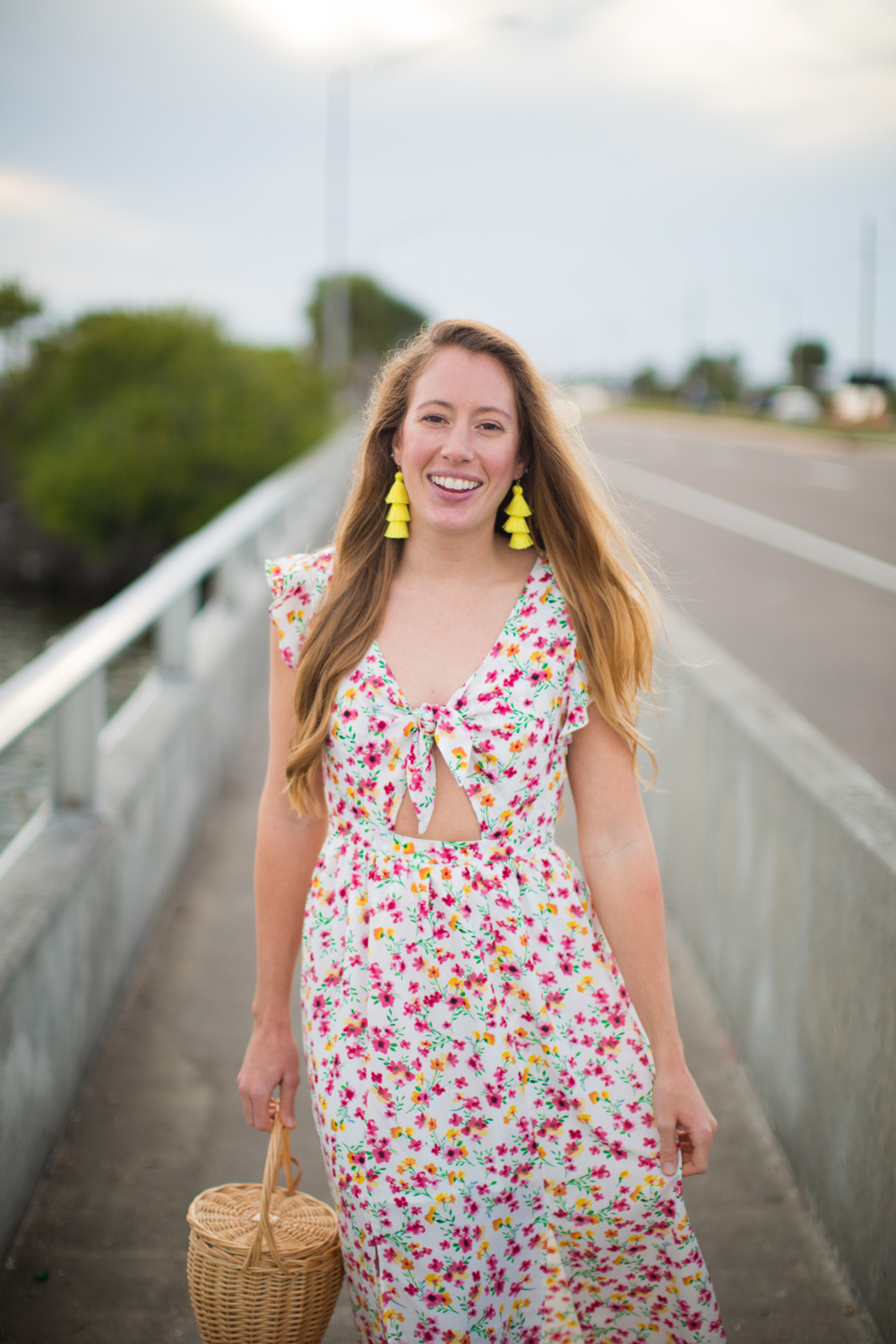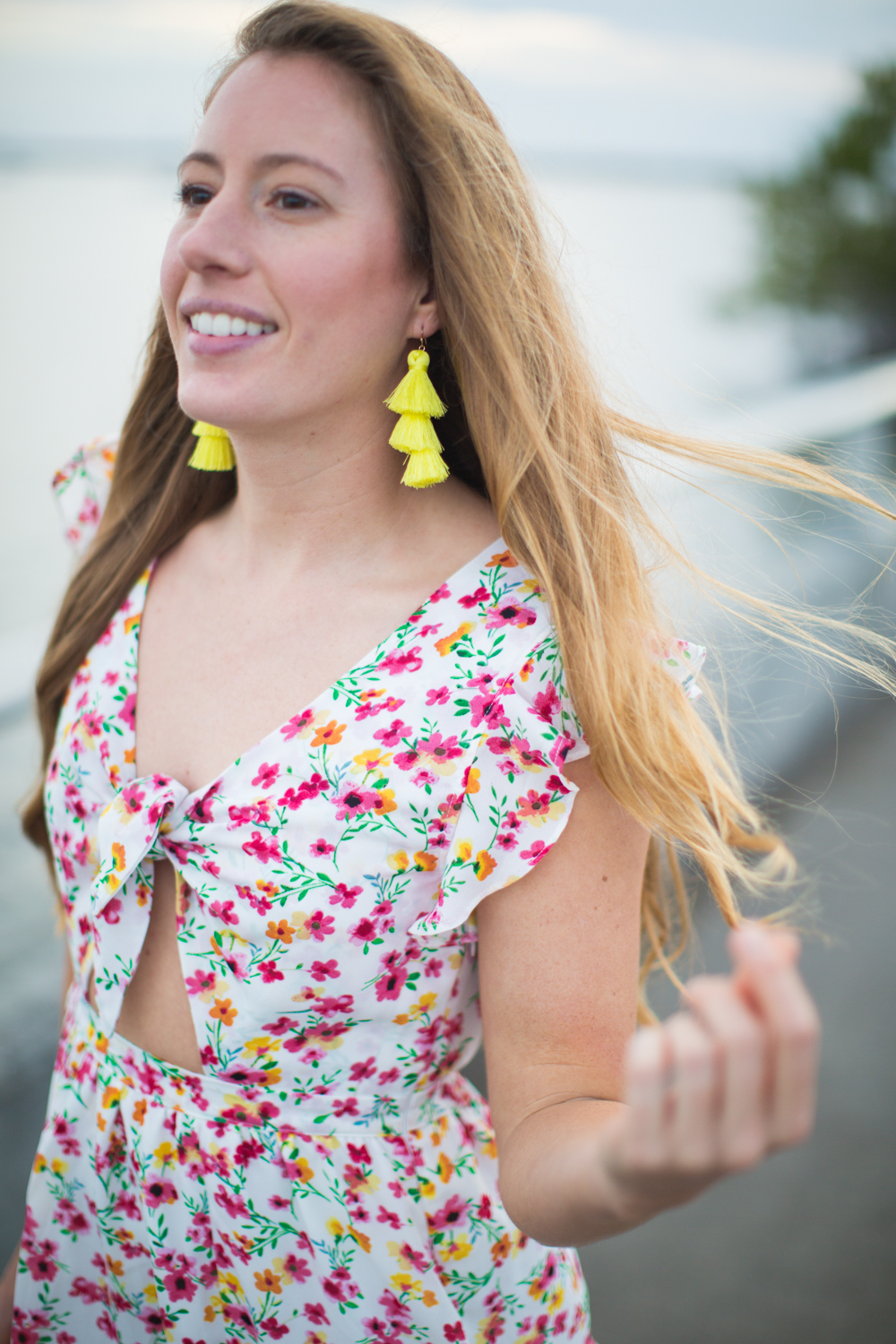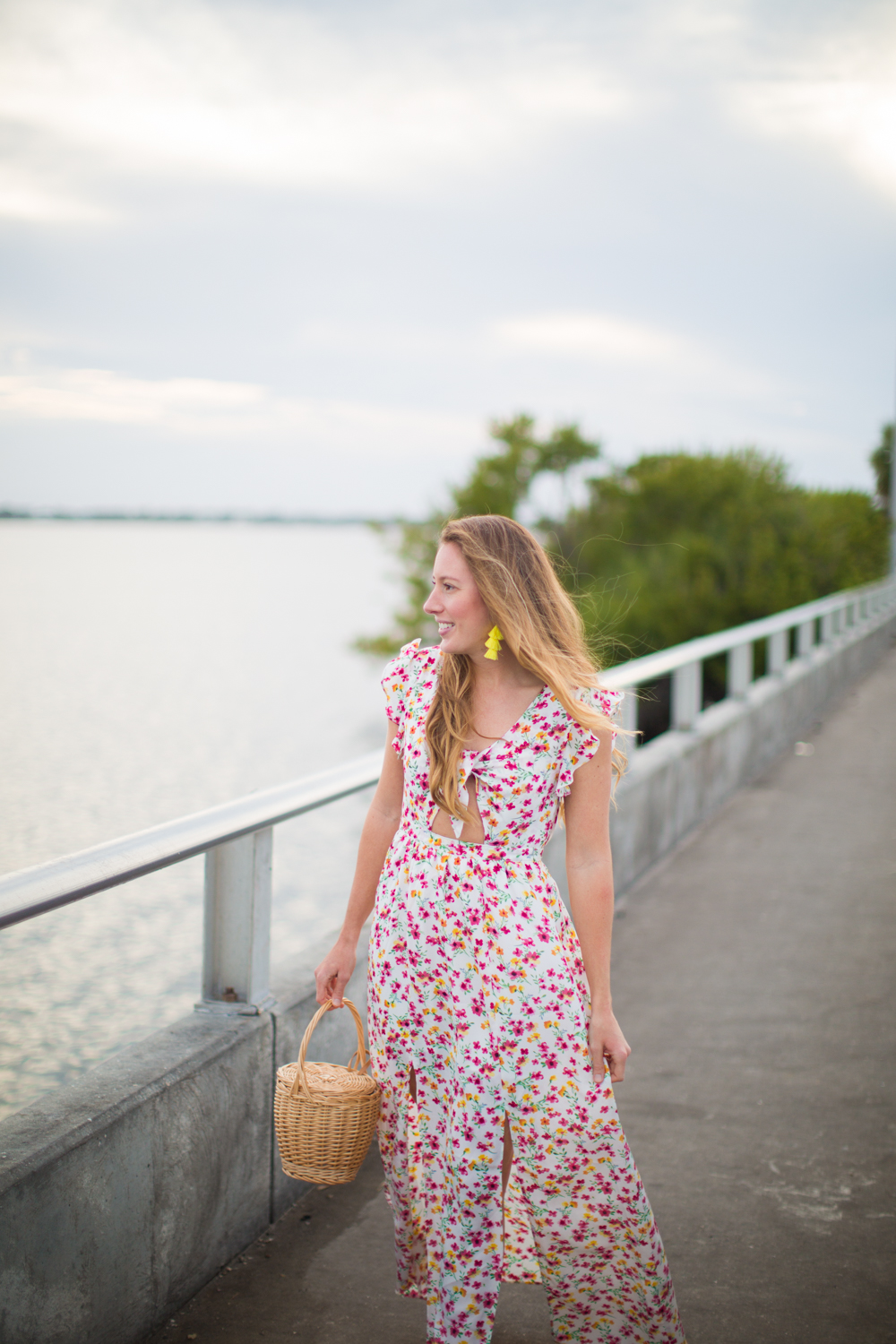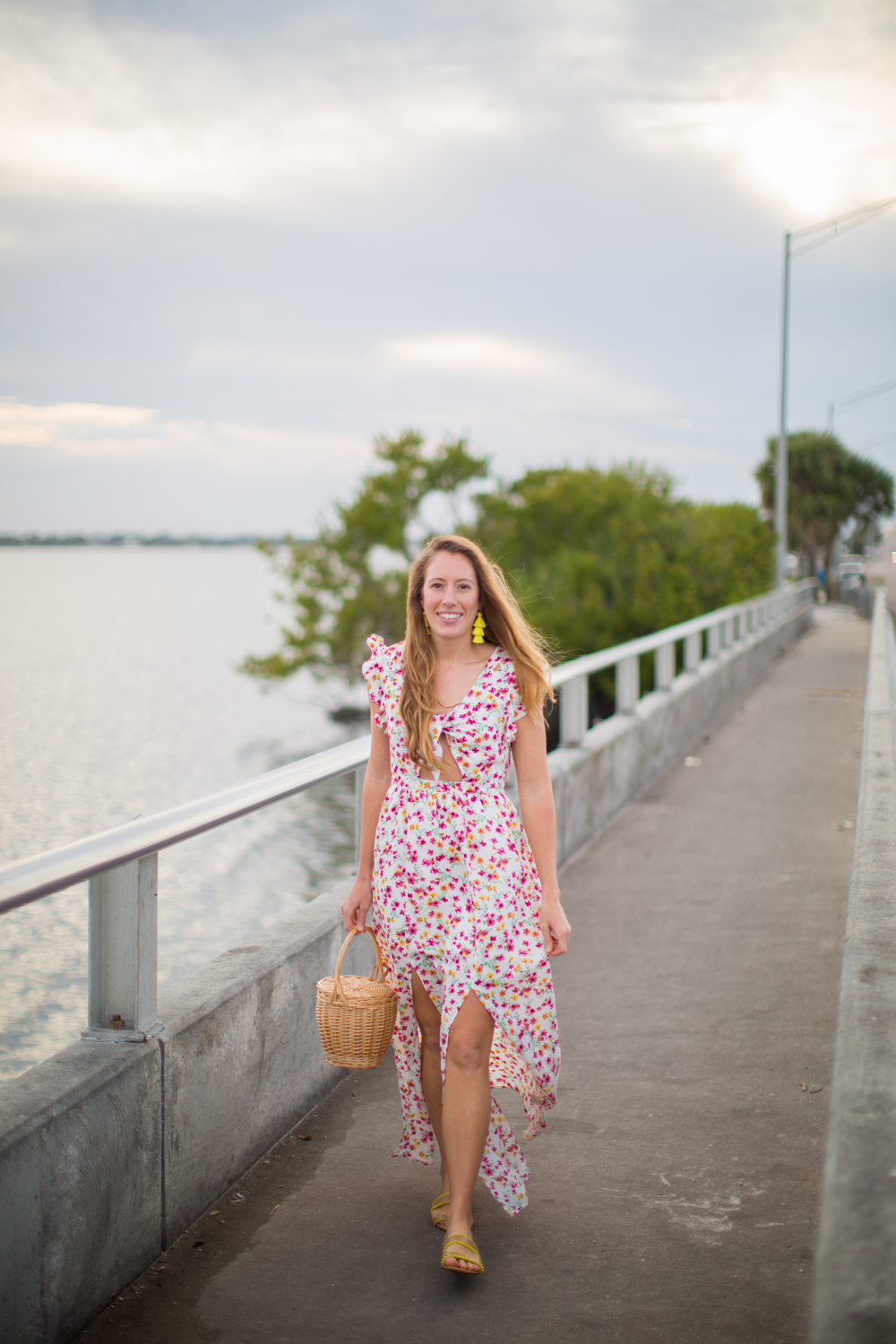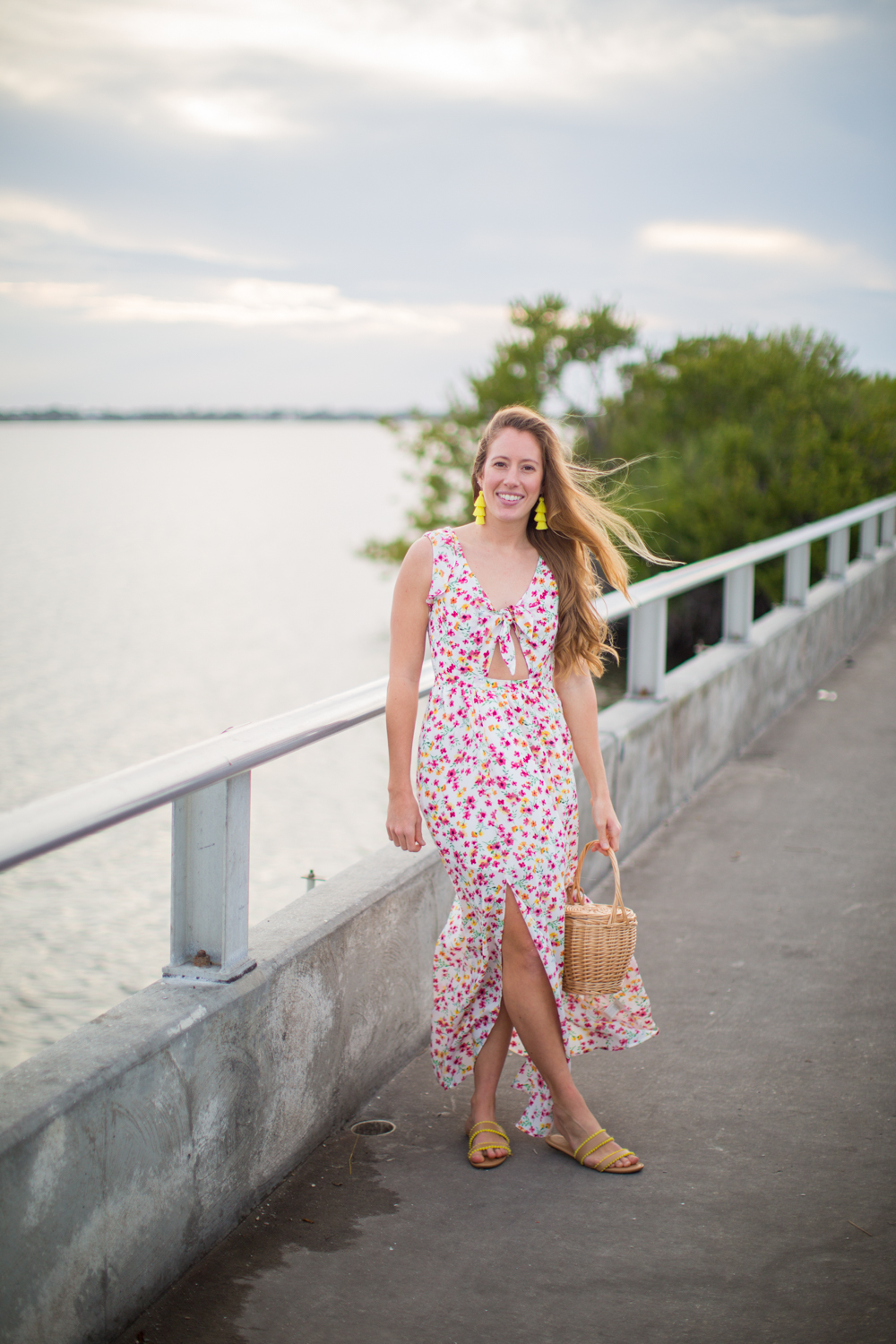 Jack by BB Dakota Dress (similar) / SUGARFIX x Baublebar Earrings / Talbots Sandals (similar here) / Sundress Basket Bag (similar here)
I'd also say floral dresses are perfect for Easter! Like I mentioned here, I'm on a super tight budget which leaves no room for shopping, so I will most likely be wearing this dress to church and lunch on Easter Sunday!
Recent Posts You Will Love
Where to Eat and Shop at Disney Springs
My Spring Shopping Wish List Under $100