I have the most sensitive skin on the planet. It's taken me years to truly understand how my skin works and what products are gentle enough for my sensitivity. Usually I rely on my best friend Alyssa for all of my skincare and makeup needs! If she tries it and likes it, I usually end up trying it!
About a year ago she introduced me to Image products, gave me some of hers to sample and I instantly loved them! My skin has never felt better! After trying so many products and having skincare problems for years, I wanted to talk about my journey and the exact skincare routine I use for winter that works for me.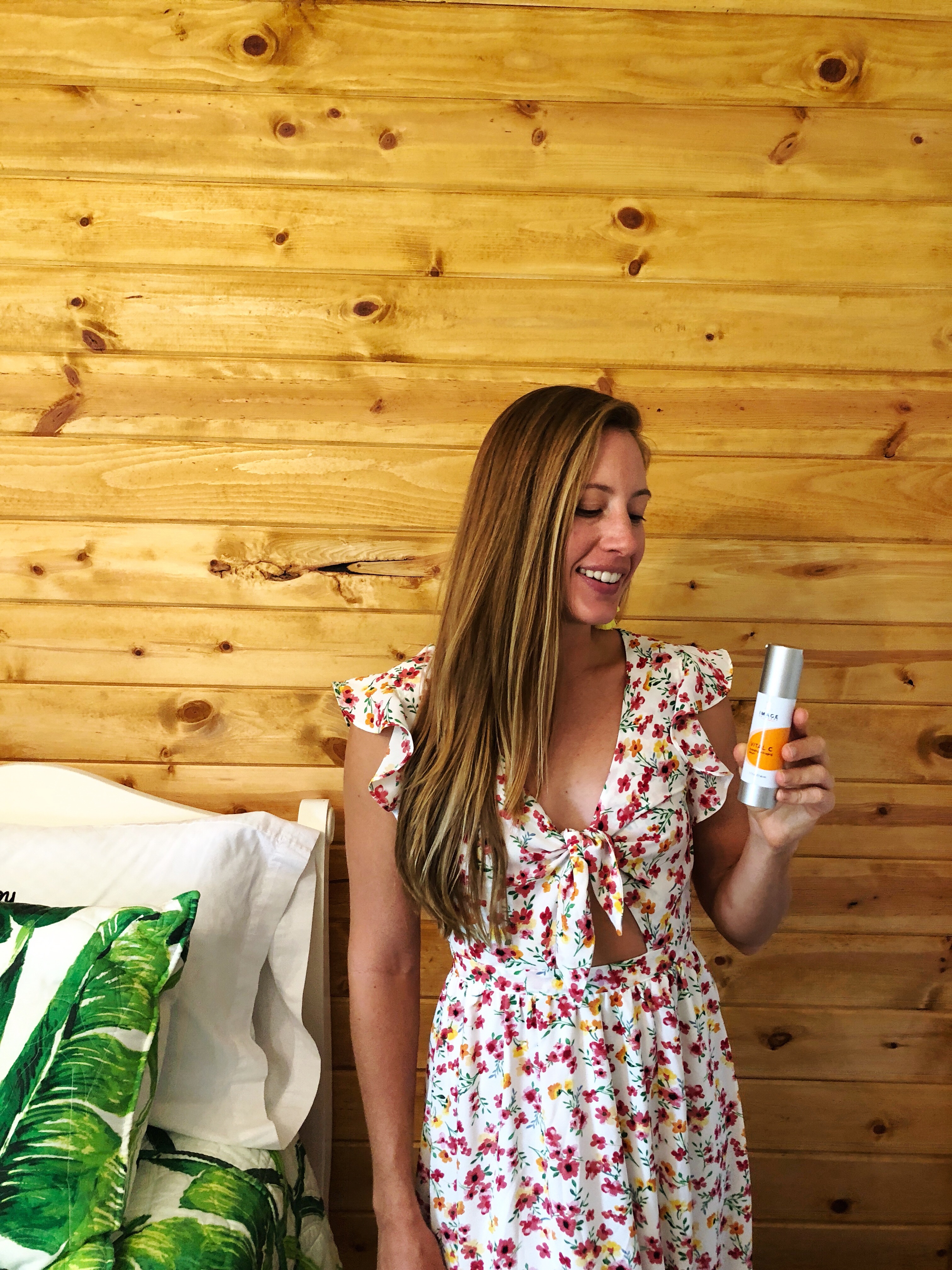 Shop Floral Dress and Similar Earrings
A Little Backstory of My Skin
I am a natural red head with lots of freckles and very red pigmented skin. I've had red rosy cheeks since elementary school. When I would go to the dermatologist, they would always tell me I had a mild form of rosacea. Nothing in my life has ever made this go away or helped it.
Once I got to highschool and started to have horrible breakouts, I realized just how sensitive my skin was. Early on I also learned that my skin hates any drug store product. Face wash, lotion, foundation, mascara, moisturizer, you name it, the ingredients were always to harsh for my skin. I so badly wanted to buy Neutrogena face wash and Maybelline coverup like everyone else, my skin just didn't agree.
Trying new skincare products was always such a horrible process. I would get bumps, super red, itchy and blotchy. Even certain lotions can make my skin feel like it's crawling and so itchy I have to take a shower immediately after application.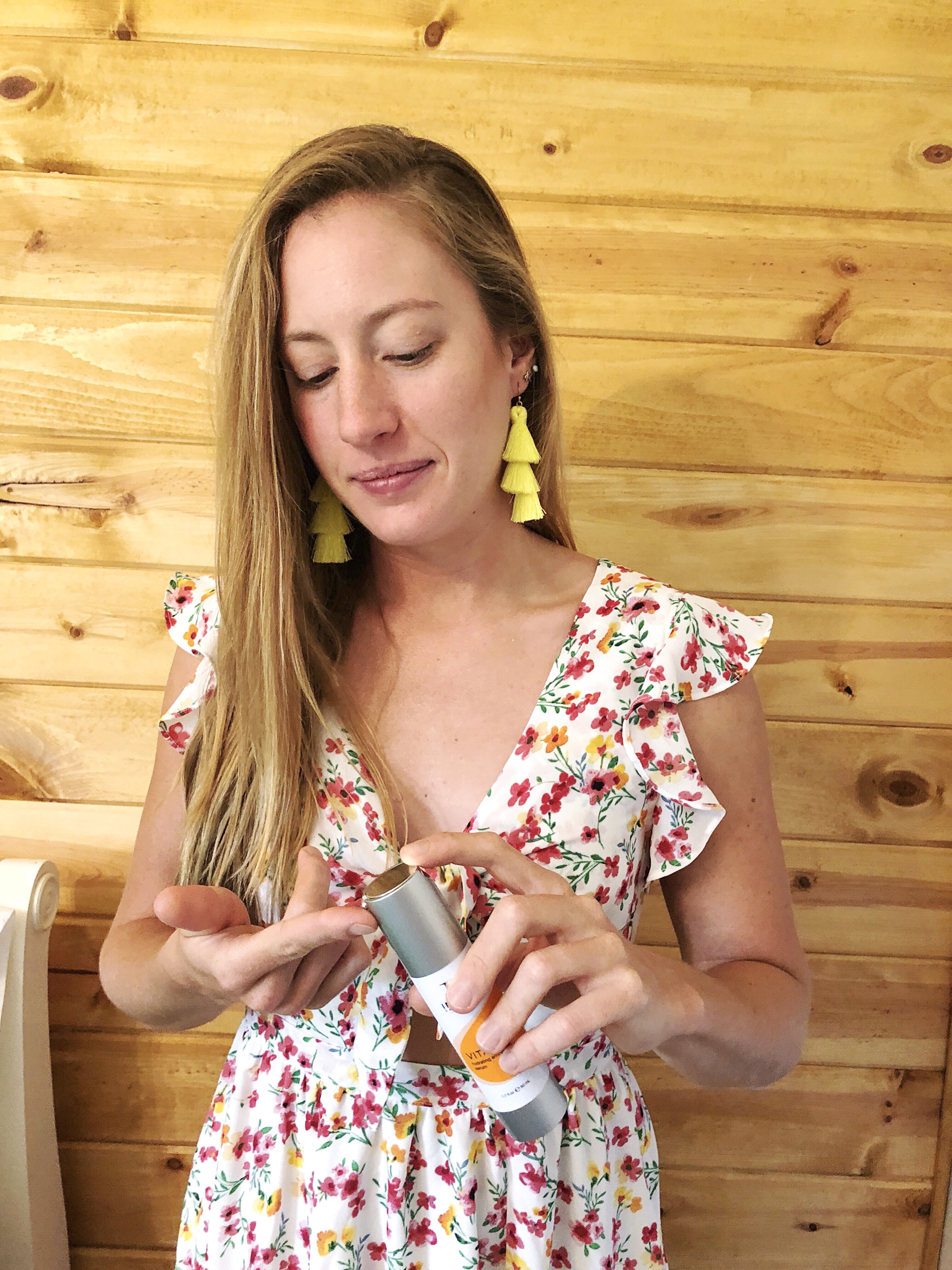 The Magic of Natural Beauty Products
Once I started caring more about eating healthy after high school, I found the magic of the health food store beauty section. Why did no one tell me that existed sooner?! I do not know. It was truly the first time in my life I found products that moisturized my skin enough, had mild to no fragrance and did not irritate my skin.
There was a bit of a trial and error because even some of the products with natural plant ingredients would be to abrasive for my skin. I had to pay a bit more for great products but the price was wildly worth it in my opinon.
I had used moisturizers and lotions from the health food store for almost ten years. It wasn't until recently where I felt like my skin needed a change. The products I was using were not moisturizing my skin enough. I also had this weird red splotchy patch on the left side of my face that appeared out of the blue (still has not gone away) and thought it might be caused by my face wash. That's when my friend introduced met to the IMAGE Vital C line.
What I Love About the Image Vital C Line

Is made for dry, sensitive, and redness prone skin
It smells slightly like orange (but not to strong)
Has a travel kit available for $15 (this is the main reason I purchased the whole line! Being able to test it out myself before investing is a game changer!)
Super moisturizing
Made with natural ingredients
Lasts for months
Is a step-by-step process
Each product can be purchased separately
After voicing my concern to my friend Alyssa, she let me try her IMAGE face wash. The first moment I used the face wash, my face felt so moisturized afterwards, I didn't even feel the need to moisturize. But I did anyways and I felt like my skin was glowing! It had not felt that wonderful in years. I was looking for a moisturizing product and found it!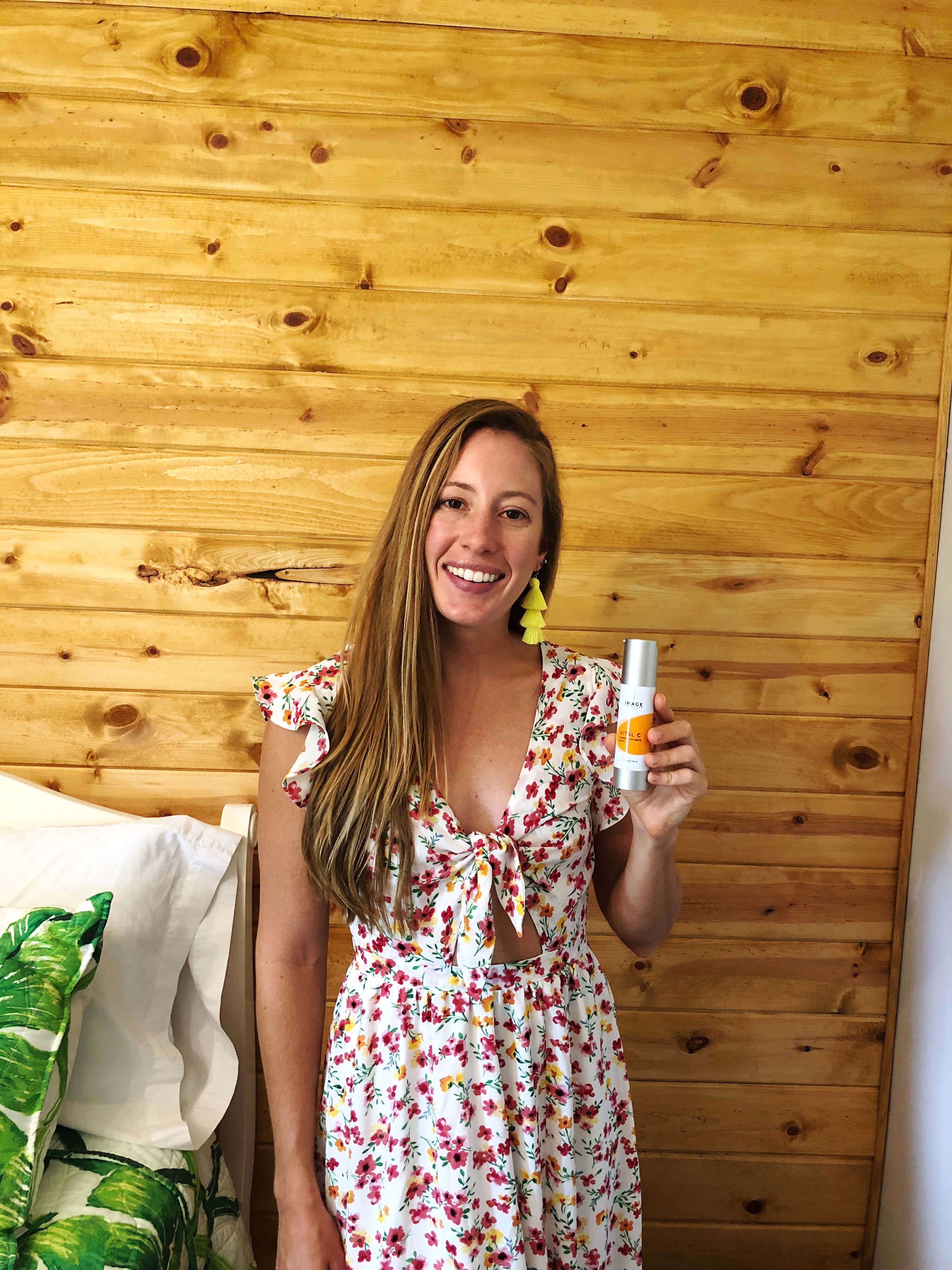 I currently use the face wash, moisturizer and night repair cream daily. There's a sunscreen that I only use when I am outside for hours on end. Kill me now but I am not a girl to wear sunscreen 24/7 even though I live in the sunshine state. Wearing it everyday makes me breakout and I don't like smelling like the beach constantly.
During the winter I add the hydrating overnight mask for extra moisture. They sell a travel set for under $15 and I used it while I was in Hawaii!
When I took these photos, I can't remember if I have a light layer of mineral powder on or not but it's a really accurate photo of what my skin truly looks like. It feels extremely healthy, is smooth and feels soft. The red patch on my skin is still there but it appeared months before I started to use the IMAGE line. I also still breakout occasionally and naturally have red pigmented skin.
When I was younger, I used to think that by the time I was in my 20's I'd be free of all my teen acne problems. LOLOLOL to that sweet girl. This is still super frustrating and boggles my mind! I eat very healthy, only drink water and never sleep with makeup on. I do feel though that my Vital C products have minimized my breakouts tremendously.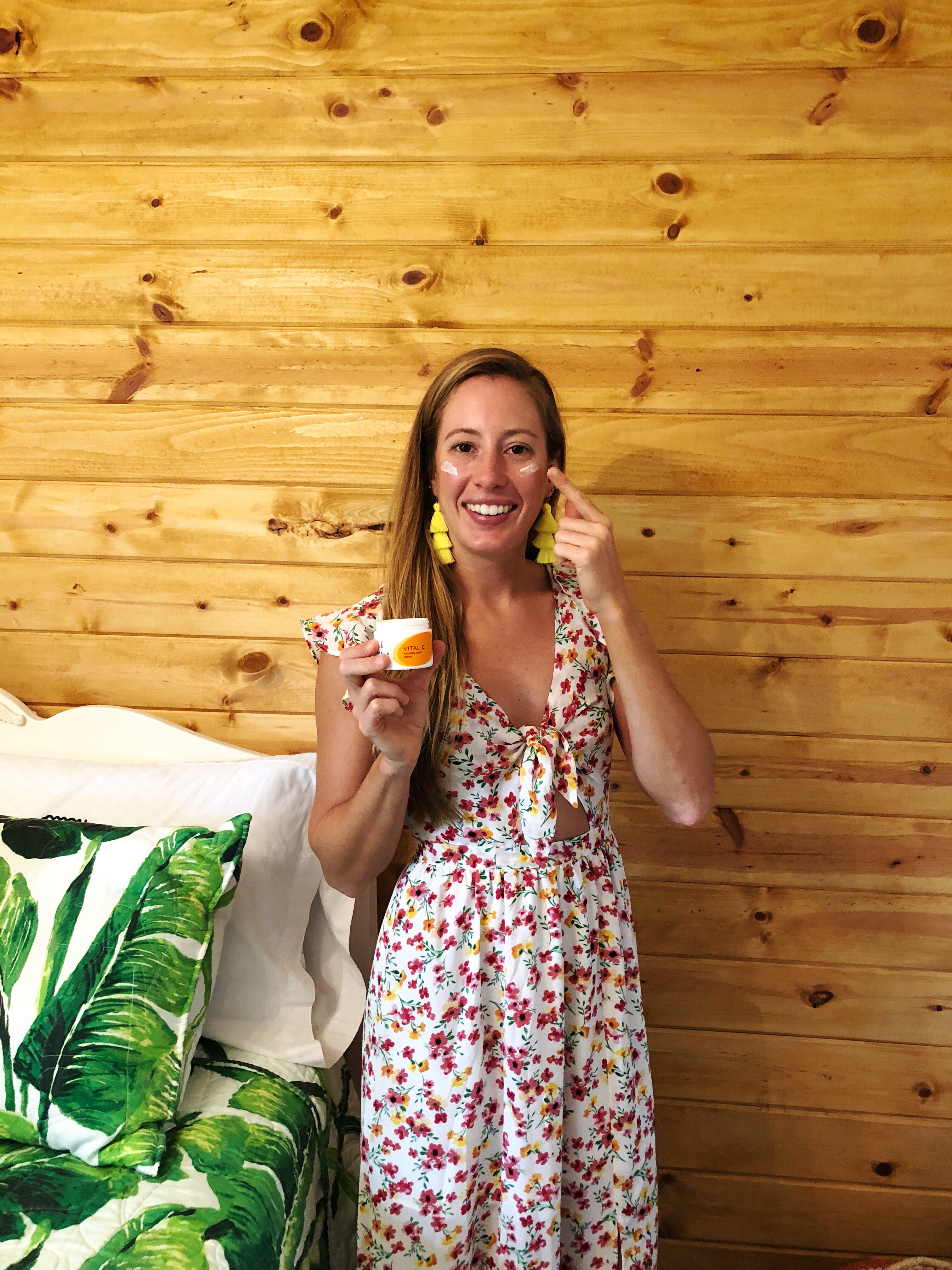 Don't ask why I am putting on my face moisturizer like football player marks for game day. Taking beauty photos is also much harder than it looks but I'm also much weirder than I look, so it works!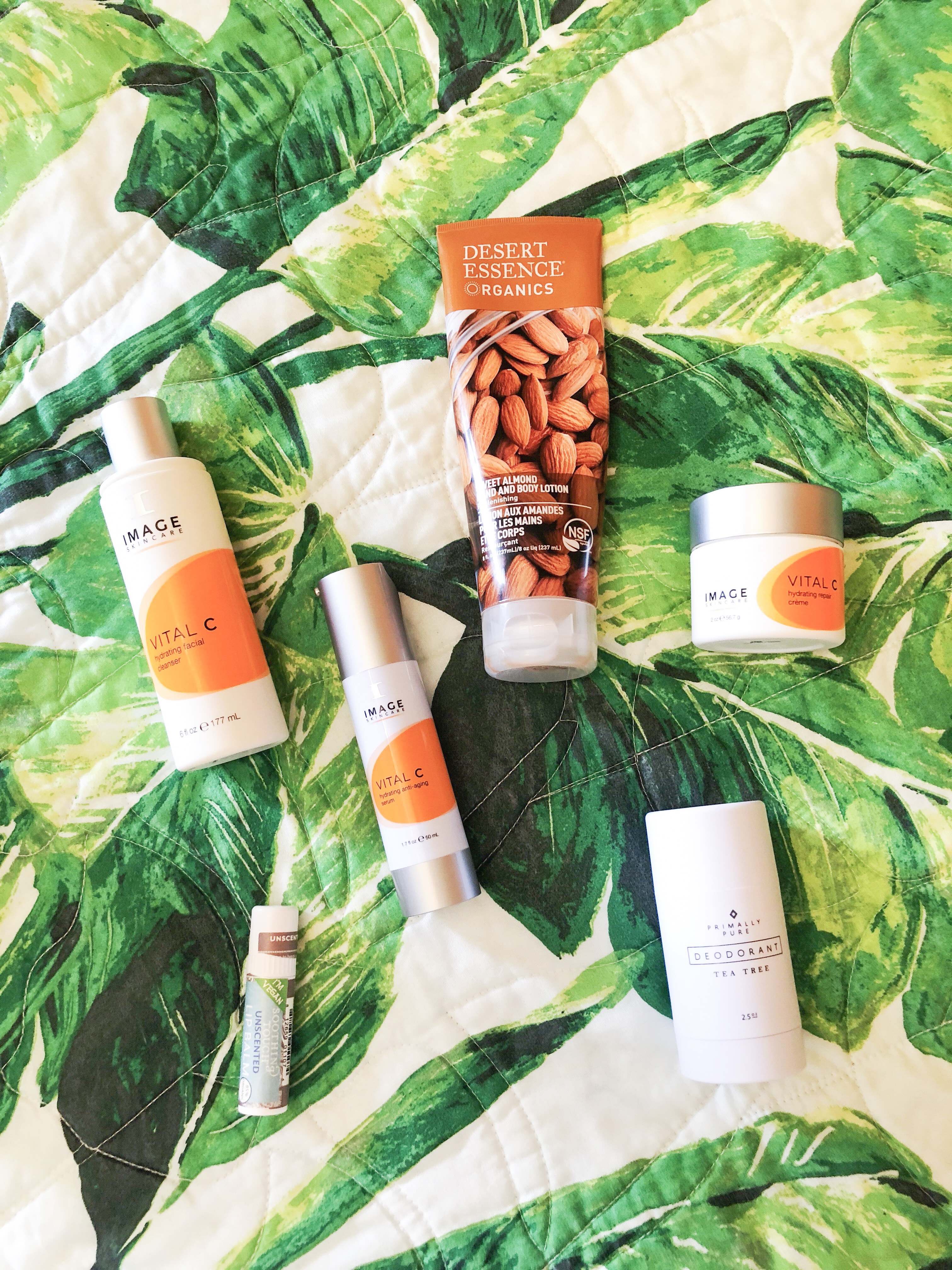 Besides facial skincare I also use natural lotion, deodorant and lip balm. There's are the exact products I love and use them every single day! Once I realized how many harsh chemicals were in my products, I made a change years ago and have not looked back. As much as I love eating healthy, I equally love putting good ingredients into my skin!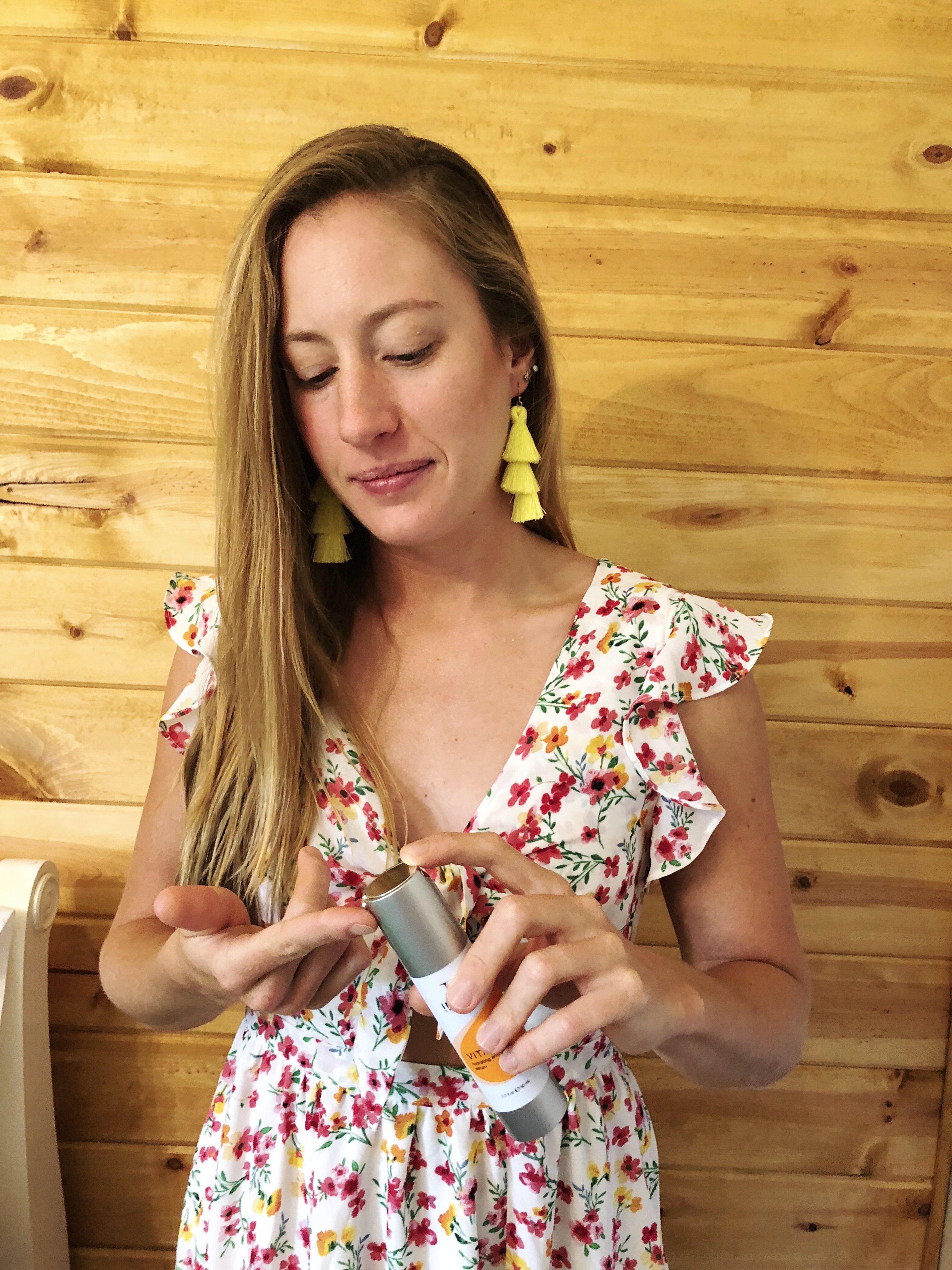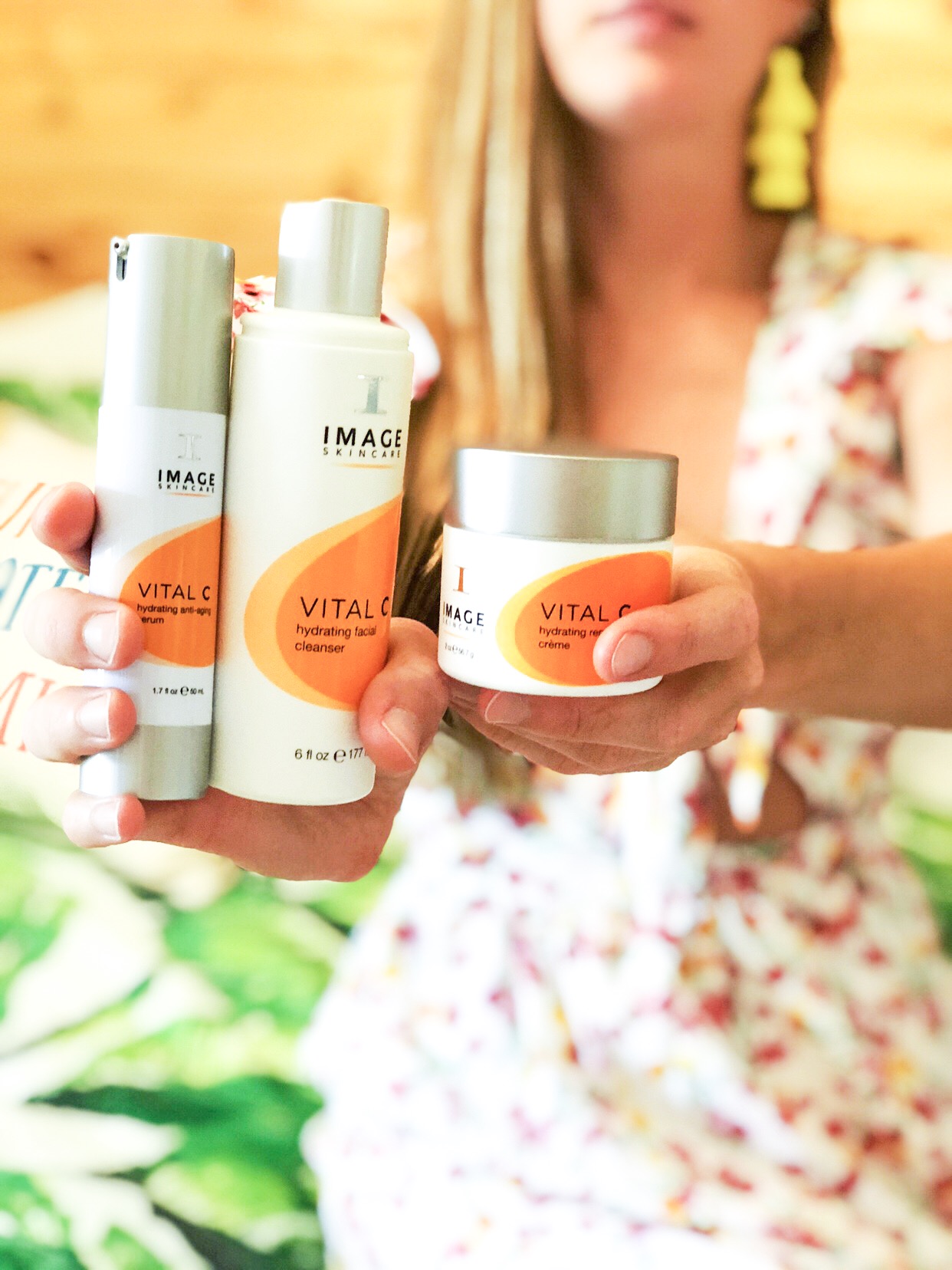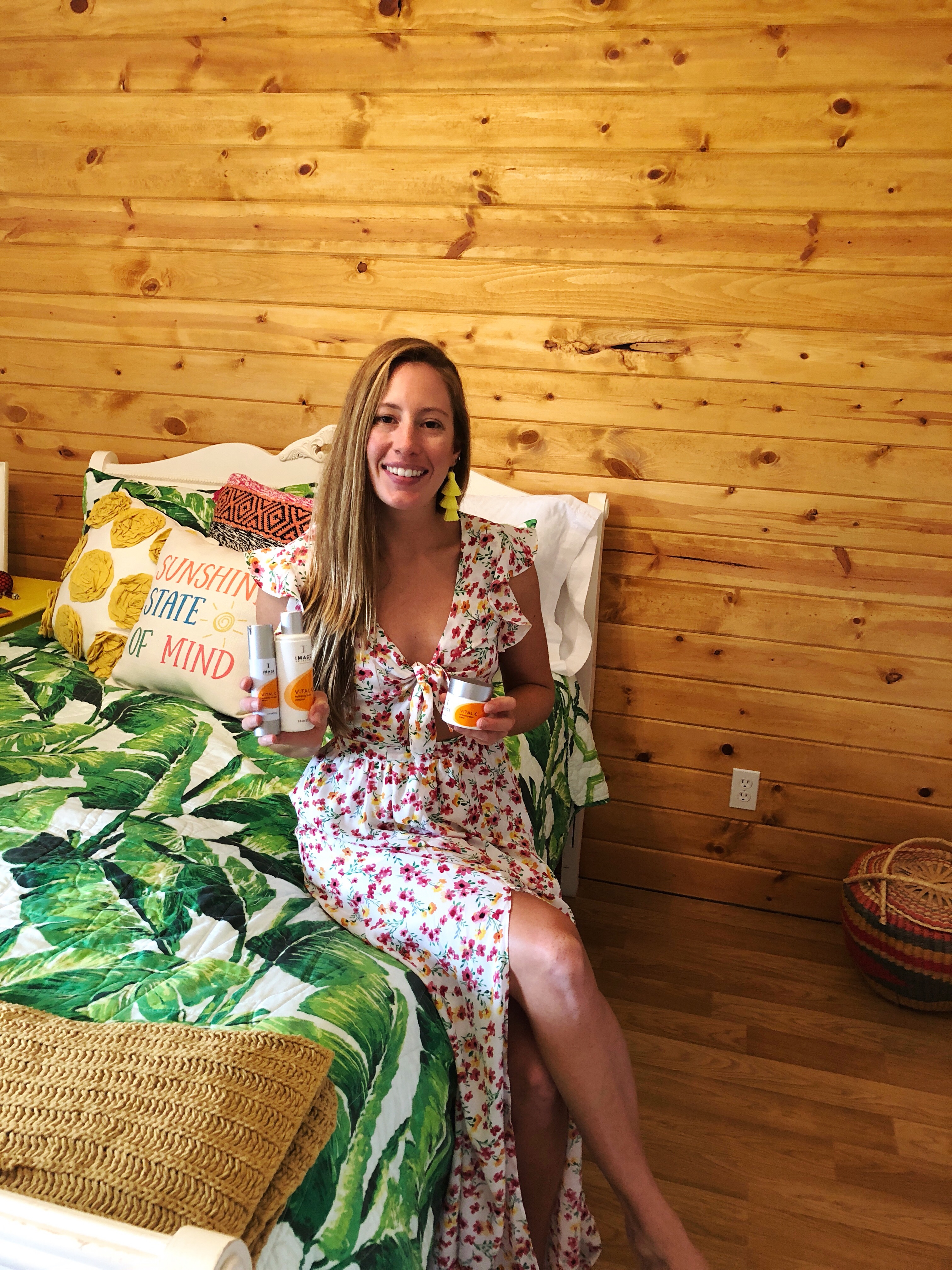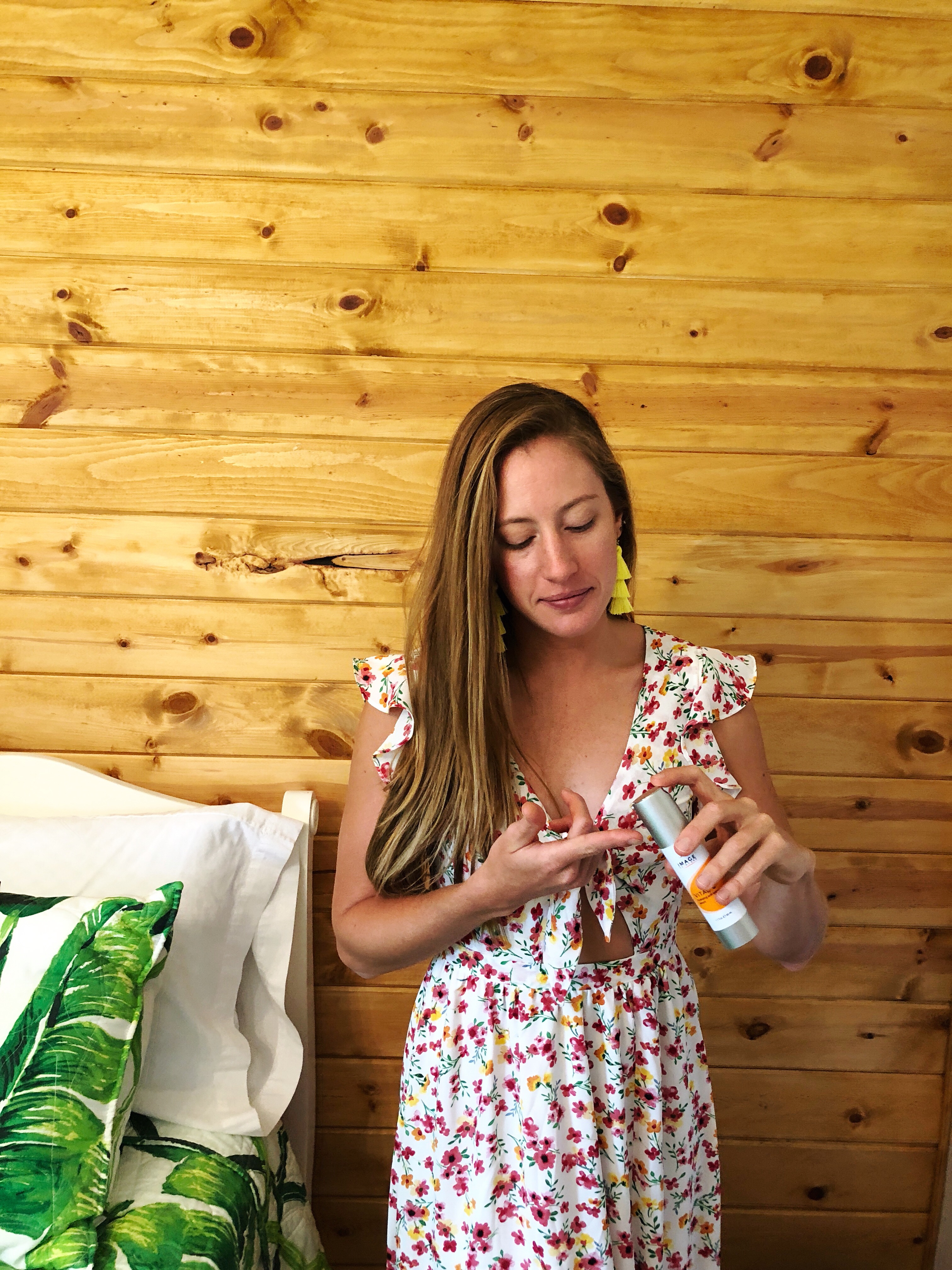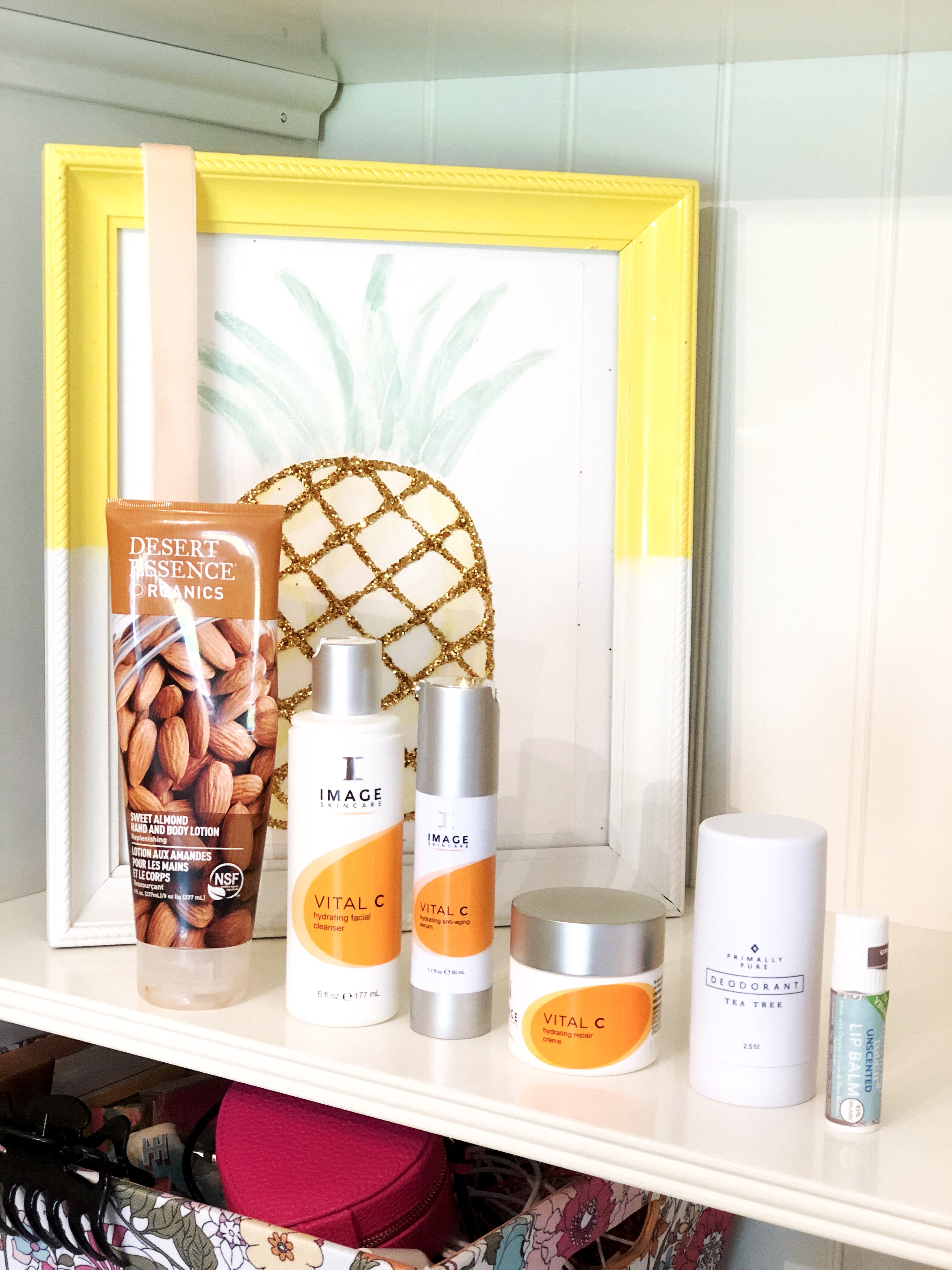 Shop the IMAGE Vital C Products I Use