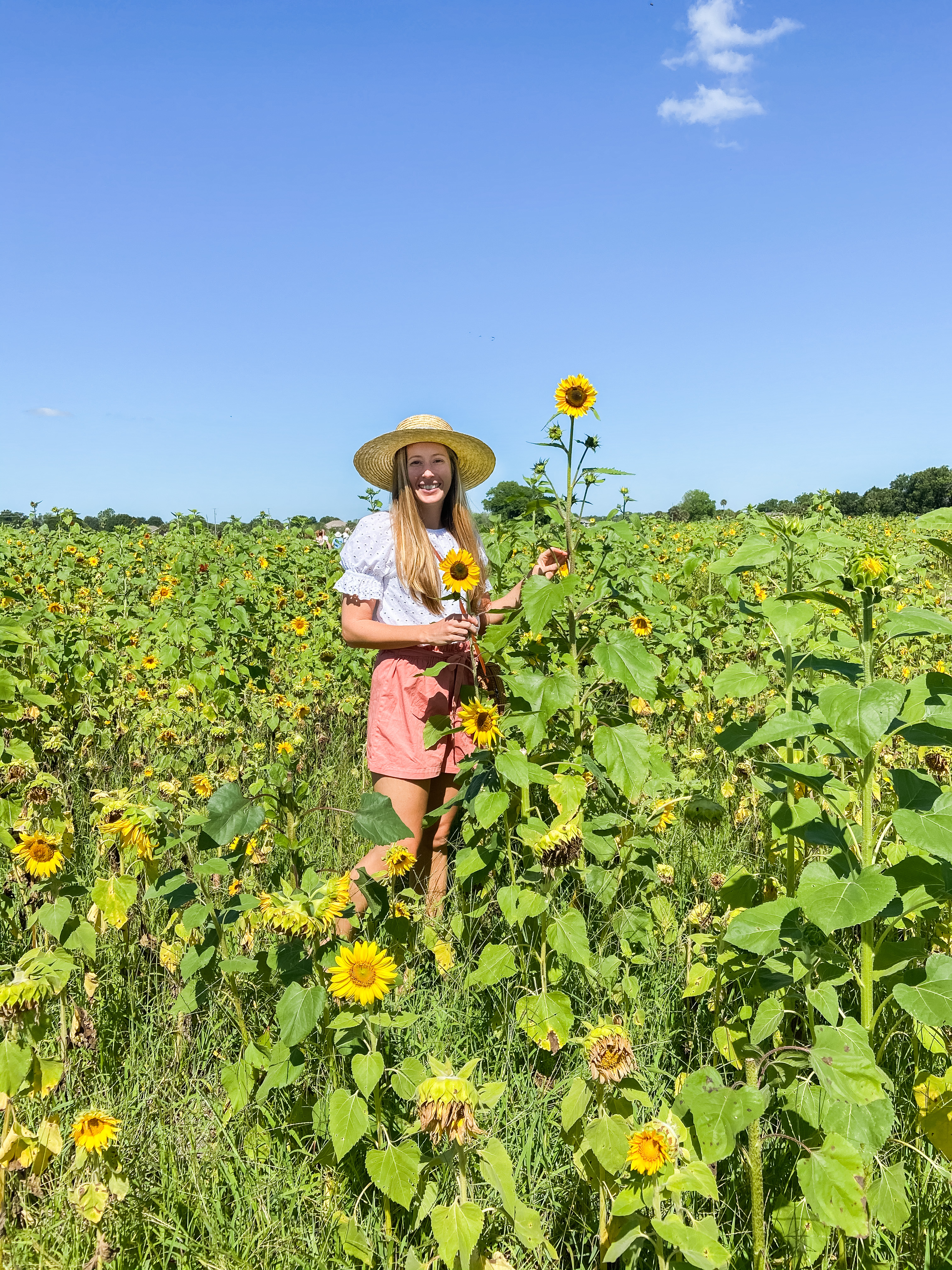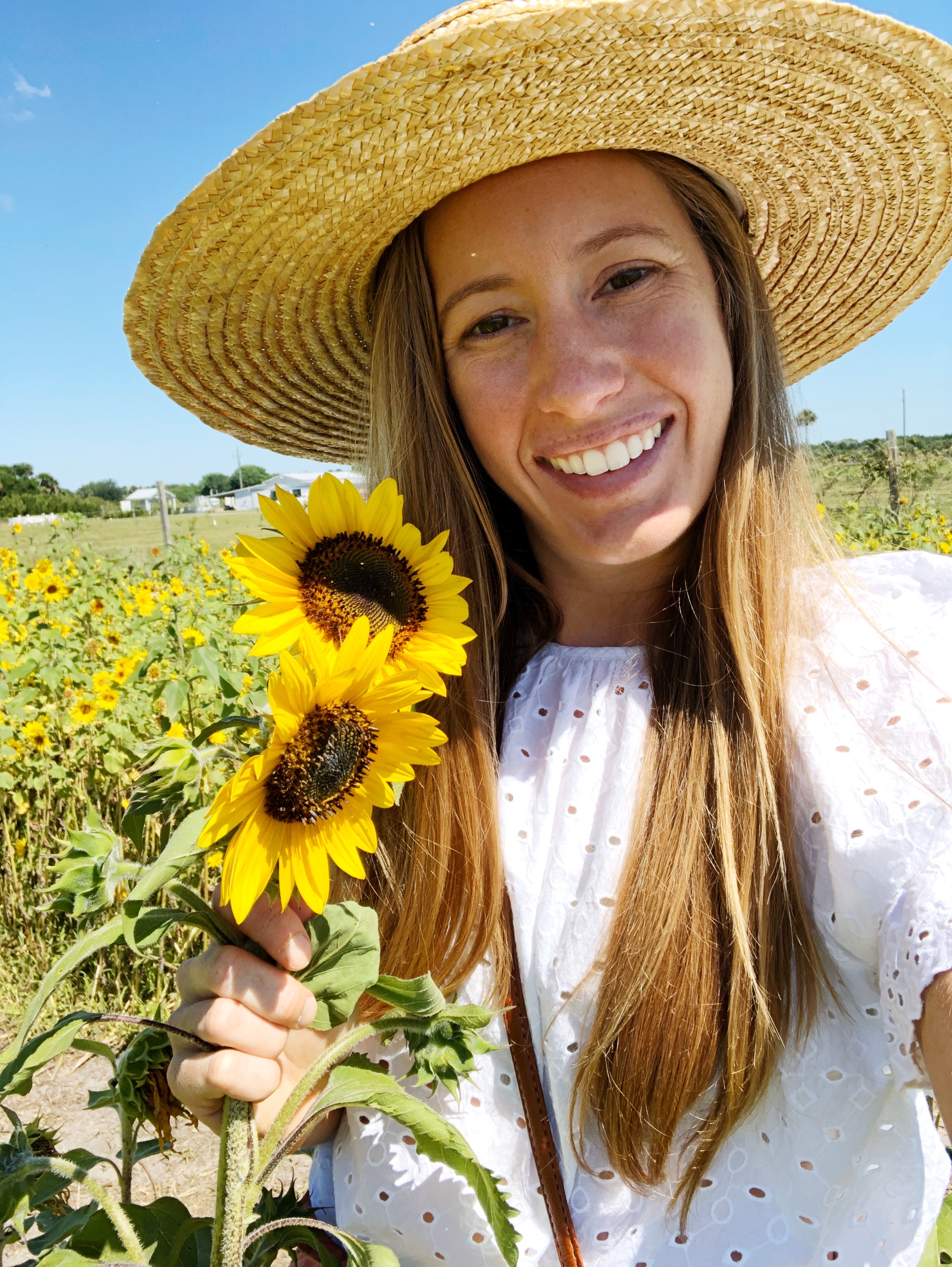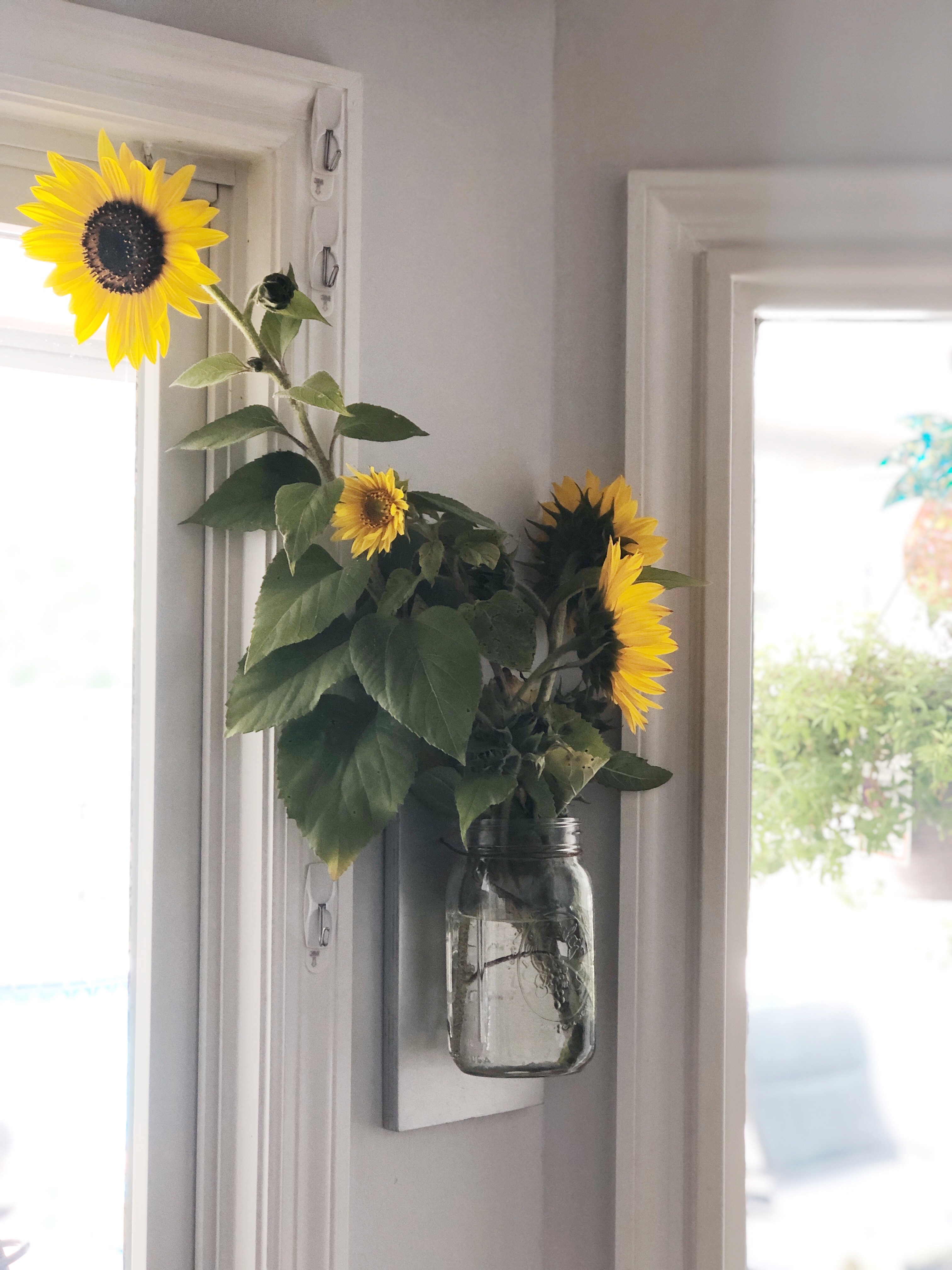 Sunny Outfit Details
Target Top (comes in yellow and lilac!) / Target Shorts / Target Hat
What Brought Me Joy This Week
ONE // If you follow me over on Instagram, you know that I went to a sunflower field over the weekend. I was able to cut and bring back sunflowers home and to my surprise, more little buds started blooming! We started with only 3 now have like 8!
TWO // Eating outside on my porch! The last few night's it's cooled down to the 70's and even high 50's (sooo odd for May) and it's just the best. I've been working out on my porch, then heat up my leftover food and eat with my feet dipped in the pool. Nothing better in my option. Living for the simple things in life makes me the happiest.
THREE // Zoom workout calls with my gym! This has been a life saver. I never have liked gyms and get bored with workouts alone and prefer groups. Being able to have buddies and people cheer me on has kept me going!
FOUR // I am so thankful for chiropractor appointments. Thank goodness his office has been open! In Oct of last year, somehow I hurt my back so much, I couldn't sit without intense pain. Now I have 0 pain and just go for maintenance.
FIVE // Being able to pay for my friends dinner. She's been out of work for weeks because dental offices haven't been open. It was so fun to treat her and let her know I really care about her!
SIX // Taking photos during my work lunch break. You have no idea just how excited this makes me. I love photos and it brings me so much joy, even if I have to set up a tripod and take a zillion shots and run back and forth to the camera to see if I look like a crazy or normal person.
SEVEN // Editing photos for a friend. My friend Taylor and I went to the same high school and have the same Birthday, April 9th. She runs a Disney themed Instagram account and needed a few product photos of shirts a company sent her. First off, I love people and we had so much fun together. When it came time to send her the photos, it made me so happy!
EIGHT // Mid afternoon pool swims! I LOVE the water. Once I was done with work on Wednesday, I closed my laptop at 4 PM and swam for an hour with my mom. Can't think of a better way to end the day!
NINE // Eating ice cream for dessert. I had asked in a poll on Instagram who loves ice cream and got so many fun responses like moose tracks, rocky road, mint, strawberry and vanilla. My personal fav? Cookie dough!
TEN // Sunset beach walks. There is no way that I take the blessing of living by the beach for granted, especially right now. I love the relaxed Florida lifestyle and the moment I step on that sand, everything else melts away and I am in pure bliss.
What's one thing that brought joy to your week?
Lots of Sunshine,
Katie