When I first designed the Sunshine Style blue shell headband from The Shell Collection, I really had no idea how popular the color would be! Turns out, it's a huge trend for Spring which makes me so happy! I rounded up some swim and resort wear pieces in the beautiful blue color you can wear now and into summer.
How's your week going?! The Spring seems to be flying by and I never want it to end…even though I love summer! Our weather in Florida is gorgeous this time of year (places like Palm beach are a must visit!). On the weekends, I usually try to get a bunch of blog and business work done. Making a few reels this past weekend were my top priority and I recorded a few outside which was absolutely perfect! I got to make fun videos and enjoy being outside!
Blue Spring Edit: Swim and Resortwear
Sunday I made sure to step away from my phone and computer and hammocked at a local park on the water with my friend! Nothing in life makes me happier than being outside in the sun with a pretty coastal view. I did finish the reels but this weeks weekly blog post took a back seat. I made sure to schedule in time after my workout to get it up because I just couldn't wait to share these blue spring pieces with you!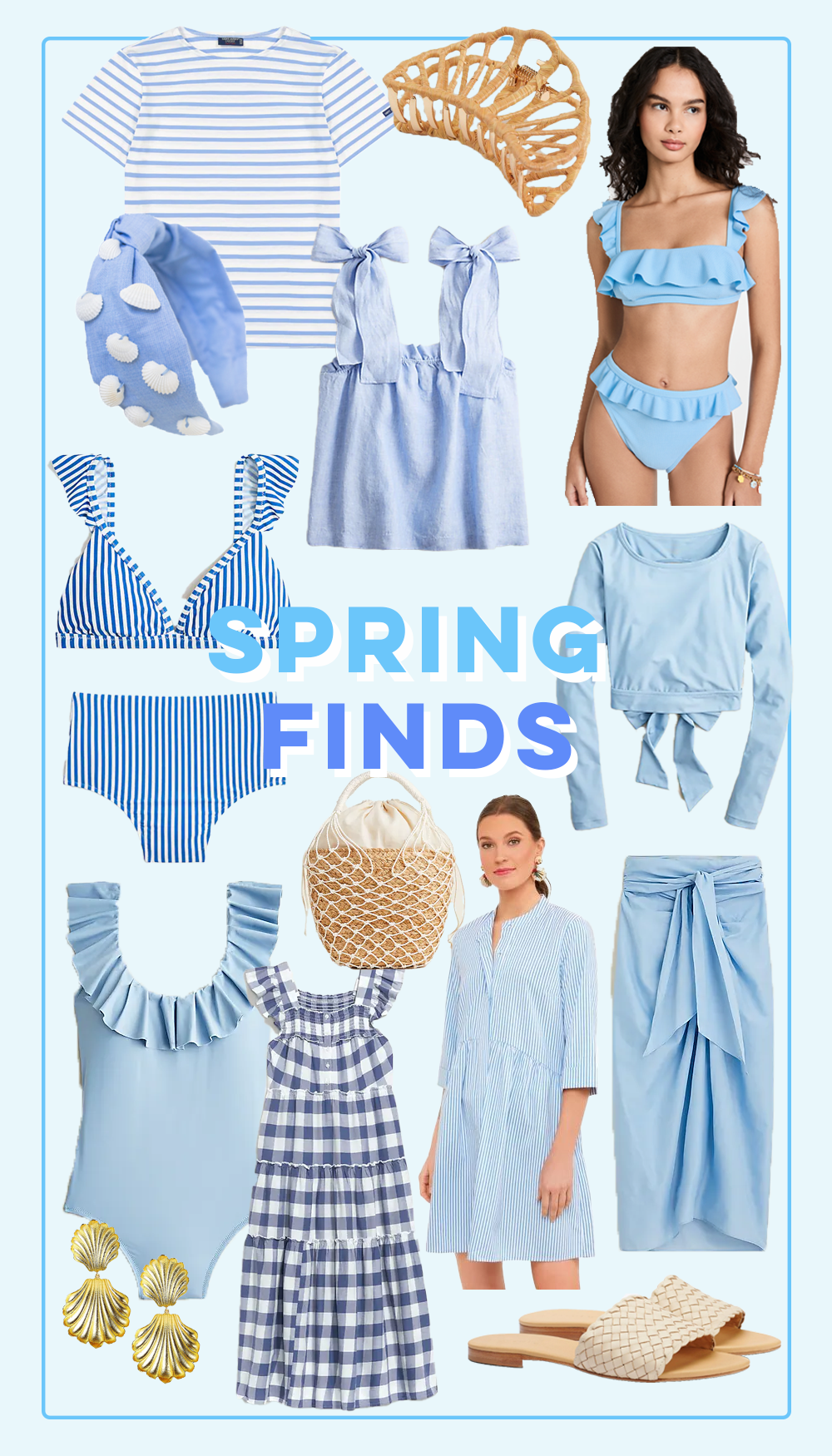 Saint James T-shirt / Raffia Hairclip
Sunshine Style Co. Shell Headband / J.Crew Tie Strap Top / Ruffle Swim Top + Bottom
J.Crew Factory Striped Swim Top + Bottom (under $60) / J.Crew Longsleeve Rashguard
J.Crew One Piece Swimsuit / J.Crew Basket Bag / Gingham Dress / Tuckernuck Striped Dress / Sarong
Lisi Lerch Shell Earrings / Woven Sandals
Resortwear, Summer Sandals, and More
Can we talk about how cute this budget friendly raffia hair clip is (only $10)?! Does this mean I am turning into a Gen Z girl?! I went against my own *don't* list and bought bike shorts. Now it's hair clips?! And I just found a pleated tennis skirt in the pretty blue color while online window shopping! Is an intervention needed?
J.Crew is killing it with their new releases like this tie strap top. For hot summer days, it would look adorable styled with white denim shorts, a matching headband and sandals!
Usually I lean more towards swimsuits in the under $100 price range. This gorgeous high waisted ruffle swim top + bottom might have to be my summer splurge. The ruffles are adorable and great for small chested people like myself! I did find a similar striped budget friendly swimsuit top + bottom from J.Crew Factory.
I did have a few requests for cute summer sandals. This is the one item I usually like to splurge on because I tend to wear them everyday during the summer months. Target sandals are so cute but they usually don't last more than a season for me. I found these ethical woven sandals from Nisolo that will pair easily with sundresses and shorts! I'll dedicate an entire post soon to a bunch of sandals at different price points!
Lots of Sunshine,

Katie