I'm back after a little blog and Instagram hiatus!!! So happy to be writing here again! My first 2022 blog post is all about Resort Wear! Specifically lots of blue and white pieces for your winter or spring vacations!
During the winter, yes even a Florida winter, I start to feel completely uninspired. I took a break the past few weeks just to let myself plan, prepare and reflect what I want for this space and Sunshine Style Co. in 2022! I have still been posting on stories!
Resort Wear for Warm-Weather Winter Vacations
Once Christmas was over, I got super excited thinking summer is right around the corner! I am starting to realize, my brand might be busier in the spring and summer and the slower season will be in the winter months. It makes so much sense though because I come alive when the sun is shining and it's swimming weather! Plus I love sharing summer fashion the most with you all!
To help put you in a spring and summer spirit, I put together a bunch of resort wear pieces. First up is blue! What color theme do you want to see next?!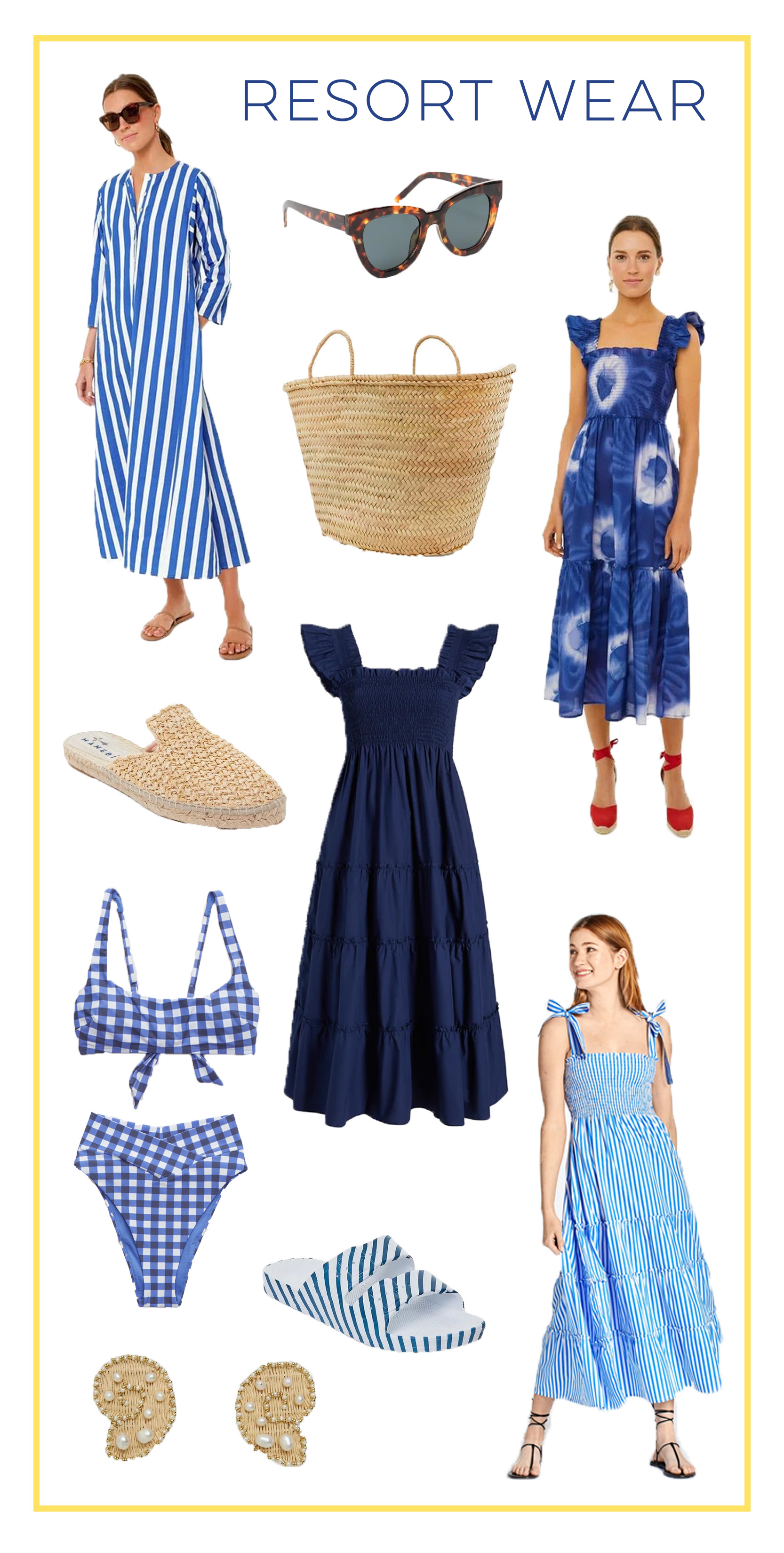 Striped Caftan / Sunglasses / Tie Dye Dress
Raffia Shoes / Navy Nap Dress / Beach Bag
Gingham Swimsuit Top + Bottom / Striped Sandals
Shell Earrings / Striped Tie Strap Dress
Tuckernuck really does Resort Wear so well and they find the most amazing pieces! The majority of the items are from Tucnkernuck like this striped caftan, tie dye ruffle sleeve dress and raffia shoes.
My trusty and classic navy Nap dress has been a go-to item. I pretty much wear this dress every single week! Yesterday on a more chilly day, I styled it with a blue and white striped long sleeve shirt! What I love about the sold navy color is that it's timeless and work for every season! On warmer days, I will usually style them with a woven bag, sunnies and slip on sandals!
I hope these items are brightening your day and getting you excited for the best reasons of the entire year!
Lots of Sunshine,
Katie