We had our first *cool* Halloween in yearsss! For the first time, kids weren't sticky in their polyester Halloween costumers, ha! It was a fun surprise and best way to start November! OMG, really though, how is it already November?!
Getting dressing for fall in the South/Florida is really a science. Chilly mornings and then super warm afternoons make it tricky. I love being able to add classic light layers and finally start to wear long sleeves! It's really the little things in life that bring the most happiness! The entire outfit is from J.Crew Factory. They always have the best classic pieces for every season.
Sunny Outfit Details
J.Crew Factory Top (under $40) / J.Crew Factory Skirt (under $35) / Target Loafers (similar here) / Sunshine Style Co. Headband / Straw Bag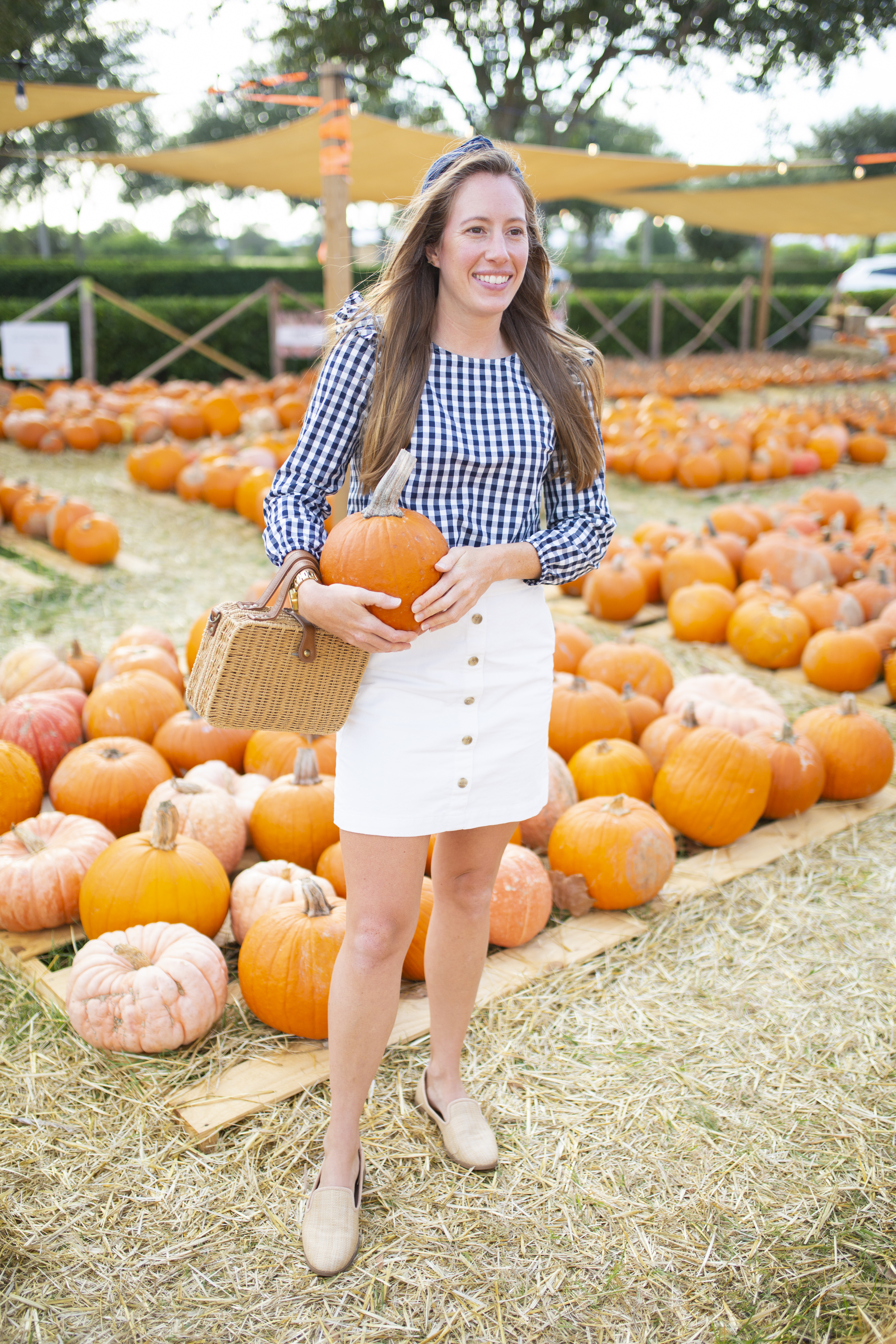 How to Dress for A Warm-Weather Fall
I love this entire outfit, it's preppy, bright and happy. During fall, I wear tons of blouses, skirts, jeans and dresses. Usually it's not cold enough for sweaters yet. Last year I shared so many fall colored outfits thinking that's what I was "supposed" to do and felt super inauthentic. Darker fall tons are not exactly me so I stopped trying to be someone I was not.
This year, I stayed true to myself and have been really drawn to navy, which is a great classic color for fall! I even designed a navy eyelet headband you can style with all our classic fall and winter outfits! Plus, it will work for fall and summer too!
Lightweight Tops and Sweaters
Having a variety of tops to layer with is so so important. J.Crew Factory is my go-to for classic pieces I can style multiple ways. I love the gingham cotton top with the ruffled sleeves (under $40)! I paired it with a corduroy skirt. You can also style it with overalls, mom jeans, white jeans and classic shorts. It's long enough to tuck in or front tuck without to much excess material. The material is super soft and lightweight so I can still wear it once it warms up outside.
Sizing: The top runs large. I sized down to an XS. Keep in in mind, my usual size for tops at J.Crew Factory is an XS.
Suede or Corduroy Skirts
If you want to dress like all the cute preppy Northern girls but in warm-weather, my biggest tip would be to wear different fabrics like suede, corduroy and pleather. It creates a fun contrast and gives off a more fall vibe! That's why I love this button up corduroy skirt so much (under $40)! It's a great staple for the fall season and can be worn in the winter too!
You can style it with 3/4 sleeve tops, long sleeve blouses and sweaters!
Sizing: Wearing my usual J.Crew size 2 in bottoms.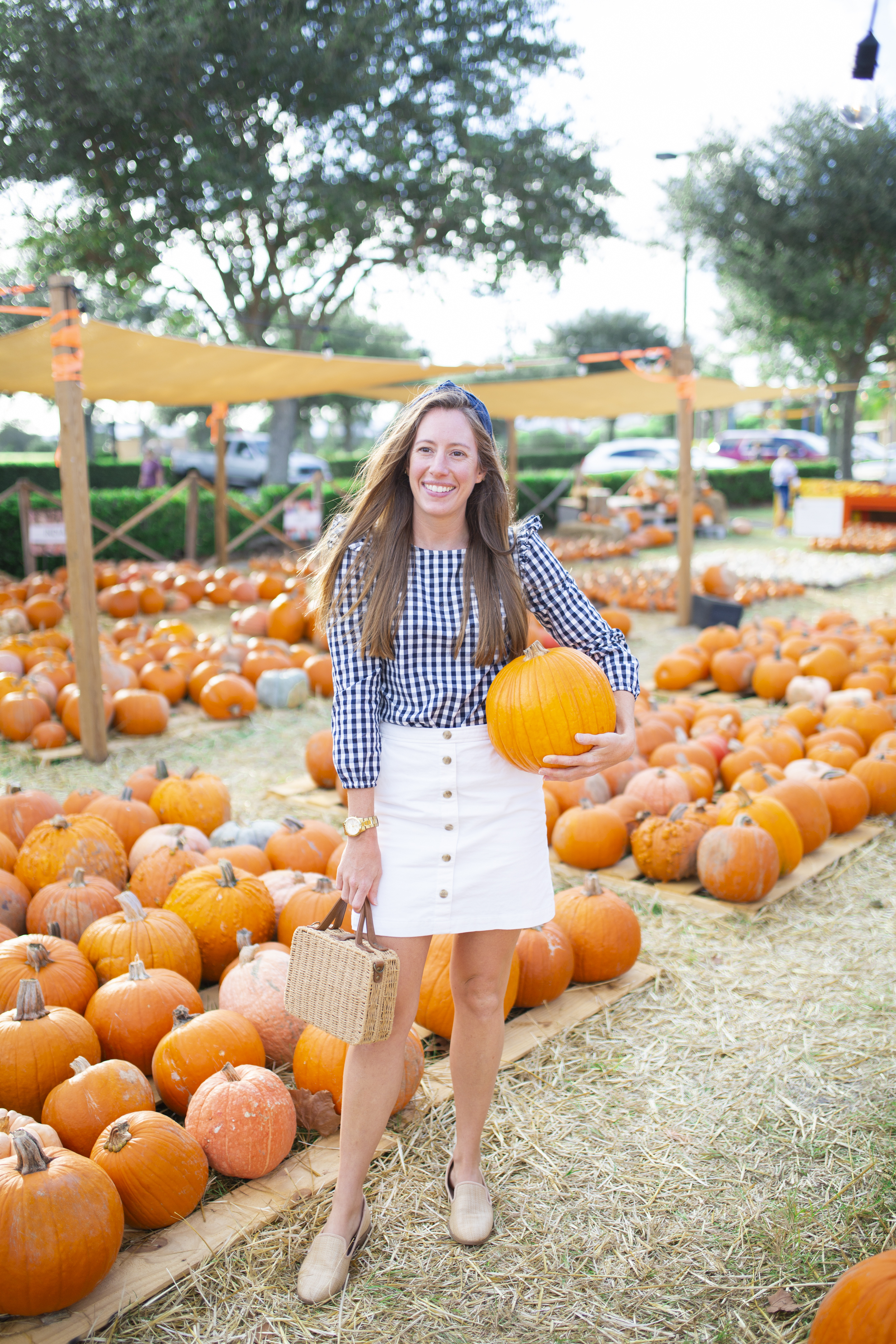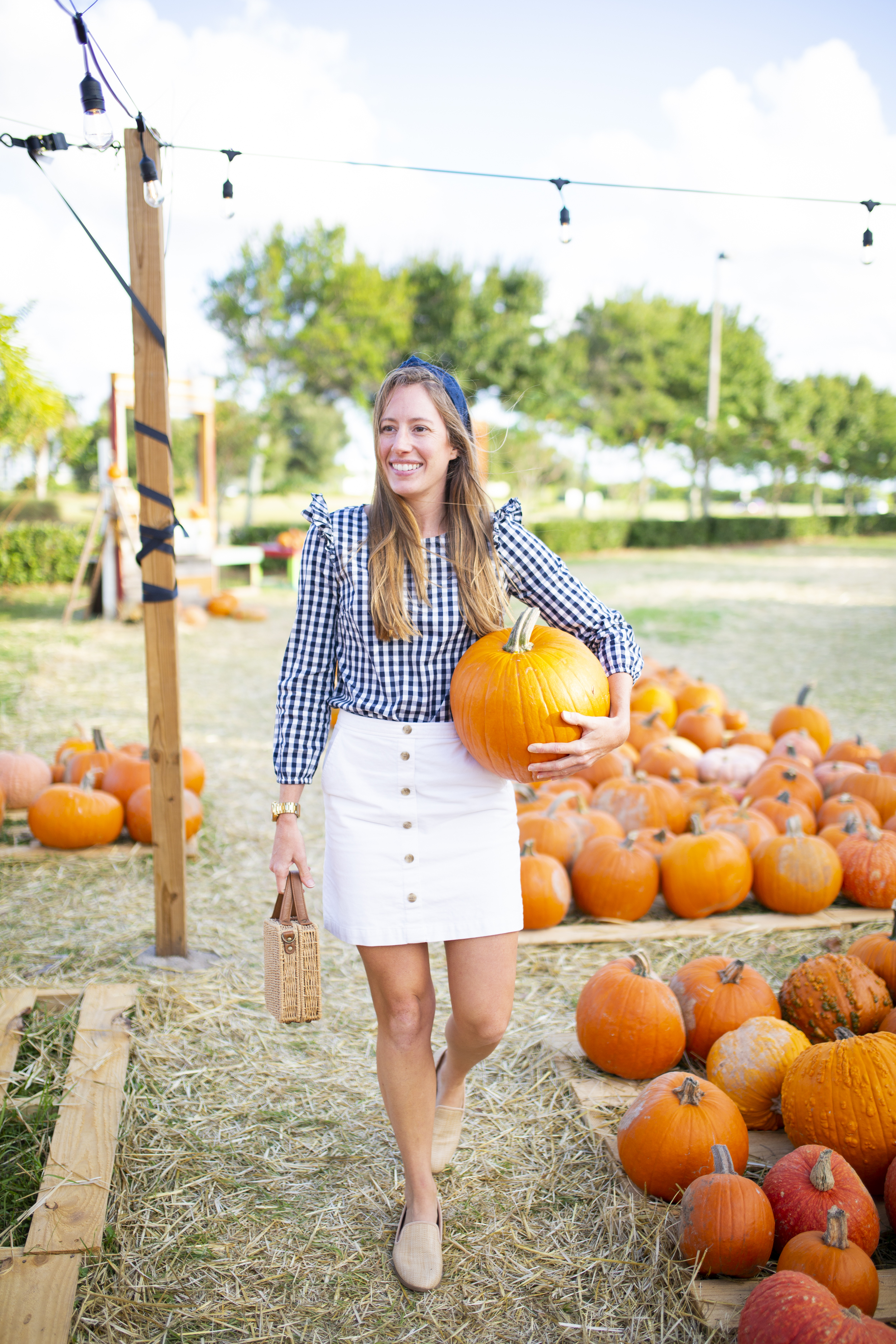 Lots of Sunshine,

Katie