You have no idea how excited I was putting together the Small Business Gift Guide! When I first starting blogging the atmosphere on Instagram and blogs were so different. It seemed like everyone was starting a small businesses, sharing their stories and growing right before my eyes. It was truly a different time and one of the main reasons I wanted to start a blog in the first place! Supporting them in the early days of blogging made my heart so happy and it still does!
I started my small business in 2020 and let me tell you, I did not expect it to be as hard as it's been or as rewarding. I feel like I am constantly building up an endurance to last me a lifetime. When they say blood, sweat and tears go into your business, it's no joke! All of the items I chose to feature in this Small Business Gift Guide are owned by women which I think is so amazing! All of the brands I chose to feature are located on the East Coast, most are influenced by the coast, have handmade items and love color! Keep reading to see all of the wonderful picks!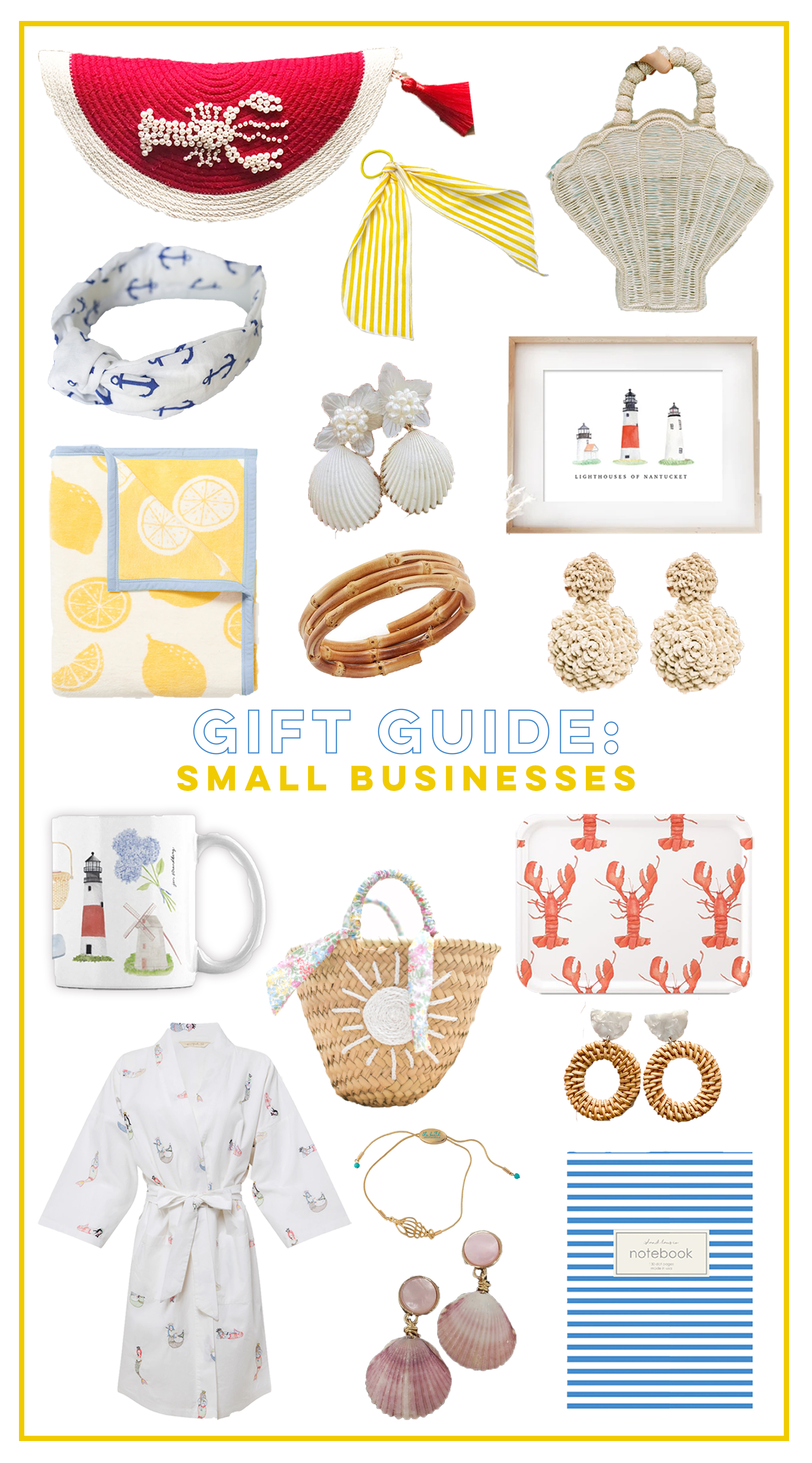 Small Business Gift Guide 2021
Lobster Clutch / Striped Ribbon Hair Tie / Victoria Dunn Shell Bag
Sunshine Style Co. Headband / Hops and Bun Shell Earrings / Jen Strandberd Lighthouse Print
Chappy Wrap Lemon Blanket / Chefanie Bamboo Bracelet / Victoria Dunn Woven Earrings
Jen Strandberg Nantucket Mug / Breck and Grier Sun Straw Bag / Sarah Fitz Lobster Tray / Southernly Earrings
Printfresh Robe / The Beach and Back Bracelet
Beachcomber Babe Pink Shell Earrings / Island Haus Notebook /
I have met some amazing women on Instagram who also own a small business and have become friends with (I hope we get to meet IRL one day)! Two of those friends are Roula from Sewcialite and Jen from Jen Strandberg Studio. Roula handmakes all of the items in her shop. My favorite item of hers is the red lobster clutch. She hand sews the pearls into the lobster shape and I think it's an amazing work of art! Jen hand illustrates Nantucket inspired items like stationary, art prints and mugs! Next summer I want to visit Nantucket and meet Jen!
Recently, I connected with Carey from The Beach and Back. She was so sweet and sent me a few earrings and a bracelet. We both have backgrounds in fashion and had a fun phone call chatting about our small businesses last week. Her branding is amazing and the earrings and bracelet are super quality pieces!
Sunshine Style Co. and More
Of course, I need to give a shoutout to my own brand, Sunshine Style Co. I included the anchor headband on the guide. The small bow hair ties also make a super simple and easy gift and their under $5!
Another brand I have fell in love with this year is Victoria Dunn. She sells Southern inspired resort dresses, bags and statement earrings. I want everything and asked for a pair of her palm earrings for Christmas!
Last but not least are the pink shell earrings from Beachcomber Babe. My friend Alexis from high school runs this local handmade business for beach loving babes. Every item is handmade and the shells are picked up straight from our Space Coast Beaches! You can DM them on Facebook if you are interested in any of the items.
Shop The Small Business Gift Guide

Lots of Sunshine,

Katie