Now that it's almost October, I am starting to get into the fall spirit! My house is decorated, it was surprisingly 68 this morning, I bought bananas to make pumpkin bread and I even have a few fall crafts to start! As much as I want sweater weather to really put me in the fall mood, it's just not here yet. The next best option are fall dresses. I put this list together of fall dresses all under $150.
My new fall motto: When it doesn't fee like fall, you can look like fall! I know your thinking, "Katie, how is that possible?". It's all about the color palate and light light layers! Think emerald, navy, burgundy, camel and rust colored lightweight dresses.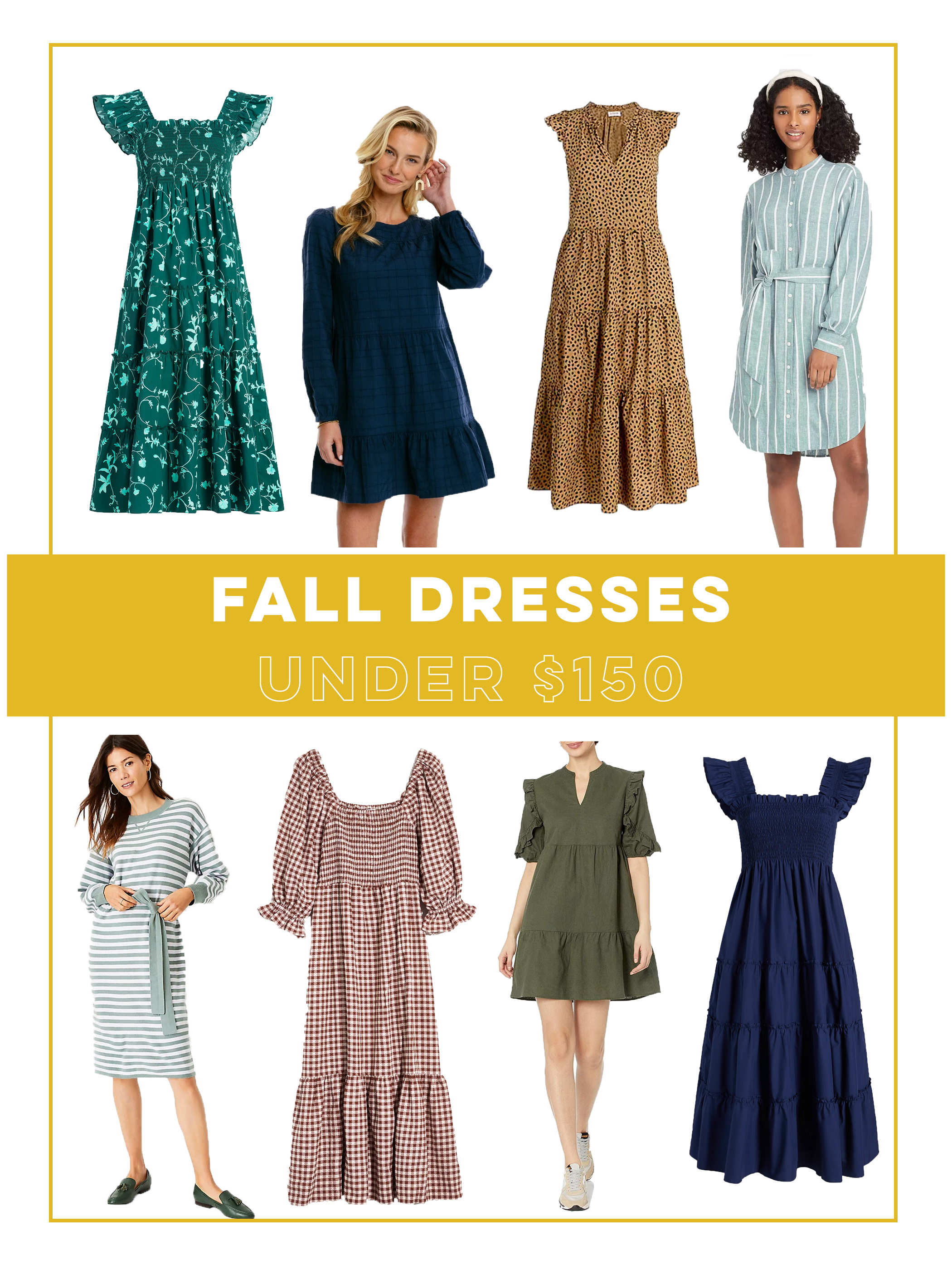 Emerald Floral Nap Dress / Navy Tiered Dress / Leopard Midi Dress / Green Striped Dress (under $30)
Long Sleeve Midi Dress / Gingham Tiered Dress / Green Mini Dress (under $40) / Navy Nap Dress
Fall Dresses Under $150
You all know I love color so so much. For a month or two, part of me starts to get really excited to wear warm toned fall colors to places like pumpkin patches, fall fests and casual weekends to bake pumpkin bread in. I just bought this Navy Ellie Nap Dress to wear this fall (comes in a floral print emerald color too!). It's classic and timeless and I can easily style it for spring and summer too!
I tried my best to keep this dress list under $100. Turns out fall dresses are not exactly the most affordable and most of the budget friendly options were already sold out! I did find this green mini dress on Amazon that's under $40! Target also has some great deals of fall dresses like this green striped one!
J.Crew Factory released a popular leopard camel colored dress in a midi length dress this year! This is my favorite dress for fall! If a style sells well at J.Crew, they will usually release a similar Factory version the following year. You can see how I styled the short version last year for fall!
Here are a few other colorful summer to fall transition outfits that I shared last week.
Lots of Sunshine,

Katie