Cannot believe it's that time already! Swimsuit season is here! Everyone on Insta and Tik Tok seems to be traveling for Spring Break or escaping to Florida to get away from the cold! It always seems super early to start talking about swimsuits but they are one of the fastest items to sell out before summer even begins. I found the cutest floral and pastel swimsuits for spring break, beach vacations, warm-weather trips and summer travels!
Floral and Pastel Swimsuits for Spring Break
Spring Break and beyond is really time for my blog to shine and makes me the most excited! Swimsuits are a huge summer essential and there are so many cute ones out there. From now until summer, I will be sharing new swimsuits every week or two with themes like red, white and blue for Memorial Day, fun prints like gingham, one pieces, bikinis and classic striped suits! When I break them up like this, my hope is that it makes it easier for you for shop!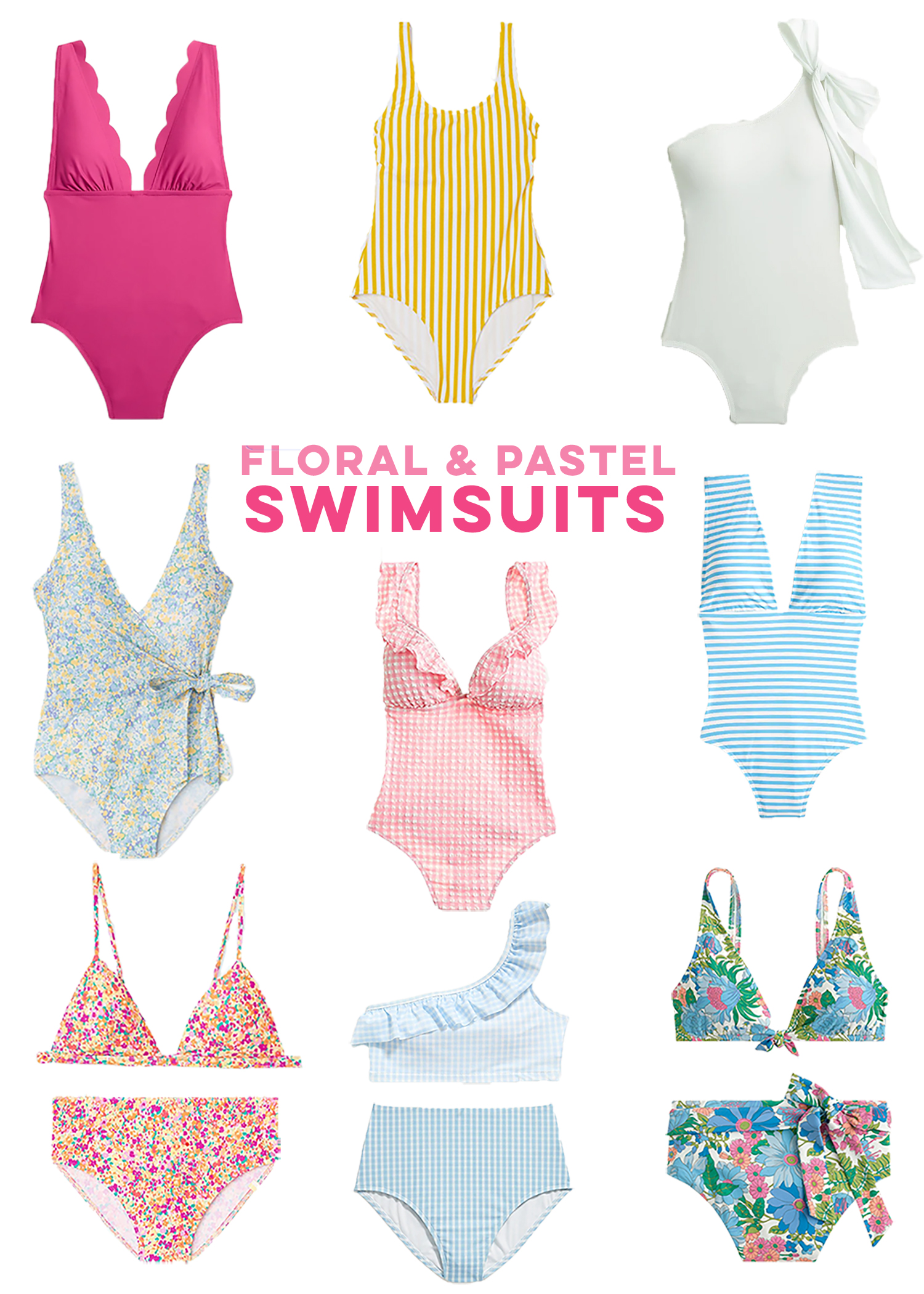 Pink Scalloped One Piece // Yellow Striped One Piece (under $30) // White Bow One Piece // Floral One Piece // Pink Gingham One Piece // Blue Striped One Piece // Floral High Waist Bikini Top + Bottom // Blue Seersucker Bikini Top + Bottom // Floral High Waist Bikini Top + Bottom
We are supposed to experience some swimsuit weather on Thursday this week. So, I am already planning on tanning during my lunch break. ? The pollen might be horrid as my allergies have been slowly killing me lately. However, that will not stop me from enjoying the sun! Also, I keep dreaming of wearing this cute yellow striped swimsuit (only $29.99!). I see myself lounging by the pool with a yellow striped Cabana towel and a good book.
Swimsuits can get expensive! I am not one to spend $100 on a swimsuit. However, I just love this colorful confetti bikini top and bottom from Summersalt. It's made from recycled fabric and the print makes me so happy! I am planning on ordering a Summersalt swimsuit after seeing rave reviews on Instagram and then I will review it on here once I wear it! Also, I love this very retro inspired floral high waited bikini top and bottom from J.Crew.
I am obsessed with this pink gingham one piece and love the ruffles. So, if you have a small chest like I do, the ruffles are a great distraction! How adorable is this classic striped one piece with a plunging neckline (under $50)!? This one looks extra sturdy like it will hold up for outside activities and fun in the sun!
How was your weekend?! Like I mentioned above, my allergies have been slowly killing me. I will have better days than others. However, for the most part, you feel constantly drowsy like you have a cold and are taking gallons of Nyquil. Sunday I stayed inside all day and did basically nothing since I felt so sick. April is going to be a much better month pollen wise and I will welcome my Birthday month with open arms ha! If you entered the Sunshine Style Co. giveaway, I will be announcing it tomorrow on Instagram.
Shop Swimsuits

Lots of Sunshine,
Katie