Hey friends! I took a major social media and blogging break over Christmas and into the New Year. Work was on the slower side, so I took it as a que to just take it easy and enjoy my very rare 3 day weekends! It was exactly the rest and reset I needed! I'm feeling excited for 2021 and what's to come!
Does anyone else love the week between Christmas and New Years?!
I have always used it to relax and reflect on the previous year and plan out goals and what I would like the year ahead to look like. 2020 also taught me to take it with a grain of salt, let go of expectations and expect the unexpected. I also spent some time planning out new designs for my ETSY shop and it's gotten me really really excited. I've had all these ideas floating in my head and I finally wrote them down and feel so much lighter.
My family and I took down Christmas last week. Christmas decorations and lights are my favorite. I wanted to hold off as long as I could. At first I felt kind of sad but it forced me to clean my room, dust, organize new Christmas presents and now my room and I are ready to take on 2021!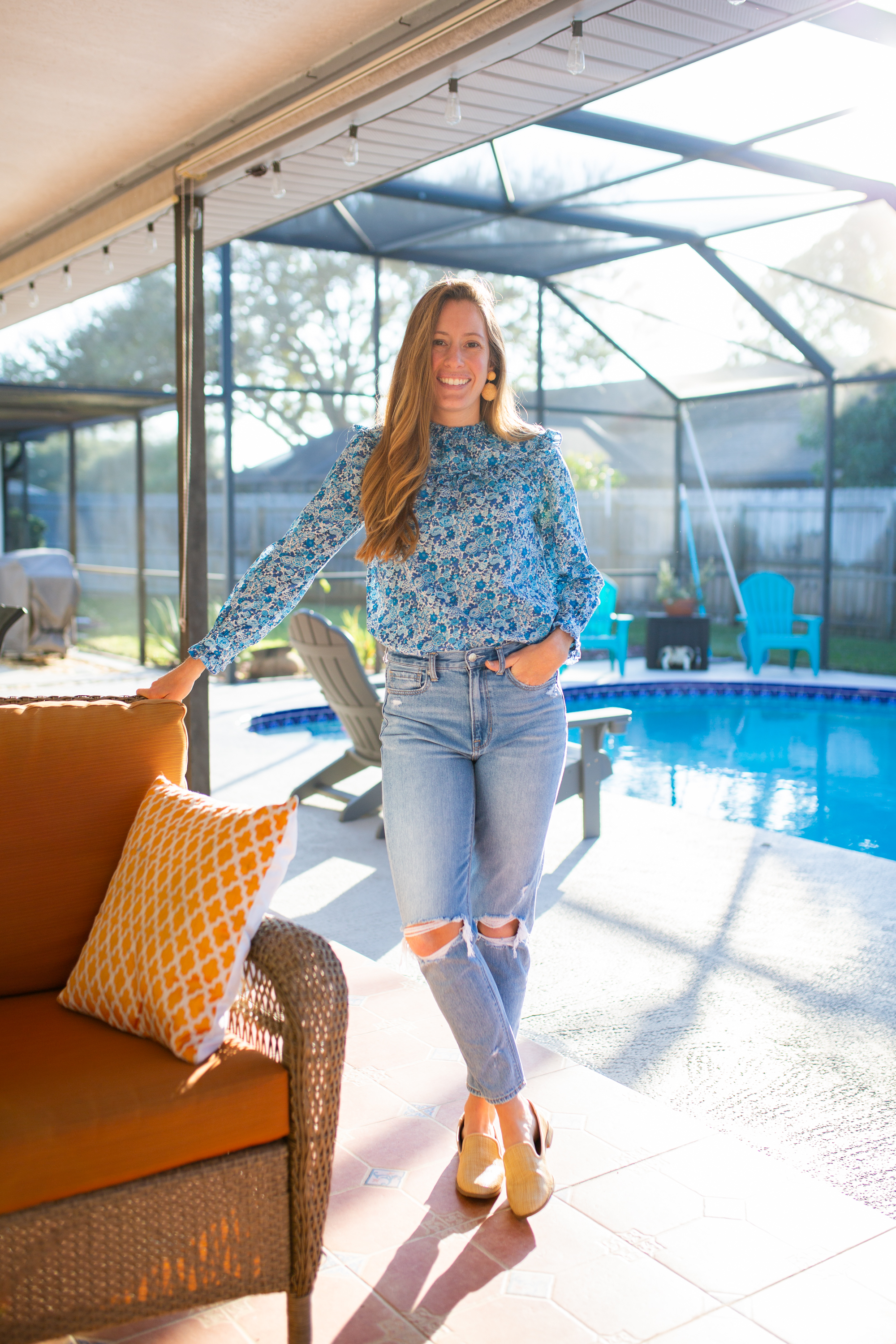 J.Crew Liberty Blouse (on sale under $28)/ American Eagle Jeans / Target Loafers (similar here) / St. Armands Earrings
A J.Crew Liberty Print Blouse Review (Under $30)
Even though I took time off from blogging and my ETSY shop over the last 2 weeks, I was still getting dressed every day for work. Work from home life is really the best. Putting on real clothes like this pretty J.Crew Liberty blouse keeps me motivated. Party on the top, business on the bottom with casual jeans is pretty much my work uniform when I'm not in dresses.
Right now, the top is currently on sale for $28 with code NEWYEAR. J.Crew always sells exclusive Liberty London prints and this floral top is one of my favorite prints so far. They are a British print house that always designs the most amazing floral prints! How cute would a matching scrunchie or knot headband be?!
There is beautiful smocking around the neck. It's similar to a mock neck but truly not as tight or high. This top is a little grand-millennial esque. I would not consider myself a grand-millennial or wear a bunch of frilly or floral pieces but I like the subtle ruffles around the chest and shoulders. It makes the blouse so much more fun!
Typically I wear a XS-Small at J.Crew and sized down to an XS after reading the reviews saying it ran rather large. If I were to order it again, I would buy a Small for the sleeve length. The top runs TTS in my opinion. I have extremely long arms and always have this issue with most tops/jackets.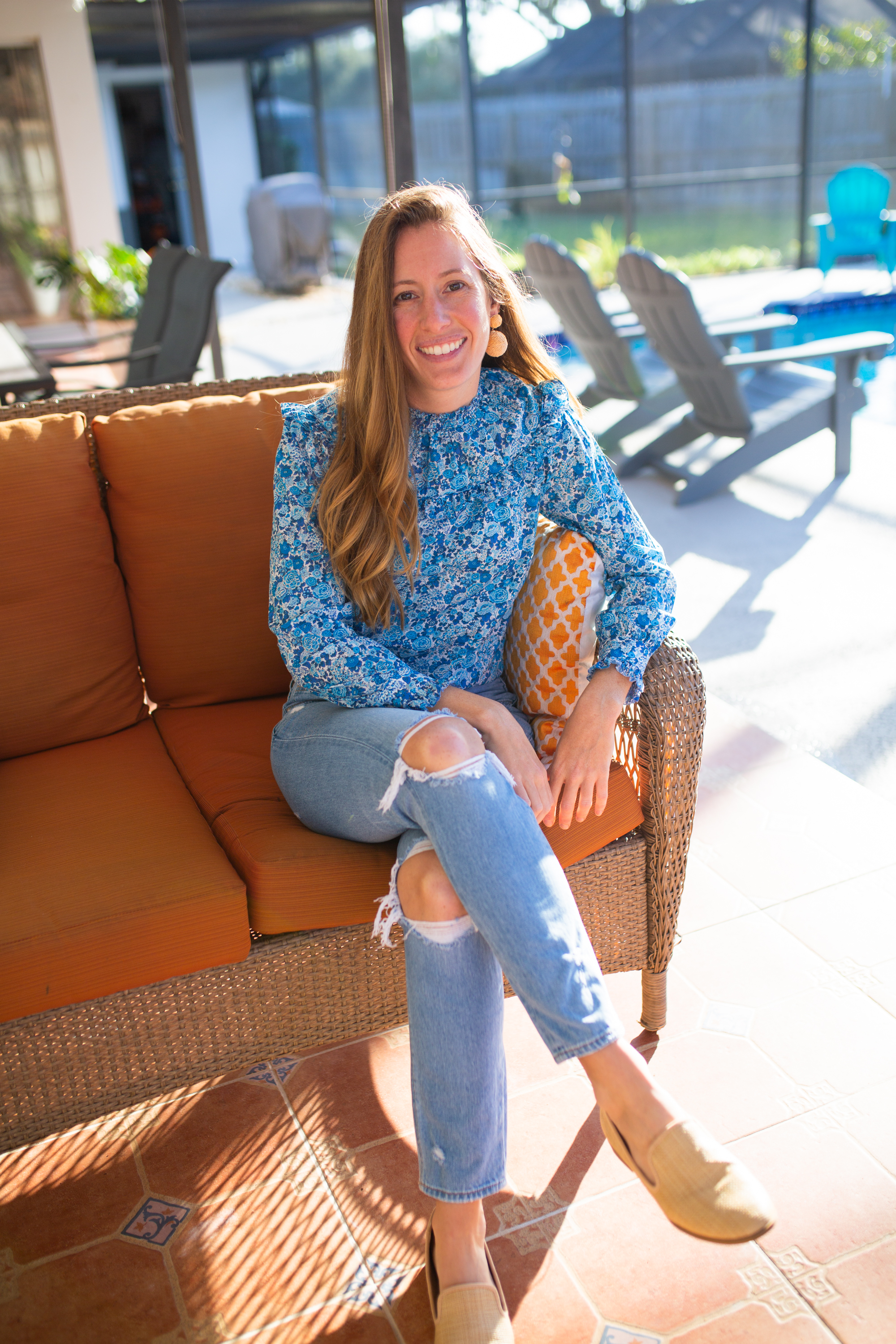 Floral blouses are one of those items that can be worn *almost* all year. Sorry blouse, I cannot bear wearing you in the summer heat. Style them with denim in the winter and white jeans or skirts in the spring. If your like me, mixing it up and wearing something other than sweaters in the winter is what keeps me excited to get dressed.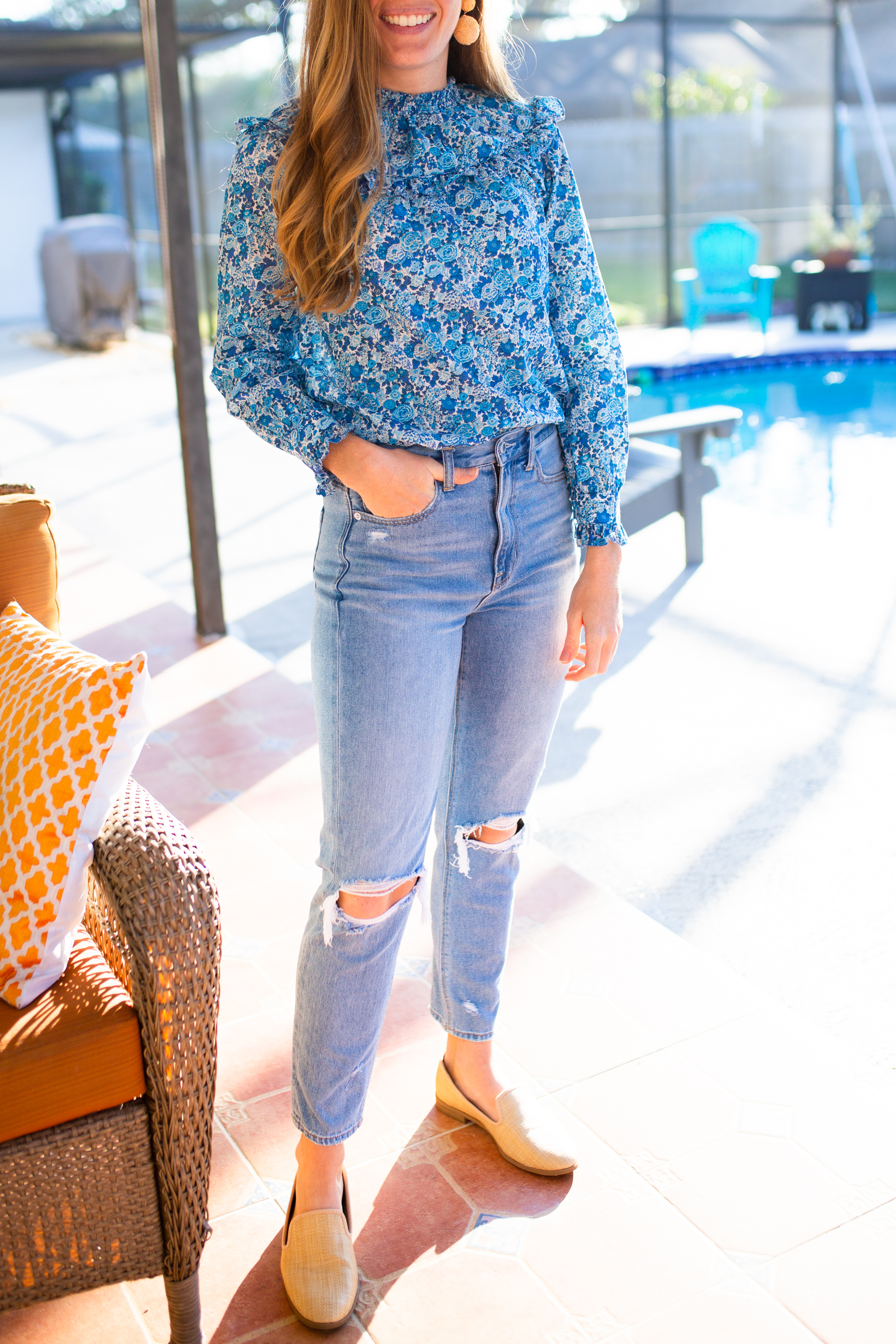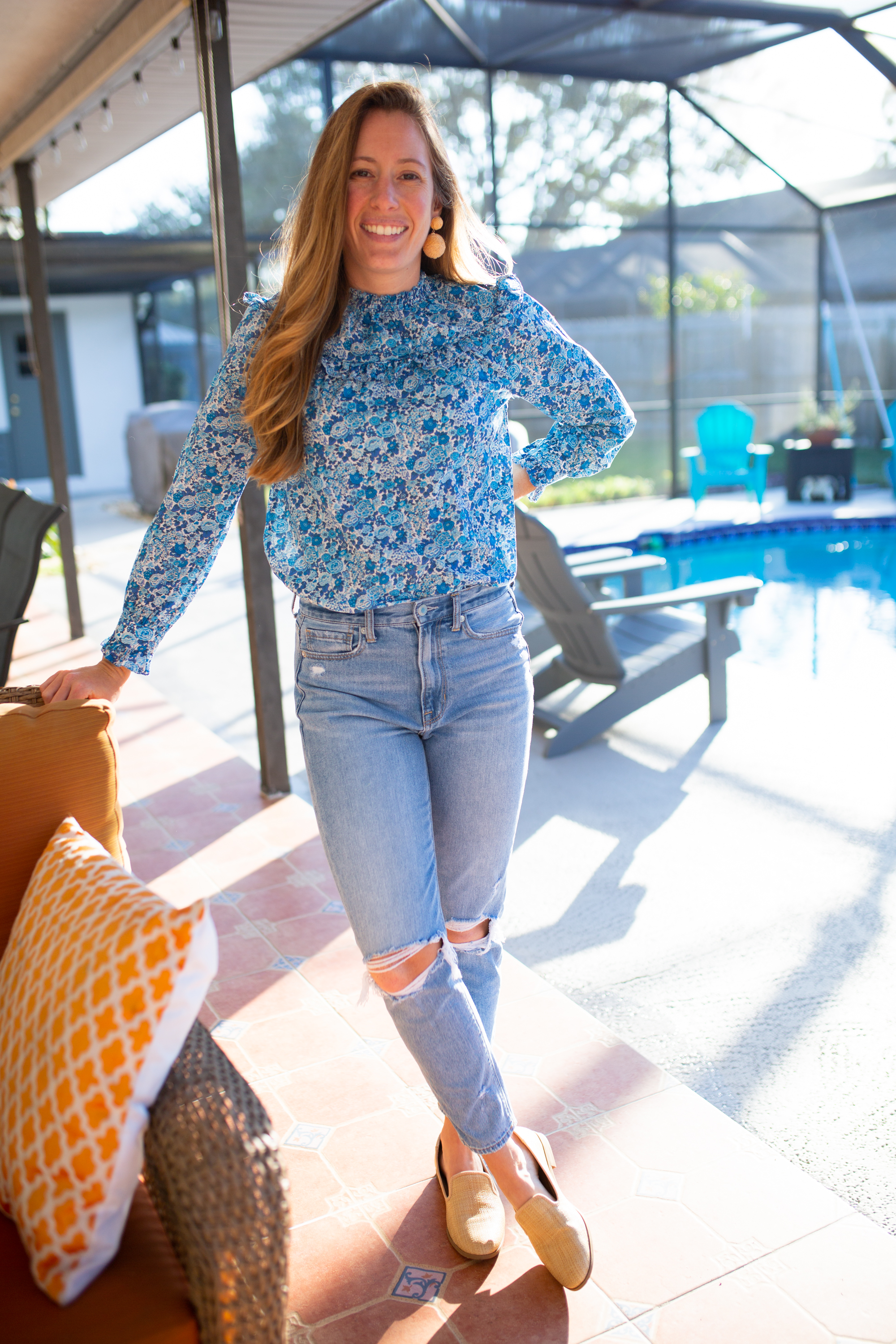 Shop Floral Print Tops for Now and Beyond
Lots of Sunshine,
Katie