Really excited to put out my first gift guide of the season! I wanted to create a small business gift guide where you could support smaller businesses and shop some unique and handmade items! As a small business owner myself, I love everything about them from their story and mission, where the products are made, who makes them, failure stories and success stories, I just love it all! A little shameless self plug, I of course had to include one of the bow scrunchiesfrom my own shop!
Small Business Gift Guide 2020
Does it feel a bit to early?! I usually start all of my Christmas shopping before Black Friday and finish either on Cyber Monday or by the very first week on December, so in my eyes, it's never to soon!!! I took a poll on Instagram and most of you seemed to start shipping early too! But yes, I am totally that girl! In the next few weeks, I will be creating guides on what to get your mom or the ladies in your life, cozy days at home and gifts under $25 or $50 (I haven't decided on that one yet)! Be on the lookout!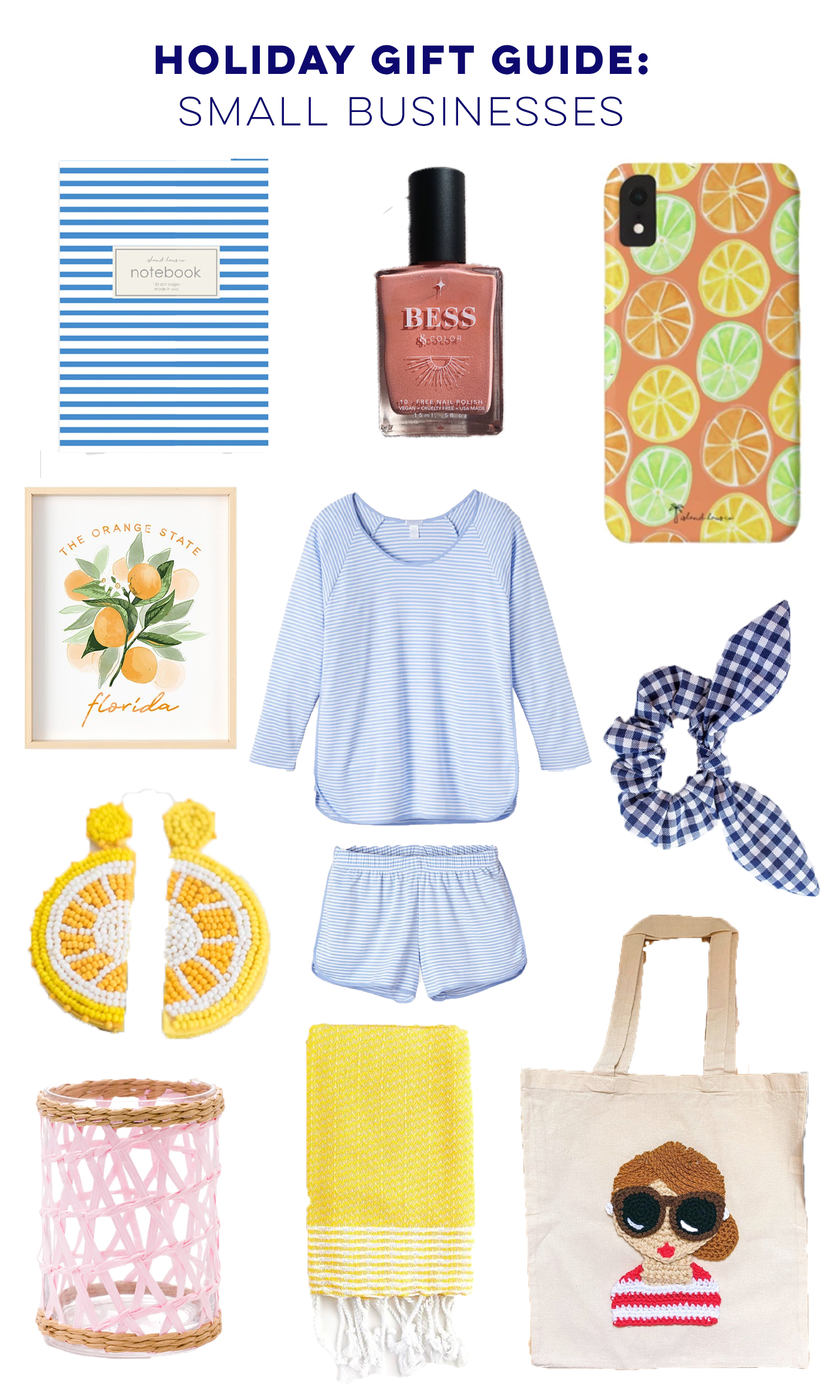 Island Haus Striped Notebook // Bess and Color Nail Polish // Island Haus Phone Case // Jaye Bird Orange Sign // Lake Pajama Matching Set // Sunshine Style Co. Gingham Scrunchie // The Tiny Tassle Lemon Earrings // Amanda Lindroph Vase // Anchors Aweigh Turkish Towel // Crochet By Colleen Tote Bag
Growing up, I never truly thought I would make so many friends with small business owners! A bunch of the items in here are designed by friends and acquaintances I know IRL and some are purely friends I met through Instagram!
You all know I love color and coastal anything! These all make perfect Christmas gifts but most can be used all year long. Don't get me wrong, I love a good red, white or green Christmas themed gift or decoration but sometimes those seem to have an expiration date by the time Dec ends. Not with these gift ideas!
This was a brand I discovered on Instagram years ago. I love their nautical vibes, brightly colored products and their based in Charleston! Who doesn't need a new notebook?! You can write lists, use as a journal or use it to make your work des a bit prettier! Stripes are classic so it's always in style!
Jess is actually from my hometown and started this vegan and cruelty free nail polish line last year. I have 7-8 of the polishes and my friends and I all share them! The colors are vibrant, don't easily chip and at only $16, it makes the perfect stocking stuffer or small gift!
Another Island Haus items! I am always on the lookout for cute phone cases and love the citrus print! I actually did a collaboration with them on how to add happiness to someone's' day with their pretty stationary cards and some included citrus print!
My friend Jaye is an insanely incredible artist! We were sorority sisters in college. She was BFF's with my "little" and we always had the most fun together. She hand illustrates everything in her shop, including this orange sign!
These are actually on my Christmas wish list (Hint Hint Mom)! ? I don't think there's a girl in the world who does not like new pajamas, especially blue striped pajamas! They also come in short sleeve and a long pants set!
Shoutout to me, ha! I really do think these make the perfect stocking stuffer or gift to any girl who loves preppy, coastal or cute accessories! Right now I love this gingham set and this matching holiday face mask and scrunchie. There will also be pink, orange and velvet scrunchies coming next week!
I love Mimi and her colorful accessories! How fun are these lemon earrings?! Her mom makes all of the clothes and headbands in the store and Mimi handmakes her tassle earrings!
Julia Berolzheimer recently collaborated with Amanda Lindroph to design these pretty vases! Dress up your desk at work or counter tops! I think this would make the perfect gift for a mother in law, sister or girlfriend!
Nagehan was one of the first business owners to reach out to me to collaborate on Instagram! All of their towels are handwoven by women, sustainable and environmentally friendly! You can use them at the beach, on picnics or just keep in your car for emergencies. I use mine all year long!
Last but not least, one of the cutest gifts in my opinion on this list. Colleen crochets all of her designs and she even sells patterns so you can follow them and make your own! e
Shop The Small Business Gift Guide

Lots of Sunshine,
Katie
Anything specific person you are shopping for and need some ideas?! I'd be more than happy to add them to my next gift guides! Let me know in the comments!