Woo, the scrunches and masks I've been so excited to release for fall are finally here! You know I love bright colors and always want to incorporate that into anything I create! When searching for a fall fabric, I had 2 main standards. Non cheesy was a big one (there are so many cheesy fabrics out there) and the second was happy colors that could easily match pieces in your fall wardrobe!
The name of the pumpkin fabric is pumpkin garden party! How fitting for this season! We all need some fun and excitement in our lives and what better way than to wear a pumpkin patch inspired mask and scrunchie. How cute is that photo with the scrunchies and pumpkins?! Giving me all the fall feels!
When getting dressed in all your jewel tones for fall, you can decide which print you would rather show the world! Pumpkin or floral! You can purchase each item separately or as a scrunchie and mask set! The set is $25, which saves you $5!
I was actually so surprised how the orange and white floral print matched the shirt I'm wearing! Look out for a blog post tomorrow all about it! The masks are a size small. They fit an average sized face and are reversible. I tried out a few different styles and settles on this one because I love the fit the best. Not to big, not to small. To wash them, throw in the washing machine and hang to dry!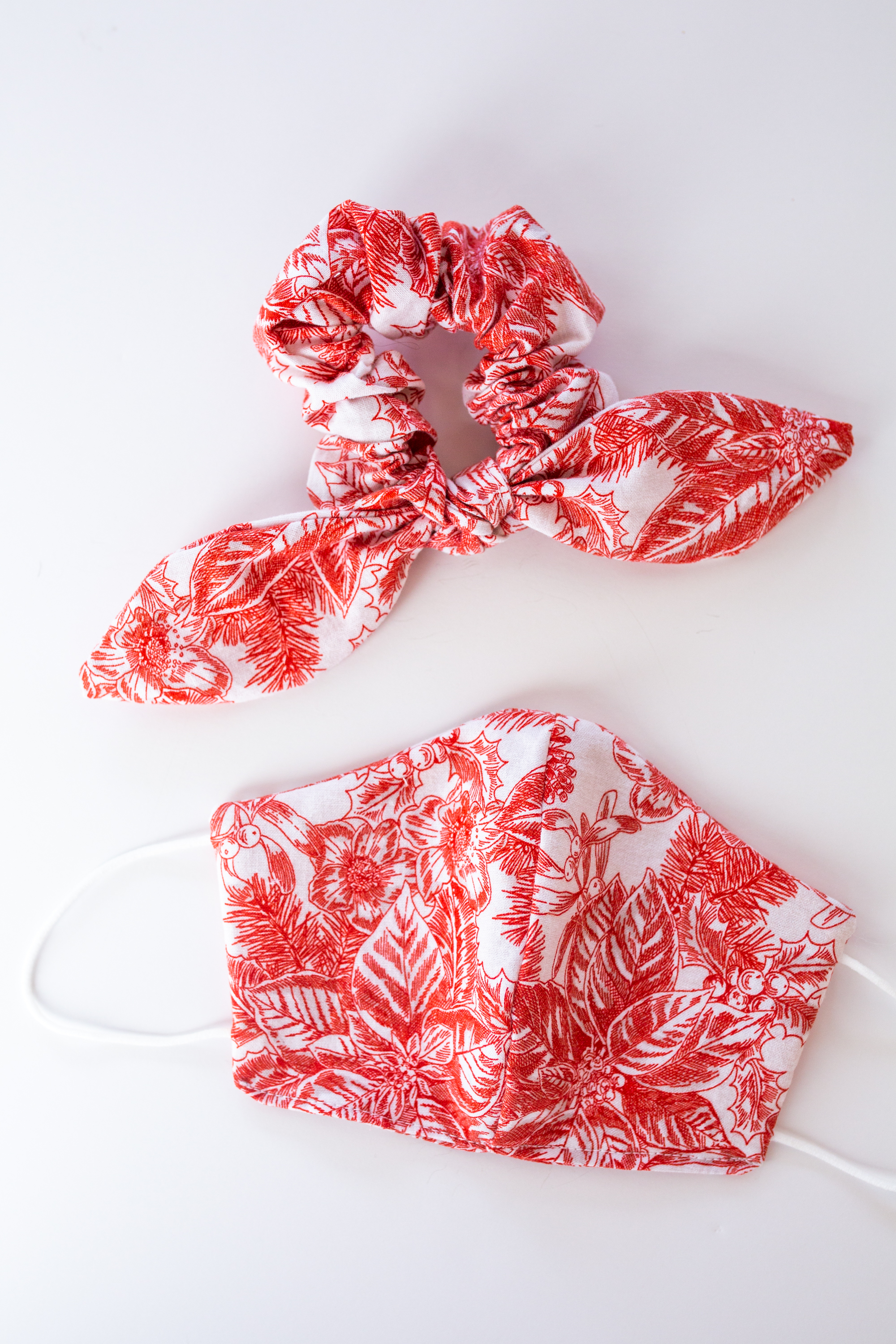 Let's not forget about this cute set (I almost forgot to share it with you all)! There are so many beautiful fabrics out there, I love this one because it has major holiday vibes but still is equally wearable for fall! Guess I have a thing for floral prints! It almost looks like those are poinsettia leaves or mistle toe! It's never to early to start prepping for the holidays. I can't wait to style my red and white scrunchie with an emerald green dress this Christmas season!
Use code SUNSHINEFALL for 10% off your next order! Expires 10/17.
Lots of Sunshine,
Katie