This is the perfect "fall in Florida" dress! I could write something really clever about dressing in blazers, corudroy pants and sweaters and how to make it work. In reality, it's blazing hot out and shorts and dresses will be worn on and off all fall and winter long! And I love it! Even if you live in a place that has a true winter, this dress is a fun early-fall option to wear during the start of fall!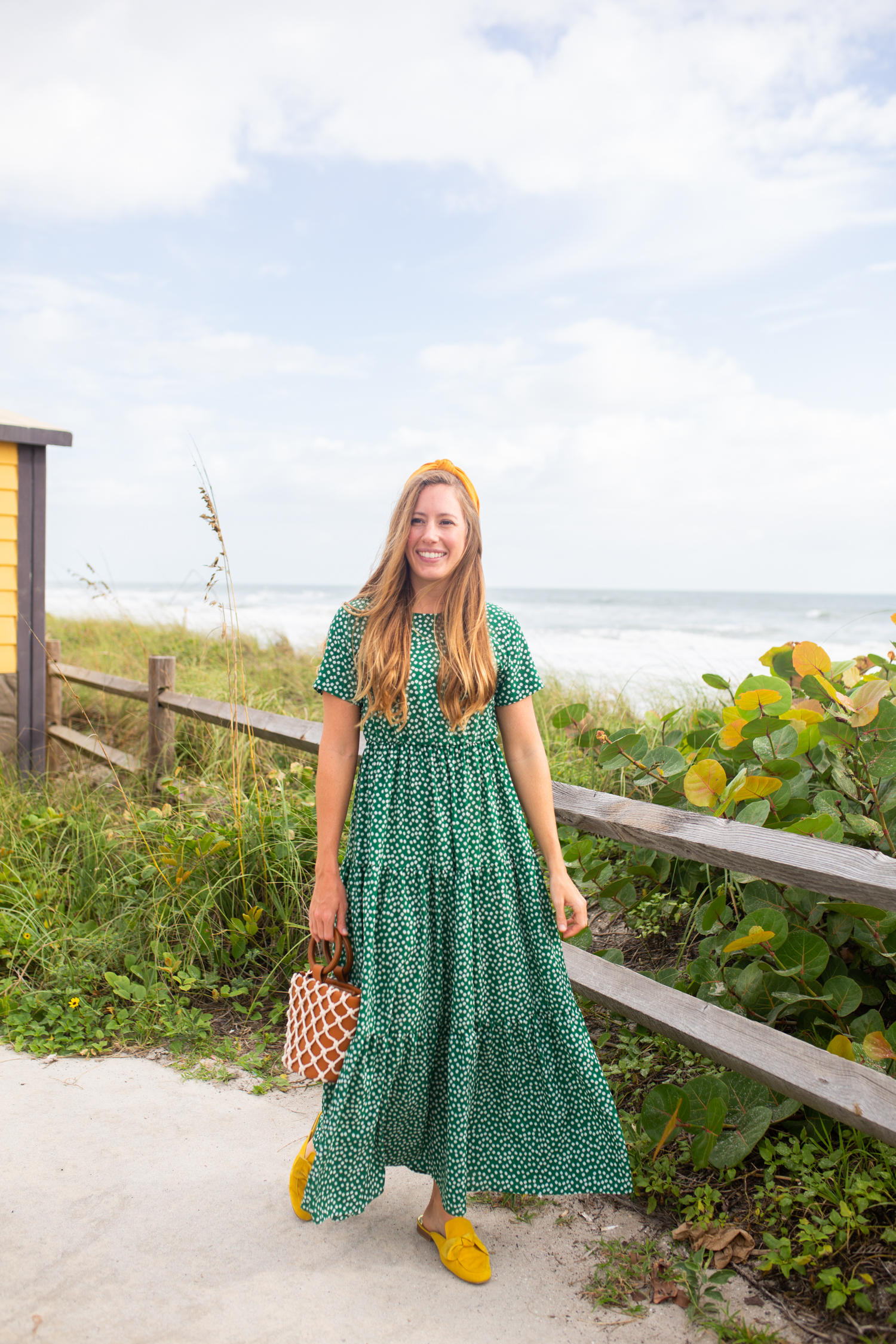 Sunny Outfit Details
Shein Dress (under $21) / Old Navy Headband (similar) / Similar Mules / Similar Bag
Let's chat dresses! It's almost mind blowing to hear other bloggers talk about switching over their closets to their winter/fall wardrobe and saying goodbye to all their summer clothes at the moment. My fall wardrobe consists of switching from bright dresses to more jeweled tone dresses like this green maxi dress (under $21)!
This maxi dress is so flattering and has a subtle polka dot like print. Shein usually runs on the smaller size, so I would recommend sizing up one size. I ordered a Medium and it fits amazing! I like the length, sleeves and breeziness of the material. During the work week, I get dressed everyday and wore this dress last week for a morning sight seeing beach trip with my mom. Comfort is key when getting dressed to WFH and it wins my approval on daily walks too! I think the dress would also look really cute styled with white sneakers for a casual look!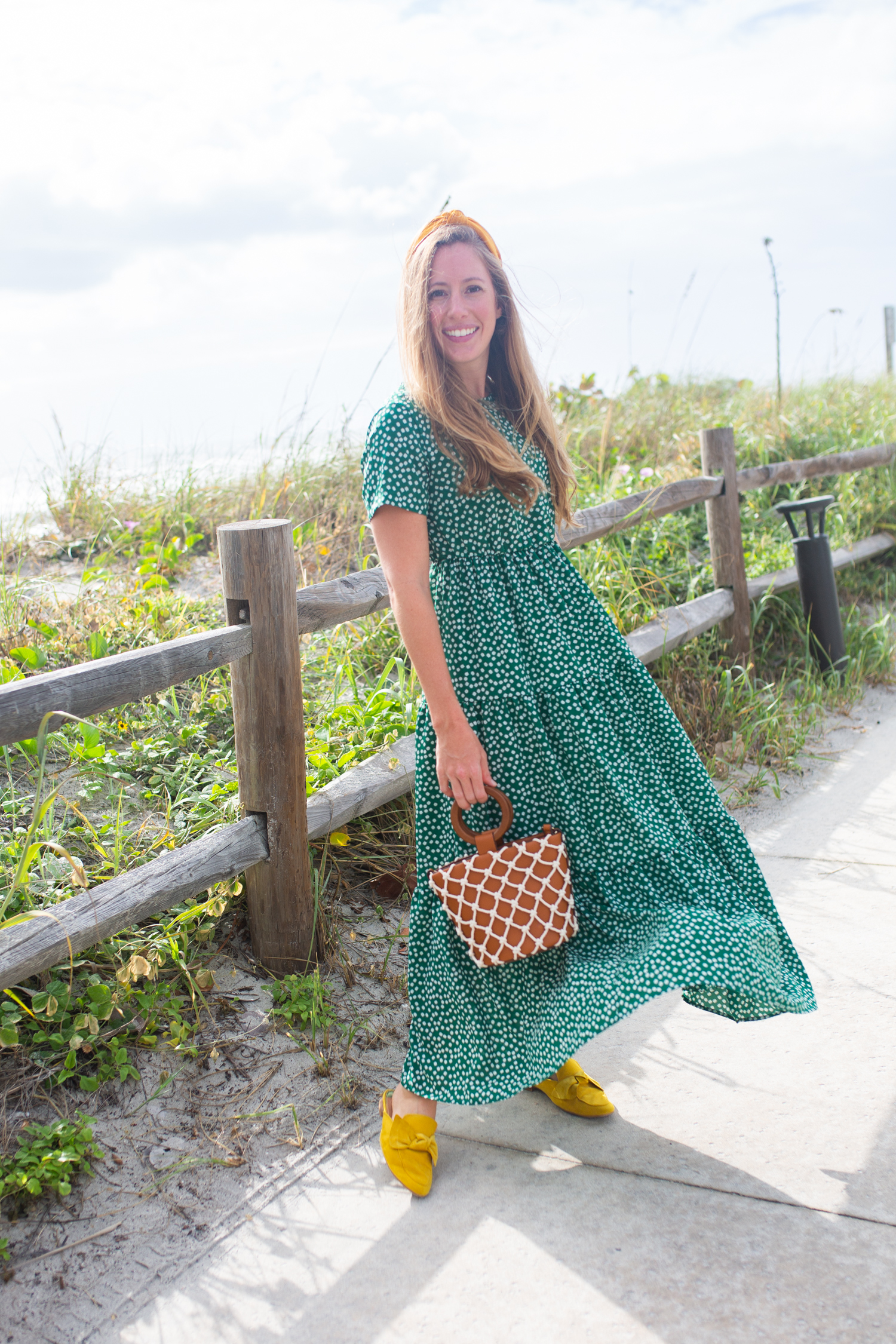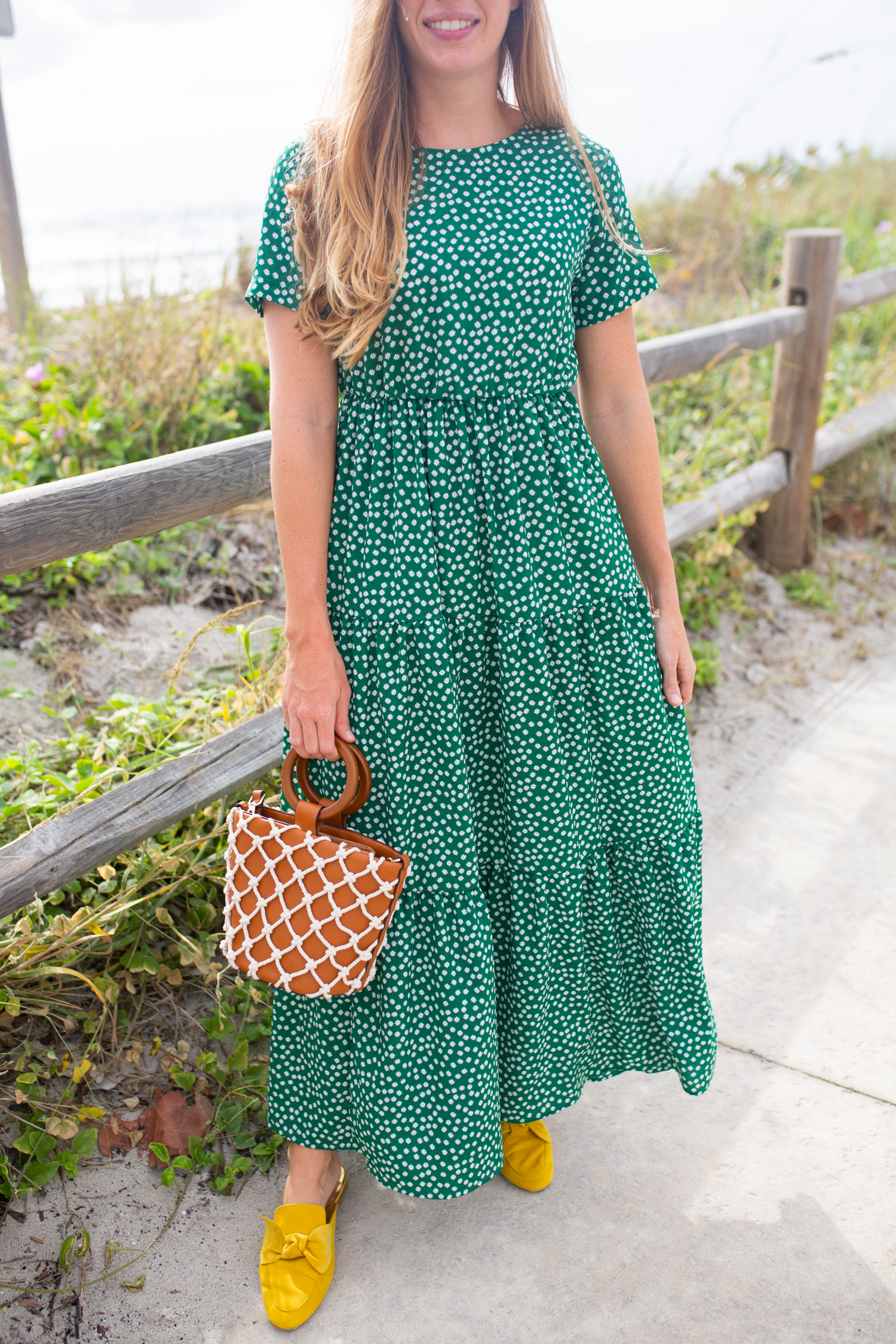 The easiest way to get in the fall spirit is to wear colors like mustard yellow, gold tones, emerald green, navy and neutrals. Print and texture mixing is another favorite way to add warmth and coziness to an outfit without layering. Try adding leopard, velvet, suede and corduroy accessories to your outfits! I paired my mustard yellow bow loafers with a silk headband!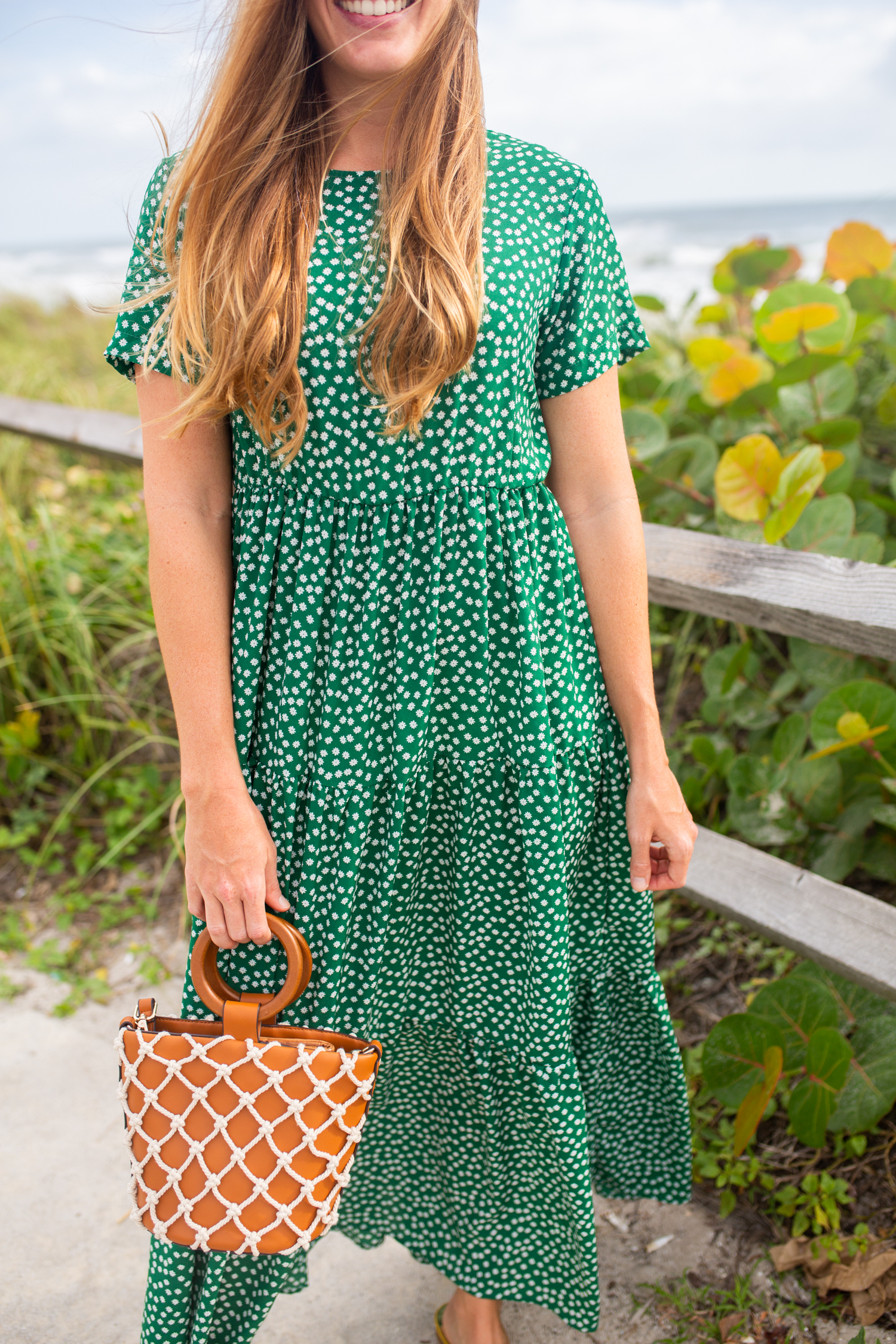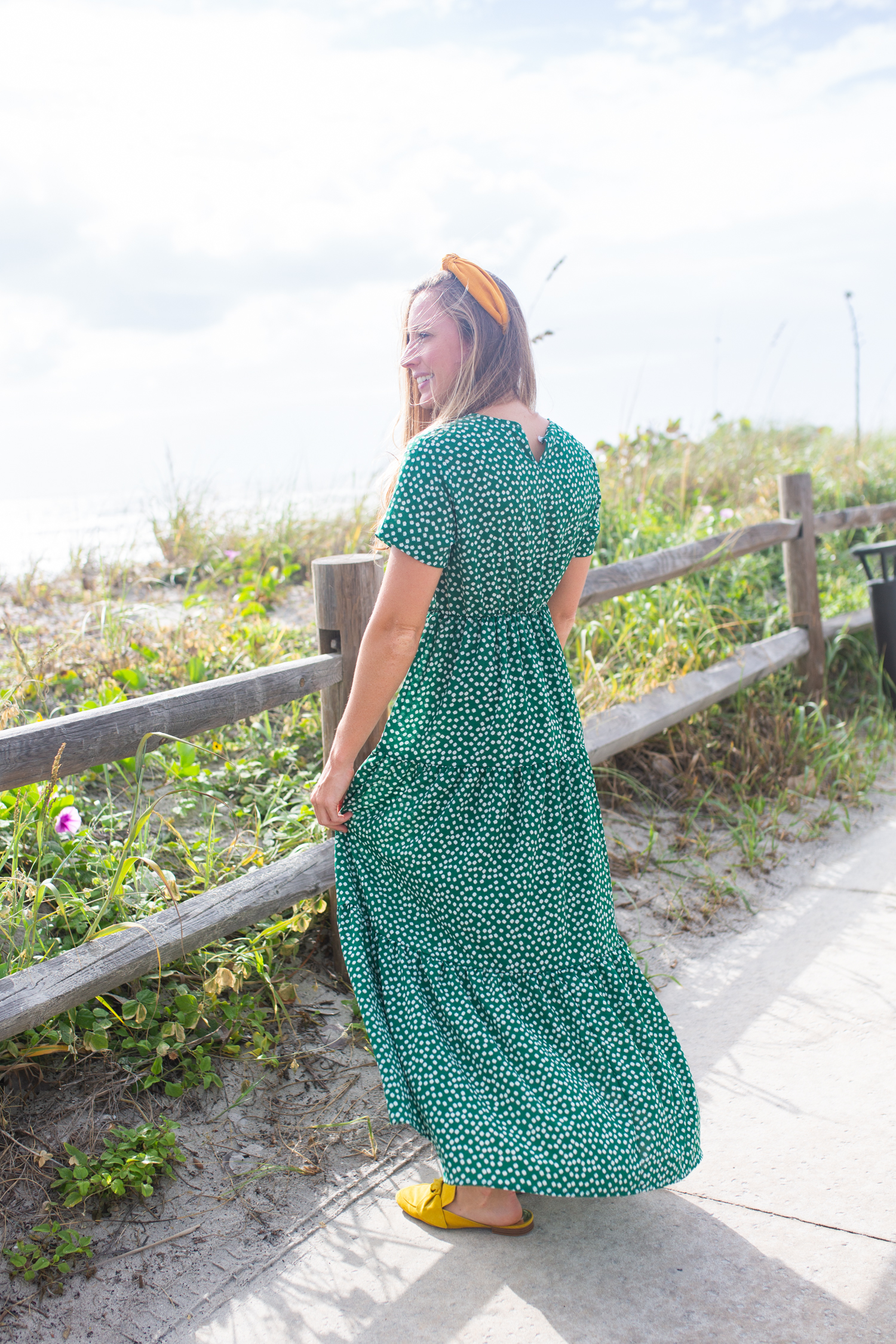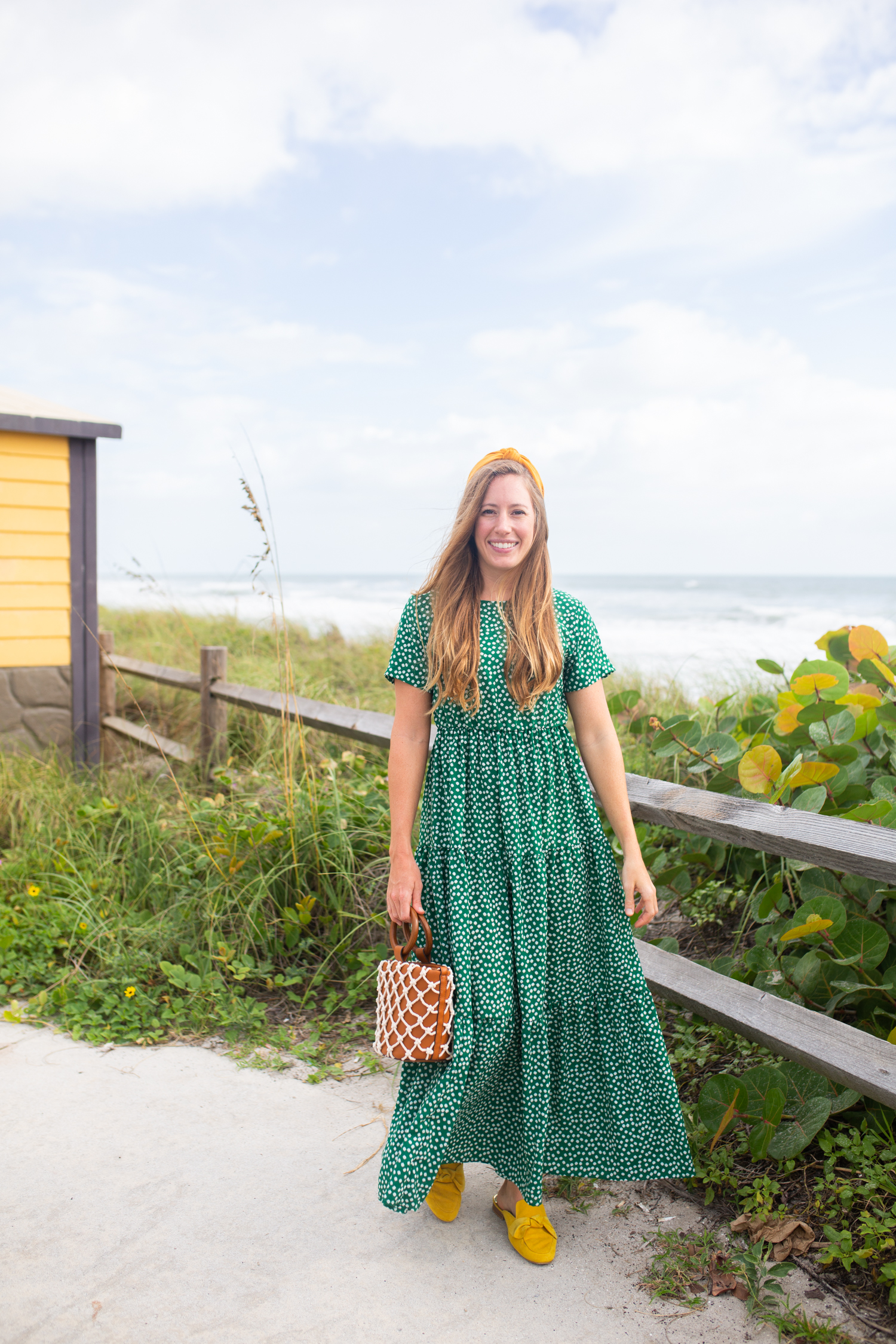 Shein Dress (under $21) / Old Navy Headband (similar) / Similar Mules / Similar Bag
Happy Monday friend!!! Hope your Monday is going well! I'm spending some time today (Sunday) writing blog posts for the week before I go help my friend move! Usually every weekend I take a nice long social media break and hit the ground running on the weekdays with work and staying consistent on Instagram and stories! I know the true key to success is consistency and I've been putting lots of effort into staying consistent. I'm grateful my remote job allows me to help grow my blog on the side!
Writing posts doesn't count as "social media" for me and it gives me creative freedom, so I try my best to bust out as many posts as I can on Sat/Sun. Between work, my gym schedule and wanting to enjoy my nights without working and watching an occasional Netflix show, it's almost impossible to write posts during the weekday. After lots of trial and error, this is the routine that I've found works best for me! Be on the lookout this week for a new fall inspired scrunchie release, a pumpkin recipe and the cutest top for fall!
Lots of Sunshine,
Katie