Summer is still going strong here in Florida which means I am wearing lots of casual and lightweight dresses in bright colors! This pink dress was one of those "will I love this dress" purchases. When it arrived in the mail, I was so surprised by how much I loved the tie straps and print! Next month I'll start posting more fall content and switch from bright pinks and yellows to darker shades of pinks and yellows. 😂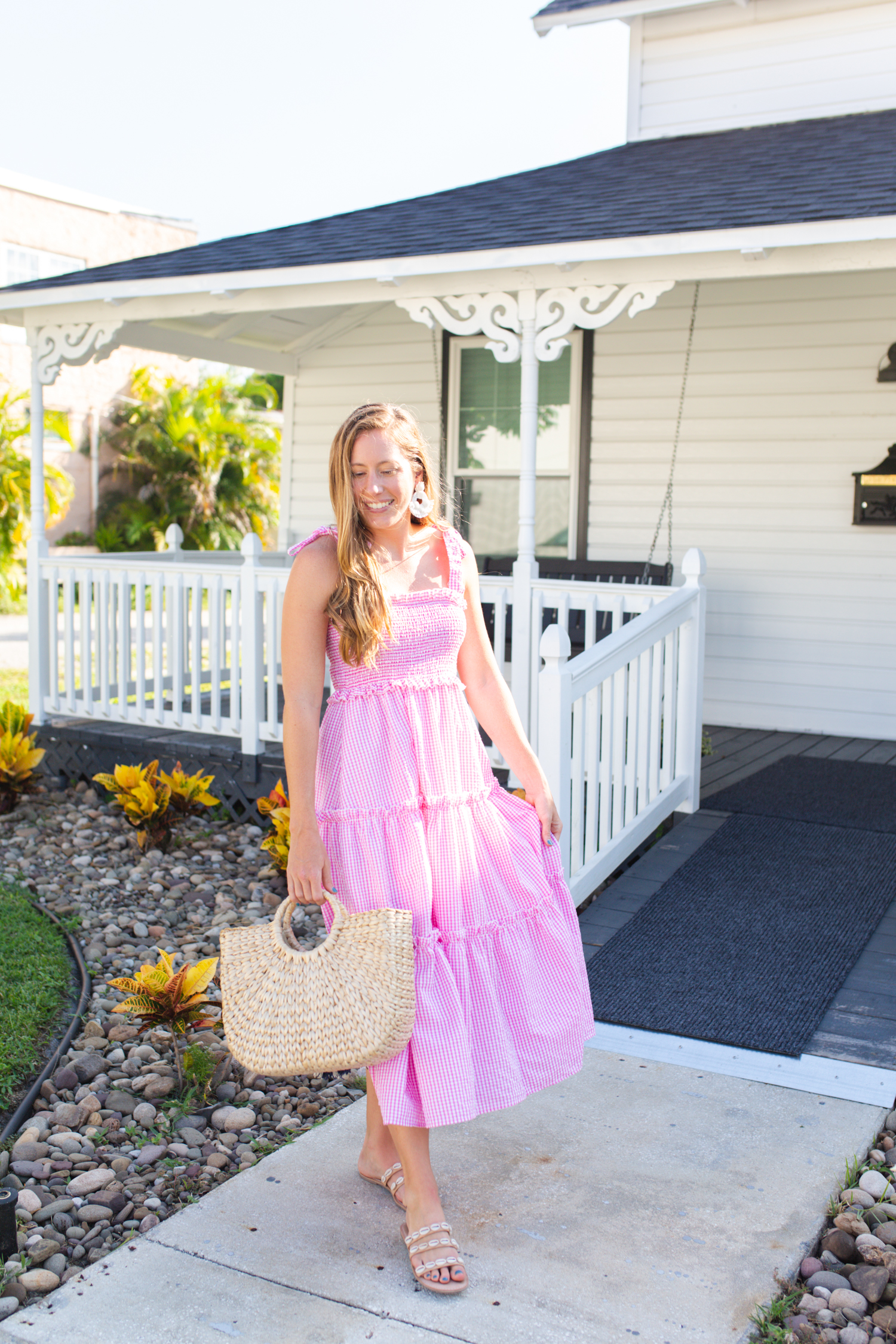 Sunny Outfit Details
Shein Pink Gingham Print Dress (under $21!) / Tuckernuck Sandals (similar) / Straw Bag / Statement Earrings
Dresses are so pretty on and really stand out. Something though I don't always love about summer dresses are the price points. They get pretty expensive and although their super simple to style, they are not always the most cost effective. I loveee dresses and could buy them all if I had an endless dress bank account, but I have to keep a tight budget in mind always.
I ordered this gingham tie strap dress from Shein. The price point is amazing and the dress is only $21. Almost everything I've ordered from there has been great quality. Now, obviously you are paying for the quality, it's no J.Crew or J.Mclaughlin but for a cute summer dress, I'll take it! I would caution, it is a site that is shop at your own risk. Last year I ordered sweaters on Shein for my little nieces for Christmas and they were not extremely soft and really cropped (I looked so funny in a cropped sweater and 5'8 body).
Pricing aside, I love the gingham print. The top portion of the dress also has rushing which makes it really stretchy and comfortable to wear. What really sold me was the tie straps. All the styles of dresses with the tie straps were ridiculously priced or they were already sold out. I've already worn this dress on summer adventures to a botanical garden, in Palm Beach and around the house!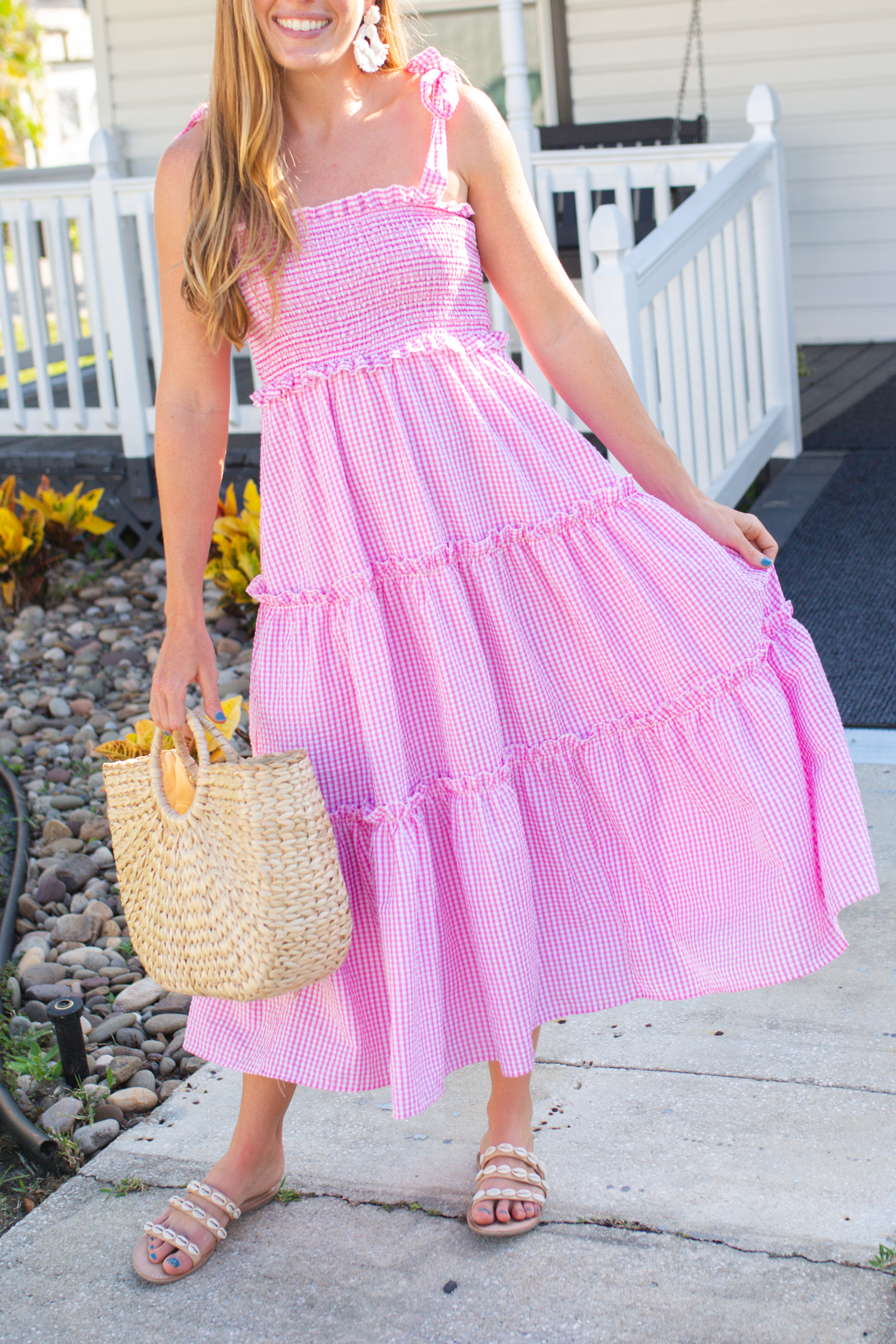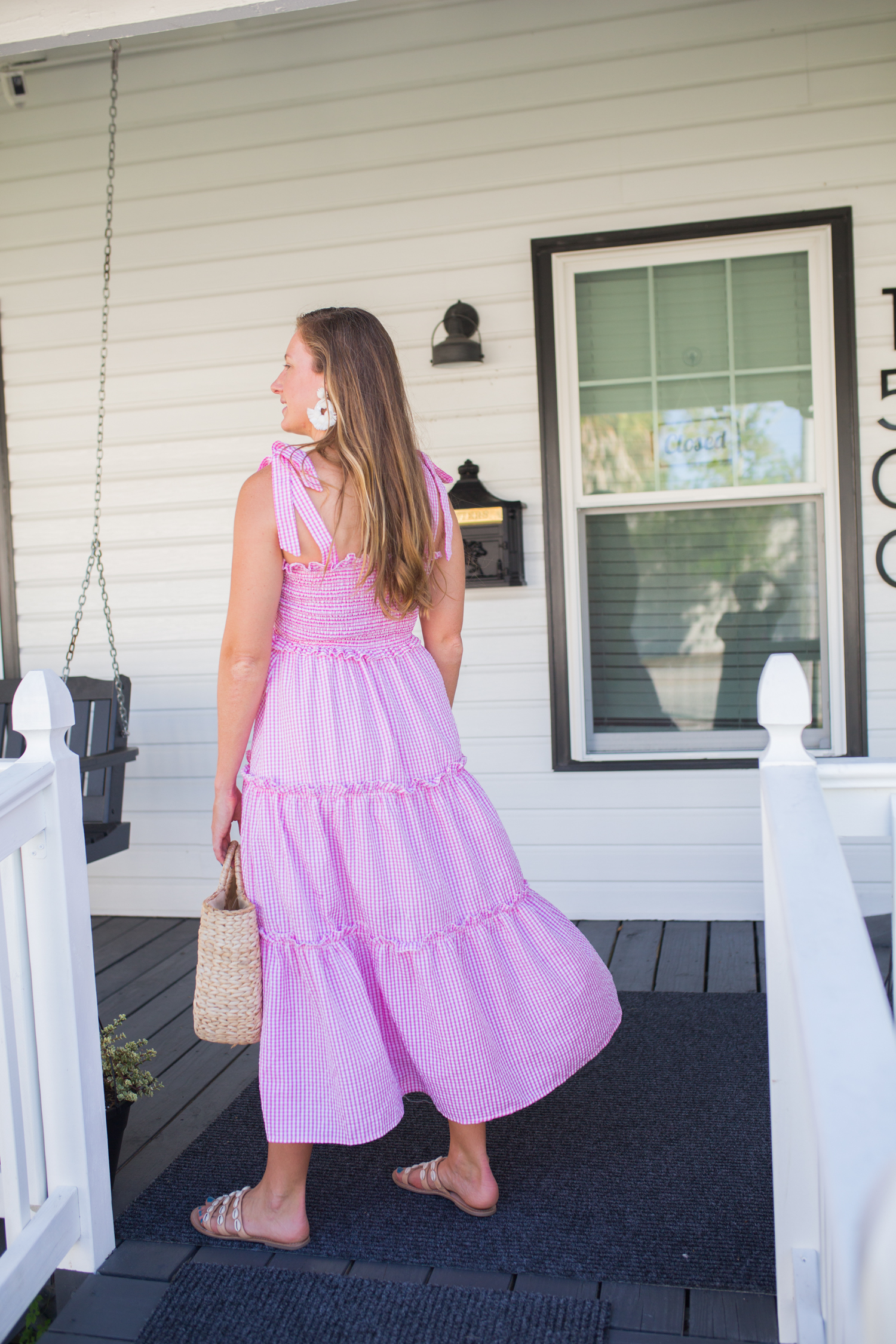 Sundresses are super easy to style! Weather you are working from home, hanging out with family on the weekends or going on vacation, you can never go wrong with simple sandals, a basket bag and some earrings! Boom, that's it! Your good to go and ready to hit the town in style.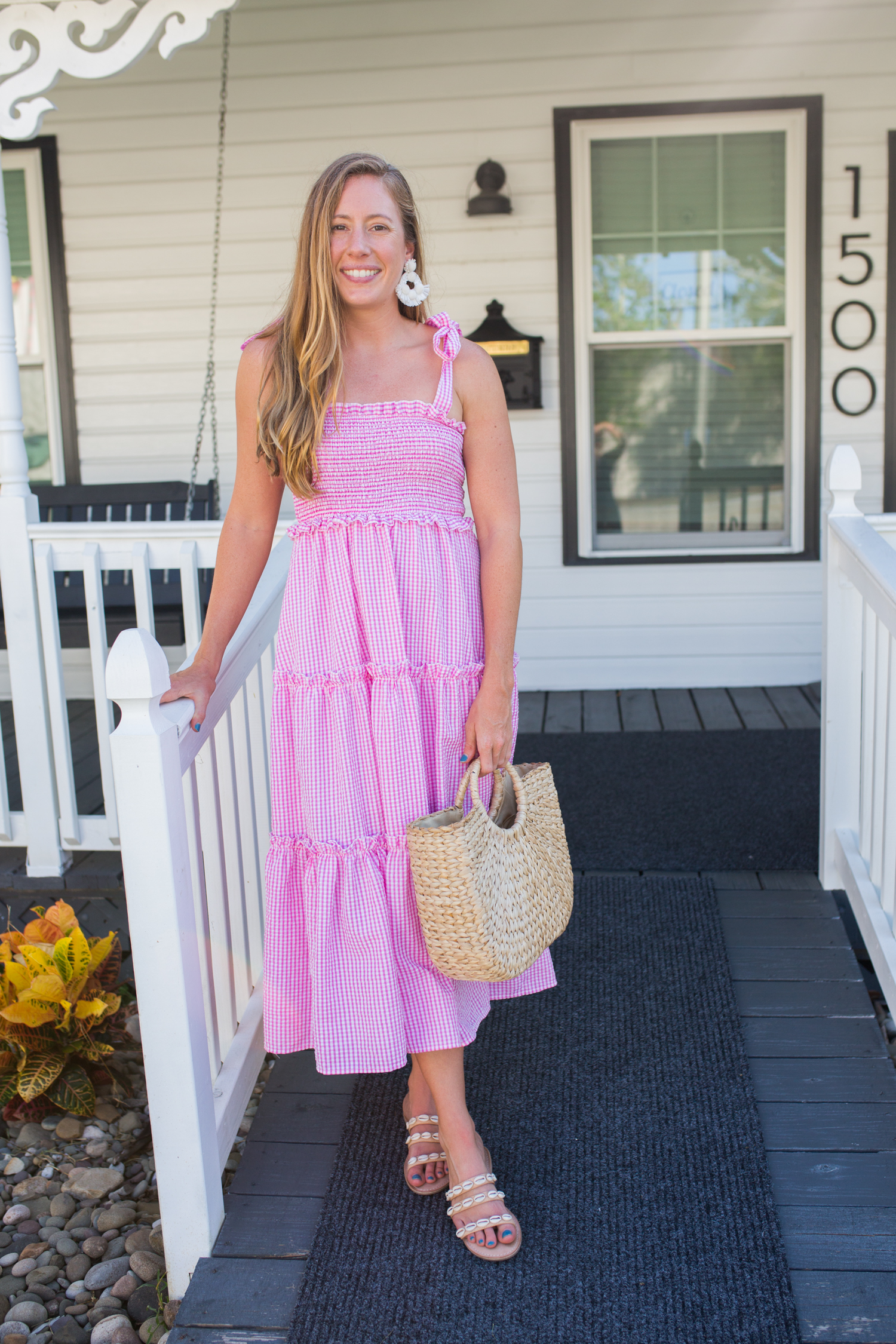 Shop The Summery Outfit

Happy Thursday! I should be back on here tomorrow with my Sunny Style Finds Friday post! I am going to include lots of end of summer sale items that are on mega sale! Stay tuned for that! In the next few weeks, I plan on releasing some fall inspired masks and matching scrunchies as well! Get excited!
I'm also sooo excited because my sister and best friend are going to Vero Beach for a girls weekend! I haven't been on a long vacation since 2018 and even though this one is short, we are so excited! My friend, Alyssa and I both turn 30 this year. Her Birthday is in September and I celebrated mine in April.
This trip is sort of the makeup for the fun missed out Birthday celebrations we originally planned. The forcast is showing rain but I am praying the weekend is full of sun! All we want to do is lay by the beach and pool and stare at the pretty water!
Lots of Sunshine,
Katie