During the summer, I love wearing bright colors and fun prints with fruit on my clothes. They instantly put me in the best mood! I love the subtle print of this top. You have to get up close and personal to see that it is actually a citrus print!
I have to admit, I love summer and cling on to it for dear life. Tops like this citrus one are perfect for the end of summer if you don't want to say goodbye just yet. It's really one of the weirdest parts of blogging. Soon I'll start sharing fall styles (okay more like dresses in darker shades of pinks, yellows, blues and greens ha!) and always feel like I'm living in two different worlds. BTS, it's still summer here well into October and you can find me rotating between bright tops, shorts, sundresses and then my "fall" wardrobe.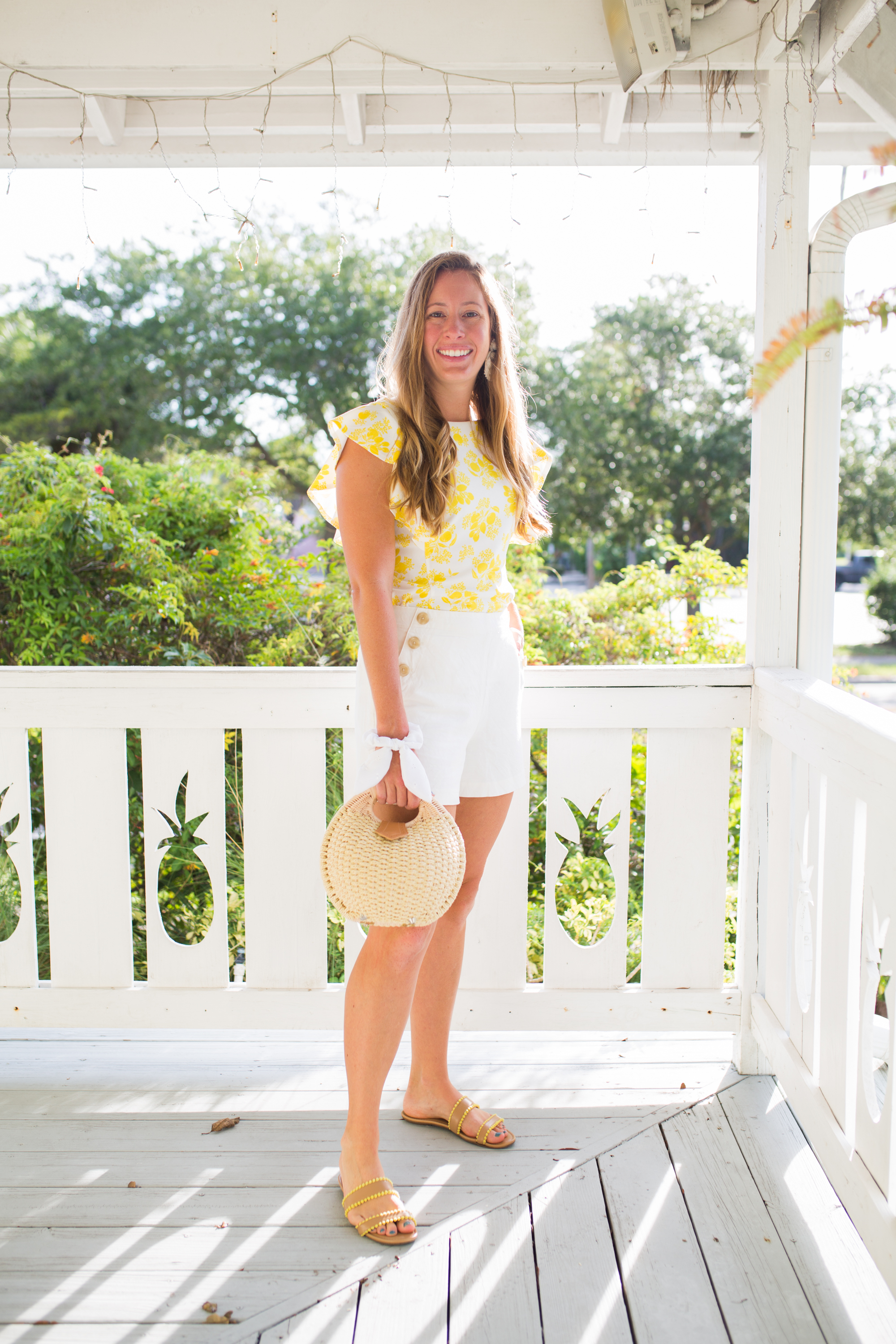 Sunny Outfit Details
Ann Taylor Top (on sale under $23) / Ann Taylor Sailor Shorts (similar) / Straw Bag / Sunshine Style Co. Scrunchie / Similar Sandals
Sadly, I did not get a photo of the back of this citrus top but it's adorable and v's slightly in the back. The material itself is on the thicker side which makes it feel more like an end-of-the-summer top. It's made from polyester and spandex so it does have a nice stretch to it! It would be perfect to pair with white jeans for a colorful fall transition outfit.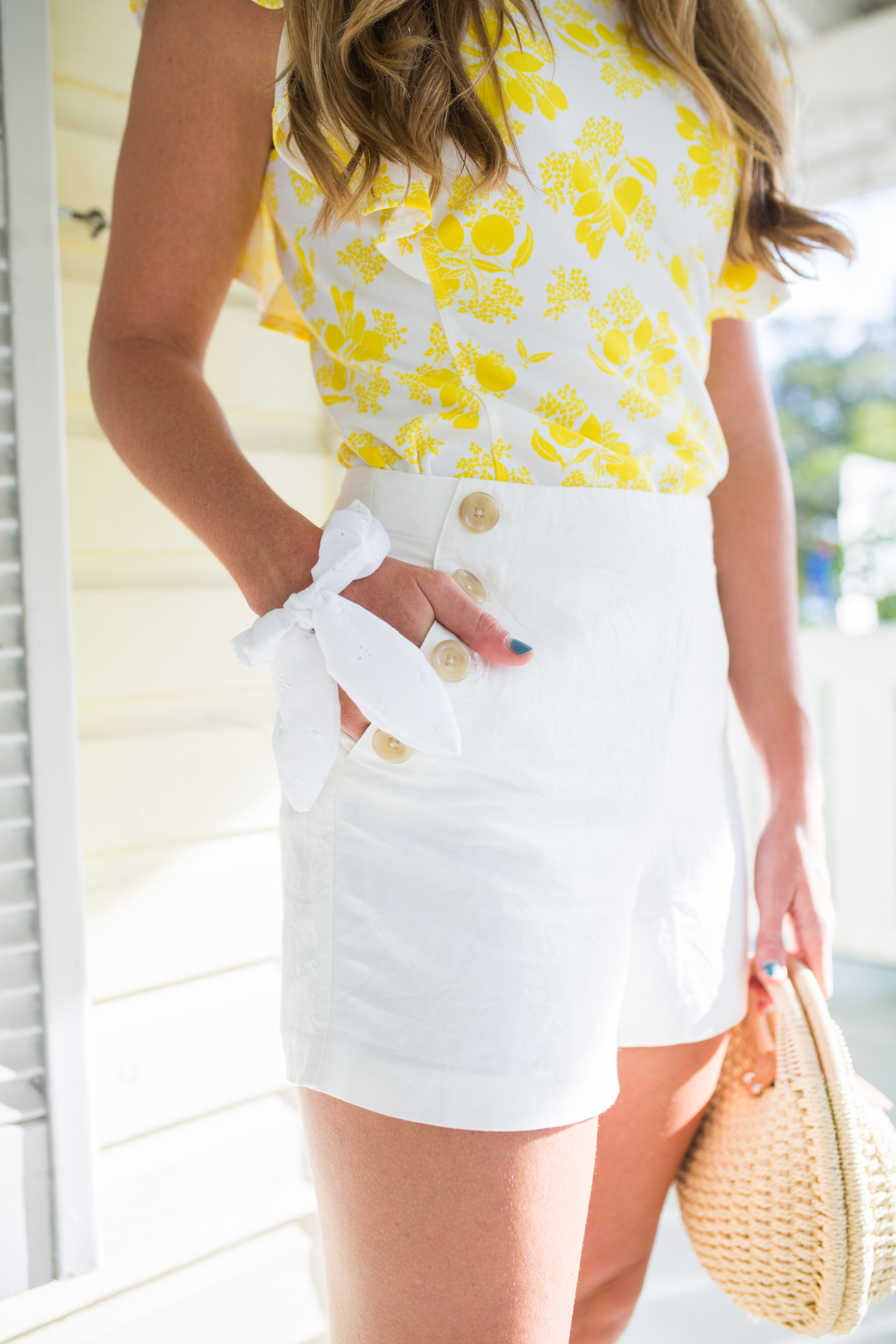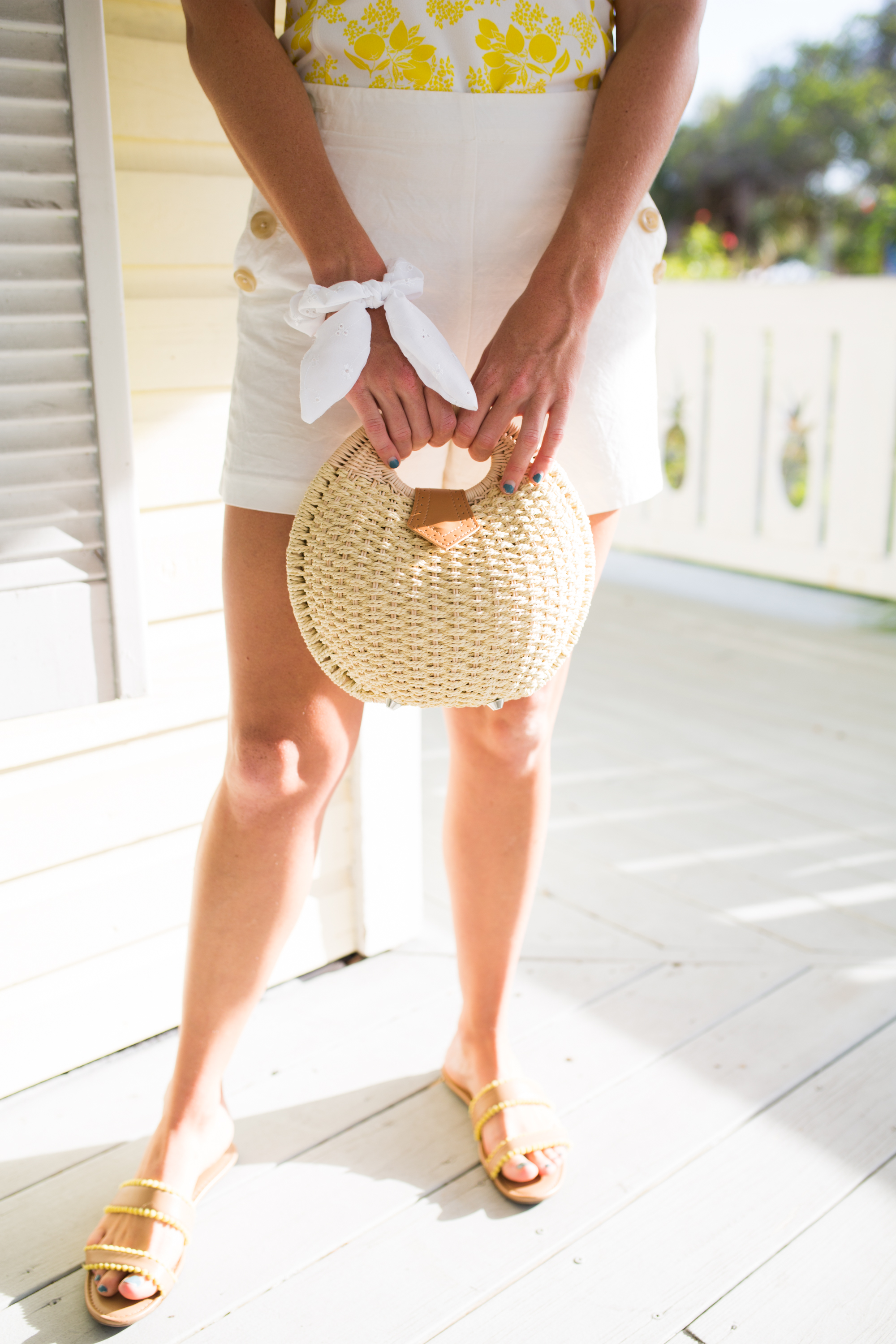 If you did not hear, I recently released my second collection of scrunchies, if I can even call it that ha! I'm wearing the white eyelet scruchie in this post! The white color is so easy to style and the eyelet embroidery is one of my favorite's of all!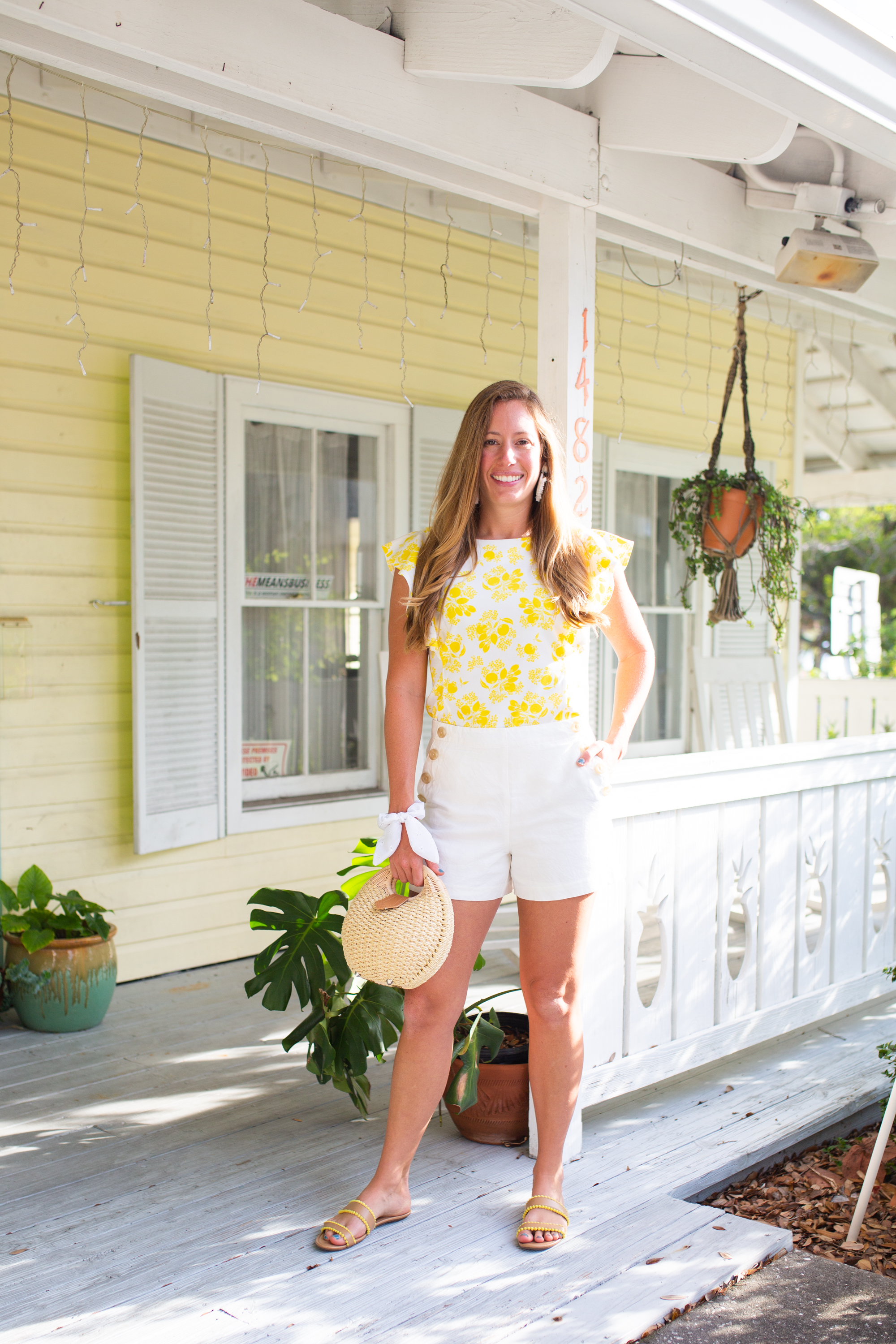 I am soooo excited for this weekend! My friend Ashley and I booked an AirBnb and are going to be staying in Palm Beach for the weekend! It's only a 2 hour drive from where I live and the first time I am actually staying in the area and not just taking a day trip there. We can't wait to explore the island. I really hope to ride bikes on the Lake Trail, relax on the beach, maybe snorkel and find the cutest photo spots.
Has anyone else been feeling slightly overwhelmed? I have a day job, run this blog, shoot branding and product photos for a few clients and just started selling the cute bow scrunchies you all love so much. I'm good at taking social media weekend breaks and resting when I need but there just always seems like something needs to get done or posted and it leaves my mind feeling so overwhelmed.
Maybe I need to let up on taking on so much but it seems like I'm in a season where I am hoping all the fruit of my labor pays off in the long run. My main job is flexible which I am so grateful for because it was something I prayed for so so long. It helps give me the time to dedicate to my blog and photos and scrunchies. Just trying to figure out the balance and where to put my energy and effort I guess. Alright, enough rambling. See a few more of my favorite citrus styles below!
Shop End of Summer Citrus Inspired Styles

Lots of Sunshine,
Katie