Meet the girliest floral top ever! I bought this crop top on a whim and wasn't sure if I would like it. Turns out I love it and it's puff sleeves! September is actually the hottest month of the entire year in Florida. When everyone else is getting excited for fall, we're just trying to make it through hurricane season and the heat. During the end of summer, the goal is to stay as cool as possible. When I'm not in a swimsuit or dress, I am wearing things like this puff sleeve crop top.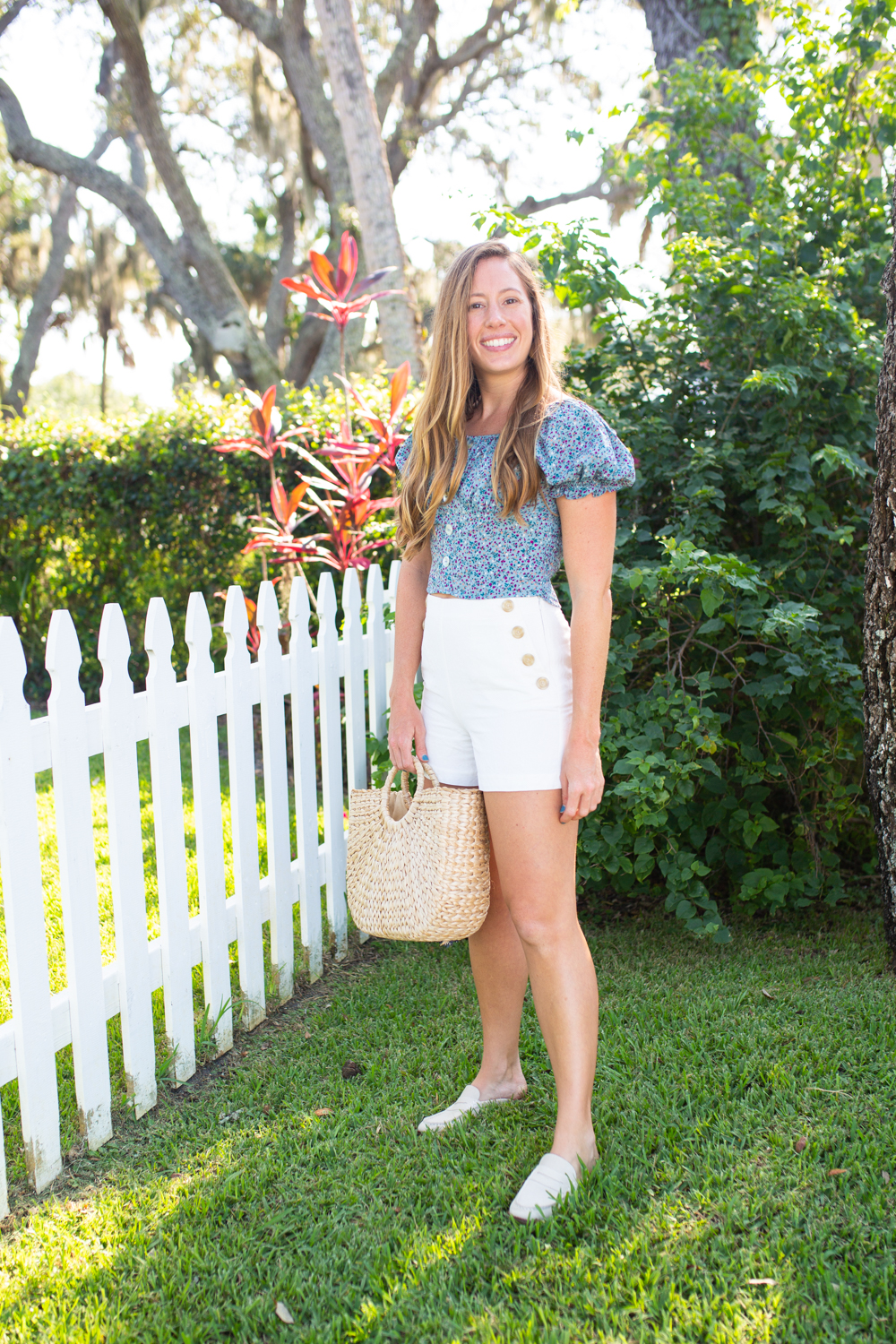 Floral Top (only $13) / Ann Taylor Shorts (sold out, similar) / Statement Earrings / Sperry Loafers / Straw Bag
I ordered it from Shein and knew it could be a really great purchase or a really bad one. Shein can be hit or miss and you kind of get what you pay for. Turns out it's a really flattering style and it's not the "best" quality but it's not bad either if that makes sense. It's no J.Crew or LOFT but I like the lightweight top to wear during the end of summer. When I ordered the top, I also bought this tie-strap dress to get free shipping. It arrived to my house in about a week and a half and was shipped from the US. Shein is known to ship from China but I've never had a delay or waited on a orders from there for more than 2 weeks.
Just look at how cute those puff sleeves and buttons are. I am wearing a Medium in the top and I think it's the perfect length to pair with high waisted white or denim shorts. Keep in mind that I am on the taller side (5'8) and have an athletic build. There is ruching in the back which makes it stretchy and really comfortable. I love mixing high and low pieces and this would be one of those outfits!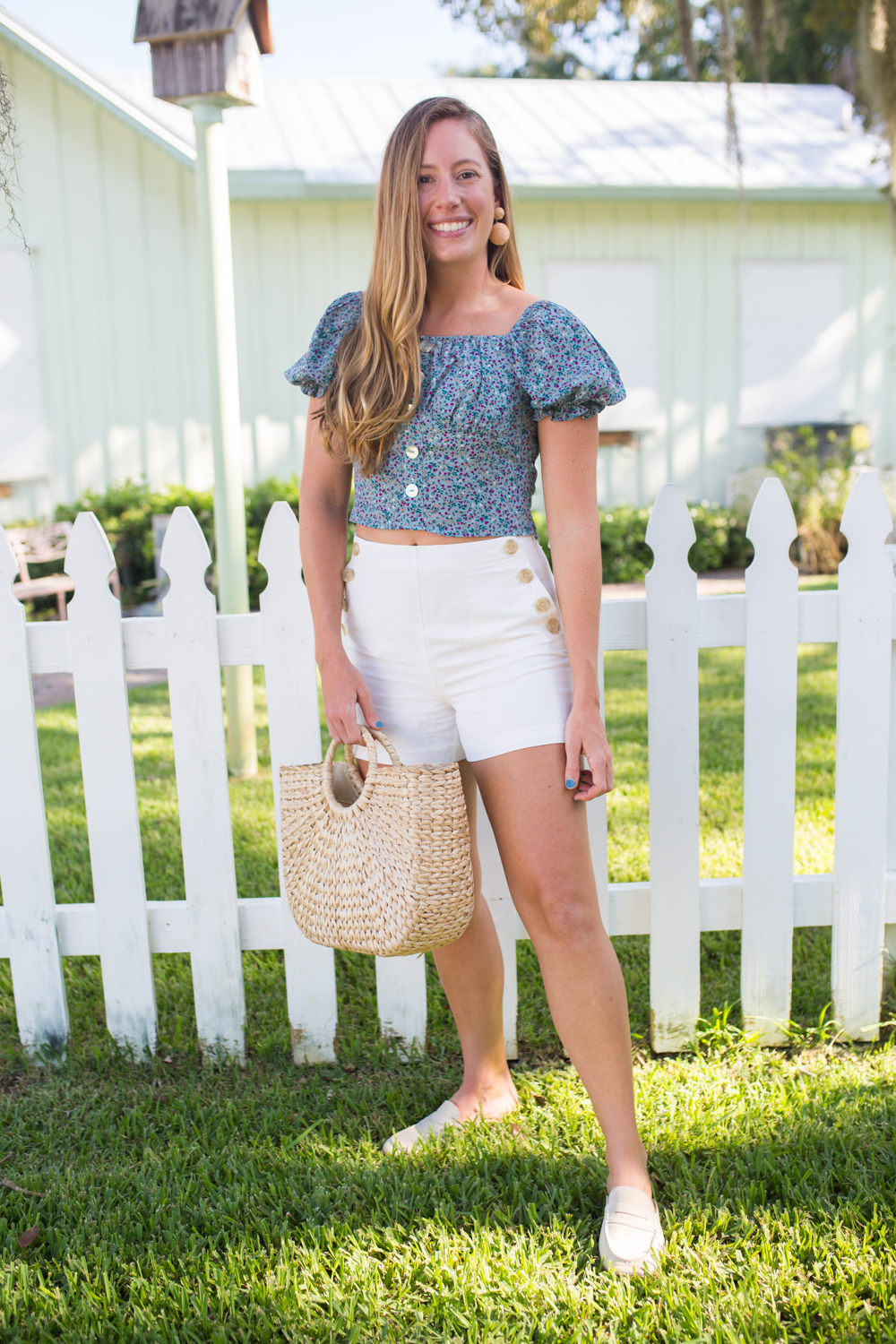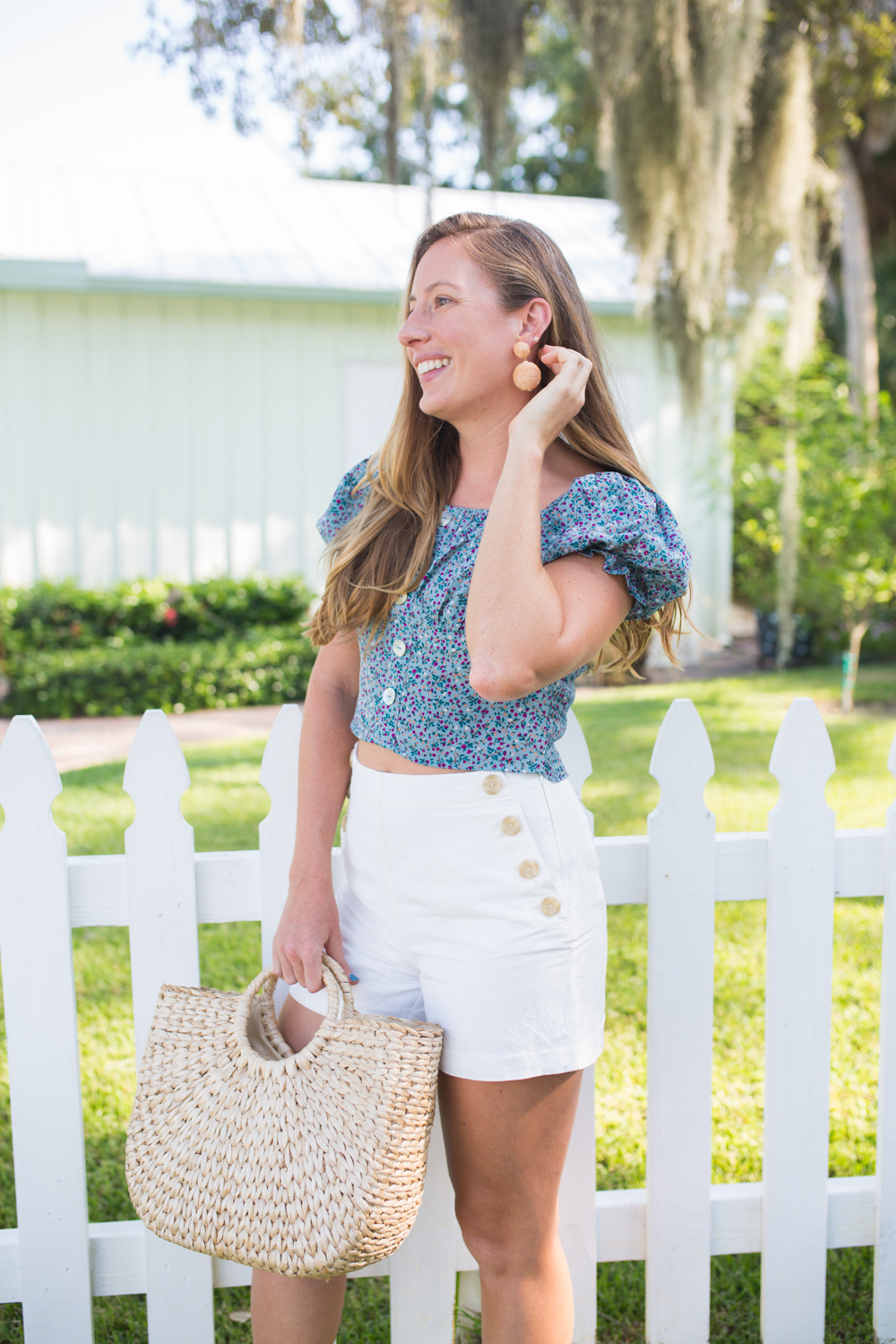 Puff sleeve tops are adorable and I've had my eye on a few like this salmon smocked top and yellow cotton eyelet top. Even though it's still super warm outside, these make really cute summer to fall transition tops paired with white jeans. I love this ethical white puff sleeve top (under $50) and would wear it with mom jeans or wide leg pants.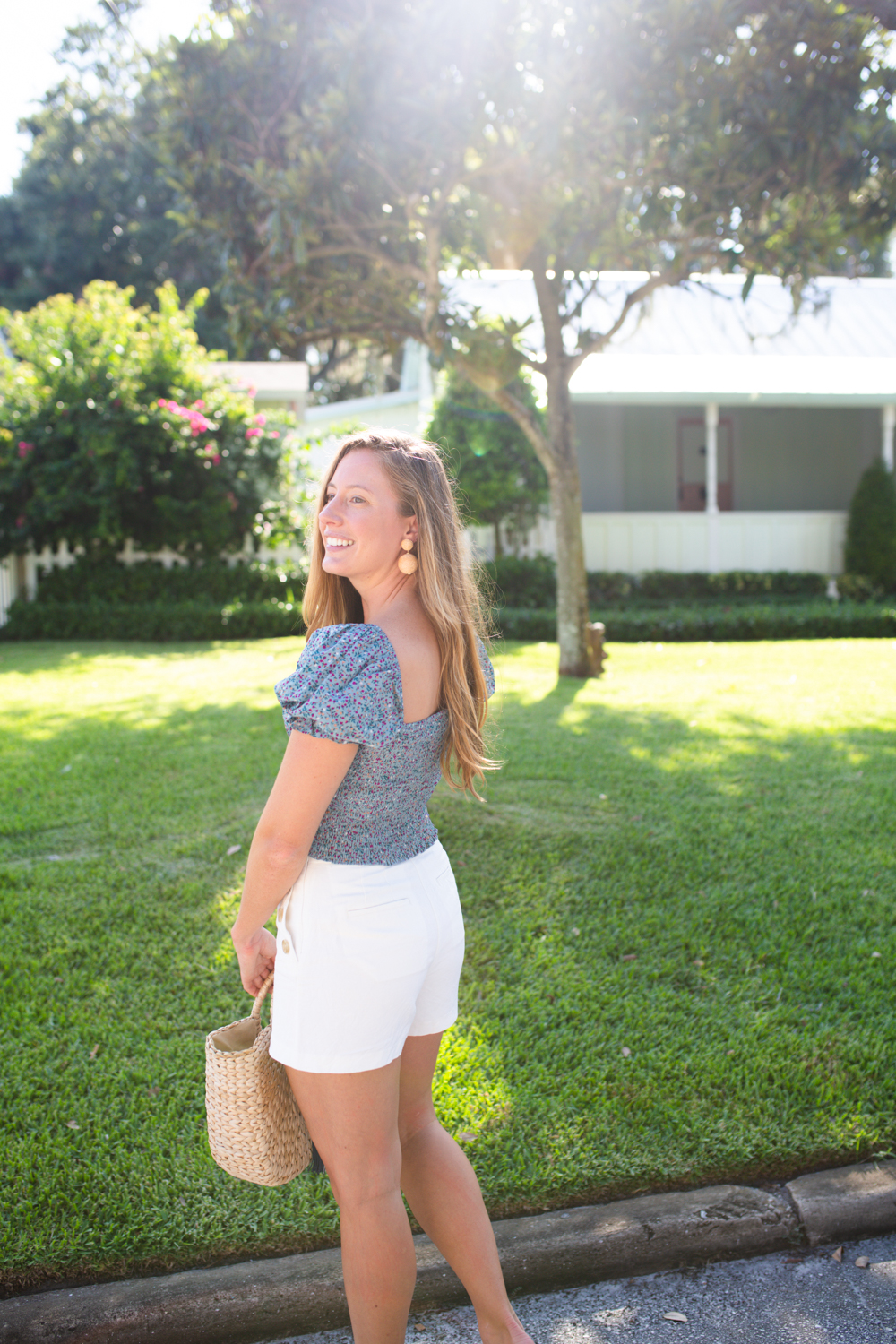 Love the square neckline and floral print. My earrings are from St. Armands and are 20% off right now with August2020. Their the perfect neutral earring and I will be wearing them into fall.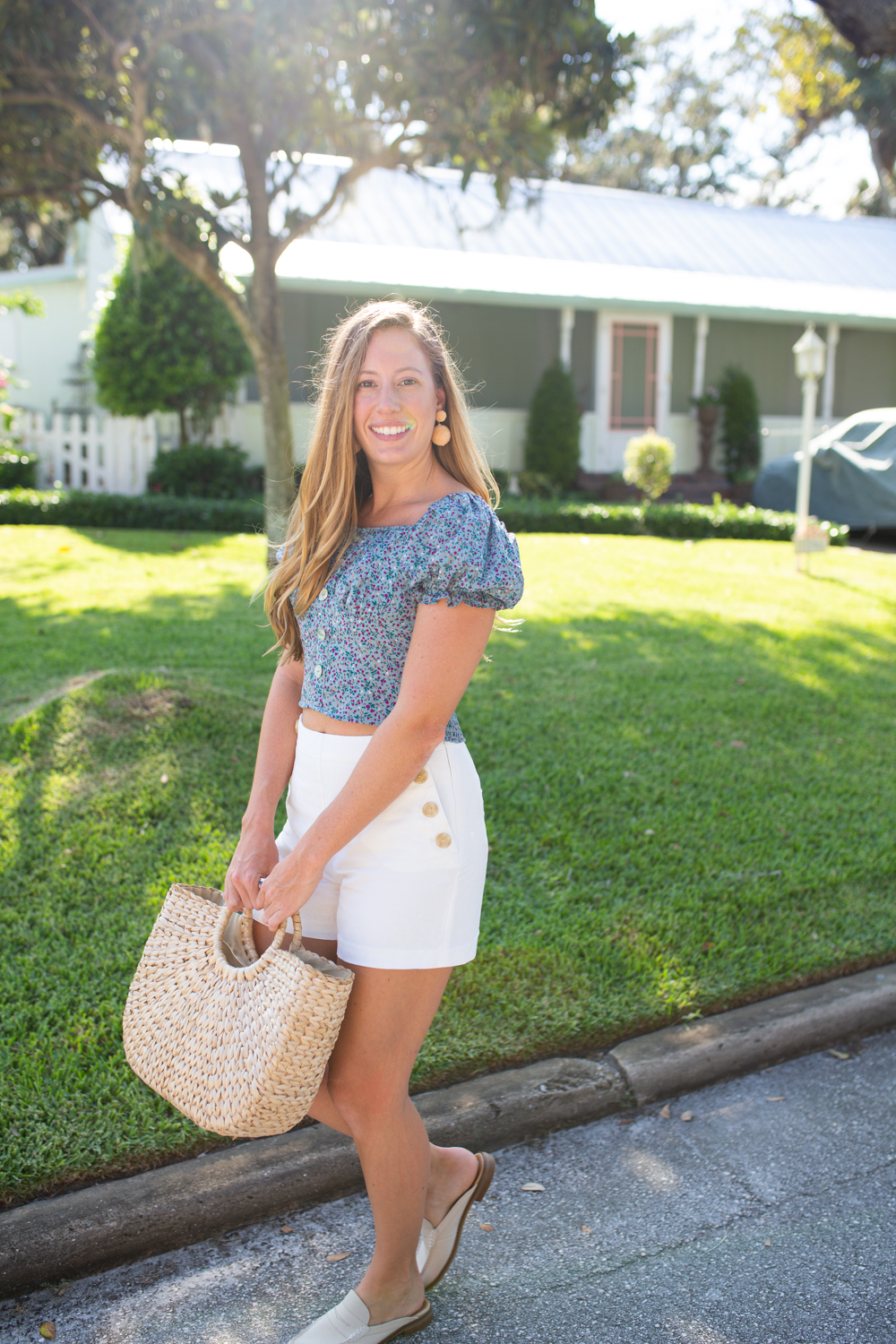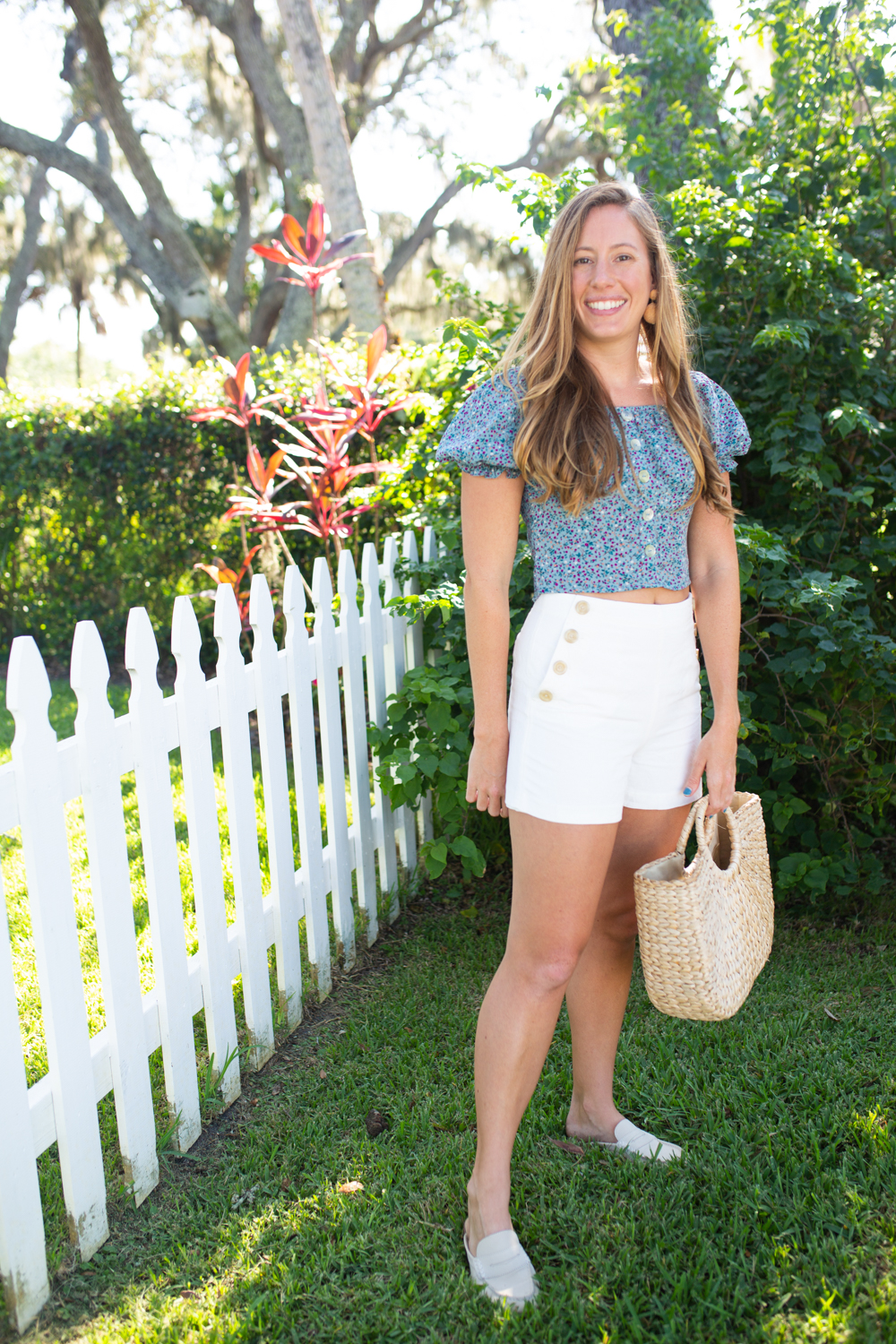 Be sure to check back tomorrow, I will be releasing 2 new bow scrunchie styles on my ETSY shop!! I've been sewing up a storm this weekend to get ready and even made a super fun trip to Hobby Lobby. Starting the shop has been such a fun project and it's a hugeeee learning experience that I'm so grateful for. I have dreamed for so long of owning my own business, I can't believe it's actually happening before my eyes!
On Friday last week I was working and noticed I started to get a bunch of notifications on my phone letting me know my ETSY shop was being favorited. Then sales started flowing in. I knew someone had to have linked to my shop, I was just not sure who. After a little research, I saw that Carly had included me in her On My Radar Friday post. It was the BEST surprise ever to see her link to my scrunchies and it totally made my day! I hope you all had a restful weekend and I will talk with you tomorrow.
Lots of Sunshine,
Katie