The sales of all sales. I actually debated if I wanted to include some of my favorite sale picks or not from the Nordstrom Anniversary sale. Over the years, the sale has gotten a bit of a negative reaction and I can 100% understand why. Personally, I've felt the overwhelm from the sale and what felt like every Instagram blogger sharing their top 1,000 picks. Thankfully the hype seems to have slowed down a bit.
The main reason I blog is to share fun and quality classic and coastal pieces to make your life easier! Fashion is fun and brings me tons of joy. I am not a Nordstrom card holder but from time to time, I find really great items on their website, especially shoes and dresses for special occasions! All of my picks are clothes you can wear everyday (thinl WFH life) and are casual, cute and functional.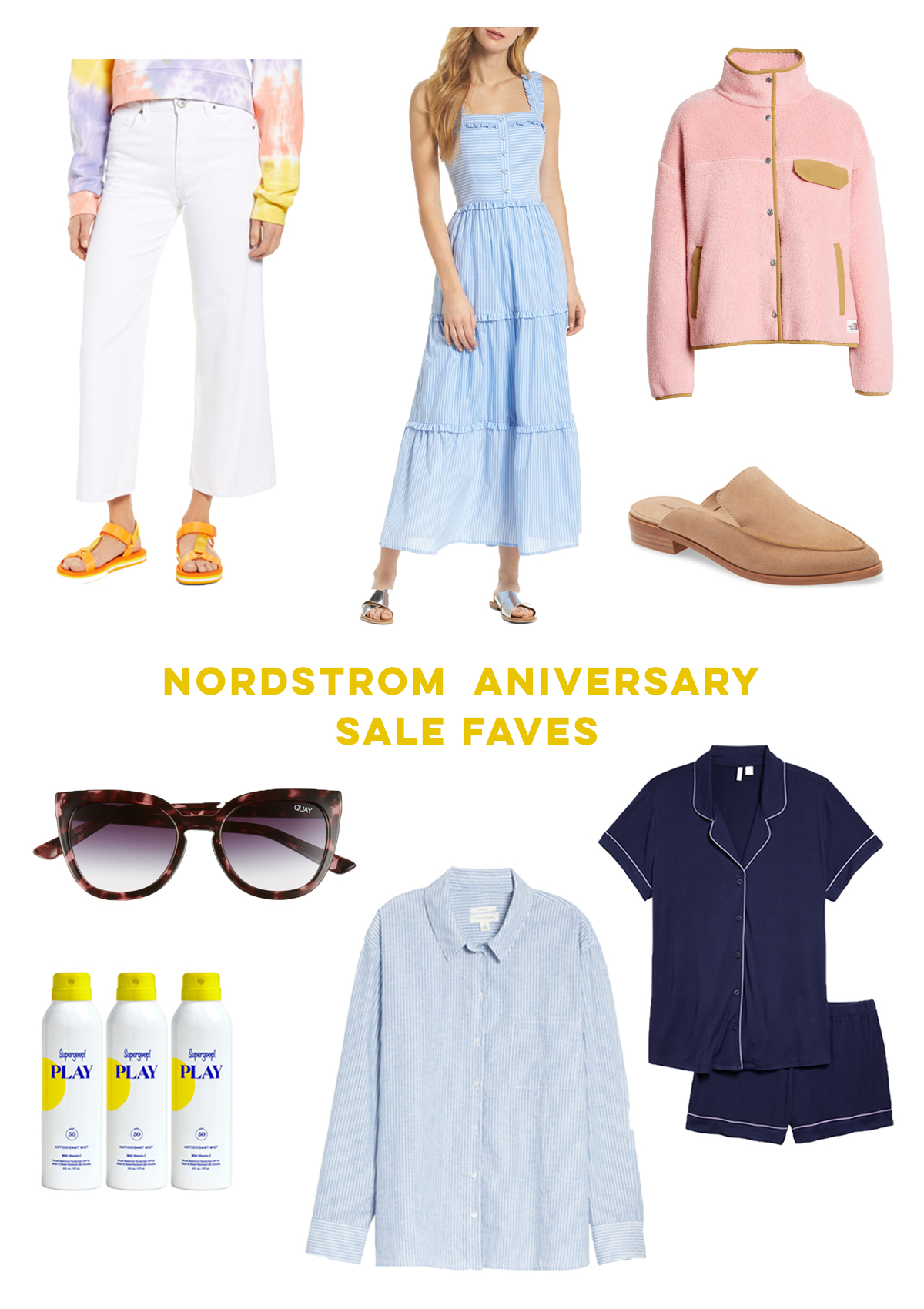 White Wide Leg Pants / Gal Meets Glam Dress / Pink Fleece Jacket / Neutral Mule / Tortoise Sunglasses / Supergoop Sunscreen / Striped Button Up Shirt / Navy Matching Pajama Set
Before I start, I just want to say, you never need anything from a sale and there is absolutely no pressure!!! Fashion is fun! The pieces I've picked are all items that I use to start dressing for our Florida "fall" like a striped long sleeve top and wide leg pants. If your like me and live in a warm climate, they work for year round like sunscreen and sunglasses.
First up is the Gal Meets Glam Courtney Dress. This is actually the main reason I wanted to blog about the sale for the firs time on here. If you have not heard, Julia stopped designing GMG dresses so this is really a one of a kind dress that will not be made again. Typical of the sale, limited sizes in 8-20 are available at the moment. I would keep an eye on it because sizes are known to go back in stock if returns are made (updates seem to be pretty frequent).
Next up is this Supergoop SPF 50 spray mist sunscreen. It's $42 for a pack of 3. Seems sort of steep but it's actually a great deal for a natural, reef safe, USA made sunscreen brand. I love spray sunscreen for when I can't reach my back! There is also a Daily Moisturizer SPF 40 Set for $39.00.
I am in desperate need of pajamas. They are to the point where there's holes and the elastic is peeking through. I really hope this navy matching pajama set (on sale for $29) is still available tomorrow when the sale opens for non-card holders.
During the fall, I would get tons of use out of these tan backless mules. They pair great with jeans or dresses and instantly dress any outfit up! Last but not lease are these adorable white wide leg pants (under $36). The wide leg style is not for everyone but I personally love them! When I was teaching I would pair them with striped shirts and button ups and it made a really simple and classy outfit.
Shop My Nordstrom Anniversary Sale Faves

---
If your like me, the sale for non-card holders starts tomorrow, 8/19!
Lots of Sunshine,
Katie