Target has been killin it lately with their rattan accessories! If you saw on Monday, Caitlin and I each wrote a post all about our best tips for shopping on a budget. One way I love to make an outfit more interesting is to add accessories that don't break the bank. Now that it's starting to realllyyyy warm up here, the only way to layer is with accessories ha!
Working from home does come with perks (hello new Tuesday laundry day) but I really do miss dressing up for work. I've worked as a teacher in a classroom and a desk job at an office and always loved getting dressed up. Even in school, styling outfits was the one creative outlet that made my day way more exciting. Still to this day I wake up excited to get dressed in an outfit I love. Even though I don't have Zoom calls or see anyone besides my family during the day, comfy pajamas just don't cut it. I have been wearing matching shoes and adding earrings to most of my outfits just because I personally love it.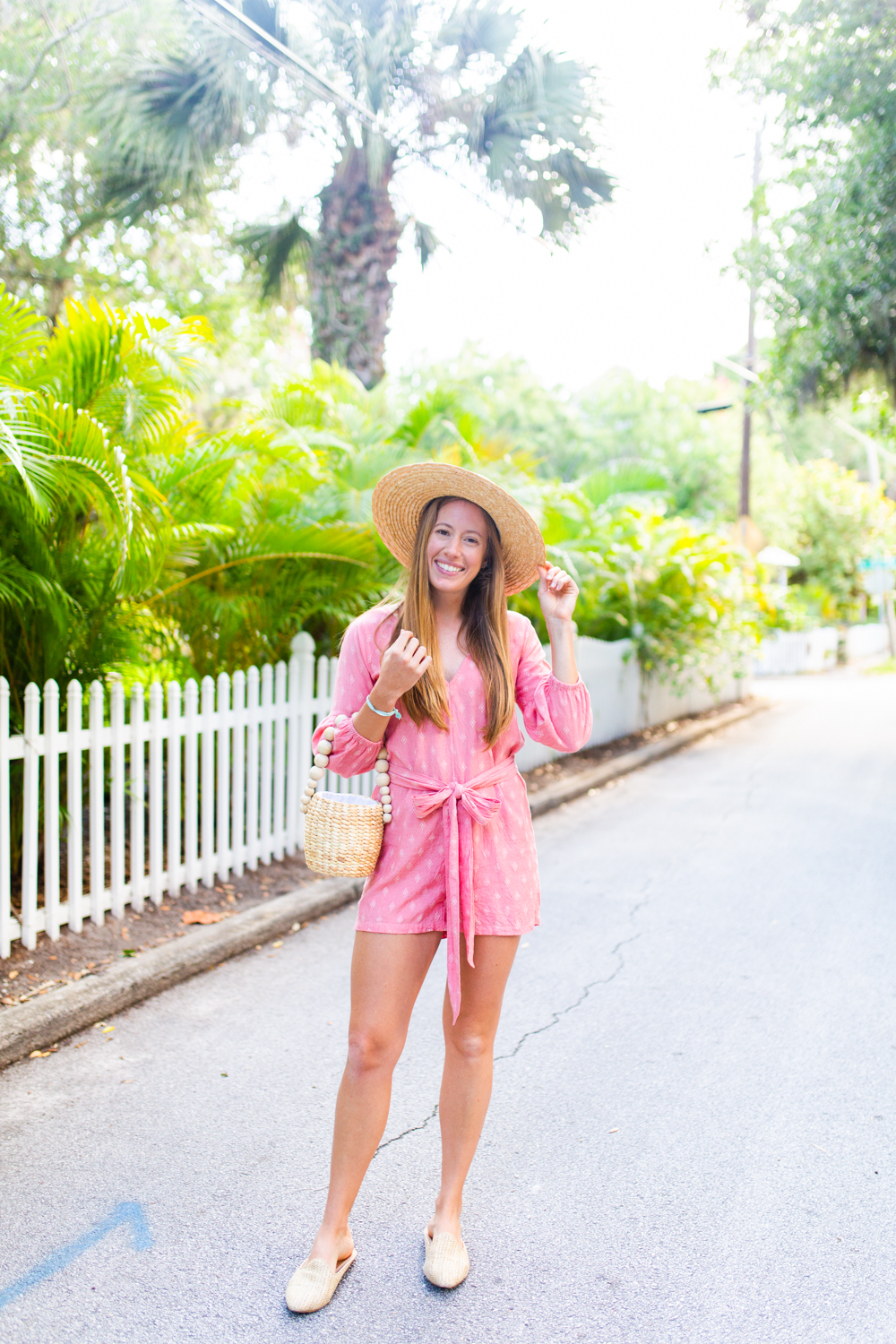 Sunny Outfit Details
LOFT Romper (sold out, similar here and here) Target Hat / Target Shoes / Target Bag
I probably sound like a broken record but I really do wear the same three items every week. Rompers. Shorts and a top. Or Dresses. I've always dreamed of working from home so I can wear all my weekend clothes during the week. Pretty much living my best fashion life over here. My mom gave this romper (similar here) to me for my birthday and it has been one of my fav new WFH outfits to wear with these raffia shoes and raffia earrings.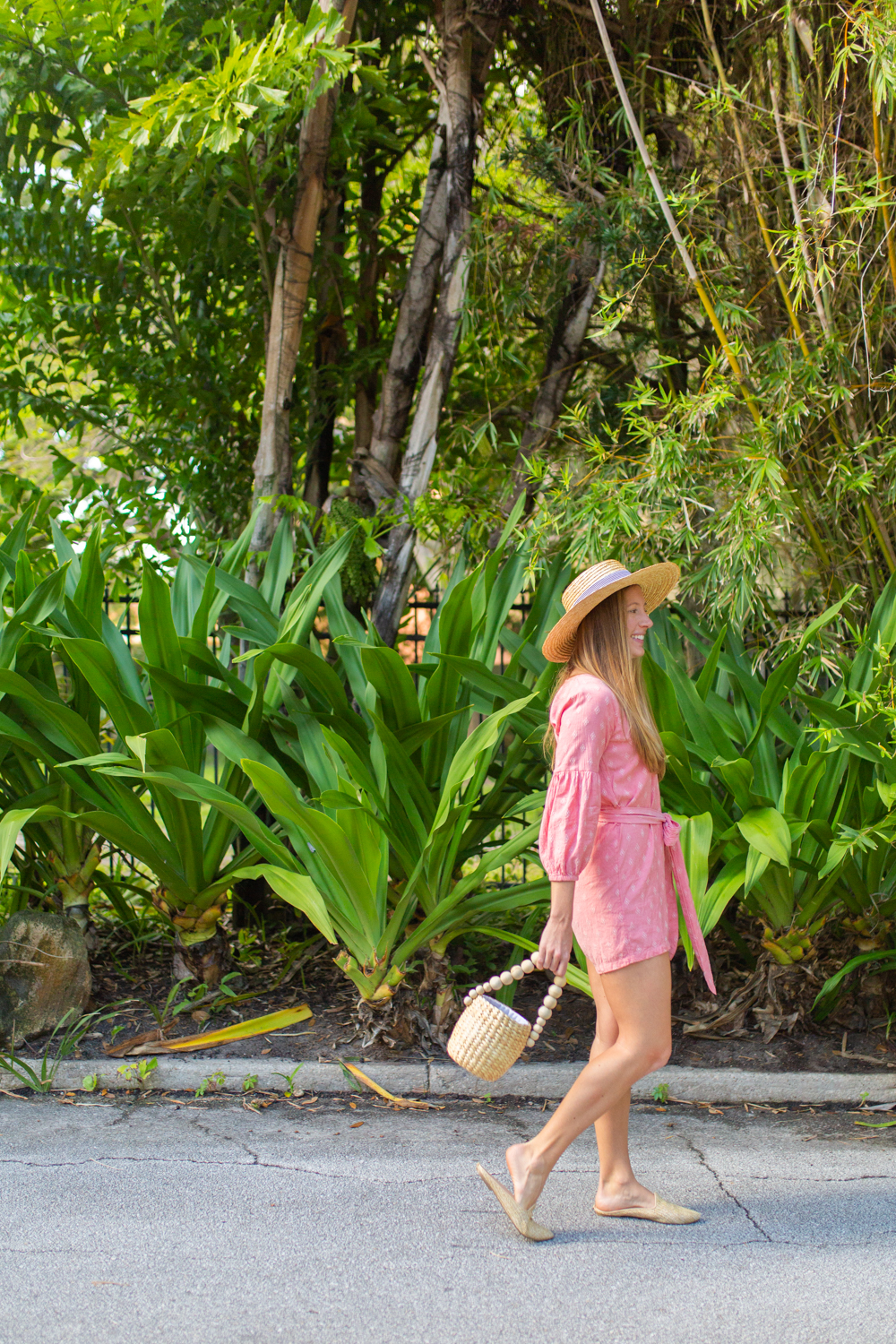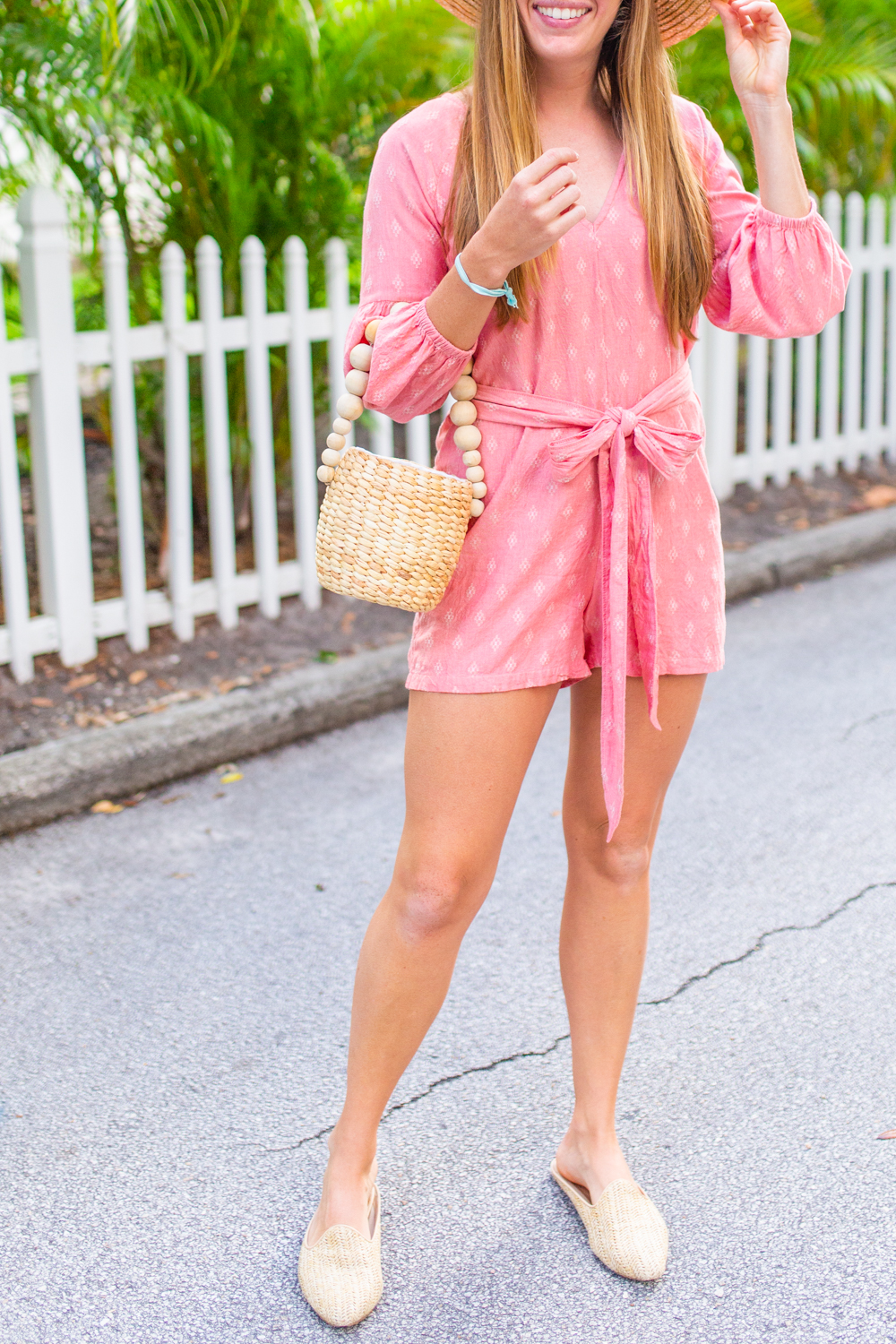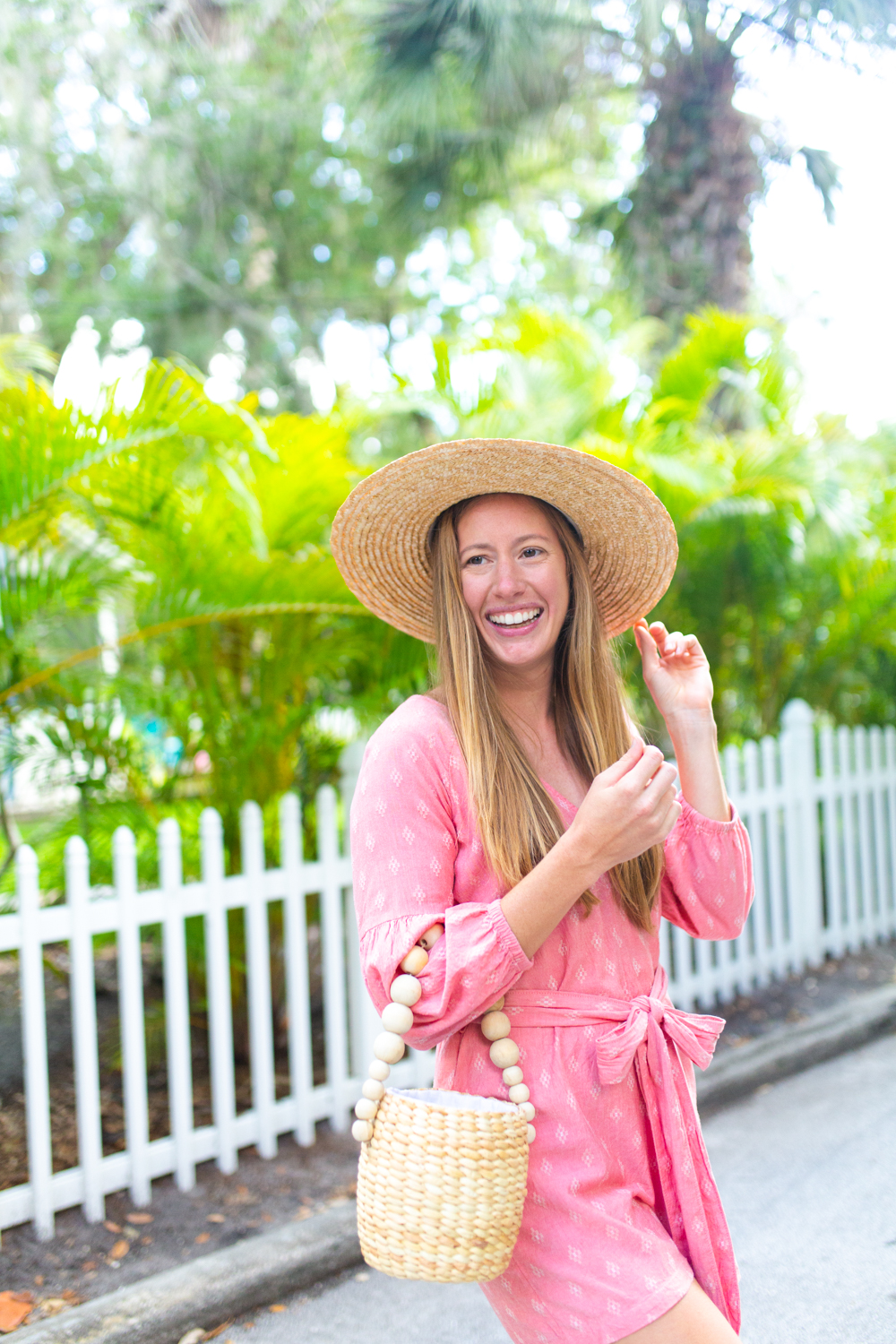 My bag was also a Birthday gift from 31 Bits and was super excited when I found an almost identical one at Target with the beaded handle (under $35). The beige color is really easy to pair with Spring and Summer colors. The bag is totally a prop for these photos and I have actually been using a backpack for when I run errands. What I have been wearing out are my square rattan statement earrings (under $10). Another style I love and are more sophisticated are these hoop earrings (under $8). Surprisingly, I have super sensitive ears and Target for some reason is the only place I can buy fake earrings from! It's really a miracle which is usually why I stock up when I find styles I love.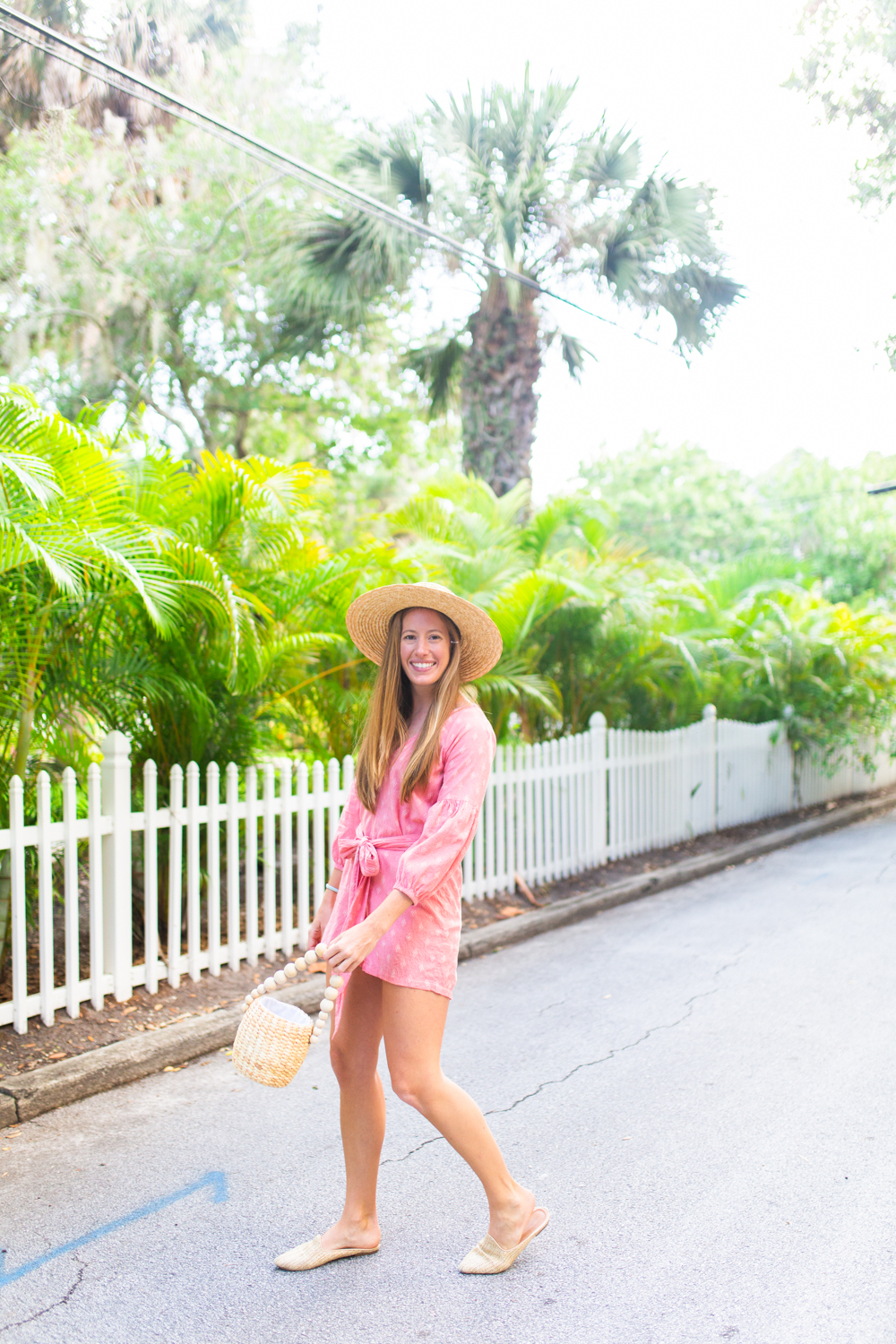 With more places opening up here, I am super excited to start wearing my panama hat more! When I went to the sunflower field the beginning of May, I made sure to bring my straw hat because we went mid-morning when the sun is the harshest. I got absolutely no sunburn. There's a really pretty blue striped ribbon around the top we well!
When I lay by the pool or have a beach day, I love the sun to lighten my hair and usually choose a visor over a hat. Cute hats are also not very practical when it's super windy at the beach which is most of the time. I LOVE this rattan visor (under $13) I found at target because it ties in the back! I've worn it on bike rides around the neighborhood and it works like a charm! Told yah, Target is on point this season.
How everyone doing lately? I've been working from home for two months now and feel like I've hit my groove. I think I may need to write up a new morning routine post since it's changed a bit now that there's no more commute or rush to get somewhere. Anyone interested in that!?!
My gym opened up this week. Not gonna lie, I was giddy the whole way there while voice texting my friend. I kept telling her, "I don't know why I am so hyper". Pretty sure was just excited to see other humans. When I got there, they had taped off squares on the ground that were 6ft apart and we had to pick one and stay in it the whole time. Super interesting and strange but I was just happy to get back into the gym!
Lots of Sunshine,
Katie
Have you bought any exciting Target finds lately?! Anything I should know about?! Tell me below!