If there's one thing in this life I am really good at it's organizing. Starting the new school year was always so exciting. New planners and binders excited me and the same goes to keeping my closet nice and neat!
With not much going on other than trips to the living room and kitchen, back porch candlelit dinners and neighborhood walks, it's the perfect time to clean out your closet and organize every single item! Don't get so excited! ? My mom taught me at a young age to always go through my closet and get rid of clothes I didn't wear and that simple habit is something I still do as an adult. There was no hoarding in our house.
Just about every three months or so, I go through my closet and get rid of anything I don't ever wear. This is where you have to be strong. You will feel so much better and lighter when you get rid of that dress you haven't worn in 5 years. Only keep the items you feel amazing in, love wearing and know you will keep wearing year after year.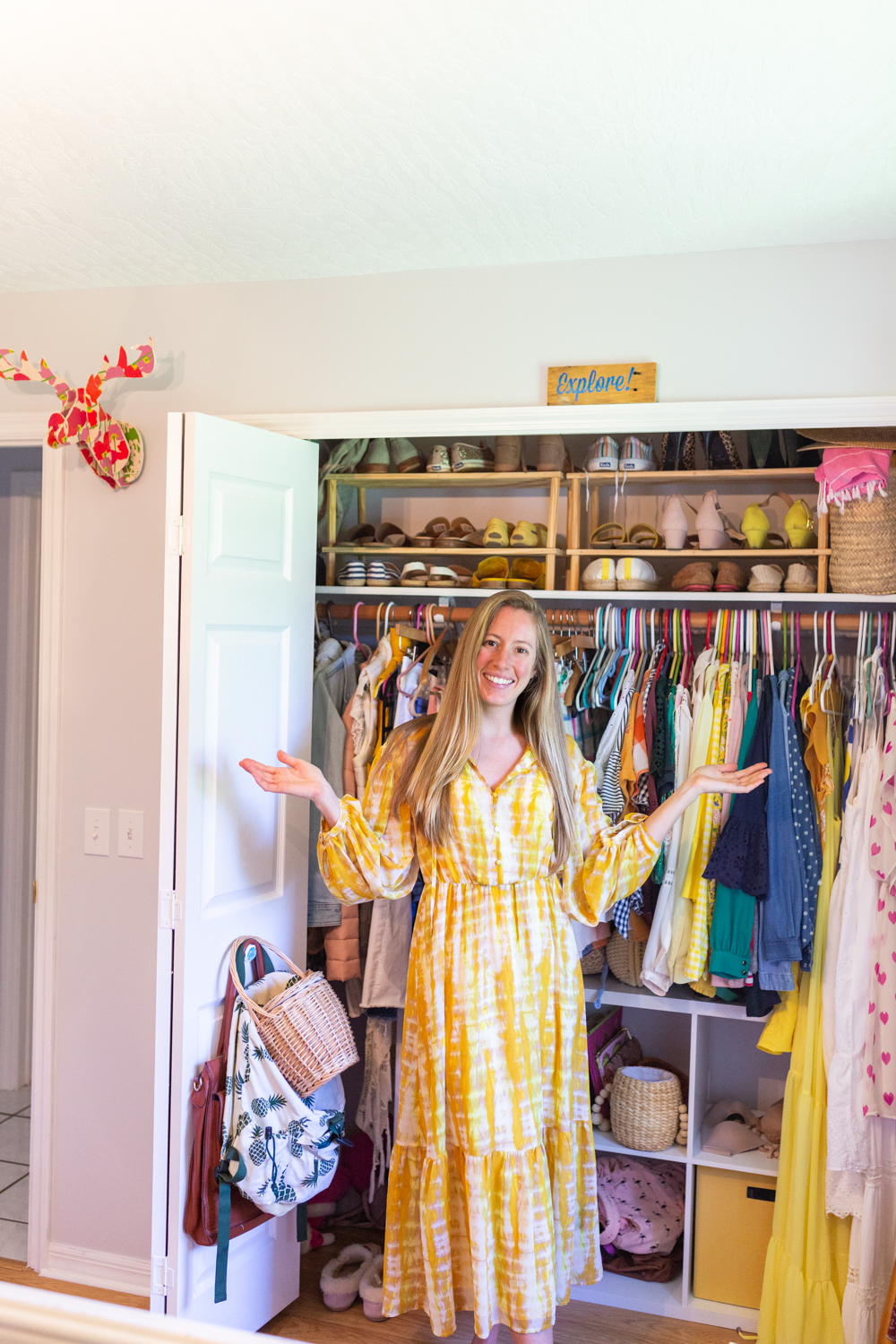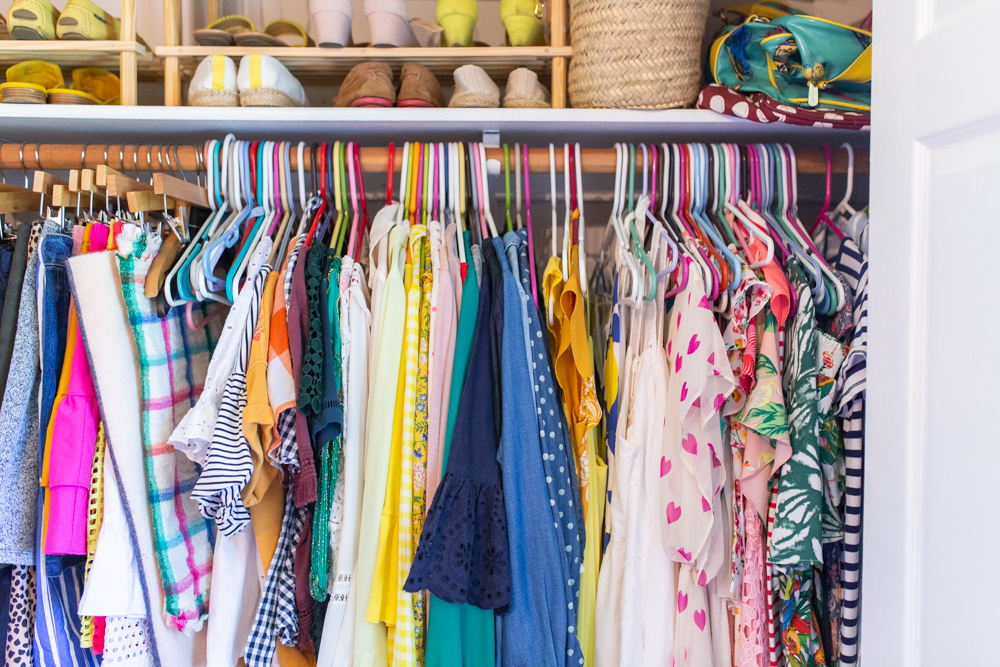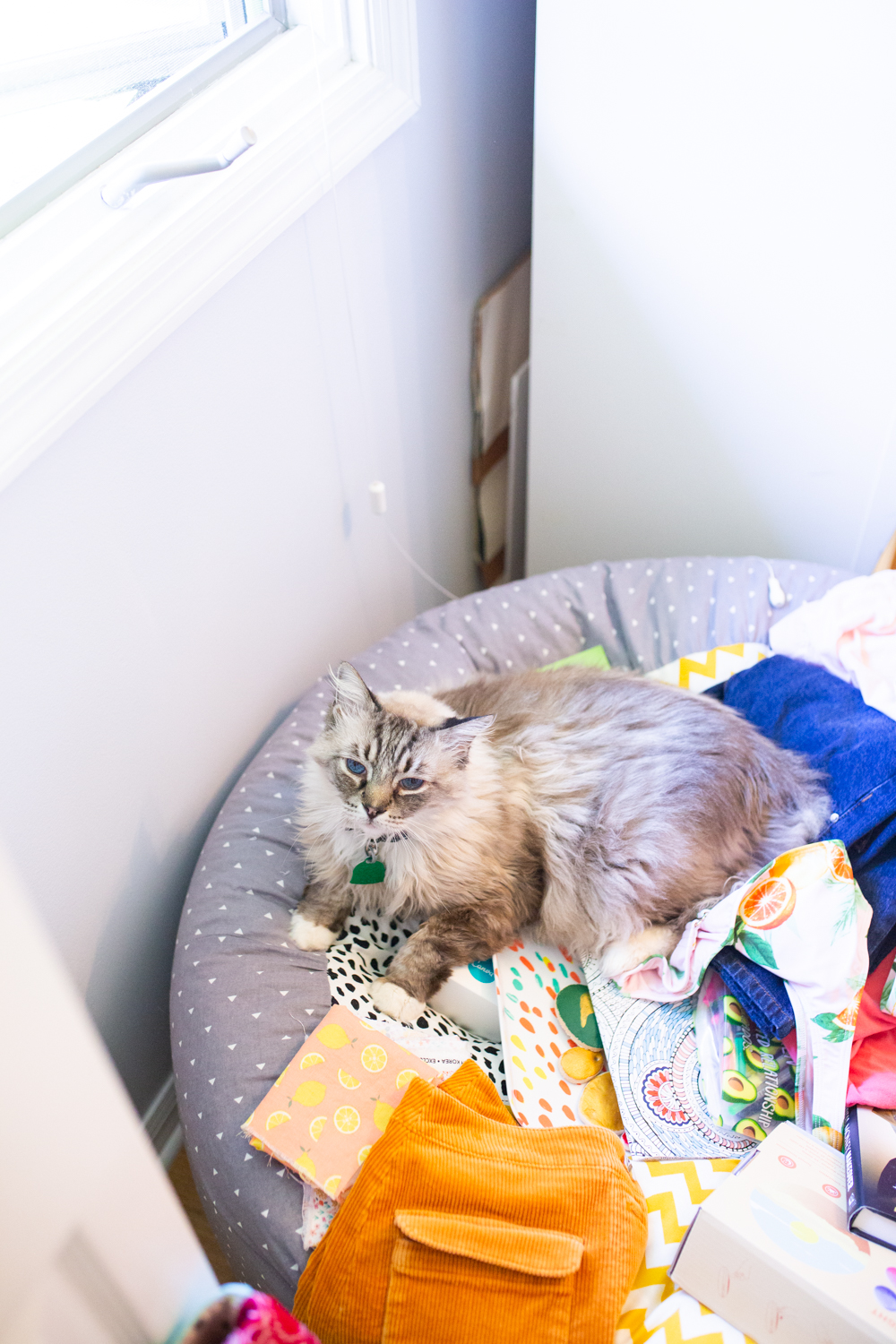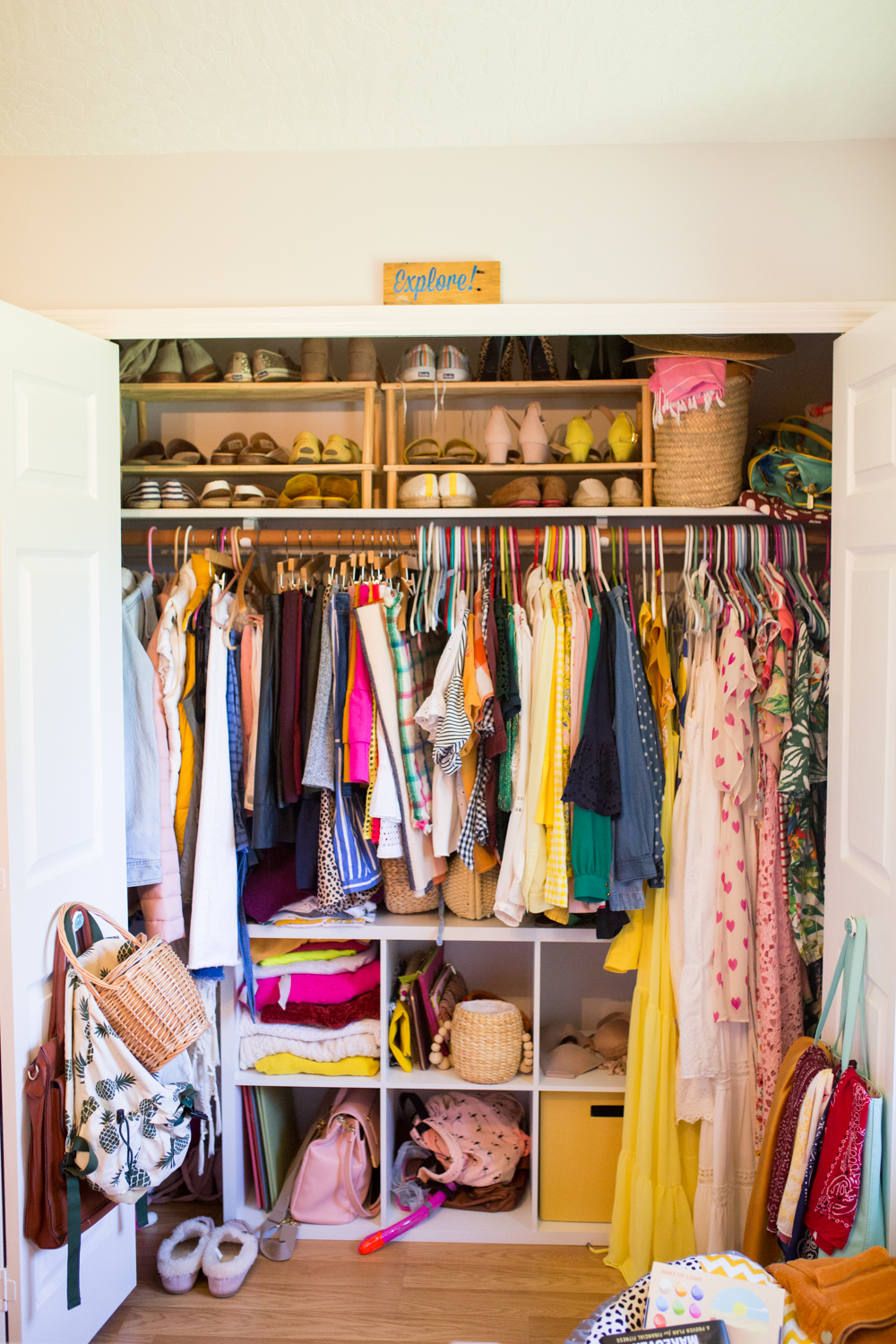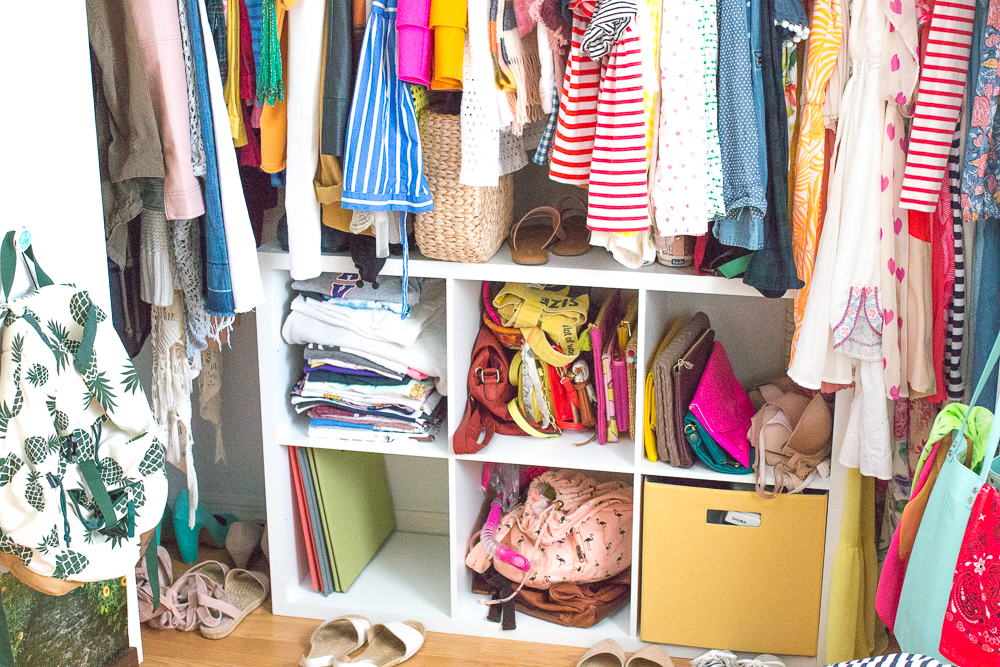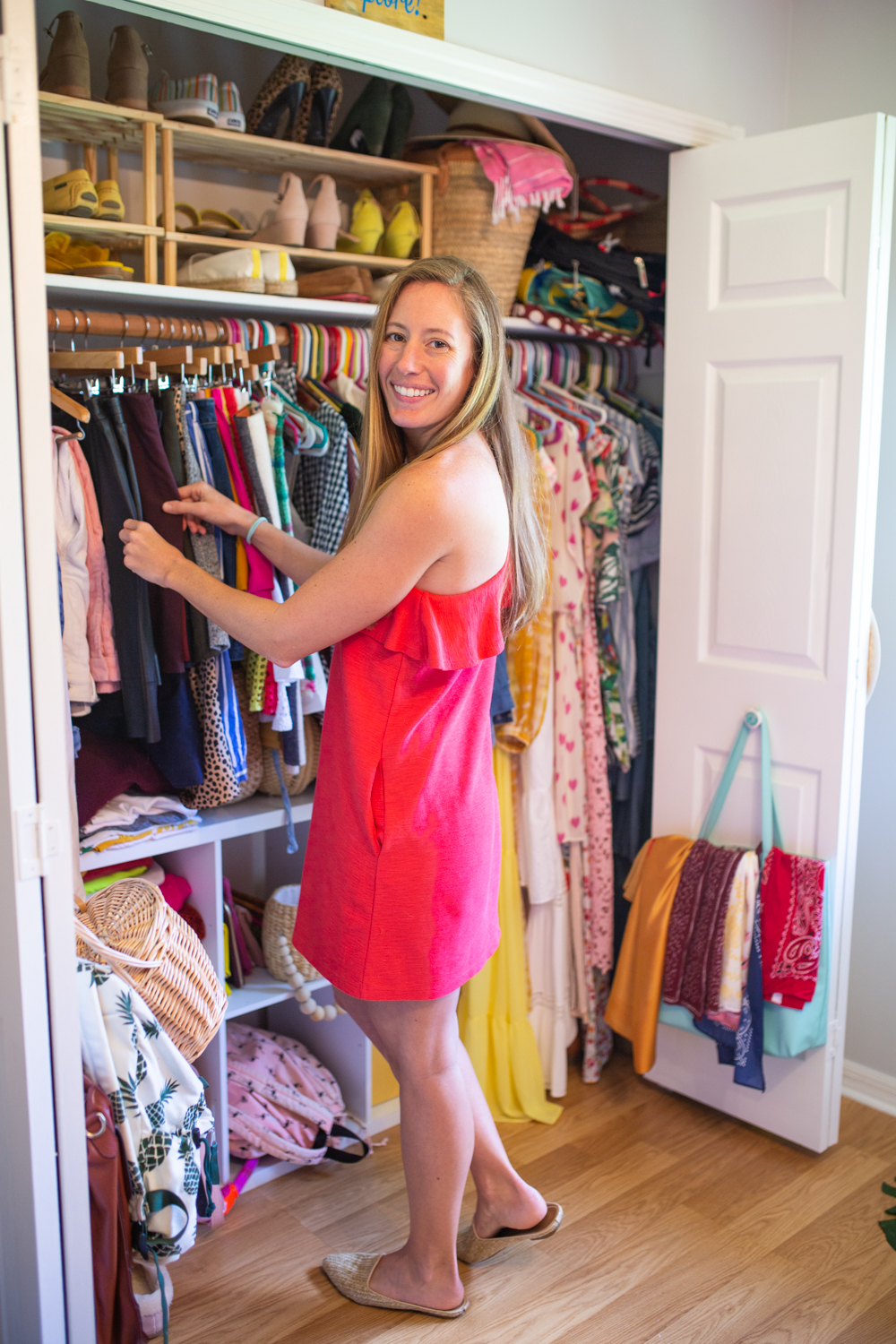 1) GET RID OF ITEMS YOU DON'T WEAR
I talked a little about this above. This is the part I need you to be strong. Part of me wished I kept my cute Abercrombie outfits from middle school just to look back and remember all those awkward and exciting days. The other part of me is happy I got rid of something that would just take up space.
Now, I'm not talking about getting rid of that special occasion dress. The key here is to either take everything out of your closet or touch every single hanger and sort through each piece individually. That way you know exactly what is in your closet and you may even discover a dress you don't wear often.
The same goes for dressers. Take out everything in each drawer, one at a time. My drawers are in categories, so it makes it easy.
2) SEPARATE CLOTHES INTO CATEGORIES
This is simple and just means group everything into categories like dresses (strapless, short sleeve, long sleeve, formal, etc), shorts, skirts, tops, pants and shoes. It's like making mini sections for your closet. Don't hang skirts and dresses and pants all together mixed in because it makes getting dresses so much more stressful.
For example, I live in a super warm-climate, so I break my dresses into strappy, sleeveless, sleeved and long-sleeved. If I have any formal dresses, I hang them in the very back of my closet to keep them out of arms reach.
SKIRTS CATEGORY EXAMPLE: Maxi Skirts, Midi Skirts, Mini Skirts = 1 category or section of your closet
3) BREAK THE CATEGORIES INTO SEASONS
This is easy! Take all of your categorized clothes and then group them by season. If you live in a warmer climate like I do, this part is so much easier. I have exactly 2 coats in my closet, so I hang them more towards the back and then place my lighter zip up jackets or vests in front of those. My closet is filled with dresses for every season.
If you live in a cold climate, store all of your seasonal clothes in a linen or hallway closet and replace with each season.
EXAMPLE: Dresses: Midi Spaghetti Strap Dress, Mini Sleeveless Dress, Longsleeve Maxi Dress OR Jackets: Heavy Coats, Cardigans, Zip Up Jackets, Long Sleeve Shirts
CLOSET ORGANIZATION LEFT TO RIGHT: Jackets/Coats/Vests –> Pants/Jeans —> Skirts –> Scarves –> Short Sleeve Shirts —> Long Sleeve Blouses/Button Up Tops –> Dresses
DRESSES ORGANIZATION (top to bottom): SWEATERS –> SHIRTS/TOPS –> PAJAMAS –> SHORTS –> SWIMSUITS
4) HANG LEAST WORN ITEMS TOWARDS BACK OF CLOSET
When organizing your closet, start towards the back of your closet and work your way to the middle. The most clothes should always be in a hands reach or towards the middle/center.
On the right side of my closet, I push formal dresses, coats and jackets towards the wall. Then I work my way to the right by most worn items.
5) ORGANIZE EVERY ITEM BY COLOR & PATTERN
This is the fun part. Once you organize everything, you get to put in color coded order. I used to only group my clothes by category not color and once I made the change, I never went back! You closet will look amazing and thank you to!
You could arrange colors in ROYGBIV (Red, Orange, Yellow, Green, Blue, Indigo, Violet). I arrange my dresses by the colors I wear the most!
COLOR ORGANIZATION EXAMPLE: White, Yellow, Orange, Pink, Green, Blue, Chambray, Black
PATTERN ORGANIZATION: Solid, Stripe, Floral, Pattern
Tips for Keeping Your Closet and Drawers Organized Year Round
Take time to appreciate what you have (snap photos if needed) but get rid of it if you don't wear.
Do a quick-weekly clean up. When I am working my room gets so much messier than when WFH. Usually on Friday, Sunday or even mid-week, I will hang up any clothes I threw on my bean bag chair, straighten my clothes and put away clean laundry. Do this every week and it will make you life so much easier.
Clean our your closet every 3-6 months. I do and it keeps my closet super tidy! It also helps me never have to buy new hangers!
Lots of Sunshine,
Katie
Did you learn anything new?! Have any tips to add? I hope you found this really informative. If you have a question about organizing clothes, leave a comment!