You may have noticed I am on a stripes kick. Aren't I always!? HA! I raved about the perfect t-shirt dress on both my Instagram and my latest blog post this week. Then I also partnered with Sail to Sable and shared their pretty striped sweater dress on Instagram today! You guys seemed to love the dress and details as much as I did! Don't worry, they are two completely different striped dresses. 😉 One can be worn as a beach cover up and the other is perfect for mild Florida winters. Now, I'm not here to just tell you where I'm going to wear the dress, I'm here to tell you how to style it a few ways!
It's so easy to buy something new, take photos of it and show you how to style it one way. Then you never see me wear it again… at least in the Sunshine Style blogging world. But in fact, I re-wear all my clothes over and over and over!! Typically, I never even think twice about buying something unless I can wear it for years and can style it at least 5 ways. This sort of lost art of wearing something multiple ways seems to be coming back into the blogging world and I couldn't be more excited!!!
So, I am all about being creative and your unique self (just sent out a special email to my subscribers about this subject! Sign up on the sidebar or if your on your phone, scroll down to the bottom of the post. You'll be the first to see new blog posts and get weekly encouragement from me) but I have to admit, I totally give all credit for this 1 item, 4 ways post idea to Lauren who blogs at Going for Grace. A few weeks back she posted a midi skirt styled four ways and I LOVED the idea! Of course, I had to create my own version! Imitation is the best form of flattery after all!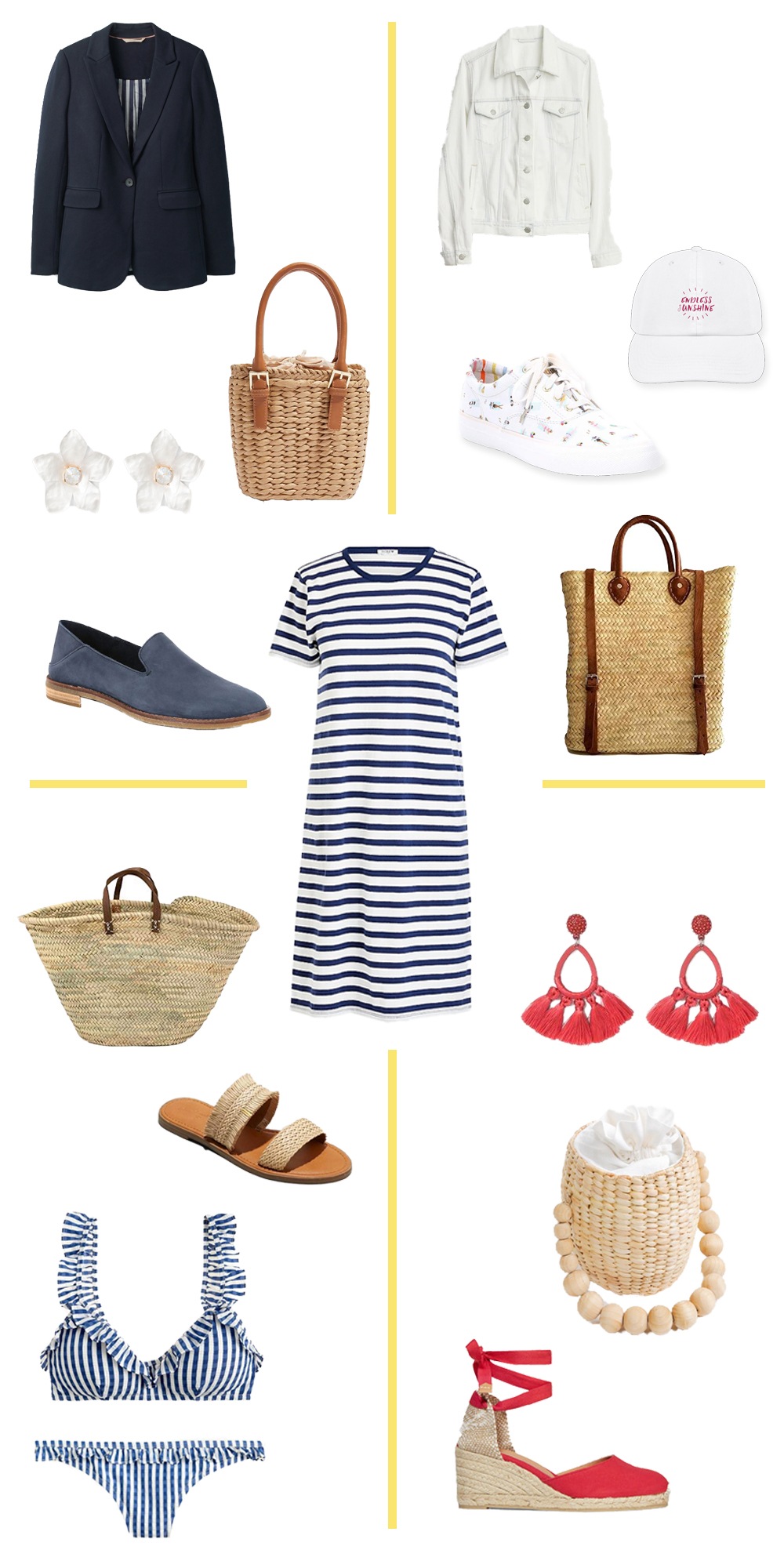 J.Crew Stripes T-Shirt Dress, Under $15!
Sail to Sable Striped Sweater Dress, $118
Without meaning to, I turned it into a red, white and blue color theme. I love it! This is for all you nautical lovers. Classic colors for the win! If I were into the whole capsule wardorbe thing, mine would literally be filled with so many stripes and these colors! These are the exact four ways I would style the t-shirt dress! I've already worn it as look three and four but I am eyeing these beautiful Sperry loafers and this navy blazer once it cools down a bit…you know, next year maybe?! A girl can dream.
Outfit One
Blazer / Target Sugarfix Earrings / Sperry Loafer / Straw Bag
My favorite outfit of all four! The Sperry loafers have been on my wish list for a few months now and are on sale for under $60! They would literally match with everything for fall! I love how classic and preppy the outfit becomes when layered with a blazer. In the collage I used my J.Crew Factory striped dress as the "one item" but I would actually prefer to style my new Sail to Sable sweater dress with the blazer for fall! It's a splurge for sure but the fabric is so so soft for cooler days. I can already picture wearing this to dinner with friends and if you work in a casual office, it is very office appropriate!
Outfit Two
Gap Denim Jacket / Sunshine Style Co. Baseball Cap (coming soon) / Keds Shoes / Amazon Straw Bag
For the second look, I went super casual. These Keds shoes gave me the inspiration for this entire outfit! When I think stripes, I think baseball caps! I am obviously going for the fall look because I added another jacket. It's no where near pretty fall weather but a girls gotta be prepared! I totally picture wearing this outfit during the weekend at a farmers market or exploring a local park. You can bet I'd be piling all the produce and chocolate and honey into a basket backpack for easy hands free shopping!
Outfit Three
J.Crew Swimsuit Top / Bottom / Amazon Beach Bag / Target Sandals
If you haven't seen it yet, I wore this exact outfit to the beach recently. Nothing says beach cover up like an easy t-shirt dress to me! The dress is super lightweight cotton which makes it the best option for a day outside in the sun. I am loving these adorable woven sandals from Target to tie the beachy look together! You also know your a die hard stripe fan when you wear a striped swimsuit under a striped dress. Never to much, I say!
Outfit Four
Target Statement Earrings / 31 Bits Bag / Castaner Espadrilles
Dying to get these espadrilles in red! I own them in yellow but I think the red would be a great classic color to add! I would say this is a perfect dinner outfit. I actually recently purchased these red statement earrings from Target and wore them on my latest Insta post. God bless the Sugarfix for Baublebar line at Target for cute and affordable pieces. My life would not be the same without them! 😉
How's your week been so far?! I am currently sitting on the couch watching Big Brother (like season 36?!) with my family as I type this! It's a three day work week for me. Wooohoooo! I had plans to meet up with some friends tonight for put put and dinner but I opted out because I am completely exhausted after a weird rough night of nonexistent sleep. Have you ever heard of chocolate having caffeine?! I was talking to my friend at work about my weird sleepless night and told her how I ate some Enjoy Life dairy free chocolate chips pretty late at night. This is also not a weird occurrence for me… I get hungry before bed ha. We think that might be the culprit.
How do you moms with kiddies do it with 0 sleep?! Everyday I tell myself that I will be able to blog at night after work to be more consistent and I literally get home and am a zombie after working 10 hours on my feet. So for right now, I get as much done on Friday and the weekends and try to just use nights to promote on social media. I plan on waking up bright and early tomorrow AM to bust out some blog posts for next week before I go to Vero Beach with my mom and little niece. Hopefully the rain cooperates!? She's in town for the month so I want to spend lots of time with her!
Another thing, I truly want to get better at being more consistent on posting here. I personally love blogs that have a new post every day, like Ashley Brooke and Carly! While I'm no where near wanting to post everyday, I want to have at least three new posts a week. Starting Monday, I'll be moving my Sunny Style Finds Friday series to Monday mornings! Get ready for some beginning of the week sunshine! Alright, signing off to play catch up on sleep!
Lots of Sunshine,
Katie
Recent Posts
Floral Midi Dresses for Summer