Woohooo I am so happy to be chatting about Spring style. Nothing gets me more pumped and excited than color and florals! I know this may be a little to early but I have already started to wonder what I should wear for Easter.
Yes, I am totally talking about Easter and it feels like we just celebrated New Years, right?! I'm not normally one for time to slow down because I am usually an enjoy life leisurely and daydream type of girl but man, it cannot be almost April. My sister actually just text me a few minutes ago and saying, "I can't believe it's already March". Me to sis, me to. My Birthday is next month, and I'll be turning 29, I've worked at a unplanned temporary job wayyyyy longer than I expected and I just feel like my life is at a standstill and also kind of heading in a direction I never planned. Time, please stop so I can just figure out my next move ha!
Right now I don't have the budget to buy any cute new Easter dresses or floral rompers but I so want to! Instead, I started to look at the clothes I already had in my closet. I've worn both these shorts and this floral top on the blog before but never together. After a little mixing and matching, I created a new favorite outfit.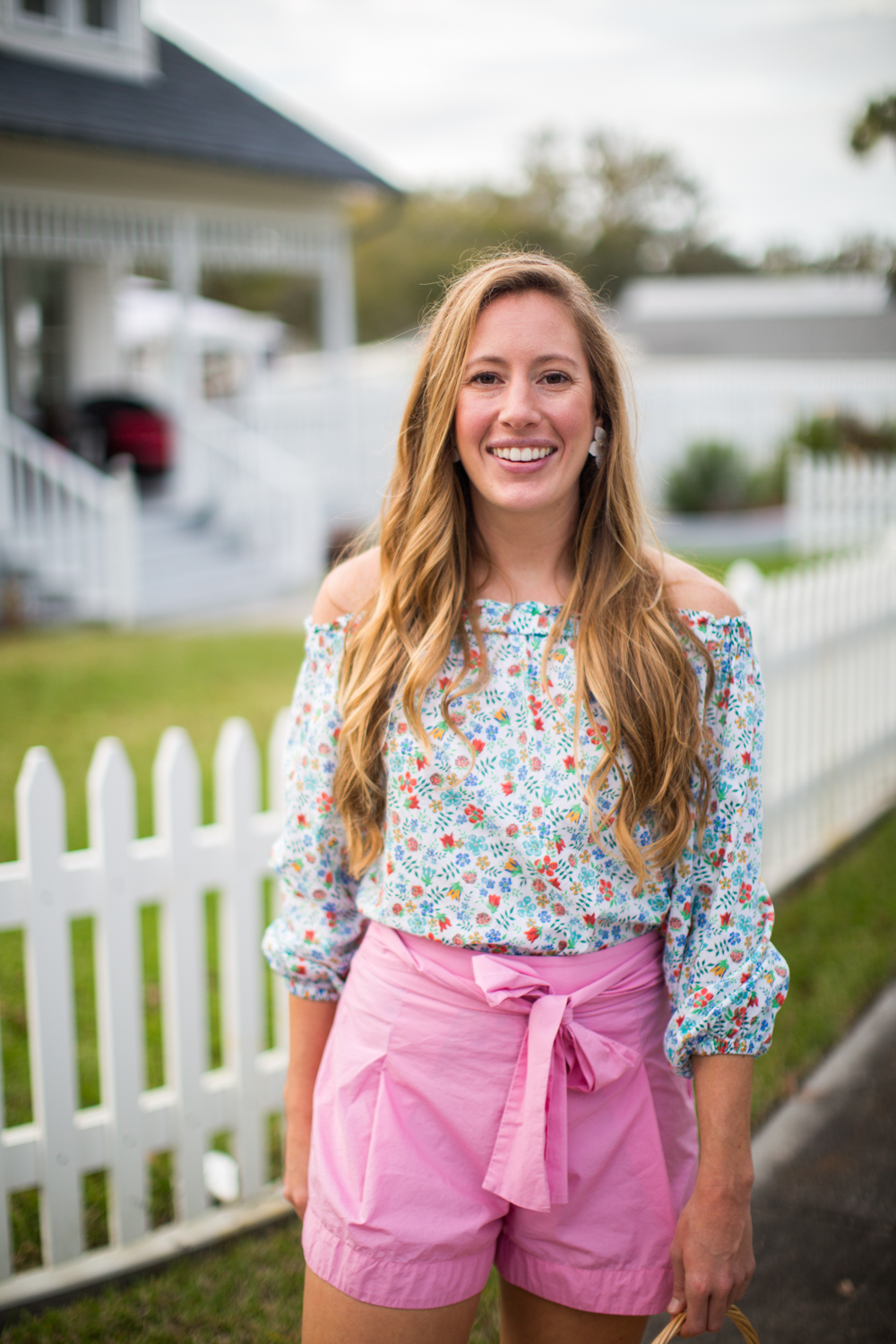 Outfit Details
Floral Top (similar) / J.Crew Shorts (on sale under $30!) / Basket Bag (similar) / SUGARFIX X Baublebar Earrings / Tie Sandals (similar, under $20!)
When I was styling Spring Break outfits for my guest post on Carly the Prepster I came up with this look! If you follow along on Instagram, I even asked you to vote for two different spring outfits and you chose this one! It totally caught me off guard just how Easter appropriate it was. I love the nontraditional way of doing things, so instead of Easter dresses this year, it's totally Easter bow shorts.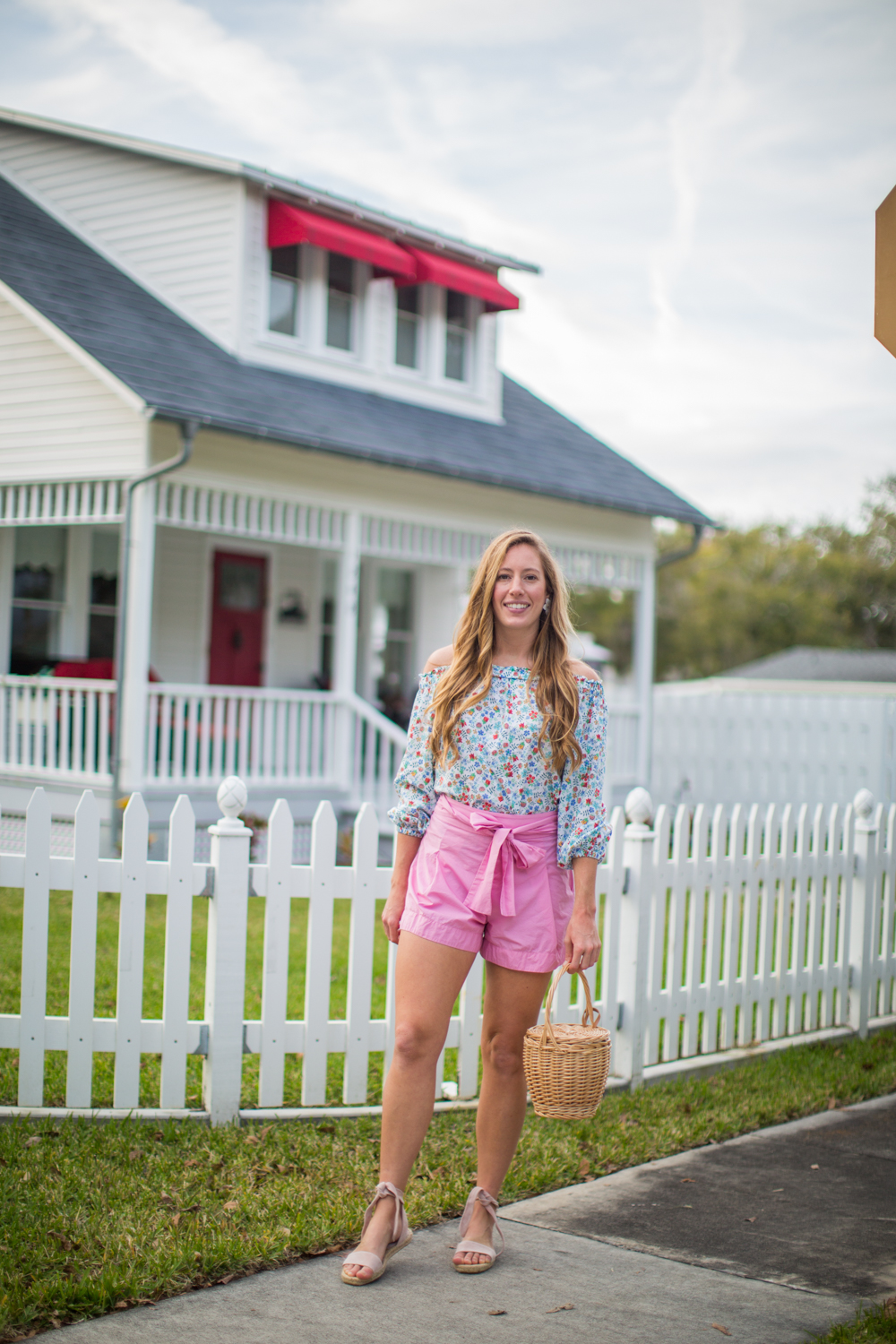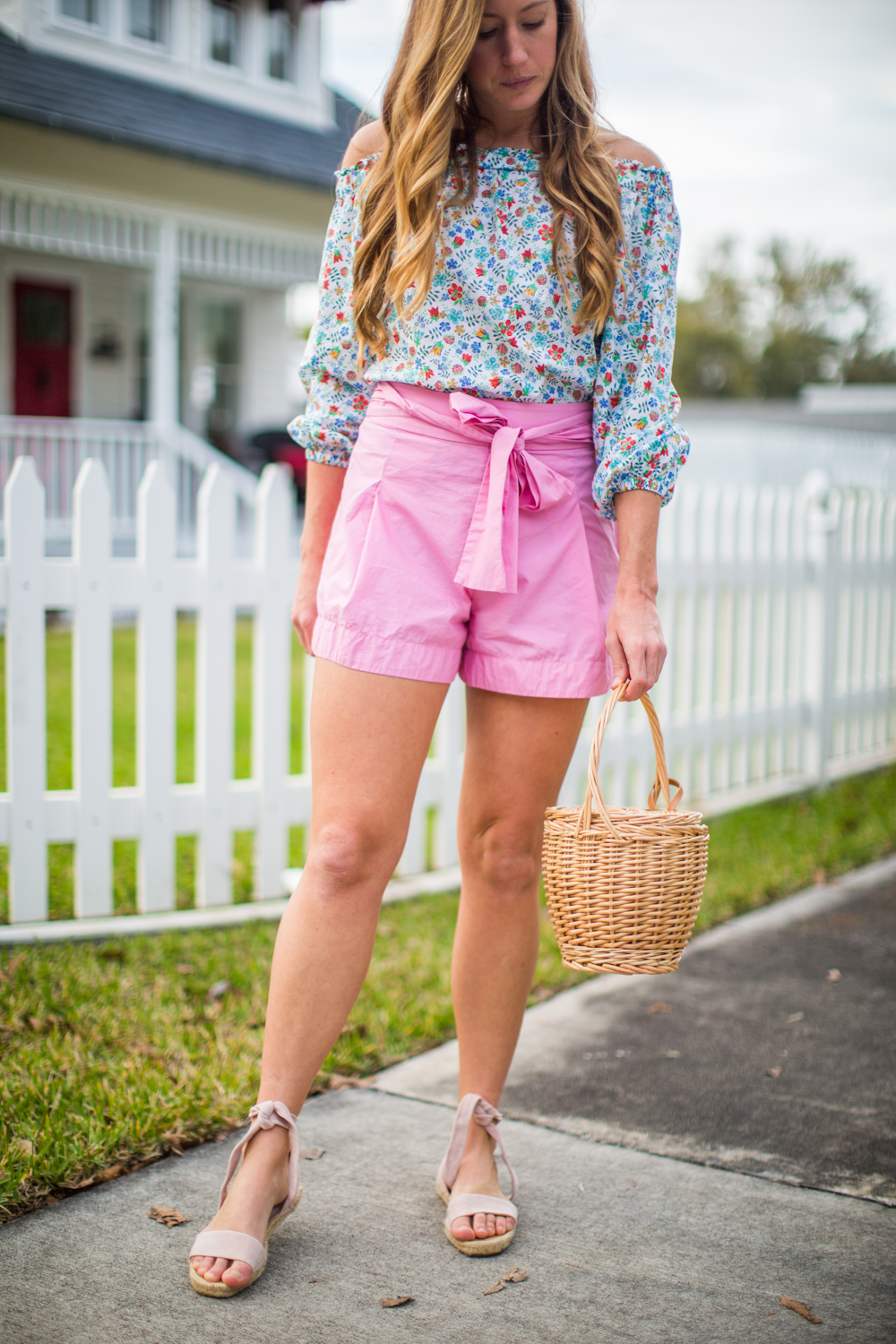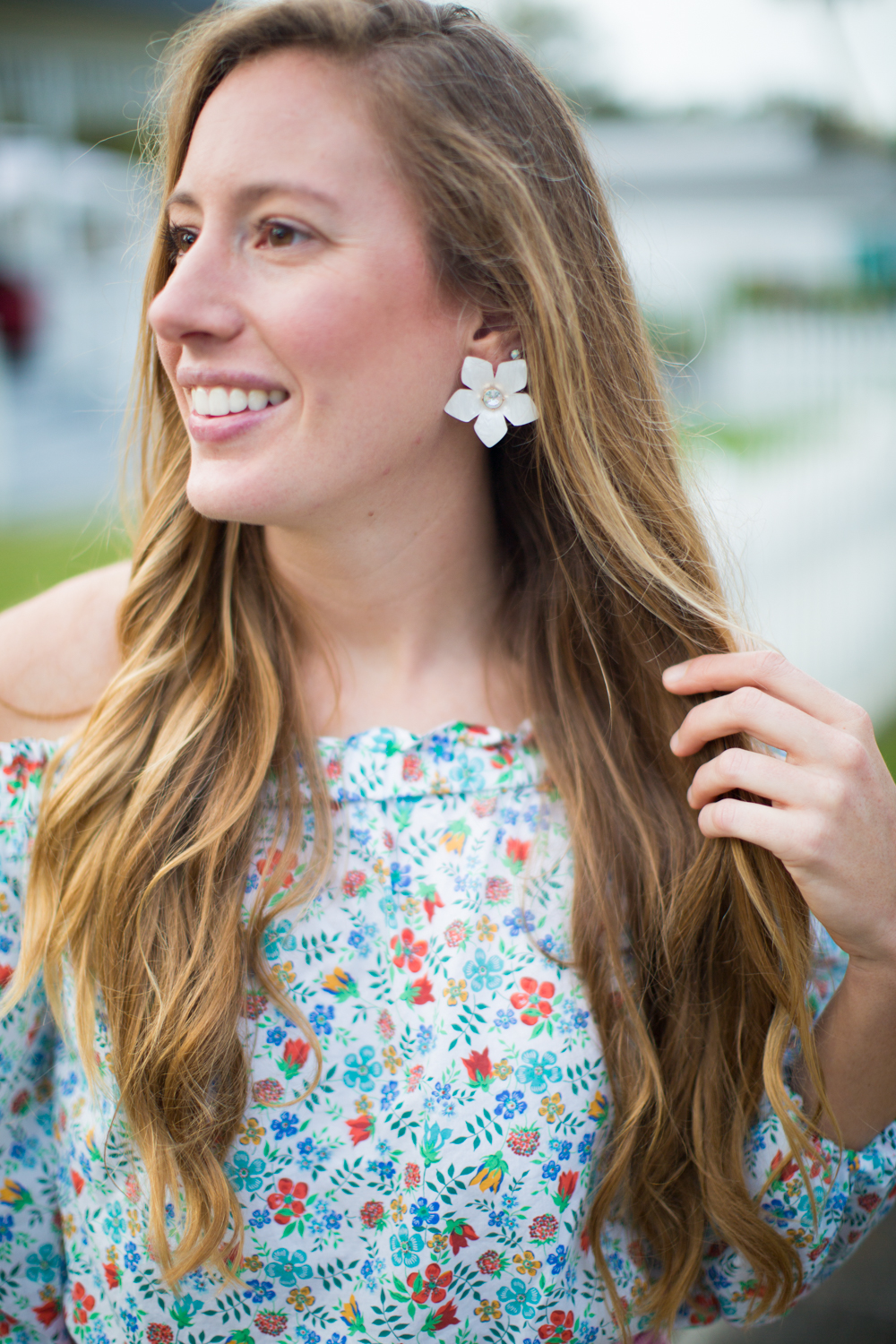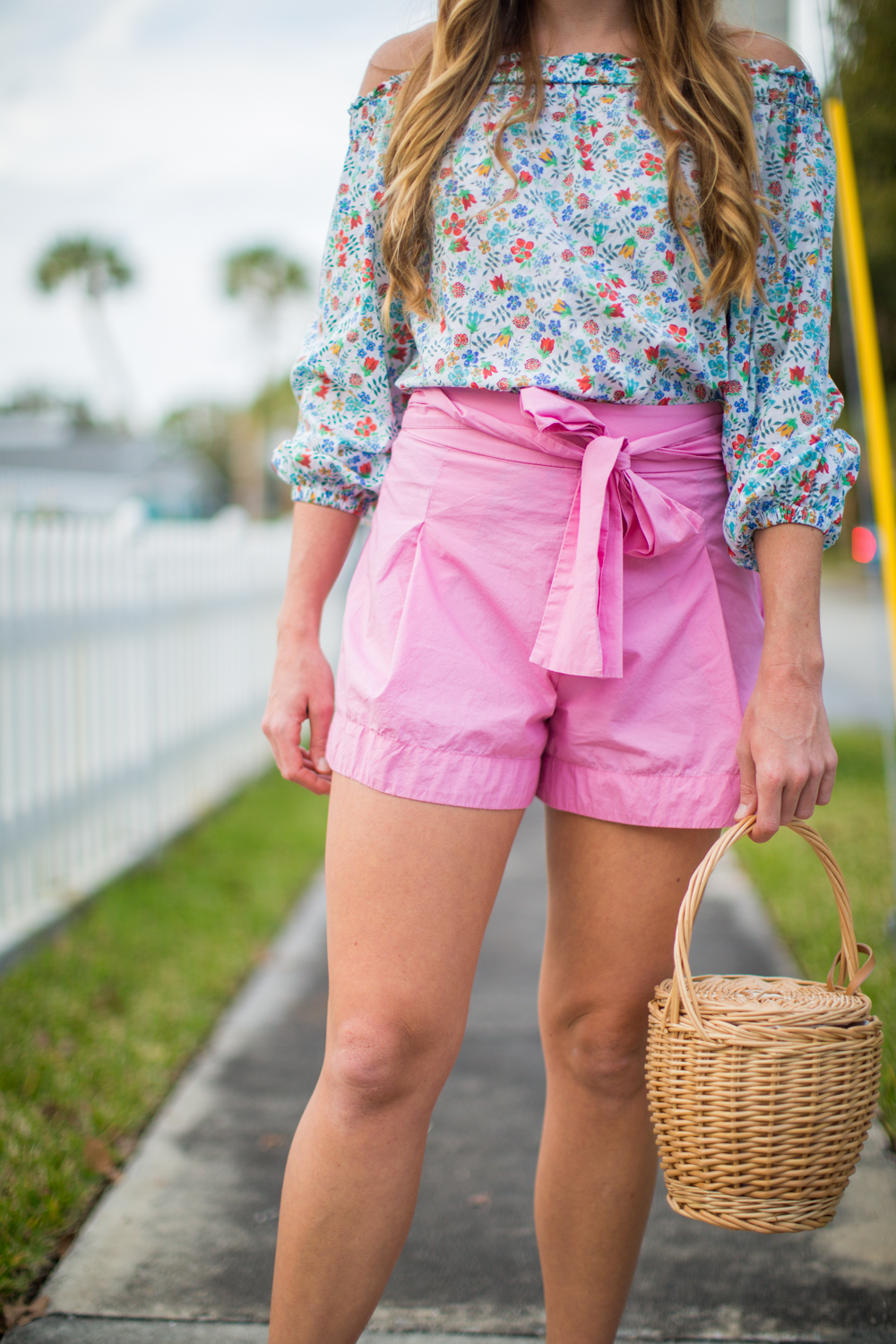 Outfit Details
Floral Top (similar) / J.Crew Shorts (on sale under $30!) / Basket Bag (similar) / SUGARFIX X Baublebar Earrings / Tie Sandals (similar, under $20!)
Straw bags are officially back! I slow down on using mine during the holidays. It's not that I can't use them or that's it's not warm out, I just like to create suspense leading into Spring/Summer. As soon as our really warm weather hits in February/March, I hit the ground running! I have about 4-5 straw/rattan bags and could totally add more to my collection like this beautiful one! If you love the shape of mine, here's a super similar option.
Hope you all had a really great weekend and are ready to welcome March in! What's the weather like by you? It's 80 and sunny here lately. I've been spending more time on the beach with friends lately and it's the best! Thank goodness those dreary winter blues are gone.
Last weekend I played soccer and ultimate Frisbee with my young adult group from church for almost 5 hours. Running on sand for hours on end is not for the faint of heart. I bruised the toes on my right foot and gave myself blood blisters on both my big toes. Yikes. I could also barely walk for the next three days. Pretty sure I was playing pretty aggressive by how sore I was but it's really was super great and fun way to get exercise!
I've been reading a few books lately that I have been loving. Is that something you all are interested in hearing me talk about?
Shop the Spring Easter Outfit
Let me know your favorite item in this Easter look! Do you normally celebrate Easter and get dressed up? If you do, what's your go to outfit? Let me know in the comments!