One of the first ethical brands I ever discovered was Everlane. They have amazing quality pieces like the wrap dress I'm wearing and most of their products are under $100! If your not familiar with sustainable or ethical fashion it just means that the company is transparent where the clothing is made, who make's it, the actual cost to make the clothes and materials are often recycled and have minimal impact on harming the environment.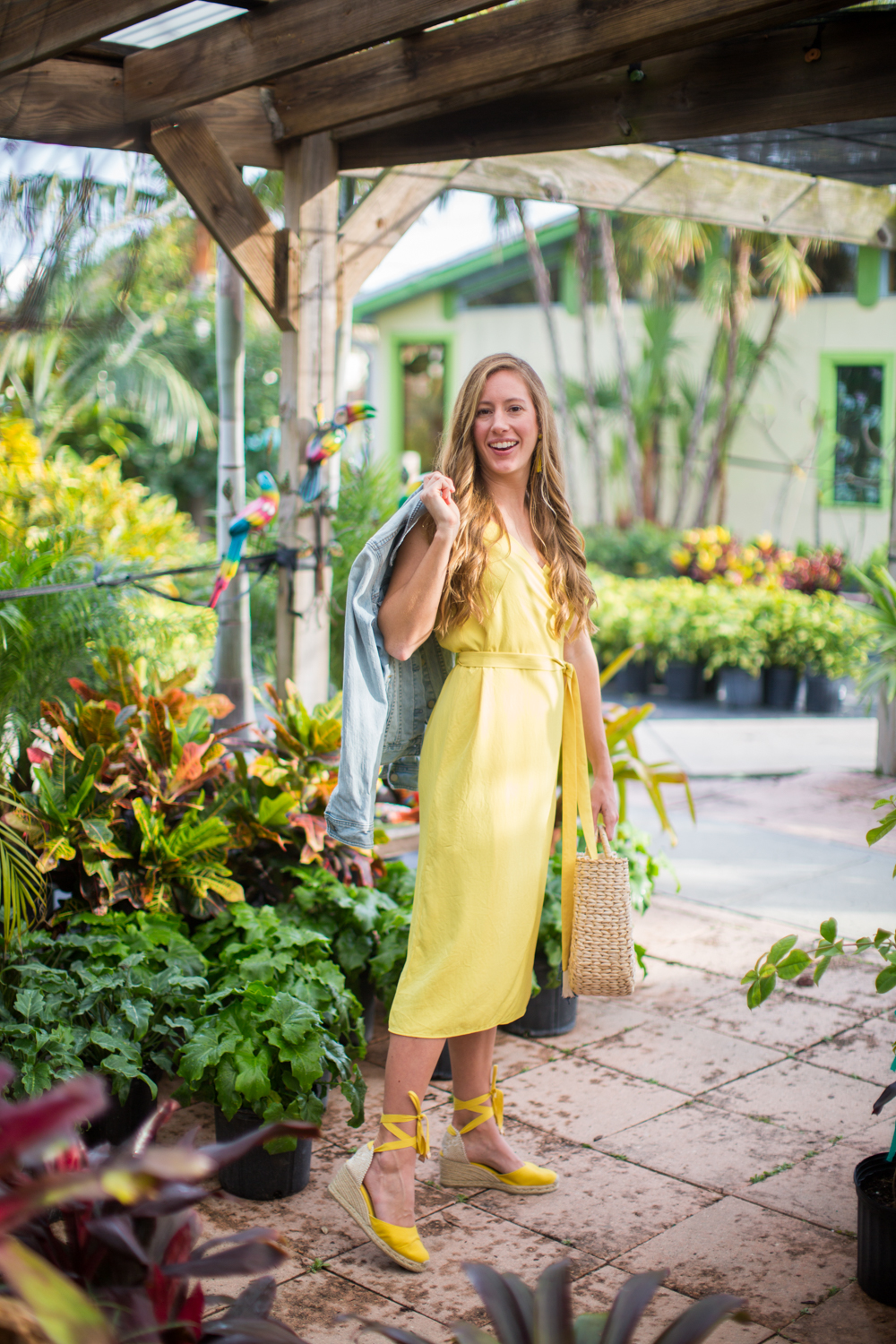 Outfit Details
Everlane Wrap Dress (on sale for under $60!) / Old Navy Denim Jacket / Sugarfix X Baublebar Statement Earrings (under $13) / Castaner Wedges (similar cheaper version here) / World Market Basket Bag (similar)
I have had my eye on this yellow wrap dress for a few months. The yellow sold me on the dress but I really loved the midi length and style. It wasn't quite in my budget, so I waited and waited then it finally went on sale for under $60. I bought a 2 but could have sized up to a 4 because it's very snug in the chest area.
This wrap dress is seriously so elegant and easy to style! The material is super cool to the touch which I love for hot summer days and nights. I don't think I've owned a true wrap dress before because it took a bit to figure out how the ties work. It's really easy after you tie it once! I paired my dress with a denim jacket as a light layer. It's still a bit cool here at night in the 60's/70's and most of the time any place inside has the air blasting. This denim jacket is 10 years old and has been one of my best purchases ever.
Ever since I started to learn about the craziness of the fashion industry and factories collapsing with workers in it, I knew I wanted to help make the change. By investing in a new piece here and there, it brings me so much joy that I can actually buy items that make an impact in peoples lives.
Everlane actually shares the cost to make the dress and where the factory is located that made the dress. I love that I can support a company that's changing the course of fast fashion. There's also just something special about a product that is made with an impactful purpose behind it.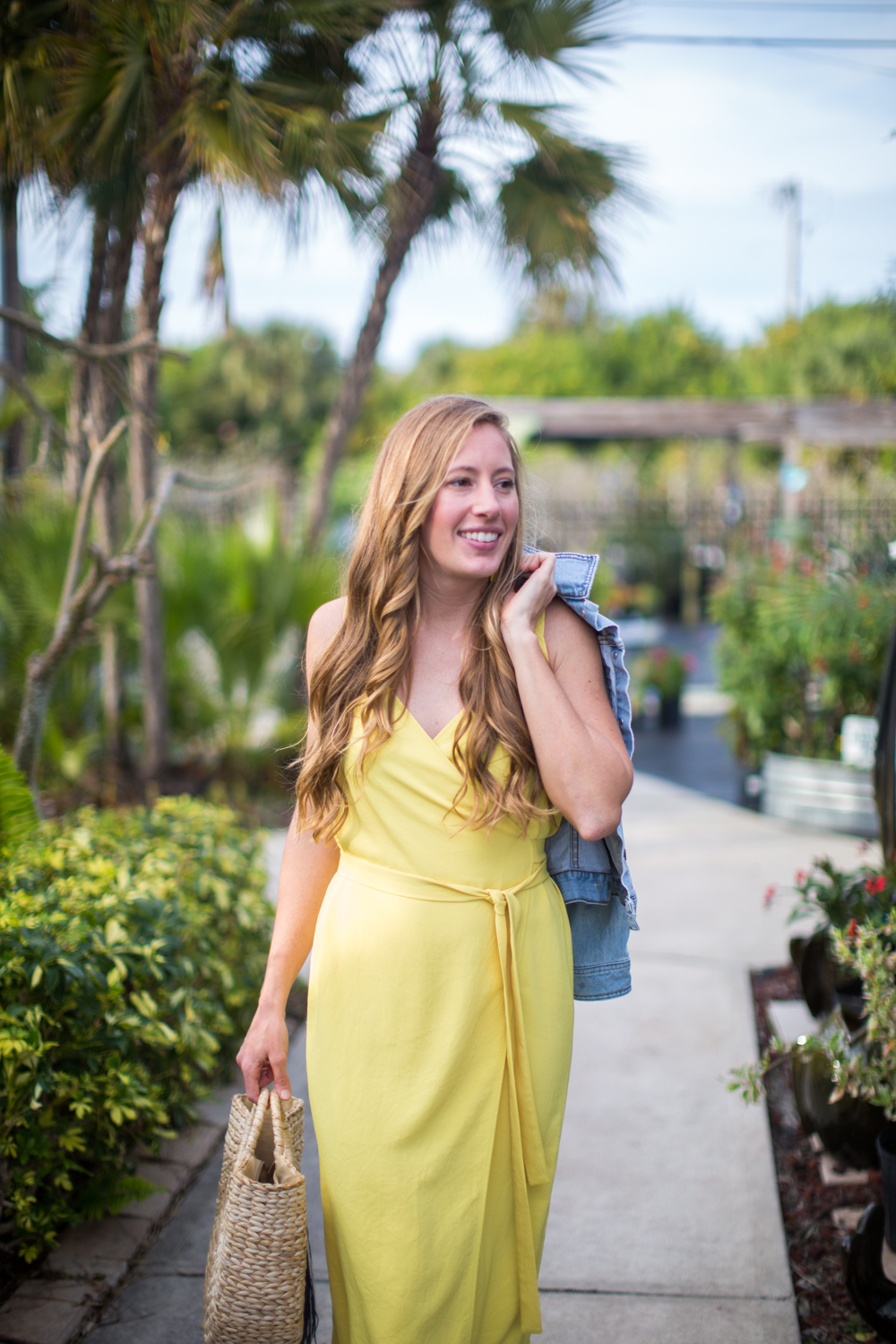 Now, I don't have a closet full of all ethical clothing and I won't be turning into a full blown ethical fashion blogger. What I do have is a really big passion for creating and wearing products that are ethically made and sustainable. For me, right now, that means slowly adding pieces that make a difference in the world.
One of my biggest dreams is to start a clothing line with all USA made products and to be able to source all the materials and be very hands on. I want to know exactly who is making the clothes I design and be able to interact with them one-on-one. So the story and vision behind Everlane is close to my heart!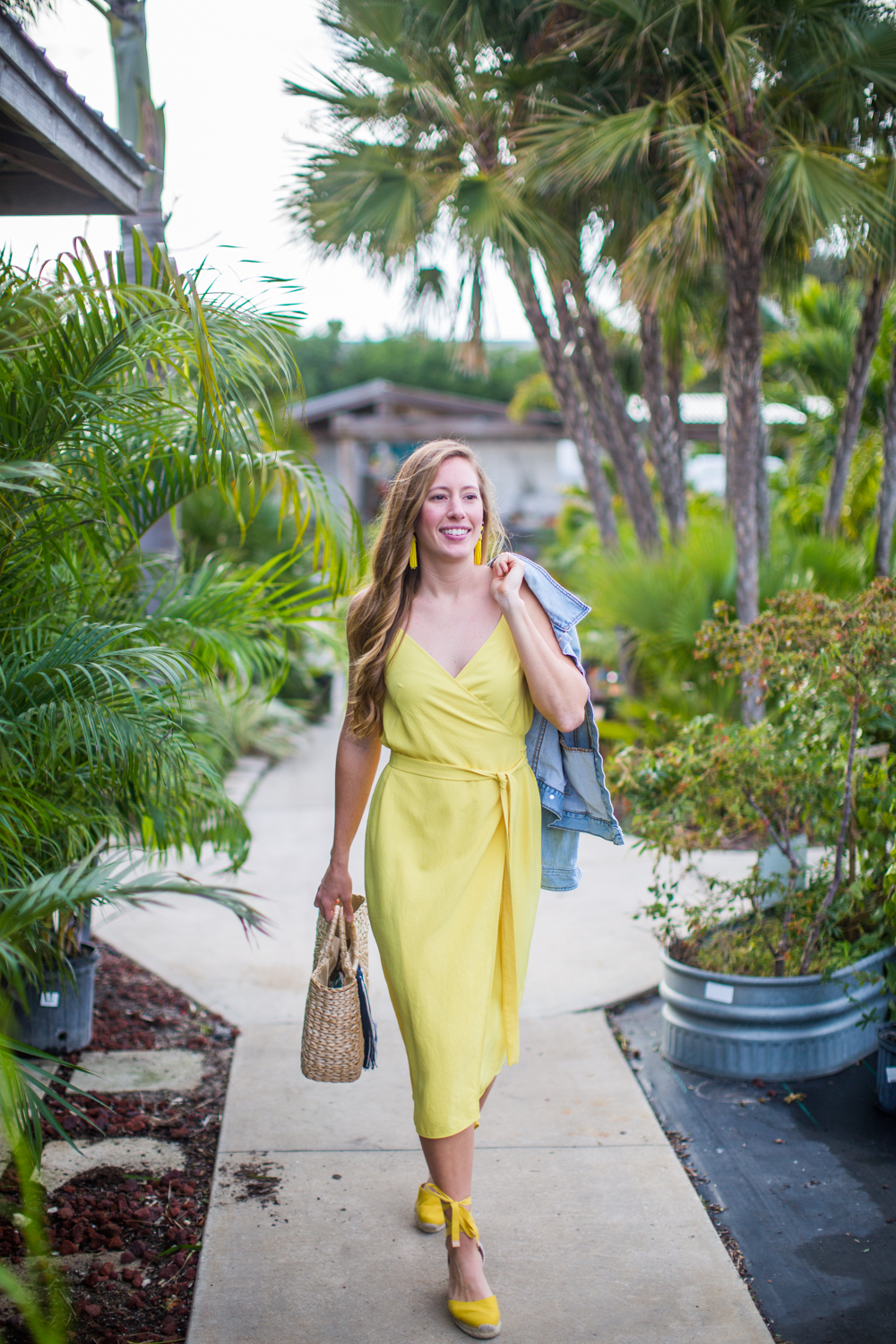 Outfit Details
Everlane Wrap Dress (on sale for under $60!) / Old Navy Denim Jacket / Yellow Statement Earrings / Castaner Wedges (similar cheaper version here) / World Market Basket Bag (similar)
I hope you all had an awesome weekend! Public schools were off Friday and Monday so that meant I had a 4 day weekend! It was pretty low key which is literally always my weekends. My allergies started acting up on Friday after I ran errands which caused me to feel extremely fatigued. So I kind of felt like I fought off super usual tiredness all weekend.
Saturday I spent time working on my blog, writing a guest post on a blog I've read for years (I will share about it this week!) and took a 4 mile walk with my friend! At night our small group from church got together for a pizza party and we had a fortnight dance contest ha!
Sunday I went to East End Market and had lunch with my family. Their food is delish and a must visit if you're ever in Winter Park! We made a day trip out of it since it's an hour drive to Orlando and walked down Park Ave to burn off our food! Then I came home, sat on the couch, read some then it was 8PM and I was ready for bed.
Shop the Everlane Wrap Dress Look
Recent Posts You Will Love:
10 Spring Break Sunny Style Finds