Hello! Today I am bringing you a fun Christmas gift guide featuring gifts that give back. I am so passionate about companies that are transparent about where their products come from and care about their workers. As a lover of color, I am so excited to share a list of 15 colorful gifts that give back all under $50 below!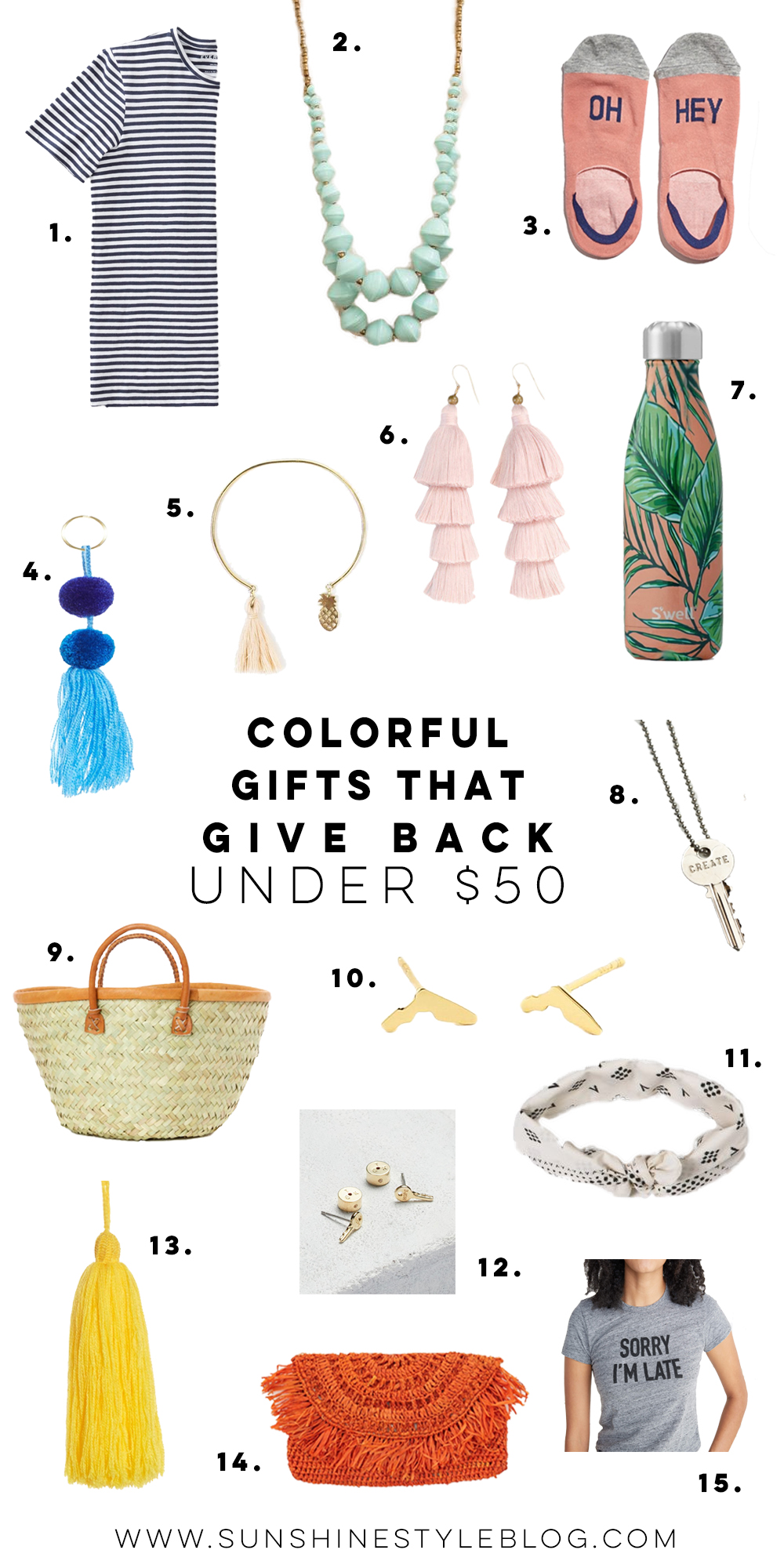 What exactly does "Gifts that give back" mean to me? 
Gifts that give back simply means the product you purchase directly impacts the artisan who made the item or gives back to the community in some way. You can think of it as an ethical, fair trade and thoughtful gift guide. I have a huge passion and desire to own a clothing company one day that provides jobs for underprivileged women.
In all honesty, my only problem I have found with companies in the past that have prided themselves on being ethical or fair trade have only offered products in neutral colors (black, tan, white, grey, blue). Since I am a girl that loves color, I could never find products that I truly loved which was always a huge bummer. That is rapidly changing and ethical items that are colorful are becoming the norm. Below is a list of my favorite colorful gifts that give back all under $50.
15 Gifts That Give Back Under $50
1. Everlane Navy Striped Tee: How adorable is the navy striped tee and it's only $20! Everyone needs a classic striped tee in their closet. What I love most about Everlane is that their prices are completely reasonable for a girl or guy on any budget and show you exactly what country and factory your clothing item is made in.
2. Turquoise Necklace. I own way to many necklaces from 31 Bits because they are so unique. The majority of their jewelry is made by artisans from rolled paper. Seriously, the artisans who make the beads are so talented, I wish I could visit! The turquoise necklace is no exception. How pretty would it be over a white sweater in the winter or a t-shirt and jean shorts in the summer time?
3. "Oh Hey" No Show Socks. Who doesn't need more socks in their life. I love how these have the catchy "Oh Hey" saying on them. I'd probably prance around my house shouting "oh hey girl" all day ha. These are actually no show socks that come in a pack of two. Buy one for yourself and for a friend! Their best worn with Keds, really low booties or shoes you prefer your socks not to show.
4. Blue Pom Key Chain. The easiest gift that gives back and it's only $10. Perfect for a friend or family member who loves pom poms and the color blue! You are bound to never loose your keys with the bright blue color. It's made by women in Mexico City and is sold by Lauren Conrad's Fair Trade company called That Little Market.
5. Pineapple Bracelet. Another beautiful piece from 31 Bits! Add a bit of sweetness to someones day by giving them this dainty pineapple bracelet.
6. Baby Pink Tassel Earrings. These pink tassel earrings are my absolute favorite gift on the list. I think their so cute and are made by artisans in Cambodia! Perfect for the girly girl who loves to make a statement.
7. Swell Tropical Water Bottle. I loveee the tropical print on the bottle and the lid! They offer several other designs and colors that are worth checking out. All their water bottles are BPA Free, stay cold for 24 hours and come in hundreds of patterns and colors. Swell's mission is to rid the world of plastic water bottles and work closely with UNICEF to provide clean drinking water.
8. Silver "Create" Key Necklace. What's great about this necklace is that you can customize it. You also have the option to choose between 13 unique words. Their keys are designed in LA and gives people who are transitioning out of homelessness jobs.
9. Straw Bag. My favorite part about the bag is the leather outline on the top and the $28 price tag. Buy it for that friend who always forgets their grocery bags when shopping, a BFF who needs an everyday purse or a family member who loves the beach.
10. Home State Stud Earrings. Give to those that love to rep their home state. There are so many cute studded earrings on their website. I'd recommend you check them all out yourselves! What's special about these earrings is that they are made in the USA!
11. Krochet Kids White Bandana. These are super popular in the blogging world lately. I love them because they can be tied as a scarf around the neck or on a bag for an extra pop of color. It comes in white and black and is under $15.
12. The Giving Keys Mini Stud Earring. How adorable are the tiny key studs? Give it away to that special friend, co-worker or family member who prefers to keep life simple.
13. Yellow Tassel. Use it to decorate a gift bag, tie it to a purse, make a necklace or simply use it as an easy to find tassel key chain. For only $10, the possibilities are endless.
14. Orange Straw Clutch. Do you know anyone who loves to travel to tropical places or wants to add a pop of color to their winter wardrobe? This bag is for them!
15. Sorry I'm Late Tee. Anyone else have that one person in your life that is always late and not afraid to admit it? Since this is a no judgement zone, this tee also has my name written all over it. Give it as a fun gift to show how much you appreciate them in your lives, lateness and all.
The companies I featured:
That Little Market (owned by Lauren Conrad!)
Let me know your favorites in the comments below!