Hey guys. Popping in to share updates on my new bedroom. I'm all moved into my new room and now it's time for the room makeover fun to begin! In case you missed it, two weeks ago I moved into a new house and said I would give updates on the decorating process. There has not been much decorating going on but last week I emptied all of my moving boxes in hopes to find all of my clothes and deep cleaned all of the floor boards. As far as fixing up my room goes, I added a fresh coat of paint, replaced an outdated fan, installed new blinds and bought a patterned rug.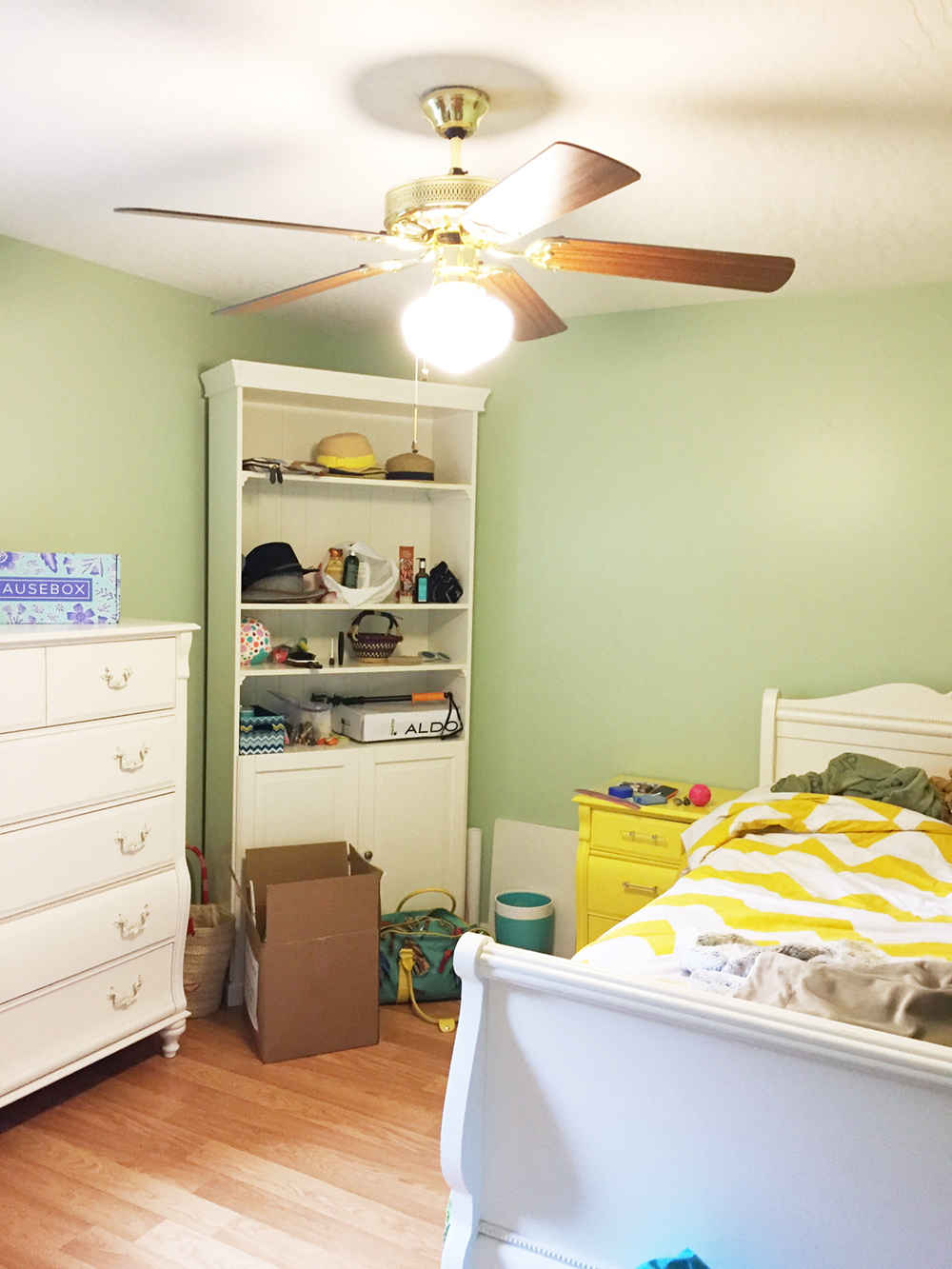 The person who lived in my room before was a young boy. We have the proof because our bathrooms are covered in sailboat wallpaper ha. Out of all the rooms in the house, my room is the one that needs the least amount of work done to it. The majority of the rooms are covered head to toe in wallpaper from the 80's and have really unattractive drapery on all of the windows.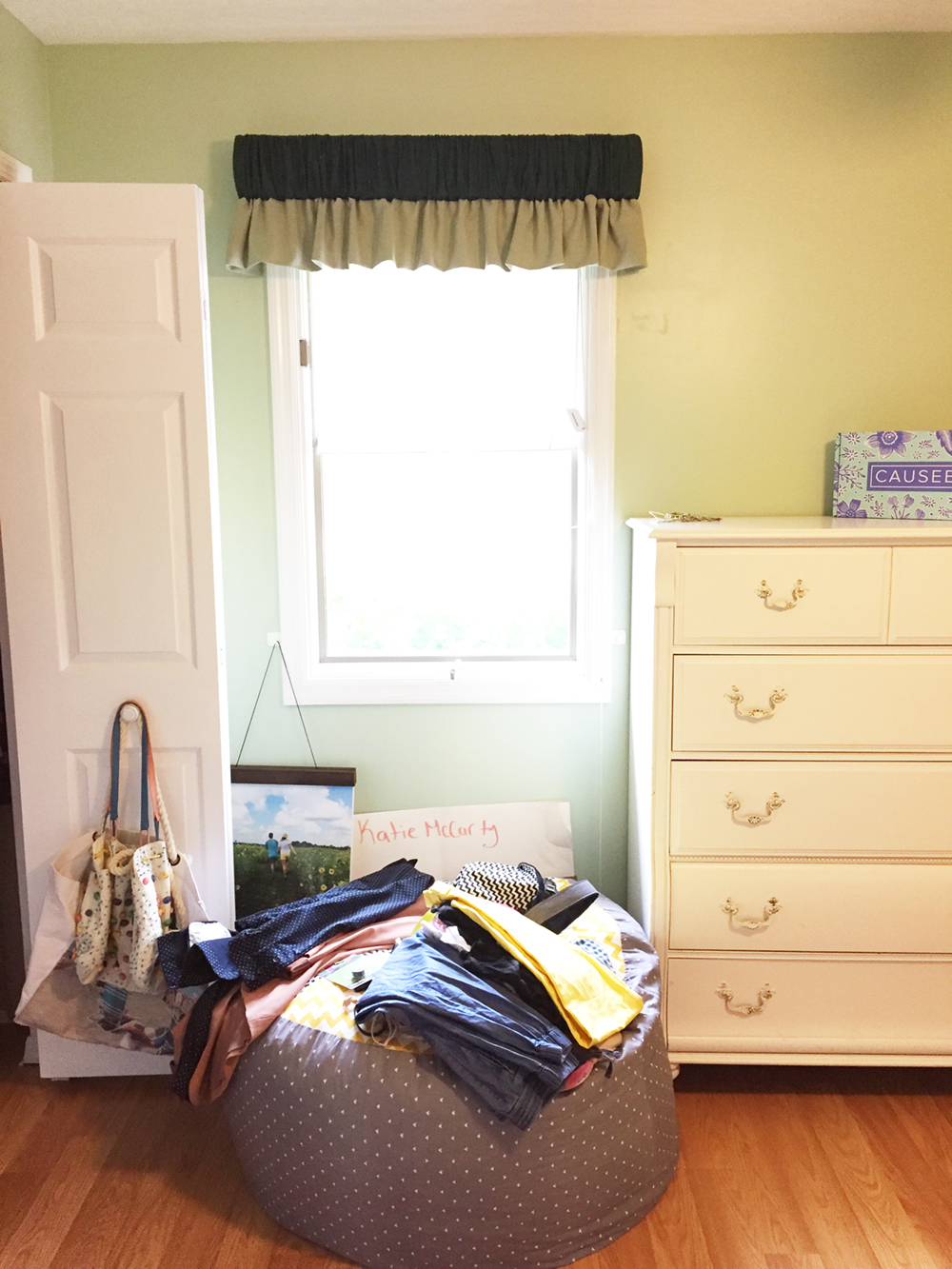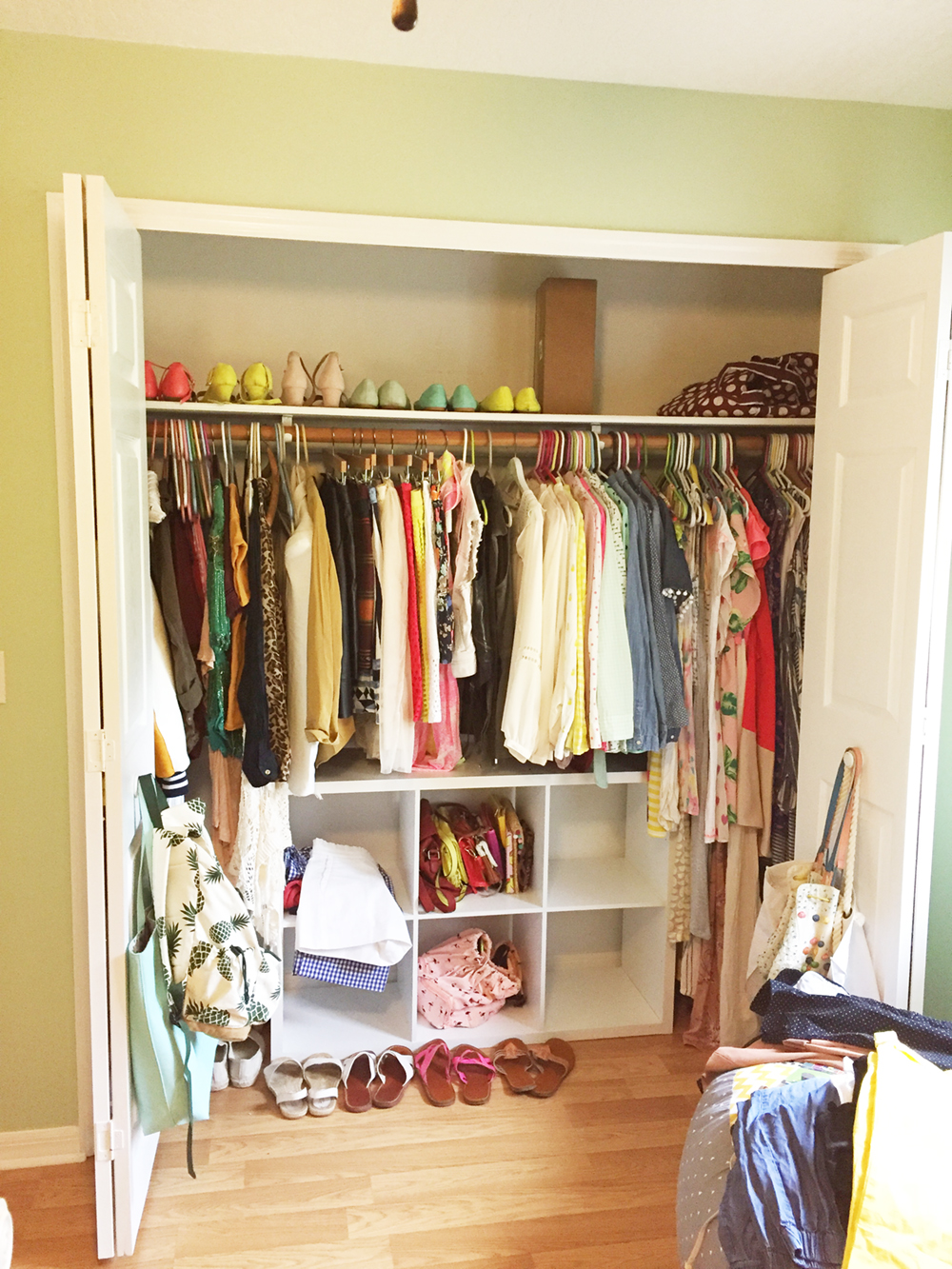 This is exactly how my room looked once I moved all of my clothes and furniture in. The pea green walls were not my favorite but they beat out all of the wallpaper by a mile! What I love about my room are the wooden floors! I have always wanted wood floors and am so excited I got something I have always dreamed of! It's still rather messy in these photos with unpacked boxes, the shelves are not decorated, and there's nothing hanging on the walls as of yet.
The cons of the room are the lack of closet storage and only 3 usable walls. My furniture seems a tad squished and the one wall is consumed with a door and closet. The closet also has tons of wasted space. At our old house my parents paid for us to have our closets custom designed by California Closets which was amazingggggg. If you look where all my shoes are sitting on the top shelf of the closet, there's about 3-4 feet of empty space above them which could be used as storage for winter clothes or items I don't use as much. Not quite sure if the closets will be getting a makeover anytime soon but for now it works perfectly fine. I'm just happy my clothes are all in one place!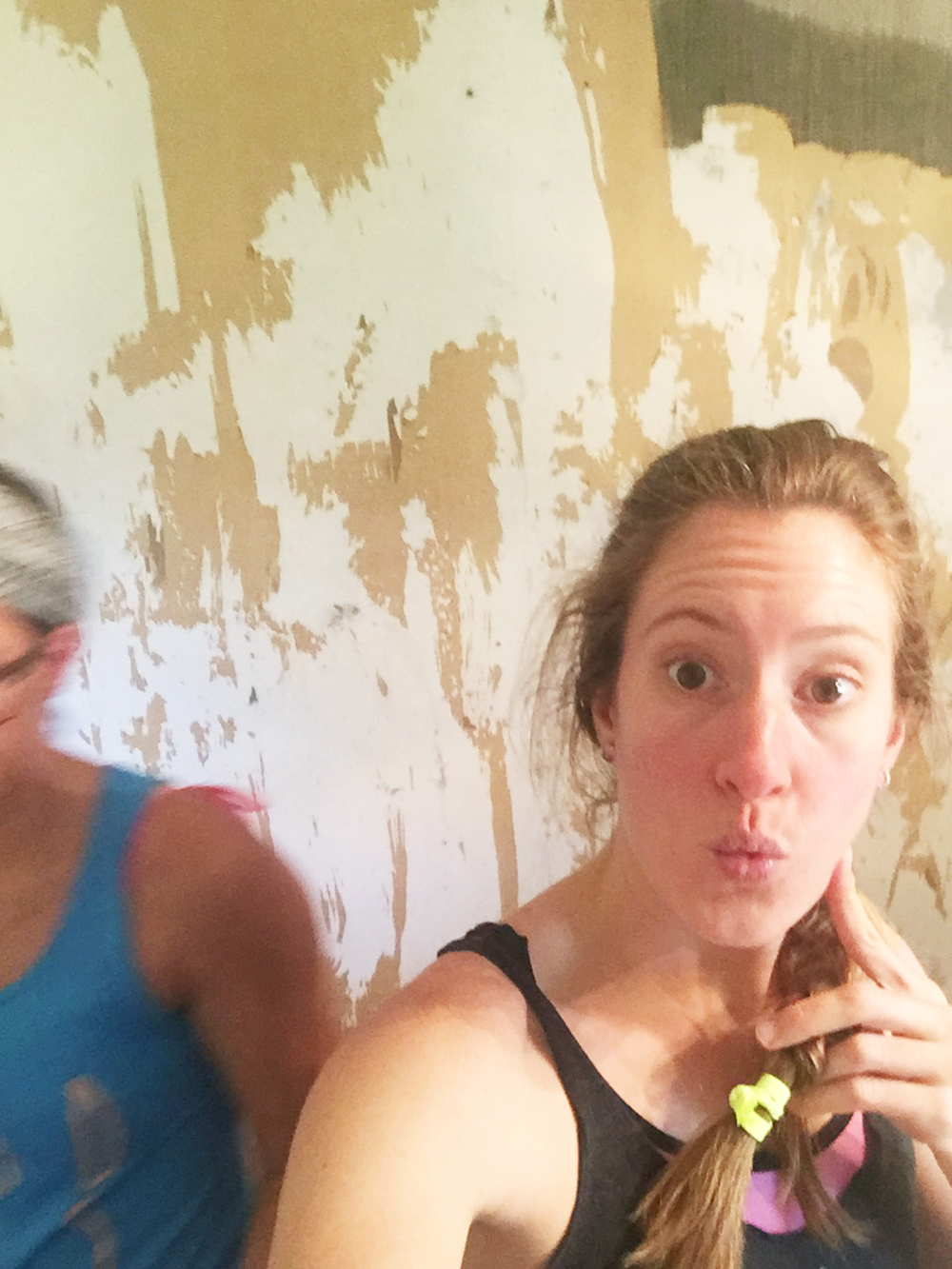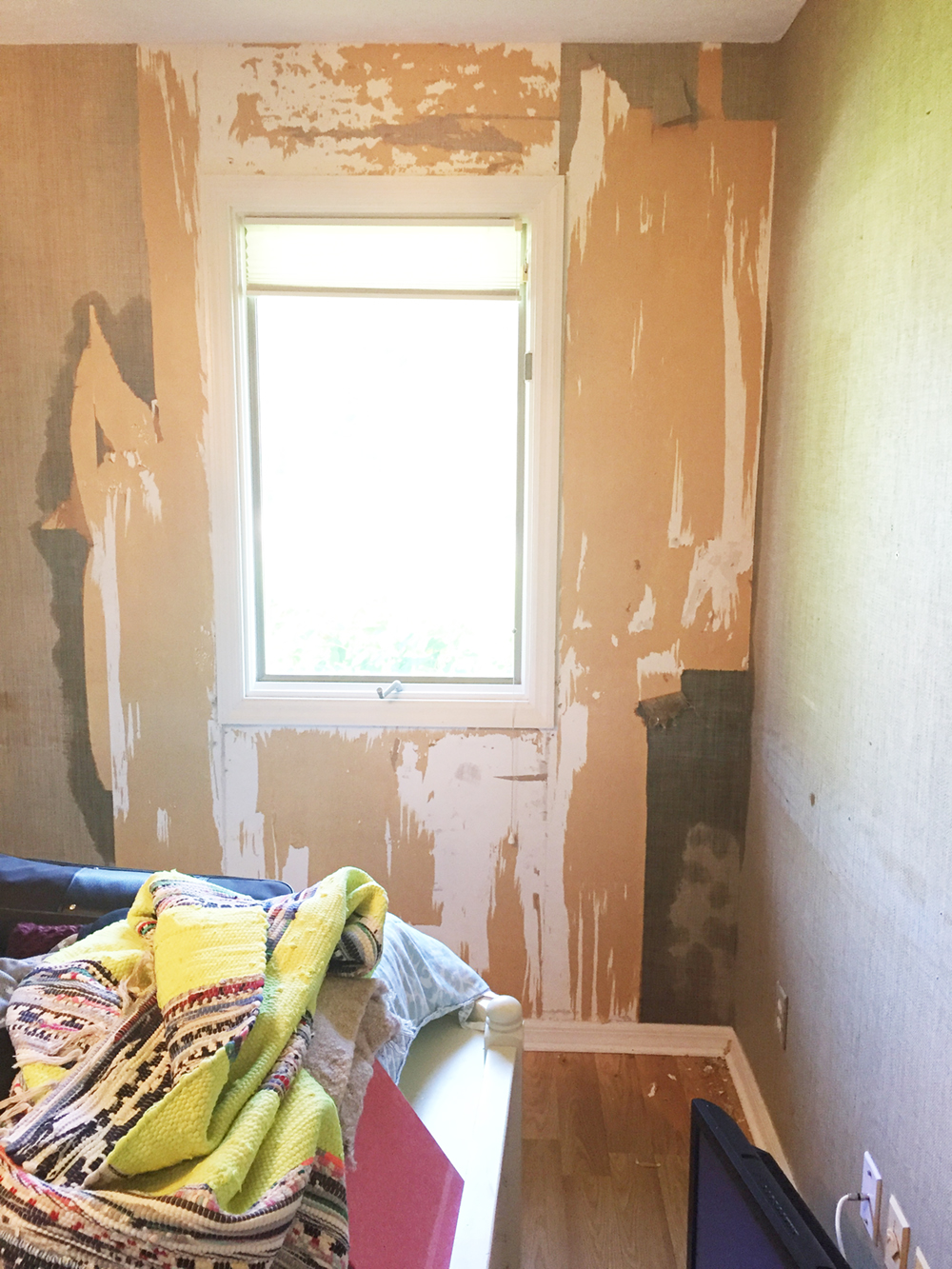 This is the state of my sisters room. We had to completely strip her walls of dark green wallpaper. We thought we could salvage them but it's looking to be easier and more cost effective to just hire someone to completely re-do the walls altogether.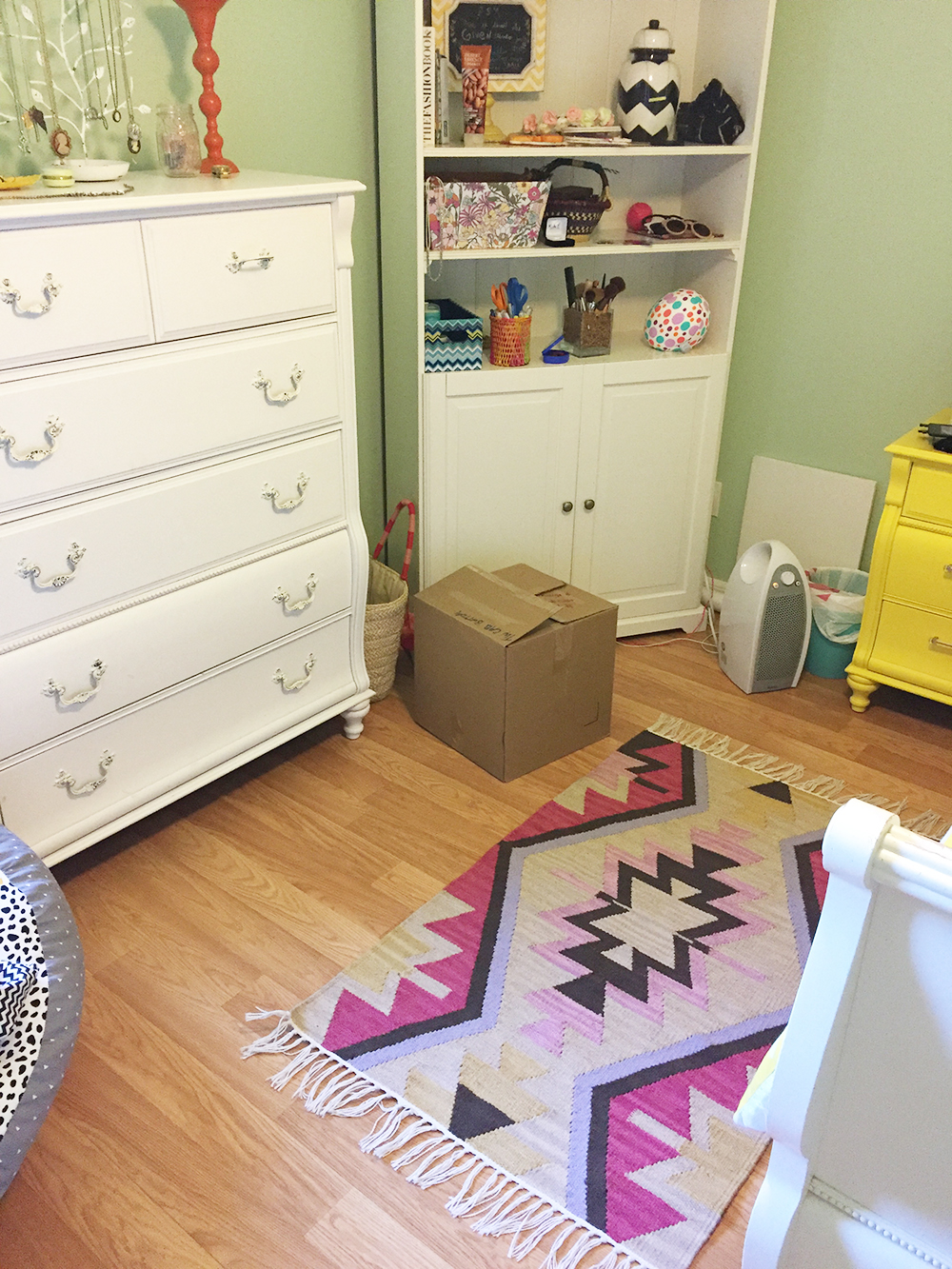 My cute new rug from Target. I bought mine in store but here's the same printed rug in a floor runner version. I'm also not used to rugs and wood floors. That thing slides all over and it's really annoying. I feel like I fall asleep with it straight and wake up to it completely sideways it moves so much. My next purchase will be a rubber non-slip rug pad like this one here to keep my rug from moving.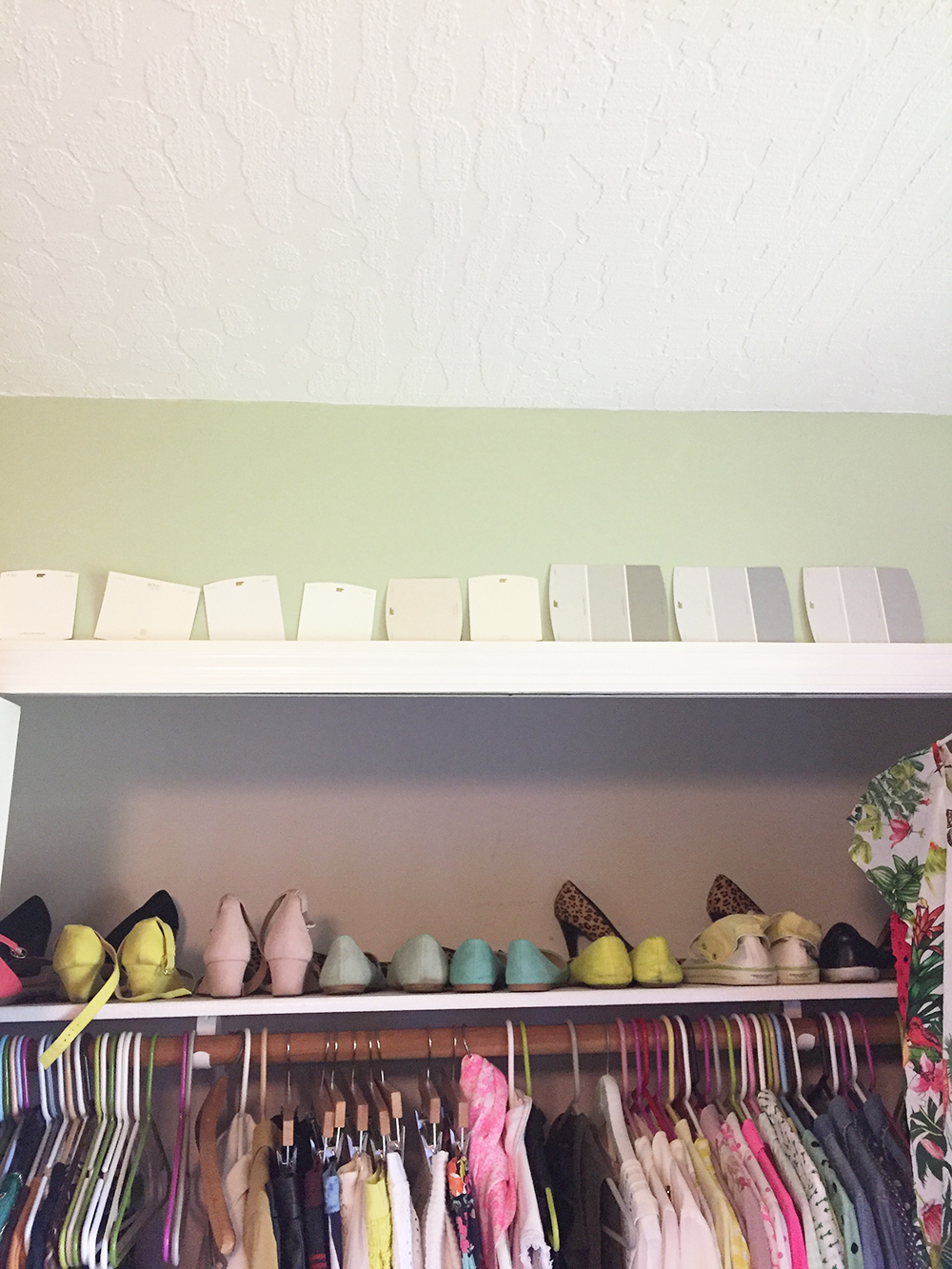 Trying to pick out white paint samples in no joke. At first I wanted to paint my room a stark white to keep it bright and light but decided to go with more of a greyish white because all of my furniture is white and I was afraid it was all going to blend together and look like a giant blob.
Can you believe how many paint samples there are to choose from? When I was first deciding on colors I told my mom I wanted white and for her to just pick up me up a few white paint samples from the store. She kind of laughed and told me I'd have to pick out my own samples because there were so many. Now I understand why.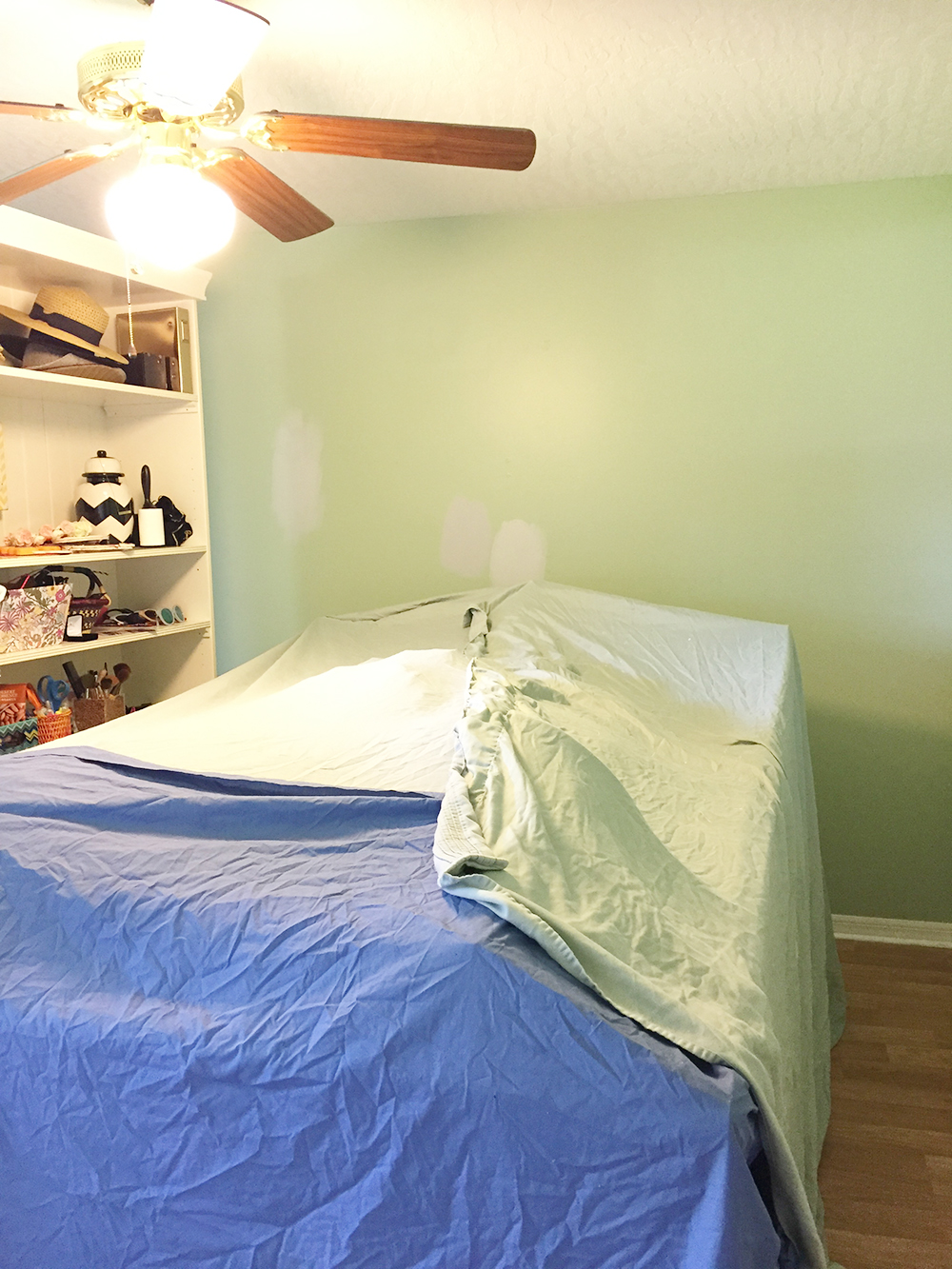 Before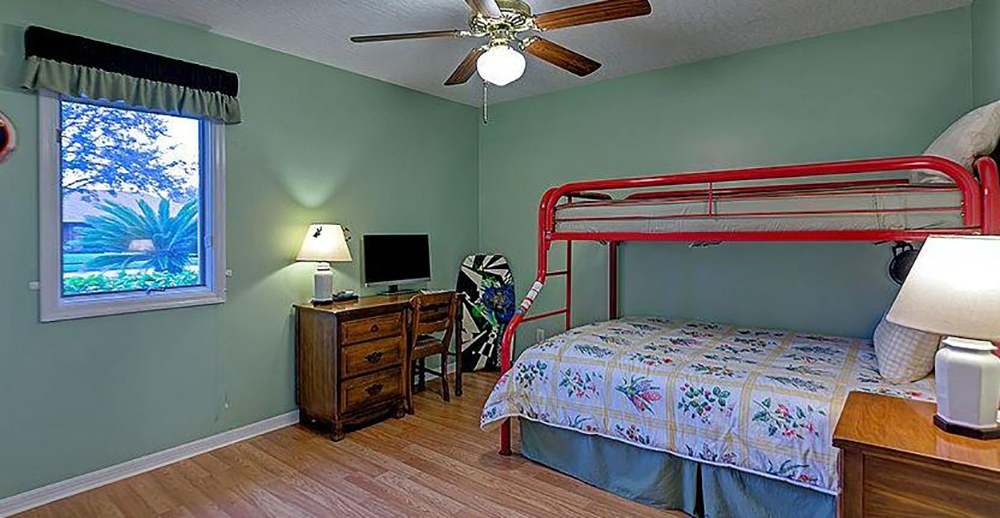 After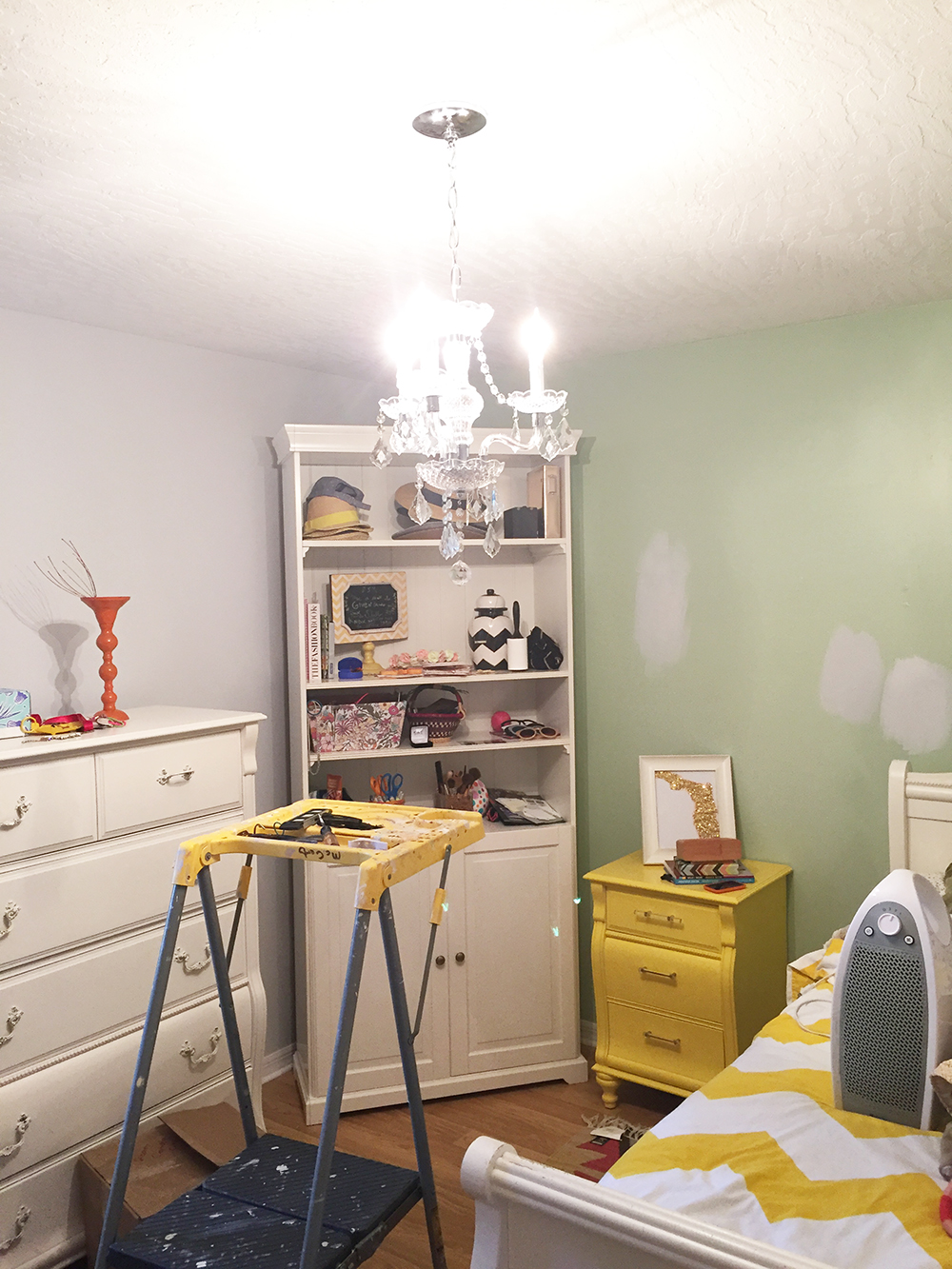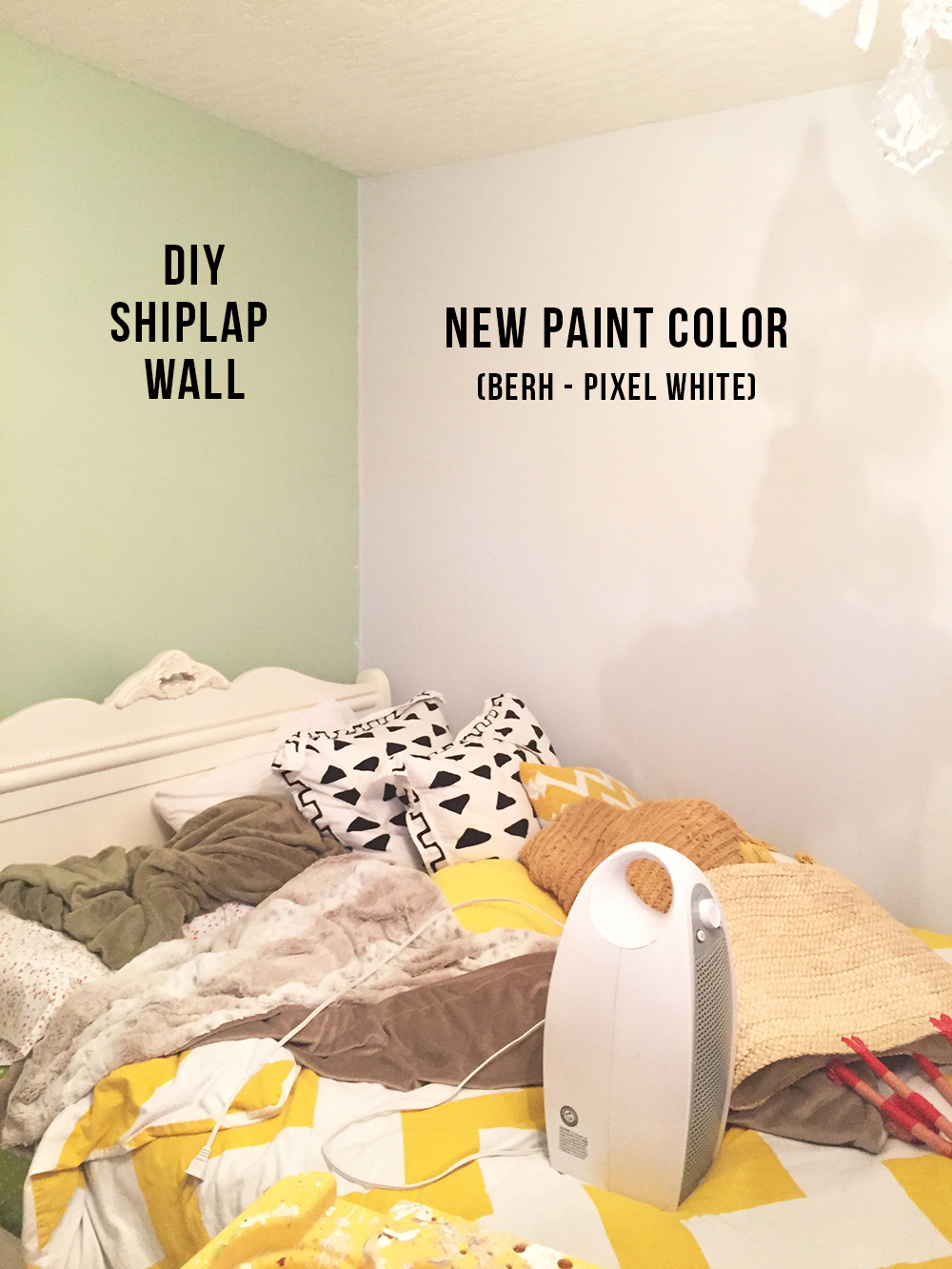 This is what my room looks like now that it's painted. I used Pixel White by Behr. It has a slight greyish color to it but I love it because it brightens up my room so much! It's perfect for taking blog photos in my room, flatlays and outfit photos in my giant mirror.
I also decided to add a chandelier instead of a fan. I never use fans and thought it would be fun to try something different. In a way I find it totally cheesy but it's also really elegant at the same time. I'm really glad I went with a chandelier because it adds tons of light and bring a funky flair to my room.
During the day there's so much natural light that enters in. It's a huge step up from my old room that was bright orange. I could never take good photos in there because the coloring always came out so funky no matter how much I would try and edit it.
My room is pretty much done. I left the back wall the same color because I am going to create a Shiplap wall. If you watch Chip and Joanna Gaines show, Fixer Upper on HGTV it's always used on all of the houses they design. I had no idea what it was until my mom told me about it. It's basically a whole wall lined with wood paneling. I decided to go with this look because it will give me the stark contrast against my white furniture and light walls and will create the modern look mixed with a beachy vibe. I just need to order a new comforter, buy enough shiplap to cover my back wall and possibly purchase a new wooden bookcase and I'll be finished with my room!
What I recently added to my room:

White blinds for the window
What I plan on adding to my room:
Save
Save
Save
Save
Save
Save
Save
Save