A dock a day keeps the doctors away. Not really but if I was in charge of running the world it would! To me there's nothing better than being near the ocean surrounded by boats with a cool breeze blowing and watching the sun go down. Now if only I owned one of those boats. I'd cruise straight into the sunset with my "Dolce Vita" beach bag!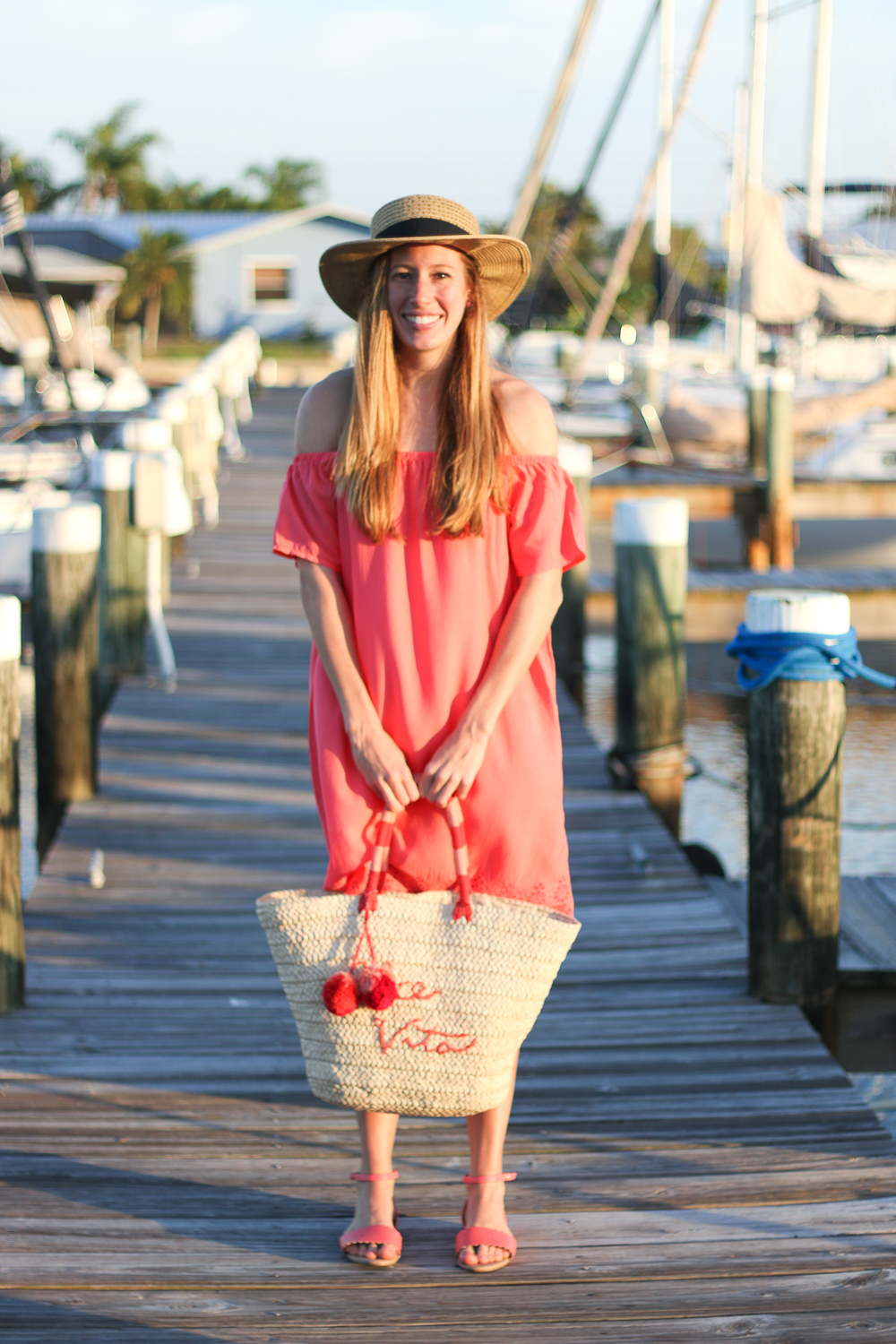 Old Navy Dress | LOFT Bag | Old Navy Shoes | Kohl's Hat (on sale!)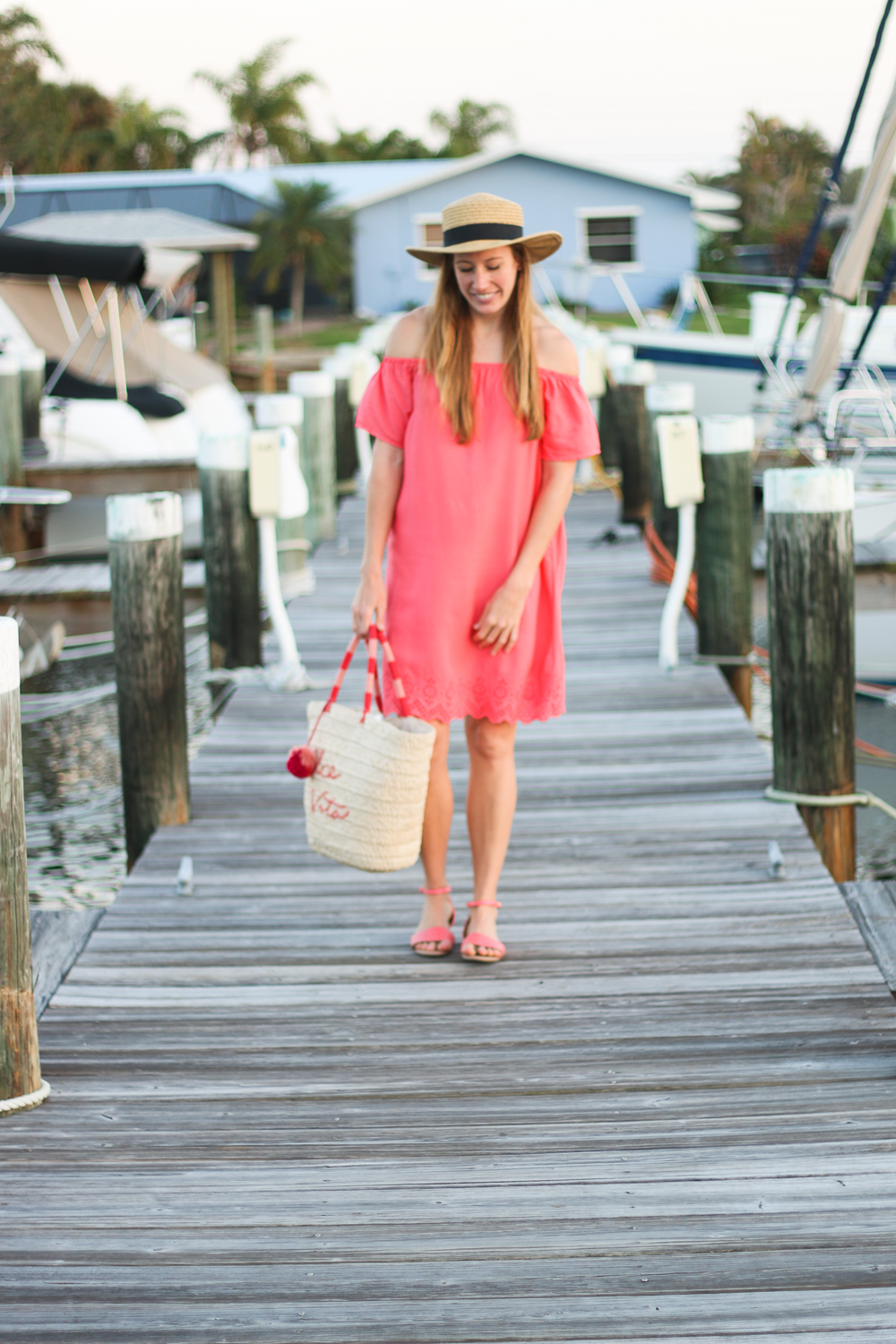 I'm sure you guys have heard of the song "Livin' la Vida Loca" by Ricky Martin. When I received my new summer beach bag in the mail I kept singing that song in my head but instead I just switched out the words to match what the embroidered words on my bag said.
Did a little research and found that Dolce Vita actually means a life of pleasure and luxury while the title of Ricky Martin's song is code for The Crazy Life. I'm not quite sure my life quite reflects either of those meanings but hey, the coral words match my outfit and that's all that matters to me!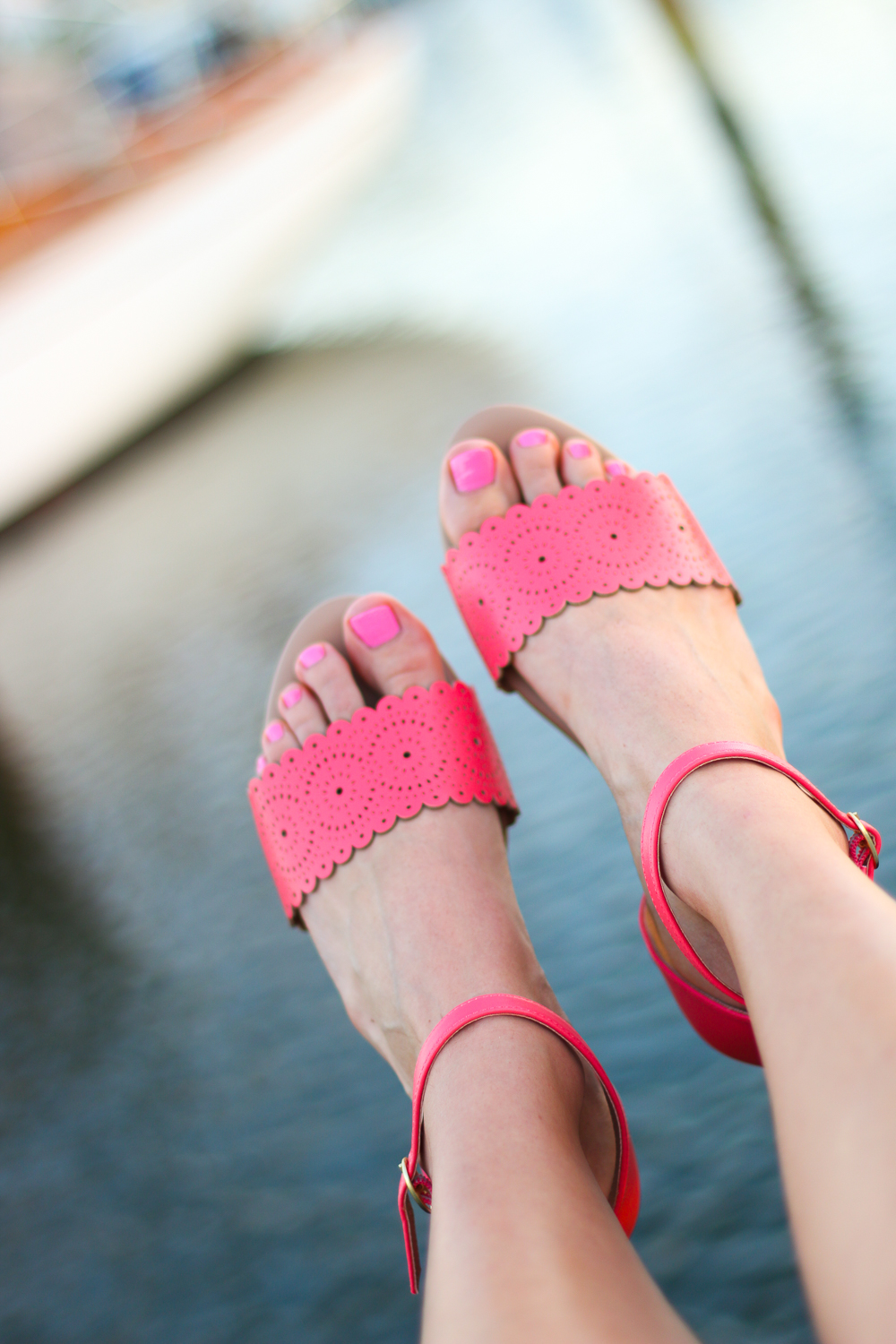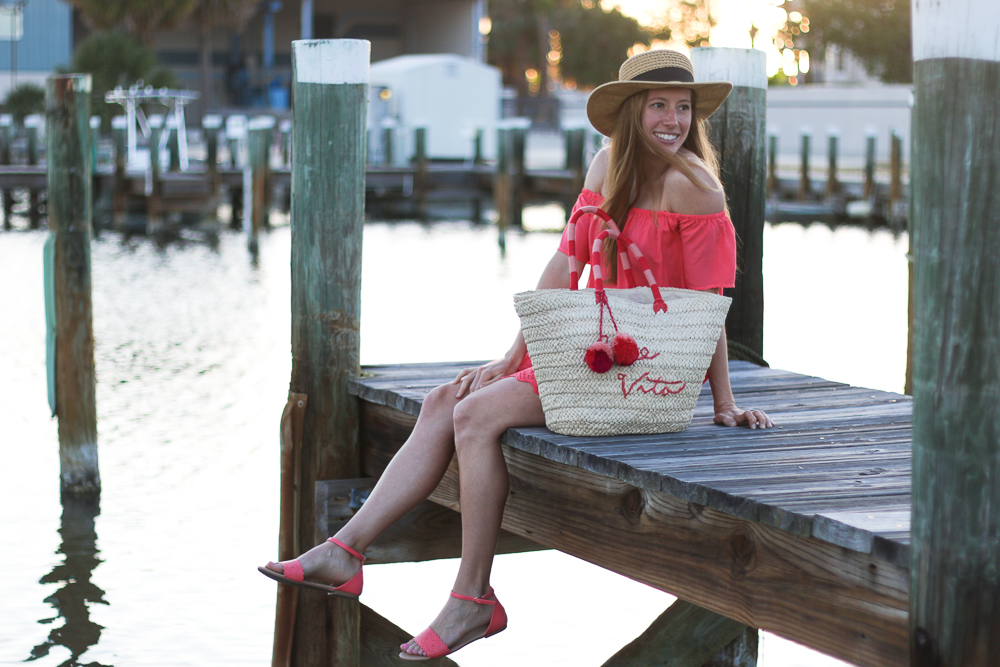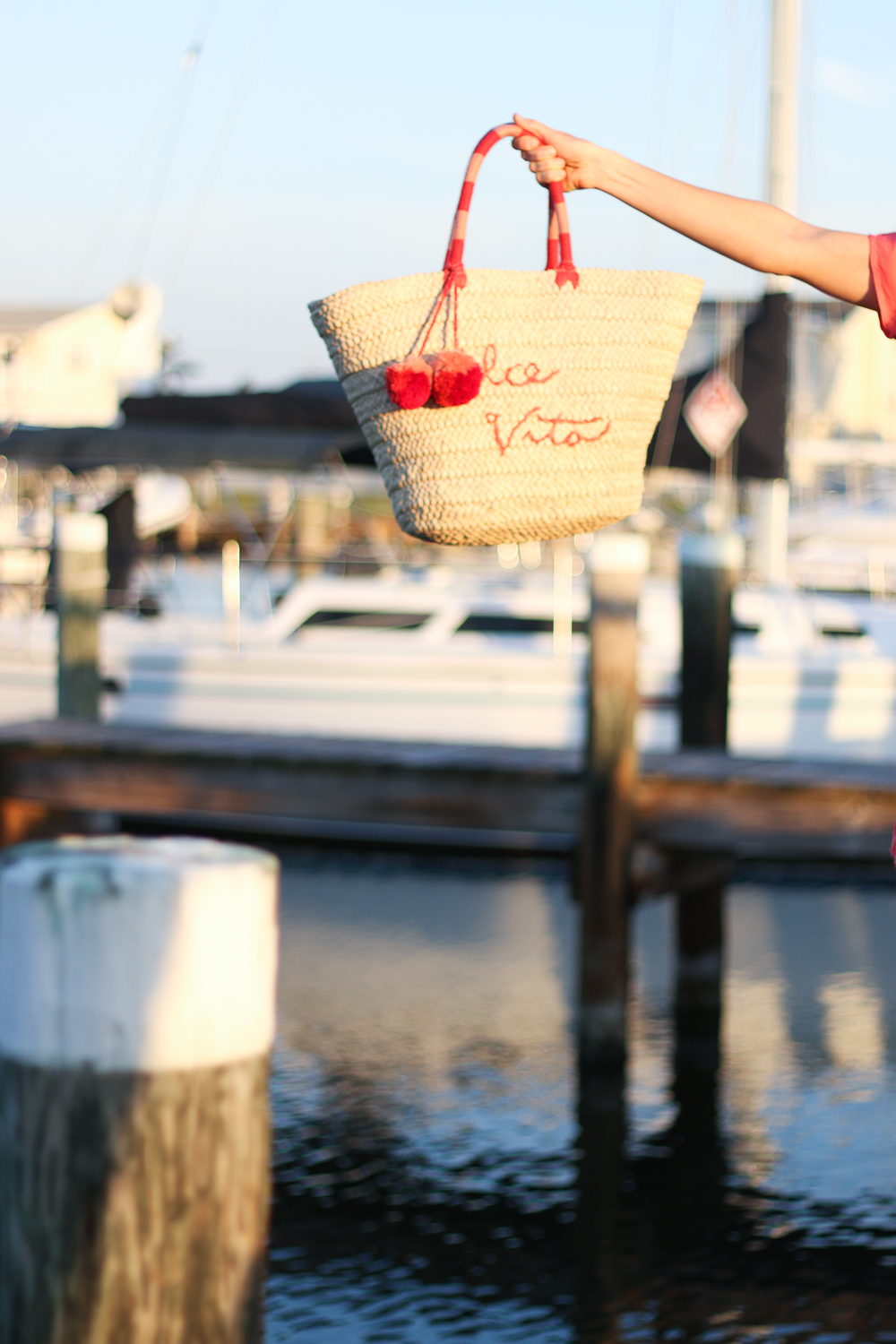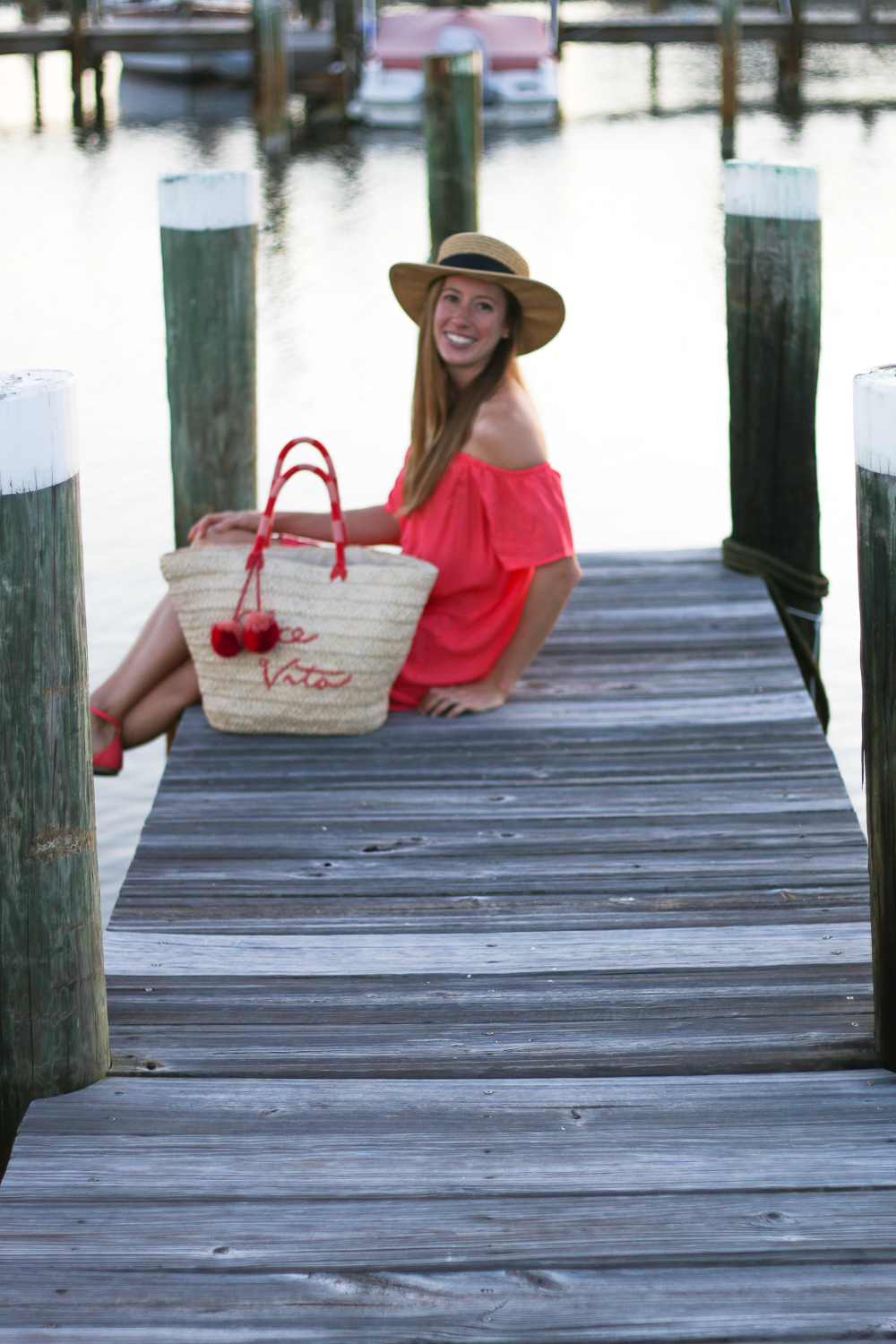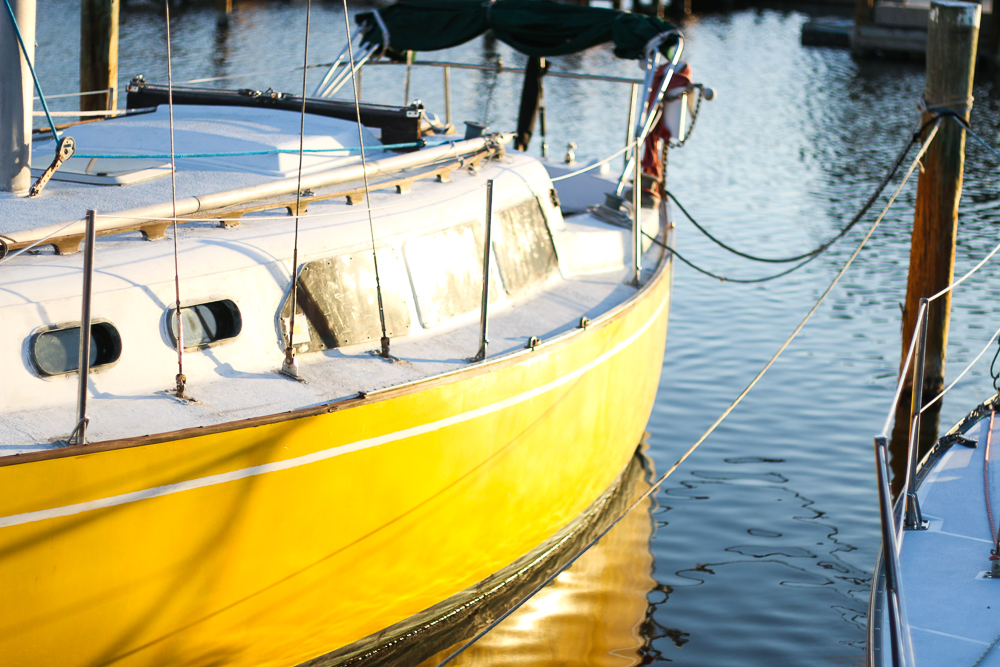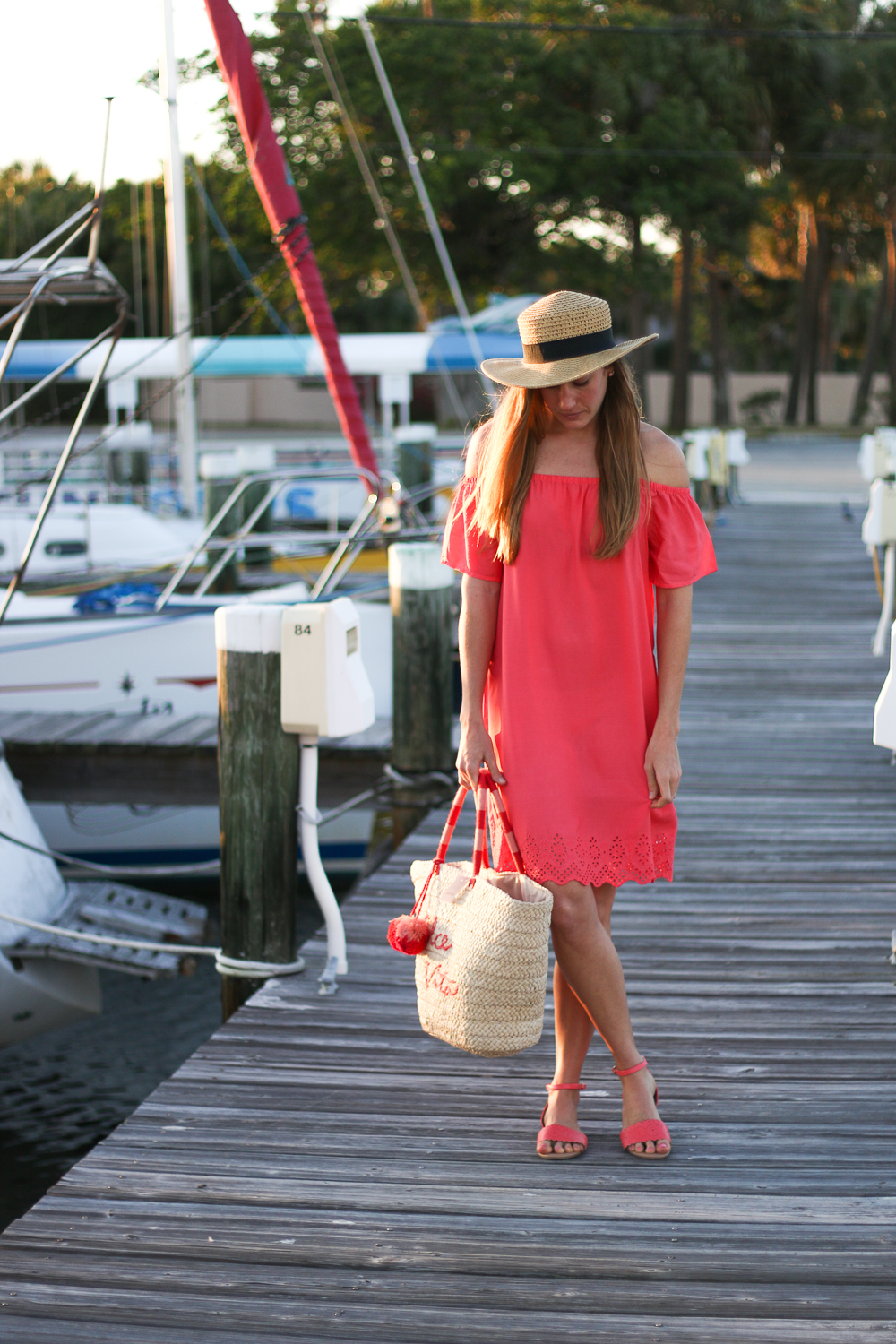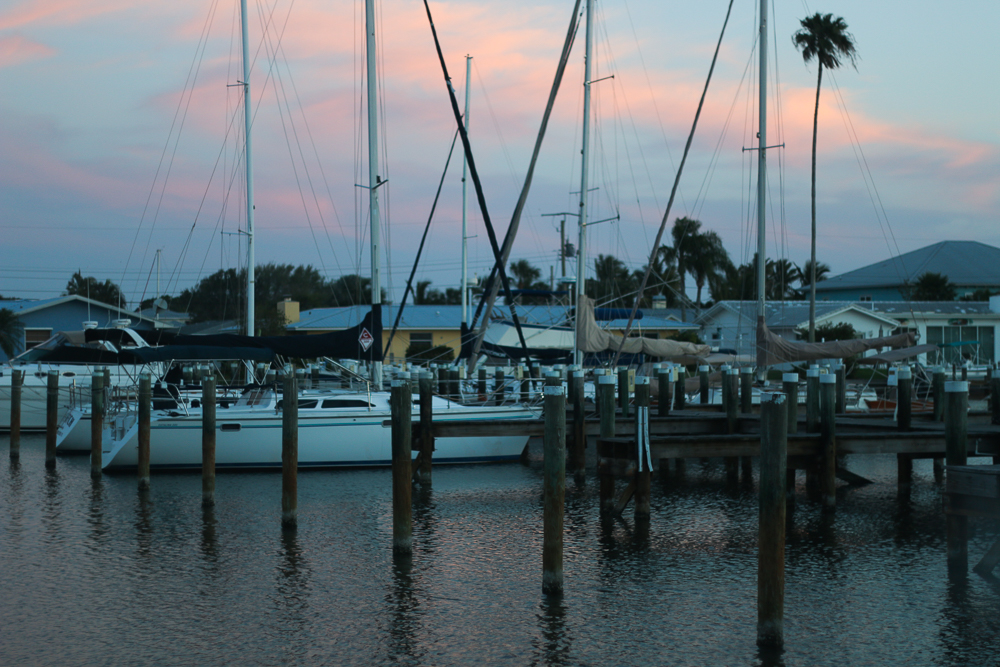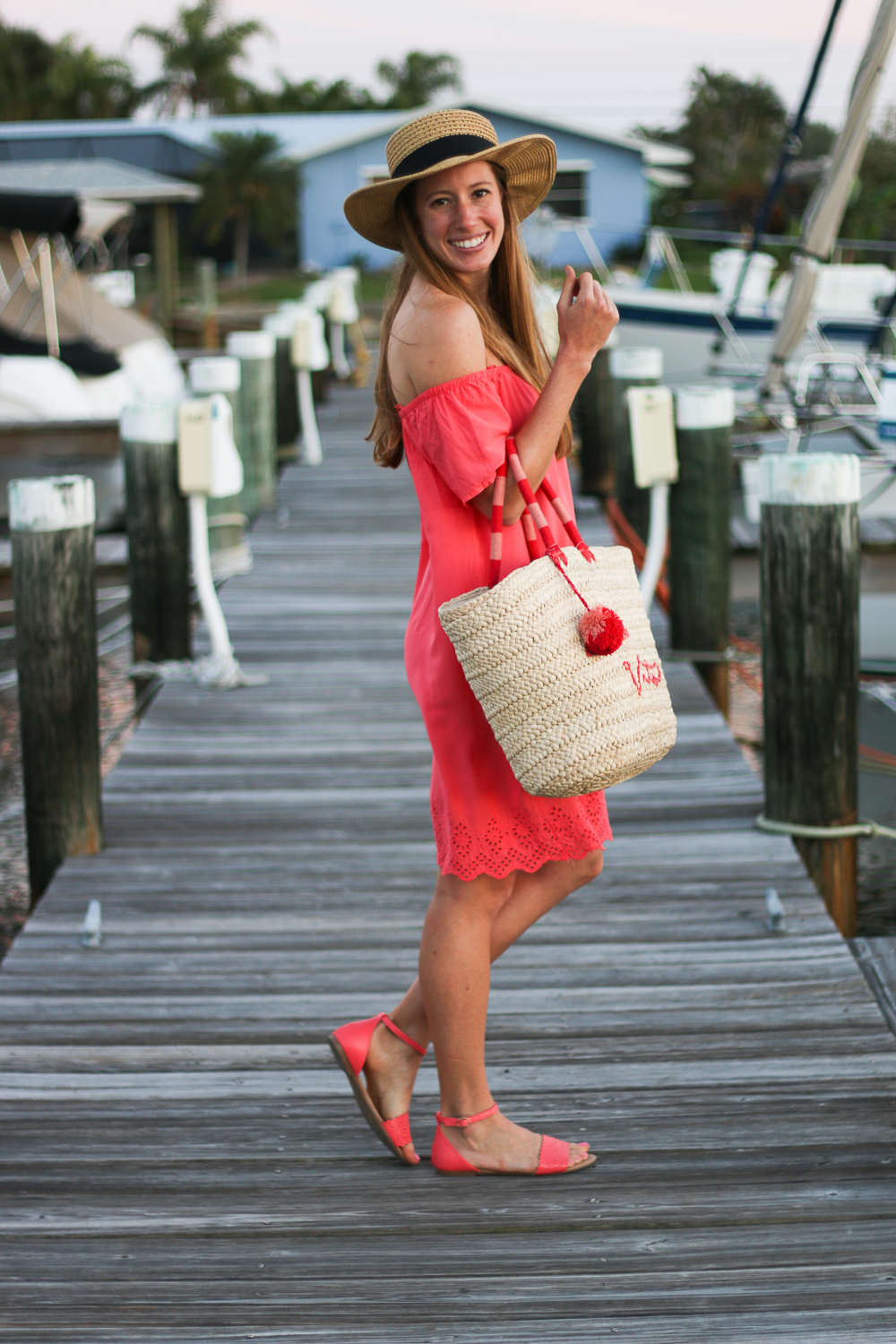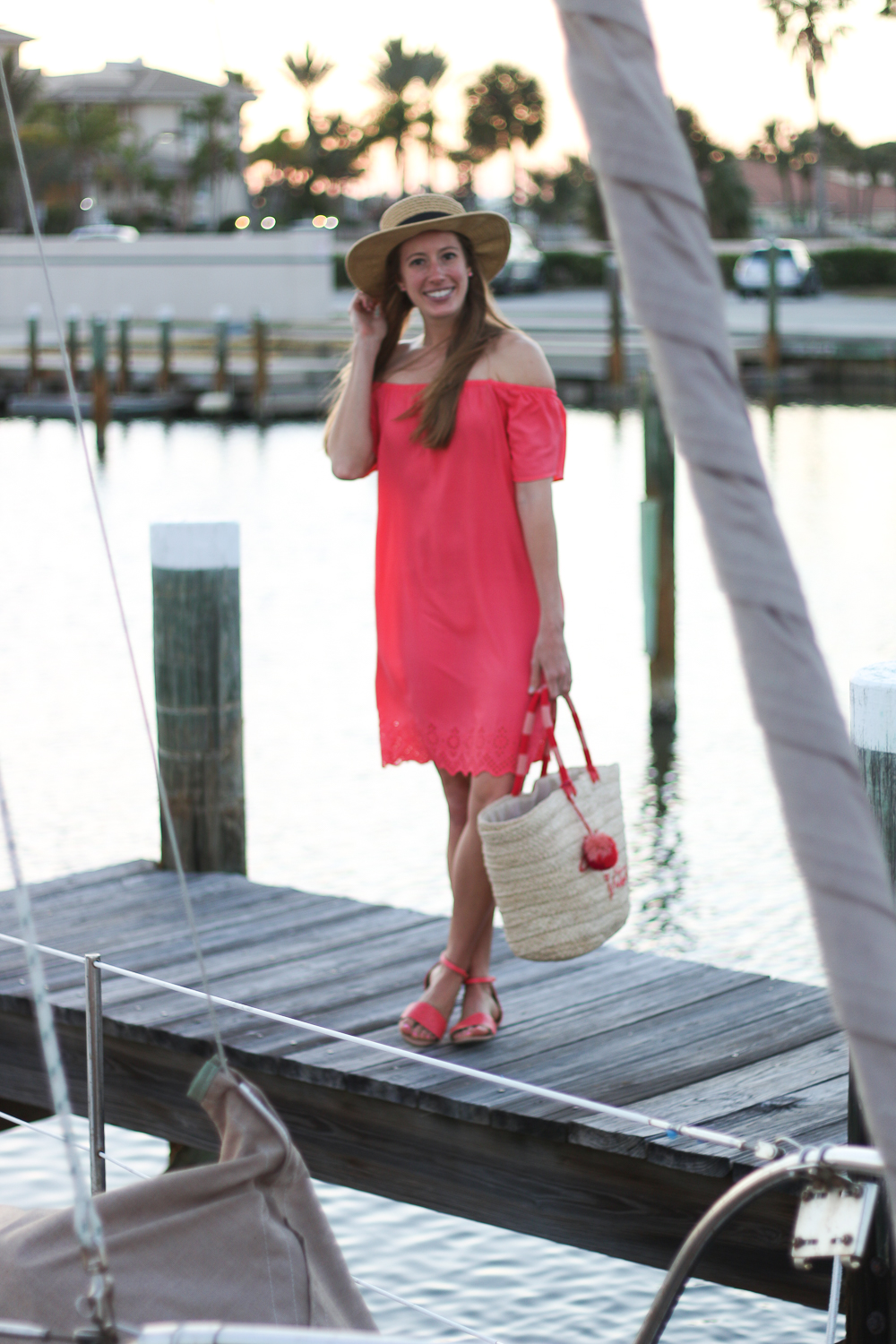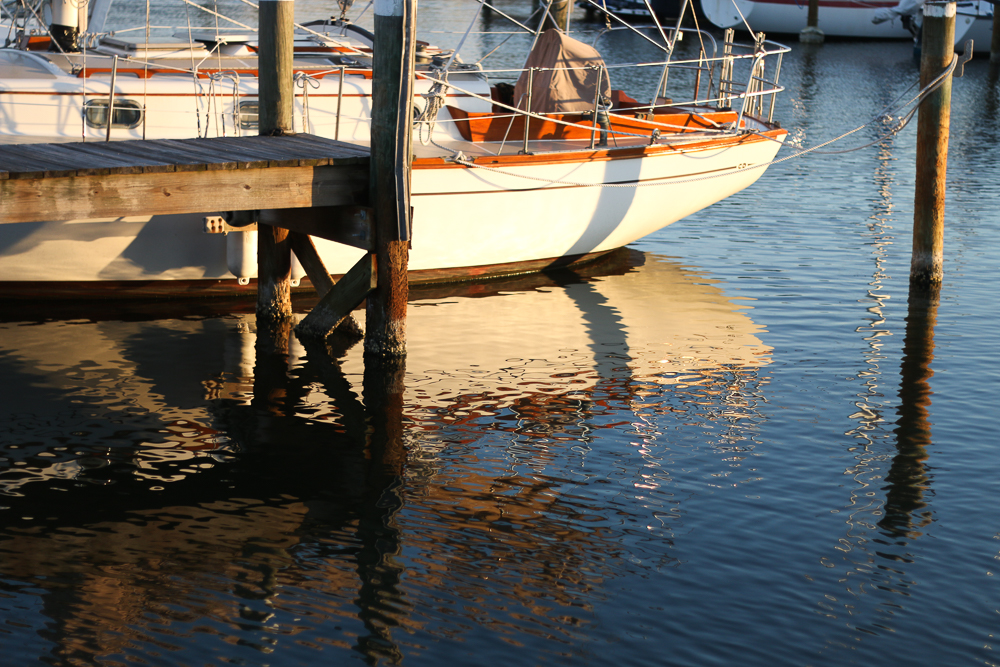 Old Navy Dress | LOFT Bag | Old Navy Shoes
Matching outfits with like colored pieces or accessories has been a favorite pasttime of mine since I was a little girl. I can recall the days where I used to excitedly flip through the Limited Too magazines (anyone remember that store?!) and find matching swimsuits that had perfectly matching cover ups. Or when Target used to sell a surf style brand and the shirt logo matched the print on the board shorts perfectly. I was all over those matchy matchy outfits and not much has changed since then.
The coral scalloped shoes were a present from my mom for my Birthday along with a beloved off-the-shoulder chambray top. Pairing the shoes with the off-the-shoulder dress (my fav Spring trend) was easy. In store I debated for a few minutes weather I wanted to buy a dress that matched the shoes so closely but I'm sure glad I did.
Over Easter weekend I took advantage of some of the sales and ended up ordering a few things online including the dolce vita embroidered bag you see here. Online the bag looked much smaller. When it arrived I was really not even sure I would need a bag that large. To my surprise, it matched my dress and shoes perfectly. Hip Hip Hooray. It was a match made in the fashion world.
Hope everyone has a great weekend! The weekend for me starts Fridays because I have off. This morning I worked out in the AM then decided to jump into the ocean with two of my friends afterwards because it was already 90 degrees and scorching out by 10:45 AM! The jump in felt so wonderful!!! Any day that starts with an ocean swim is a good day in my book! The rest of the weekend I have plans to hang with my sister, swim in the ocean and shoot some stuff for the blog. Pretty low key and room for some spontaneity so I'm sure I'll end up doing something else random and fun. Any fun weekend plans for you all?! Tell me about it in the comments below!
Save
Save
Save
Save
Save
Save
Save