Weekends, weekends, weekends are my absolute favorite! Especially Saturdays – they always trump Sundays in my book. I mentioned last week that I normally hang out with my boyfriend, Josh, on Saturday's and this weekend was no different. Luckily we both had the same plans in mind and wanted to go one of the many local Strawberry Fests. Originally I wanted to go strawberry picking but they close really early, so that will just have to wait for another day when we have time to go in the morning.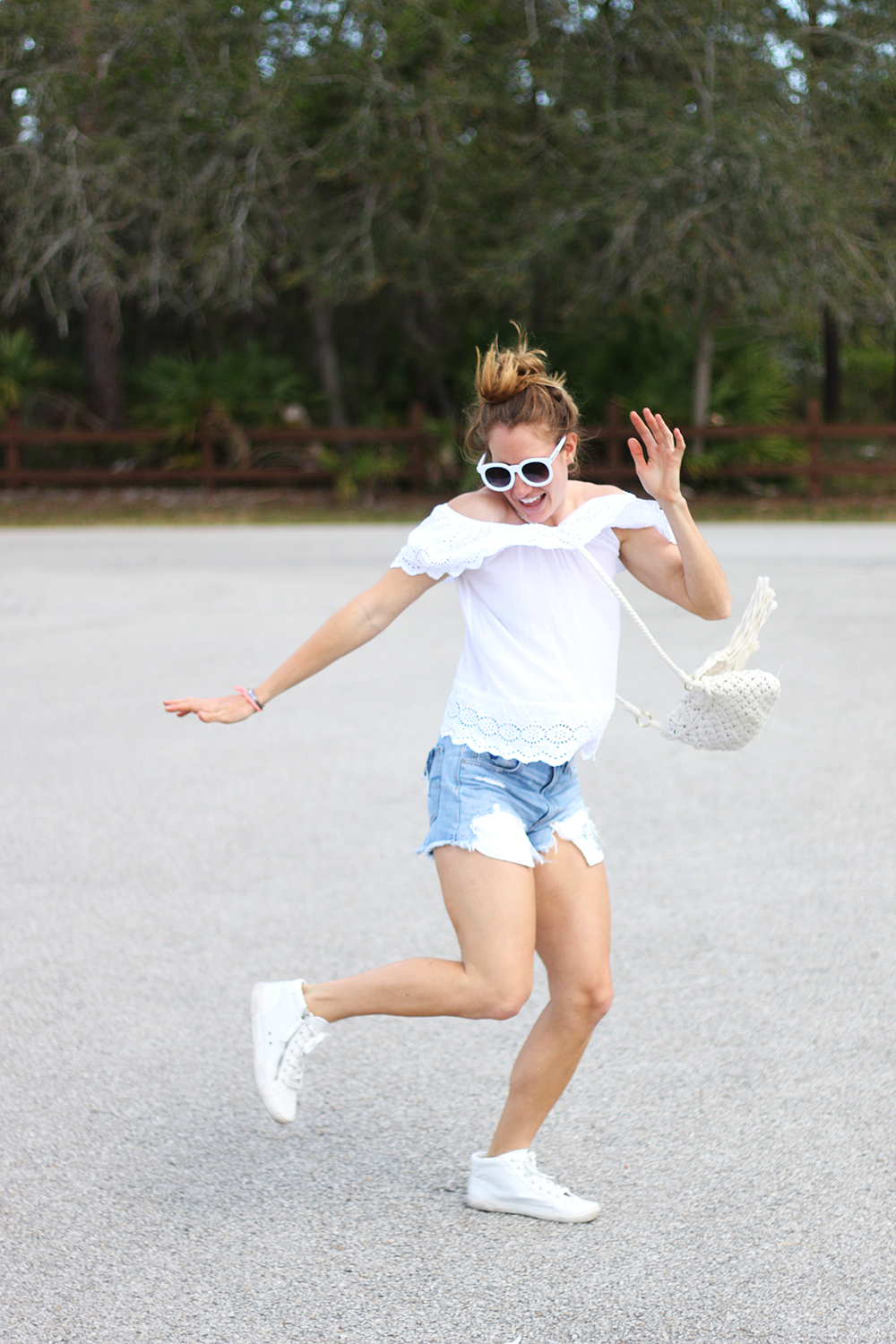 This is what I wore to the Strawberry Fest. I am so glad I ended up wearing shorts and an off-the-shoulder top. What I am not glad about is that I should have followed the boyfriends cue and wore sunscreen. Those pasty shoulders haven't seen that much sun in months. Check back Wednesday for a post on the full look!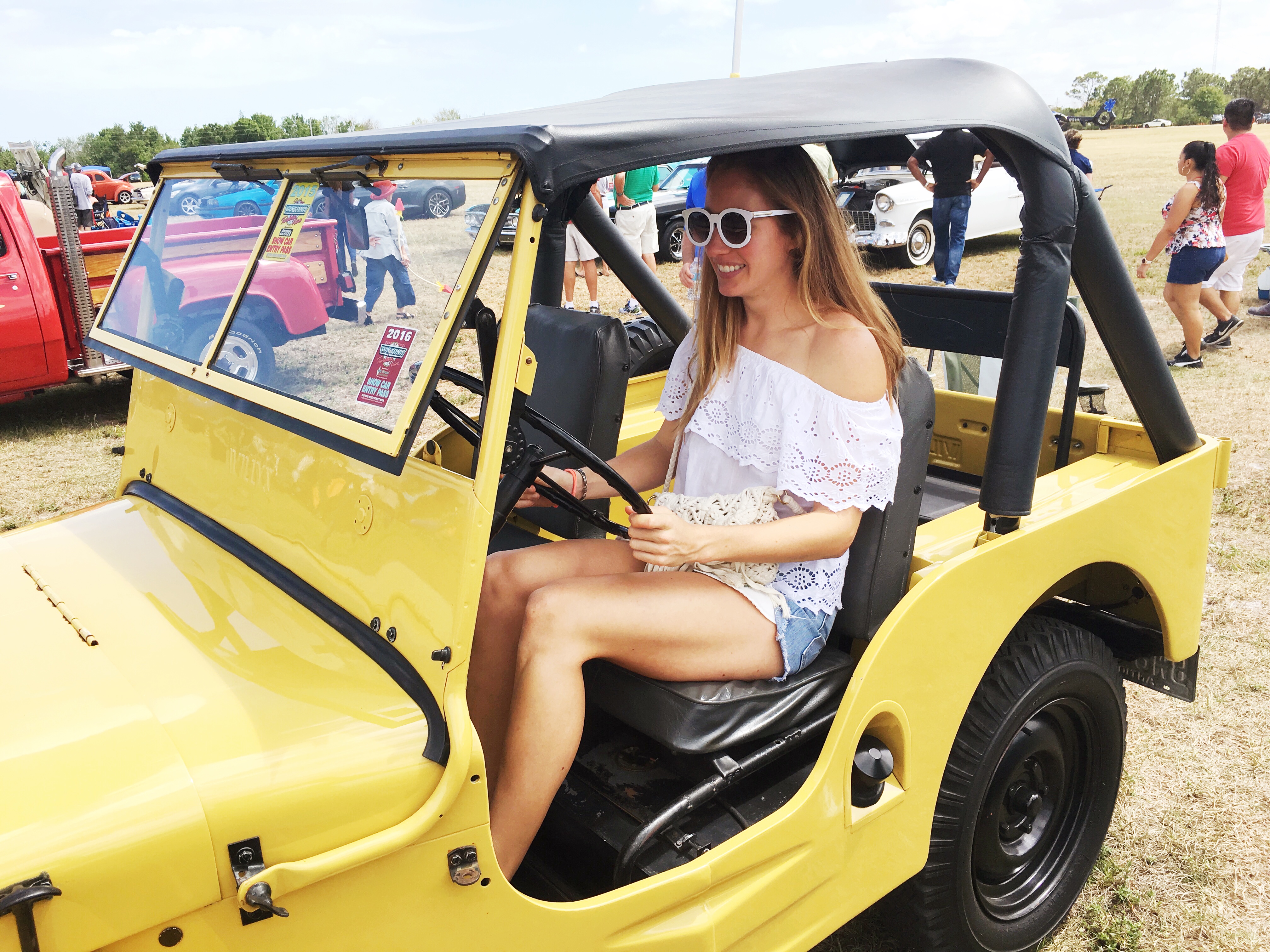 Normally one would think there would be tons of strawberries at a Strawberry Fest but I didn't see a single one to buy. Apparently Josh did but the only thing that I saw from far away was a stand to buy strawberry shortcake. There wasn't even a smoothie stand that I noticed. Not saying they didn't have any strawberries but if they did they were very scarce.
 We spent the majority of the time walking around looking at old cars, helicopters and tasting honey. That yellow Jeep was the coolest car ever. I felt right at home because my dream car is a yellow Jeep Wrangler (hard top preferred). Fun fact: When Josh and I first started dating we both had Jeeps. Then our cars failed us and we both had to buy new cars within a few months of each other.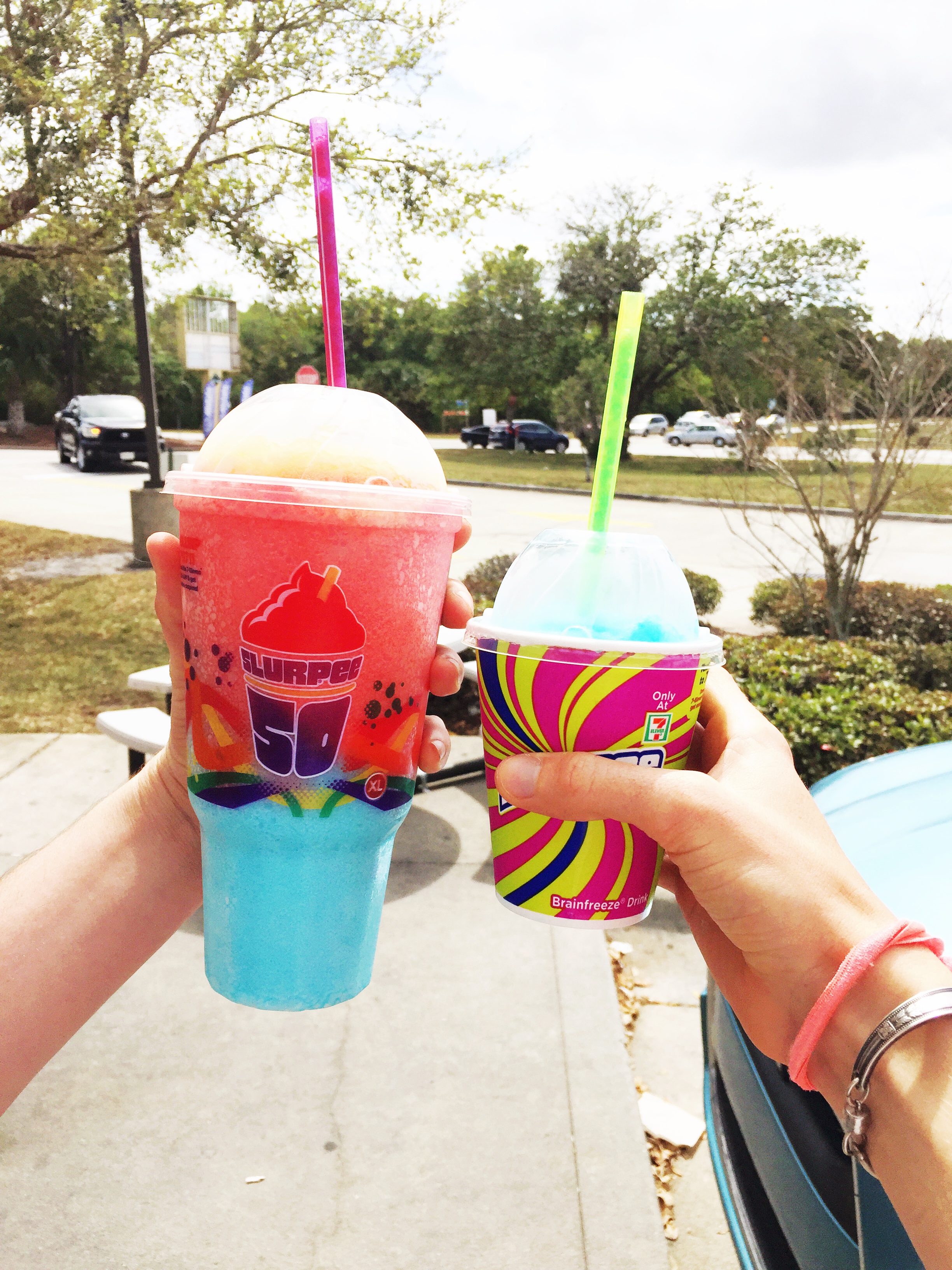 Slurpee's after walking around outside for a few hours were a must. We were so hot! How does it go from sweater weather to full blown summer in one day? Can you tell who's is who's? Boy left vs. girl right. I'm a huge single flavor type of person (blue raspberry all the way), he's more of a mixing kinda person.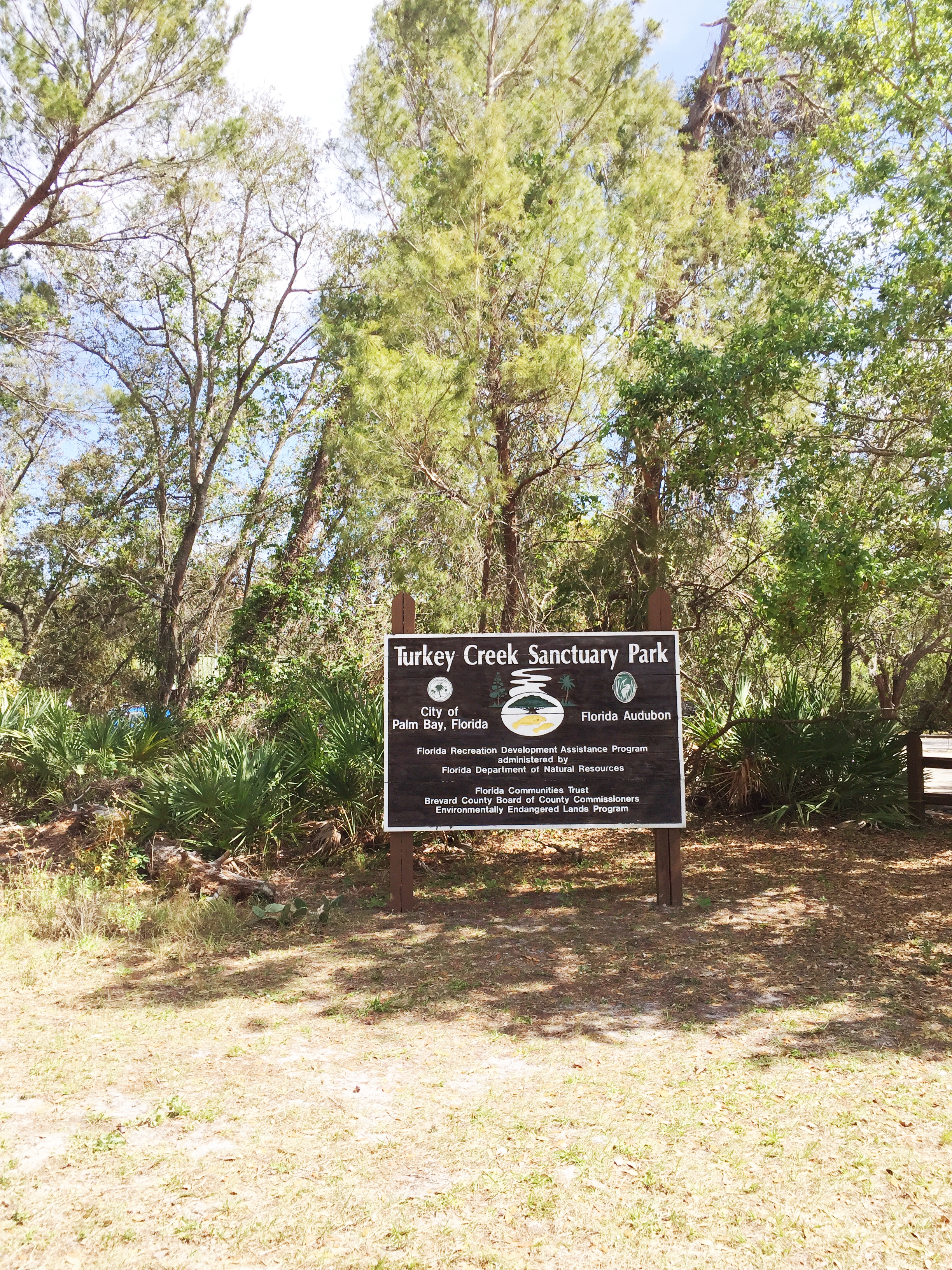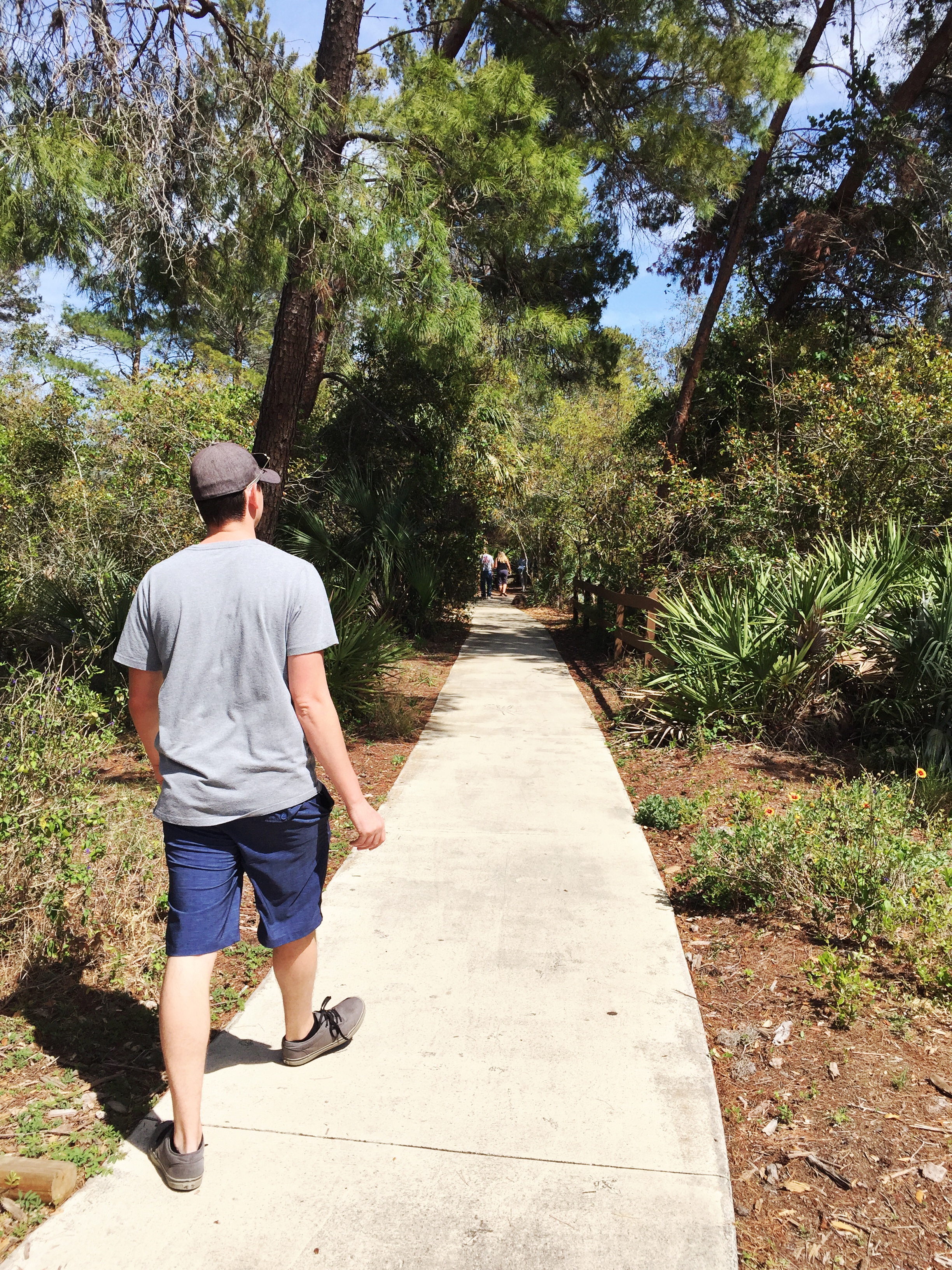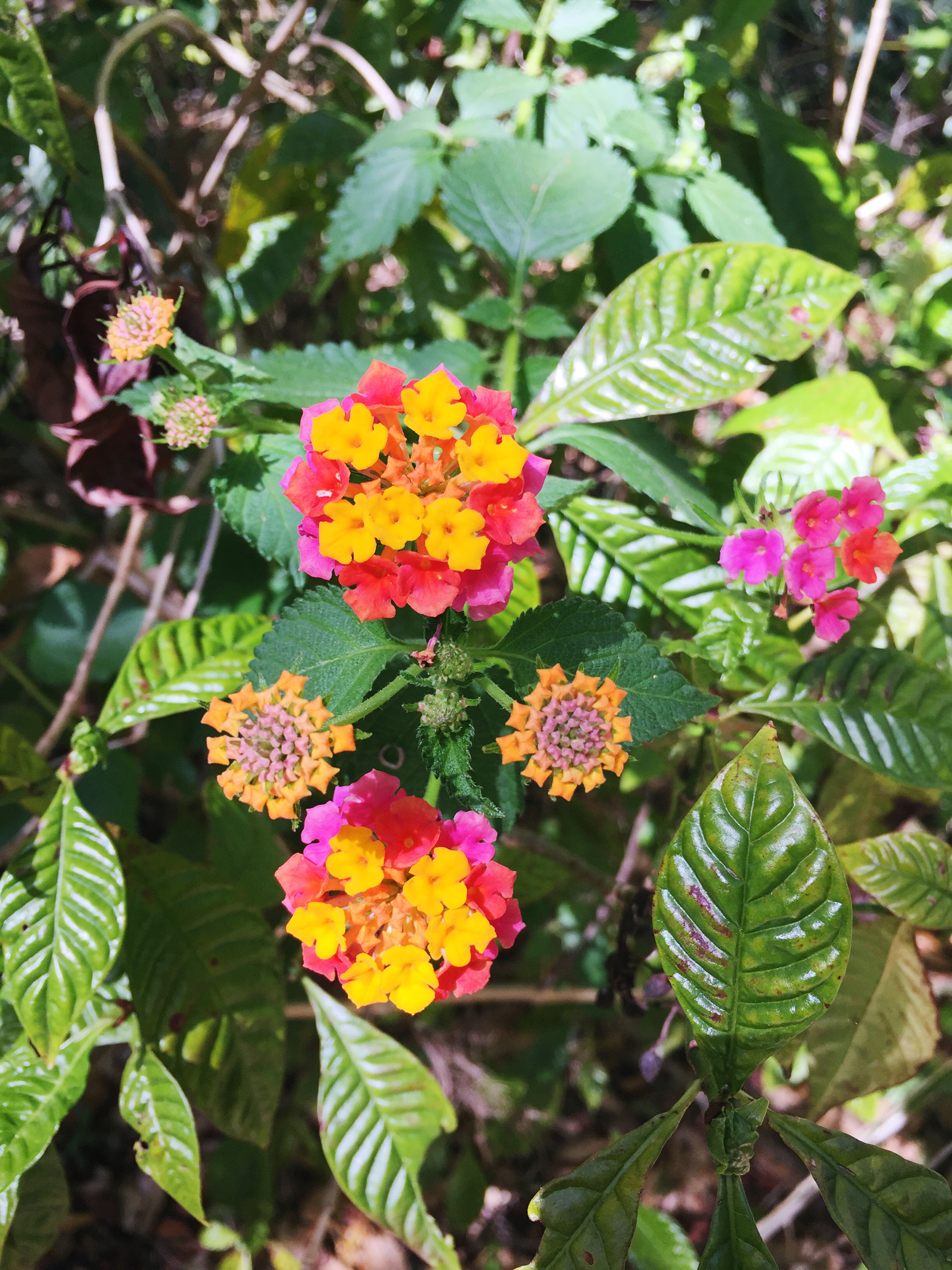 Once we cooled down after our delicious Slurpee's we drove over to Turkey Creek Sanctuary, a local park, to walk around. Whenever we hangout almost always go to some type of park. We just love being outside on our days off! We saw the prettiest ombre flowers during our venture!!!!! Then I saw the same flowers again when I went running on Sunday.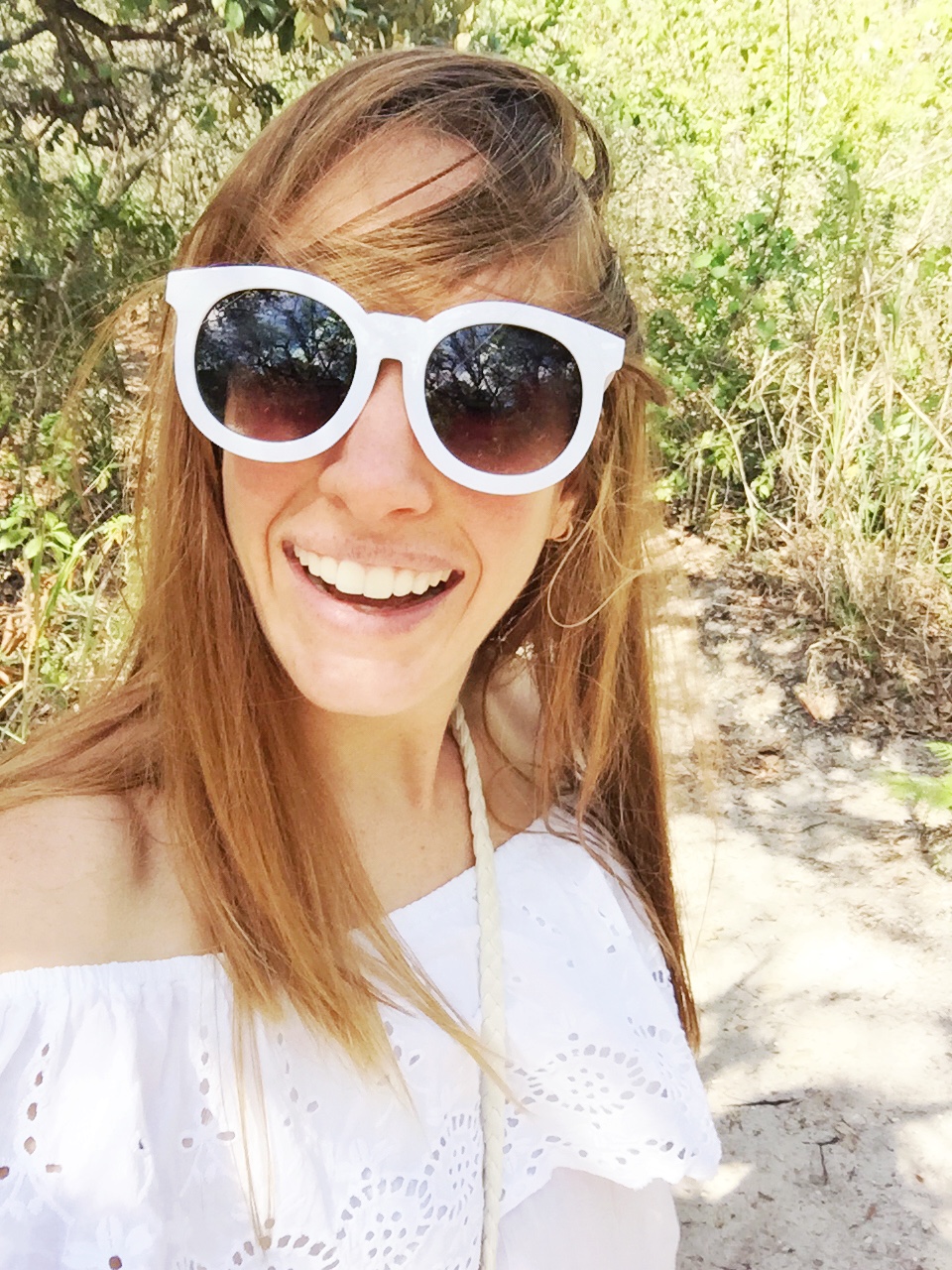 After being in the sun all afternoon and not wearing a hat or sunscreen (such a rookie move, I should know better!) I had to figure out a way to cover my forehead to prevent a sunburn. This is something I do often if I have been out in the sun way to long. If I part my hair in a funky way and swoop my hair across my forehead like I have side bangs, it completely blocks out any sun from hitting my face. It looks and sounds crazy but it works.
Are those sunglasses not absolutely ridiculous? Finding a plain white pair of sunglasses has been a #struggle. I ordered them off of Sunglass Warehouse. Once they arrived in the mail, only then did I realize they are gigantic. It costs to much to ship they back, so I gave up and decided to just wear them in public. But hey, at least the eyes are protected from the harsh fun!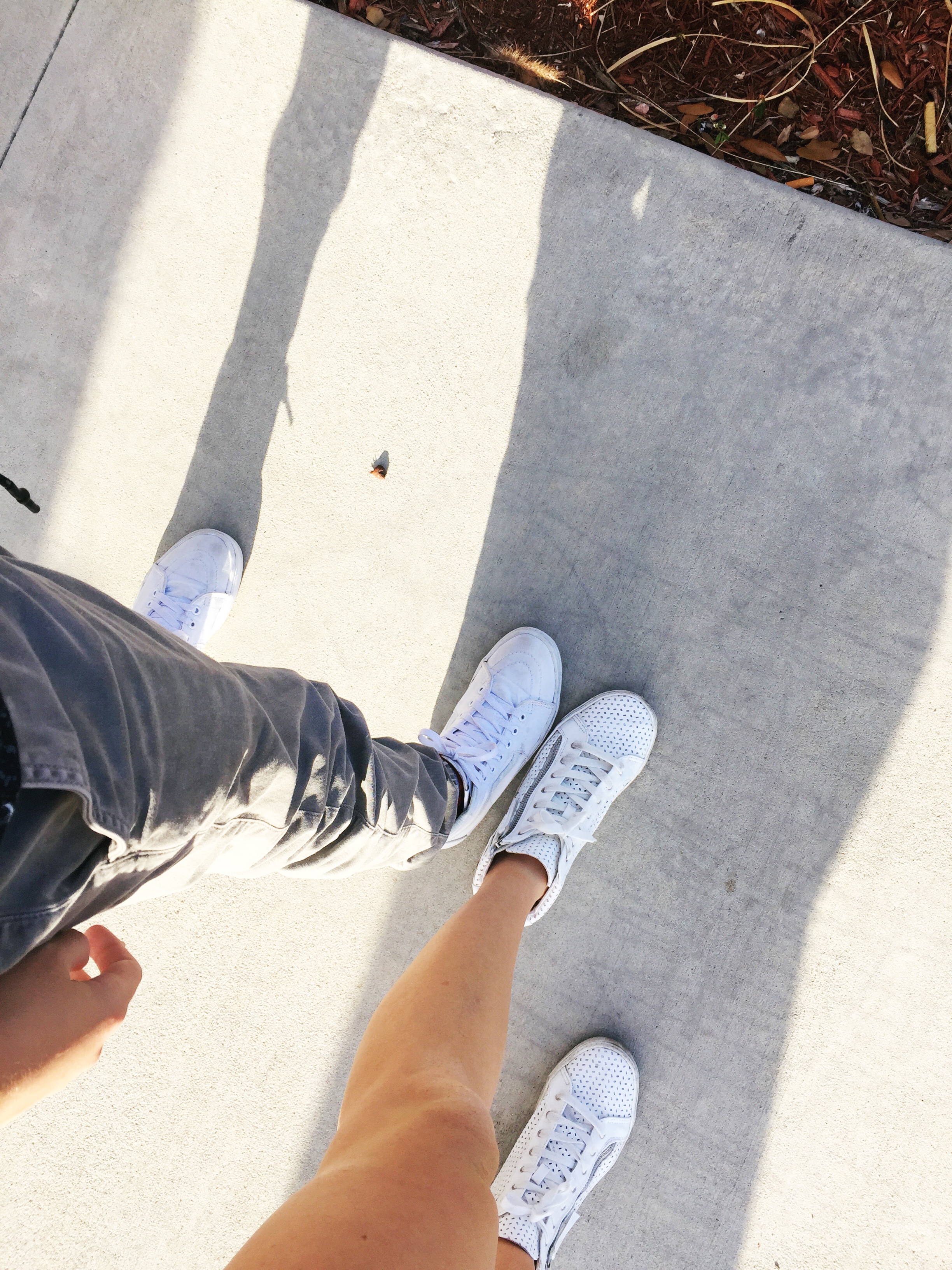 We finished the night by eating dinner at Red Robbin for my nephews birthday. Their gluten free burgers buns are delish. Every time I go I get the Guac Burger because a burger isn't a burger until it has guac on it. Turns out my little nephew and I were both twinning at dinner in our white high top sneakers. (???)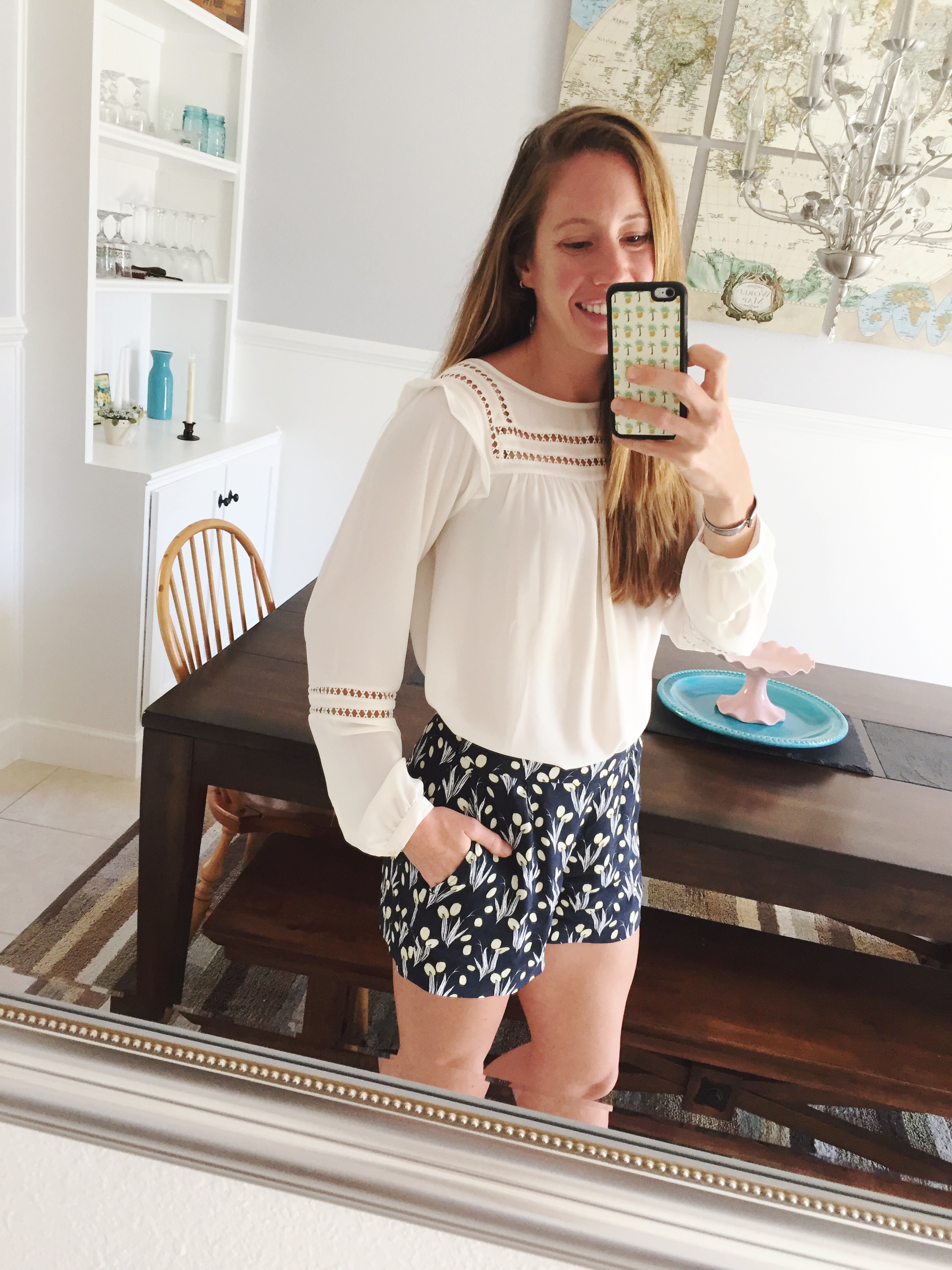 Sunday was a bit more low key and relaxing. In the morning I went to church (wearing all LOFT above), ate salad for lunch at home and then relaxed around the house. Around 5 I went on a 4 mile run at a local park to enjoy the weather and get outside before a long work week!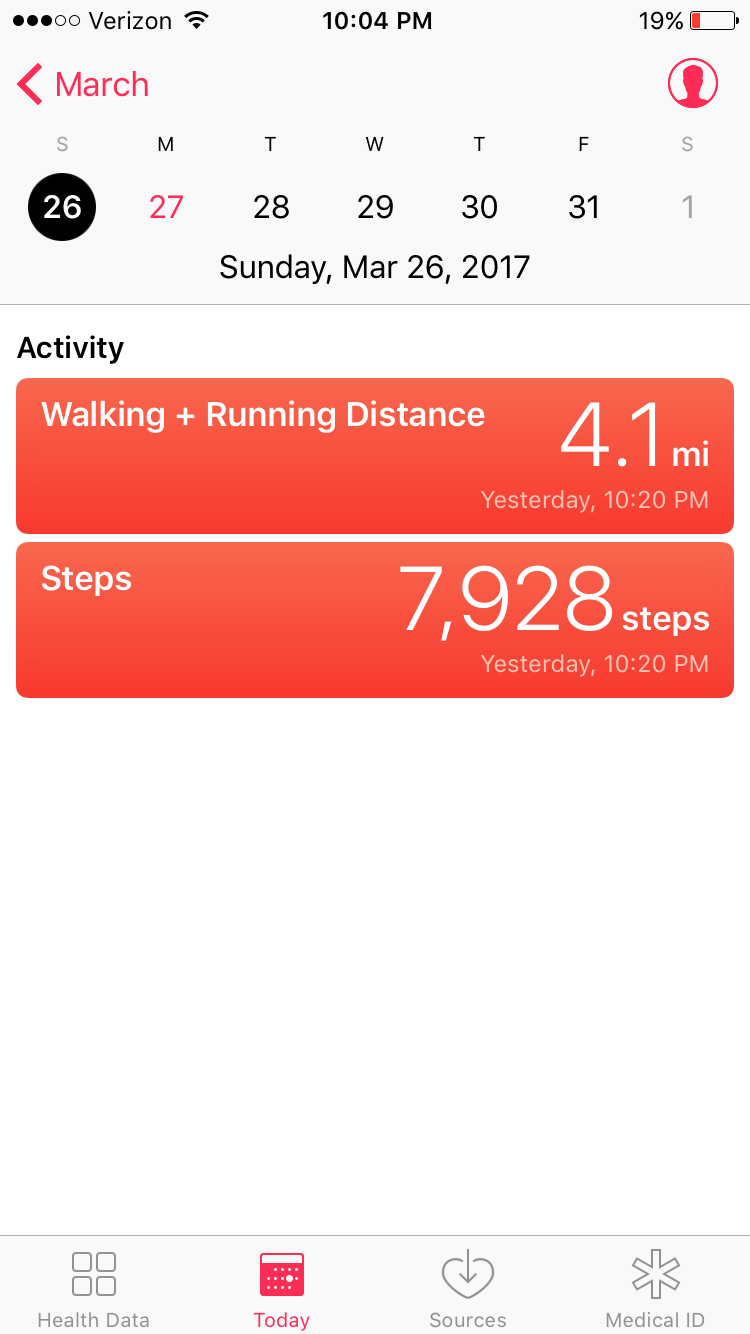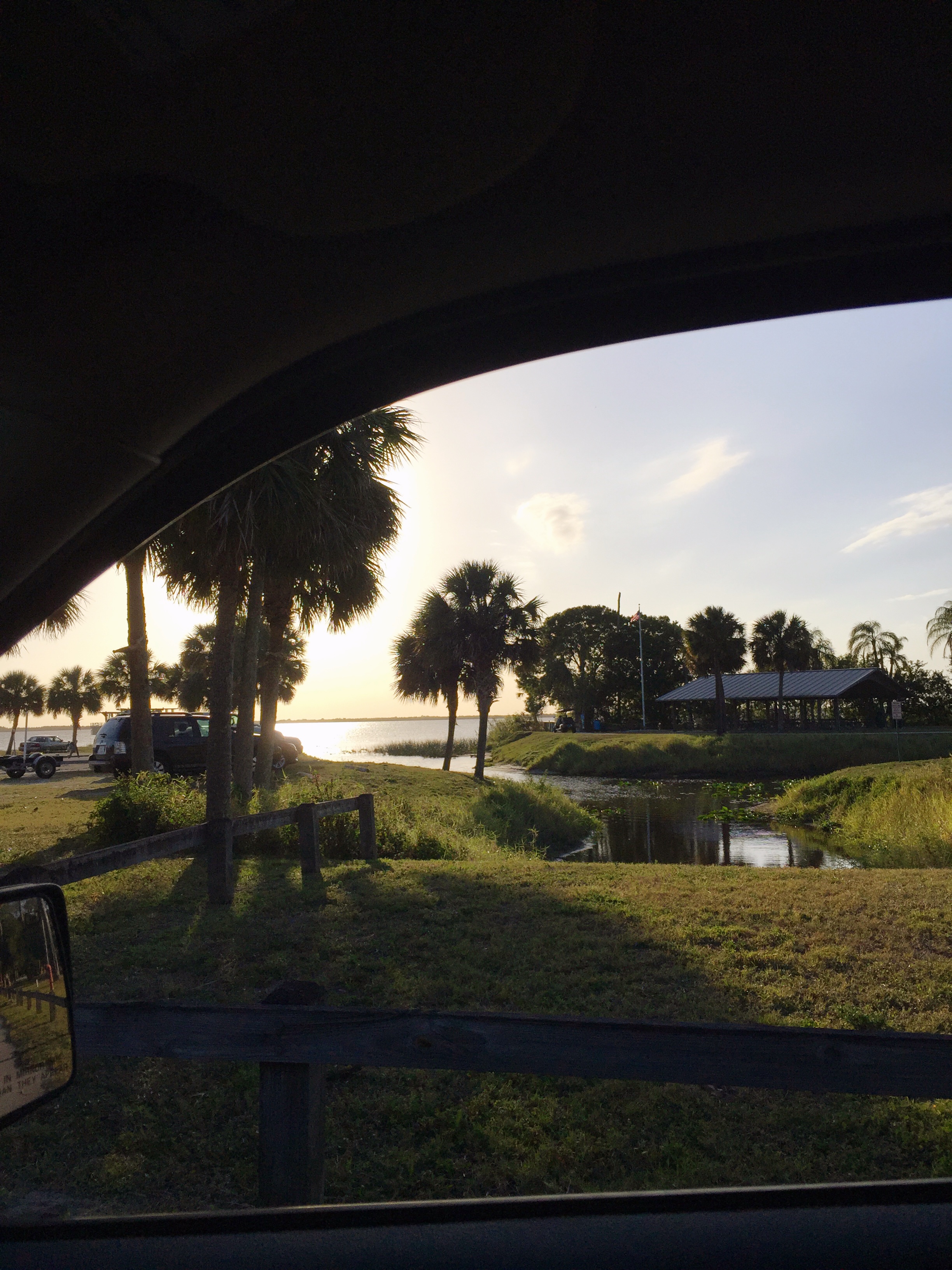 The sun was setting as I finished my run and it was so beautiful!!!
Sunday night was spent prepping the Spring Style post where I collaborated with Sadie (the cute red head pictured above). Our homework during the week was to style a fun Spring look and then share our photos to be posted on each others blog! It was really fun to work with her. Be sure to check out her awesome blog!
Until next Saturday!
Shop my outfits!
Look 1 (Off-the-shoulder top): Top / Shorts / Shoes / Bag
Look 2 (LOFT Outfit): Top / Shorts
Save
Save
Save