I have been loving linen tops this summer! Usually I will do anything to keep cool during the months of June-September. Weirdly, it has been cloudy and rainy almost daily. The humidity that hits when it is about to rain is crazy! On days like this (which has been alot!), lightweight tops are my shirt of choice! Today I rounded up bunch of cute lightweight tops for summer!
Lately, if I am not wearing a comfy dress, I have on a shirt and shorts combo! Really, it's my go-to outfit in the dead of summer heat and I love the classic and simple look!
How has your week been?! I met up with my boyfriends sister who runs a photography business during the workday to shoot some mommy and me product photos! She has a studio in her house with a crisp white backdrop which was just what I needed! This morning, I went to the visit the kids my sister nannies for to shoot some of the baby headbands. It's always so fun to get creative and be able to get behind the lens (and a chance to get out of the house)!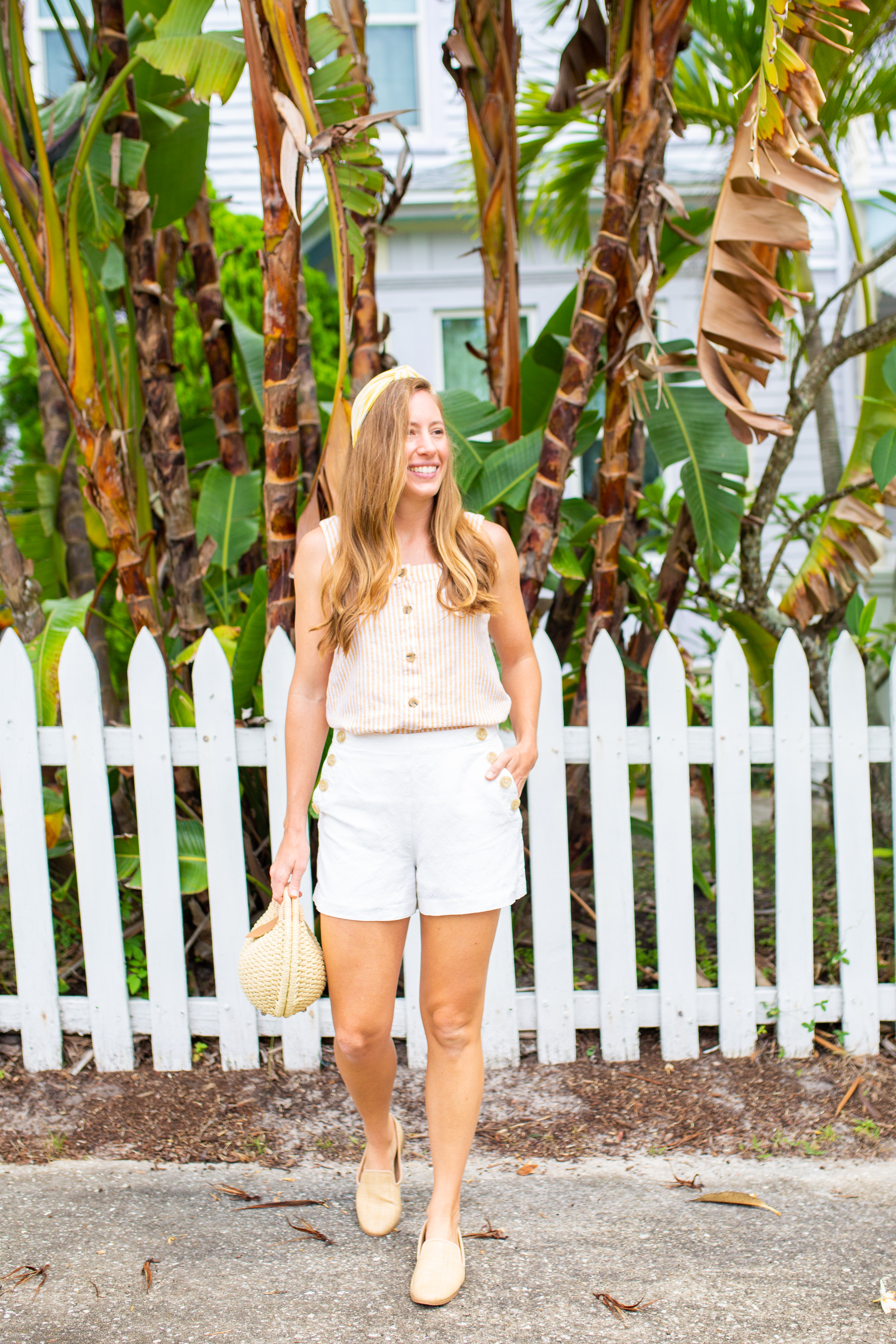 J.Crew Linen Top (under $35) / J.Crew Factory Shorts (under $40!) / Sunshine Style Headband / Woven Loafers / Straw Bag
Lightweight Tops for Summer
You all know I love a good stripe and cannot stay away from yellow! When I first saw this linen blend button front tank from J.Crew Factory, I knew it was love at first shirt. The tank comes in five colors and is on sale for under $35! I personally love the shirt in solid white to pair with neutrals like navy, red or denim bottoms for summer!
Sizing: I ordered an XS and it runs large. I could possibly size down to an XXS (which I never ever wear at J.Crew Factory!)
I bought the linen shorts I am wearing from Ann Taylor last summer. You can imagine my excitement when I saw J.Crew Factory has an almost identical pair of linen sailor shorts (under $40). They have a 5in inseam (yay for longer shorts) and come in yellow and black! I usually like to tuck a cute tank or girly shirt in and accessorize with sandals, earrings or a headband!
Cute and lightweight tanks are perfect for the summer because you can tuck them into shorts or skirts and create multiple outfits. They are a wardrobe staple for sure! Some of my other favorite lightweight tops are this striped tiered peplum top (40% off!), this green top with sleeves (under $22) and this striped square neck top with a bow detail! I would style all of the tops with white or denim shorts, sandals or sneakers and a hat or headband!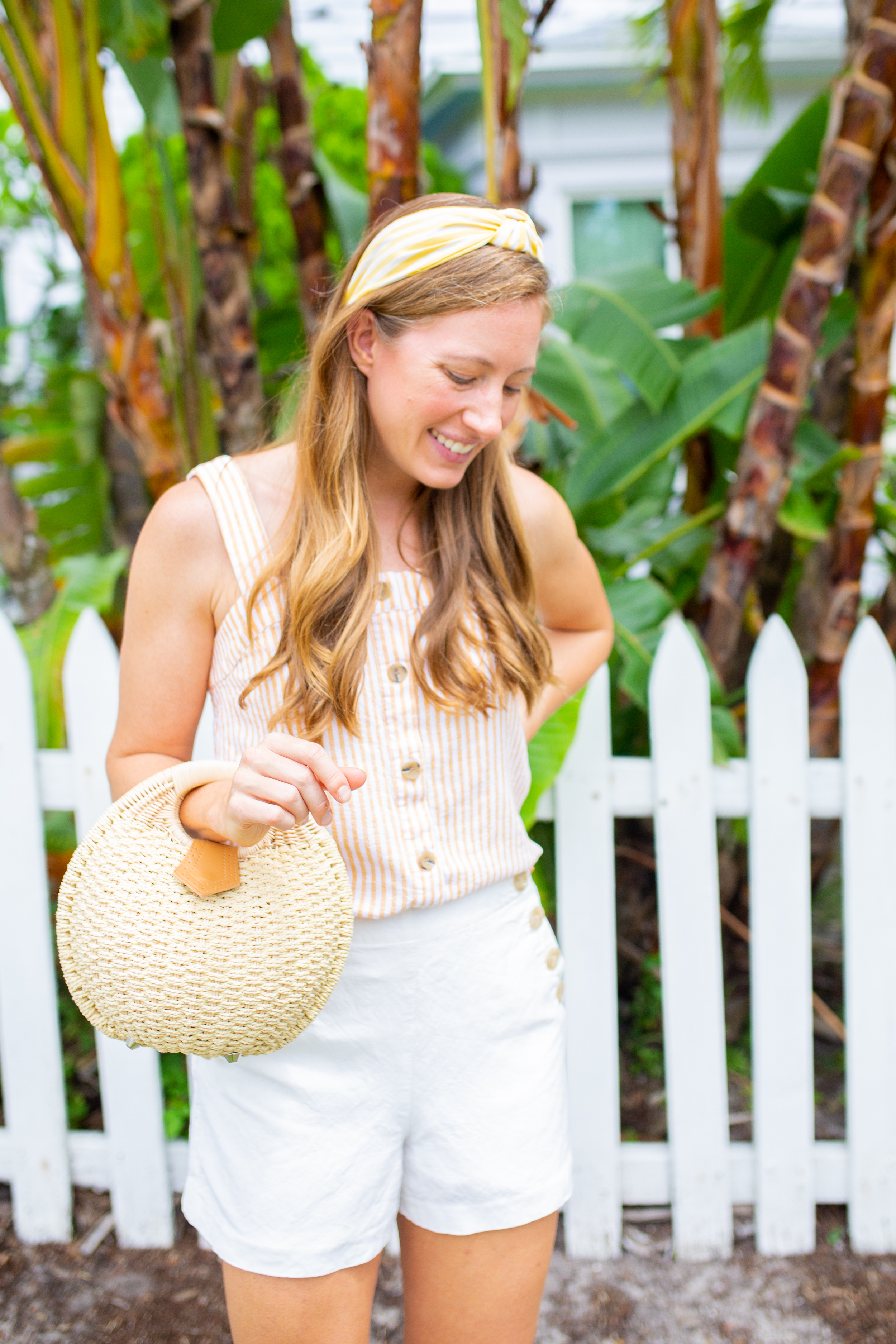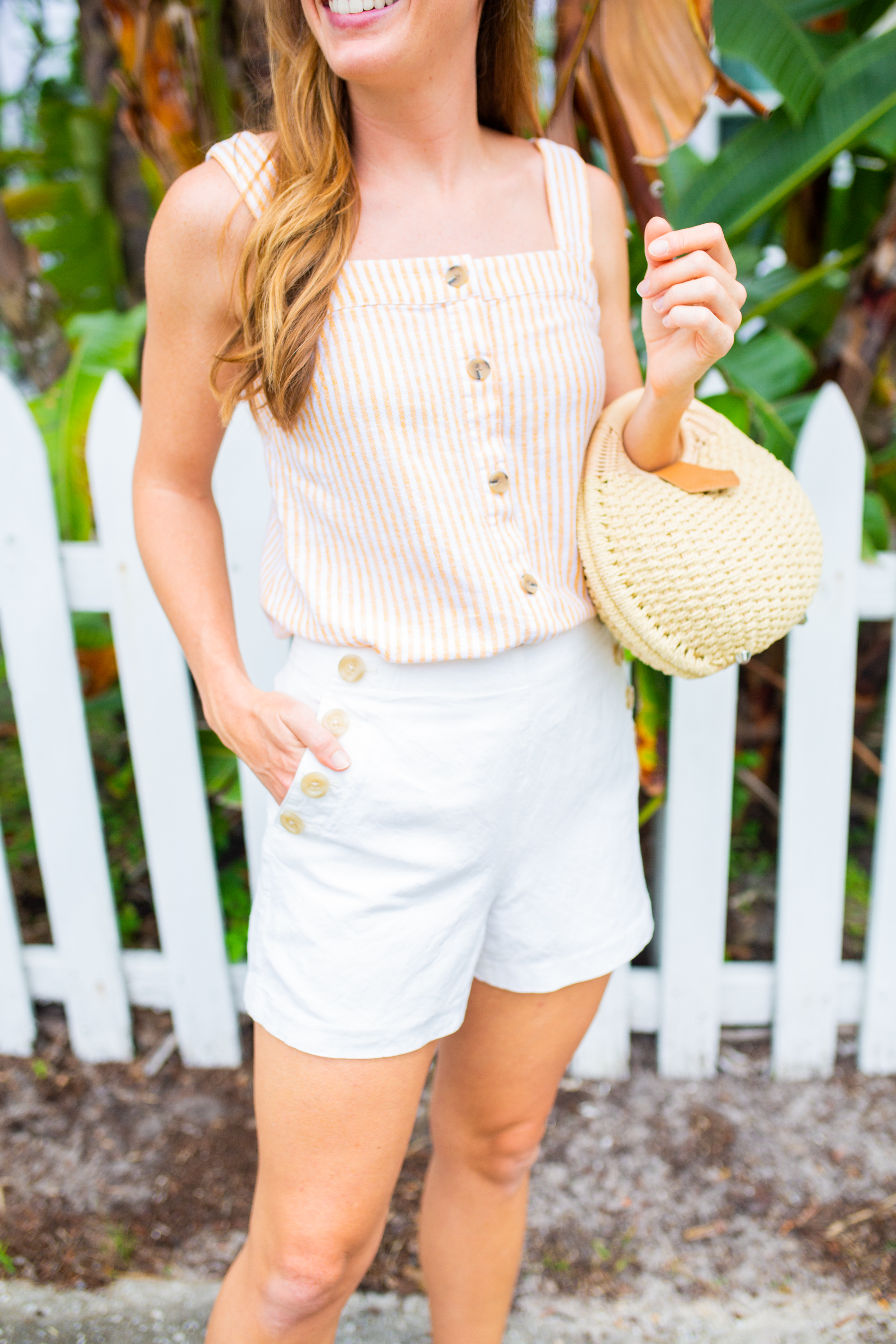 Shop Lightweight Tops
Lots of Sunshine,
Katie