Yay, excited to share some resort wear essentials today. Includes a shell print dress, coastal inspired accessories, a new to me brand and my everyday bag! Seeing this little round up gives me the travel bug and makes me want to book a trip to tropical places like Harbor Island or 30A in the Panhandle! I don't have any trips planned this summer…yet! Do you have any trips planed this summer?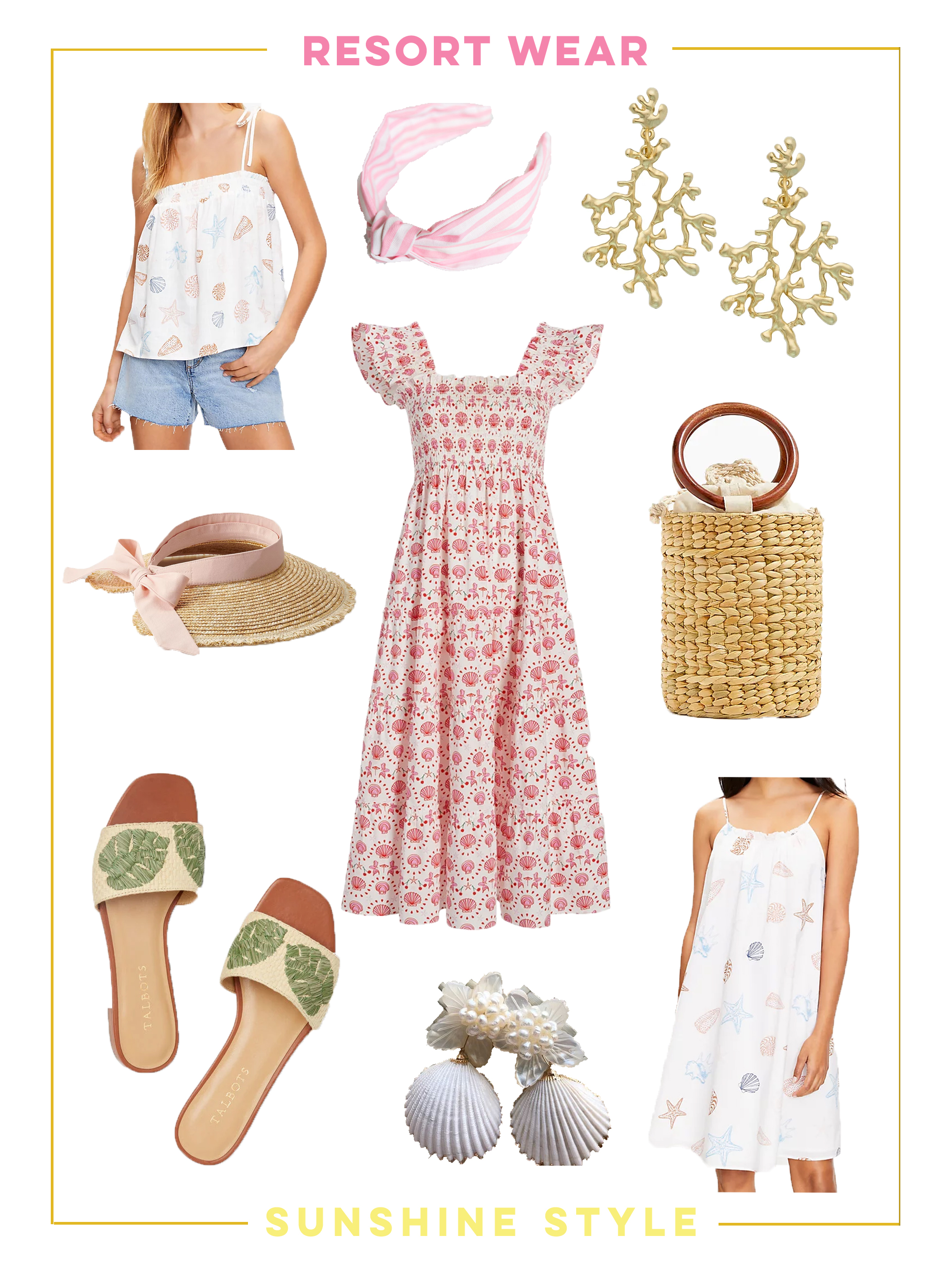 Shell Tie Top (55% off, under $25!) / Sunshine Style Headband / Coral Earrings
Pink Tie Visor (sold out, similar hat) / Shell Nap Dress / Basket Bag
Palm Print Sandals / Shell Earrings / LOFT Shell Dress (30% off!)
Resort Wear Essentials
Did you see that last week I released new Sunshine Style products including this striped headband? You can see all of the new products here! Dresses are my go-to uniform during the summer. I love this shell print Nap dress!
Their dresses sell out insanely fast which is why I scooped up the shell print dress last week (sadly, only Small is left). They do have the Blue Botanical floral print dress available in XS-Medium! You can see my review of the Nap Dress here!
A new shop I recently discovered, Hops and Bun, sells the cutest handmade shell earrings. I would pair them with a sundress and sandals for an easy summer look! You might not know this about me but I carry around my basket bag as my every day purse! If you see me out and about during the day, you will see me with a Dorothy bag and I always get the funniest comments!
LOFT this season has had really cute prints for summer like this shell swing dress (40% off with LOVEIT)! If there's something I love to invest in besides dresses, it's shoes! I love these palm print raffia sandals! How cute would they be styled with white linen pants and a white button up top?
How's your week going?!
Work has been consistently busy which is a really good thing! I had a fun workout on Monday night and got to run in the rain a bit. It feels so good on your skin when it's pretty much 90 and humid at 6PM! I also have plans to shoot some mommy and me products with some friends and their kids! I have not taken many photos of littles before so it will be a new adventure and get me out of my comfort zone!
Lots of Sunshine,
Katie