You know what's funny, I don't think I have ever owned a white bikini before! They are usually so see through and every time I have ordered one, it goes right back to the store. I thought it would be fun to share a few (non see through) classic white swimsuits that I am loving for summer all under $100.
Last week was a hard one for me. I had an anxiety flair up and it took me out. A reader on Instagram used that word after I shared about my hard week on stories and I thought it was so fitting! I think it was a mix of PMS and other things that lingered for a week. Then poof, this week I feel completely normal. Which is why I love the saying, "a flair up".
Took a Social Media Break
Normally, I am at peace and feel pretty happy. I know we all have our off days but this was different. To keep my sanity, I took time off from posting and social media to find peace and feel somewhat normal. Taking breaks is hard for me. I love my blog, my small business and want them to succeed. Deep down I knew I needed to let it all go and I just cold cut it all.
Now I am super happy to be back and actually am starting counseling to hopefully get to the bottom of it. I hope if you have ever experienced something like this, just know you are not alone and it's okay to do what is best for you, like taking a break or saying no to things. Alright, onto some cute swimsuit talk!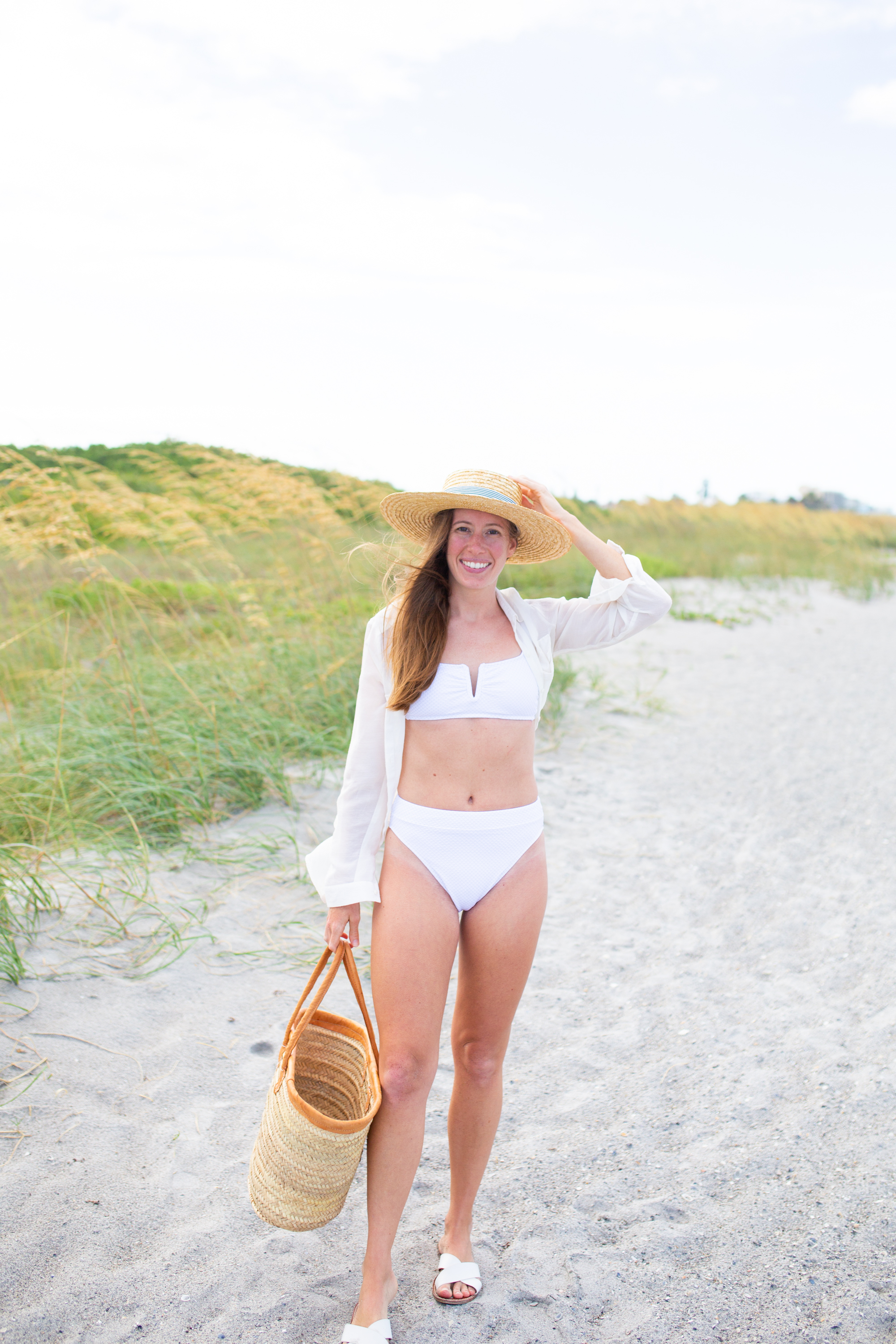 Target Swim Top + Bottom (Under $35) / Straw Bag / Linen Cover Up
Classic White Swimsuits Under $100
When I look for swimsuits, I want them to fit comfortable, have a classic silhouette and non-sheer material. I took a risk with this Target swimsuit and am amazed and the quality and non-sheer white material! The entire suit is under $35 including both the top and bottom and I just love the fit of the suit. Target sizing runs on the smaller side, so I sized up to a Medium and find it super comfortable.
As far as the top goes, I have a super small chest and love the bandeau style with straps. If you have a larger chest, this top might not work the best. It is extremely supportive and has padding that does not wiggle or move (a pet peeve of mine!).
For the bottoms, they are high waisted and hit me just below my belly button. Keep in mind, I am 5'8. If you are shorter, they will sit a bit higher. The bottoms are not cheeky cheeky either! I was super concerned the high cut would not be something I found flattering or way to revealing. Not with this pair, they still cover your cheeks and make you feel confident!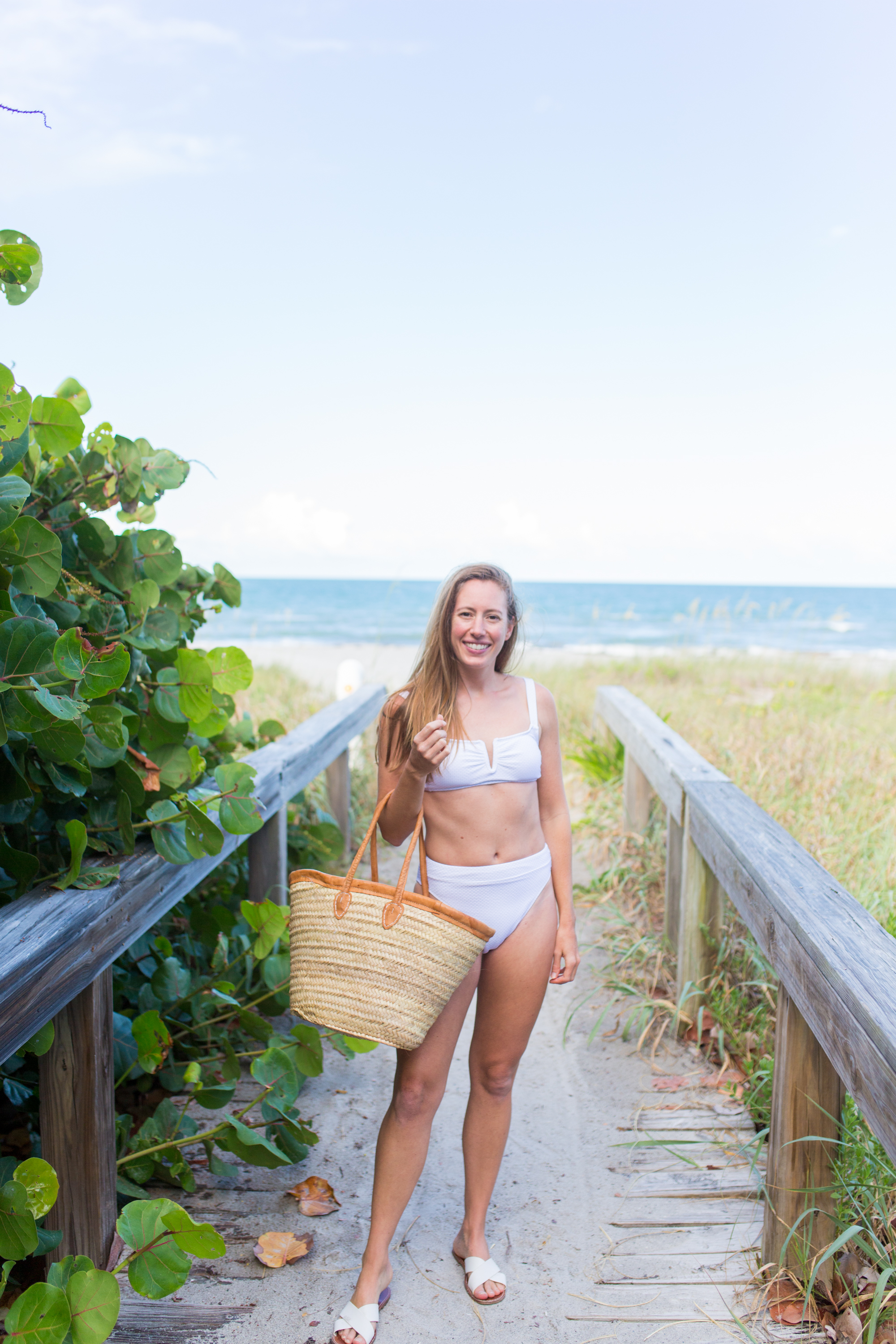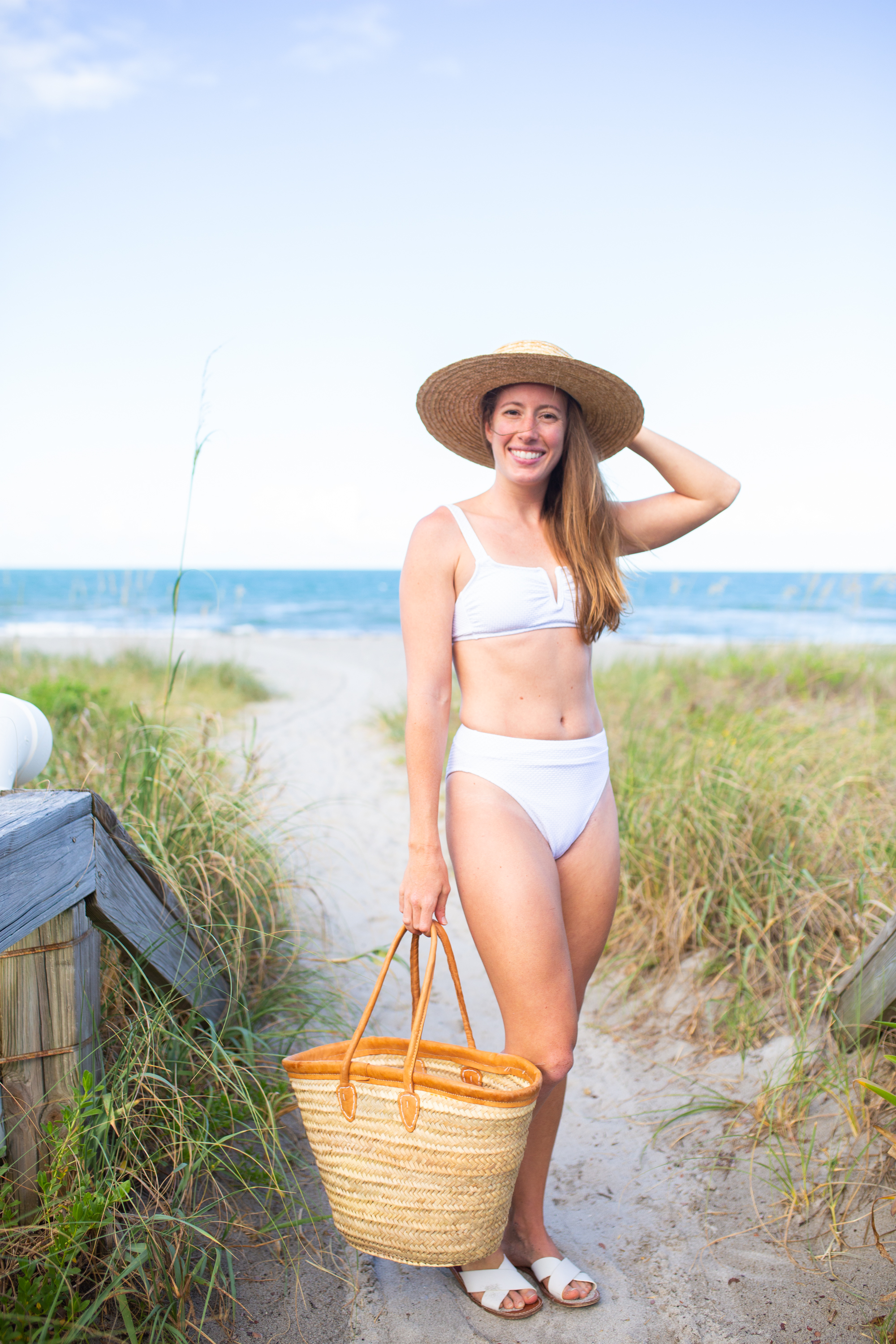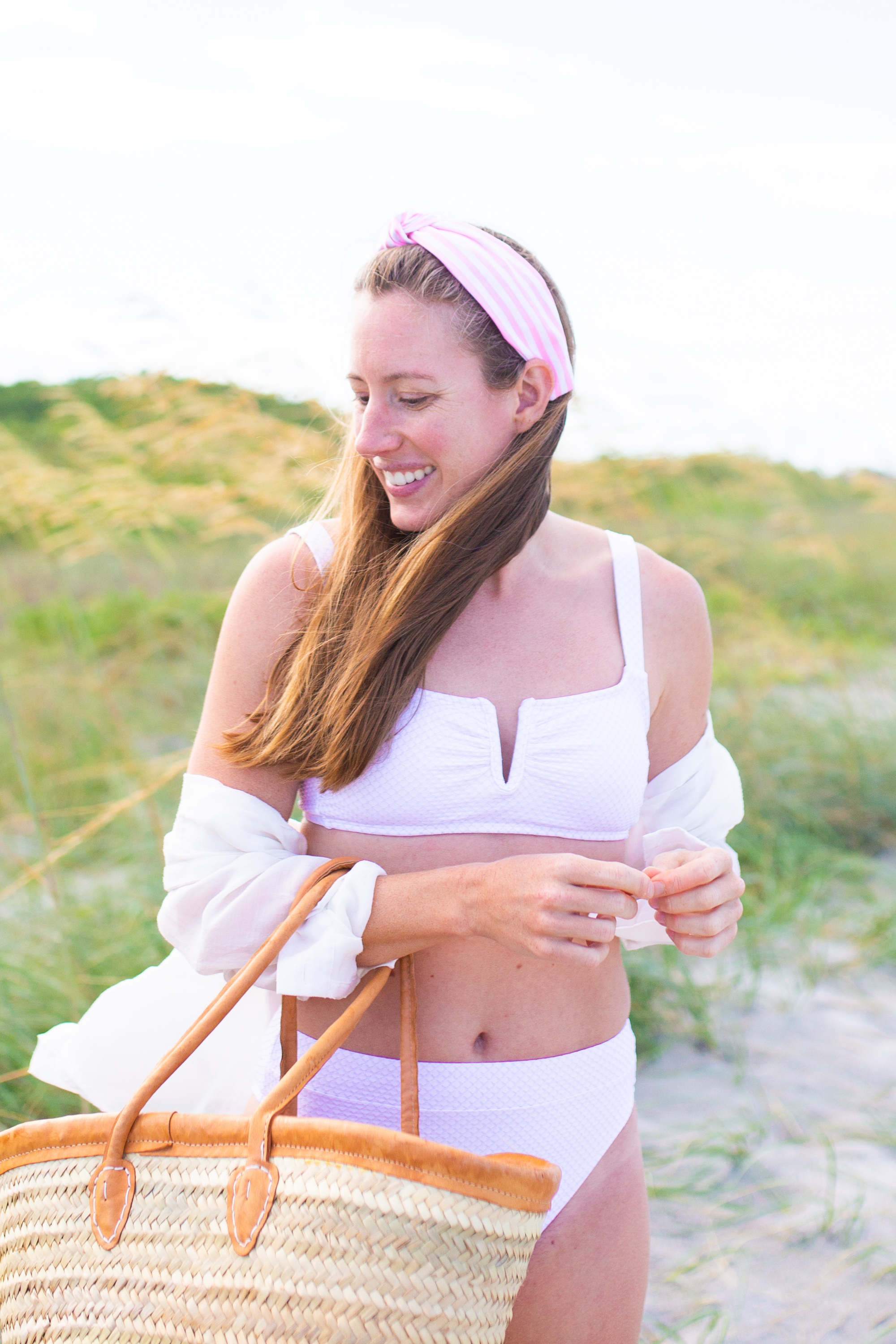 Woven Bag for the Beach
Every time I post this bag, you all always love it! It was a boutique find years ago from a store in Savannah. ETSY sells almost the exact same woven beach bag with leather handles! The bag itself is incredible and my most used summer essential. I take it on every vacation, throw all my beach items in it and it's large enough to hold a towel. Next week I will be sharing about my summer beach bag essentials and random items to include in the bag that are often overlooked.
P.S. The cute pink striped headband will be coming to my ETSY shop soon as part of the new Cabana Collection!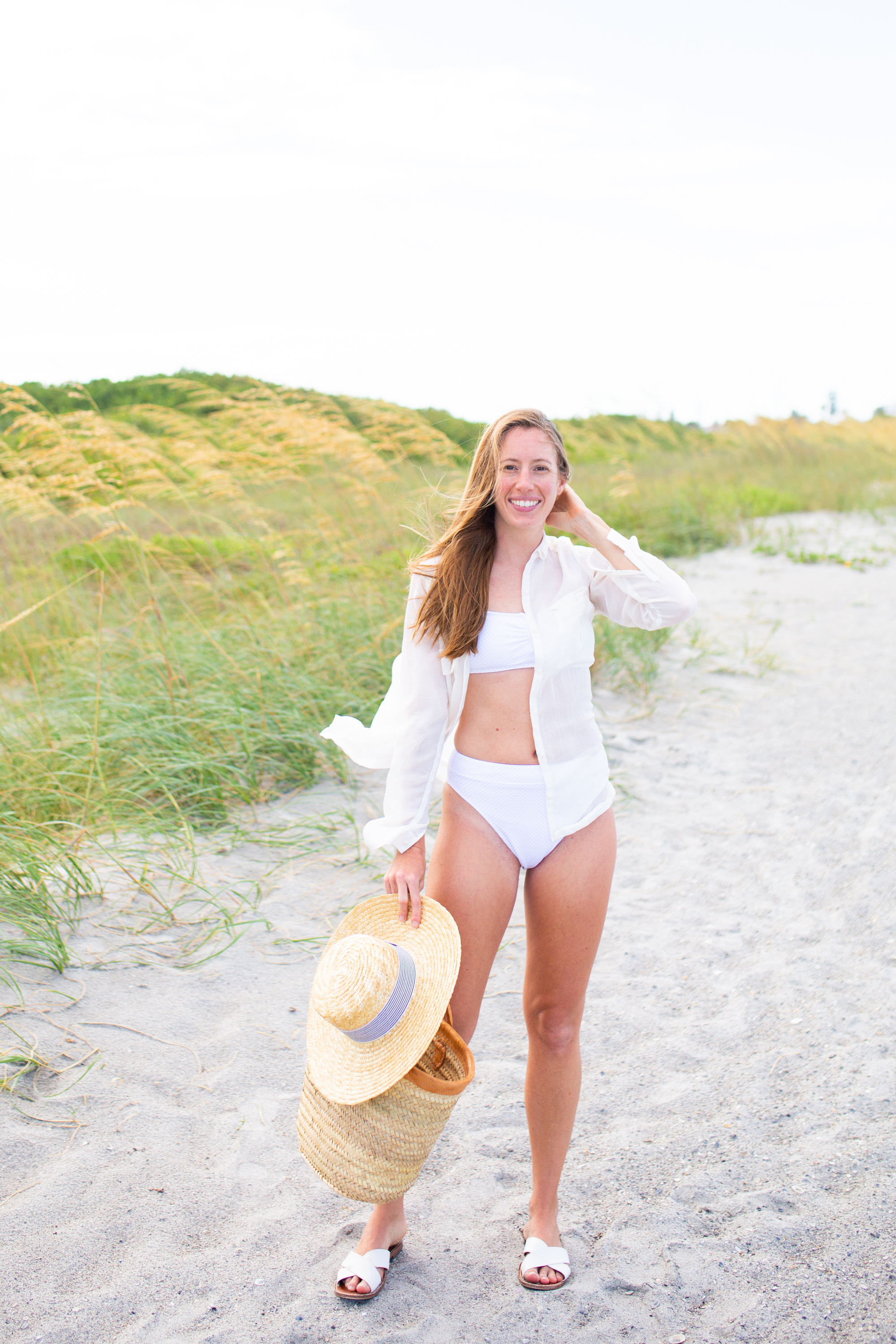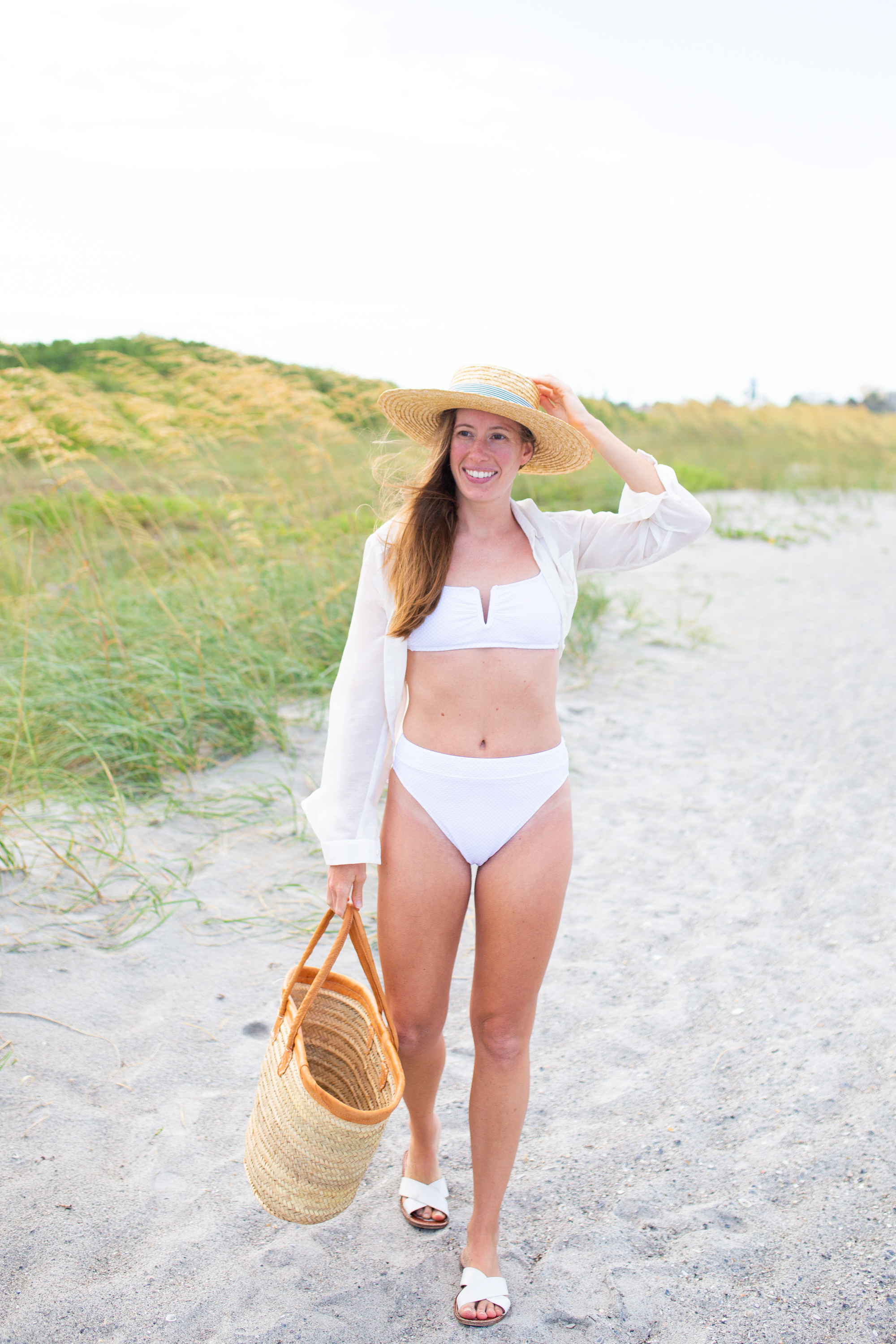 Shop Classic White Swimsuits Under $100
Lots of Sunshine,
Katie