A leopard skirt is one of my favorite pieces to wear in the fall and winter months! Leopard is one of those prints that is just…FUN! I love how you can style them so many ways and make it unique to your personal style. Fall is the best because I always feel like it gives me more options for styling an item multiple ways. Adding in textures like silk and fun prints like leopard will totally transform your entire fall wardrobe even if your trying to fake a fall outfit like me!
3 Ways to Style a Leopard Skirt for Fall
Wow, can you believe it's already the end of October?! Someone asked me if I was going to dress up for Halloween and I was like "oh when is that?". Uh…ITS THIS WEEKEND! Guess I won't be dressing up, HA! I went away on a girls trip to Vero this weekend! If you follow me on Insta, you would know that I had to cancel twice and we were so excited when it finally worked out! Now I feel like I am paying catch up, trying to plan some fall and holiday blog content, get prepped to release a few new scrunchies, get ready for a busy work season and yeah, my mind feels a tad overwhelmed!
Usually I plan and write most of my blog posts on the weekends to free myself up during the weekdays. You know…aka, watch Netflix. 🤣 Now it's Tuesday morning and I'm writing this post before I go work my 9-5 job! I am going to sell my scrunchies at a local market in December so that's been adding a bit to my brain! But super exciting!!! Will share the location and more deets soon!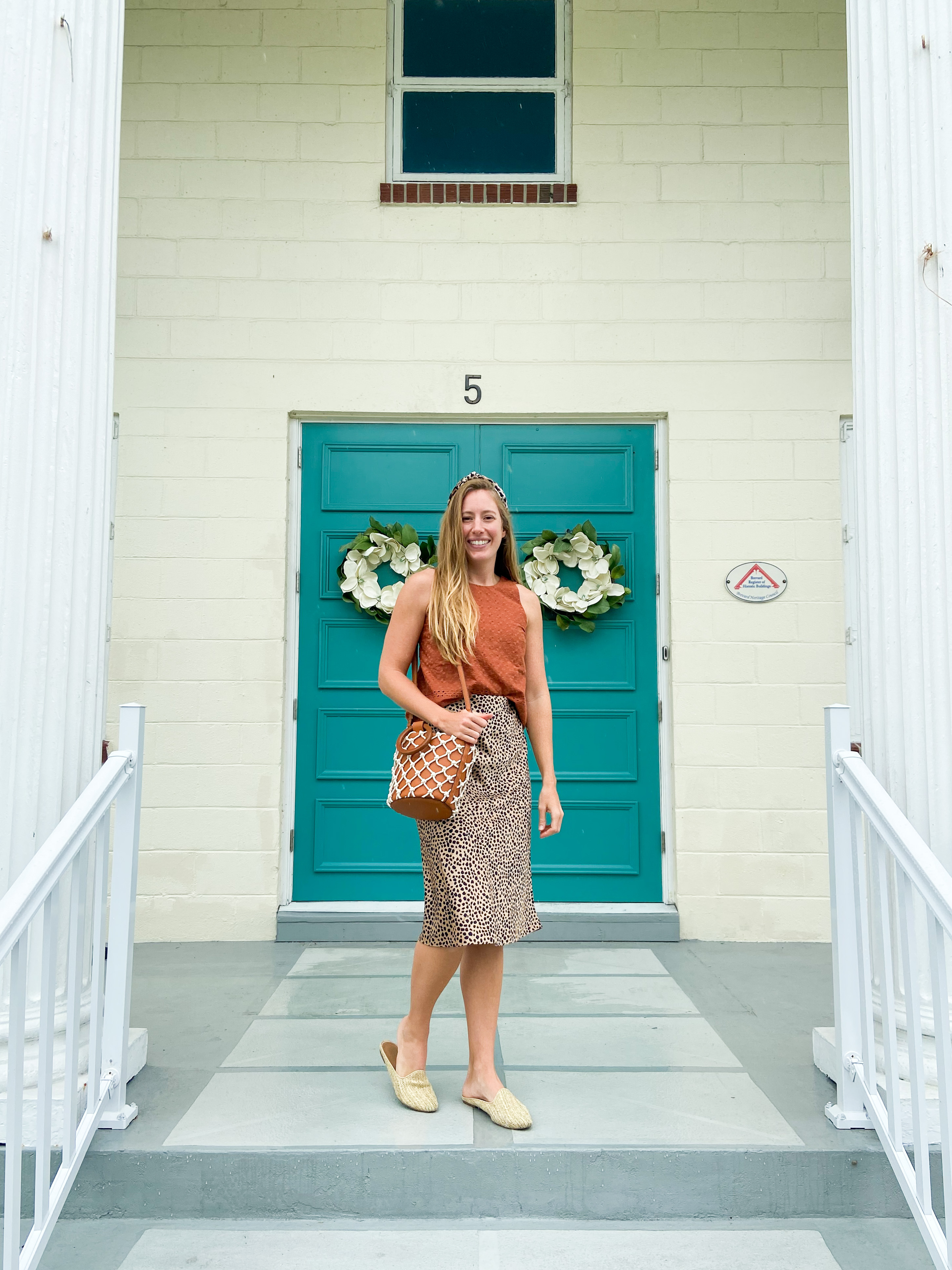 Sunny Outfit Details
LOFT Top (on sale for $9.98 with code WANT) / LOFT Skirt (sold out, similar here) / Target Loafers / Leopard Headband (under $15)
This particular skirt I'm wearing is from LOFT last year that I received as a Christmas present! It's silky and hits right below the knee. It's sold out but I found an almost identical leopard slip skirt here! I love the modest length because modest is hottest! JK. It's work appropriate but also looks cute styled casually for WFH days or on weekends!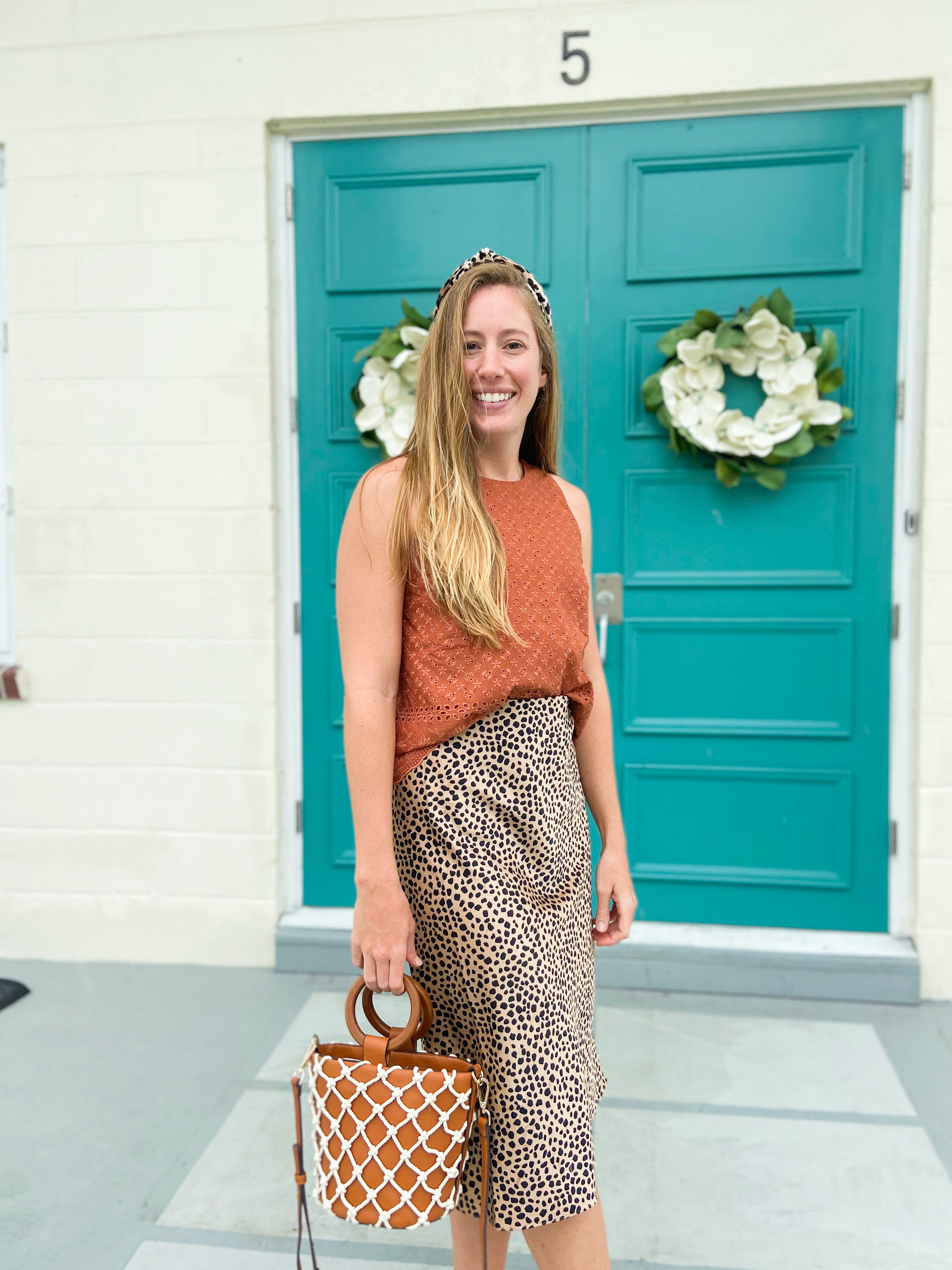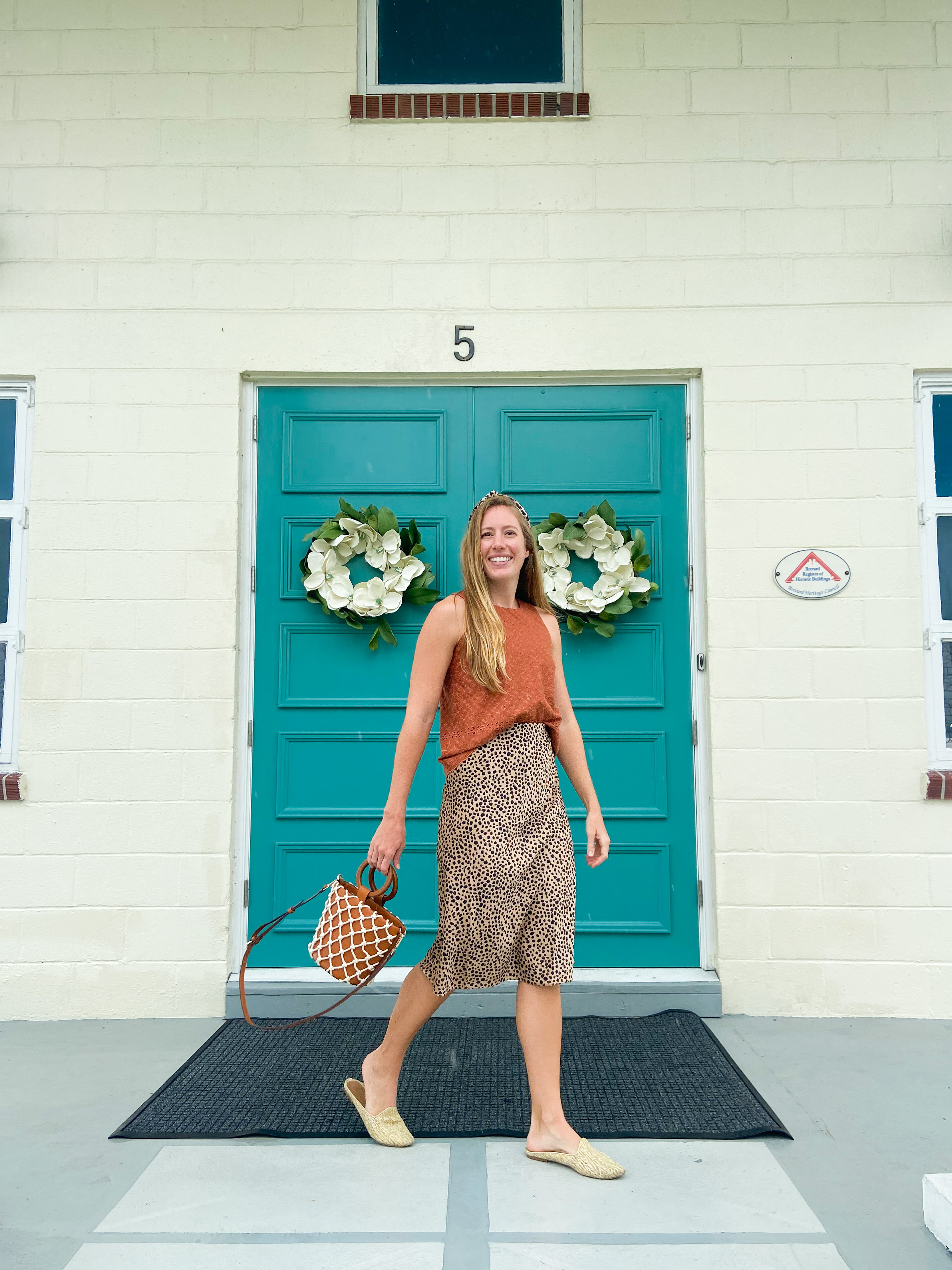 1. With a Cropped Top
Before I get into it, I just have to say that the burnt orange colored top I am wearing is currently on sale for $9.98!!! Scoop it up before it's gone! Sleeveless seems silly for a fall top but when it's 85 still, you are thankful a company designed a top for us Florida people. It has just the right amount of crop where you don't feel like your midriff is going to hang out but also short enough to tuck into high waisted skirts or jeans. There's also the slightest V in the back that gives it an unexpected twist.
A few Saturdays back, I hung with my friends downtown and wore this fall inspired outfit! It really got me in the mood for fall. Leopard mixes so great with tons of colors like orange, burgundy and neutrals. You can also mix it with non traditional colors like pink, stripes or blue!
2. With a Sweater
Pink Sweater / LOFT Skirt (sold out, similar) / J.Crew Bag / Dillard's Boots (similar)
This fall outfit was featured on my blog last year in this post! I love pairing my leopard skirt with a sweater. Especially in early fall or warmer days with a slight crisp in the air! Ankle boots look great with the midi length as well! Both a cropped or regular sweater will work! If you choose to wear a regular sweater, just fold it under and front tuck it in. The only type of sweater I would say doesn't work is an oversized sweater. You would be swimming in it!
3. With a Jean Jacket
LOFT Tank Top / LOFT Skirt (similar) / Sperry Mules / Old Navy Denim Jacket / J.Crew Leopard Headband
Last but not least is the skirt styled casually. I absolutely cannot believe I posted this casual outfit in March right when quarantine started. My life feels like it did a 180 over the last few months, in a good way! My mom and I went to Winter Park in Orlando for the day and I styled my leopard skirt with a denim jacket, tank top and loafers! Tucking a shirt in really shows off the pretty shape of the skirt!
Gotta love a good leopard skirt for fall! Which is your favorite of the 3?!
Lots of Sunshine,
Katie