Welcome back after that 4 day weekend for the books! I love how Memorial Day in Florida is pretty much the unofficial start to summer. Que the tan lines, endless pints of ice cream and BBQ days ahead! After the most amazing May full of cold fronts, we are now in full blown summer and I am ready! That's why I figured what better way to bring some summer vibes to you than by sharing an easy transition dress.
Did you all have an amazing Memorial Day weekend?! I helped my sister move back home (our house is now filled with approx 1 zillion plants now ha), organized my room, had the best Target run (will share soon), scheduled a bunch on Instagram posts for The Sunshine Studio (I do freelance social media management and photography) and swam with my family Monday!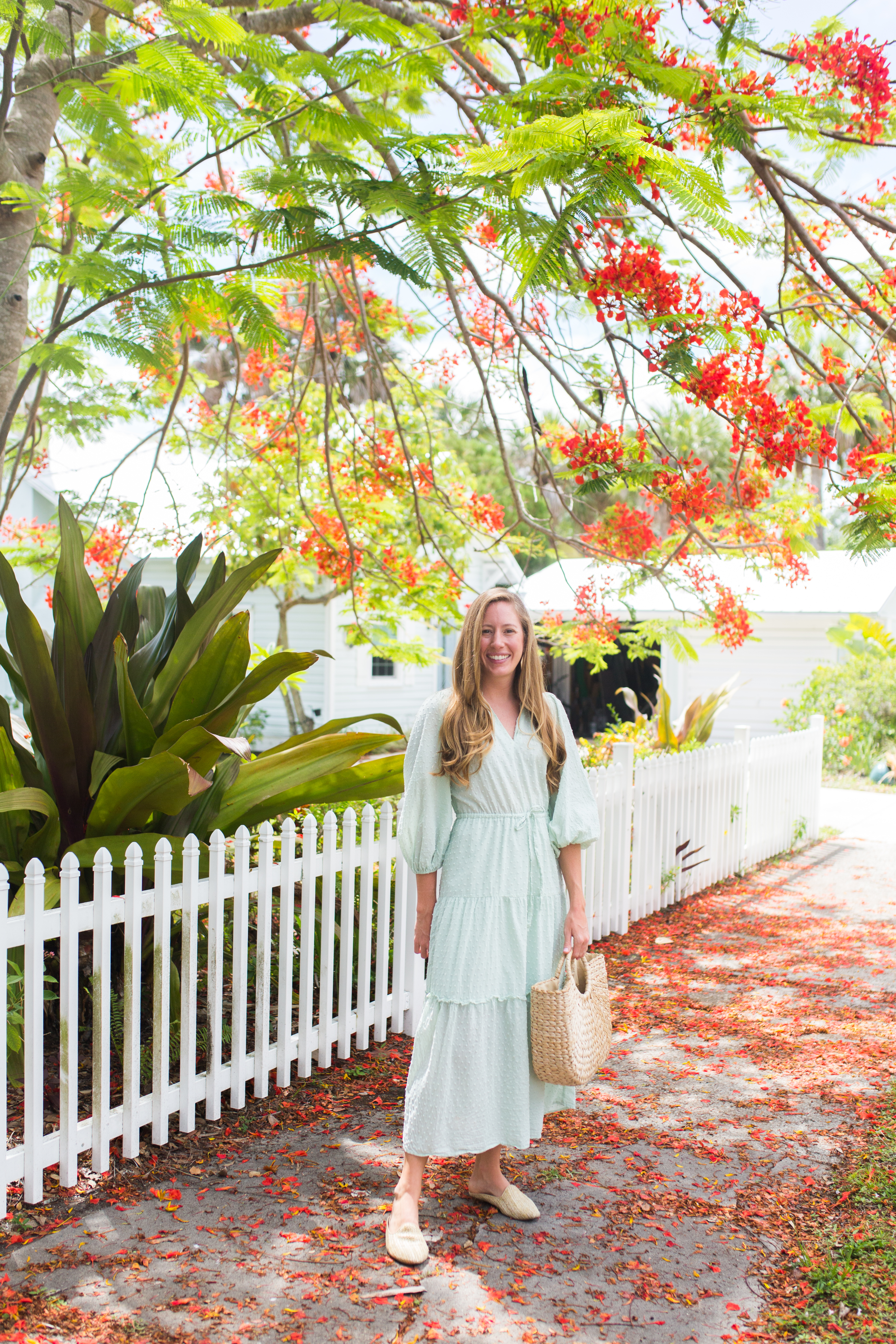 Target Dress (Under $35) / Similar Bag / Target Earrings / Target Shoes
It's no secret that I wear dresses almost year round and love them all. This one though is a style that I know I will wear for years to come! When a dress is this good, you have to let your Target loving friends know! Last week when I posted about my favorite affordable accessories, you all on Instagram 100% agreed Target is killing it this year! You know when you put on a dress and just feel amazing and elegant?! That's this maxi dress. It's made out of 100% cotton that is so breathable!
My favorite part is that it has a plummeting v-neck that is extremely classy and not to low. Usually sleeves with elastic annoy the heck out of me. Not the case with this dress that's under $30. It also comes in white which I may just have to break down and order it in that color too. Really, it's that amazing! I'm not into the grandmillenial style that's so popular right now but this dress is as close as I'll ever get ha! Thank the Lord it has a tie-waist or I might not have been so in love.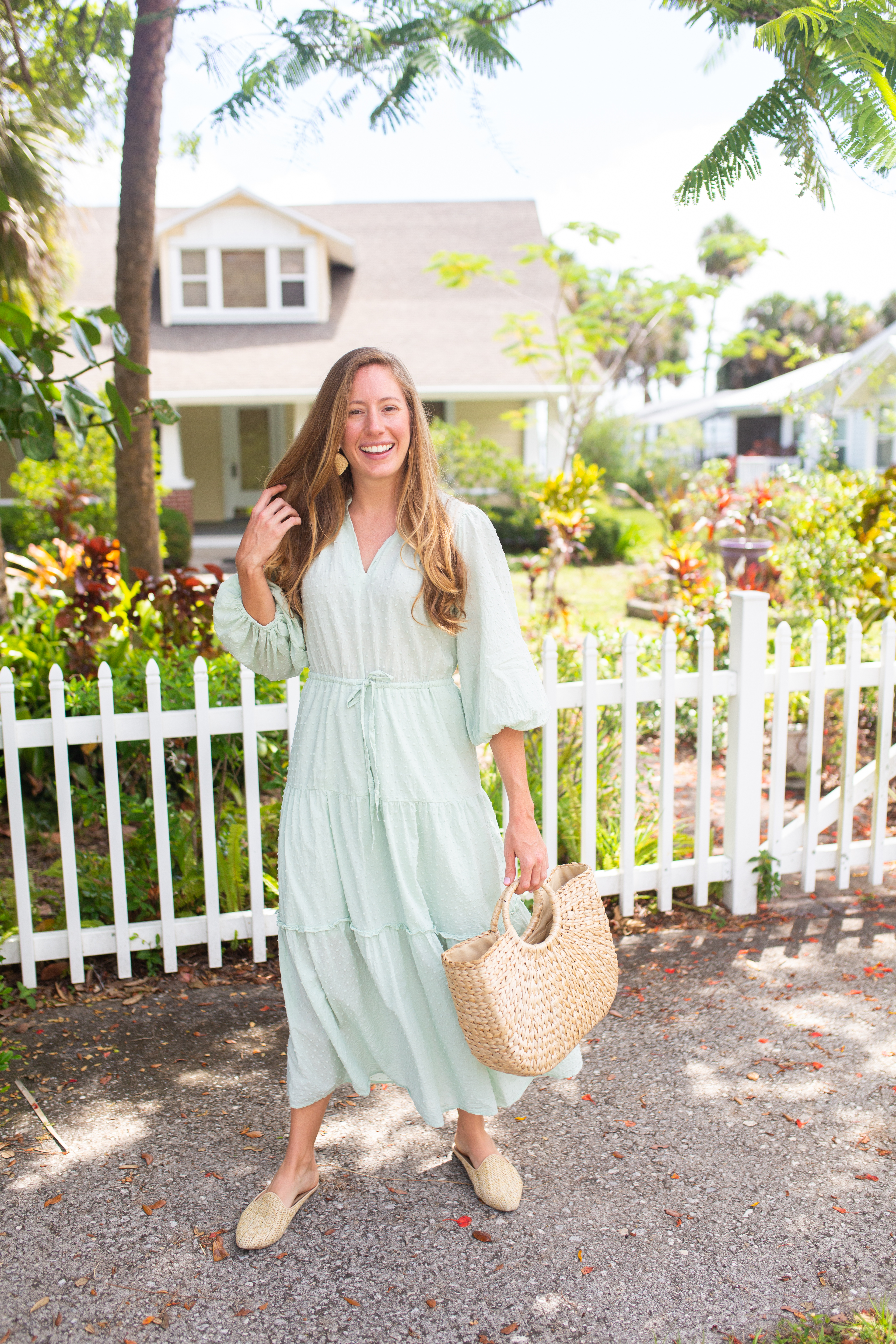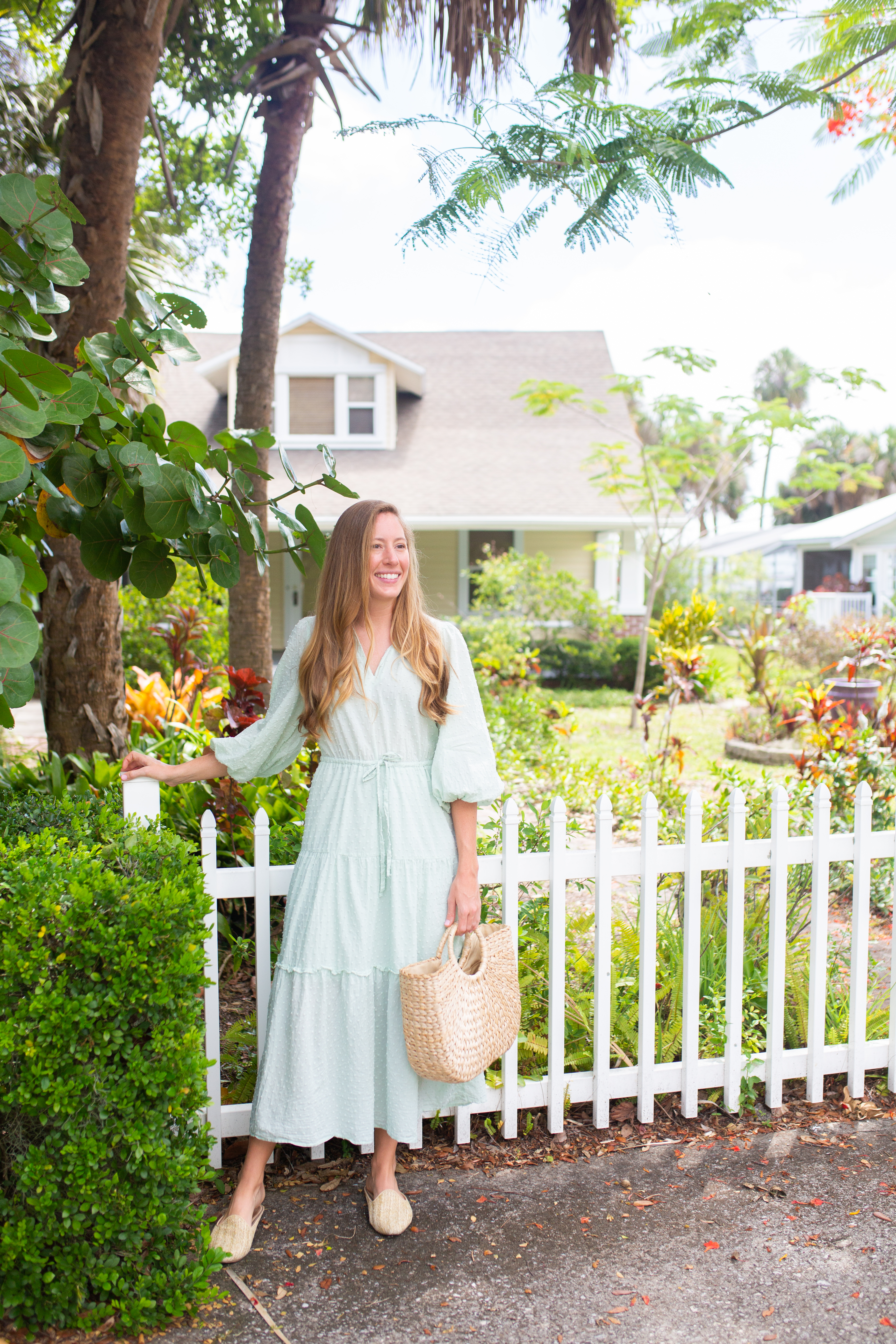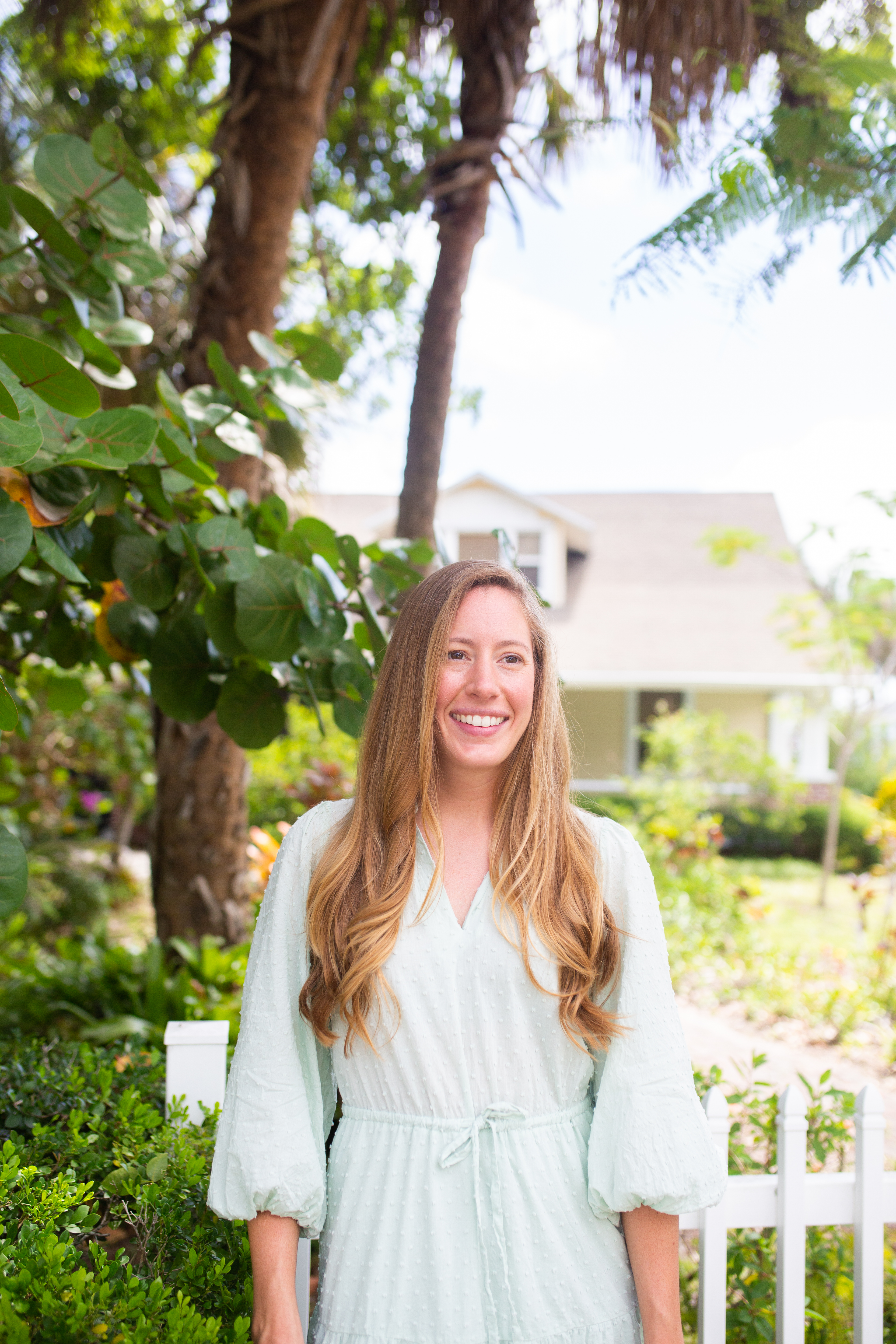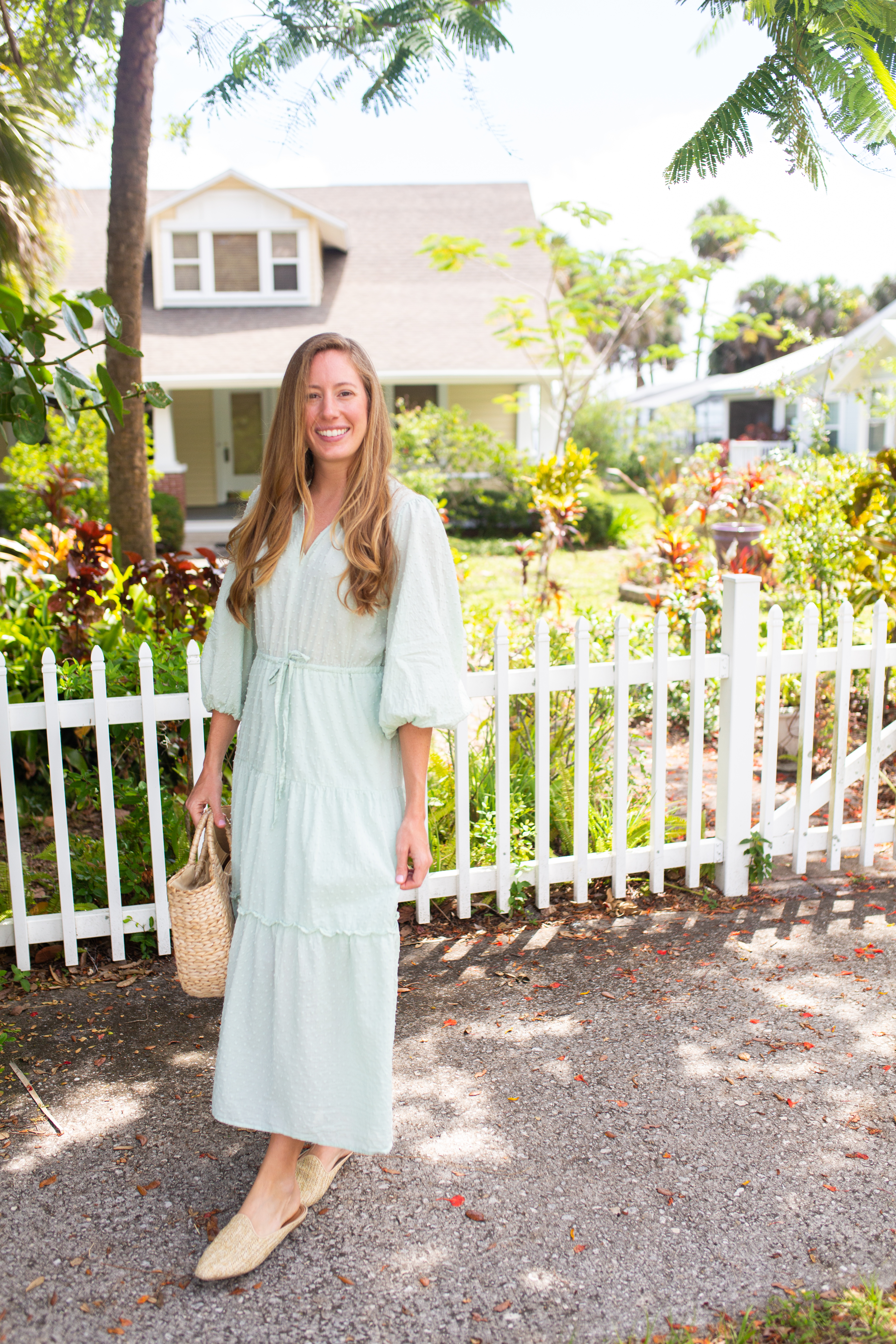 Target Dress (Under $35) / Similar Bag / Target Earrings / Target Shoes
If I don't post again before Thursday, I need to clue you in! If you want to learn how to make DIY bow scrunchies, Carly and Ashley are putting together an Instagram live for a virtual craft night on Thursday, May 28th! I am going to whip out my sewing machine and join them. Already got my fabric picked out and everything! I may even run by Hobby Lobby this week to find a yellow seersucker fabric and grab the elastic I forgot. I hope you join in to because it sounds SO fun!
I always really value your input and would love to know what type of posts you want to see for summer! There are a few I have in mind (like clean sunscreen brands, how to clean swimsuits and looking cute in that summer heat) but really want to provide helpful and fun content that I know you personally find interesting and unique! Are you still in to style posts right now, want more lifestyle?! Let me know in the comments!
Lots of Sunshine,
Katie
Did you have an amazing Memorial Day weekend?! What items do you normally wear that help you easily transition from spring to summer?