Growing up in Florida, I became really good at one thing. That was surviving the summer heat while still looking cute! Nothing is worse than feeling hot and a hot mess at the same time. ? Luckily I got you covered (just keep reading)!
Lately, I have been thinking of new ways to share outfits with you without having to buy an entirely new wardrobe every time. It's just not realistic! So I came up with these cute collages where I styled three main beachy pieces with super versatile accessories. I was inspired by Lauren from Going for Grace with her 1 Piece 4 Ways post!
Right now, I'm working a temporary job at a dental office for the summer, so I am in scrubs most weekdays. I used to say I would never work a job where you wore scrubs. Never say never. ? (I seriously love to copy and paste emojis on blog posts to feel like I'm on Instagram ha!). I'm grateful for the opportunity but this girl misses wearing real clothes to work! You can bet I make the most of my weekends by wearing my most summery maxi dresses, shorts and a tank combo or a colorful bikini! To see the three outfits I styled for any warm-weather or tropical beach vacation… or just to survive the summer heat, keep reading below!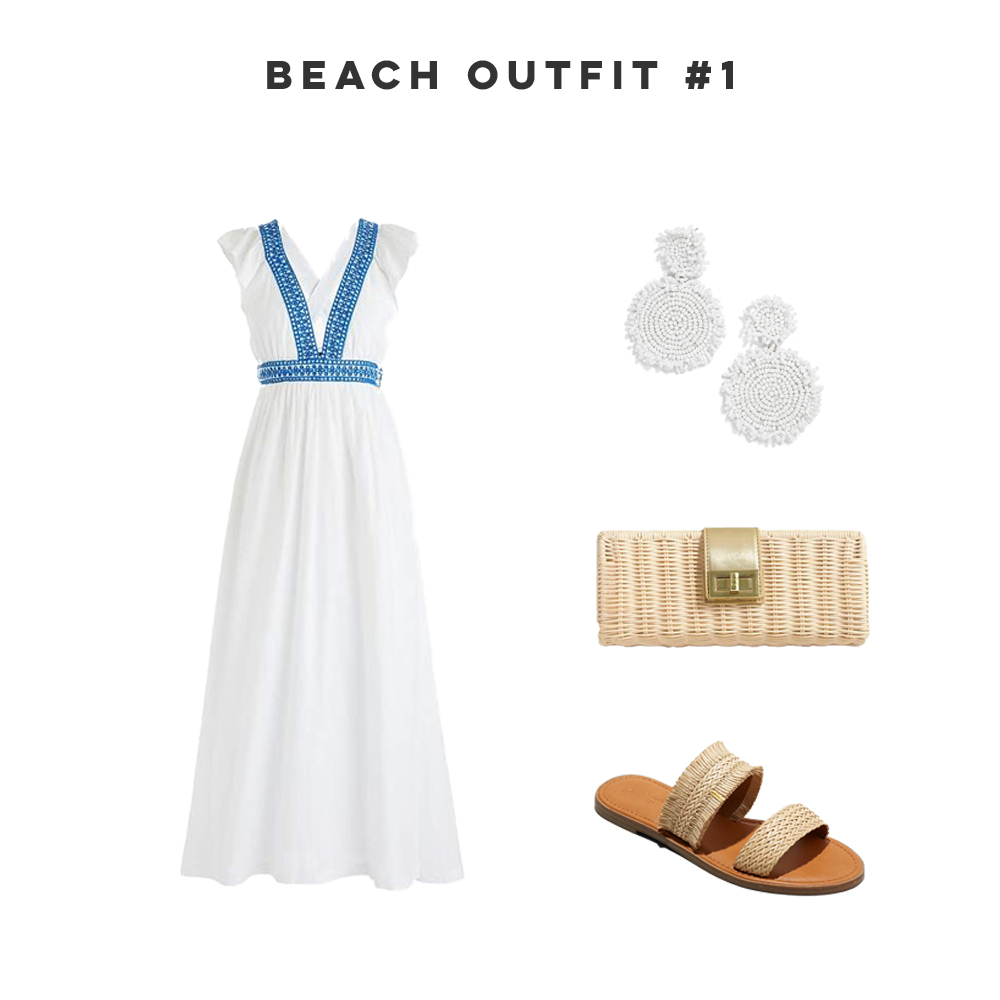 J.Crew Maxi Dress / Baublebar Statement Earrings / J.Crew Straw Clutch / Target Sandals (under $25!)
Last summer when I was in Hawaii for a month on vacation, I made sure to pack a white maxi dress. One of the best items I packed for sure! Fun fact, this 10 Outfits I Wore in Hawiai post is one of my most popular posts thanks to Pinterest! My white maxi dress is featured in it! I legit wore that dress any chance I got. It was hot and I had no air conditioning. When I was getting dressed for the day, I wanted the easiest piece possible and the dress was it! I love this similar maxi dress with the blue embellishments and pretty cut out back! Add sandals, a clutch and statement earrings for a dressy dinner out or swap out the straw clutch for a beach bag during the day!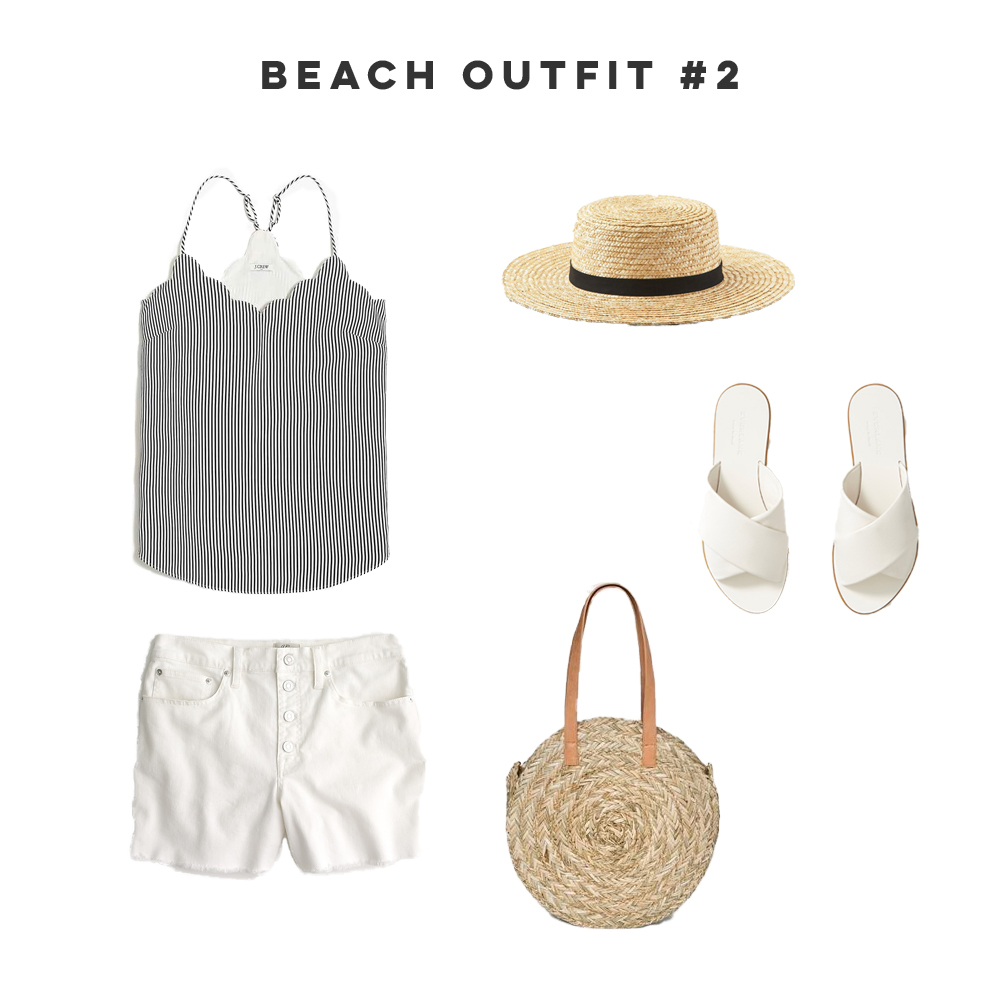 J.Crew Factory Top / High-Waist Denim Shorts / Target Straw Bag / Everlane White Sandals
A good ole shorts and tank combo will never get old, especially when it's classy and casual! What's so funny is that shorts never seem to perform as well on my blog compared to dresses yet I wear them so so much! Every summer I love to add new shorts to my already large (and always growing) collection. This year high-waisted white shorts are super high on my wishlist! I love how easy they are to style with everything, especially strappy tanks! Just add sandals, a rattan bag and a hat for a day exploring town or fun excursions. Also, nothing says flattering like a high waist to conceal that food baby after eating out vacay style every night. HA!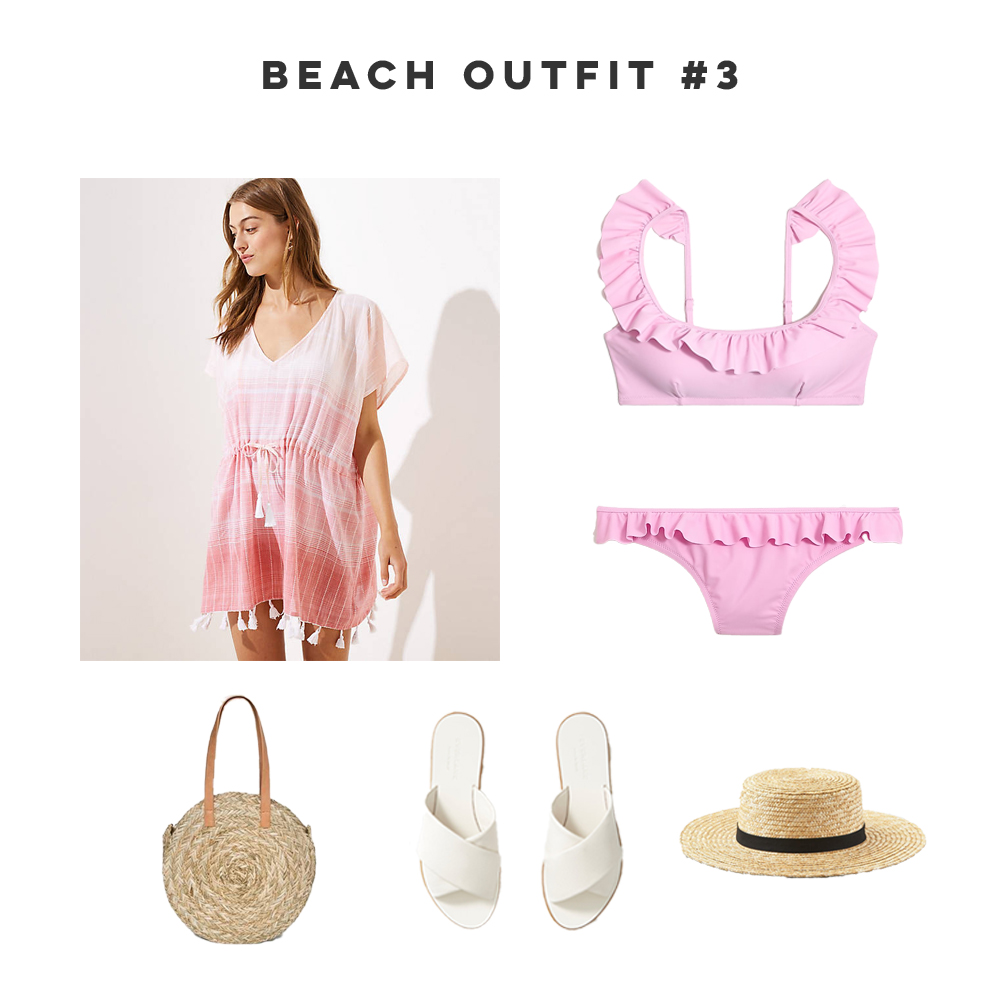 LOFT Beach Cover Up / Ruffle Bikini Top / Bikini Bottom / American Eagle Hat / Target Straw Bag / Everlane Sandals
Onto beach cover ups! This is the most casual outfit of the three, yet so cute! I LOVE wearing dresses as beach cover ups. One, it's usually so hot and my body is so sticky from salt water, there's no way I want to pull on a pair of shorts. It's dresses to the rescue. This fun little ombre cover up with fringe is so fun and perfect to wear with all swim styles. I can't count how many times I've bought a cute cover-up, only to realize that my swimsuit looked totally weird with it poking out the top. I purposely added the same accessories as outfit number 2 so you can get different ideas on how versatile they truly are!
Lots of Sunshine,

Katie
Hope you enjoyed this post! I'd love to know, do you have any exciting vacay plans this summer!? I want to live vicariously through you! Let me know in the comments which pieces you love and where you plan to wear them!
Recent Sunny Posts
J.Crew Factory Summer Try-On (50% off everything)
Floral Midi Dresses for Summer