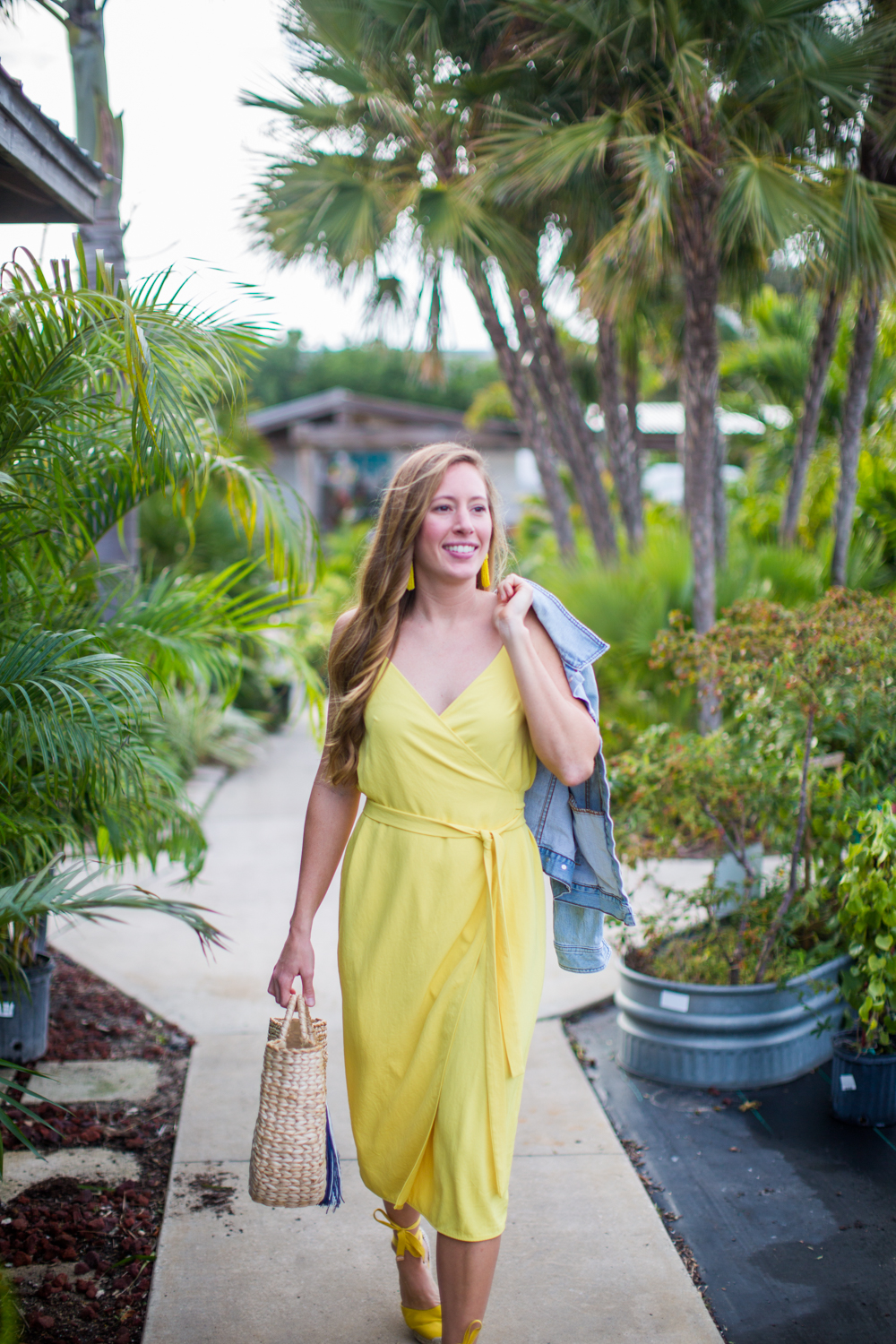 Everlane Yellow Wrap Dress, starting at $60
It's that time of year again! Everlane every few months has a super amazing "sale" where you get to pick what you pay for specific items! It's basically a win win for both because they have overstock and need to get rid of inventory and we get an amazing quality item for a great price! If your not familiar with Everlane, they're a sustainable company that is super transparent about where their clothes are made. What I truly love is that they offer so many colorful and simplistic pieces!
I have been a huge fan of Everlane for years after I watched the True Cost movie. A few years back in college I had attended a conference called Passion where they brought awareness to modern day human slavery, like human trafficking and places with horrid working conditions for employees. After feeling really heavy about this issue, I remember running home and researching about this new knowledge.
I knew my passion was always in the fashion industry and I remember stumbling upon the True Cost movie I listed above and learning about the collapse of a factory that made clothing for big brands. The collapse ended up killing hundreds of people and I believe started a movement and brought awareness to the issue. It's when I first discovered Everlane and immediately placed an order for some white t-shirts. At the time, I knew I was helping make a difference in an industry I cared so much about. Now onto my picks for the "Choose What You Pay" sale!
My Choose What You Pay Picks
Yellow Wrap Dress, $60
You may remember this bright yellow wrap dress I featured on the blog in the Spring. Well, it's from Everlane and it's included in the sale pick! Woohoo! You can choose to pay, $60, $70 or $80 for the wrap dress! I love being able to make choices, so I think this is just the best! You can see that I listed the lowest starting price first on all the items below! I ordered a 4 in the dress. It fits well but I do find that their sizes tend to run a bit on the small side. If you have a larger chest, I would size up.
Rose Mini Wrap Dress, $60
The dress also comes in a mini length rose color. I adore the feminine pink color and a true wrap dress is extremely flattering!
Soft Cotton Popover Shirt, $42
Comes in white also! Love this casual top to tuck into overalls, white jeans or denim shorts for summer!
Magenta Go Weave Picnic Dress, $78
This is the prettiest dress on the list in my opinion! I love the silhouette, length, front buttons and the thick shoulder straps. Normally I am not a magenta fan but really feel like I could get behind this color! They have a similar dress shape in a blue and white striped print that's not on sale but just as adorable.
Polka Dot Cami, $45
How adorable is this cami?! With temps already in the 90's, I could easily see this top being the go-to favorite to keep cool. Pair it with high waisted denim shorts or tuck it into a white button up skirt.
Modern Wrap Sandal, $54
Comes in green and sand also! I love wrap sandals and how cool is the bubblegum color?! Reminds me of eating Bubble Yum in elementary school! I totally envision styling these shoes with a white sundress for a warm summer day!
I personally have not tried any of their denim but I know Natalie, Jess and Jess, other bloggers I follow, swear by their denim and I trust their opinion! They come in regular and ankle length. A pair of well made pants under $50 is basically unheard of! Rarely do I wear pants in the summer but I would totally save these until fall because the price is that good.
The Cashmere Crew, $60
Everyone needs a colorful sweater in their life. This baby comes in not one but 5 different colors! Not even sure I own a cashmere sweater, but now is the time to stock up! My faves are pink and yellow!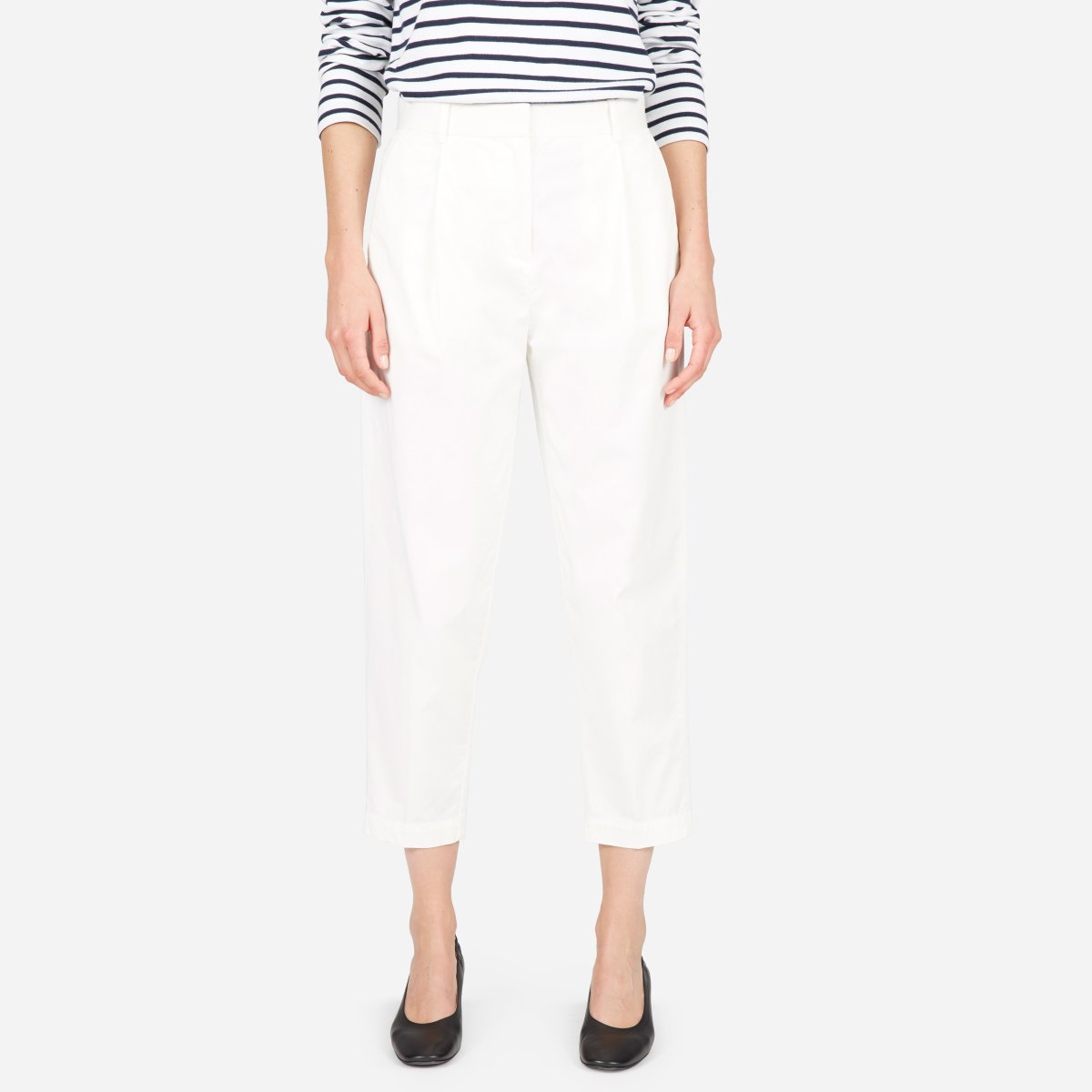 Slouchy Chino Pant, $41
These are perfect "work pants". Classic, clean and white! These look extra flattering and I love how they styled them with a nautical striped shirt! You could also style them with the polka dot cami for a casual summer look!
Silk Shirt, $66
I adore the billow sleeves and the crisp look of this top! Style it with the trousers above or my fav way to wear a blouse is to tuck it into a high waisted skirt.
Normally I don't feature underwear or bras but I think these pink pair are adorable and not a bad price for being sustainable! I guess they overproduced undies LOL.
What's your favorite item from the choose your own price sale?!
What are you all up to this weekend!? I'm currently writing this from the comfort of my couch wearing pajamas and eating chocolate chips…my favorite! As much as I love fashion and dressing up, I am the biggest homebody, love eating dinner to-go and just having super low key relaxing nights. My sister and I are trying to find a rom com to watch on this super rainy Friday night…also my favorite haha!
For those of you who commented or left an encouraging note about my new summer job, I so appreciate it! If you don't follow me on Instagram (which you should!) I posted that I got a temporary job at a dental office. The school year ended for the summer, so this is just what I am doing in the meantime! My best friend is actually the one who told me they needed some extra help in sterilization during the summer so I told her I was interested and was hired the next week. Basically, I help keep the rooms and instruments clean!
I truly never pictured myself working in the medical field…I legit feel like I am learning a new language. It's all completely foreign to me but I'm giving myself grace and think I did pretty good for the first week on the new job! Oh, and I also have to wear scrubs. Never thought I'd ever be caught dead in scrubs HA! Never say never. 🤷‍♀️ Trying to stay positive and be grateful I have a job, get to work with my best friend and have off every Friday!
This coming week the doctor is off for vacation, which means the office is closed. So I get a kind of unexpected vacation. Yippee! I plan on hanging with my dad for Father's day. My mom, sister and I are taking him to Walburger in Orlando because he has been dying to go since last year. Then on Monday my mom, sister and best friend want to try and go to Vero Beach for the day. The beaches are just an hour South of us and have the prettiest blue water. Hopefully, during the rest of the week, I can use my free time to work on my blog and business things and most likely squeeze in as much beach trips as I can. Summer thunderstorms are here to stay, so it's really usually a mad dash to get outside before they hit in the afternoon. Hope you all have an awesome weekend celebrating your dads!
Recent Sunny Posts
A Photo Recap of Palm Beach and a Tropical Outfit