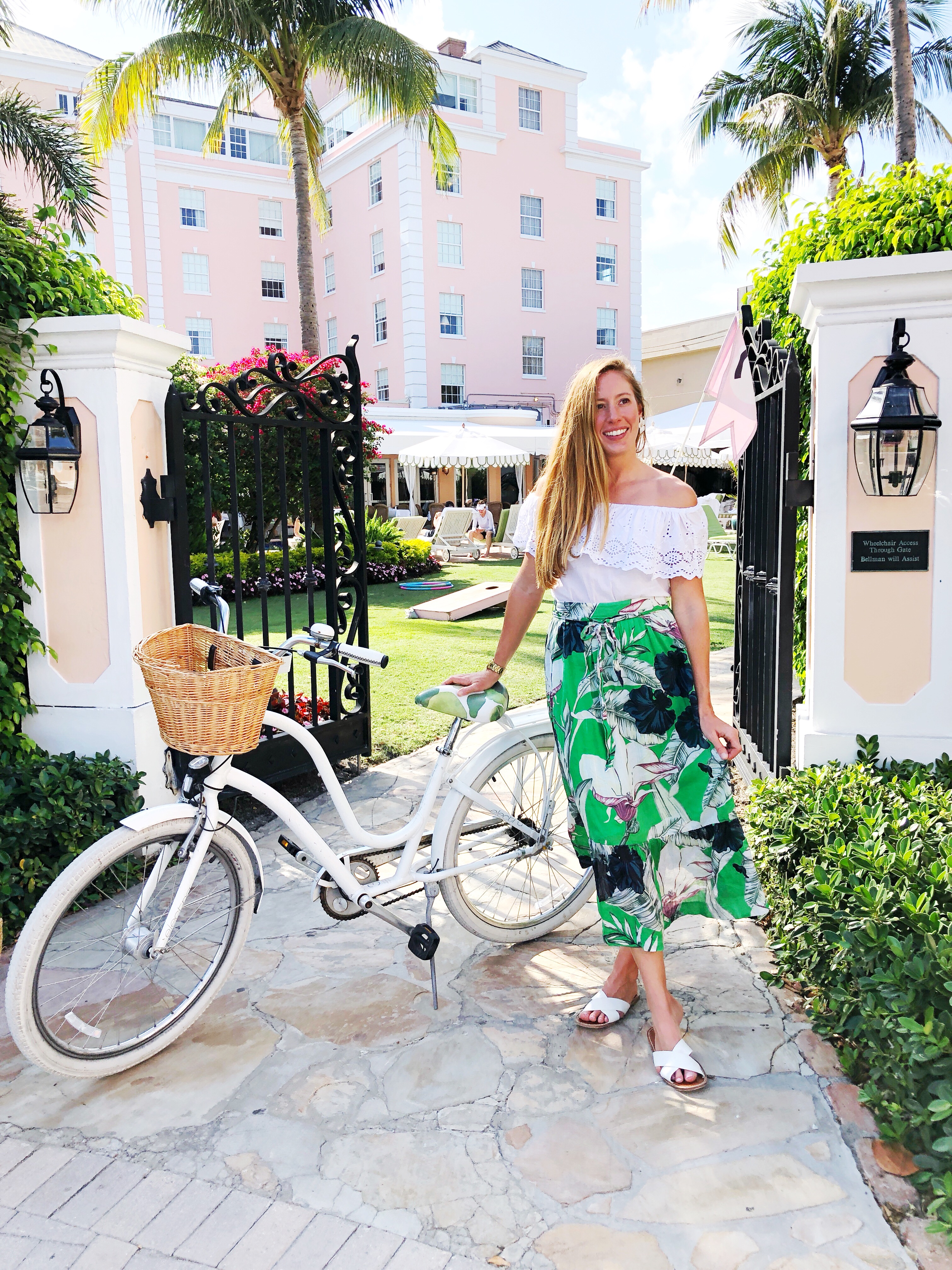 Before I even begin, I must just say that Palm Beach is the cutest coastal town ever! It's filled with palm tree's, color around every corner and would be the best vacay spot basically all year long! Sub-tropical temps mean it's beach weather all day, every day. If you remember from this post, I mentioned how I visited West Palm a few weeks back for the first time ever. Not even sure why I have never made the hour and a half drive down there until now?! I first fell in love with the town after following Palm Beach Lately on Instagam for a few years!
I met up on a Sunday afternoon with my blogger friends Emily and Hailey who live in South Florida. This quick trip was a long time in the making. We had all tried to meet up in March and I unexpectedly got a flat tire while driving on the highway on the way to meet my new friends for the first time.
I was just 30 minutes from my house when I got the low air tire pressure notice on my car (thank goodness for technology). Normally I would have ignored it but I had an hour drive left, so I took the warning more serious! I was fortunate enough that I pulled off the highway literally just.in.time. By the time I got off the highway, my car was leaning so bad to the right side. I rolled into a Burger King parking lot (lololol), tilted car and all and had to tell Hailey and Emily I wouldn't be able to make it. Good things come to those who wait. We were able to find a free weekend in April and I was able to make the trip down with a brand new set of tires and no flats!
Now onto the tropical outfit you should totally wear in PB and a bunch of photos I snapped within a mile of each other! We met on Worth Avenue and that's where most of these photos were taken! BTW, these are my favorite kind of lifestyle posts to write and the huge reason why I started blogging in the first place. My heart gets so happy to tie in style, travel and fun stories all into one! There's just such a realness to them!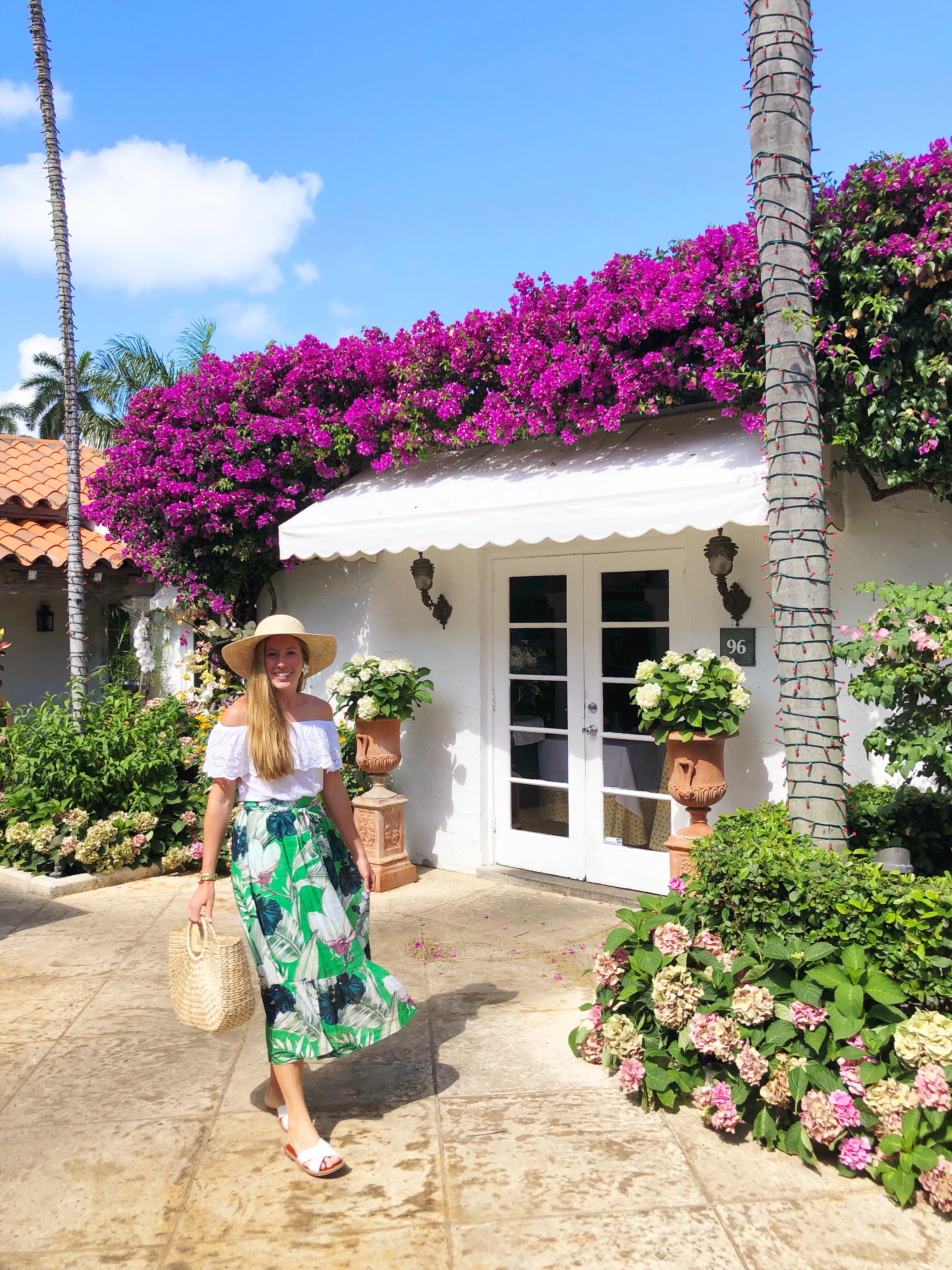 Francesca's Top (similar) / Ann Taylor Skirt (similar) / Gap Sandals (similar) / Wicker Bag (found this similar one that's under $30!) / Hat (similar) / Baublebar X SUGARFIX Earrings
When I first arrived in West Palm, I was so excited to see the spots that I've seen so many photos of from other bloggers, on Pinterest and of course Instagram. It's always fun to see if specific places live up to their hype and this one totally does! The entire town is very laid back and a slower pace of life which I love. This little shop was down a side alley and filled with blooming flowers like bougainvillea that I honestly have no idea how they even grow properly in Florida.
Matching my surroundings is something I have done since I was a kid. That's why packing for a beach vacation is so fun for me or visiting places like sunflower mazes because I can create outfits around them. Of course, spending a day in Palm Beach meant I had to wear something tropical!
My tropical midi skirt was a purchase from Ann Taylor a few years back but luckily summertimes means lots of unique tropical printed options! I love the sophisticated feel of a midi skirt and found one that looks almost identical to the one I'm wearing. It's at a great price point to! If I were going to add another tropical skirt to my closet, I would totally pick this skirt with a neutral tone and orange printed leaves or this slited skirt with a bold palm print!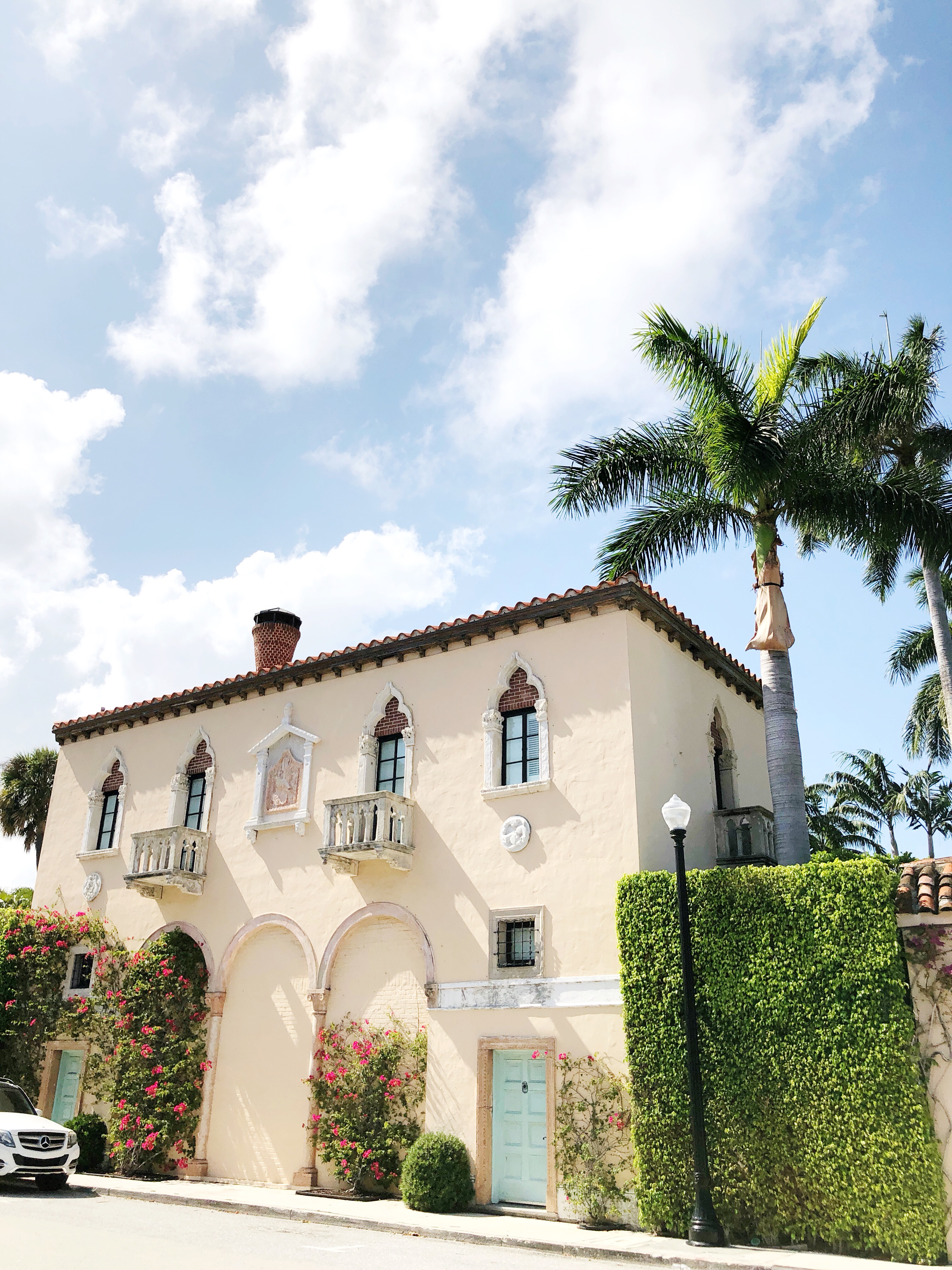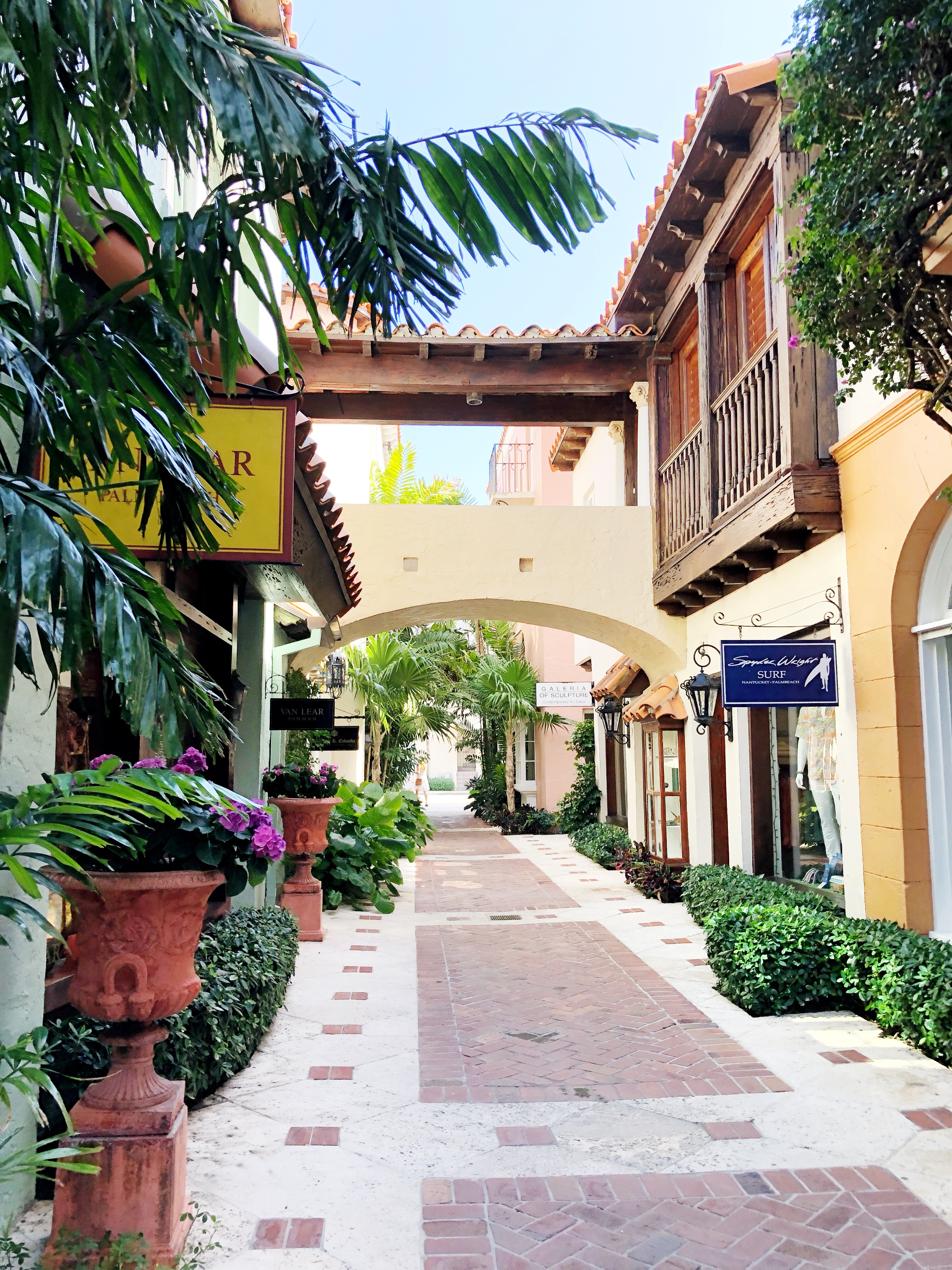 The moment we stepped out of our cars, Emily, Hailey and I started shooting everywhere we could. I was just so excited I couldn't help myself! After about an hour of walking, I started to realize it felt about 10 degrees warmer outside being just two hours South. I was so relieved I wore my off-the-shoulder top to stay cool. We walked almost the entire Worth Avenue (lots of beautiful window shopping here), drove to The Colony Hotel and I made sure we took a peek at the pretty blue water beaches too!
It's a sad day when your beloved off-the-shoulder tops are not as popular as they were last summer. I truly love how they fit and the feminine feel they give. Another option is to wear a simple white top, like this adorable Everlane button front tank top that's on my summer wishlist or with a thin spaghetti strap top. These types of tops are so versatile and can easily be tucked into skirts, shorts and worn with jeans.
I really wanted the skirt to do the talking so I styled it with a simple white top and very neutral accessories like favorite white cross sandals for summer, a wide brim sunhat and the straw bag I wear all the time seen here, here, here and here. Yeah, there's just no point in buying a new bag for every single blog post! I do re-wear all my clothes and bags!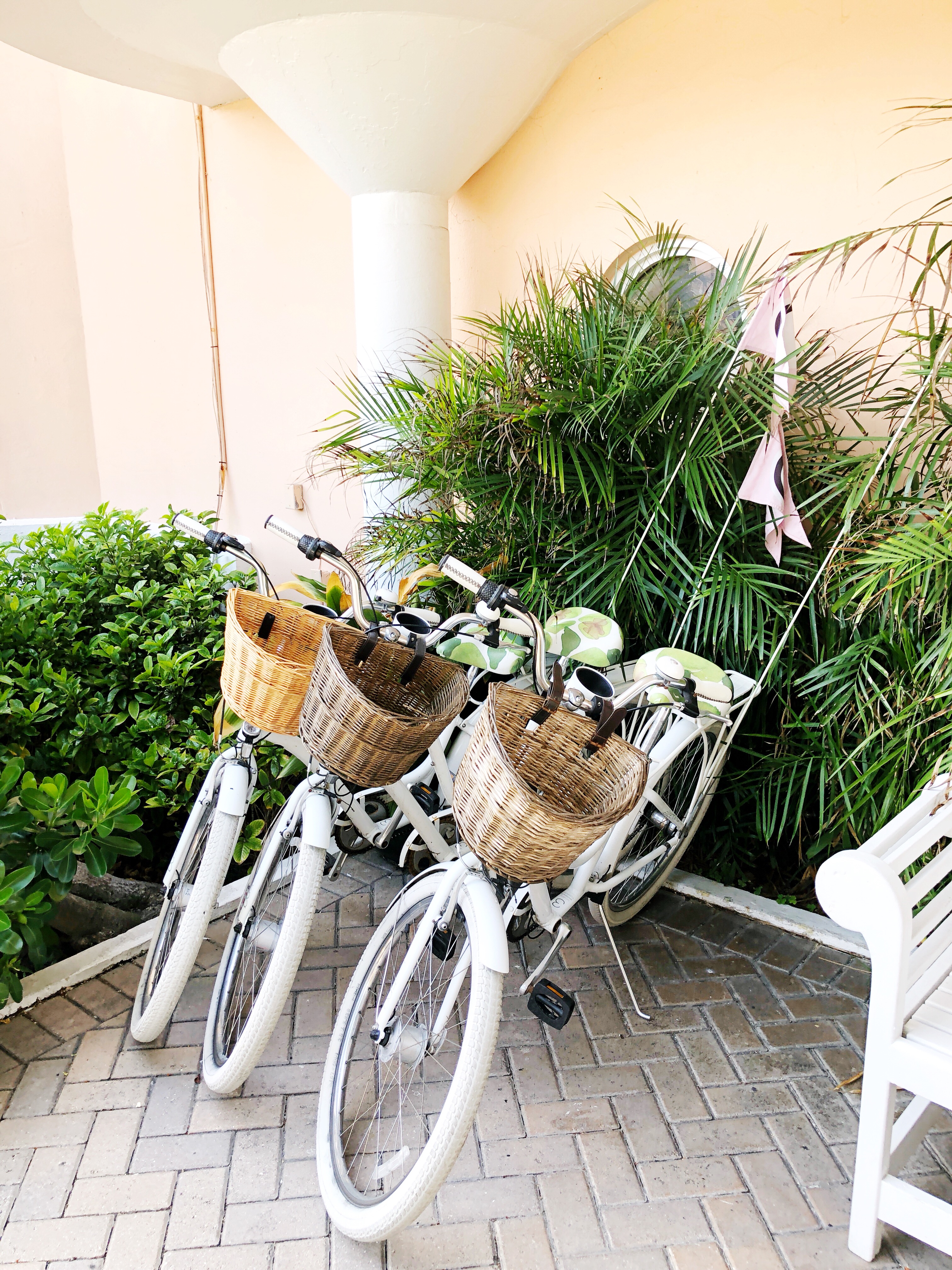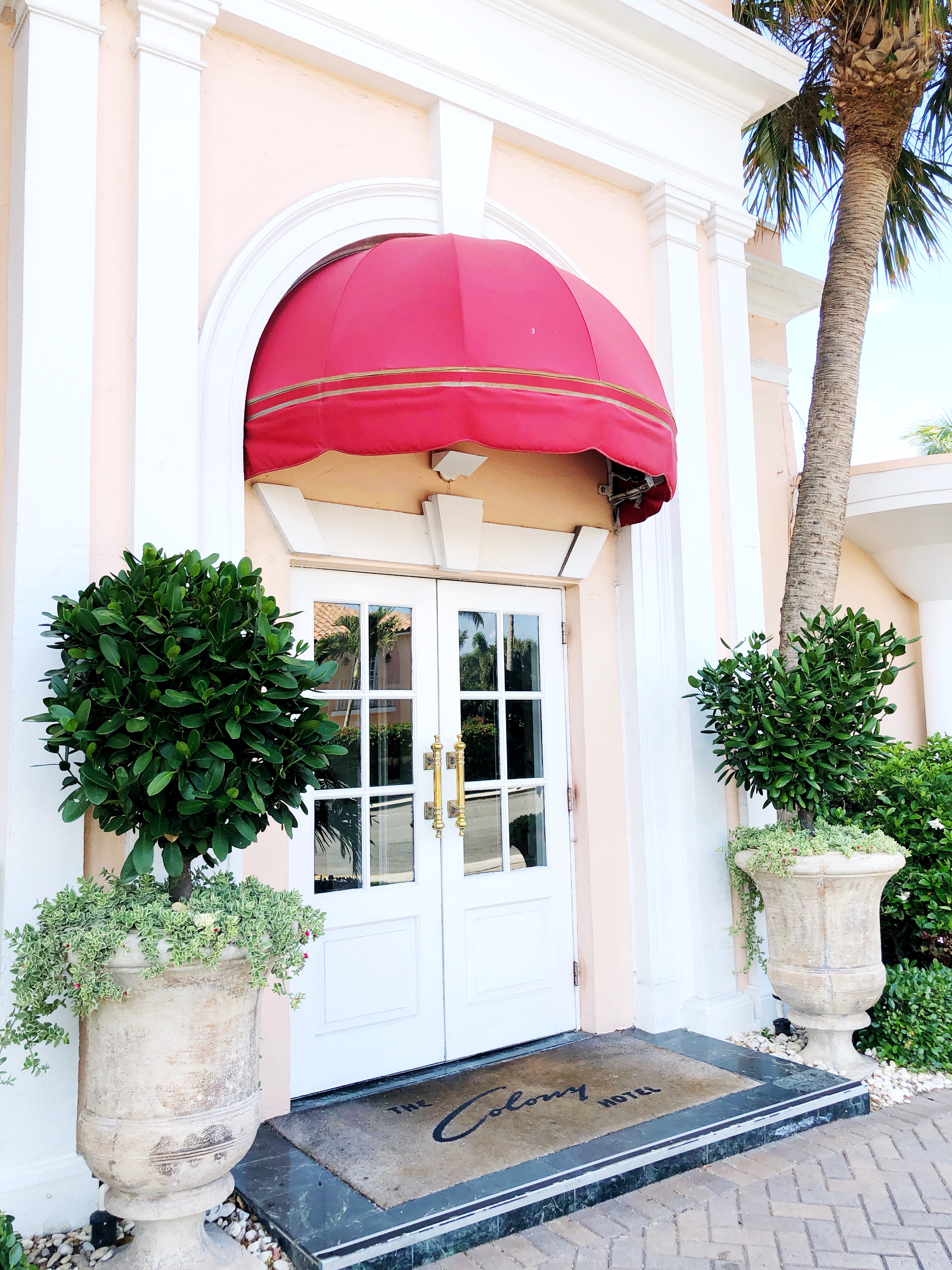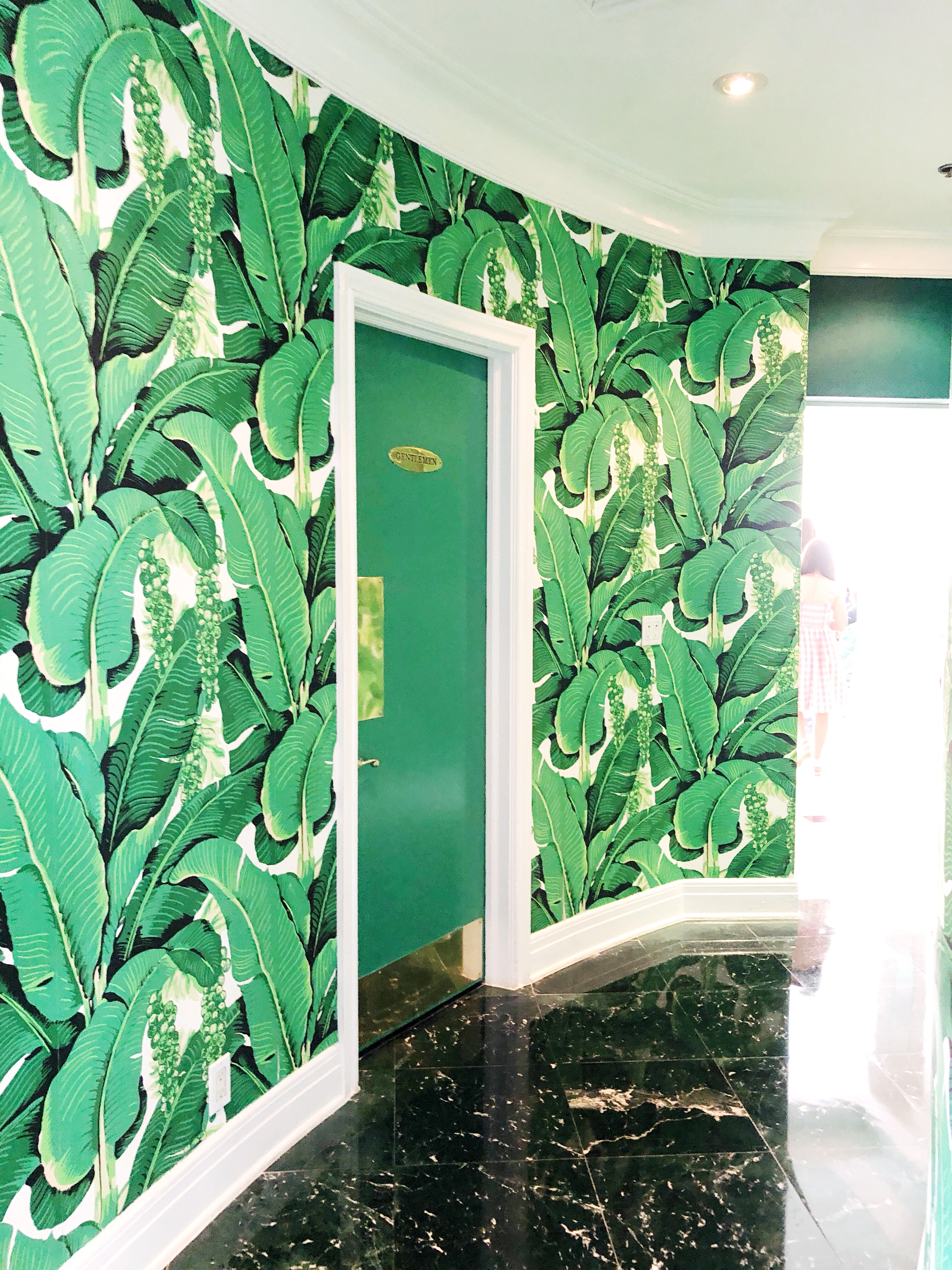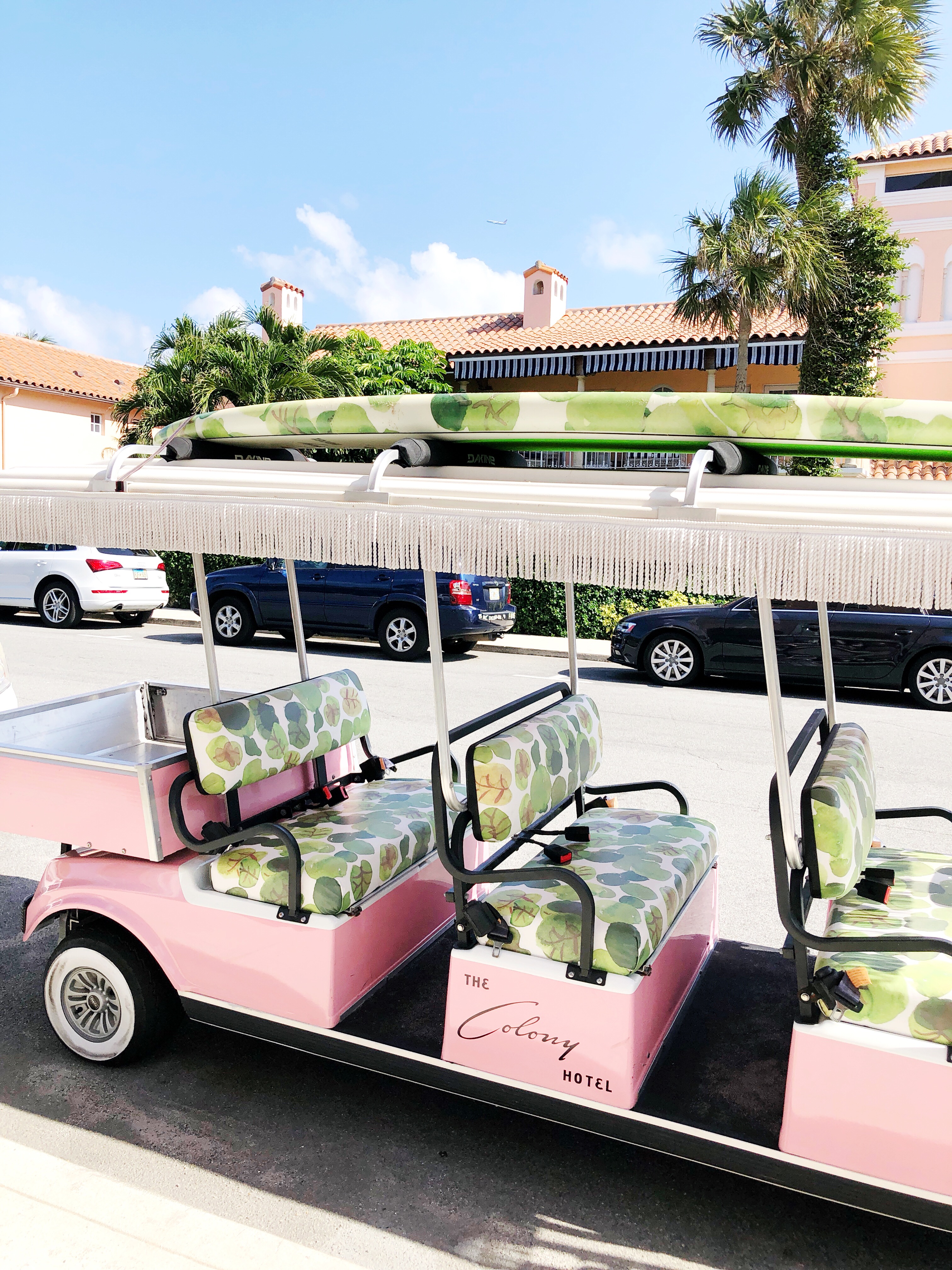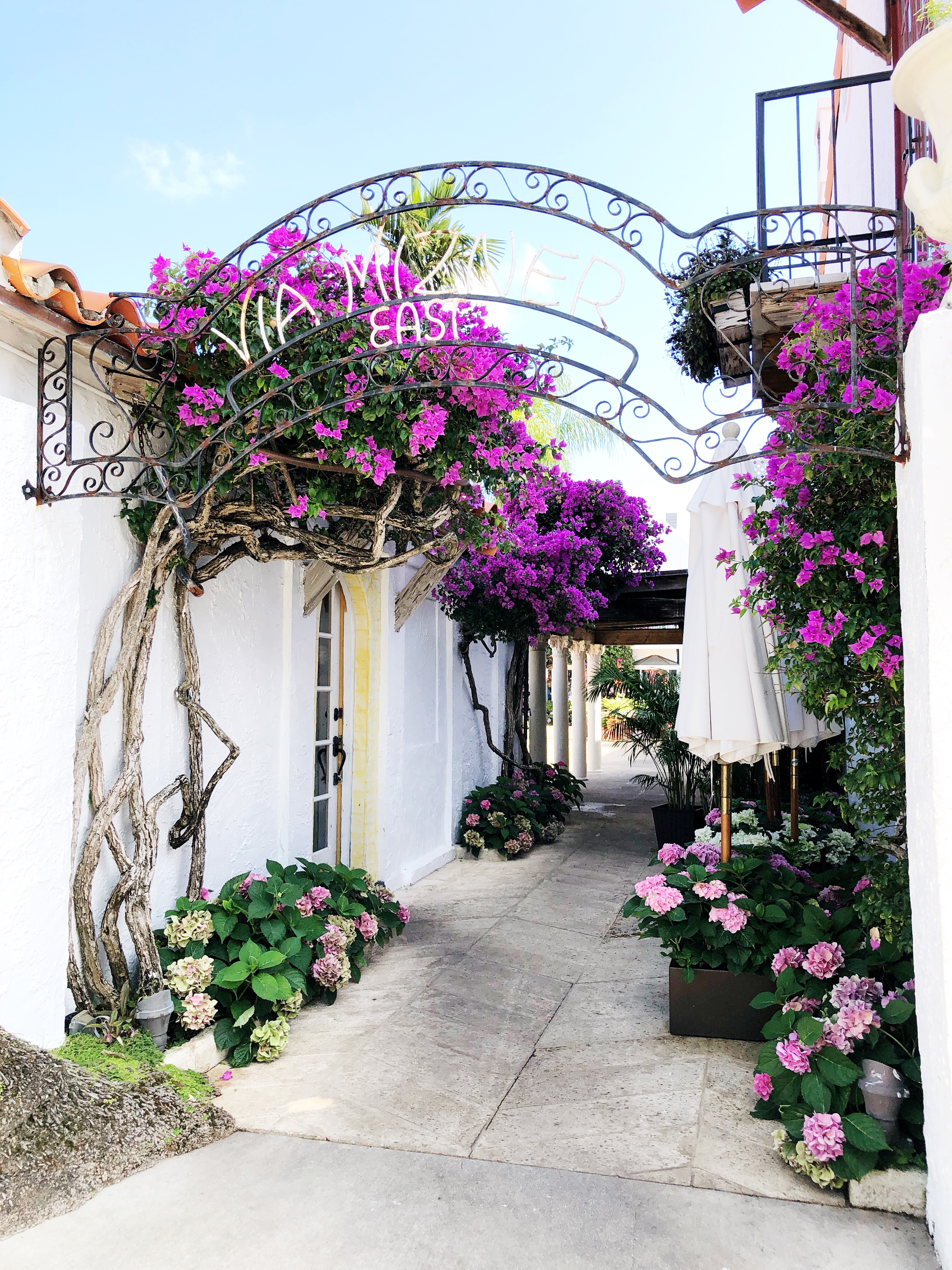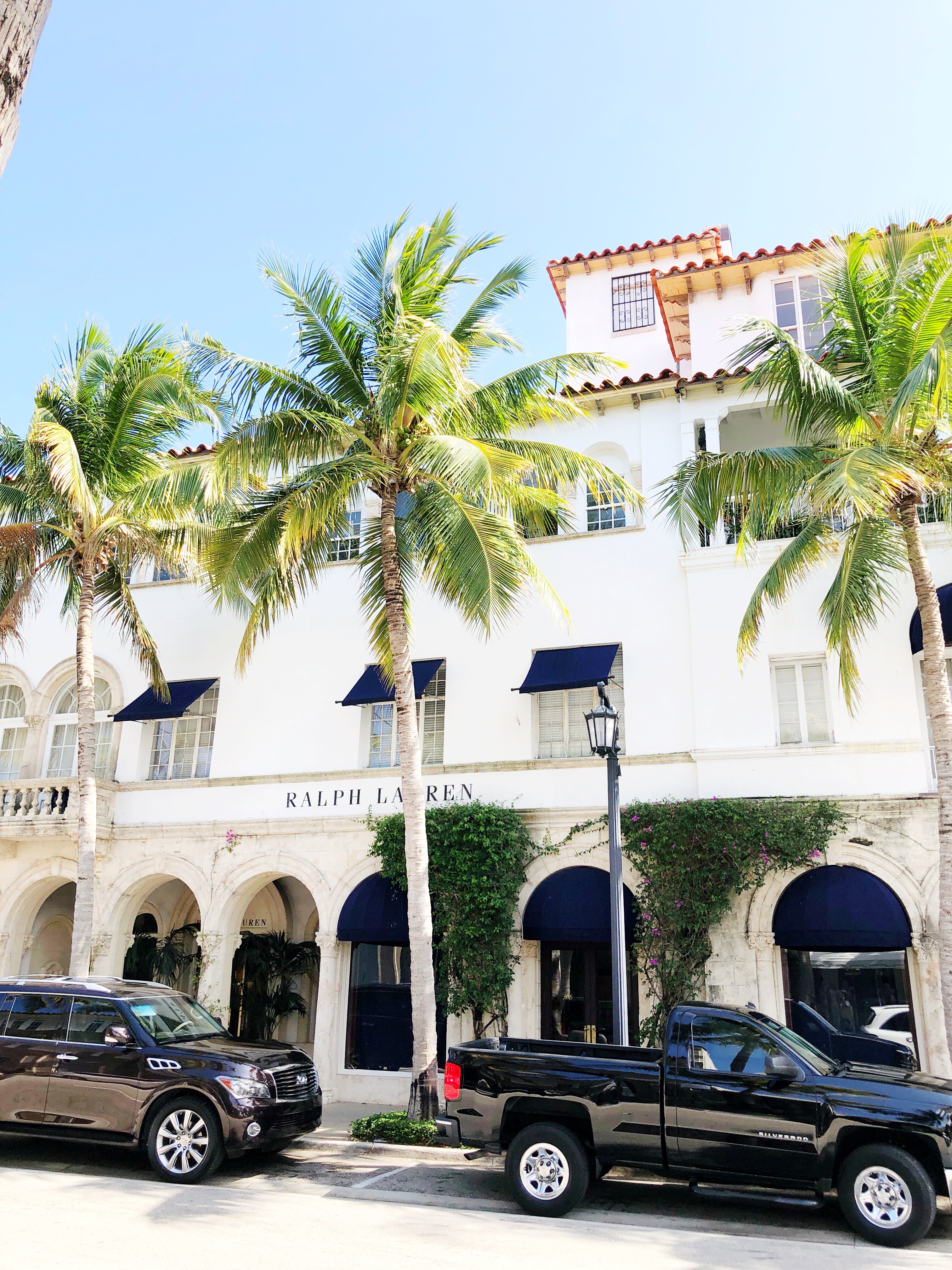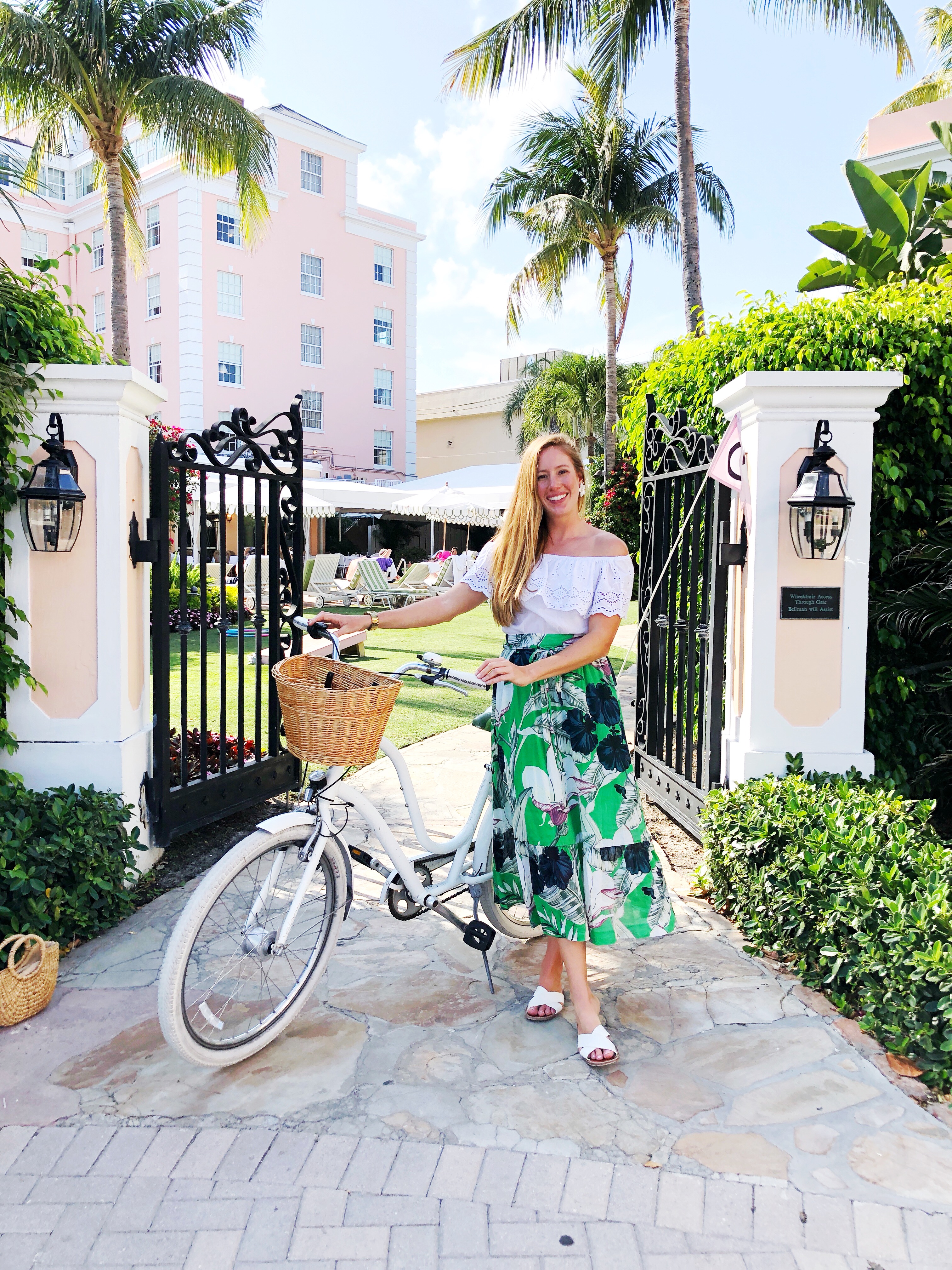 Shop The Palm Beach Tropical Look
Francesca's Top (similar) / Ann Taylor Skirt (similar) / Gap Sandals (similar) / Wicker Bag (found this similar one that's under $30!) / Hat (similar) / Baublebar X SUGARFIX Earrings
Alright, after seeing these photos, whose down for a girls weekend trip to Palm Beach!? ?‍♀️ We can deck out in tropical print and hit the pool and beach!
Recent Sunny Posts You May Have Missed
9 Girly Pink Swimsuits for Summer
The Button Up Front Dress I'll Be Wearing All Summer
A Simple Red and White Outfit to Wear on July 4th (get a head start on your outfit planning!)