Meet my sunny new customized business cards. For the longest time, I have wanted business cards. Okay more like needed business cards and just never took the plunge. I used to have the impression they were not necessary and old school. I mean, what's the need for paper when you have Instagram at your fingertips every second of every day? I'll answer that below!
Every time I would be dressed super cute in public (which BTW is not all the time ha) and out and about around town, people would always comment on my outfits or ask where I bought a specific piece. It was always the perfect opportunity to tell them about my blog! Many of those who would ask would be working and not have their phone on them or it just felt really impersonal to give them my Instagram handle.
The heart of my brand is this blog, which is also a website. This where business cards come into play! If I am serious about turning my blog into a business, business cards are a must! When Basic Invite reached out about collaborating together, I knew immediately I wanted to create my own customized business cards.
A little back story about my business card logo. My sister is super creative and recently purchased herself an iPad. She immediately downloaded Procreate and started learning all she could about the awesome design program. It's like Photoshop and paint had a baby for the iPad and very user-friendly.
One night I randomly (kind of jokingly) asked her to design a logo for my blog and she did so within minutes. As soon as Basic Invite reached out, I immediately knew I wanted to use the logo on my business cards! Seriously, how amazing is the logo?! I really feel like it represents my brand perfectly!! I can definitely visualize it on a clothing tag!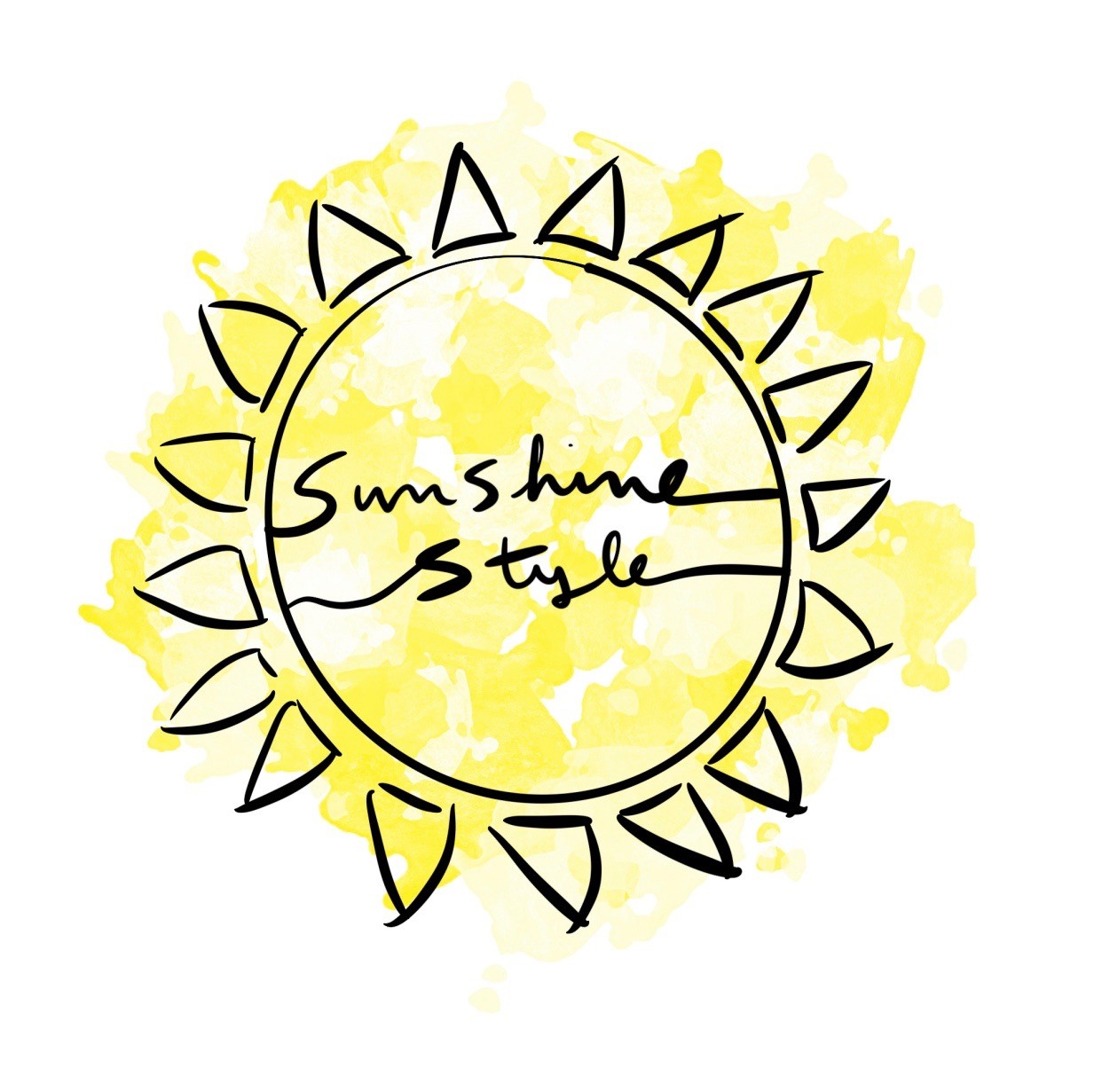 The actual process to design a custom business card is super easy. I am very picky when it comes to all things visual and design and wanted a really simple card with my new SS logo on the front. All about that personalization! Since I already knew I wanted to use my own logo, I searched a bit until I found a template I could completely customize. This double sided business card template gave me the exact look I visualized! It allowed me to customize the front with just the logo and a plain white background.
From there I was able to change the colors (duh, most important part!), add my name, title, email and website to the back. Basic Invite is amazing and has almost unlimited colors to choose from which makes me really excited. You all know I love color and I wouldn't even think about designing a minimal business card with no yellow! They even have a color called, sunshine! #meanttobe
Once I was done designing the front and back of my customized business cards, I then placed an order for 10 free custom samples. This is a game changer! Do you know how many times I've ordered and printed photos, bridal shower invites and family Christmas cards through a website and never had the option to request free samples!? Lots more than I'd like to admit. In the past my designs and photos arrived at my house looking terrible and it took weeks to get the errors fixed.
My samples from Basic Invite arrived in the cutest packaging and in perfect condition. The ink was not smeared, the cards were crisp and the custom colors perfectly matched my logo. I cannot wait to pass these out to family, friends and strangers that I meet out and about!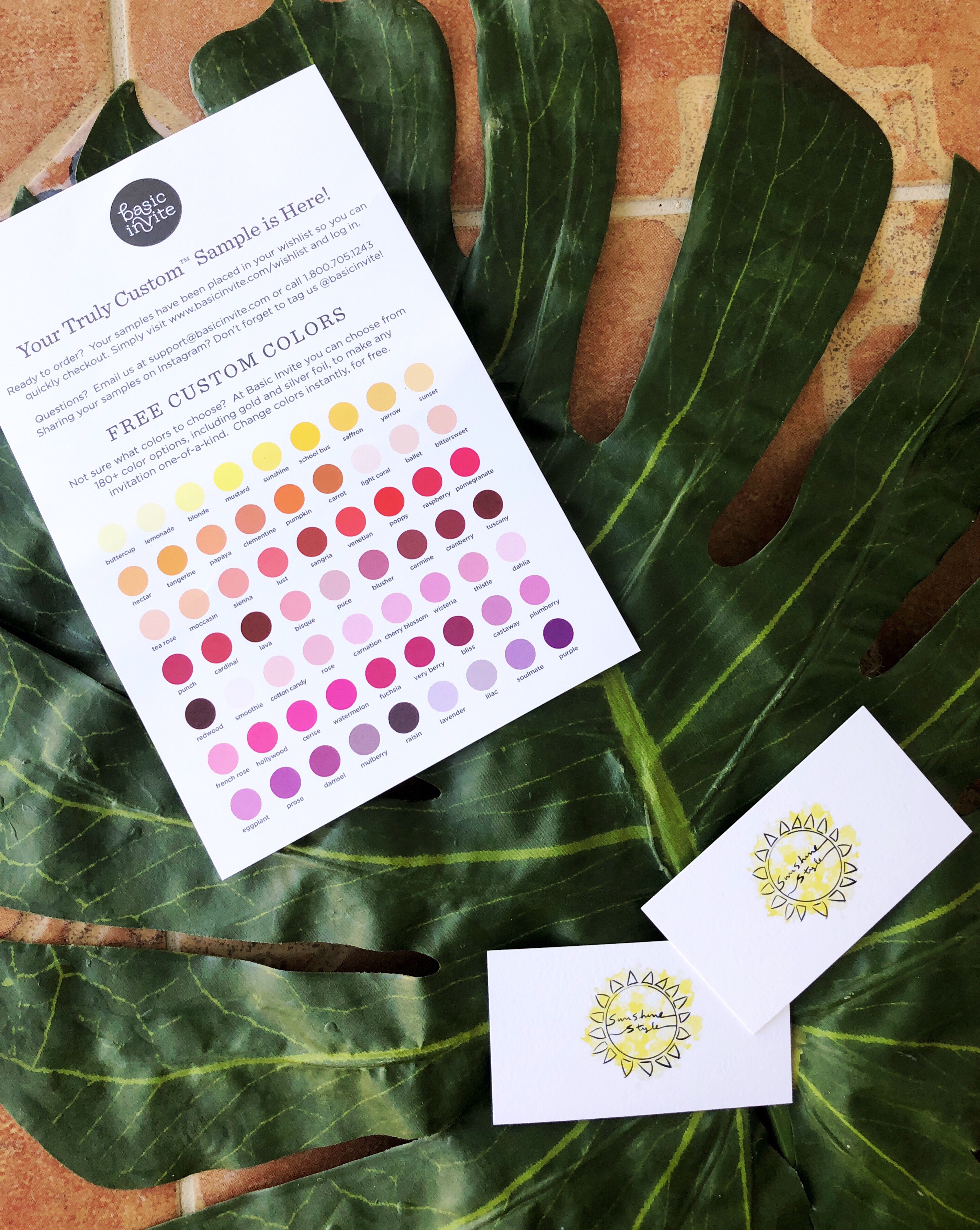 Basic Invite is amazing and is offering a 15% off everything discount right now. Just use the code 15FF51.
Thank you to Basic Invite for sponsoring this post! As always, all sunny opinions are my own!