Mom jeans…the trend I though I'd never say yes to. Turns out I really really love them! Normally I am not a typical jeans girl. The only time you will see me in jeans is when it's absolutely neccessary and cold out. I much more prefer to wear shorts or dresses. I kept seeing so many bloggers wear them like Natalie and Jess and they inspired me to try them. And yep, even as a fashion blogger, I was influenced by cutely styled mom jeans by other fashion bloggers. #influencemarketing works!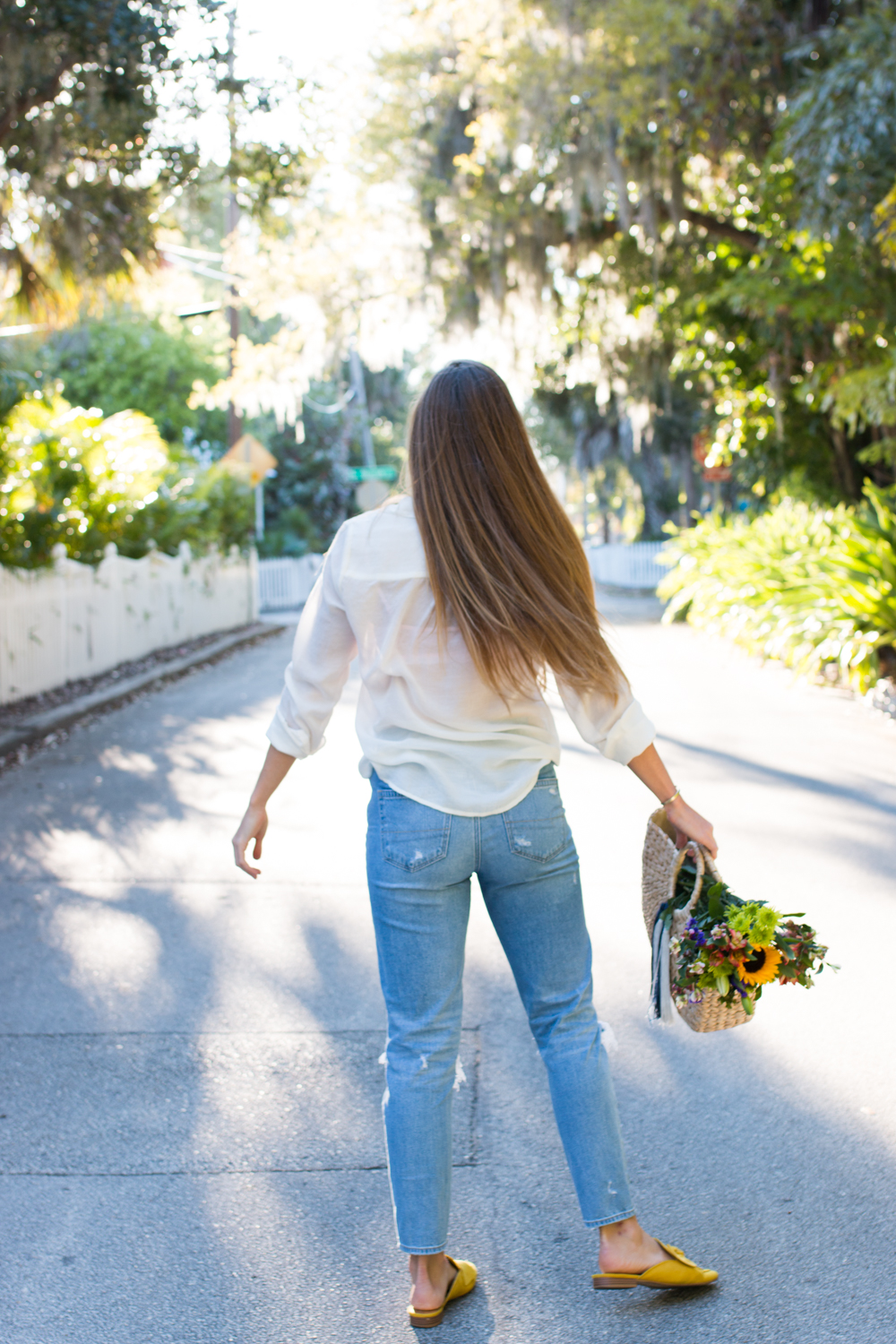 Before I tried on a pair of mom jeans, I made sure to find ones that had a bit of stretch in them. All jeans I wear need to be able to move in them or else I feel to restricted. I have a weird sensitivity to specific clothes (worse than the average person) that are to tight in specific areas, are made with weird texture or itchy fabric – it legit will make my skin crawl and I can't concentrate on anything until I can rip them off.
Luckily these American Eagle mom jeans fit so well. Their also on sale for under $40! These though are just loose enough, hit at the waist and ankle in the perfect spot and are very comfortable. When I style jeans, I like to keep them casual but add fun pieces like sparkly shoes or a colorful sweater to make it more "me".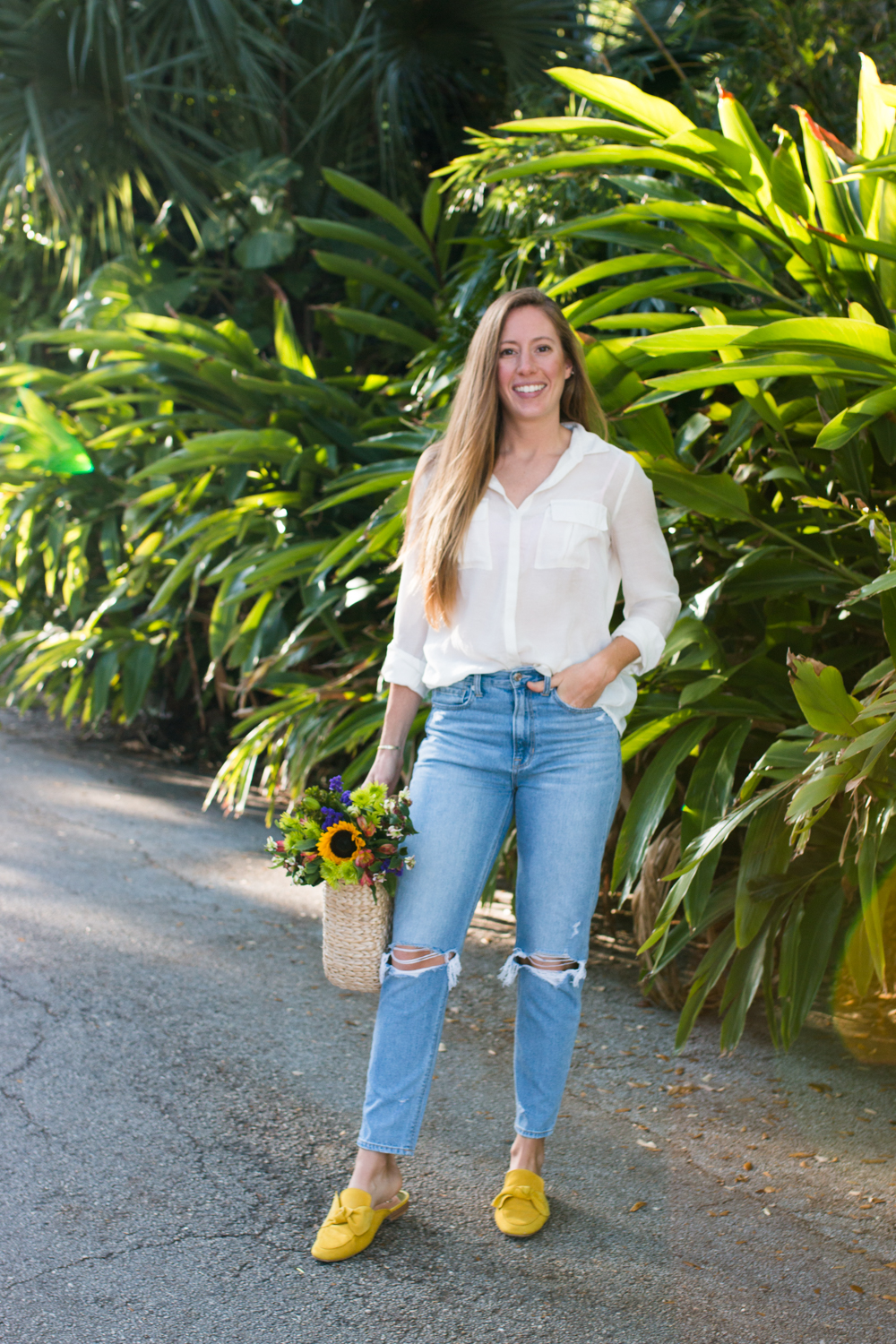 A Classic White Button Up
LOFT TOP (similar Everlane Linen Top) / American Eagle Mom Jeans / Yellow Mule / Similar Bag / 31 Bits Bracelet
I seriously love this casual and minimalist look and feel like I'm channeling my inner Jess Ann Kirby! It's not a Katie outfit without some pop of color. My yellow shoes are older but I found an almost identical pair here. Add your favorite colorful shoe or accessory to dress up a classic white button up top. I would have added an earring but I felt it took away from the simplicity.
My top is a few years old and one I never feel the need to get rid of. White is my go-to neutral because it will always match with all.the.things. Everyone need a white linen button down in their life. Like I mentioned above, I am not one for really tight clothes, especially collared tops so loose and comfy it is. Just tuck in the loose top and keep two buttons unbuttoned to make it V casual (get it…V….Very….I have a deep V neck. It's the new popular word on the internet and all the cool kids use it HA!) Seriously though, have you seen people use it?! It's all over the Insta world.
The pretty gold bracelet I am wearing is from 31 Bits and is soooo adorable! They were kind enough to ask me to participate in their Together campaign at the beginning of March to promote Internationals Women's Day. One thing I really love about their company is that they provide jobs for women in places like Bali and Indonesia!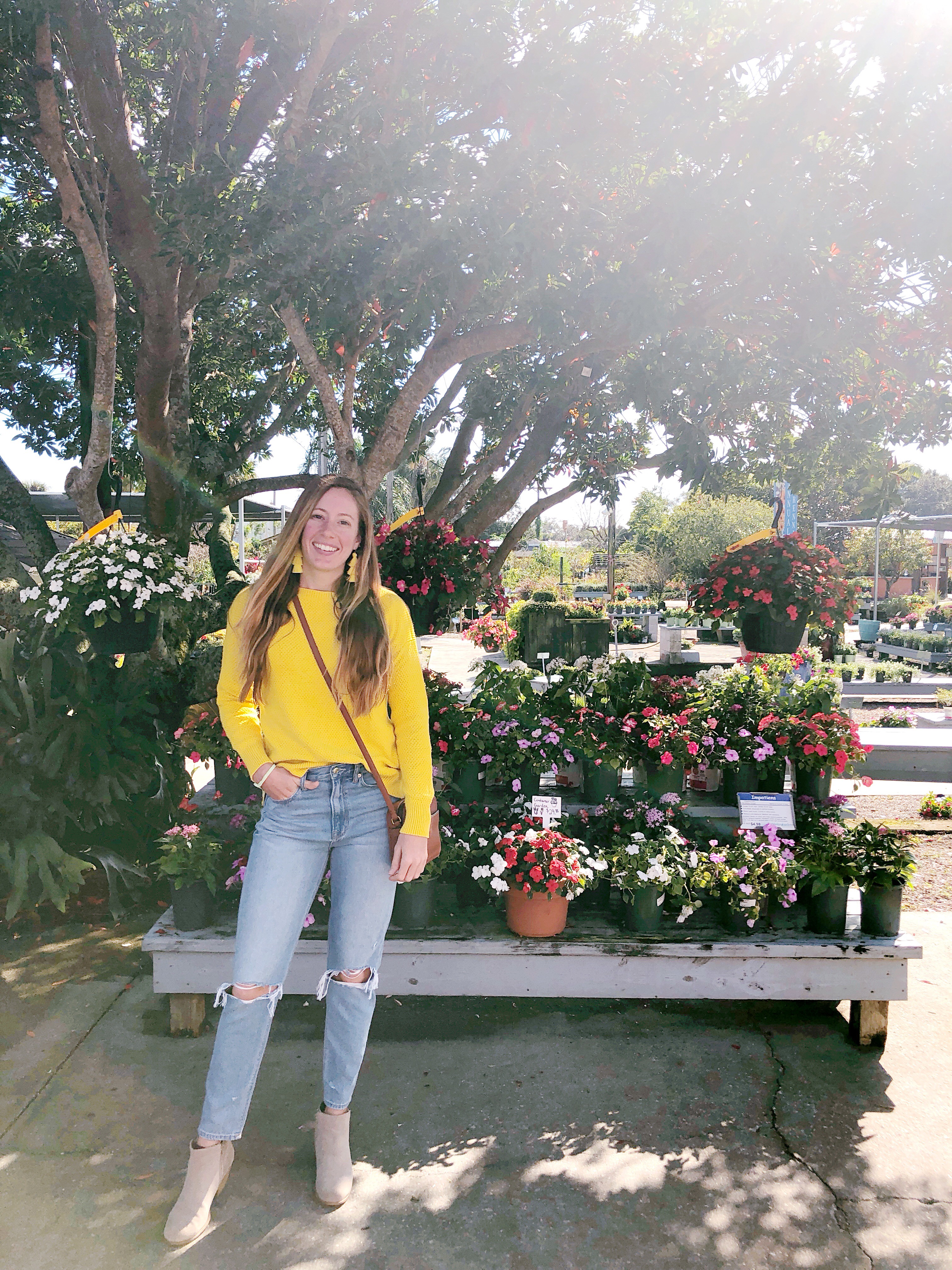 A Colorful Sweater
LOFT Sweater (similar) / American Eagle Mom Jeans / B.C Footwear Booties (similar) / J.Crew Crossbody Bag (similar Everlane bag) / Target Sugarfix x Baublebar Statement Earrings
So yeah, instead of yellow shoes, I opted for a bright yellow sweater and statement earrings. What can I say, I'm a creature of habit. 💁 The sweater is a bit more fitted than the linen top which is nice for a more pulled together look. Adding boots with a chunky heel will automatically make your legs look 10xs longer to!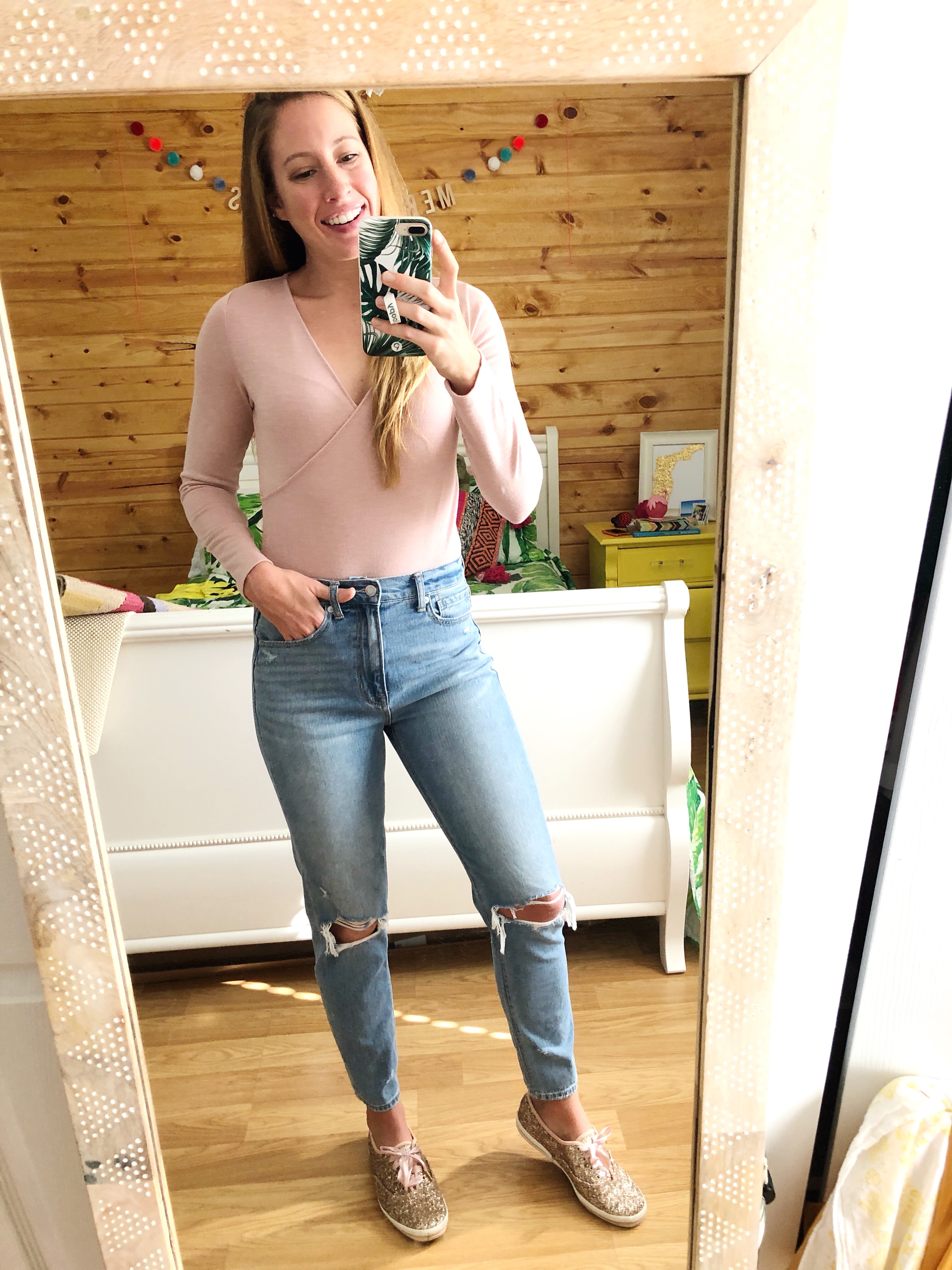 A Bodysuit + Sparkly Shoes
LOFT Bodysuit (similar) / American Eagle Mom Jeans / Keds X Kate Spade Shoes
This would so be my version of a "going out outfit" for a girls night or dinner date. Except I rarely go out at night besides to a friends couch to watch the Last Song or Gossip Girl, eat mini Reeses and vanilla ice cream with sprinkles ha. Most night on the town outfits seem to be jeans with a cute strappy tank top or something along those lines.
Because I never wear jeans, I'd make them a little more sexy and fun with a bodysuit. If you want to impress a guy…not sure a bodysuit does that but shows off enough of your shape without screaming I'm available. I've never been one to dress to impress a guy but I feel like so many girls rock body suits and look super cute in them. I am almost sure if any guys reads this he's thinking I'm crazy ha. Am I alone in this? Are body suits men repellers?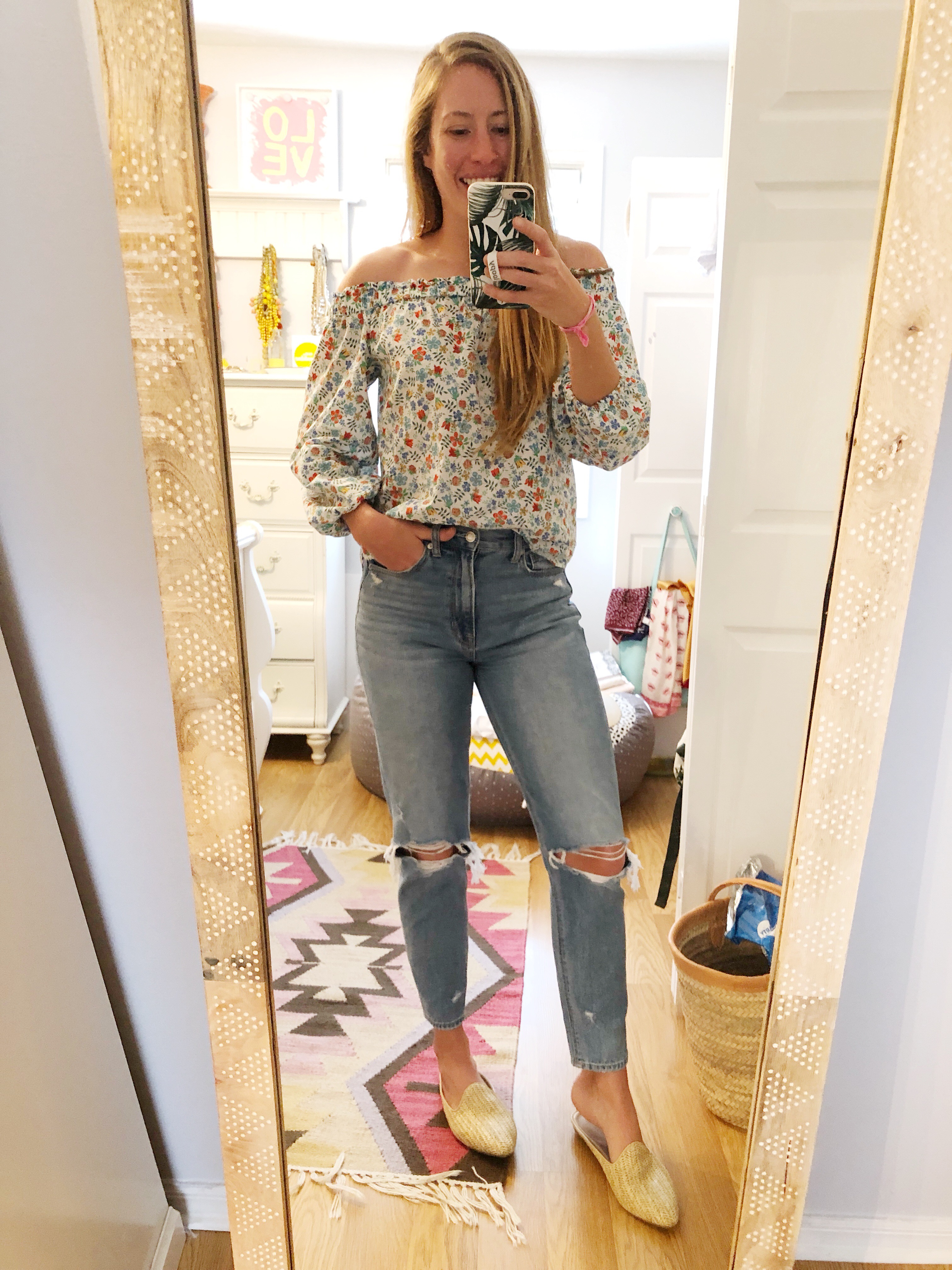 Floral Top and Rattan Accessories
J.Crew Floral Top (similar) / American Eagle Mom Jeans / Target Raffia Mules
Florals are for spring which means mom jeans can go from my measly Florida "winter" to spring in a heartbeat. After my guest post on Carly's blog, I bought myself these raffia shoes from Target as a celebration for reaching a goal of mine. These shoes are super special which is why I think I love this outfit so much. An off-the-shoulder or cropped top instantly makes it more springy. And for those crazy people who like to wear jeans in the summer…it's also a cute summer vacation outfit. I am drooling over this crop top from J.Crew that might actually make me want to wear these pants during the summer.
Shop the Mom Jeans Look
I really love creating these simple style guides for you all! I'm so eager…tell me your favorite outfit! What would you like me to style next? Let me know!
Recent Posts You Will Love
What to Buy for Spring (All Under $100!)
10 Unexpected Life Lessons I Learned As a Teacher