I thought it would be fun to reflect on my top 10 most popular posts of 2017! You guys seemed to really love my spring/summer outfit posts which is no surprise because those are my two favorite seasons in the universe! The other most popular posts were the "My Weekend" series where I'd share weekly about what activities I did over the weekend.
2017 was a hard year in general full of growth, loss and strengthening. After you read through the top 10 posts, scroll to the bottom to get all the juicy details as to why 2017 was such a hard year.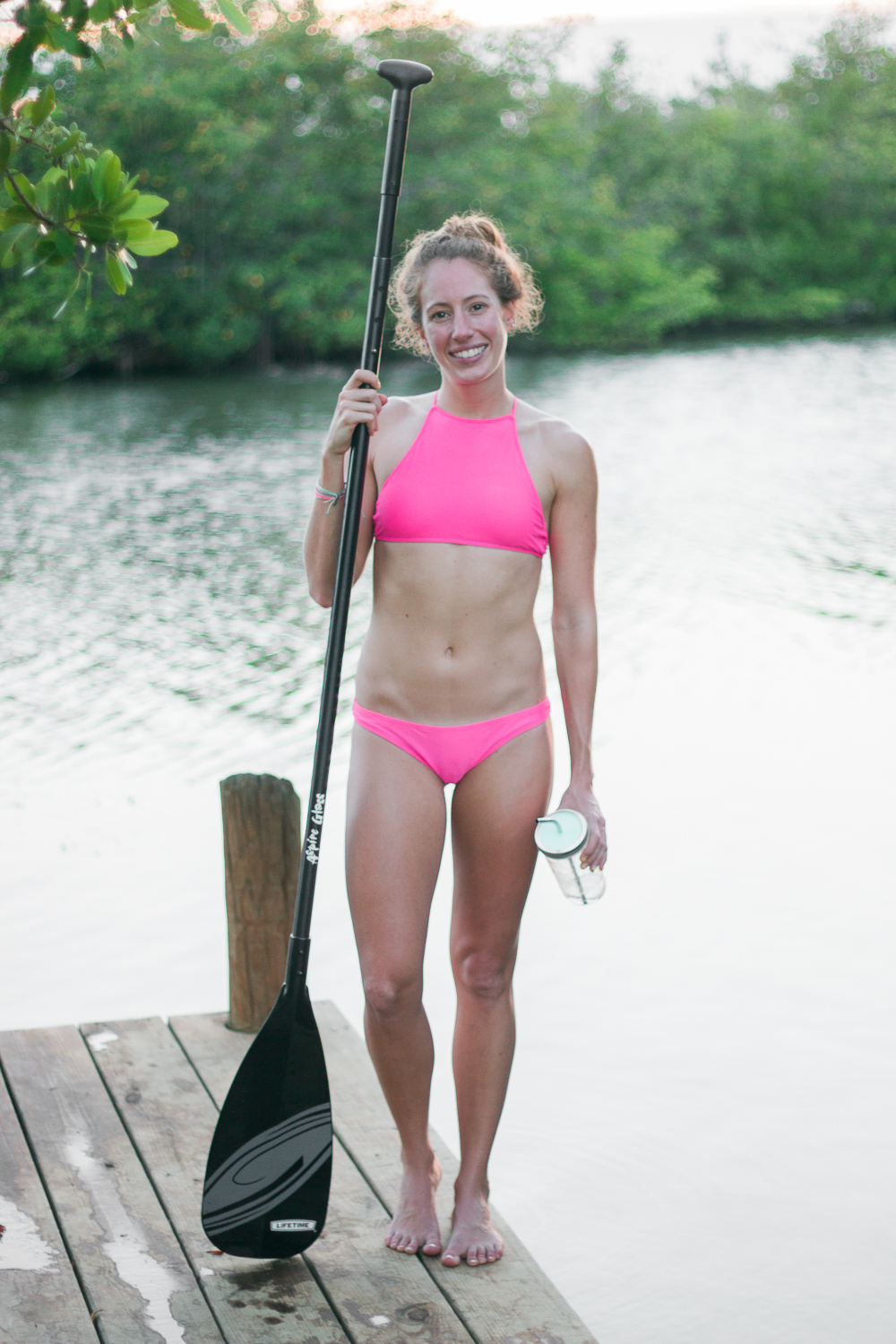 Non Outfit Top Posts:
ONE // My Weekend 7/15. My #1 top post was from the "My Weekend" series. This makes me lol because my most popular post is one with a picture of me wearing a swimsuit. Haha.
The "My Weekend" posts were my most popular series for 2017 and I really enjoyed writing them. After re-branding my blog (more on that coming soon), I decided to stop writing the "My Weekend" posts altogether. They were taking up to much time and not allowing me to focus on what was most important to me which is fashion. To see more daily life and behind the scenes, follow me on Instagram and Insta stories!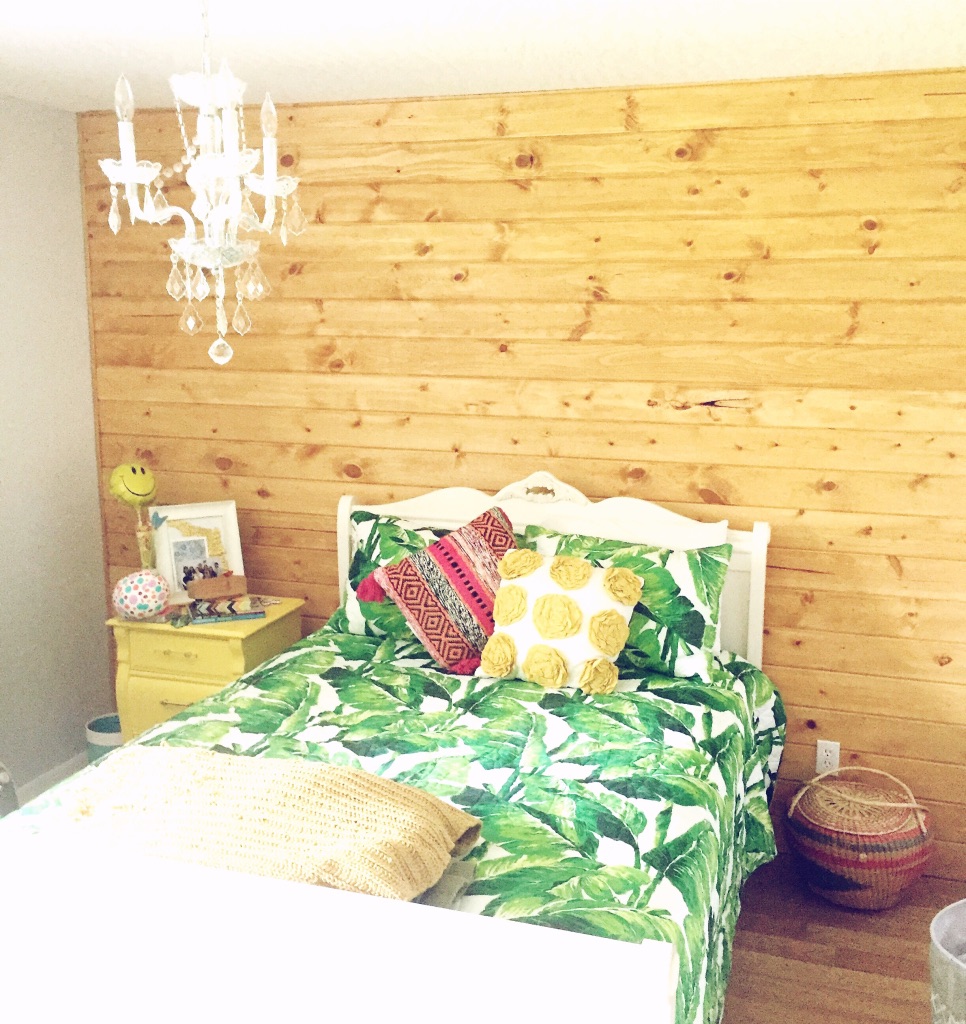 TWO // Bedroom Update 1. Next up is my bedroom decor update. This past year my parents decided to downsize and move into a smaller house. Since I'm such a grown up and still live with them, I willfully came along and I finally got a room with wood floors. I was beyond excited for that little blessing. This post was all about the decorating progress and my DIY shiplap wall. I never actually did a post about the finished result. Maybe I need to do that.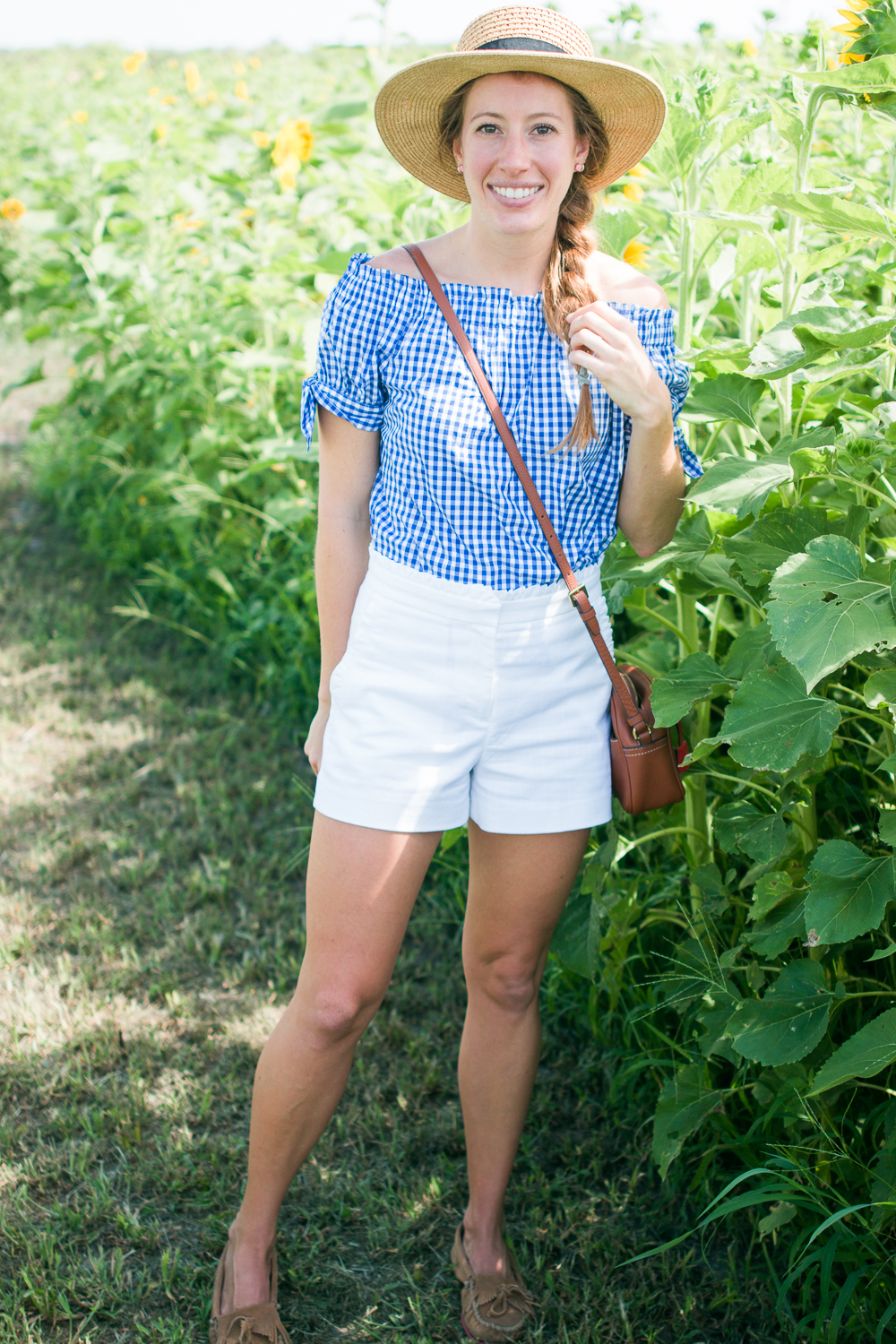 THREE // Gingham Top and Sunflowers. This was by fav my favorite outfit and post of 2017 and yours also! My ex-boyfriend and I woke up early one morning and and headed to the sunflower field to snap photos before it got to hot out. We barely beat the heat. I wore an adorable gingham top and my fav pair of white shorts from J.Crew. This is my ideal summer outfit and I plan on wearing many more like it this coming summer. Yesss to summer!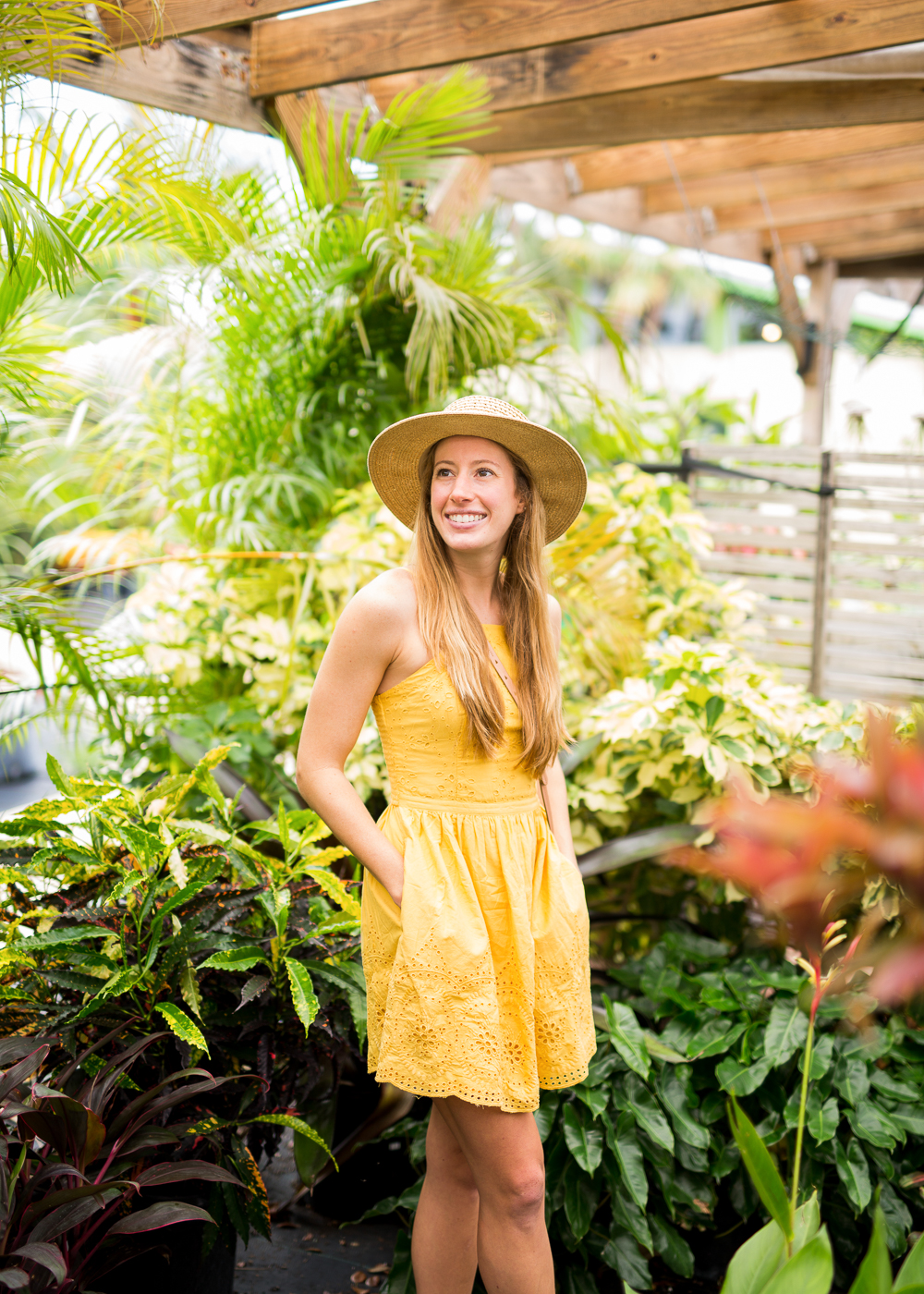 FOUR // The Perfect Little Yellow Summer Dress. Man, I wore this dress to death this summer. It's an adorable strappy dress to help you look cute while you beat the summer heat. I love it even more now because it matches my new blog name!!!! Yellow is so my color! Guess you guys loved it also!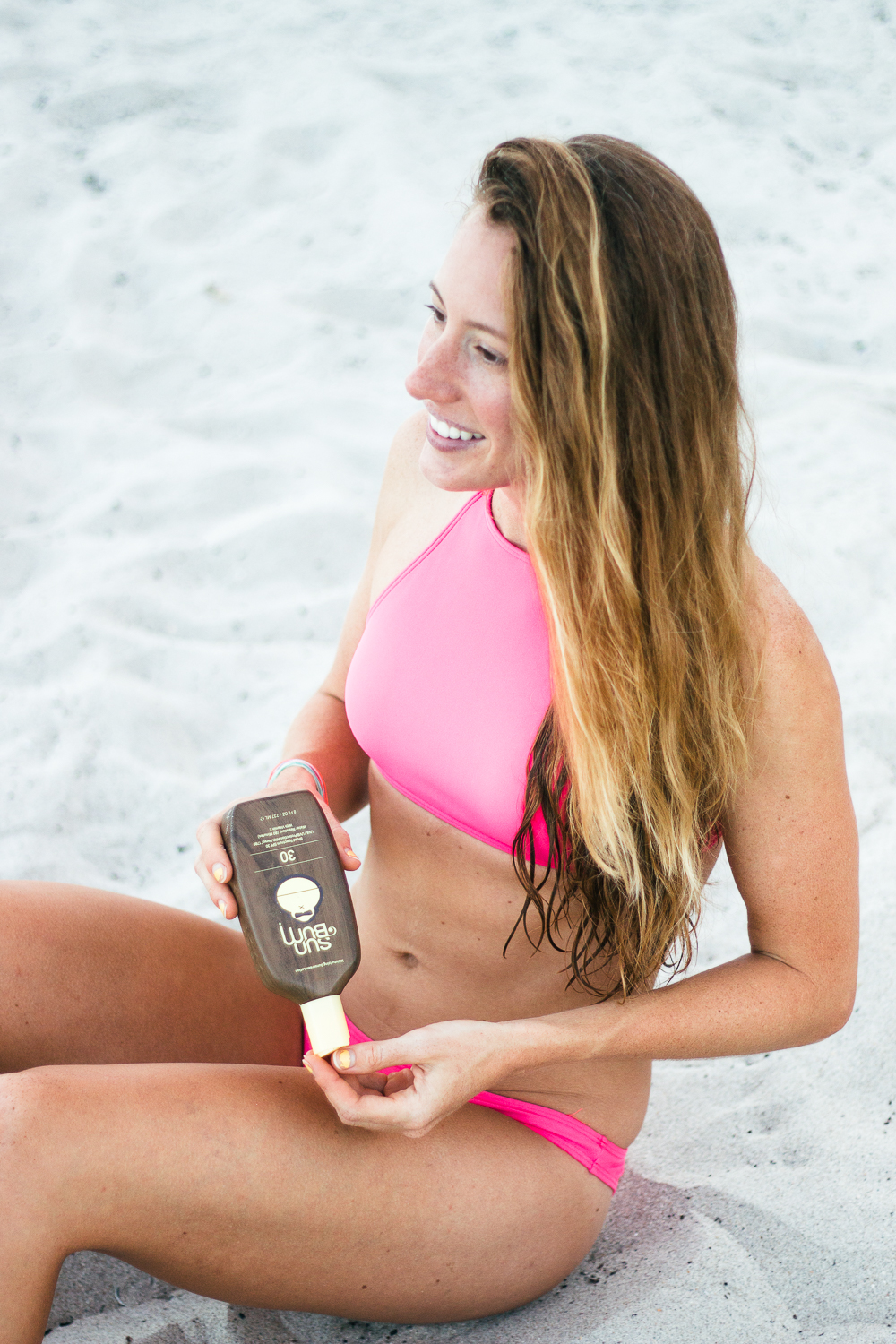 FIVE // 7 Essentials You Need in Your Summer Beach Bag.  Another swimsuit post ha and also very helpful. After growing up swimming all the time and constantly going to the beach, I kind of perfected what I need to have in my beach bag at all times. I shared 7 essentials you need to keep in your beach bag and a few bonus items, like hairties!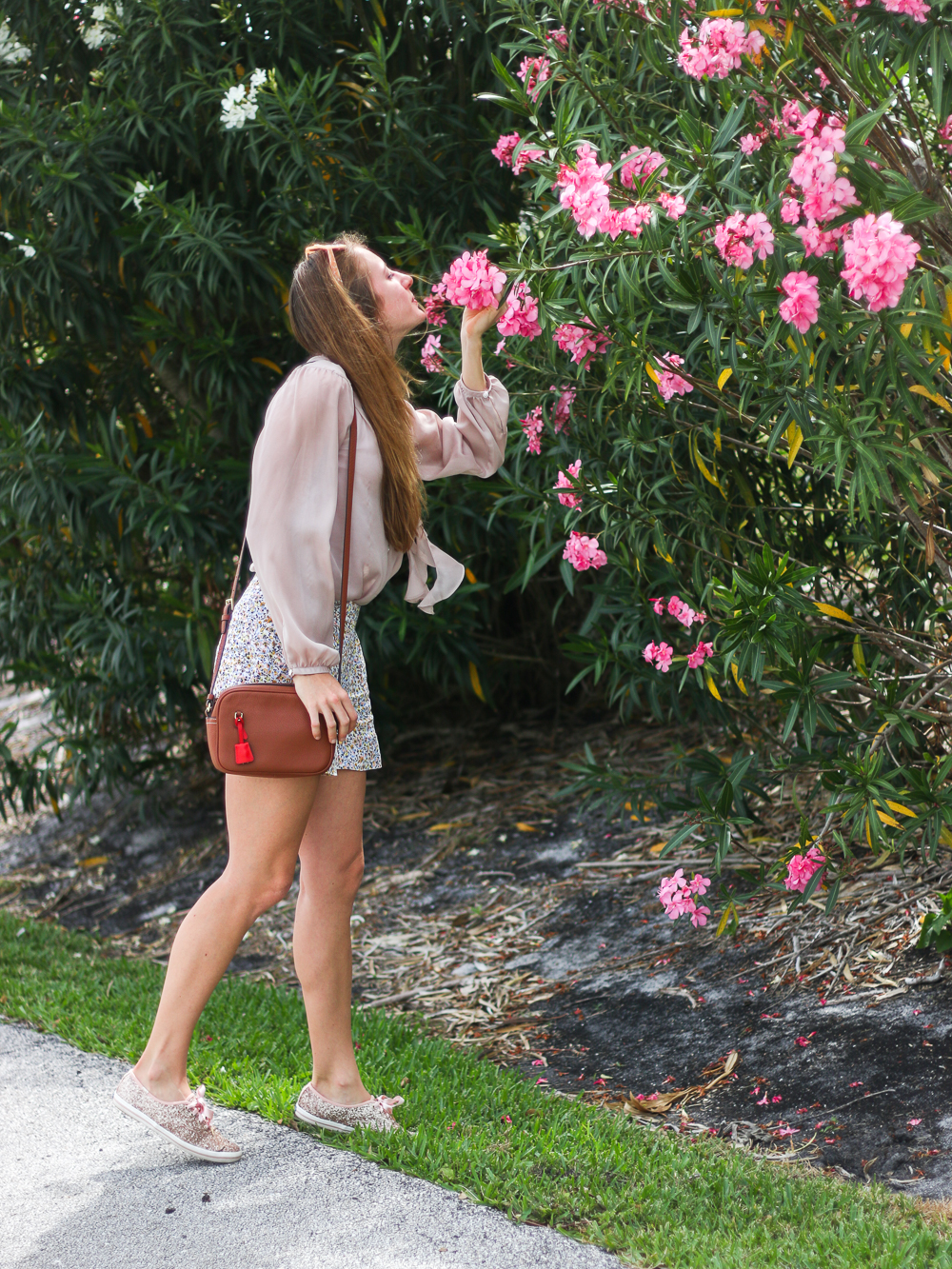 SIX // April Showers Bring May Flowers. Spring in Florida was full of so many beautiful blooming flowers and floral pieces. I loved this look with my sparkly rose gold Keds x Kate Spade and my LOFT blush blouse and floral shorts.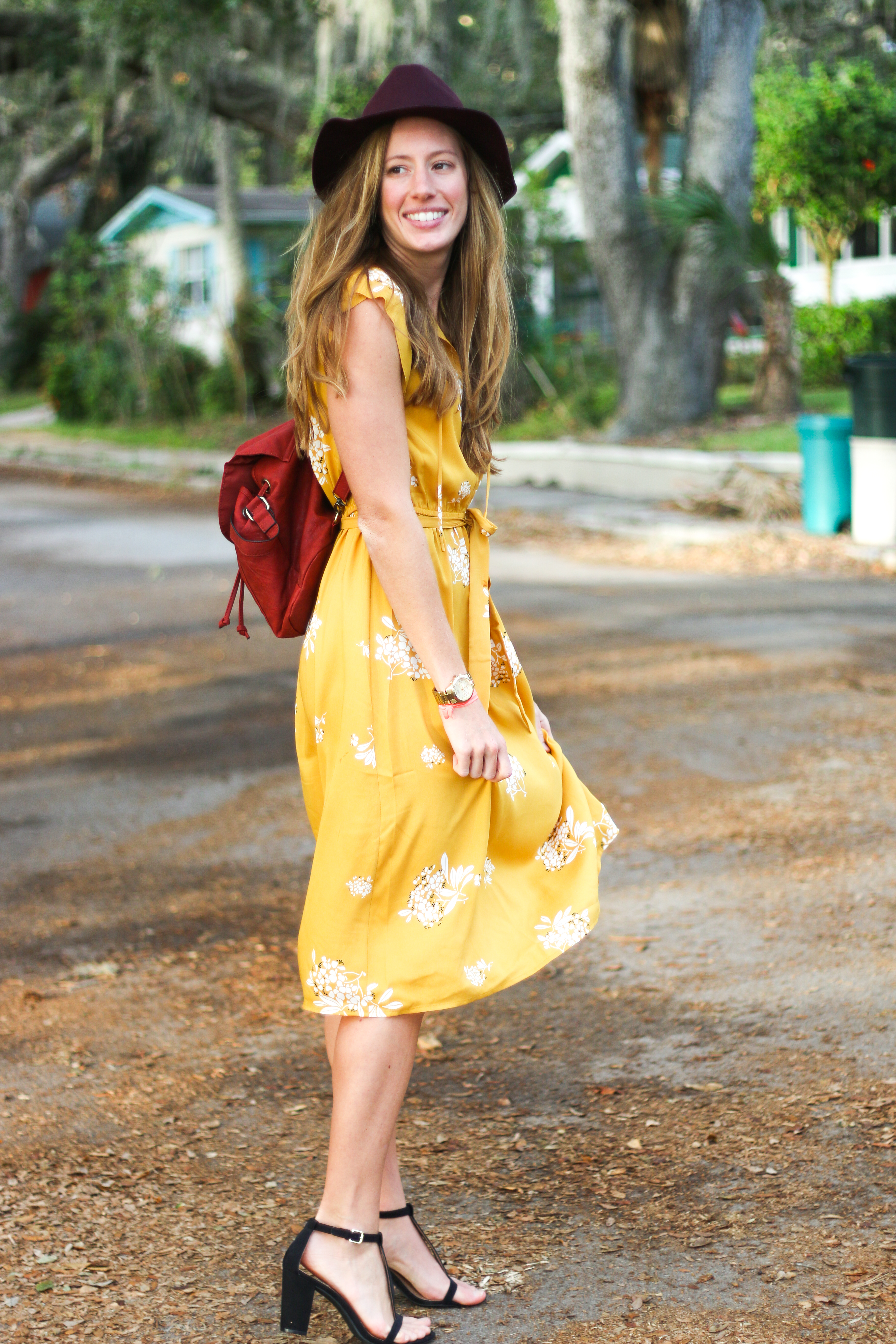 SEVEN // Mustard Yellow Midi Dress for Fall. I love dresses and I love yellow. Probably one of my favorite dresses to pull out every fall. This is from 2016 but it's still a reader fav!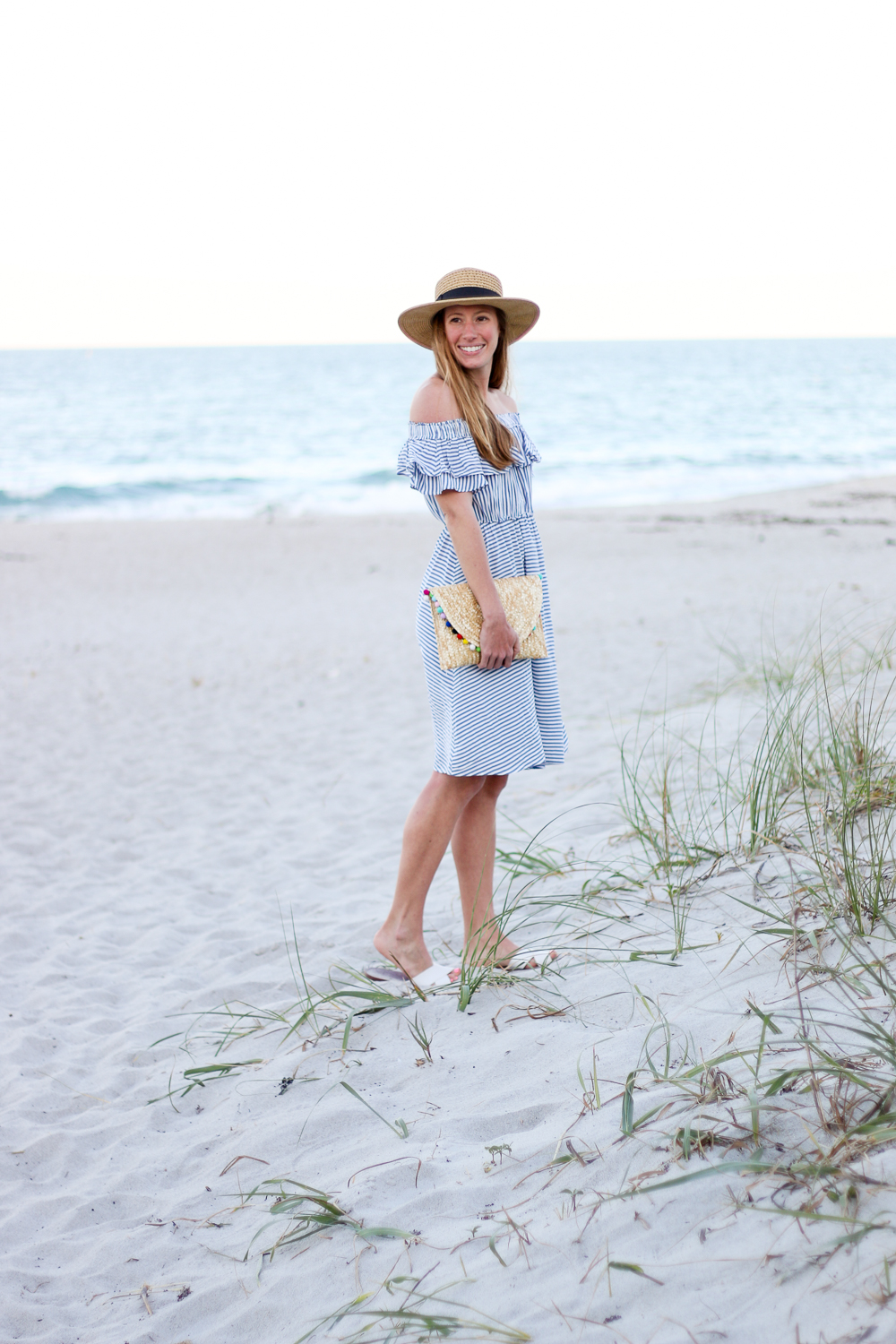 EIGHT // Blue and White Striped Off-the-Shoulder Dress. Off-the-shoulder was my favorite summer trend. This is a dress from LOFT and I wore it on my birthday dinner this past April. I can't wait to wear that dress in a few months for summer!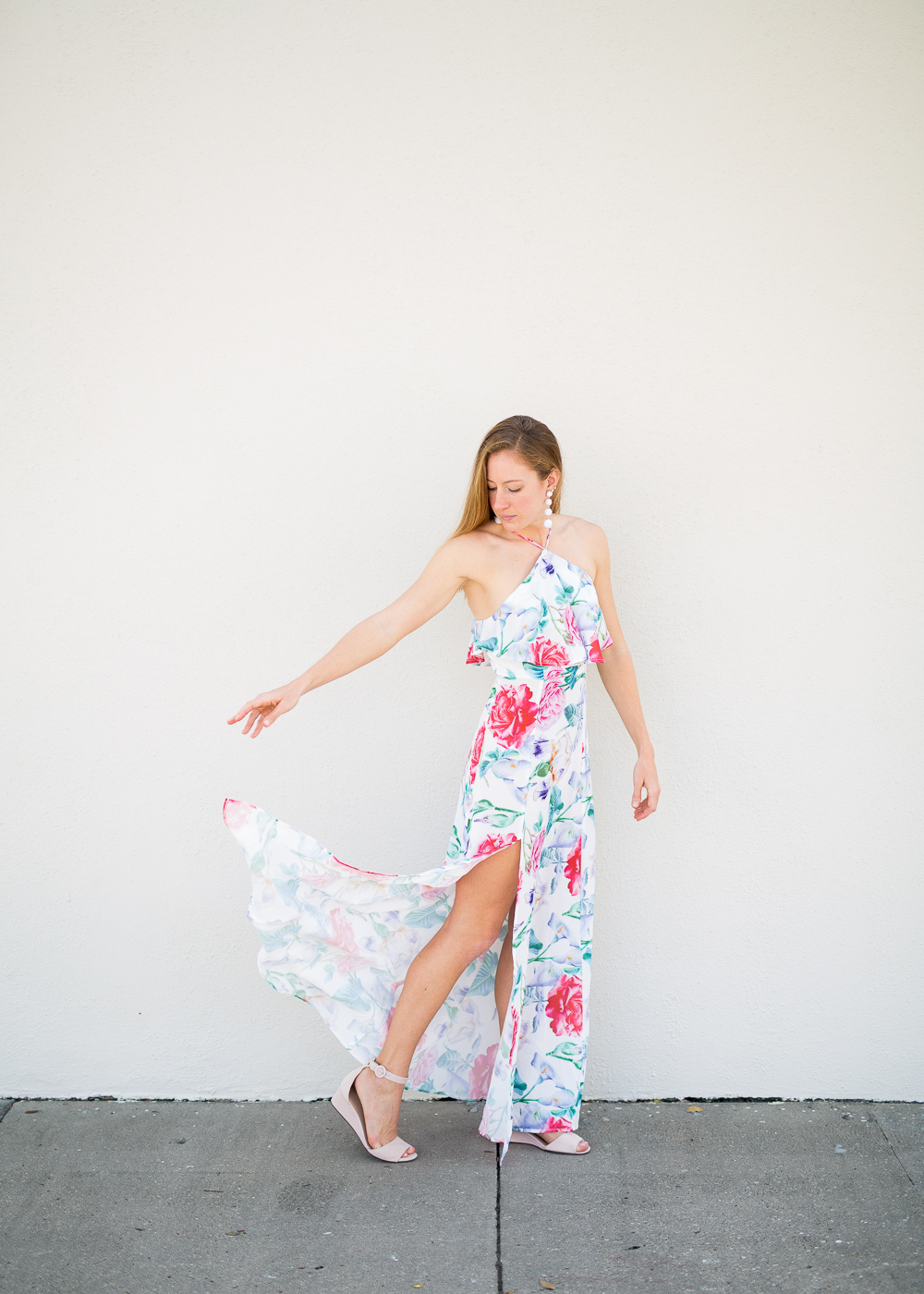 NINE // Floral Maxi Dress. These photos are from the first time I worked with Isaac Dean Photography for my blog. He's my best friends husband! Maxi dresses are one of my absolute favorite pieces to wear and are so easy to style. Hoping to plan a ton more dress posts for Spring/Summer.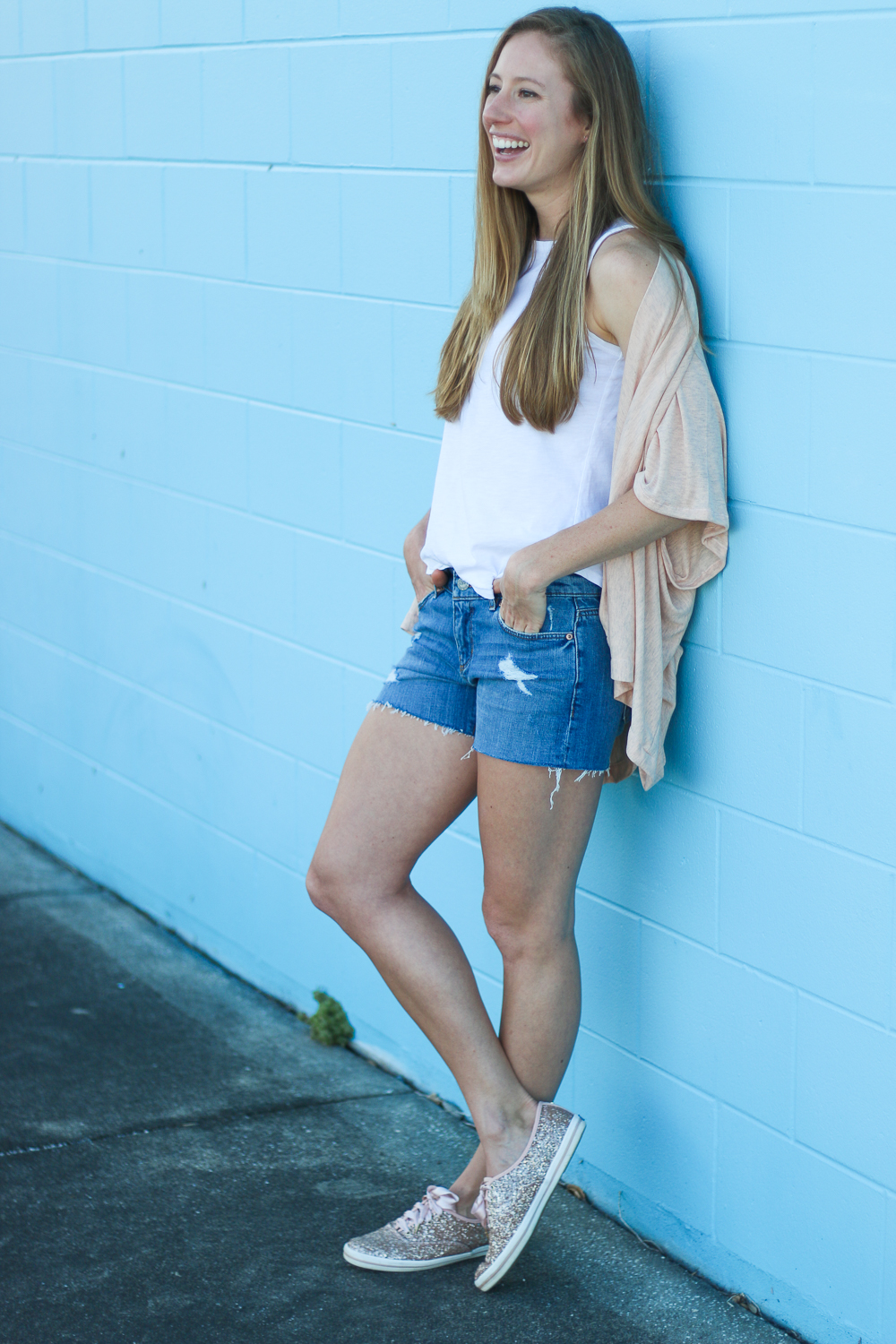 TEN // Blush Pink Cardigan. A friend that I knew from Youth Group in our High School Days reached out to me at the beginning of the year to collaborate. She gifted me the pink cardigan that she made. In return I took photos and styled it for my blog. I seriously love the cardigan she sewed and wear it to this day.
2017 Major Ups and Downs
2017 was a HARD and stretching year. It was filled with so much growth, pain and joy. On New Years day I was scrolling through Instagram and was getting so upset. Everyone seemed to be posting how 2017 was the best year ever. Yet I didn't feel the same way. Did I somehow miss something? Nah, I was just focusing to much on the hard stuff and not enough on the good things.
Major Ups
Started a new job. I started a new job as a middle school fashion/culinary teacher in August. This has been a whirlwind of a ride being a first year teacher.
Taught my students how to sew. Somehow, by the grace of God I successfully taught 60 eighth graders how to hand sew and safely use sewing machines (key word is safe ha). For their final exam they all sewed emoji pillows which were extremely "cool" or "lit" as my kids would say.
Re-branded my blog. In the midst of starting a new job, I found time to re-brand my blog from Katie's Kronicle's to it's new name Sunshine Style. You can read more about that journey here.
Collaborated with a photographer on my blog for the first time. Isaac from Isaac Dean Photography (and also my BFF's husband) helped take awesome outfit photos for my blog!
Saved up and bought a new 35mm camera lens! This one was so awesome to be able to save up enough money with my new job and be able to afford a new lens to be able to take photos.
Grew in trust and challenged in my relationship with God. The #1 most important priority in my life.
Major Downs
Sleepless nights and major anxiety from Jan-March. In the beginning of the year I was going without sleep 2-3 nights in a row. Personally, I was dealing a ton with anxiety, fear and un-safe. I was not trusting God with my life nor feeling like he had my back which led me to feeling like I was spiraling out of control. Eventually God spoke several words over my life that helped to change the tormenting thoughts I was experiencing and I sought counseling. With in a few months everything returned to normal and I learned how much control I have over my own thoughts. Since those rough months of not sleeping, I have learned to not entertain anxious thoughts and have slept fine ever since.
Started a new job as a first year teacher. I work at a low-income school with super challenging students. The first 3 months were the absolute worst and hardest months of my life. I literally hated my job and wanted to quit everyday. Learning how to lesson plan, manage kids, break up fights, getting cussed at and talked back to everyday was rough. This girl had to learn how to stand up for herself, grow stronger as a person and face confrontation head on.
Broke Up with my Boyfriend. About 3 months into my new job, my boyfriend of almost a year unexpectedly broke up with me. It was devastating. Breakups are the worst the first two months and the holidays don't exactly make the situation easier. I survived it before, I know I will be okay.
Let disappointment get the best of me. For to many reasons to list out, I let disappointment fester which let to bitterness and anger towards God. Our relationship really suffered for a few months. It was one of the hardest seasons personally this past year but I came out stronger on the other side. Learning to let go has give me so much freedom and peace.
My blog didn't grow as much as I hoped it would. This is a huge disappointment but also the main reason I re-branded my blog. I desire to run this blog full-time and turn it into a profitable business. I struggled with weather I should stop blogging all together or start fresh. Turns out I am going to start fresh just in time for the new year!
Remember, real life happens behind all of the pretty photos, blog posts and Instagram's. Not in just my life but anyone who posts on social media. 2017 was a hard year and I know I'm not alone. If I could sum it up in one word, I'd say hard things make you stronger.
Learning to find contentment in all of my circumstances just like Paul says in Philippians 4:12 was a huge deal to me this past year. When my personal plans did not pan out like I hoped they would, I learned to find joy in all my circumstances. There was so many good things that happened in 2017. I choose to only dwell on the positive and learn and grow from the challenges. There's hope that 2018 will bring unexpected surprises and new possibilities!
See yah 2017.
Did anyone else experience a challenging year. What did you learn from it?