If there's one thing I love more than the beach, it's being in a swimsuit all day. Summertime is when I feel most alive. I could live in a swimsuit, tee and shorts year round. But being confident in my swimsuit isn't something that has always come easy for me.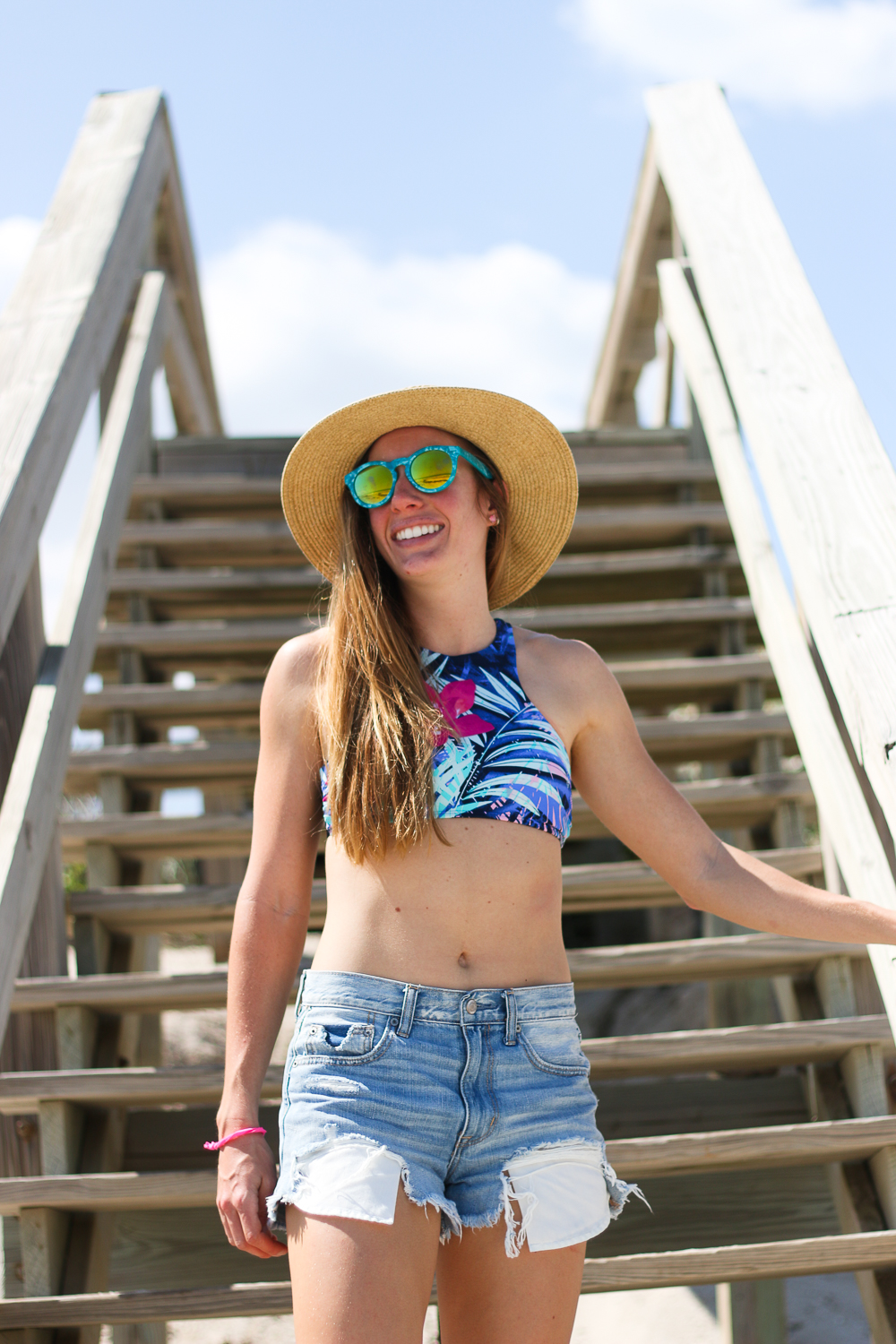 Swimsuit: Target (Top & Bottoms), Shorts: American Eagle, Shoes: Similar,
Hat: Similar, Sunglasses: Similar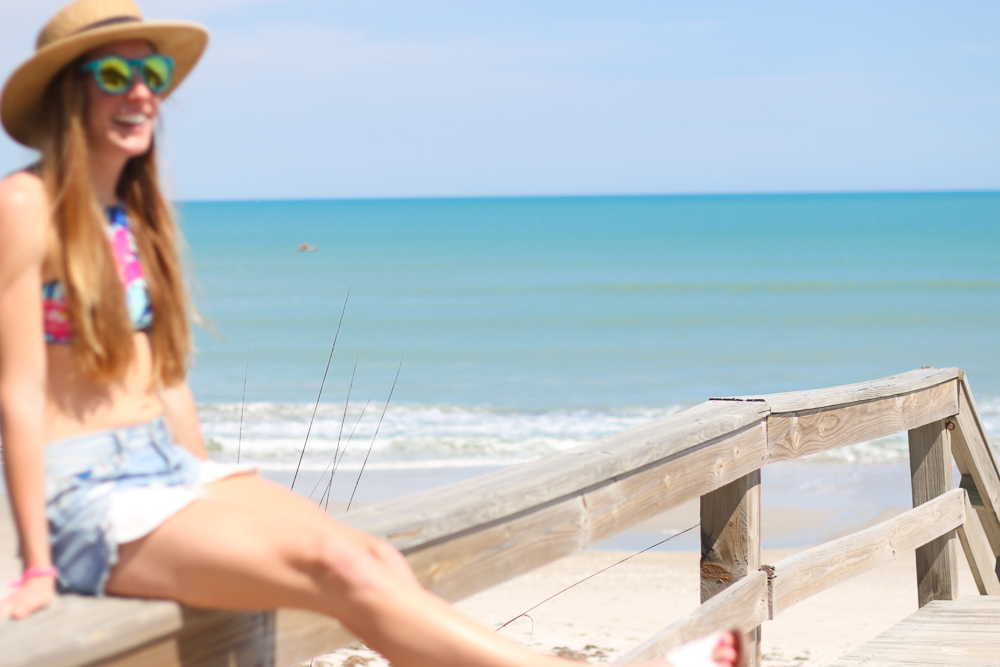 Seriously the most gorgeous beach day ever!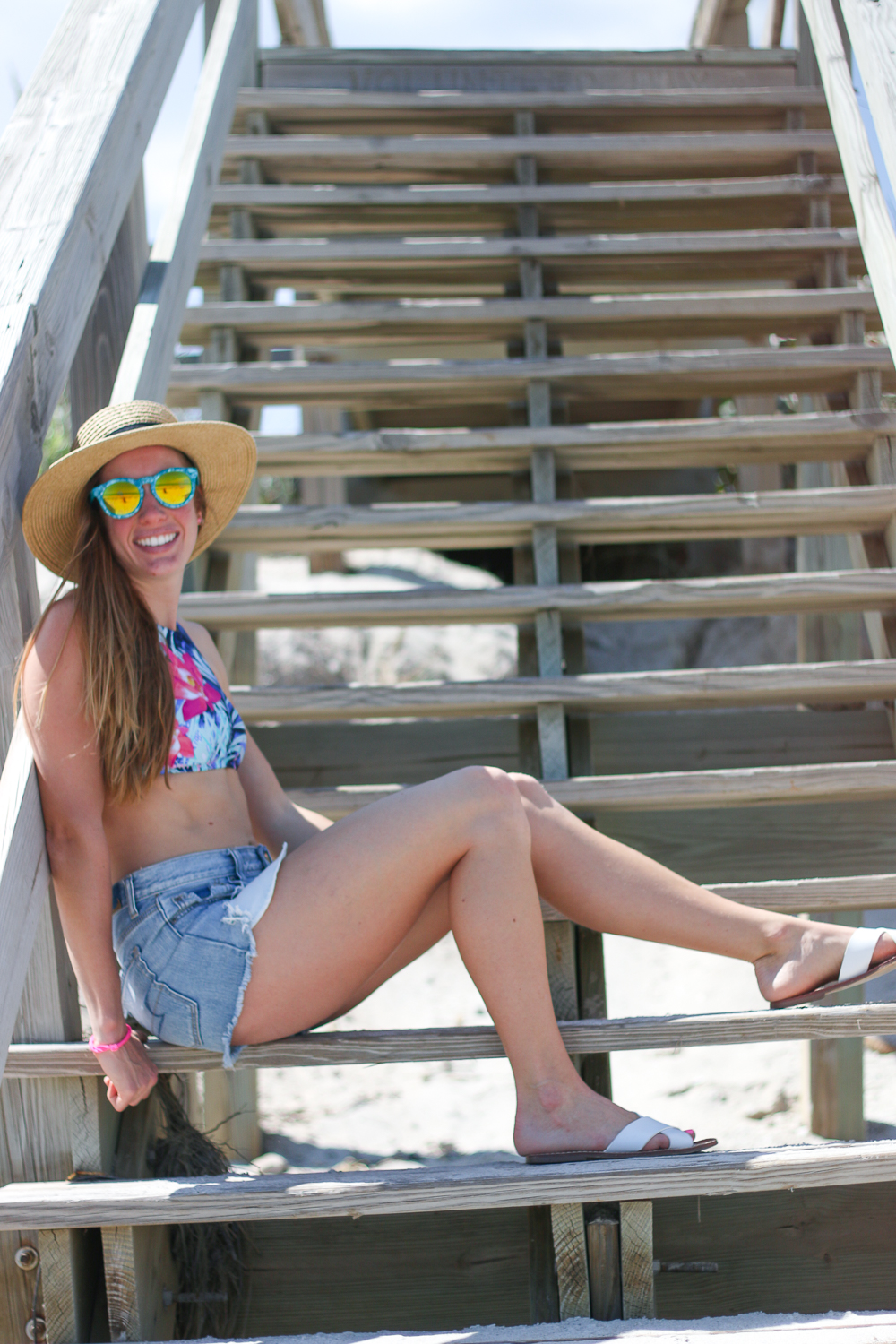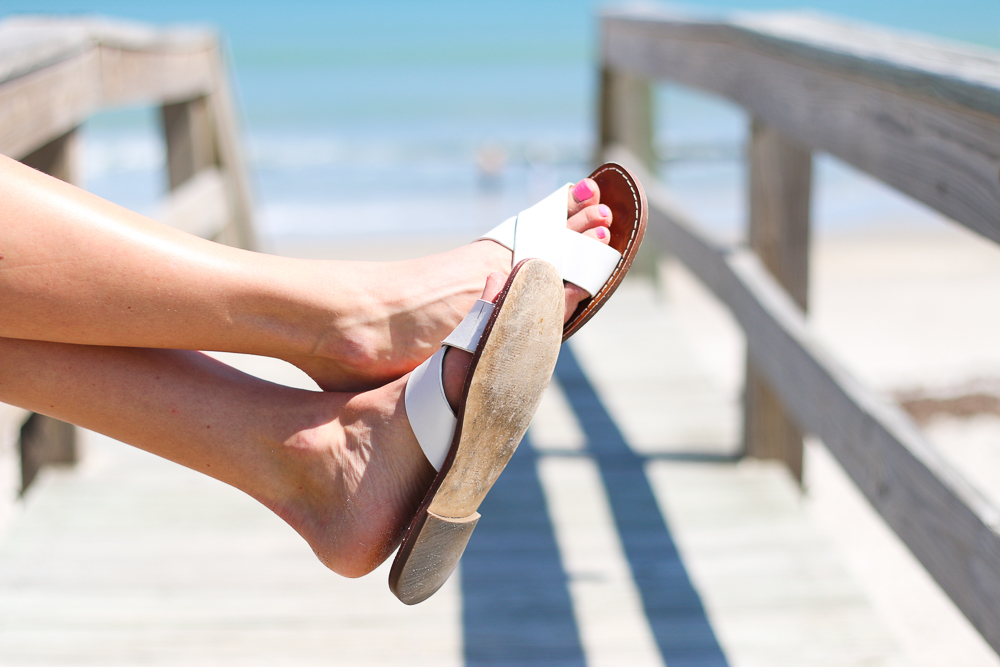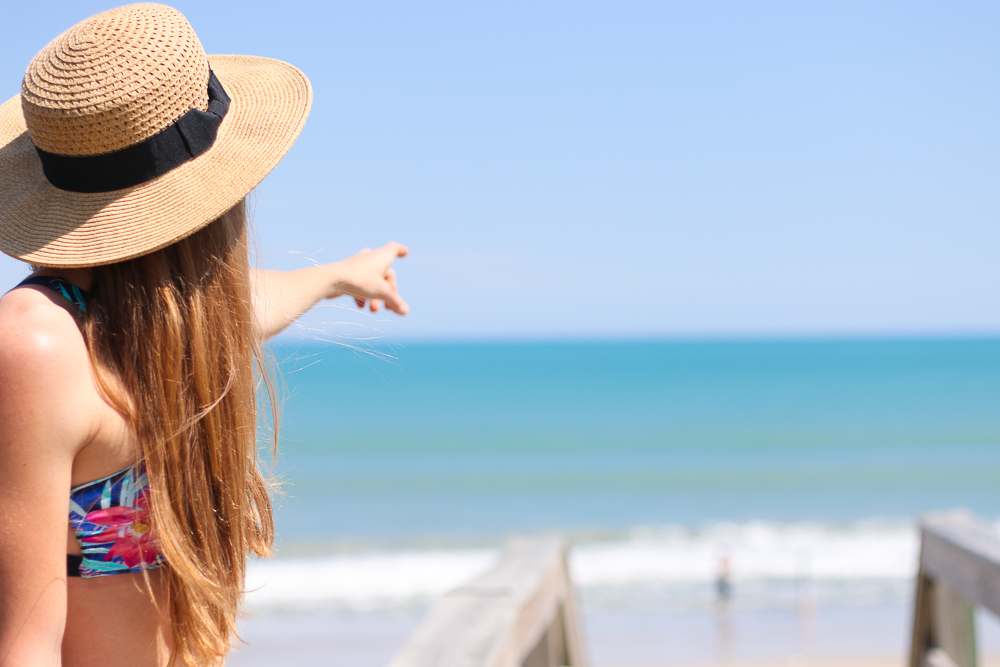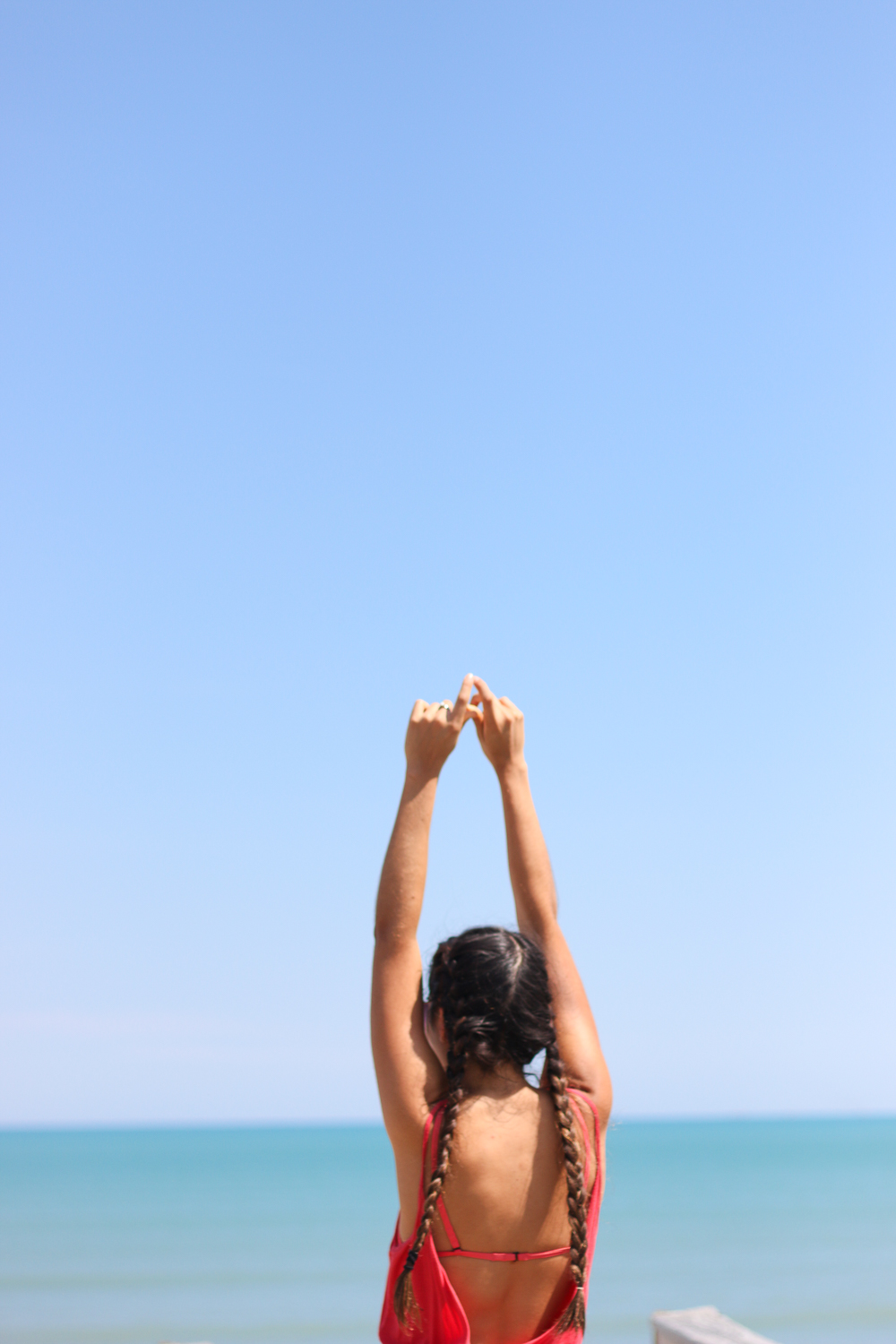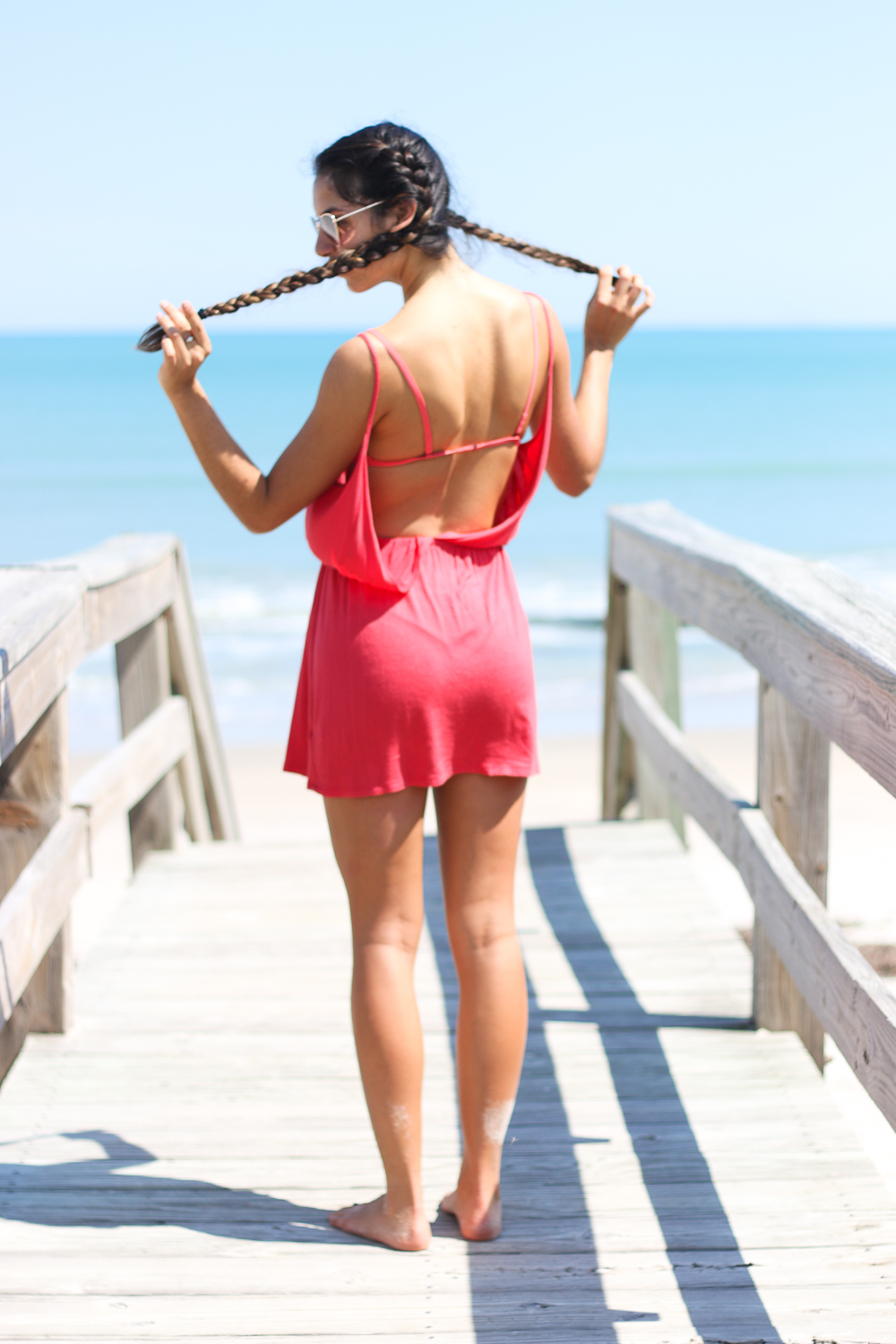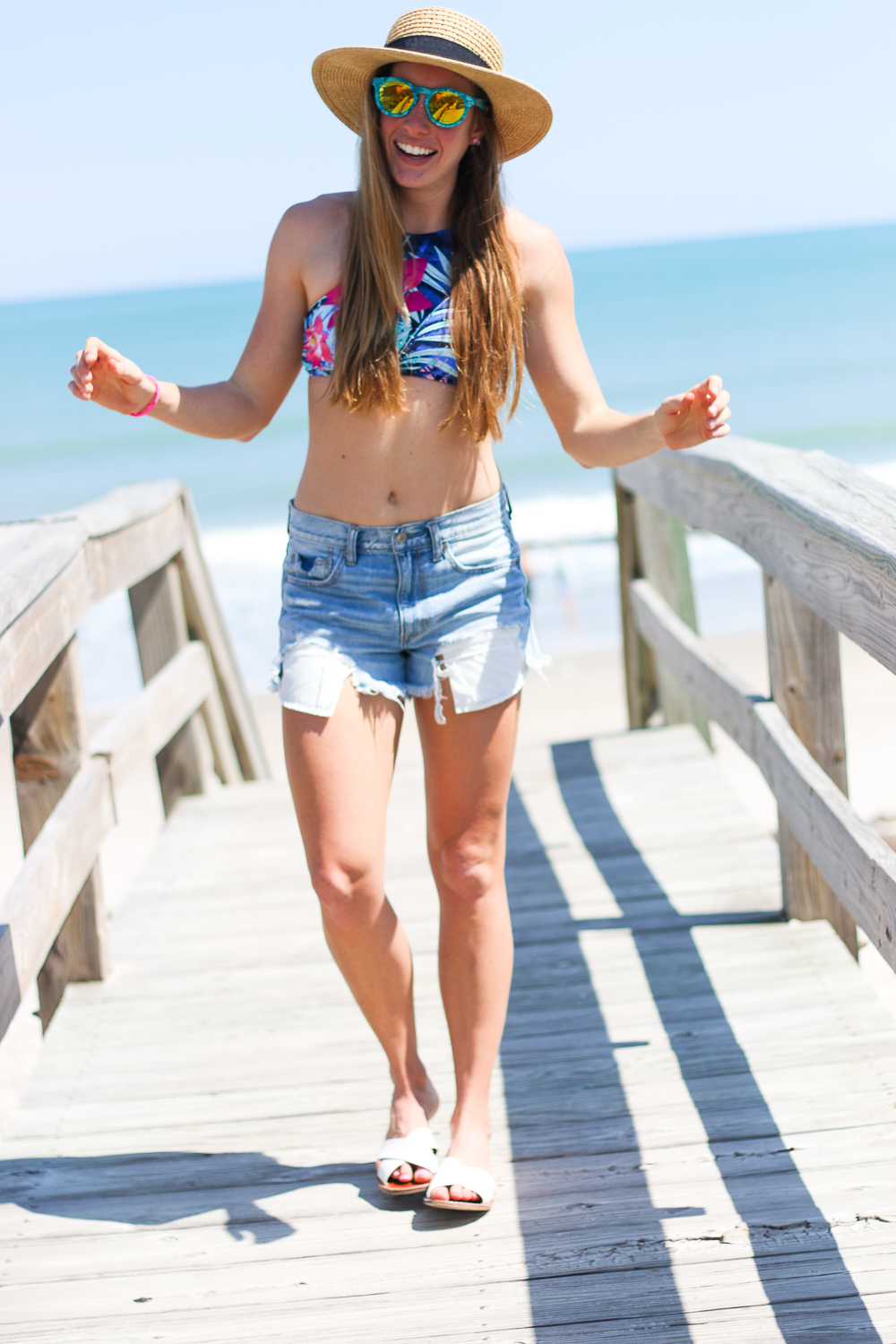 When I was younger, I was not confident in myself at all. I was as shy as shy could be. Like painfully awkward. I didn't want to look at you in the eye shy, especially during the elementary school years. Most people wouldn't believe me if I told them that now. The Jr. High and High school years were tough for me and being a brace face with slight acne didn't help the situation. I never found myself beautiful when I was younger. Boys didn't like me, so I just thought I wasn't pretty enough. I truly felt ugly. I clearly remember expressing the words, "I am not beautiful" to my mom all throughout Jr. High and the beginning of High school.
I've always loved swimming at the beach and pools but for some reason I just felt ashamed to actually really love my body. I wanted to hide. Deep down, it wasn't just my body, it was myself I didn't love. Sometime around junior year, that started to change. I got my braces off,  my acne cleared up and by a miracle of God, I started to gain more confidence in myself.
By the end of college, I was a completely different person. Looking back, I don't even recognize my shy 7th grade self. Somewhere along the way I picked up confidence and I began to learn to love myself for who I was. It's still a process and I have yet to fully arrive but I can honestly look in the mirror and tell myself, "you are beautiful" and fully believe it.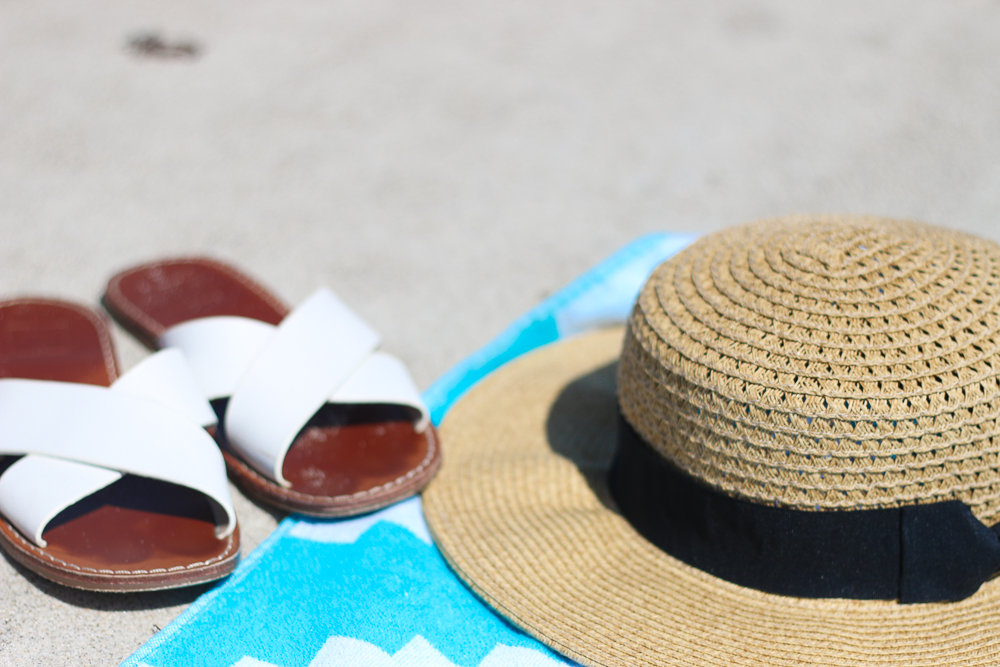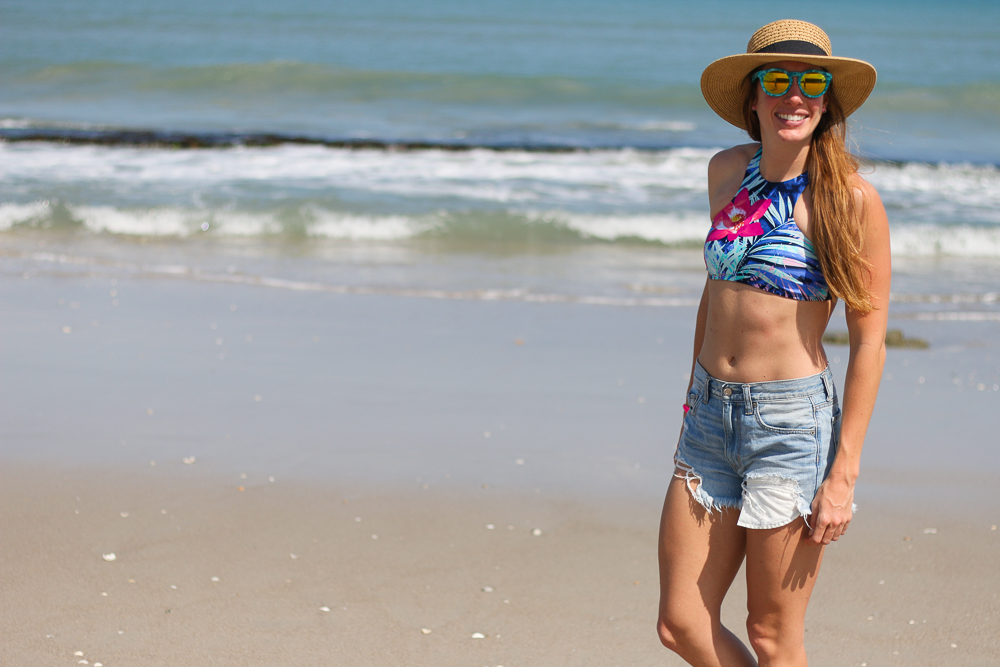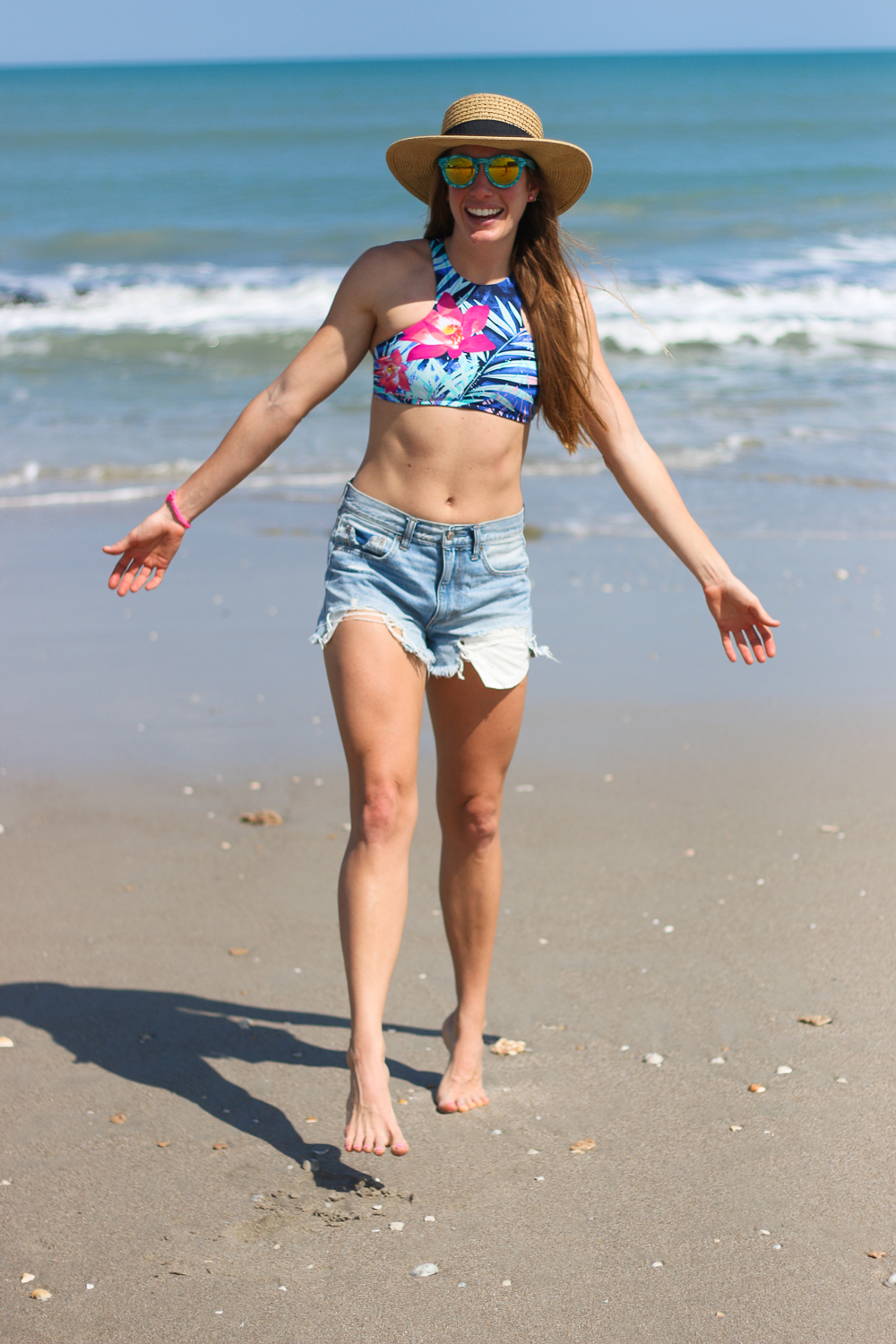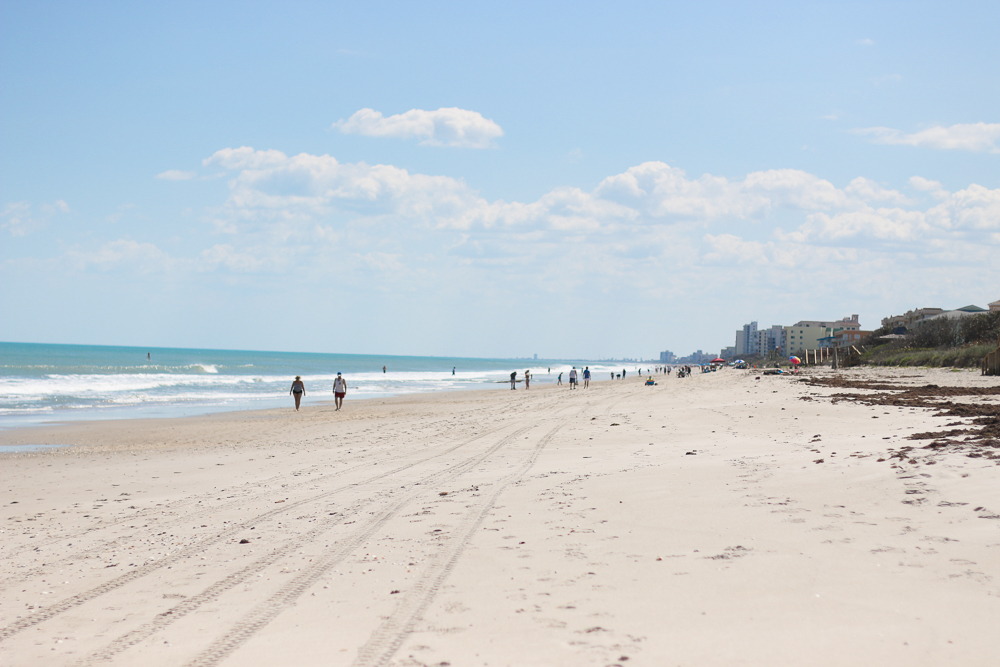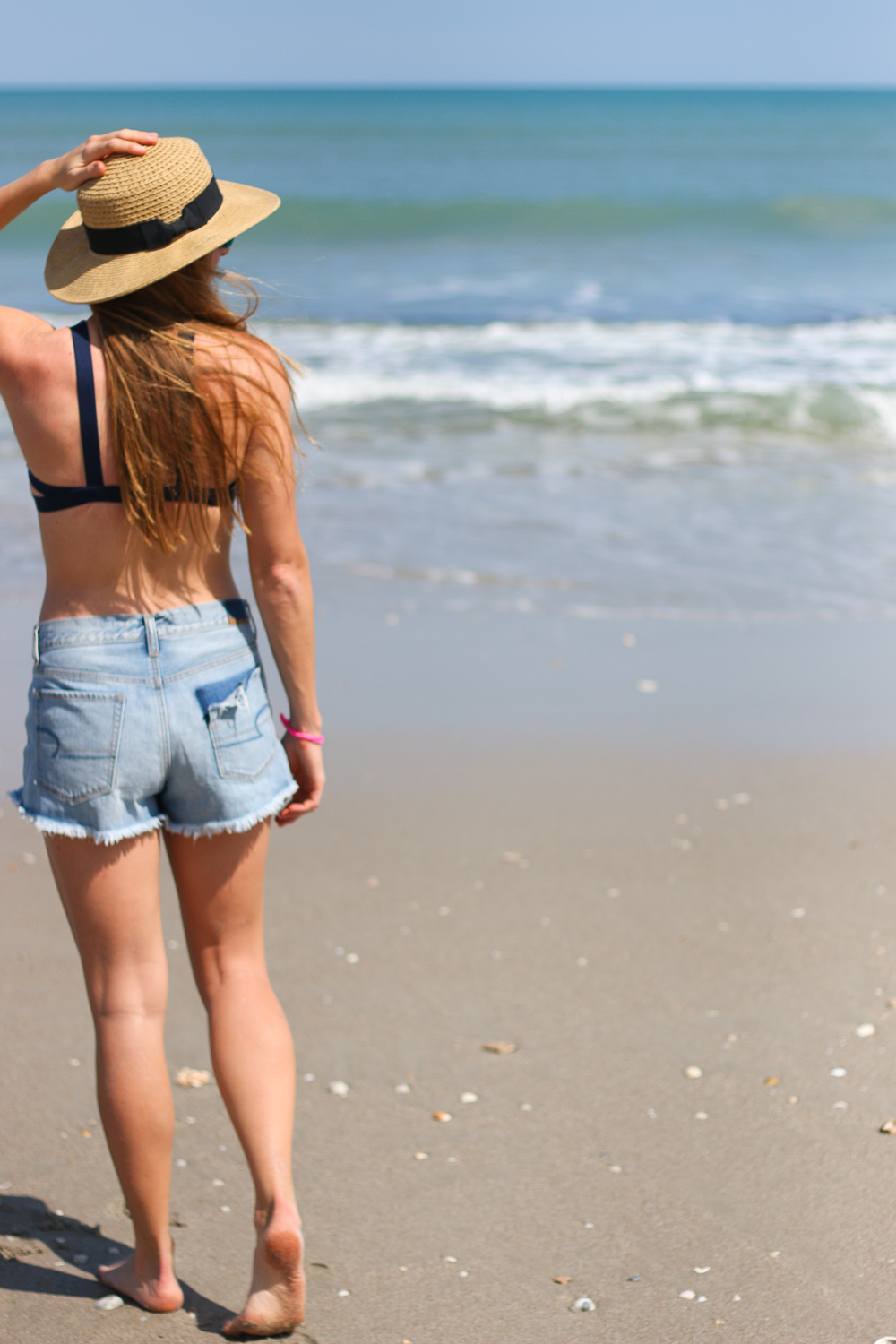 I fully believe I am beautiful but practicing self-love can be hard at times. I am not afraid to admit, I am often the most critical of myself and my body. My body has always been naturally thin and very athletic. That does not mean that just because I am thin and very strong that I have never disliked my body. I could sit here and list all of the things I don't truly like about my body but I choose not to.
It's a lie when people think skinny people never have body image issues. I can sit on social media all day and look at all the "skinny" people on Instagram wearing their cute bikinis and then quickly compare myself because my legs don't look as "small" as theirs. How awful but I've done it! For me it comes down to truly loving who I am. When I really focus in on why I am shaming my own body, I can almost always find something deep down on the inside that needs loving.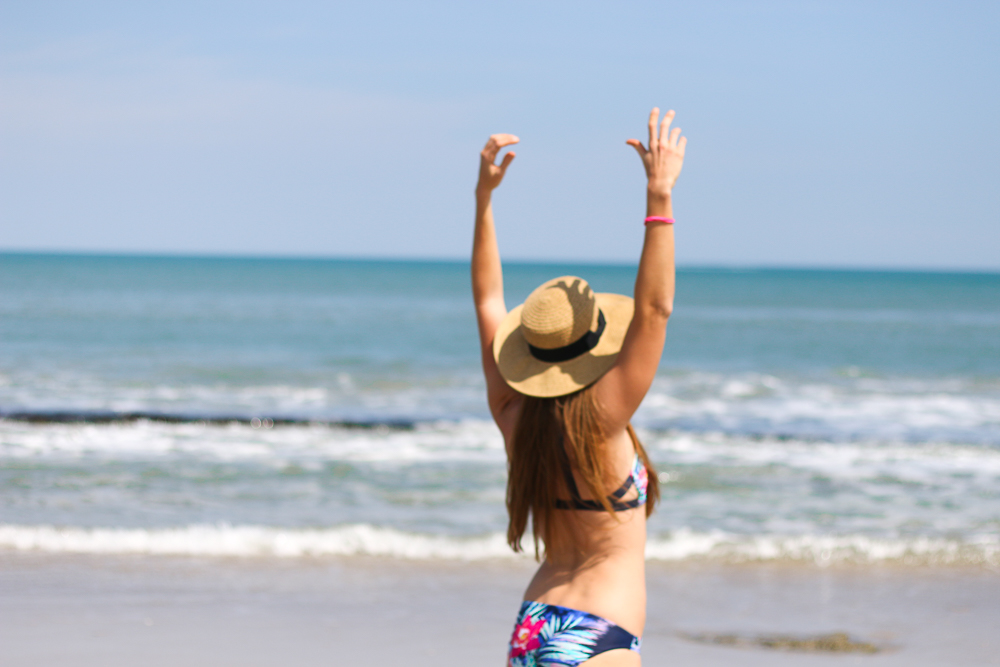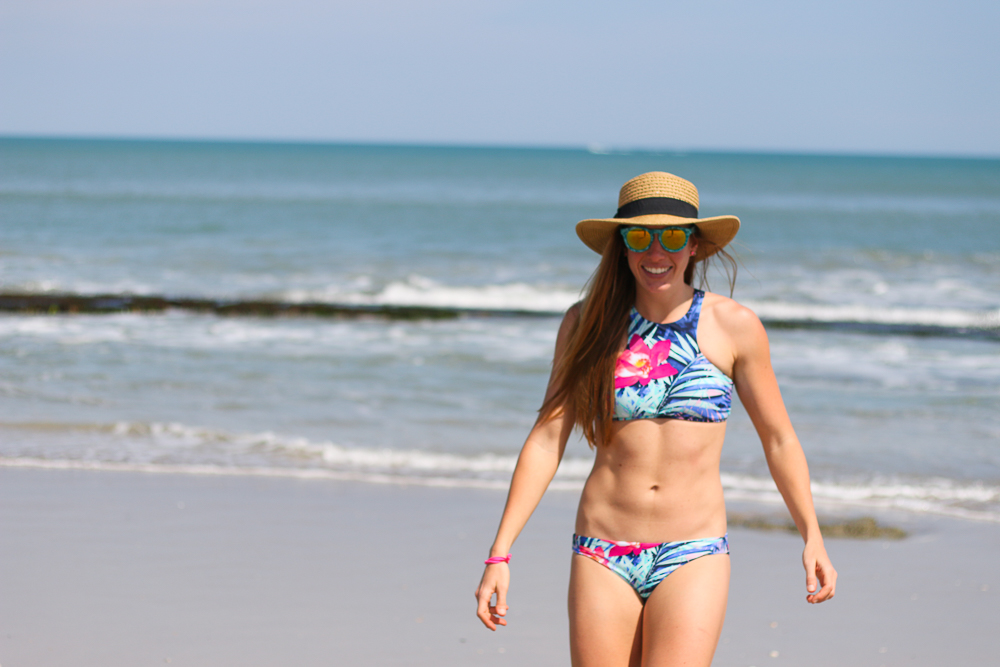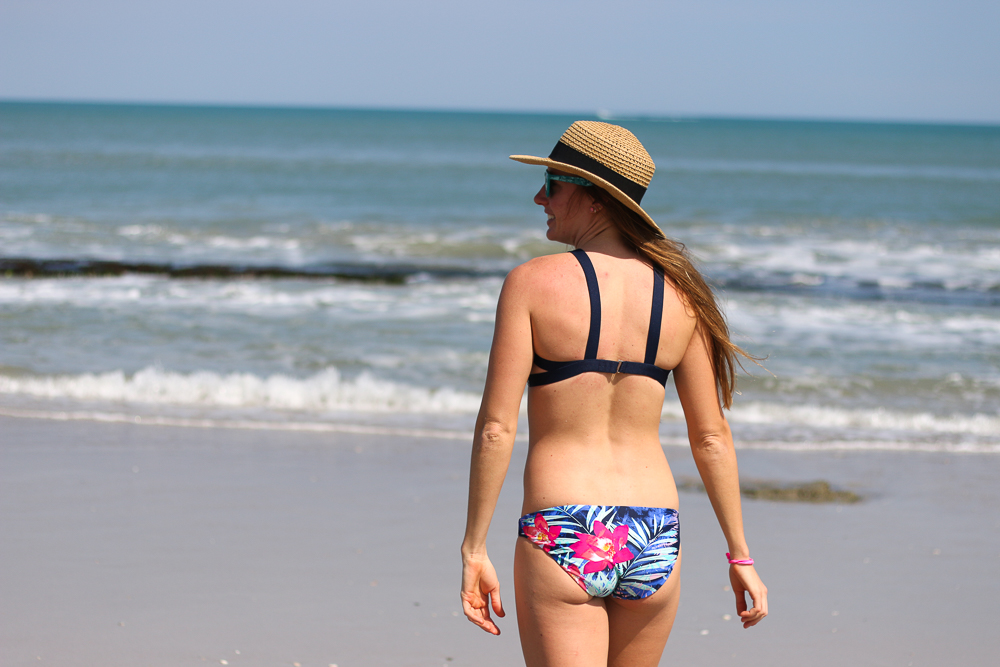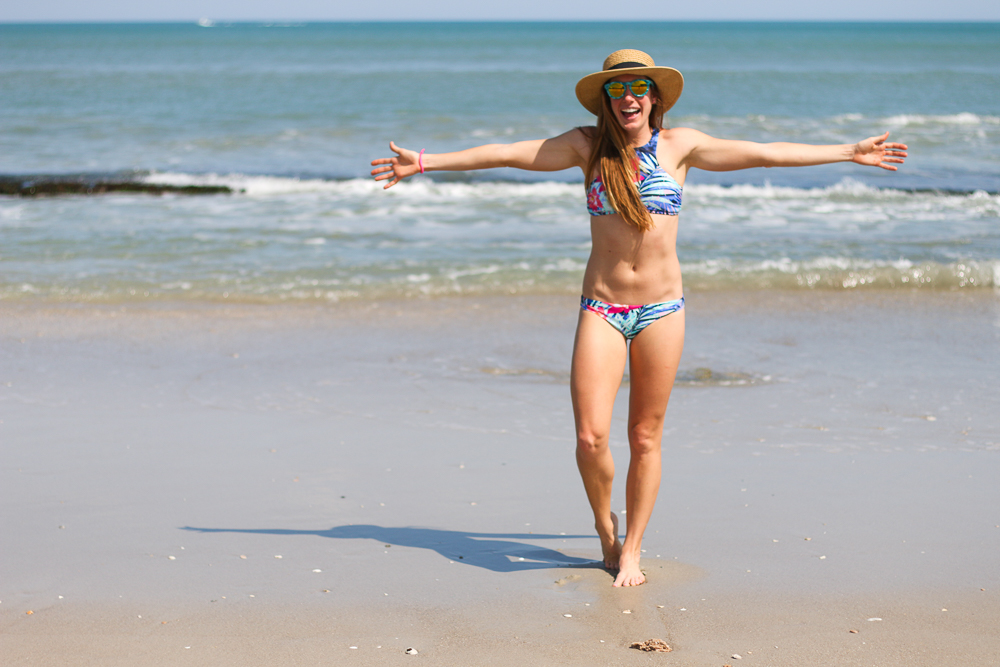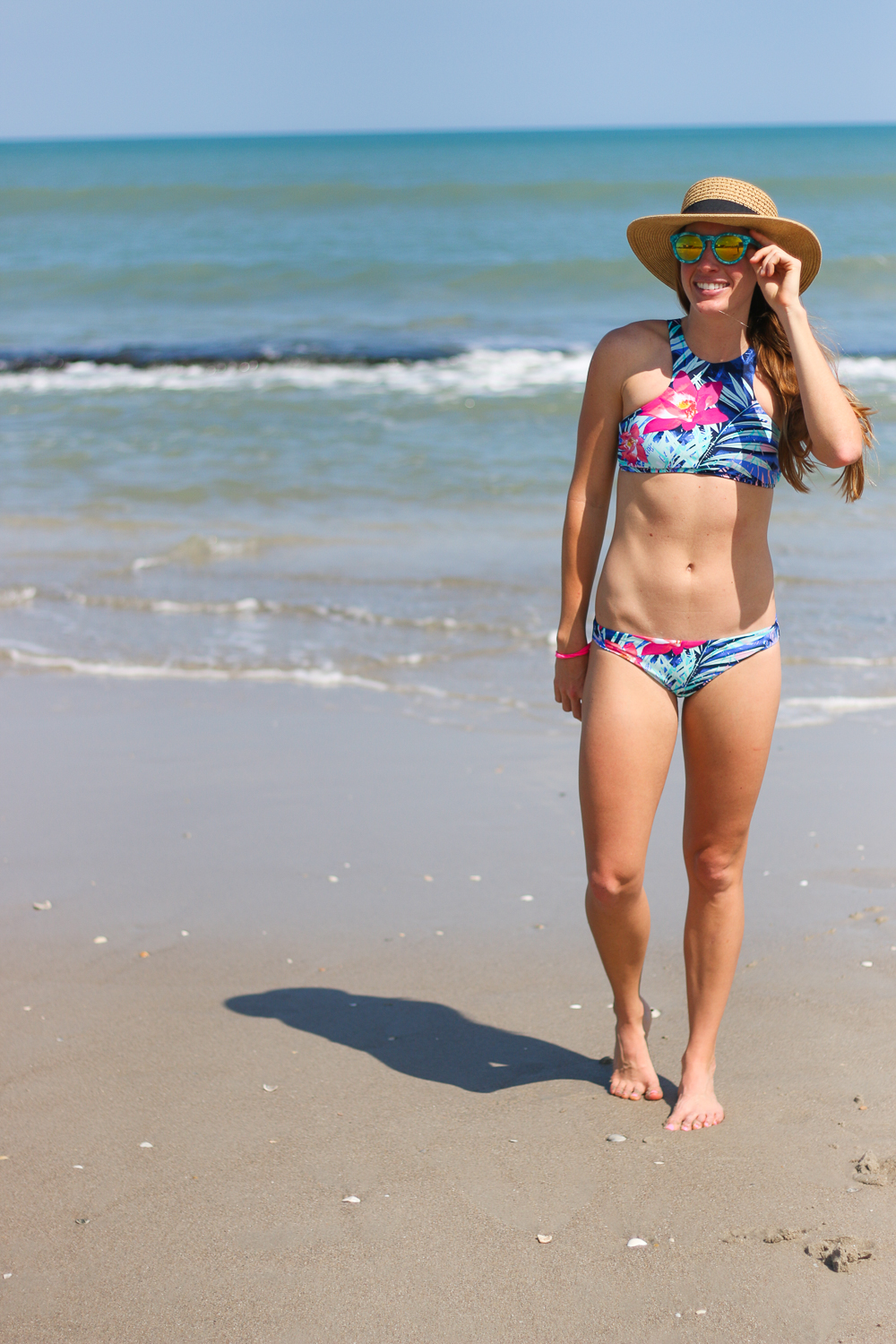 Swimsuit: Target (Top & Bottoms)
Shorts: American Eagle
Shoes: Similar
Hat: Similar
Sunglasses: Similar
I want to encourage you to dig deep down and find those areas that need love. I need that love constantly. Let God fill those gaps. Ask Him to help you find confidence in yourself and your body no matter what size, shape, color, blah, blah. When I really started to find confidence in myself, it's when I truly began to see myself as beautiful and to love my body.
A little bit about the swimsuit. It's awesome for surfing, swimming and paddling in the water. I don't have a large chest or many curves, so finding a swimsuit where the bottoms stay up or the top stays on can be challenging. I'm not the hugest fan of the back navy strap on the top. I wish the front pattern extended to the back but I can't complain when the swimsuit only cost $35! The top is a Medium and bottoms are a Small.
Are the jean shorts not the cutest!? I have been looking for the perfect high-rise distressed shorts and finally found them! Those are going to be on major repeat this summer.
5 Ways to Love Your Beach Body:
Look internally. Ask God to give you confidence. Let Him show you you are truly beautiful. Don't look to outside sources like Instagram or catalogs to tell you whats beautiful. When you learn those things come from the inside, they naturally radiate on the outside.
Speak kindly to yourself. Instead of shaming your body, praise it. When I am critical of my body, I will literally thank my body for it's hard work. Weather it walked all day long, worked out, sat, ran, or moved around, I thank it that I can move without hindrance and that it's healthy.
Buy a pretty swimsuit. It doesn't have to be a bikini. They make so many other options now. I am really loving all of the modest suits from Albion this year! You deserve to feel confident in what you are wearing. Throw away that only suit from 10 years ago and find something that is comfortable, cute and fits well. A well fitted swimsuit makes all the difference.
Eat healthy. Nothing makes me feel better than when I eat clean (no processed sugars, wheat, dairy). Believe me, I love ice cream, tacos, burgers, tortilla chips, more ice cream, but I do eat those in moderation.
Exercise. This is probably my #1, although I do believe eating and exercise go hand-in-hand. I have always been extremely athletic. From a gymnast and playing tennis to being a competitive cheerleader and working out in a boring gym. I've done it all. For the past 3.5 years I have consistently worked out at Trinity Fitness. I go 2-3x's/week. My body has never been stronger, but it also gives me confidence and genuinely makes me feel better about myself inside and out.
My gorgeous friend Lucy took all of the photos. Thanks again Luc!
Save
Save
Save
Save
Save